Security & Privacy
10.0/10
Additional Features
1.0/10
Pros
Has client-side encryption
Third-part cloud storage integration
Hybrid backup is supported
NAS backup is supported
External HDD backup is supported
Cons
No mobile applications
Weak online support
Doesn't function as independent cloud backup
Hard to use cloud backup system
---
Duplicati Review
Duplicati started in 2008 when Kenneth Skovhede decided to create a port duplicity program from Linux to Windows operating system. However, he was not satisfied with the results of the project and decided to develop a cloud backup system instead. In 2011, René Stach decided to join Kenneth Skovhede in developing the new program. After the huge success of the project, they launched Duplicati 2.0. Read this comprehensive Duplicati Review to learn more.
---
Duplicati Alternatives
---
Jump to:
Pricing & Plans
Who is it for?
Ease of use
File backup
Speed
File restoration
Security & privacy
Online support
Additional features
Conclusion
---
Pricing & Plans
Using Duplicati is entirely free. However, people are encouraged to support the cloud backup system project in order to keep running. The contributions made by people with generous hearts are being used to subsidize the cost of hosting and service fees as well as all costs related to the development of Duplicati.
If you support the project, you can give your donations and financial contributions in 4 different ways. You can donate via Open Collective, PayPal, BountySource, and by sending cryptocurrencies in specified wallet addresses. Check https://www.duplicati.com/donate/ to know more about the details.
---
Who is it for?
Duplicati is for people who wish to use third-party cloud storage providers in a more secure manner. Using Duplicati requires higher knowledge and expertise in information technology.
---
Ease of use
It is not easy to use the Duplicati cloud backup system. There are many options and settings to choose from in the web user interface that can complicate matters for the average cloud backup users. Sometimes, you need to use the command-line tool which is not suitable for people who have no prior knowledge about such kind of system. You don't need to sign up for an account in order to use Duplicati. If you are not a technology-savvy person, I suggest you don't use Duplicati.
File previews & edits
Even if Duplicati uses third-party cloud storage providers such as Google Drive, there is no possible way to preview files directly from the cloud. Duplicati can't preview documents, photos, music as well as videos. I suggest that you choose other cloud storage providers and use them directly without going through Duplicati if file previewing is an issue to you.

---
File backup
Duplicati is compatible with Linux, Windows, as well as MAC operating systems. You just have to download the right installer, run the program and it will install Duplicati on your computer quickly. You can schedule backups in any way you want when using this best online backup system. You can adjust the setting easily on the web user interface.
You can also pause running the backups as you wish. Real-time and continuous backup is also supported by Duplicati. As a matter of fact, it is the default option.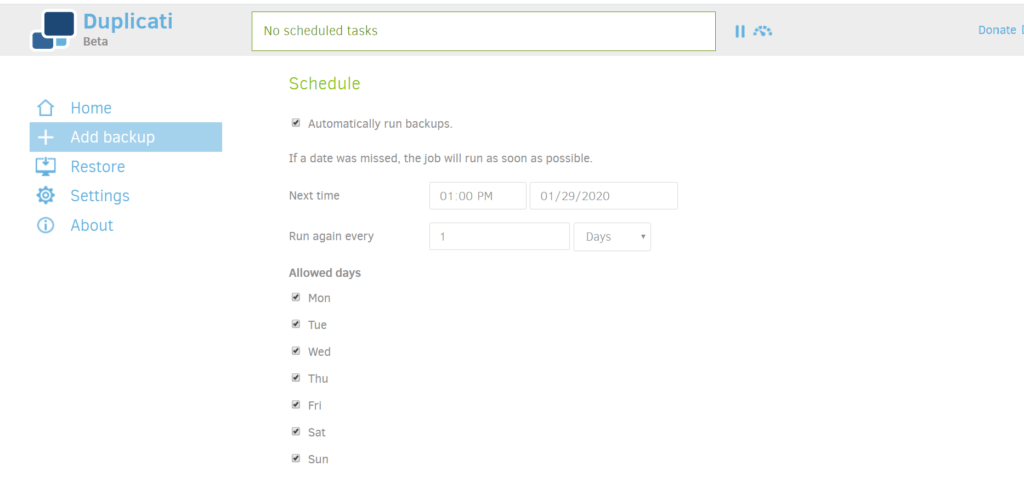 Aside from that, you can also adjust your maximum upload and download speeds with Duplicati. However, you should understand that the internet speed of the local provider can be a factor too.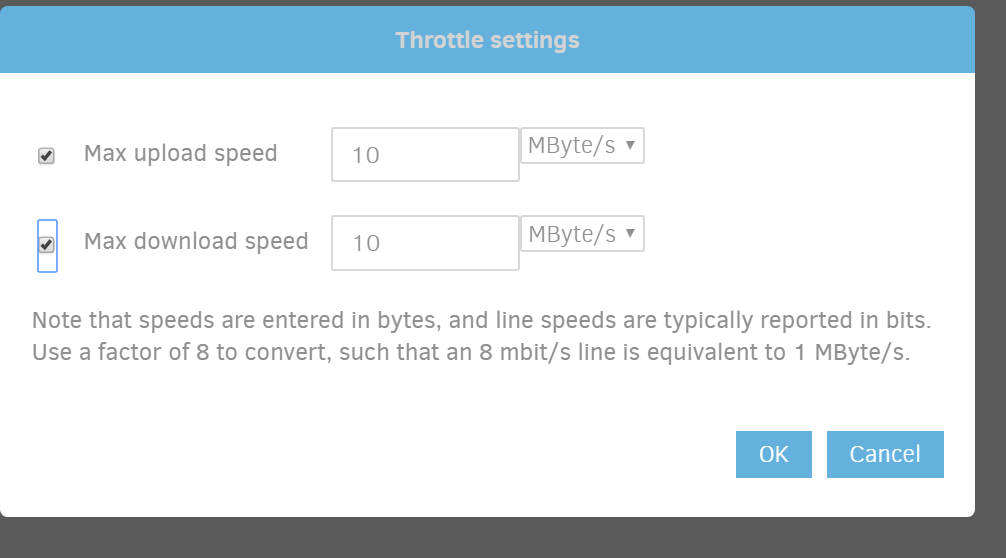 You can also allow remote access with this best cloud backup system. If you allow remote access, be sure that you are inside a secured firewall-protected network. Moreover, incremental backups and deduplication protocols are being implemented by Duplicati.

NAS backup as well as External Hard Disk Drive backup is also supported by the Duplicati cloud backup. For NAS backup, the Synology brand is preferred. On top of that, Hybrid backup can also be done as well. You can choose whether you want to back up your file to the cloud or to a local folder or drive inside your computer.
You can also back up your files to a third-party cloud storage provider. This includes Amazon S3, Azure blob, B2 Cloud Storage, Box, Dropbox, Google Drive, Google Cloud Storage, HubiC, Jottacloud, Mega, Microsoft Office 365, Microsoft OneDrive, Microsoft SharePoint, OpenStack Simple Storage, Rackspace CloudFiles, Rclone, and Sia Decentralized Cloud. You can also back up files through Tahoe-LAFS. Furthermore, you can also back up files using FTP, SFTP (SSH), WebDav, OpenStack Object Storage / Swift, and S3 Compatible. However, server backup is not possible.

There are also settings in the Duplicati cloud backup system that can confuse new users if they don't have enough knowledge in information technology systems. You can choose individual files or an entire folder to back up securely to the cloud. On top of that, there is no file size limitation. There is also no file type limitation. However, you can filter file types that should or shouldn't be included in your backups. You can also set a limitation to file sizes if you want but it is set to unlimited file size as a default option.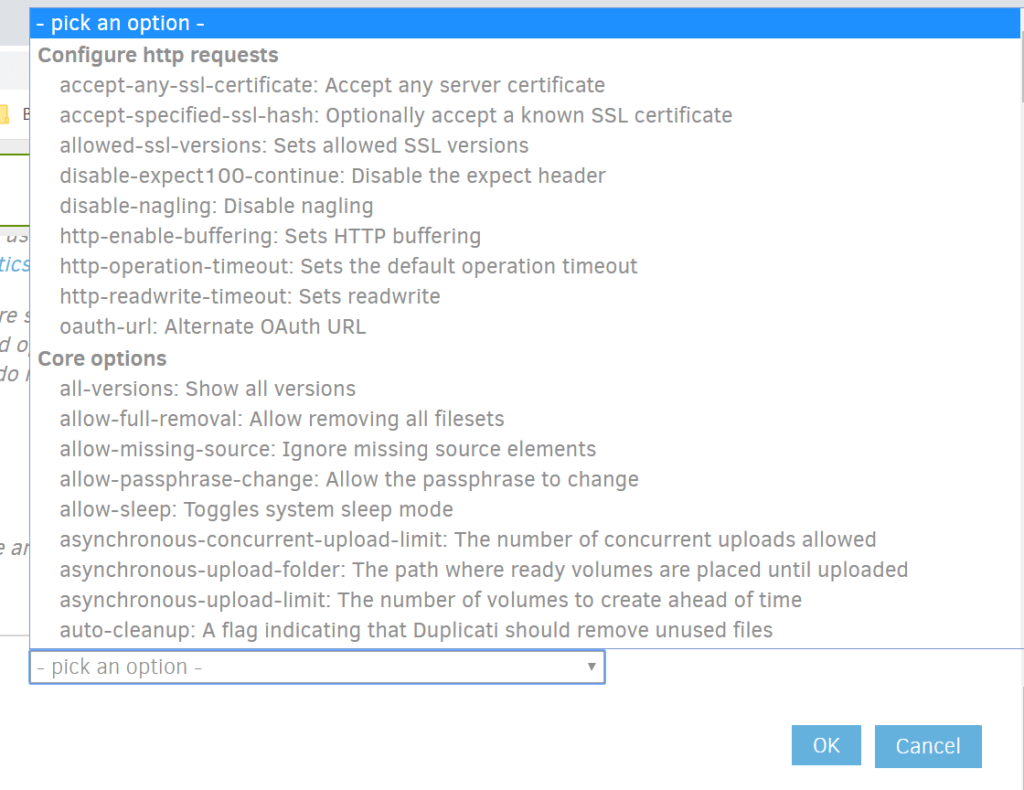 Mobile Application
Since Duplicati is an open-source cloud backup project and relies solely on donations in order to survive and keep running, the development of the mobile application is not a priority. As of the moment, the owners of Duplicati did not pursue developing mobile applications for the cloud backup system.
---
Speed
Since Duplicati uses third-party cloud storage systems to backup files and folders to the cloud, we can't measure the upload and download speeds independently. There are many factors that need to be considered such as the individual upload and download speeds of each of the third-party cloud storage providers.
---
File restoration
You can restore files and folders that were previously backed up in Duplicati by going to the "Restore" menu located at the upper left-side corner of the system's web user interface. You can select a specific file or folder that you wish to restore. This type of restoration program allows you to choose where to specifically store the downloaded files. You also have the option to restore the files and folders from its original location.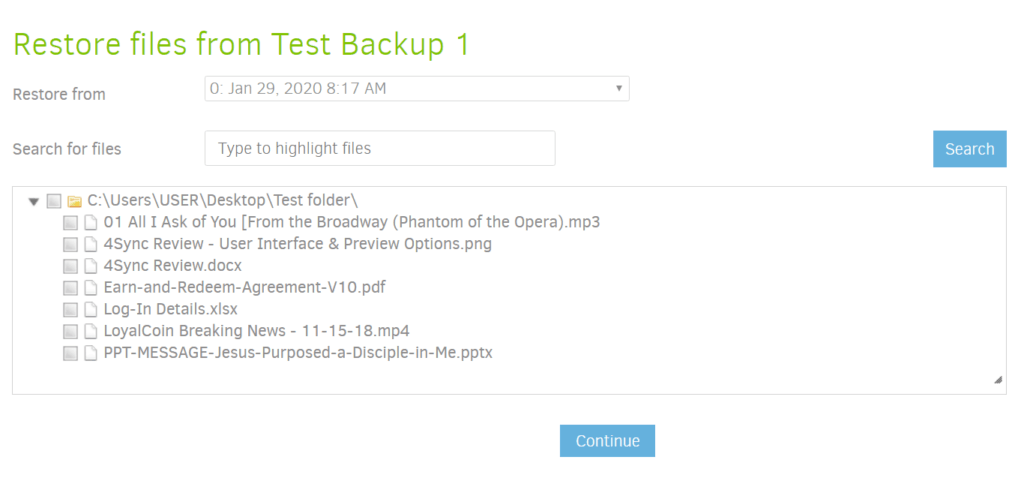 Duplicati implements a file versioning system. You have many options to choose from with regards to the file versioning system. First, you can keep unlimited file versions and unlimited backup versions should you choose that option. You can also delete specific backups based on how old the backups are. You can filter the specific condition attached to such option to days, weeks, months or even years. You can also keep a specific number of backups if you want. You can also use the smart backup retention program wherein Duplicati deletes backups automatically. In this option, Duplicati will store one backup copy for each of the last 7 days, one backup copy weekly and one backup copy monthly. There will always be at least one backup version available in this option.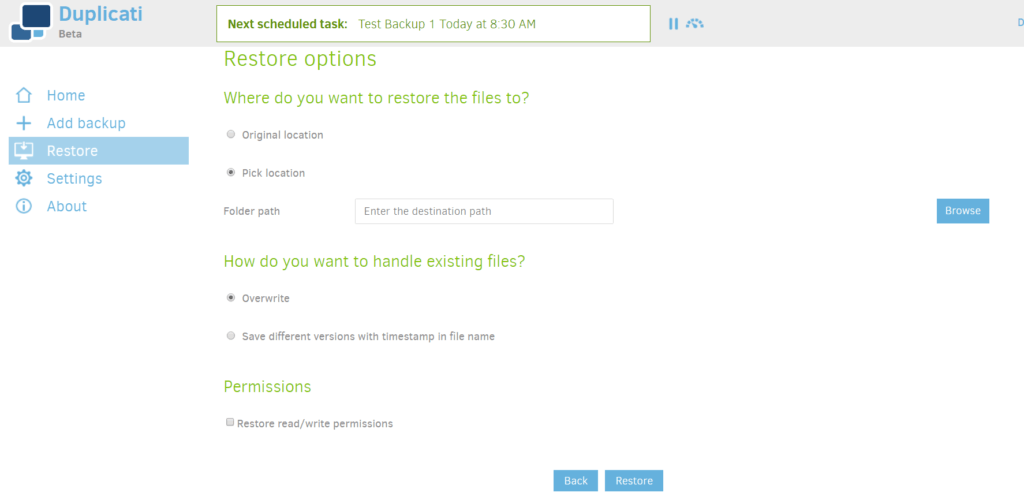 ---
Security & privacy
Duplicati is one of the most secure cloud backup providers in the world. As a matter of fact, the development of the project started with the goal of providing the most secure cloud backup system that has ever been established. First and foremost, Duplicati uses the AES-256 encryption system which is one of the most powerful encryption systems ever been created. It will take billions of years before such an encryption system can be cracked wide open. But in both theory and practice, there 99.9999% chance that the 256-bit AES encryption is impossible to beat even with the advent of supercomputers dedicated solely for the purpose of breaking the code. Even banks, governments, and military contractors are currently using the AES encryption system just like Duplicati cloud backup system.
All of your data files are first encrypted locally before sending it over to the cloud. The encryption key to your backups never leaves your local computer. You have direct access to it. It is never saved on Duplicati's servers. Aside from that, Duplicati implements a client-side encryption system. This means that you have the ability to generate a unique passphrase that only you can access. Without such a passphrase, you can never retrieve or access your backups. Even the owners of the Duplicati cloud backup project have no access to it.

Duplicati also uses the GPG security system to protect all of the data files you want to backup and restore. GPG is the short terminology for GNU Privacy Guard. Such a system is used for secured data transmission.
---
Online support
Duplicati lacks many features in terms of online support. First and foremost, Duplicati doesn't have custom service representatives that are willing to take calls to answer queries, help fix technical problems as well as listen to the client's concerns regarding their cloud backup system. It is very difficult for people to use the cloud backup system if no one is willing to provide them with answers as quickly as possible.
Duplicati doesn't also have an official e-mail support system that can help address clients' concerns. However, it was revealed in the company's website that you can reach the individual creators of the Duplicati cloud backup project by sending an e-mail to Kenneth Skovhede at Kenneth@duplicati.com or sending an e-mail to René Stach at rene@duplicati.com. While you can contact the owners of Duplicati, attending to the individual concerns and needs of all people using the cloud backup system will not be as efficient as it could be. Two people answering all of Duplicati users' queries will not make a big difference in terms of customer service.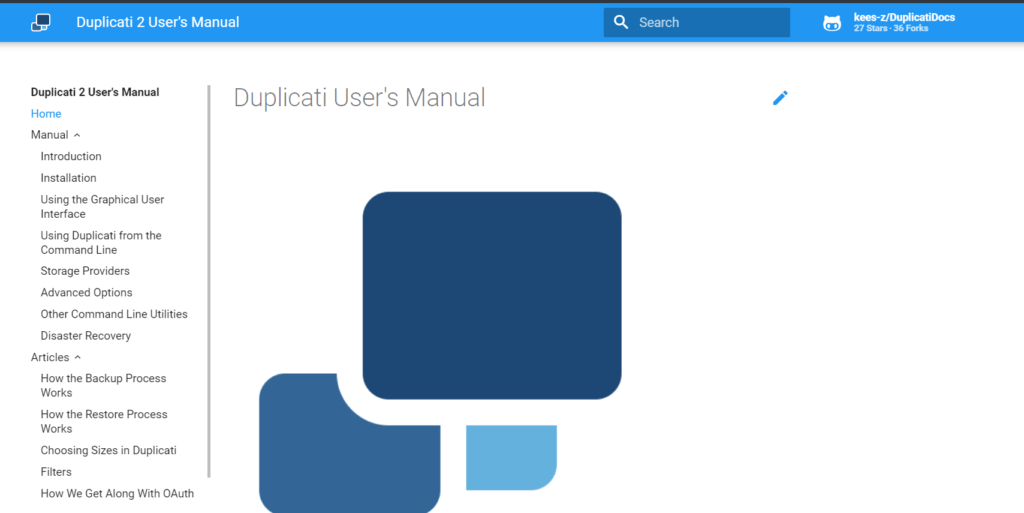 Duplicati also doesn't have a live chat system wherein you can interact with customer care representatives in real-time. Instead, it has a user manual and knowledge base to answer some of the questions a new user might actually have in mind. Unfortunately, it does not cover all topics and the user manual is very limited as to its content. This means that the manual Duplicati created is more suitable for people who have enough background and expertise in Information Technology in order to use the cloud backup system more efficiently and effectively.
Duplicati does have a forum should you wish to connect to other subscribers and users of the cloud backup system. This is a support group composed of people who are more than willing to spend their precious time and effort in answering the concerns of the users of the Duplicati project. It is the same online support group where people discuss ways on how to improve the cloud backup system and contribute to its development.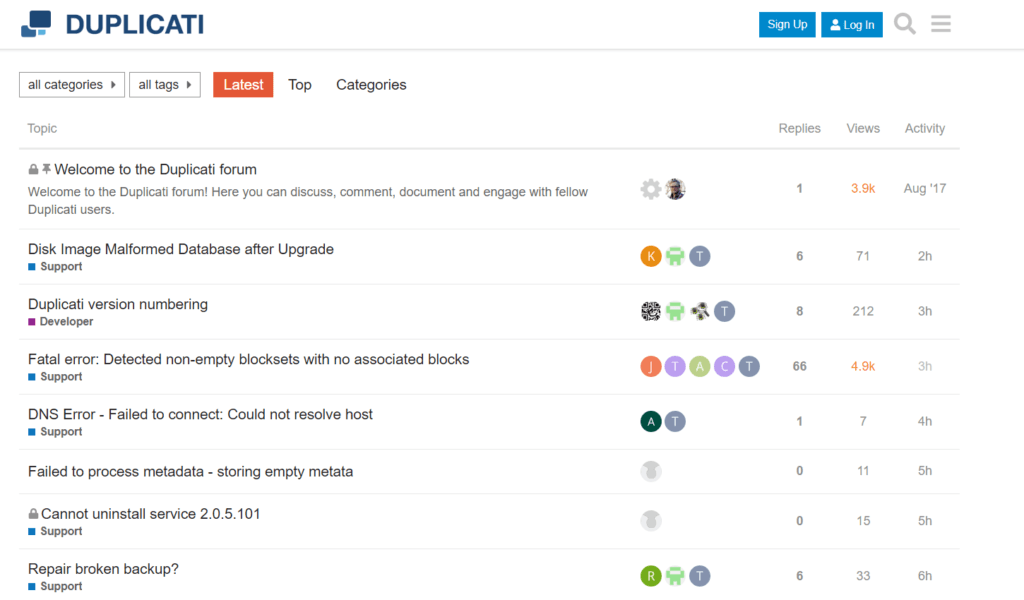 ---
Additional features
Duplicati has the ability to backup files, folders, and other data types directly to other cloud providers such as Google Drive, Dropbox, Box as well as Amazon Cloud Drive.
---
Conclusion
While I am happy that using Duplicati is entirely free, a lot of features are actually missing. It does not serve as an independent cloud backup provider. Duplicati only serves as a conduit to facilitate data transmission to the cloud. On top of that, online support is weak and there are no mobile applications you can use. It is also not easy to use as it requires a higher degree of technical expertise in order to navigate the cloud backup system efficiently. I highly recommend you to find a better cloud backup system alternative.
---
---
I hope I answered all your questions in this Duplicati Review. If you have some questions, don't hesitate to ask them in the comments section down below!