Polarbackup
$3.33/month 1000 GB
Security & Privacy
9.0/10
Additional Features
8.0/10
Pros
Affordable prices
Lifetime plans
Very easy to use
Well developed backup client
External hard drive & NAS backup
Decent down/upload speeds
Client-side encryption
Cons
Not unlimited backup
Restoration waiting period
No two-factor authentication
---
Polarbackup Review
Polarbackup is based in London, UK. It's an affordable cloud backup solution that also offers lifetime cloud backup plans for decent prices. During this Polarbackup review, we will find out if the lower prices come at the cost of their features or are they trying to penetrate into the market with both quality and affordable prices.
Read the full Polarbackup review below.
---
| # | Service | Rating | Description | Paid Plan | Go To |
| --- | --- | --- | --- | --- | --- |
| 1 | Acronis True Image | Read review | Acronis True Image is an online backup software with excellent security & privacy. You can perform scheduled, Hybrid, NAS, external hard drive, server and other backups. The download & upload speeds are decent and you can always rely on their support to give you a hand. 30-day trial period. | €8.33/month 1000 GB | Go to Acronis True Image |
| 2 | BigMIND | Read review | BigMIND is the next-gen cloud backup provided by Zoolz. It has a modern interface with very well developed backup features. It includes scheduled, hybrid, NAS, external hard drive,... backup. The upload and download speeds are incredibly fast which is a bonus in comparison with other cloud backup providers. 1 GB of free backup storage. | €2.99/month 100 GB | Go to BigMIND |
| 3 | Polarbackup | Read review | Polar Backup originates from the UK and aims to provide an affordable complete cloud backup solution. Their lifetime online backup plans certainly make them an interesting choice due to the well developed backup client with client-side encryption included. No free plans. | $3.33/month 1000 GB | Go to Polarbackup |
| 4 | CloudAlly | Read review | CloudAlly is not your regular backup service. It focuses on backing up other cloud services such as G Suite, Microsoft 365, OneDrive, Dropbox, Box.com... Keep in mind though that it is business-focused so no plans for personal users. 14-day trial period. | $3 per 10 GB | Go to CloudAlly |
| 5 | IDrive | Read review | IDrive has been around for what seems an eternity now. They basically cover all of the possible backup solutions and for a decent price as well but there seems to be a few technical issues with the service alongside the somewhat poor download & upload speeds. 5 GB of free backup storage. | $4.34/month 2000 GB | Go to IDrive |
---
Jump to:
Pricing & Plans
Who is it for?
Ease of use
File backup
Speed
File restoration
Security & privacy
Online support
Additional features
Conclusion
---
Pricing & Plans
Below you can find all the plans available within the Polarbackup. They don't offer any free permanent plans nor do they offer a free trial. That's why we're here to test the service and let you know how good it is. It's important to note that they offer a 30-day money-back guarantee on all plans so that's good. Giving you 30 days to opt-out of the service is more than enough time to test the service completely.
They're one of the few cloud backup providers that offer lifetime plans as well. The prices below don't include your countries VAT. Like with most cloud backup providers you're unable to buy a monthly plan, instead, you have to commit to a yearly or lifetime plan.
---
Use the "CSI20" coupon code for an extra 20% discount on all their plans!
---
Personal Plans
---
Lifetime Plans
---
Business Plans
Polarbackup recently also launched their business plans which are quite decent when compared to other cloud backup solutions.
---
The above plans also include just 1 user and 1 computer per plan. If you wish to backup more computers or have multiple users you will have to choose one of their additional support plans
| | | | | |
| --- | --- | --- | --- | --- |
| Support | Basic | Standard | Gold | Platinum |
| Price | Free | $0.99/month | $1.49/month | $1.99/month |
| Users | 1 | 1 | 2 | 5 |
| Computers per user | 1 | 1 | 1 | Unlimited |
| Backup unlimited external drives | No | Yes | Yes | Yes |
| Max file size | 4 GB | 20 GB | 20 GB | Unlimited |
| Support | 6-month | Premium support | Premium support | Premium support |
It's also possible to upgrade the backup space from 5 TB all the way up to 10 TB.
They also offer Instant Vault Storage (which acts as cloud storage) additional plans – 100 GB, 500 GB and 1000 GB.
---
Who is it for?
Polarbackup is perfect for anyone that wants a reliable backup solution. One that you can set up at the start and forget about it. And the lifetime plans certainly make it even more appealing. I recommend making use of their "Vault" feature if you plan to retrieve data from the cloud daily. Without it, you will need to wait a few hours for the data to be retrieved due to the Amazon Glacier Archive that Polarbackup uses. That is completely fine if you plan to use to retrieve files only in the cases of emergency though.
---
Ease of use
During the registration procedure, you'll need to enter payment information as this service doesn't offer any free plans. They support credit cards, PayPal, UnionPay and Bank transfer. Once inside you'll get to see the dashboard that offers the main information such as the number of backed-up computers, users, account status, available storage and account settings.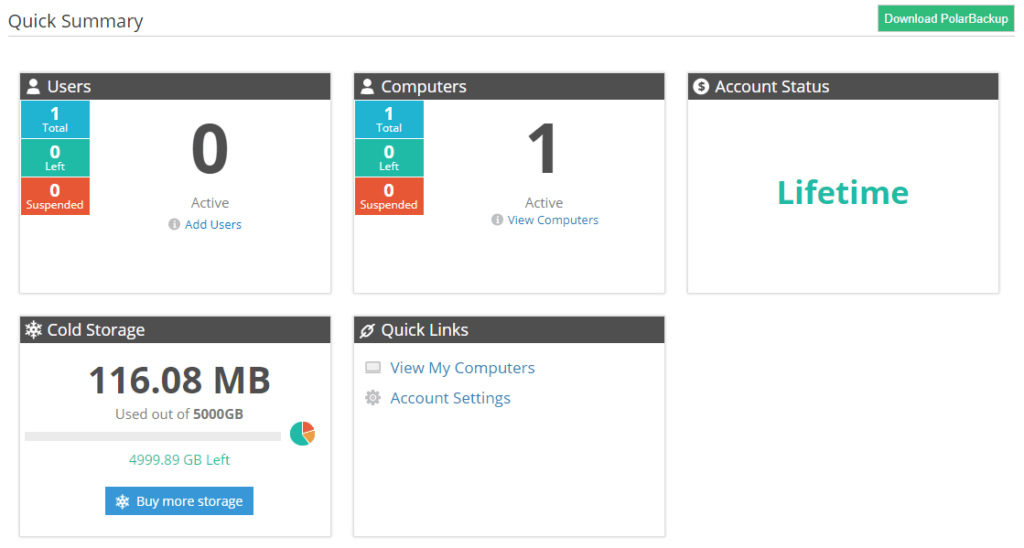 Files that you backup to the cloud will be made available via the "View computers" tab. The interface itself is quite responsive. Here comes the important part. If you wish to download files from the website interface you will have to choose the files you want to download and they'll be made available to you within the next 3-12 hours. This is what they call the "Cold storage". The files then need to be downloaded within 24 hours and you can only download up to 1 GB per day this way. This is clearly not the best way to go about this. That's why they encourage you to download the files via their client where there is no limit to how much data you wish to restore. It's possible to switch between the list and thumbnail view.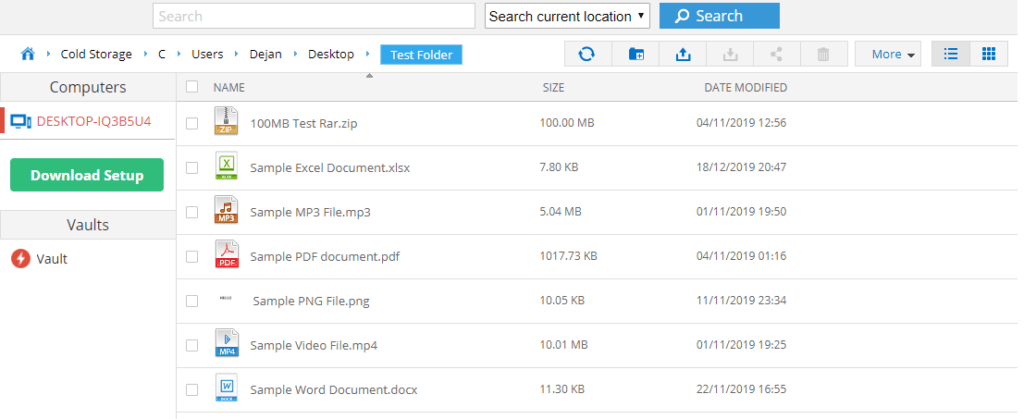 File previews & edits
It's not possible to preview any documents, videos or music directly via the browser though you can watch images.
---
File backup
The Polarbackup client is available both on Windows and macOS. The client allows you to backup the computer and all the files inside. There are 2 ways you can backup data. Via the "Smart Selection" that backs up data per file type or you can select specific folders you wish backed up to the cloud. This includes backing up external hard drives & NAS as well, you just navigate to it in the folder structure and back it up. File size limits depend on your plan with the service (explained under Pricing & Plans).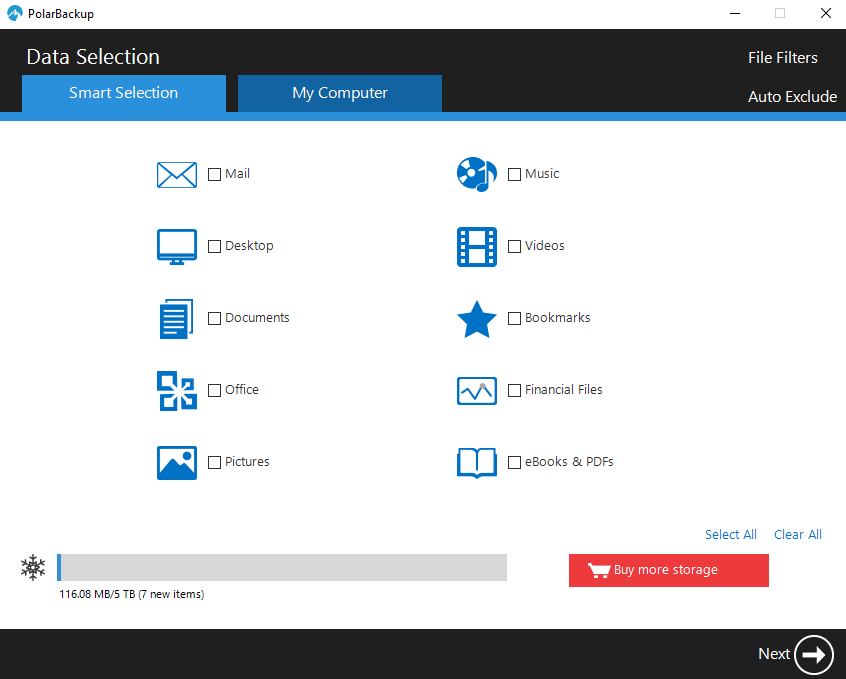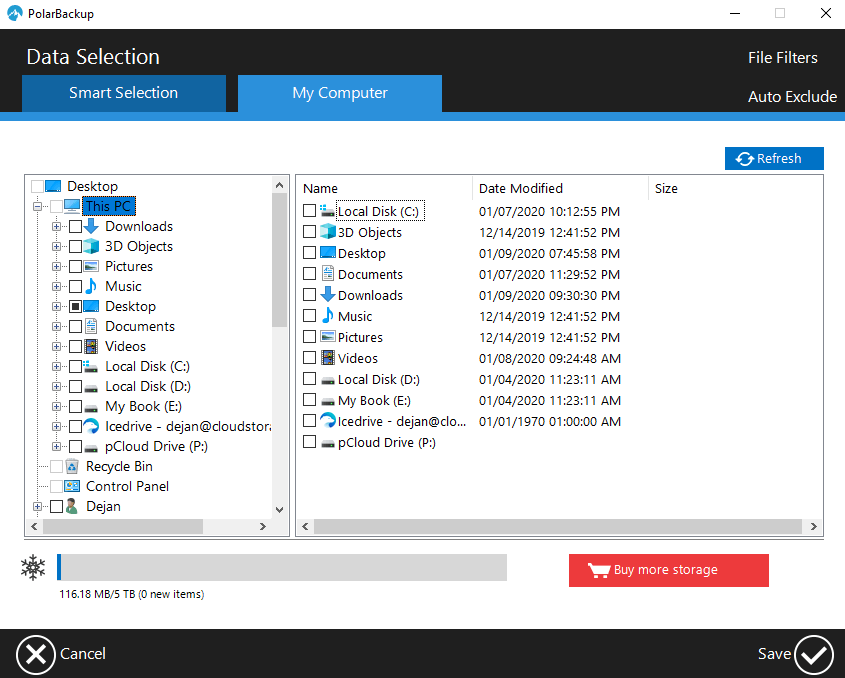 There are quite a few backup settings as well. You can set a schedule that has quite diverse options with the ability to backup per set amount of time or on specific times and specific days. Continuous backup isn't available though it's not really needed when you can set the schedule to backup every 5 minutes. Polarbackup does operate based on incremental backup where only new and modified files get uploaded.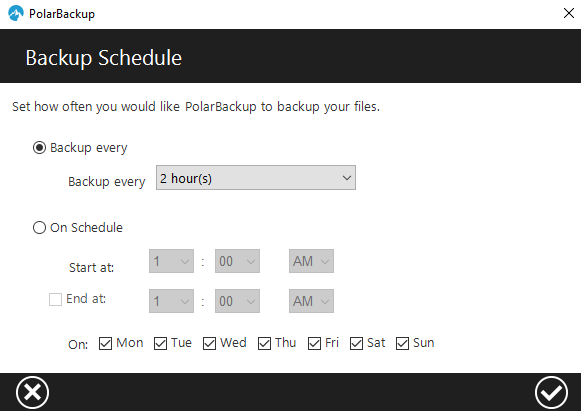 The resource optimization options are interesting as well with the ability to use multithreaded upload (which improves backup speeds) and bandwidth throttling. It's also possible to use the presentation mode which pauses backups when using CPU & memory resources such as watching movies or playing games.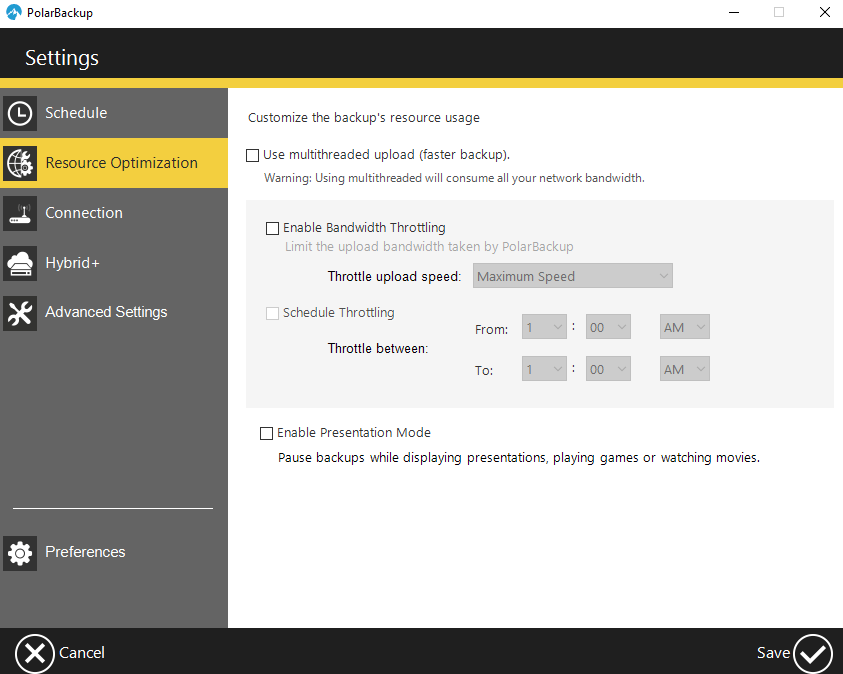 Via the connection options you can choose when the upload should happen based on the connection:
Wired connection (LAN)
Wireless connection (Wi-Fi)
Mobile connection (3G, 4G,…)
You can also decide to use SSL (Secure Socket Layer) which improves the security of the connection (this is off by default) and setup proxy settings.
The Hybrid+ option enables simultaneous backup to both a local drive and the cloud which ensures a faster restore time. The advanced settings then offer even more settings such as the automatic start of the client, setting up which file types should be using block-level file backup technology (which uploads only the portions of files that are changed), setting up image previews,… Polarbackup also supports file deduplication which prevents the uploads of files already present in the cloud.
Polarbackup offers no mobile application.
---
Speed
The speeds were tested from Ljubljana, Slovenia with the internet provider guaranteeing 150/6 Mbps which translates to 18.75/0.75 MB/s (download/upload). Below you can see the results completed for both download and upload speeds. It's important to note that it can take from 3 to 12 hours for the download and restore of the files even start. You may be wondering why is that? Polarbackup makes use of the Amazon Glacier Archive (AWS Amazon) which is meant for storing large amounts of data. To keep costs low Amazon S3 Glacier provides 3 file access options (from a few minutes to 48 hours).
If you're using their "Vault" feature (comes at an extra fee) you can access and restore data instantly without the waiting period.
| | | | | |
| --- | --- | --- | --- | --- |
| 1 GB File | Internet provider (max speeds) | Test 1 | Test 2 | Average |
| Time (download) | 00:00:55 | 00:02:23 | 00:02:30 | 00:02:26 |
| Time (upload) | 00:22:45 | 00:26:20 | 00:26:54 | 00:26:37 |
I am quite happy with the upload and download speeds.
---
File restoration
When a file gets deleted on your computer it will stay on the cloud where you can retrieve it at any point. Files won't get deleted automatically from the cloud as that is the purpose of a good backup solution. It's important to once again point out the retrieval waiting period described above which makes this service slightly inconvenient if you plan to restore files daily.
Polarbackup stores up to 10 versions of your files. Whenever a backup is performed the client checks for changes in the files. If the file gets changed the new version will be uploaded to the cloud, with the old version still being retrievable.
---
Security & privacy
Polarbackup makes use of the Amazon AWS servers, with all the users data stored in Ohio, USA. They use 256-bit AES encryption to ensure the safety of your files both on transit and while at rest. The files get encrypted on your computer, get transferred over SSL to the servers where they're encrypted again before they rest on the servers. You can also set your own encryption password which makes all of your files encrypted client-side. Polarbackup doesn't store your encryption password which means that only you can access those files. Be careful though as if you lose that password you'll also lose access to all of the files in the cloud permanently.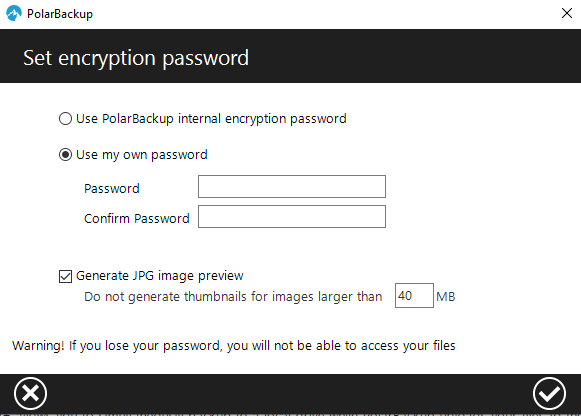 Polarbackup also complies with the GDPR privacy laws and regulations. Their privacy policy explains that they don't sell or market the email addresses or other personal information of registered users to third parties. They also say that they don't view your files (which you can prevent anyways by setting up your own encryption password).
Unfortunately, Polarbackup doesn't provide two-factor authentication.
---
Online support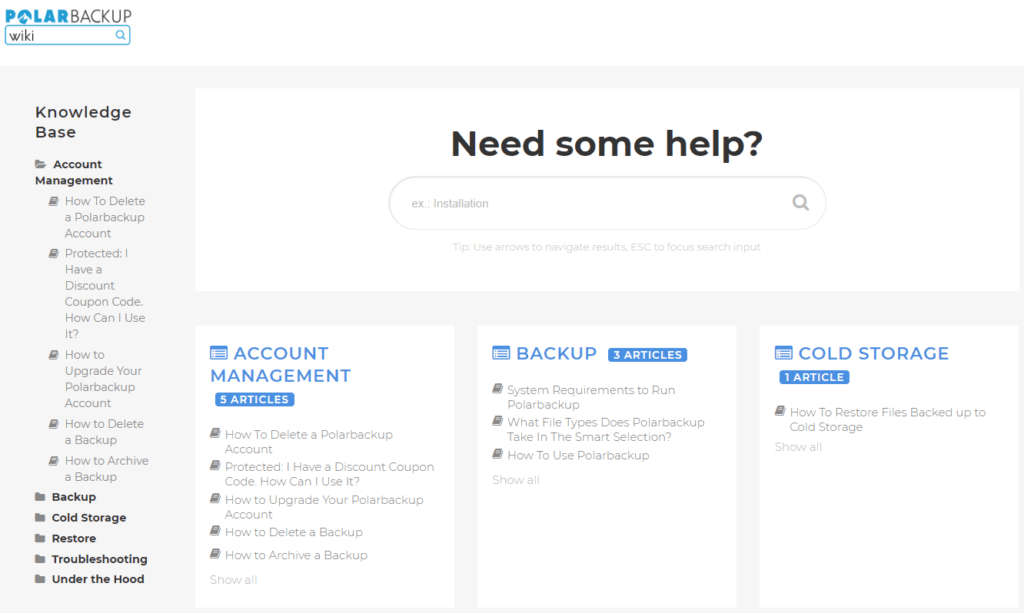 Polarbackup support is available to everyone via e-mails and tickets. They responded to my e-mail within a day when I sent them a couple of questions. You can also contact the sales team (not for technical support) via phone during their business hours (11:00 AM – 7:00 PM EST). On top of that, they also provide a short FAQ base that answers a few questions. I would have definitely hoped for a more extensive FAQ base or a forum.
---
Additional features
---
Vault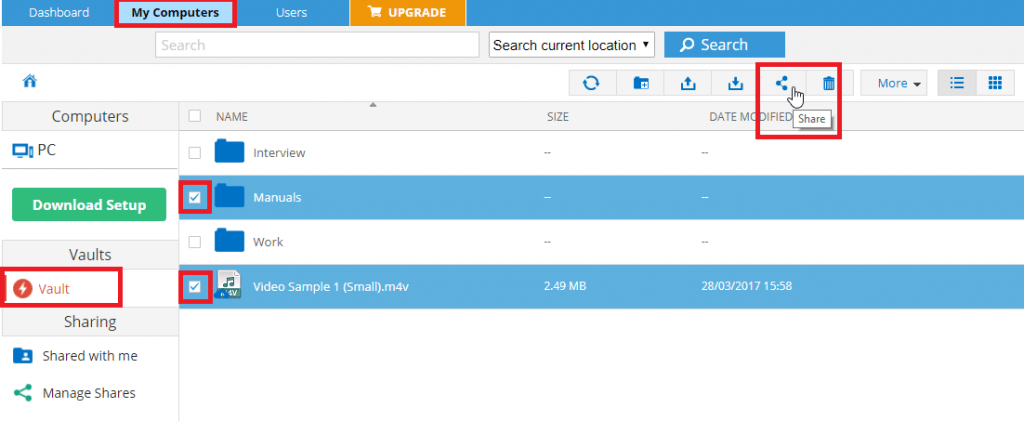 The vault feature allows you to have a cloud storage as well next to the cloud backup. You can also share the files via the vault. Sharing the files is possible by adding users, creating a link or via e-mail. There also a few advanced sharing options available:
Set a password
Link exparation
---
Conclusion
So to more or less sum up Polarbackup: It's an affordable cloud backup solution that has a well-developed backup client with decent upload and download speeds. You can also use it to backup external hard drives. Mobile application is not available though. File restoration is on point with decent versioning and trash bin system but it does take a while for those files to be restored (unless you store them in the Vault). The 256-bit AES encryption combined with client-side password certainly makes this a secure cloud storage. And they take care of your privacy as well. Online support is also there with the ability to contact them via phone during business hours.
Polarbackup isn't that useful for business users though who might want to backup servers as well. I would recommend it for personal usage though so give it a try and if you don't like it, you can always make use of that 30-day money-back guarantee.
---
Use the "CSI20" coupon code for an extra 20% discount on all their plans!
---
What's your experience with Polarbackup? Please share it down below. I hope I answered all your questions about Polarbackup within this Polarbackup review. If you have any unanswered questions feel free to ask them in the comments section down below and I'll answer them shortly!