Acronis True Image
€8.33/month 1000 GB
Security & Privacy
9.5/10
Additional Features
10.0/10
Pros
Has full image backup
Integrated ransomware protection
Active cryptomining blocker
Has Office 365 backup
End-to-end encryption
Active disk cloning
Blockchain certification system
Electronic signatures on files
Lots of additional features and tools
Cons
Not compatible with Linux
No file previews
---
Acronis True Image Review
There are many reasons why you should have a backup of all your files. First, you need to protect all of your data from possible computer operating system malfunction. It is also possible that your hard disk drive becomes corrupted in the process making all of your precious files, folders and computer programs inaccessible and irretrievable. We all know that we don't want that to happen. So If I were you, I would definitely look for the best cloud backup service available. If that is the case, then let me bring you to the point of discussion in this article. I would like to introduce you to Acronis True Image 2020. It is one of the best cloud backup providers that offer excellent service. Read the full Acronis True Image review below to learn more.
---
Acronis True Image Alternatives
| # | Service | Rating | Description | Paid Plan | Go To |
| --- | --- | --- | --- | --- | --- |
| 1 | Acronis True Image | Read review | Acronis True Image is an online backup software with excellent security & privacy. You can perform scheduled, Hybrid, NAS, external hard drive, server and other backups. The download & upload speeds are decent and you can always rely on their support to give you a hand. 30-day trial period. | €8.33/month 1000 GB | Go to Acronis True Image |
| 2 | BigMIND | Read review | BigMIND is the next-gen cloud backup provided by Zoolz. It has a modern interface with very well developed backup features. It includes scheduled, hybrid, NAS, external hard drive,... backup. The upload and download speeds are incredibly fast which is a bonus in comparison with other cloud backup providers. 1 GB of free backup storage. | €2.99/month 100 GB | Go to BigMIND |
| 3 | Polarbackup | Read review | Polar Backup originates from the UK and aims to provide an affordable complete cloud backup solution. Their lifetime online backup plans certainly make them an interesting choice due to the well developed backup client with client-side encryption included. No free plans. | $3.33/month 1000 GB | Go to Polarbackup |
| 4 | CloudAlly | Read review | CloudAlly is not your regular backup service. It focuses on backing up other cloud services such as G Suite, Microsoft 365, OneDrive, Dropbox, Box.com... Keep in mind though that it is business-focused so no plans for personal users. 14-day trial period. | $3 per 10 GB | Go to CloudAlly |
| 5 | IDrive | Read review | IDrive has been around for what seems an eternity now. They basically cover all of the possible backup solutions and for a decent price as well but there seems to be a few technical issues with the service alongside the somewhat poor download & upload speeds. 5 GB of free backup storage. | $4.34/month 2000 GB | Go to IDrive |
---
Jump to:
Pricing & Plans
Who is it for?
Ease of use
File backup
Speed
File restoration
Security & privacy
Online support
Additional features
Conclusion
---
Pricing & Plans
There are 3 different price structure systems should you wish to buy or subscribe to the services being offered by Acronis True Image 2020. First on the list is the standard package. It costs only €59.99 and it works as a one-time purchase offer. In this particular package, you can get full image backup, active disk cloning, quick recovery or also known as Universal restore as well as ransomware protection and crypto mining blocker. You will also be given online support as well as upgrade discounts for new versions.
---
Second, Acronis True Image 2020 has also an advanced package wherein you can avail of the services for one year. In the advanced package, you can get all the services you can avail just like when you paid for the standard package. The good thing here is that in this kind of subscription program, there are added services such as cloud backup replication, office 365 backup, 250 GB free cloud backup, service tools as well as end-to-end encryption. The advanced subscription package costs €49.99 per year. You will also be given phone and online support as well as free upgrades to the latest version of the software.
Third, you can also avail of the premium subscription of Acronis True Image 2020 for €99.99 a year. You can get all the services mentioned in the advanced package with the addition of the blockchain certification of files as well as electronic signatures on files. The cloud backup is also upgraded to free 1 TB as well. The assumption of the pricing and subscription plans is based on 1 computer only. You can pay via credit card or PayPal.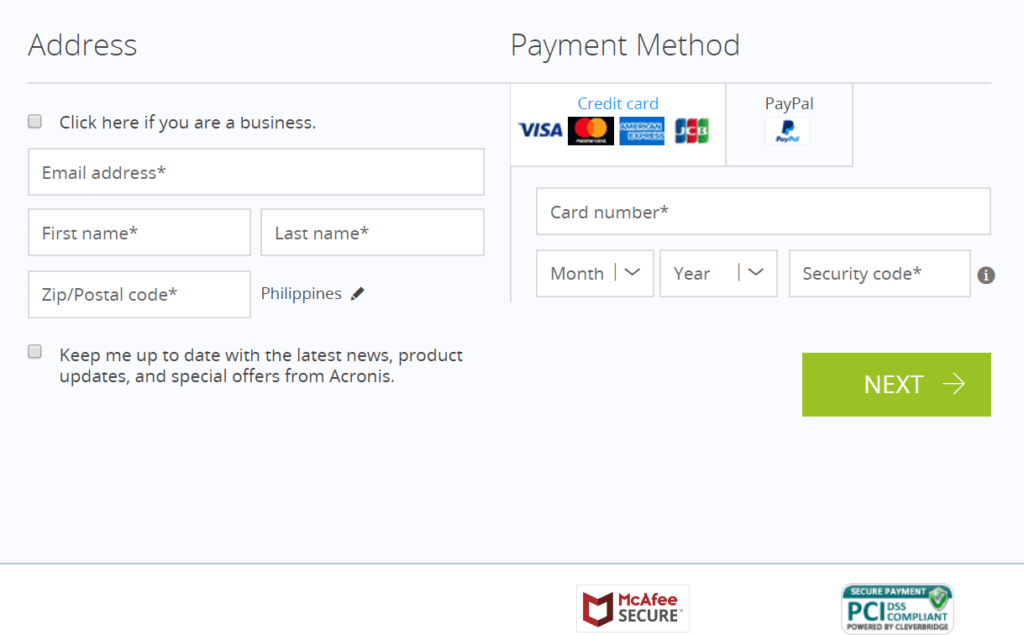 You can also sign up for a free trial for a maximum of 31 days if you are not yet convinced of paying for the Acronis True Image 2020 software program. With this trial, you can enjoy 1 TB word of cloud backup space and test for the different tools the software has to offer.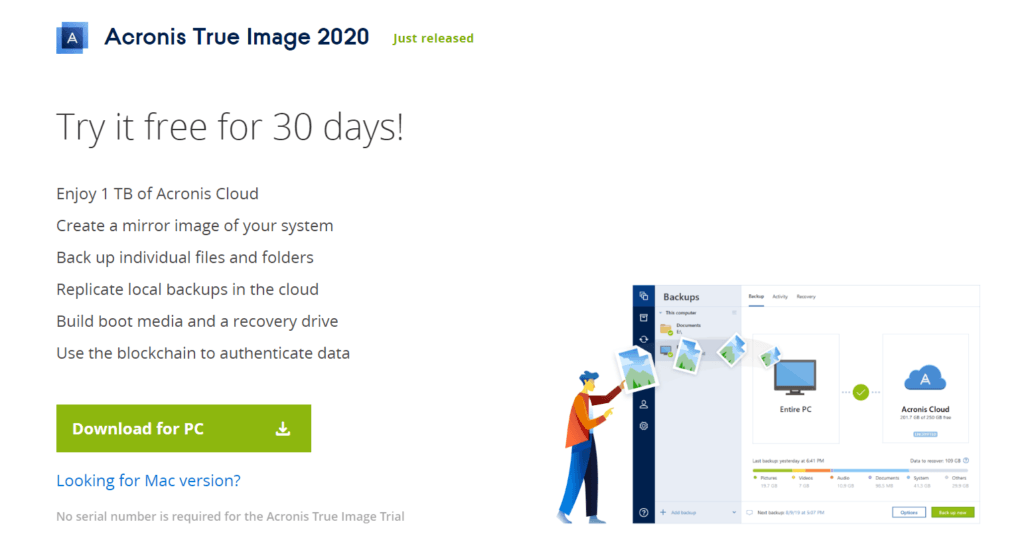 ---
Who is it for?
Acronis True Image 2020 is best for lawyers who wish to store legal documents that can be verified through the blockchain certification of files. This is to ensure that the digital copies of the legal files and documents stored in the cloud backup are authentic. The last thing lawyers want to happen is being sued for fabrication or tampering of material evidence. They also don't want to be sued for falsification of public documents which could happen if they are not careful enough in the process of storing files. Aside from lawyers, Acronis True Image 2020 can also be best used by company executives and accounting firms due to the level of security this software program has to offer.
---
Ease of use
Acronis True Image 2020 is fairly easy to use. You just need to download the software from the website and choose whether it is for Windows operating system or for MAC operating system. When the installer is downloaded, just click the "Run as administrator" button and the software program will install all by itself.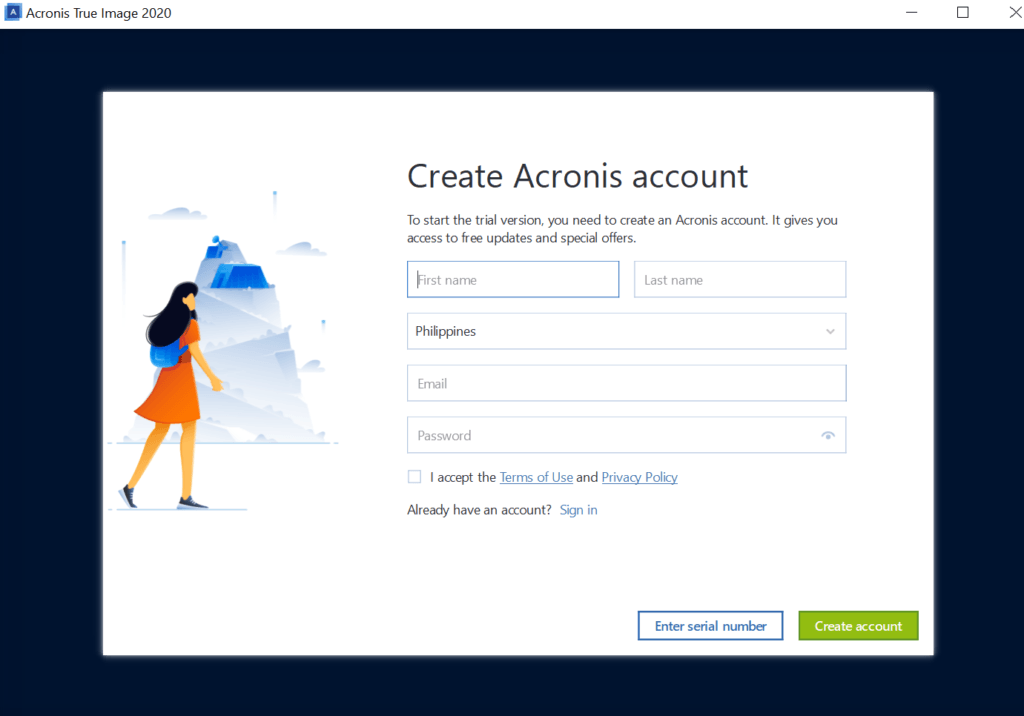 When you launch the program, you will be redirected to a screen asking you to create an account. Just enter details such as your complete name, country, e-mail address and password. Check the box asking you to accept the terms and conditions.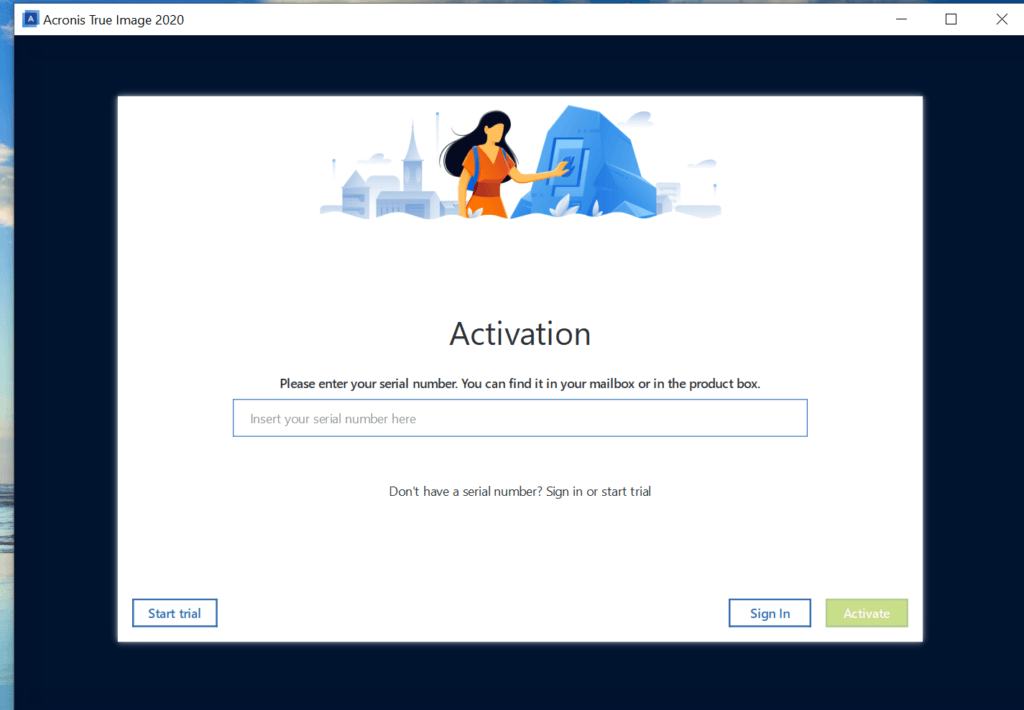 You will then be redirected to a screen asking you to activate the free trial version or to put the serial number of the Acronis True Image 2020 software you bought. When it's already activated and you already have signed in, then you can now start using it.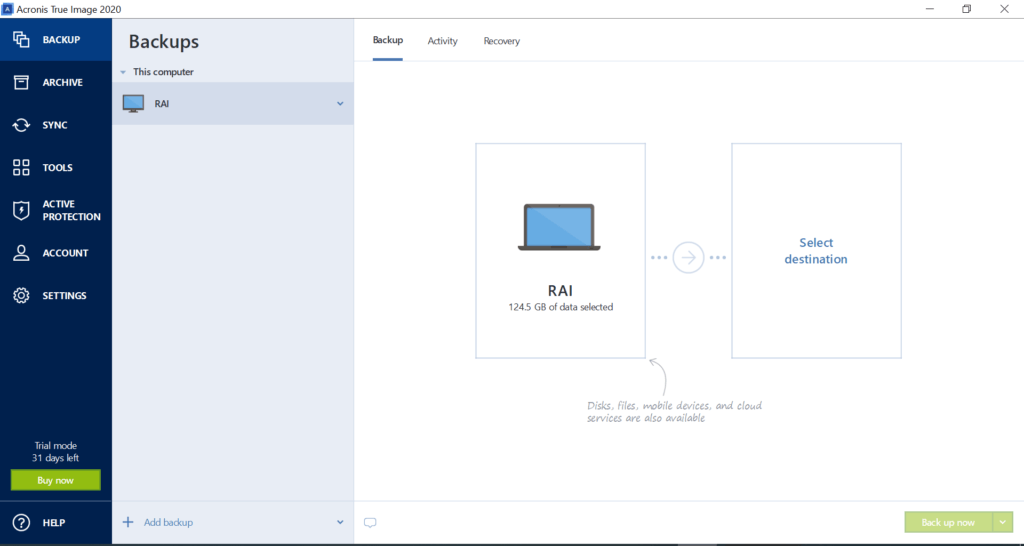 It is also easy to use since there are manuals embedded within the software program itself when you launch it. You can read the embedded manuals and descriptions as much as you can in the software program unlimitedly.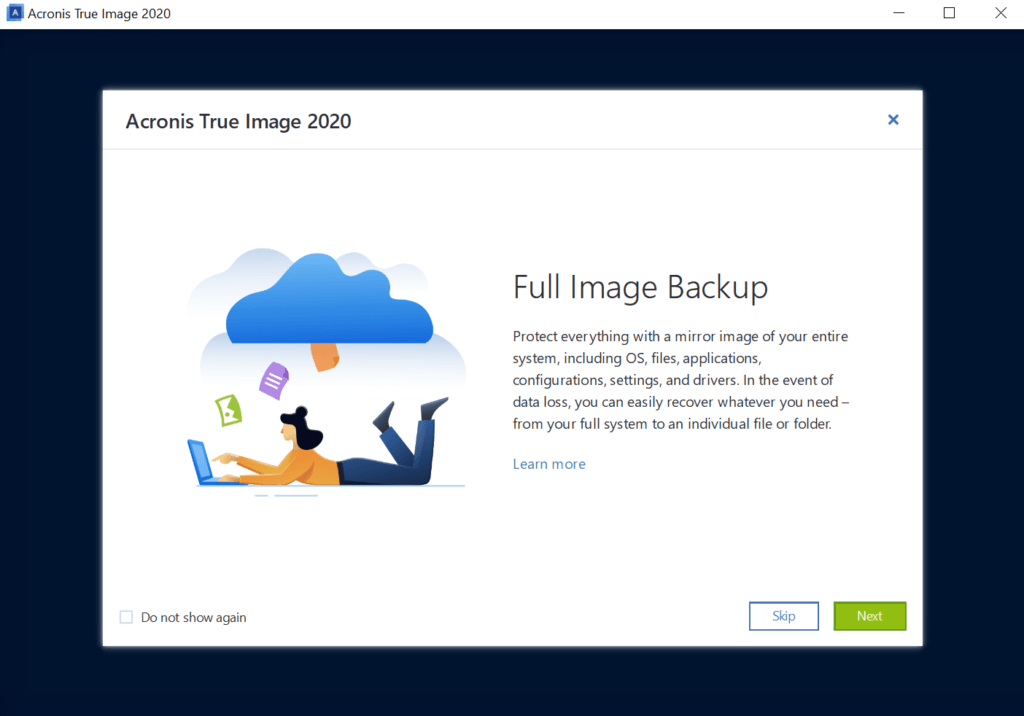 File previews & edits
The Acronis cloud portion of the software, on the other hand, has a simple interface that looks really classic and quite outdated.  As a matter of fact, file previews are not possible at all. Whenever you click a file, the cloud storage will just download it to your computer directly. There is no option for previews technically.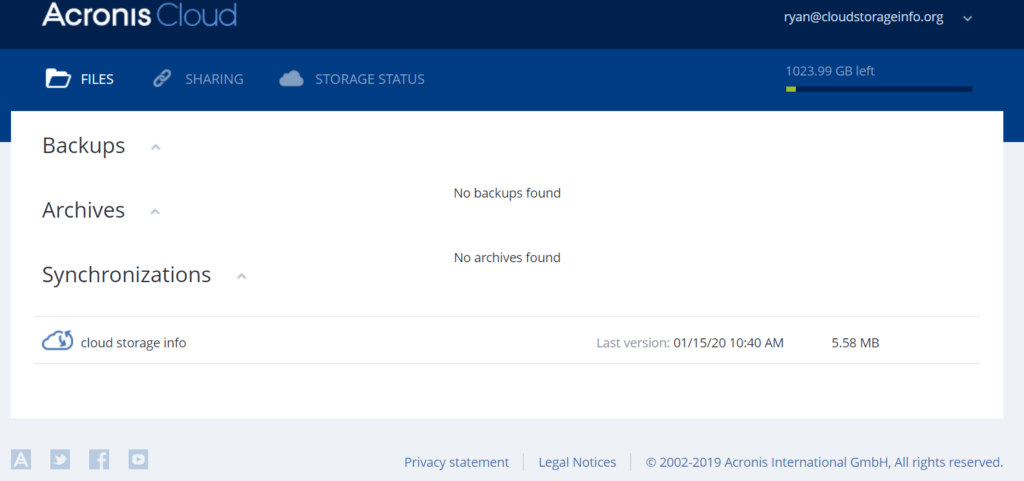 File sharing through a link is possible. However, you can't modify the shared link for restricted access. Once you post the link and shared that link with someone else, it becomes a public file or folder already. With the shared link, you can also monitor how many times a specific file or folder has been downloaded by the public. However, you can't also edit documents directly from the cloud.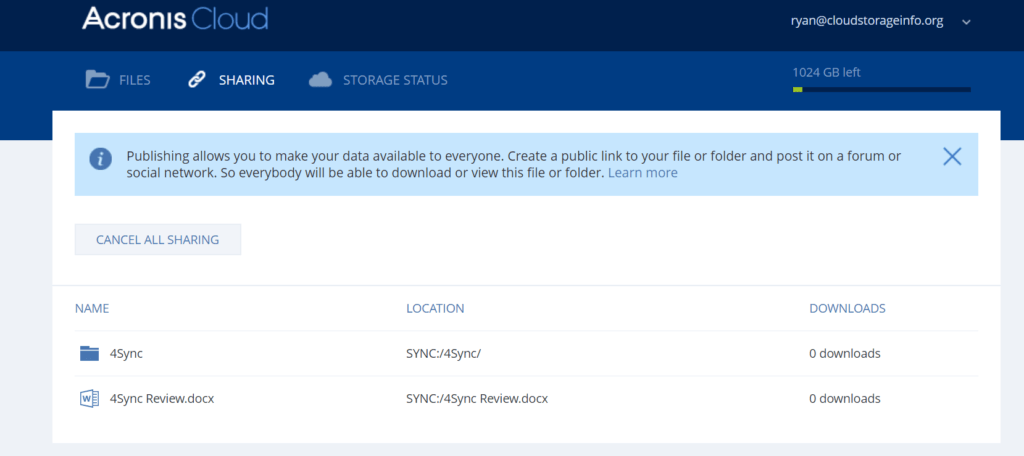 ---
File backup
As mentioned earlier, Acronis True Image 2020 is compatible with both Windows OS and MAC OS. Unfortunately, it is not compatible with Linux operating system.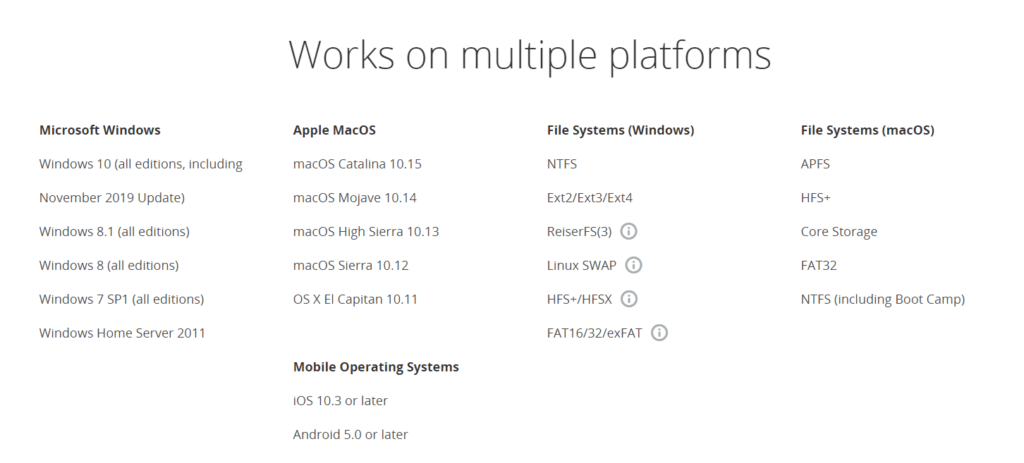 You can set a specific schedule to perform all the backup processes. This means that specific time and date can be set for this kind of process. You can even choose the non-stop backup procedure.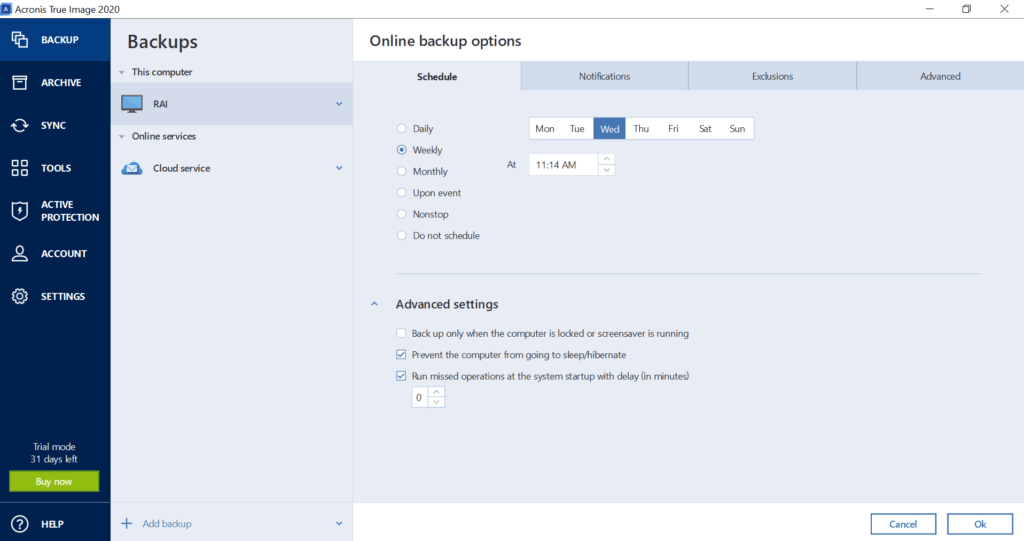 Moreover, you can select which specific files and folders you can backup and sync.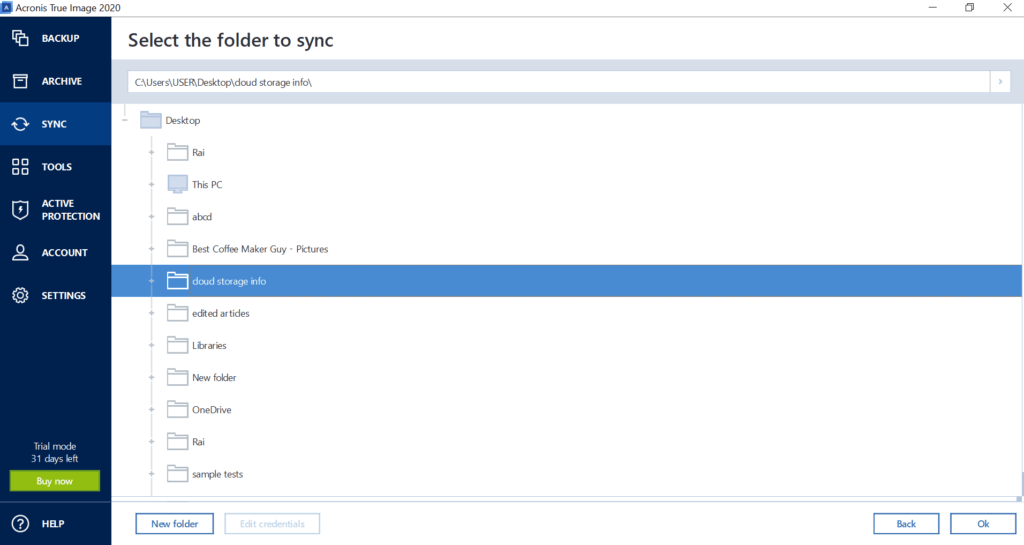 The downside is that it has no deduplication capability. It also has no multithread backup functionality. Making a backup of files, folders, applications as well as operating systems remains easy and fast because of the change-block tracker technology. Through that same technology, Acronis True Image 2020 also allows incremental and differential backups as well.
Since the software works as a full image backup, there is no file on earth that can't be backed up. Every type of file, folder, applications, and operating systems can be backed up easily. Network Attached Storage (NAS) backup is also available. Aside from that, a backup to File Transfer Protocol (FTP) connections is also possible. On top of all of these, external hard drive backup and server backup are also doable.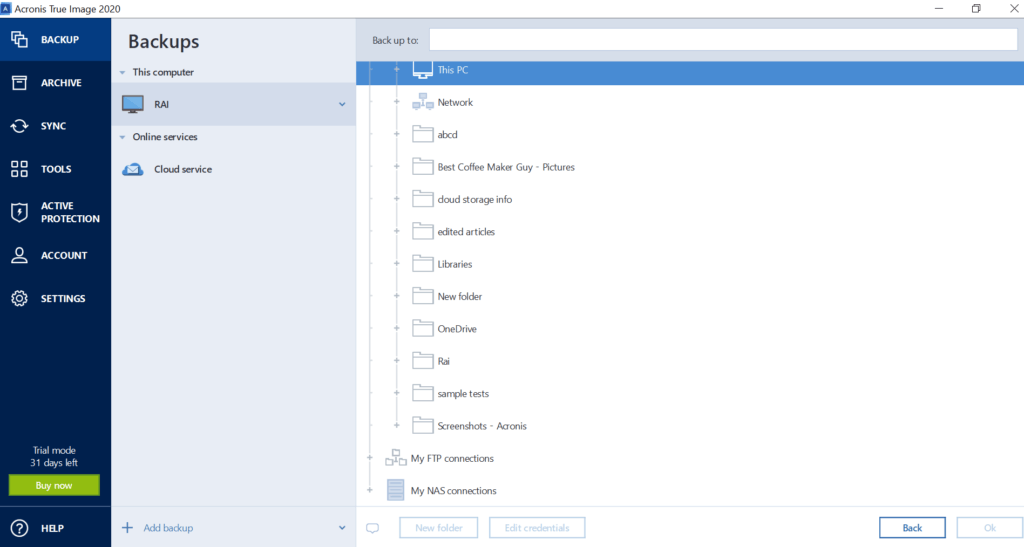 There is no file size limit when creating backups. This is a good thing because it will be a discouragement for any user to use cloud backup software that has a file size limit attached to it. Moreover, hybrid backup is also available.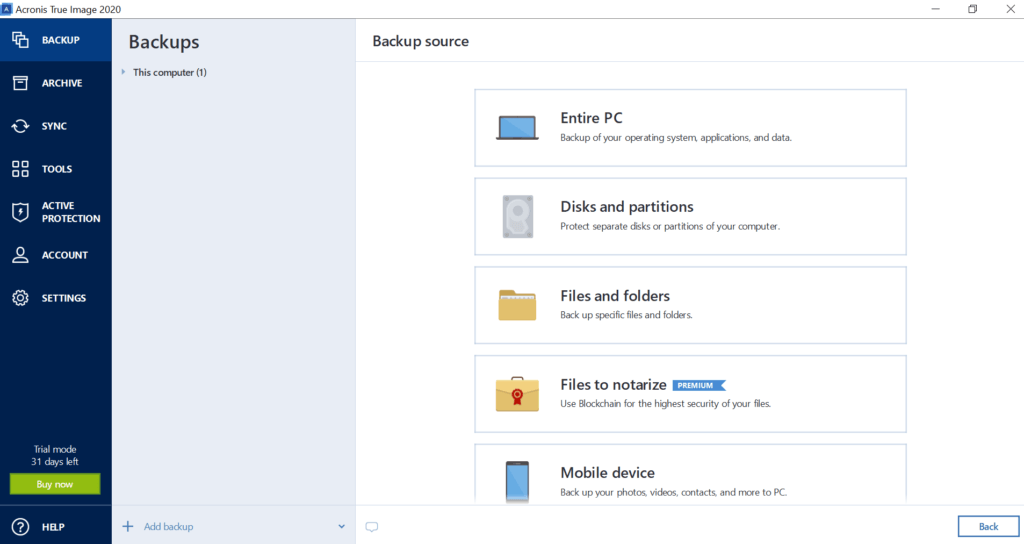 You can also take advantage of the Archive feature of the Acronis True Image 2020. Let the software analyze one of your folders or the entire computer and all the files will be automatically be filtered based on type, date, and size.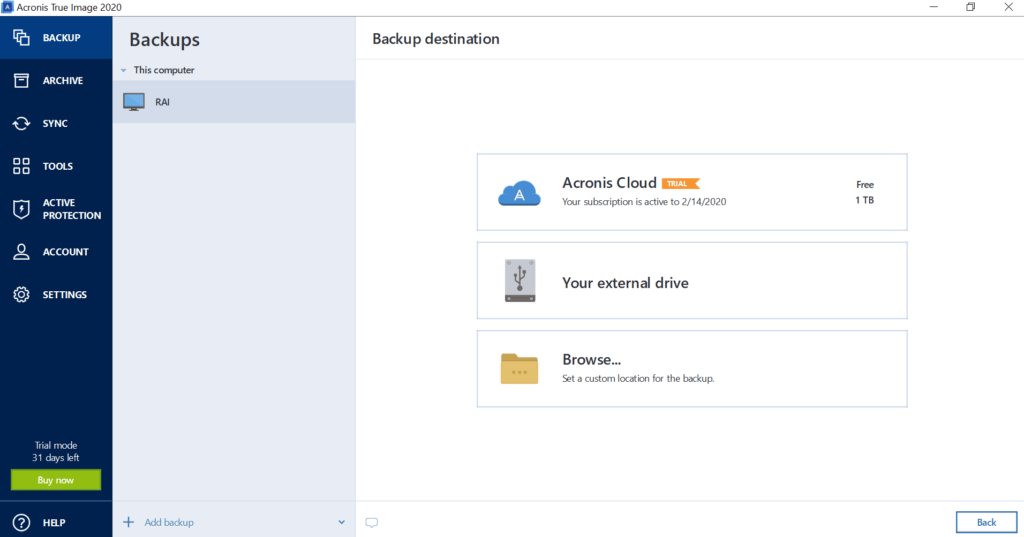 You must then select which files you want to archive based on the result of the analysis and indicate where you want to store them. Click the archive button and enjoy the free space on your computer.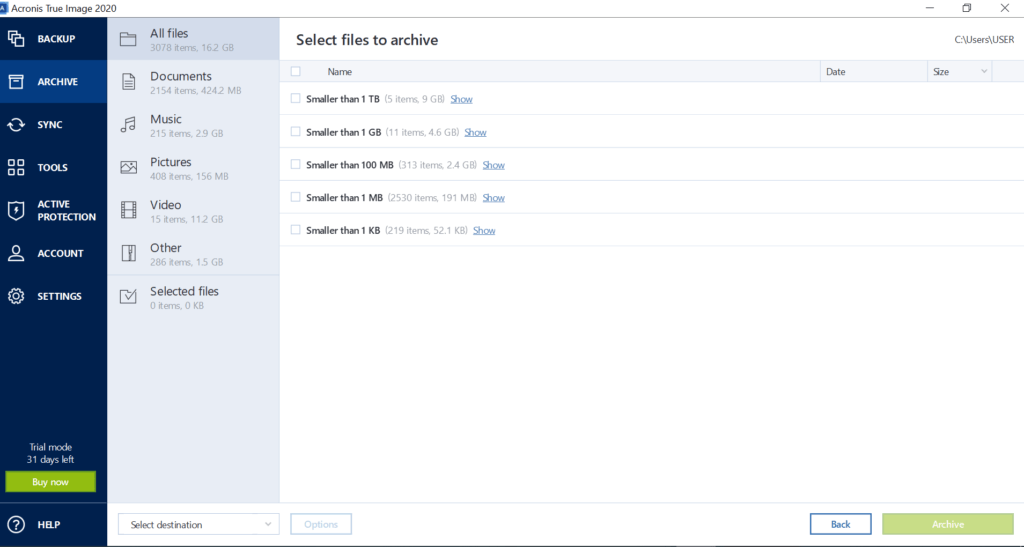 Mobile Application
Acronis True Image 2020 is both available in Google Play and Apple Store. Just be sure that your mobile phone, tablet, and any similar device is compatible. The software only works for Android 5.0 up to the latest version of the operating system. For IOS, be sure that you have updated your phone to IOS 10.3 or even higher.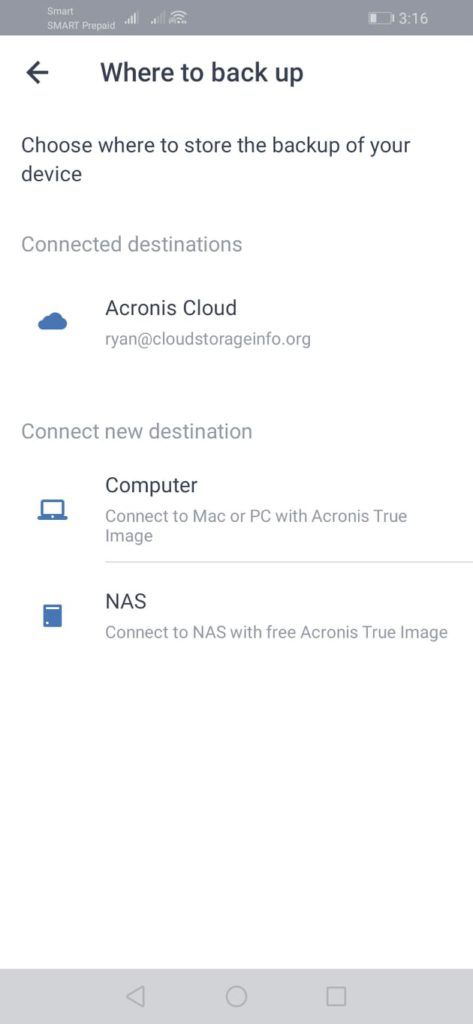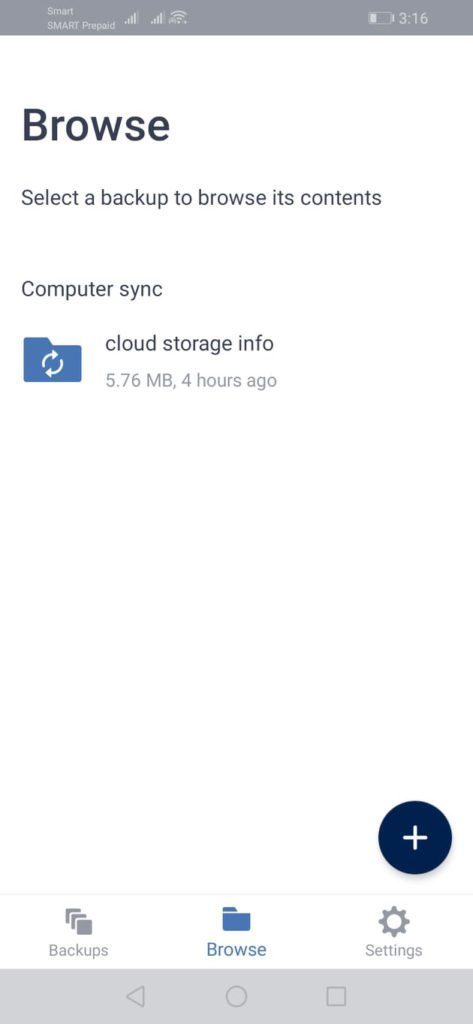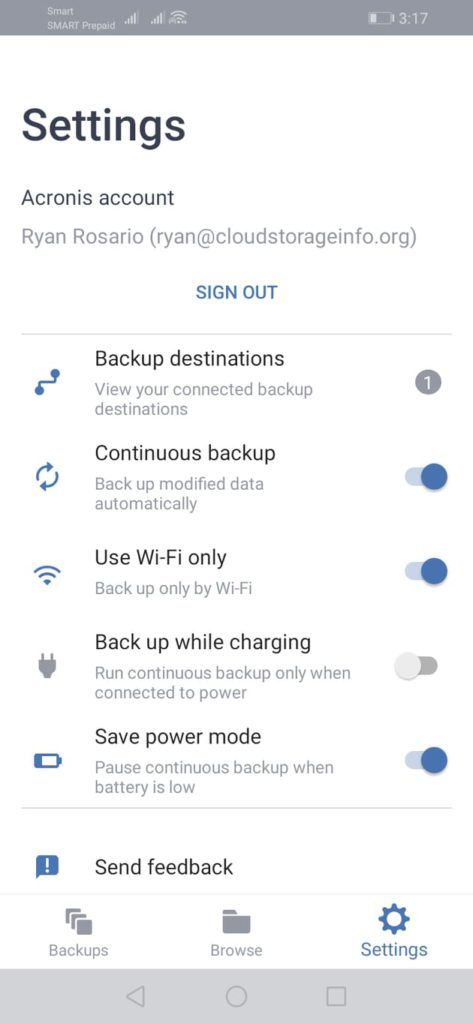 Through the mobile application, you can select where you want to create a backup. Just like in the desktop and laptop version, you can backup files and folders to the Acronis Cloud, computer as well as Network Attached Storage (NAS) from your mobile phone.
Through the phone, you can also select continuous backup so that the synchronization of files and folders happens in real-time.  It is also possible to backup files while charging your mobile phone. You can also set to activate the pause feature of the continuous backup when the battery is low.
Unfortunately, you can't preview any type of file from your mobile application. You first need to download the file in order to be viewed.
---
Speed
Please take note that testing happened in the Philippines with an internet provider speed of 2.00 MBPS / 2.00 MBPS download/upload speed.
| | | | | |
| --- | --- | --- | --- | --- |
| 1 GB File | Internet Provider (max speeds) | Test 1 | Test 2 | Average |
| Time (Download) | 01:06:20 | 01:13:36 | 01:13:40 | 01:13:38 |
| Time (Upload) | 01:06:20 | 01:20:43 | 01:20:48 | 01:20:46 |
The results are comparable to the maximum speed by the internet provider. Transfer speed is very satisfactory.
---
File restoration
File restoration and retrieval can be done easily with a click of a button. Files and folders deleted in the cloud can be restored since it has a trash bin. You can keep the deleted file forever unless you delete it permanently. Moreover, you can keep up to 99 versions of your backup.
---
Security & privacy
Acronis True Image 2020 is the best online backup service there is in terms of security and privacy. The software has an integrated anti-ransomware program so that all of your backups are secured and can't be held hostage by hackers.  It is called the Acronis Active Protection program. It also has an integrated crypto-mining blocker that prohibits hackers to hijack your CPU, GPU, and other computer network resources. On top of all of that, it also has a security dashboard wherein you can monitor all potential cyber threats in real-time. Data centres of Acronis True Image 2020 are highly secured facilities. On-site protections such as 24/7 video surveillance, armed security guards as well as biometric access on the IT infrastructures are strictly observed.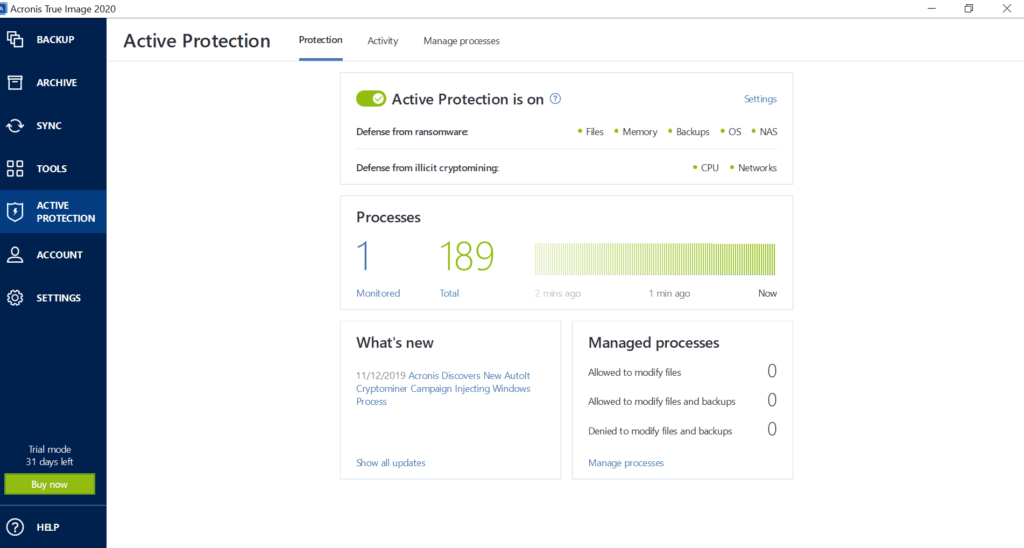 Acronis True Image 2020 also uses an end-to-end encryption program which is equivalent to the client-side encryption protocol. It is based on the zero-knowledge encryption standard set forth by the industry. It also uses the enterprise-grade AES-256 encryption as well as the Secure Sockets Layer (SSL). You can also set user-defined passwords for different backups.
Acronis True Image 2020 also abides by the rules and regulations set forth by GDPR, EU-US Privacy Shield Framework, Swiss-U.S. Privacy Shield Framework and the Children's Online Privacy Protection Act.
---
Online support
Online support of Acronis True Image 2020 is the best there is. They have a very responsive live chat support system as well as customer service teams answering calls from all over the world.  They also have a comprehensive Knowledge Base page for frequently asked questions.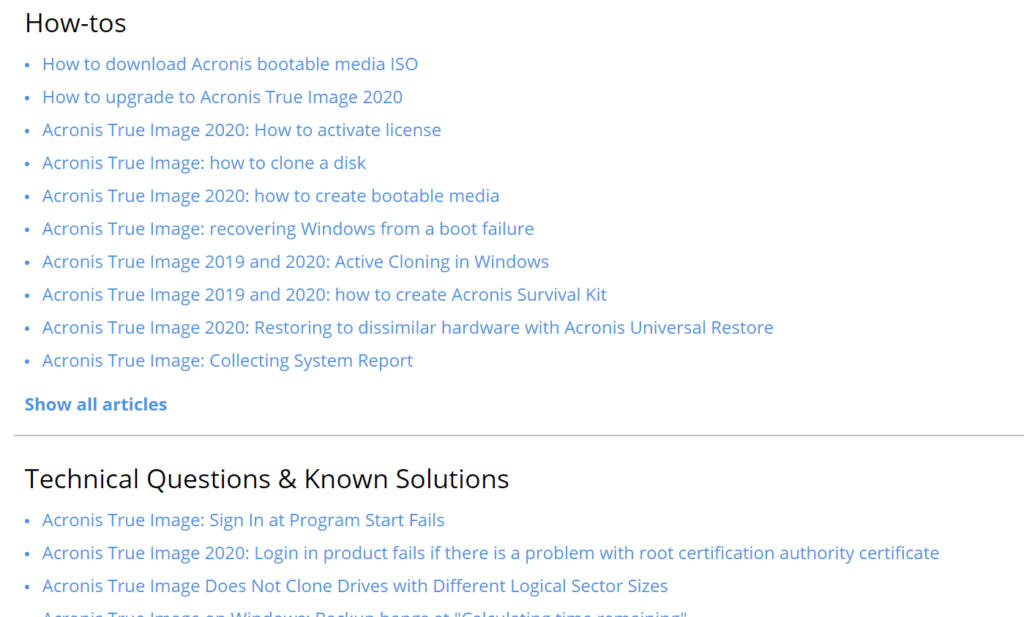 ---
Additional features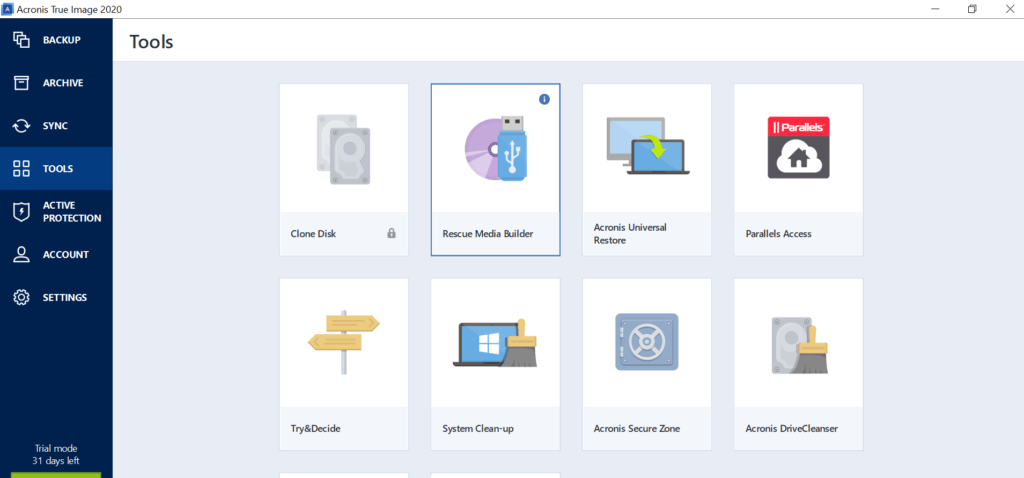 Clone Disk – You can create an exact copy of a Windows or Mac system while it's in use, without having to stop and reboot. It is used for easier migration of data to a larger and even faster disk.
Rescue Media Builder – You can create a bootable media out of an external hard drive. It comes in handy if your computer becomes unbootable.
Parallels Access – You can access your computer remotely via mobile phone devices.
Try & Decide – You can safely test new system updates, software and drivers because you can easily return to the previous settings.
System Clean-up – You can easily wipe your computer usage history, passwords and other personal information that should be protected.
Acronis DriveCleanser – You can permanently destroy all data on old whole disks or partitions.
Acronis Secure Zone – You can create a specialized protected partition for storing backups on your disk.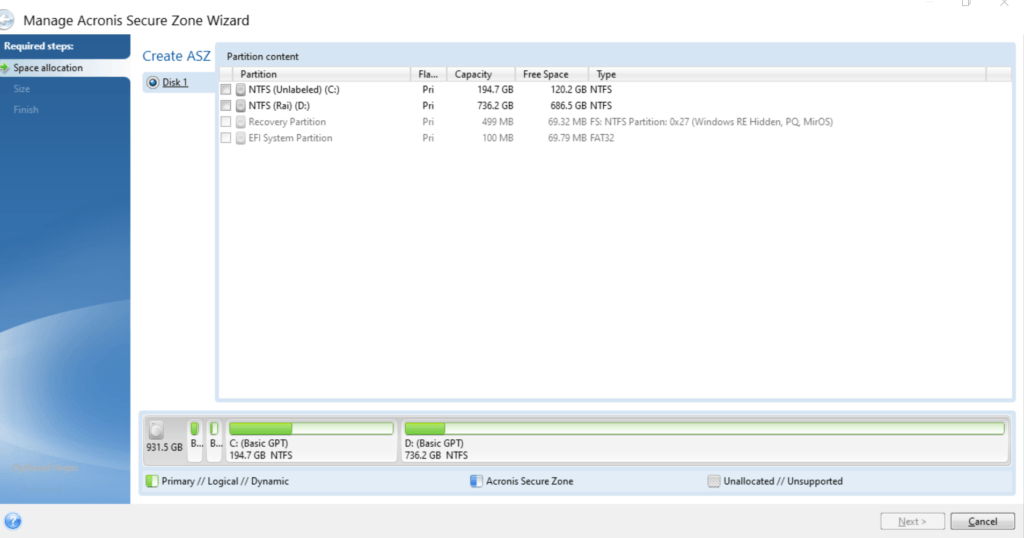 Acronis Universal Restore – You can use this to recover backups with a different type of hardware.
---
Conclusion
I would definitely recommend Acronis True Image 2020 because of its excellent privacy and security measures and outstanding online support. It also has lots of additional tools and features to offer which is really helpful for people who wish to create a backup of everything that they have. Backup speed is also remarkable. On top of that, it is easy to use as well. The only thing that is really not good about the system is that it has no file preview. It also has no customization on the privacy of link sharing.
---
---
I hope I answered all your questions within this Acronis True Image Review. If you have any unanswered questions feel free to ask them in the comments section down below and I'll answer them shortly!