IDrive
$4.34/month 2000 GB
Security & Privacy
9.5/10
Additional Features
8.0/10
Pros
Affordable plans
Backup schedule, continuous backup
External hard drive, NAS, server backup
iOS & Android device backup
Great file restoration options
Client-side encryption available & business compliances
24/7 live chat & phone call support
Sync folder & share files available
Cons
Slightly complicated
No file deduplication
No multi-threaded backup
Slow downloads & download speeds with bigger files
A few bugs spread across the apps
---
IDrive Review
IDrive was launched back in 2007 with the sole vision to protect your critical data on every internet-connected device. And they have pretty much done just that since they now support a wide variety of devices and enable you to backup and store your important information. Practice and theory are two different things though, as we will find out in this IDrive review, not everything is as smooth as it should be.
Read the full IDrive review below.
---
IDrive Alternatives
| # | Service | Rating | Description | Paid Plan | Go To |
| --- | --- | --- | --- | --- | --- |
| 1 | Acronis True Image | Read review | Acronis True Image is an online backup software with excellent security & privacy. You can perform scheduled, Hybrid, NAS, external hard drive, server and other backups. The download & upload speeds are decent and you can always rely on their support to give you a hand. 30-day trial period. | €8.33/month 1000 GB | Go to Acronis True Image |
| 2 | BigMIND | Read review | BigMIND is the next-gen cloud backup provided by Zoolz. It has a modern interface with very well developed backup features. It includes scheduled, hybrid, NAS, external hard drive,... backup. The upload and download speeds are incredibly fast which is a bonus in comparison with other cloud backup providers. 1 GB of free backup storage. | €2.99/month 100 GB | Go to BigMIND |
| 3 | Polarbackup | Read review | Polar Backup originates from the UK and aims to provide an affordable complete cloud backup solution. Their lifetime online backup plans certainly make them an interesting choice due to the well developed backup client with client-side encryption included. No free plans. | $3.33/month 1000 GB | Go to Polarbackup |
| 4 | CloudAlly | Read review | CloudAlly is not your regular backup service. It focuses on backing up other cloud services such as G Suite, Microsoft 365, OneDrive, Dropbox, Box.com... Keep in mind though that it is business-focused so no plans for personal users. 14-day trial period. | $3 per 10 GB | Go to CloudAlly |
| 5 | IDrive | Read review | IDrive has been around for what seems an eternity now. They basically cover all of the possible backup solutions and for a decent price as well but there seems to be a few technical issues with the service alongside the somewhat poor download & upload speeds. 5 GB of free backup storage. | $4.34/month 2000 GB | Go to IDrive |
---
Jump to:
Pricing & Plans
Who is it for?
Ease of use
File backup
Speed
File restoration
Security & privacy
Online support
Additional features
Conclusion
---
Pricing & Plans
IDrive doesn't come into that category of cloud backups that offer unlimited storage. It does, however, offer unlimited computers and devices with the paid plans. They also offer you a permanent 5 GB free plan alongside the personal and business plans.
The business plans mainly uncover a bunch of much-needed features such as unlimited user accounts and groups which allow you to manage your team efficiently. Server cloud backup and business compliances are also part of that package.
It's interesting to see that they also give a flat 50% discount for all students. You will need to validate your email address for that to take effect though. If the domain isn't registered with them yet you can easily contact them to get that sorted.
They have a 15-day period when it comes to the refunds. Anything beyond that is very unlikely to get refunded based on various reviews across the internet.
---
Personal Plans
---
Business Plans
---
| | | | |
| --- | --- | --- | --- |
| Plan | IDrive Basic | IDrive Personal | IDrive Business |
| Backup storage | 5 GB | 2-5 TB | 0,25 – 12,5 TB |
| Allowed users | 1 | 1 | Unlimited |
| Allowed computers & devices | Unlimited | Unlimited | Unlimited |
| Users & Groups | No | No | Yes |
| Single Sign-On | No | No | Yes |
| Server Cloud Backup | No | No | Yes |
| Business Compliances | No | No | Yes |
---
Who is it for?
IDrive is suitable for both personal and business users. It does have its share of quirks and bugs but it offers a wide range of features not available anywhere else. You also don't have to worry about the security of your files as IDrive does everything right in that field.
---
Ease of use
Signing up with IDrive isn't all that complicated (you can also use Google to sign-in). If you go with the free plan to try them out there's no need to provide credit card information. That will be required with the paid plans though (PayPal is not supported). Keep in mind that you're enrolling into automatic payments and will be charged again when the time comes. Many users reported issues with them forgetting to cancel the automatic payments and then missing the 15-day refund period which resulted in them losing money. Make a note somewhere and keep that in mind!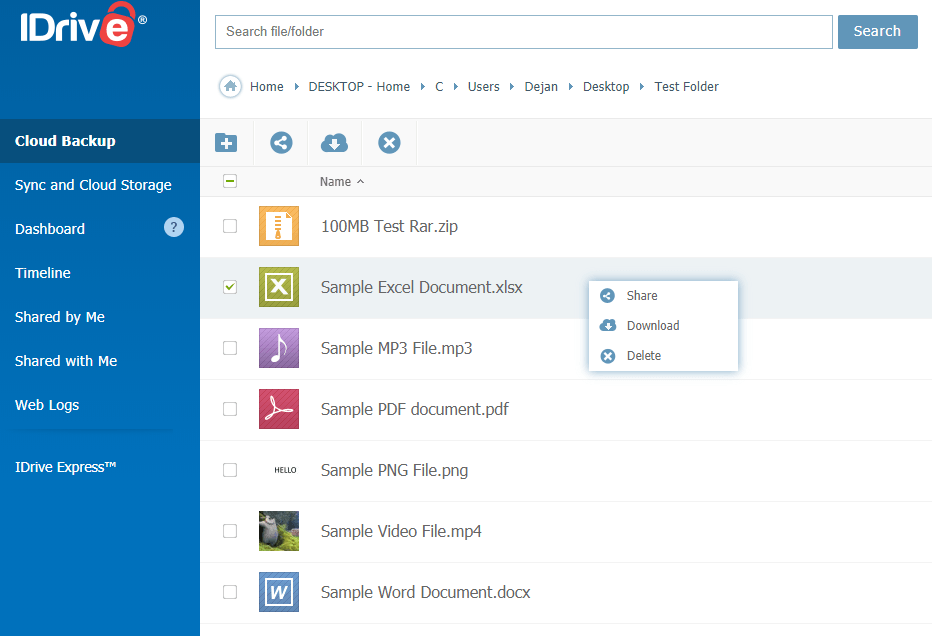 The browser user interface is what you get when you're inside. On the left, we have a menu and in the centre the classic list interface. It's also possible to use the Thumbnail view but I prefer the list one when dealing with a larger quantity of files. The interface itself actually feels quite responsive despite the rather "not so new" look. The menu on the left does various things:
Cloud Backup – All devices that you have backed up from will show up here alongside all the backed up files which you can access at any point.
Sync and Cloud Storage – IDrive also offers a piece of cloud storage within their system with their "sync any folder" feature.
Dashboard – It's possible to view and monitor all connected devices through the dashboard.
Timeline – The timeline displays all of your backed up photos by date.
Shared by Me – Displays folders and files that you share.
Shared with Me – Displays folders and files shared with you.
Web Logs – Displays file & setting changes.
IDrive has clearly been in the works for a number of years in order to get to this stage. It's filled with plenty of features but I can't help notice various bugs and errors all over the place. Downloading bigger files (1 GB) from the browser seems to be a challenge for the system as it sometimes takes a crazy amount of time for the download to begin or you simply land on an error page. The "Dashboard" also, for example, showed that my desktop was offline even though I was on it at the time.
File previews & edits
Having a quality cloud backup provider can be useful for other things as well, not just for backing up your files. Certain providers also enable you to preview and watch files directly from the browser. IDrive doesn't deal with documents such as Office or PDF though, those are not eligible for file previews.
It is possible to stream movies, preview images and listen to music though – all directly from the browser without the need to download any files.
---
File backup
IDrive is focused on backing up your files in a number of ways to ensure the safety of them in case something goes wrong. Their main desktop app is available on both Windows and macOS. They also have a client for Linux systems.
After downloading and installing the client you're greeted with the following user interface: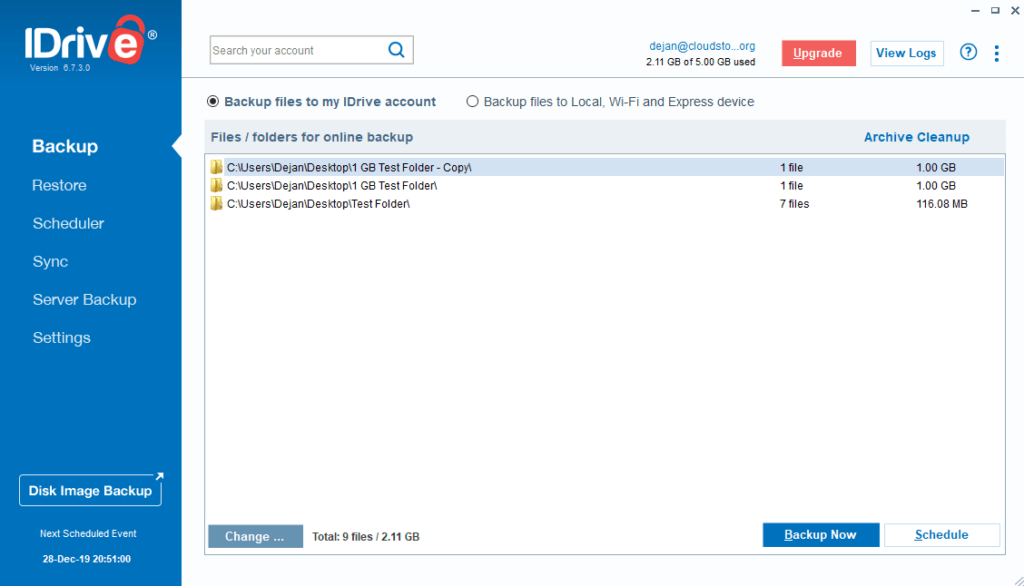 The backup menu option will be the one you most likely use the most. From here you can set up which exact folders or files from your computer you would like to backup to the cloud. They're then transferred to the cloud based on a schedule. The schedule is easy to setup and allows for various options such as daily schedule, hourly schedule, cut-off time (in case you want the backup to stop beyond certain hour), enable e-mail notifications and more.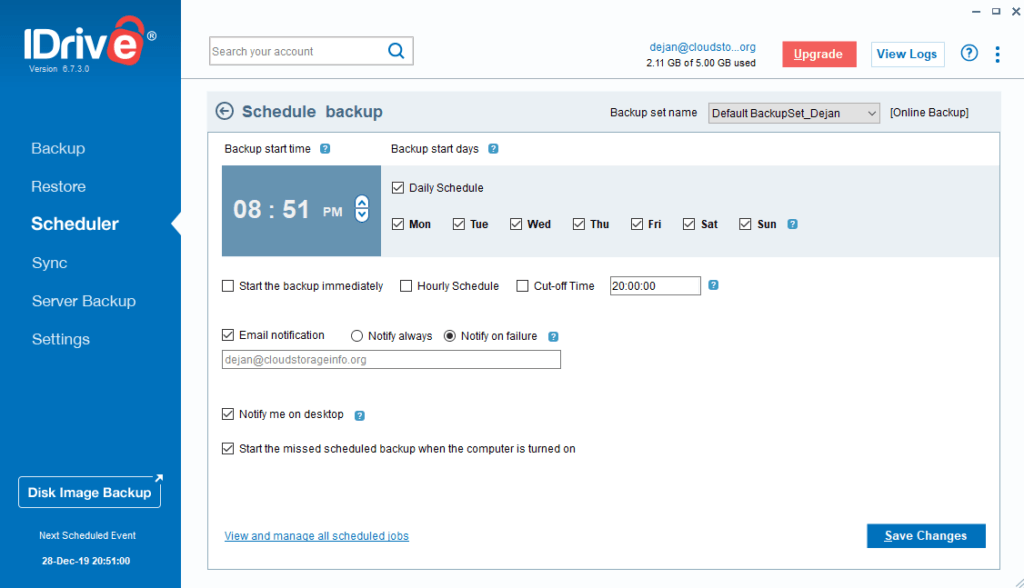 IDrive also enables incremental backup by only uploading the portions of the files that have changed rather than the whole files. That's more commonly known as block-level file sync.
It's also possible to use the program to backup files to a local, Wi-Fi or Express device. That mostly comes into play if you're trying to backup files to your external hard drive. I, for example, have a scheduled backup to the cloud and the external hard drive. There's nothing wrong in backing up twice.
What use is a backup if you can't get it back when it's needed? Well, that's when the "Restore" menu option comes into play. It's possible to restore the files directly back to their previous original locations, that is if the file/folder structure is still the same. When trying to restore a larger file (1 GB) I had a big issue with the download speed as will be explained under "Speed" section. Apart from that, the feature works as explained.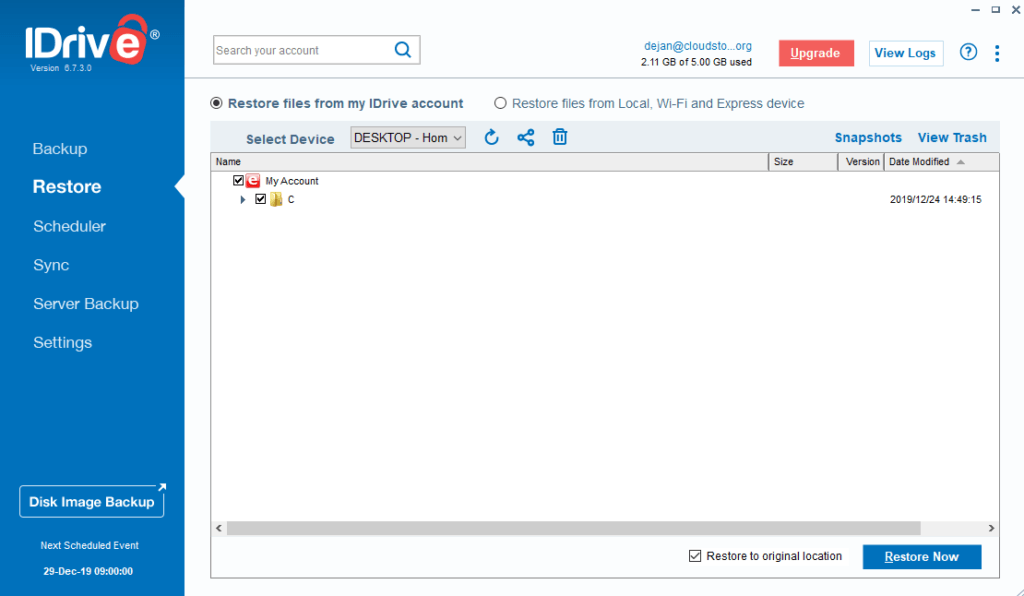 IDrive is filled with advanced features. You can also perform what they call "Disk Image Backup". This option enables you to backup complete drives and afterwards restore them wherever you want. This includes external hard drives and NAS devices.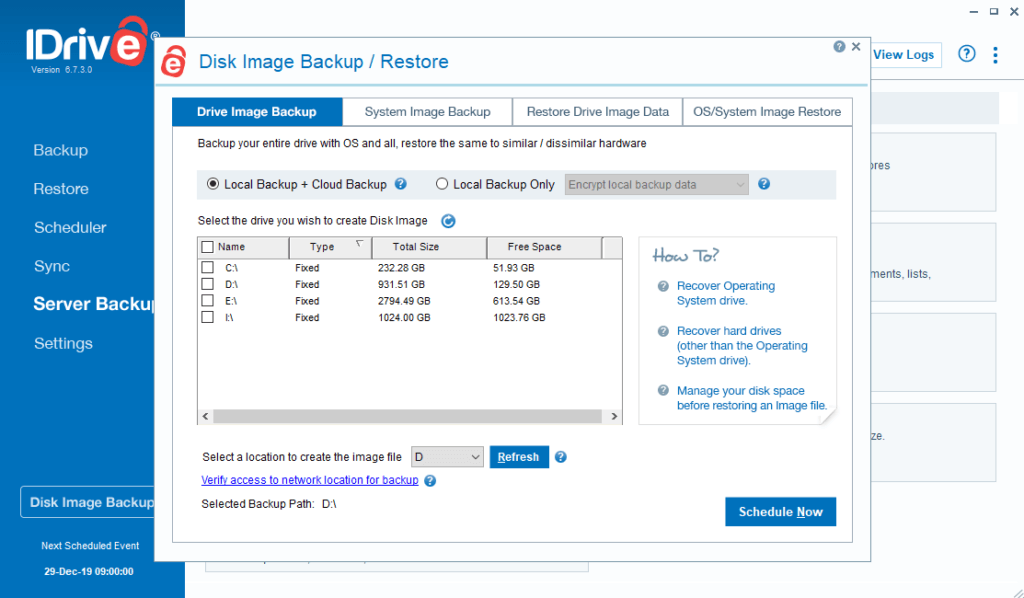 Server backup is also available (to Business users only) which enables the backup of various servers such as MS Exchange, MS SharePoint, Oracle, MS SQL, Office 365, Hyper – V,…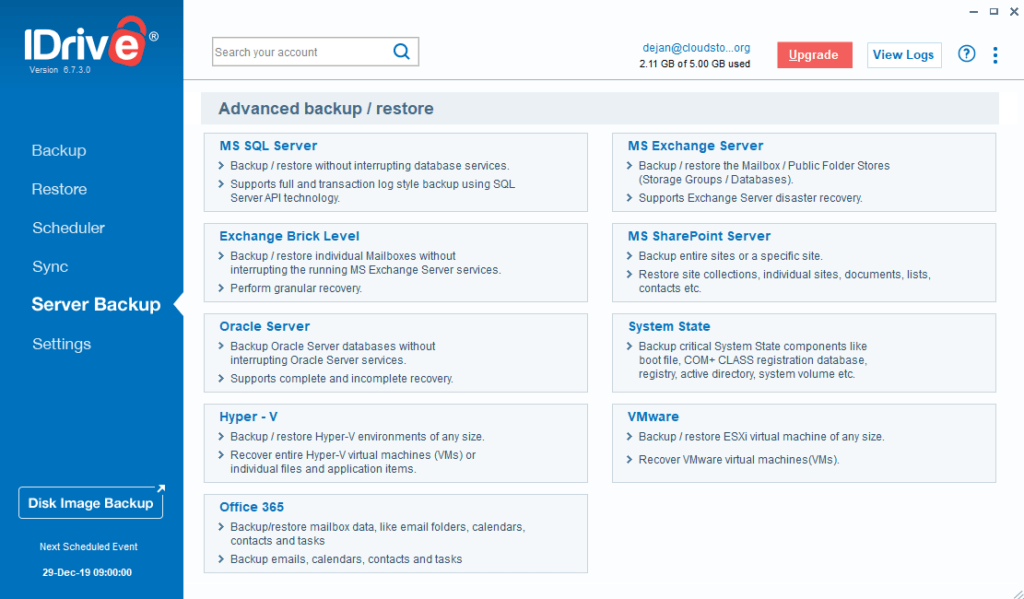 Via the settings, you can also enable continuous backup which backs up files smaller than 500 MB as they're changed. This does not replace the scheduled backup but instead provides an additional quicker way of making sure everything is backed up. You can also throttle both CPU and bandwidth, set proxy settings and manage how the program operates.
It's important to note that IDrive does not offer deduplication which would come in very handy if you want to keep files tidy and not store multiple versions of the exact same file. It also offers no multi-threaded backup to speed up the whole backup process client-side.
Mobile application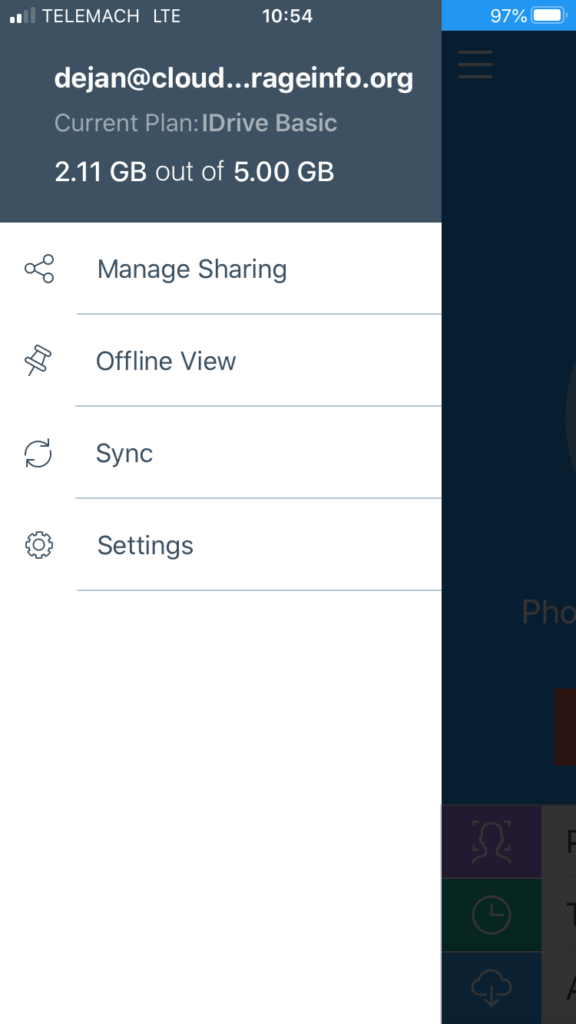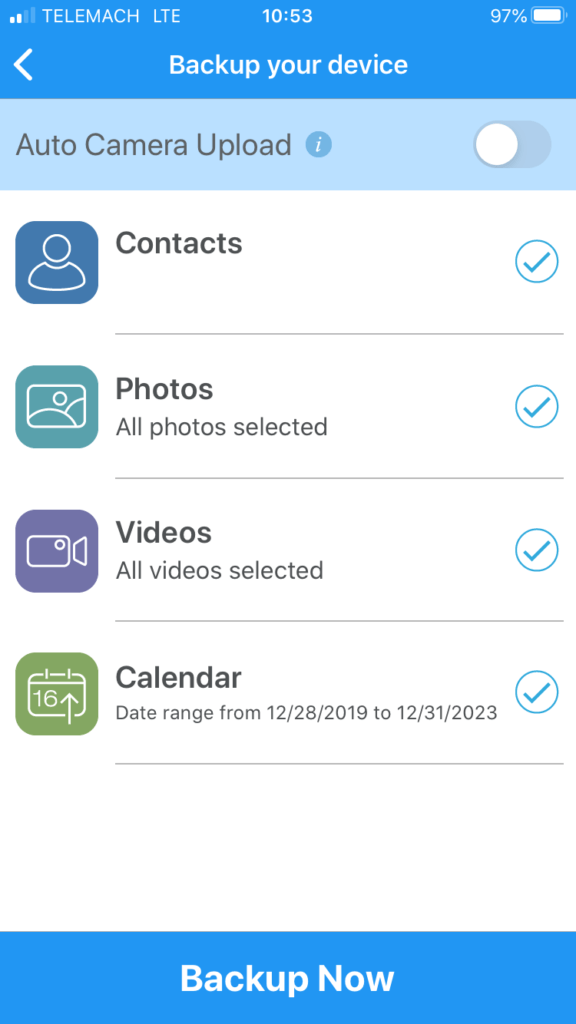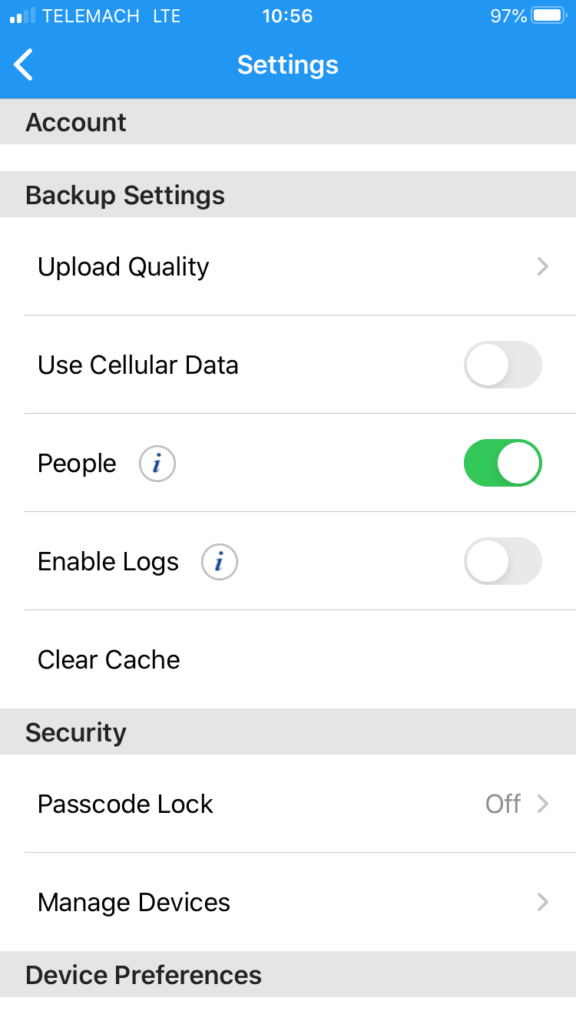 The IDrive mobile app is available for both iOS and Android devices. It allows you to automatically backup photos, videos, calendar and contacts from your device. You can also access all of the backed up files alongside the "Sync" folder and mark files for offline usage which is great if you think you'll be without access to the internet. The app worked fine on my iPhone so good job on this one to IDrive.
---
Speed
A very important aspect of any cloud backup is its ability to backup files without problems and in a fast manner. As with all other cloud backups, I've performed a speed test with IDrive as well. The test was performed in Ljubljana, Slovenia with a guaranteed internet speed (by the provider) of 150/6 Mbps which translates into 18.75/0.75 MB/s (download/upload).
Below you can see the upload and upload speeds done via the IDrive application. To say that the results are very disappointing is an underevaluation. I have backed up two files, both in the size of 1 GB and then erased one of them. I have then performed a "Restore" operation and shockingly found out that it took about the same time to download the files as it did to upload them.
Upload Tests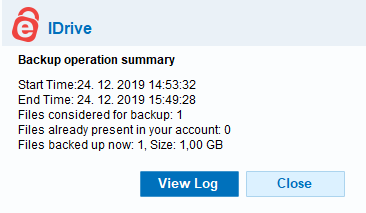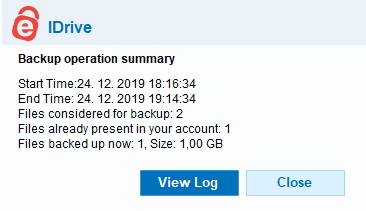 Download Tests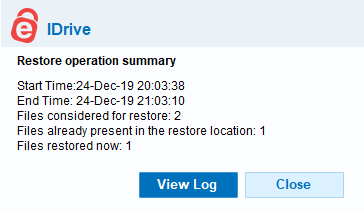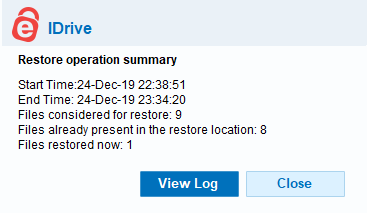 | | | | | |
| --- | --- | --- | --- | --- |
| 1 GB File | Internet provider (max speeds) | Test 1 | Test 2 | Average |
| Time (download) | 00:00:55 | 00:59:32 | 00:55:29 | 00:57:31 |
| Time (upload) | 00:22:45 | 00:55:56 | 00:58:00 | 00:56:58 |
I have also tried downloading the file directly from the web browser. After 13 minutes of waiting, the download finally started and was completed in 1 minute and 50 seconds, resulting in a total download time of 00:14:50. It's clear to me that the problem doesn't lie with their transfer speeds but rather their system which is incredibly slow. Downloading smaller files with up to a few MB worked fine via the browser but anything larger than that has big issues.
---
File restoration
Whenever something happens to one of your devices you simply use the "Restore" option available with all of their features. But if you want to simply get back a certain file that you deleted in the cloud you can access the trash. Files in the trash get automatically deleted after 30 days.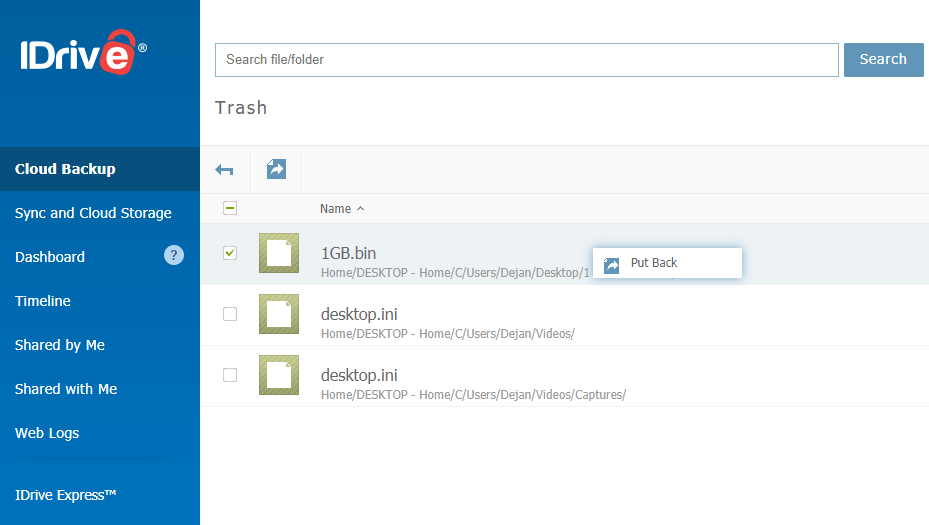 What about file versions? If you overwrite a certain document, for example, IDrive will store the previous version of that document. IDrive retains up to 30 versions of all backed-up files.
They also have another very useful feature called "Snapshots". With this feature, you can go back in time (similar to pCloud Rewind) and see your files as they were at that exact date and restore them if needed. This goes back up to 30 versions of your files.
IDrive Express is what IDrive calls their courier recovery service with one major difference. You can also use it to backup data in the first place. Other backups mostly allow you to just retrieve your data this way. How does it work? IDrive sends you a physical external hard drive to which you upload your files via the IDrive app. You send it back and they upload the files to the servers. This is done to basically shorten the time needed to get all of your files online. Within 5-10 days you have your files online in comparison to 60 days done via uploading (5 Mbps speed, 3 TB of files). This service comes FREE for Express Backup, once a year for Personal users and thrice yearly for Business users. Subsequent backup requests will be subject to the $59.95 charge. Express Restores will be charged $99.50 per request.
---
Security & privacy
IDrive hosts your files on their data centres in the US. Their data centres have raised floors, HVAC temperature control systems and seismically braced racks. They offer state-of-the-art smoke detection and fire suppression systems, motion sensors, 24/7 secured access, video camera surveillance and security breach alarms. That's all when it comes to physical security, but what about software?
Your data is encrypted both at rest and on transfer with 256 AES encryption. It's also possible to create a private key for your account during sign-up which enables client-side encryption. That way nobody but you will have access to your account and data (zero-knowledge privacy). Make sure to store that private key safely though. If you lose your password and your private key you'll also lose access to your files. IDrive can't help you there.
IDrive does provide the authorities with your files and information if required to do so and since IDrive is located in the US the Patriot and CLOUD act come in effect. However, if you're using the private key (client-side encryption) your files won't be disclosed since they're unable to decrypt them.
IDrive also offers HIPAA, SOX, GLBA and SEC/FINRA compliance to all business users and allows you to sign a BAA (Business Associate Agreement) with them.
Two-step verification is also available to ensure the maximum security of your account (done via email).
---
Online support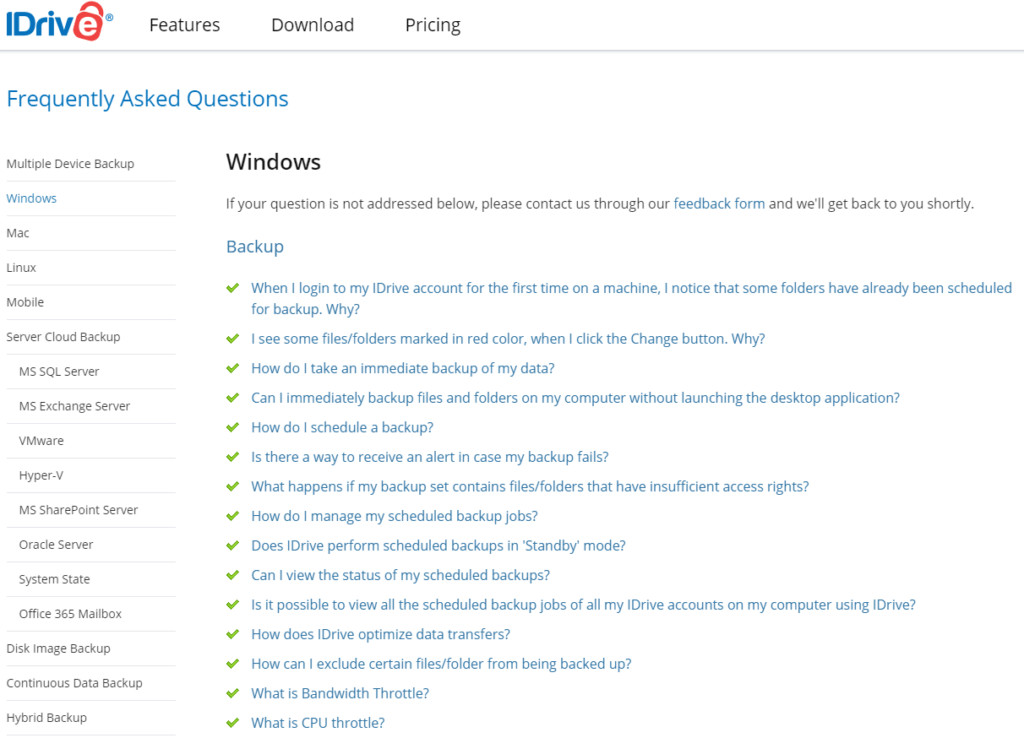 IDrive truly shines in this area. They offer multiple ways of online support. Their FAQ base covers a lot of what has already been asked and answered which makes it great for getting answers quickly. I did miss the option to search through the base though. If that's not enough you can use an e-mail to get in contact with them and they're very quick on response time (within a day). And then we also have the live chat support agents who are available for you 24/7, no matter if you're a paid user or not. If that's not enough you can also call them directly during business hours: 6 AM-6 PM PST. Overall, I am pretty impressed by the level of support they offer to a regular user.
---
Additional features
---
Sync and Cloud Storage
IDrive alongside the cloud backup also offers a cloud storage and a synchronisation folder. It's important to note that this storage doesn't count towards your backup quota so you basically have an additional space that is equal to your backup plan. If you have 2 TB of backup storage you will also have an additional 2 TB of cloud storage.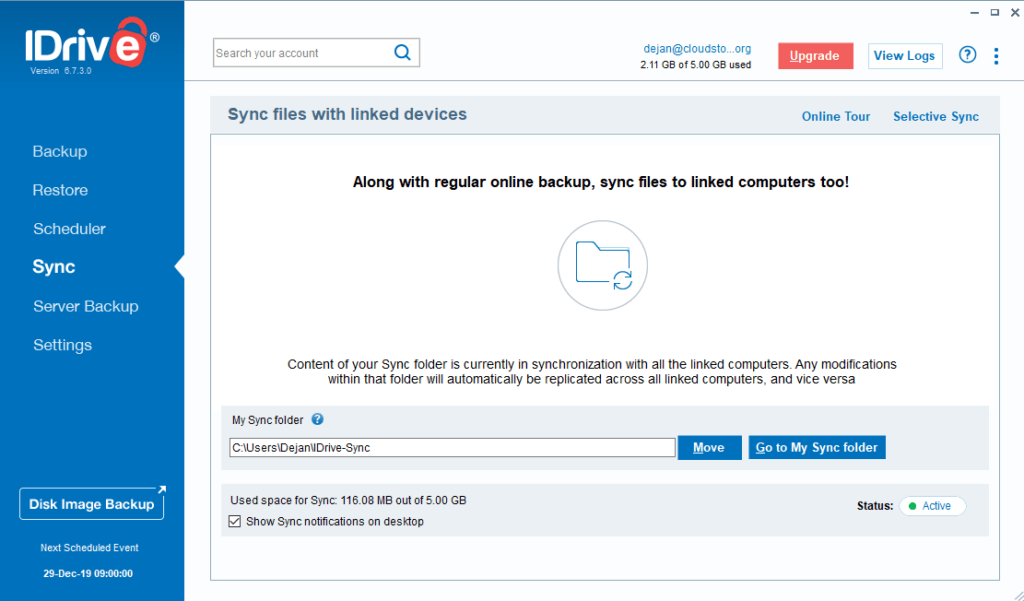 The Sync folder can be accessed from all of your devices. Simply upload the files on one device and they will show up on all other devices. The sync folder doesn't offer any advanced features (such as selective sync) but it's there and it's useful.
---
Share Files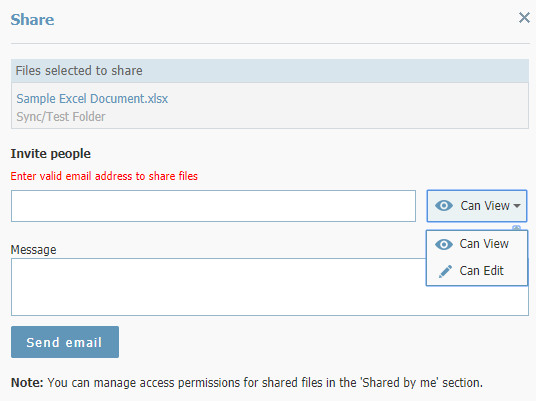 IDrive also enables you to share files and folders with your friends and co-workers. Once again, nothing advanced here such as download links or upload links but you do get to share the files via e-mail. You can also set permissions: Can View or Can Edit.
---
Conclusion
IDrive is one heck of a beast. It's been around since 2007 so it doesn't surprise me that they offer so many features and the price isn't bad at all. It's not that simple to use but you get your head around it in a reasonable time period. The amount of devices and servers they support is amazing. Unfortunately, they didn't convince me of their speeds when it comes to larger files. File restoration is great though, the ability to retrieve both deleted files and previous versions is great, not to mention the IDrive Express… Security is also on point and I advise you make use of their client-side encryption to prevent any government interventions. 24/7 live chat support is also a great gift, especially at this price. They can probably afford to do that due to their Indian quarters. The sync folder & sharing options are also an added benefit.
Overall, I believe IDrive is a great platform for backing up your files. The speeds are an issue though, especially with the larger files. My recommendation is to make use of their free IDrive Express feature and upload the files to their external hard drive that's sent to you. That way you'll avoid the long upload times that are, let's be honest, an issue with every backup service. I would say, give the free plan a go and see how IDrive behaves.
---
---
What's your experience with IDrive? Please share it down below. I hope I answered all your questions about IDrive within this IDrive review. If you have any unanswered questions feel free to ask them in the comments section down below and I'll answer them shortly!