pCloud vs Dropbox – The Ultimate Comparison
---
pCloud vs Dropbox – The Ultimate Comparison
pCloud vs Dropbox: It goes without saying that Dropbox is the most widely spread cloud storage, reportedly used by 500 million users. On the other hand, we're looking at cloud storage that has just recently reached 10 million users. Bear in mind that they have been steadily raising their userbase in the past few years and that trend doesn't seem to be stopping. Well, why is that happening? pCloud has quite a few compelling features that encourage people to use their service and even switch from Dropbox. We'll compare the two and see which one takes the spotlight at the end. You can also check the separate reviews on pCloud and Dropbox.
pCloud
$4.99/month 500 GB
Additional Features
9.0/10
Pros
Up to 10 GB of free storage
Amazing sycing solutions
Unlimited transfer speeds
Easy to use
Unlimited file sizes
Client-side encryption
Innovative lifetime plans
US & EU Servers
Cons
No client-side encryption in the free plan
No dedicated live chat/phone support
Dropbox
€11.99/month 2000 GB
Additional Features
8.0/10
Pros
Easy to use
Quality sync options
Good file retrieving options
Diverse support
Cons
Semi-expensive
No backup feature
Limited sharing options
No client-side encryption
Prone to Patriot and CLOUD Act
---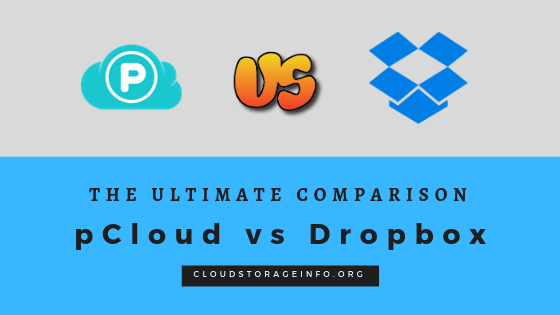 Jump to:
Pricing & Plans
Ease of use
File syncing
File sharing
Retrieving files
Security
Online support
Additional features
Conclusion
---
Pricing & Plans
pCloud
pCloud is one interesting beast. You can get up to 10 GB of storage completely for free. Like all the other cloud storages they also offer the monthly plans which you can pay yearly to get a discount on the whole thing. But here's where it gets interesting. They also offer lifetime plans. That's right, for a one-time payment you receive 500GB or 2000GB of cloud storage for 99 years or until you die, whichever is shorter! They were the first cloud storage to bring this to the market a few years ago and it seems like it is working out for them and the customers. And it doesn't end there. You can also go with lifetime family plans. They certainly made it to my "Best lifetime cloud storage plans" article.
Alongside the standard plans, they also offer additional protection for your files under their Crypto plan. A 10 days money-back guarantee is placed on all plans.
---
Lifetime Plans
---
We have gone in detail about lifetime plans and figured out if they're worth the money here.
---
Monthly Plans
---
The monthly plans presented above are true if you go with yearly payments.
---
Dropbox
Dropbox has been in this game for a while. They know what works and what doesn't and have as such prepared a set of personal and business plans. They vary both in the storage they offer and the features you get. Having said that, there are also other features that aren't part of these plans and need to be paid additionally. Remember that you can opt-in for yearly payments and that way save 17% on all plans. Another thing worth mentioning is that VAT still needs to be applied to all business plans.
Personal Plans
---
pCloud vs Dropbox Round 1 Thoughts
Both pCloud and Dropbox offer a wide array of pricing plans and yet pCloud manages to stay ahead with a lot bigger chunk of free storage. Their monthly plans are also cheaper in comparison to Dropbox. The unique lifetime plans make them a very interesting option to look at from that perspective. The ability to pay once for cloud storage and not worry about monthly payments seems pretty great to me.
Pricing & Plans Winner: pCloud
---
Ease of use
pCloud
It has an interface that's quite simple and easy to use. You can switch between the list and grid view. Uploading, sharing, collaborating, downloading and all other tasks are easy to execute with buttons being on appropriate and logical places. On the left, you're also presented with a menu that forwards you to other options such as the Crypto folder, Shared files and Audio files for fast access. The interface feels responsive and seems to be able to cope with whatever you set out to do.
pCloud allows you to preview text and pdf files directly in the dashboard. You can also listen to music and watch videos.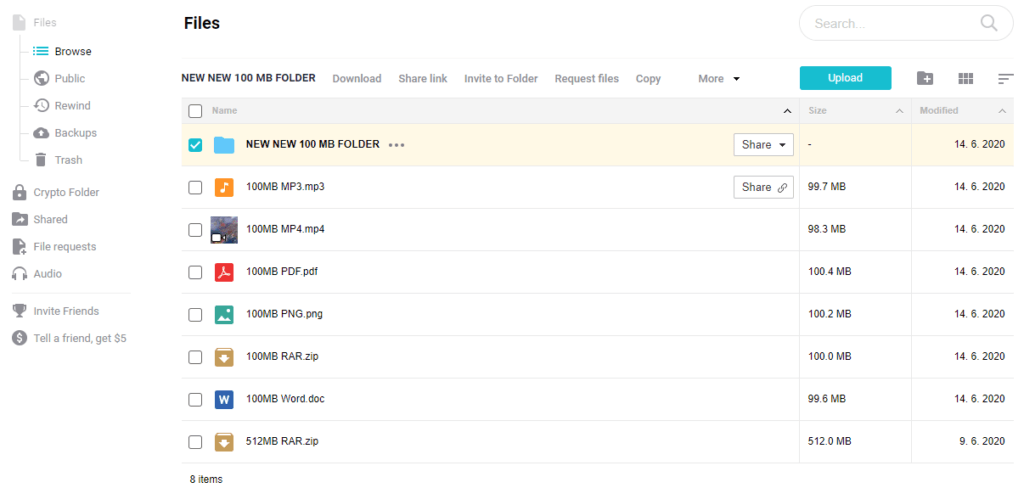 Dropbox
During the years their interface changed a lot and has come to what we have available now shown in the screenshot below. The interface feels responsive and is fairly easy to use. There are plenty of options available left and right. In fact, their cloud storage is quite known on the internet for its simplicity but that trend has been around for years now. I would say that all modern cloud storages nowadays are quite easy to use and easy to learn.
You're also able to work on documents, watch videos and listen to music directly from the Dropbox dashboard.

---
pCloud vs Dropbox Round 2 Thoughts
Both pCloud and Dropbox have been around for quite some time. They have eliminated most of the bugs and quirks in regards to the interface and are both fairly easy to use. With slightly different structures and menus, there's nothing that steals the show from another.
Ease Of Use Winner: Both
---
File syncing
pCloud
pCloud Drive is available on Windows, Mac and Linux. It is a client-side application that you install on your computer. It creates an imaginary drive to which you can save your files and the best part about it: It doesn't take up any of your local storage capacity (which is basically what selective sync does with Dropbox) unless you save the files specifically for offline usage. You can at any time add, edit and delete the files from the Drive. All the changes you make on the drive will be recognized and applied to all your other devices and the website dashboard. Which is what the ultimate advantage of cloud storage is in the first place. Being able to access and work on your files from multiple locations at any time.
An option to Sync any folder on your computer is also available. That means there's no need of copying the files directly to pCloud Drive but instead just leaving them where they are. A neat and useful feature.
You can also share the files directly from pCloud Drive.

Dropbox
Dropbox is available on Windows, Mac and Linux. The application creates an imaginary drive to which you can then save your files. Dropbox utilizes the so-called selective sync which means that you can select which folders you would like to keep on your hard drive and in the cloud and which ones you would like to keep just in the cloud. It makes for a nice feature that enables you to save up valuable storage on your computer. The Smart Sync they offer in their pricing plans is an advanced version of selective sync (it enables you to save files just locally or in a mixed state as well).
Sharing the files directly from the desktop is also available, however, there's no option to sync any folder on your desktop.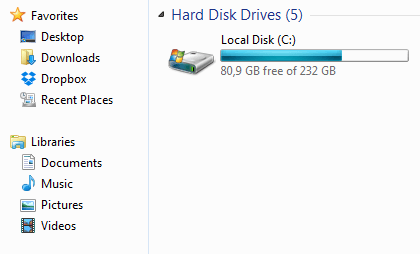 ---
pCloud vs Dropbox Round 3 Thoughts
Both pCloud and Dropbox have come a long way when it comes to their client applications. Both offer them on all the major platforms with all the features one would expect (saving local capacity, sharing directly from the desktop etc.) There are very minor differences between the two and yet pCloud does have the ability to Sync any folder on your computer which is quite a cool feature. I believe it would be fair to give pCloud the round on that account but I would still like to commend Dropbox on their innovative ways to save local storage capacity.
File Syncing Winner: pCloud
---
File sharing
pCloud
pCloud offers multiple ways of sharing files:
Invite to a folder – You can invite other people to your folders so you can collaborate with them on any of your files. You can control who can edit (modify and delete) or just view and download the files.
Share a link – Creates a link to files or folders in your pCloud account that you can share with friends and co-workers. They can see and download the files even without a pCloud account.
Request files – Provide a link to your personal cloud space where friends and co-workers can upload their files for you. Your folder, their content.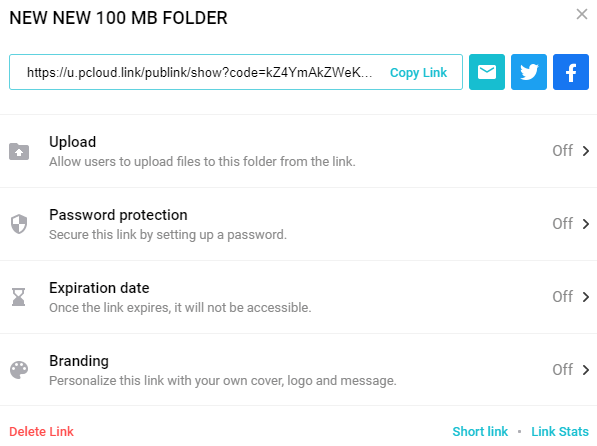 When it comes to the links you're able to set different settings:
Upload – Allow users to upload files to the folder or not. Presents with 3 different options: "Nobody can upload", "Anyone can upload", "Only selected users can upload".
Password protection [Premium] – Protects the generated link with a password which should then be shared with the people that should gain access to the folder.
Expiration date [Premium] – It allows us to put a time limit on the link which is great for setting up a link and then easily forgetting about it. Awesome from the security and privacy perspective.
Branding – Allows for a custom title, description, logo image and background image to be used for the sharing link. Works great and looks professional, especially suitable if you plan to use pCloud as part of your business.
Short link – Great for sharing on social media such as Twitter where we're limited with character number.
Link Stats – Displays the weekly stats for a specific link. Includes the link creation date, total downloads and total traffic.
Bear in mind that the "Upload" setting isn't available for single files but for folders only.
Dropbox
With Dropbox you're able to:
Share a link to folders/files
Invite specific people to a folder (to edit or just to view)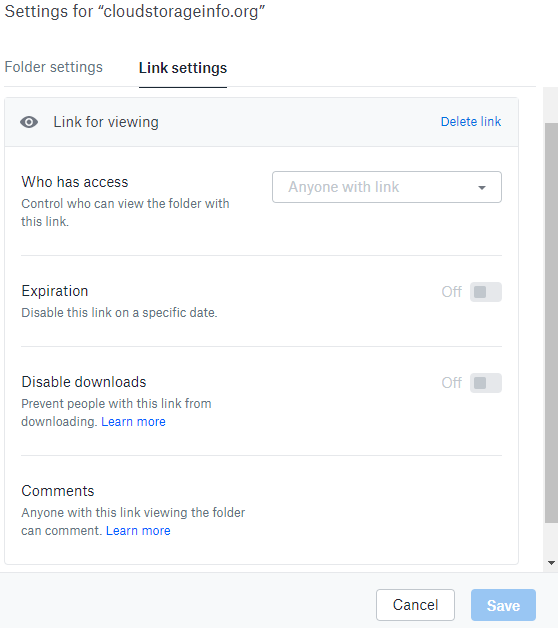 You have a few options when it comes to the links:
People can edit or just view
Put a password on your link (Professional)
Add an expiry date on your link (Professional)
Disable downloads for your link (Professional)
Dropbox introduced limits to the sharing links:
Free accounts:
20 GB per day: The total amount of traffic that all of your links and file requests combined can generate
100,000 downloads per day: The total number of downloads that all of your links combined can generate
Pro accounts:
About 200 GB per day: The total amount of traffic that all of your links and file requests combined can generate
There's no daily limit to the number of downloads that your links can generate
---
pCloud vs Dropbox Round 4 Thoughts
In short, pCloud provides more options in the free plans when compared to Dropbox. When it comes to the premium plans both offer about the same but you might want to go with pCloud if you want to put branding on your links (which is a cool feature to have in every line of work). Dropbox does offer more bandwidth though so that's important when sharing to a larger audience or very big files frequently. pCloud limits could be enough for you though so calculate how much bandwidth you need and decide after that.
File Sharing Winner: Both
---
Retrieving files
pCloud
pCloud features a trash bin and a versioning system. You can recover files and versions for up to 15 days in the free plan and up to 30 days in the pro plans. Getting extended file history (EFH) will make that time longer: 360 days for both the trash bin and all the versions.
pCloud Rewind is another great future that enables you to look at your account as it was in the past and recover files from that time. The same timings that are written above apply here as well!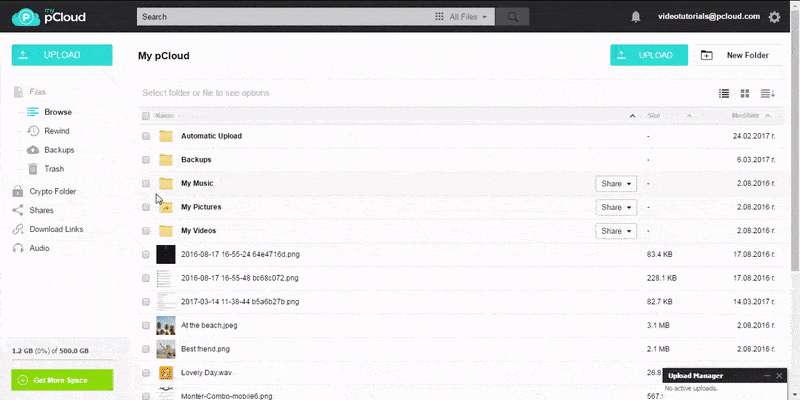 Dropbox
Dropbox likewise features a versioning and recovery system. You can recover files and versions with:
Basic and Plus accounts – Up to 30 days
Professional accounts – Up to 180 days
They also offer the Dropbox Rewind feature that lets you take your account back in time. That feature is available only to Plus and Professional accounts.
---
pCloud vs Dropbox Round 5 Thoughts
Both cloud storages are quite good in this area. I find the Rewind feature great and you can get it with pCloud and Dropbox. In regards to the time, you must ask yourself for how long would you like to keep your deleted files/versions and make your decision based on that (taking into account the prices for all the plans as well).
Retrieving Files Winner: Both
---
Security
pCloud
pCloud has their servers (owned by them) located in the US and EU. Upon registration, you pick where you wish your files stored and they will stay there and won't be moved without your permission or knowledge. Your files are stored in at least 3 different server locations within highly secured storage areas. Every single file is divided and stored in 15 different racks and servers. The system is live with up to 5 racks/servers down. To guarantee your files' safety, pCloud uses TLS/SSL encryption, applied when information is transferred from your device to the pCloud servers. You can also optionally subscribe to pCloud Crypto which encrypts your files client-side. That means nobody but yourself can access those files, not even the cloud storage administrators or government authorities.
pCloud Crypto is the thing you should pay attention to here. In fact, pCloud is the first cloud storage provider to offer both client-side encryption and server-side encryption. You might ask yourself, what are the advantages of that? Why not simply do client-side encryption across all files and with that disable any sort of access by the government authorities? There's one big downside. Encrypted files can't be accessed by anyone. Even the servers and processors don't understand the data. That way all possible applications such as image previews, playing videos and music directly in the cloud, previewing documents,… aren't possible.
It is for that reason that pCloud has both the client-side encryption (zero-knowledge) where you can place your important files and the server-side encryption where you can place music, videos and other stuff. That is if you wish to view them directly in the cloud. You can still opt-in to upload everything to your Crypto folder and unlock that whenever you need it.
pCloud also offers two-factor authentication.
They have no security breaches on their record and it looks like it will stay that way.
Dropbox
Dropbox files are encrypted using 256-bit Advanced Encryption Standard (AES). Dropbox uses Secure Sockets Layer (SSL)/Transport Layer Security (TLS) to protect data in transit between Dropbox apps and their servers; it's designed to create a secure tunnel protected by 128-bit or higher Advanced Encryption Standard (AES) encryption.
Two-step verification is available for an extra layer of security to log in. You can choose to receive security codes by text message or via any Time-Based One-Time Password (TOTP) apps, such as Google Authenticator.
I have to point out that Dropbox was hacked back in 2012 which resulted in a leak of 68M encrypted passwords and emails. The issue has been patched immediately but who says it can't happen again.
---
pCloud vs Dropbox Round 6 Thoughts
A lot of people are searching for a cloud storage that has their servers located outside the US. That is due to the Patriot act and the Cloud act that is present in the US. It allows government agencies and authorities to request personal data from cloud storage providers. Both pCloud and Dropbox have their servers located in the US but pCloud also allows you to store your data in the EU upon registration. It can also surround your files with client-side encryption. That disables any kind of interference from the government, they simply can't do anything about it. Dropbox, on the other hand, suffered a massive hacking blow in 2012 with no client-side encryption amongst their features. The winner is clear.
Security Winner: pCloud
---
Online support
pCloud
pCloud offers an extensive FAQ base with hundreds of questions answered. There's a high chance that one of the questions you have will be amongst them. If your question isn't there you can still contact their support team which usually answers the same day, unless you sent the e-mail in late hours. They're usually very helpful and provide useful feedback. I've also observed their support team in action on their social media accounts (Twitter and Facebook) where they are very active and eager to help their users. After contacting them personally they made a great impression on me, proving that they do care about their own customers. What it does sadly lack is the option for you to call them directly if you need technical support.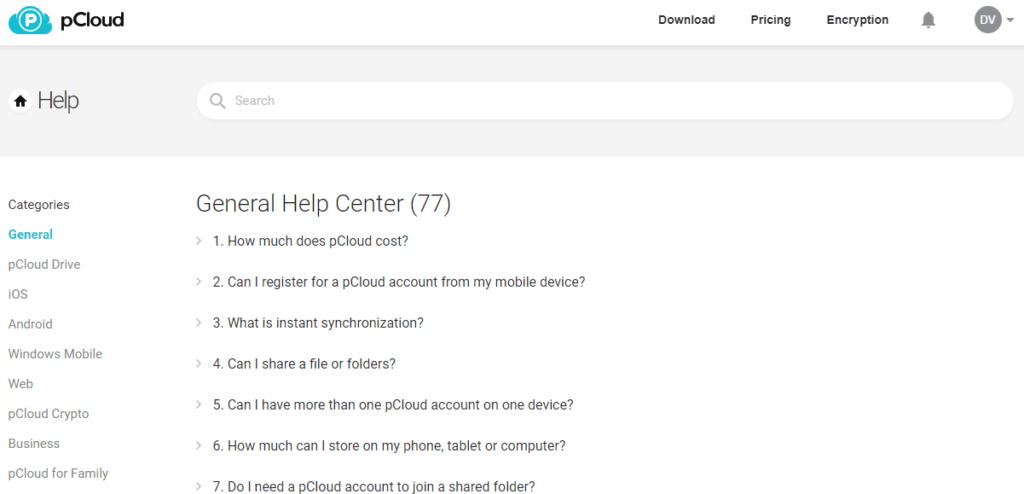 Dropbox
Dropbox has created an FAQ base which contains quite a few answers. In addition to that, they have a full-blown forum where people post issues and solutions to different problems. If you don't find the answer there you can contact Dropbox support via email, chatbot or Twitter support. Their Pro plans feature priority email and chat support. Phone support is available to big businesses only.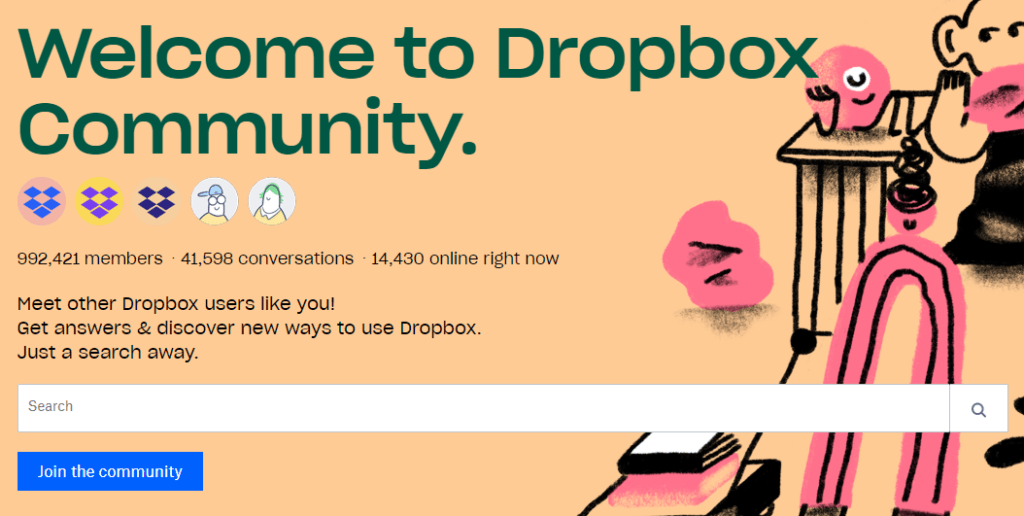 ---
pCloud vs Dropbox Round 7 Thoughts
The forum alone makes Dropbox one hell of a beast. A lot of users means a lot of interaction and assistance. Apart from that, we can compare the email and social media support quite evenly, with Dropbox having an edge in regards to phone support for big businesses.
Online Support Winner: Dropbox
---
Additional features
---
Mobile Application
pCloud
pCloud application is available on Android, iOS and Windows Mobile. You're able to back up your photos and videos with their Automatic Upload function. There's even an option to auto-delete them as they're uploaded to the cloud which pretty much makes your mobile storage enormous (if you go with one of their paid plans). You're able to listen to music and watch videos directly in the application with their integrated players. Your files can also be made accessible offline by favouriting them (selective sync).
The application allows you to do pretty much everything you can do on the website dashboard or on your desktop which makes it a great utility if you're on the move a lot.
Dropbox
Dropbox supports iOS, Windows Phone and Android systems. The Dropbox mobile application allows you to access your files anywhere you are. It feels the same as if I would be browsing on my computer. It also adds an additional feature to upload your photos automatically. I guess you could call that one way to backup your photos. Overall it's a nice looking interface, and the whole application is well made.
---
pCloud Additional Features
Public Folder
The Public Folder functionality allows you to upload files such as images to which you can then link or embed in your files. It replaces the need for websites like imgur.com. Comes with the premium plan.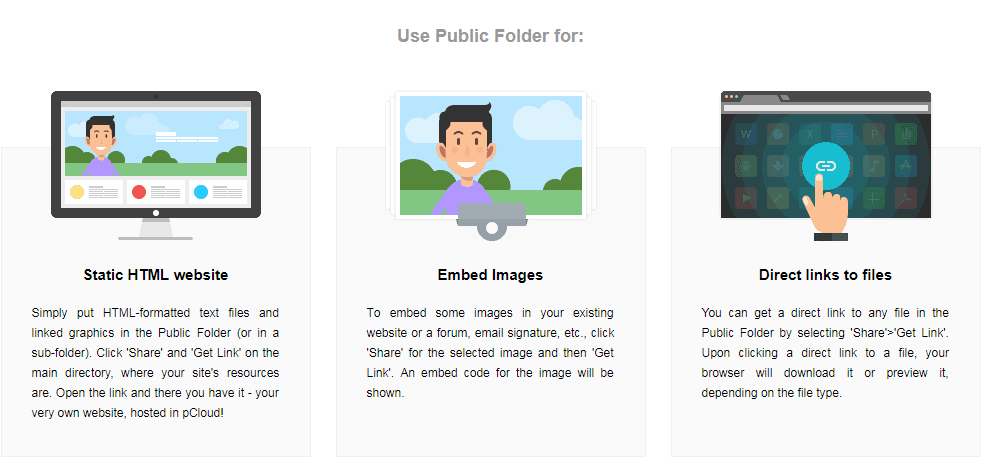 pCloud Save & Remote Upload
pCloud Save is an extension for the following browsers: Google Chrome, Opera and Firefox. It allows you to save images, text content and other files directly to the cloud from the web. That eliminates the need to download them to your desktop and makes for a great time-saver.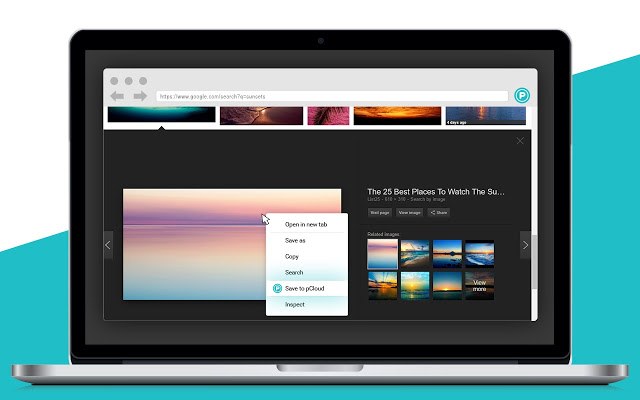 Remote Upload is a feature that has the same functionality as the pCloud Save extension. Simply take a link to a video or an image and place it directly in the pCloud upload manager. The files will then be downloaded directly to the servers of the provider, eliminating the need to save them locally first.
Free accounts get 15 GB of one-time Remote Upload traffic while premium users get an unlimited amount.
pCloud Backups
You can backup multiple platforms directly within the pCloud dashboard: Google Drive, Dropbox, Facebook, Instagram and OneDrive. It makes for a useful feature if you are using multiple cloud storages or you would like to save your pictures that have been uploaded to the social media.
---
Dropbox Additional Features
Dropbox Paper
It allows multiple users to work on the same document at the same time. You can insert images, make headings, comment on certain parts of the text and all sorts of other stuff. It has its own system (not integrated Google Docs or Microsoft Office).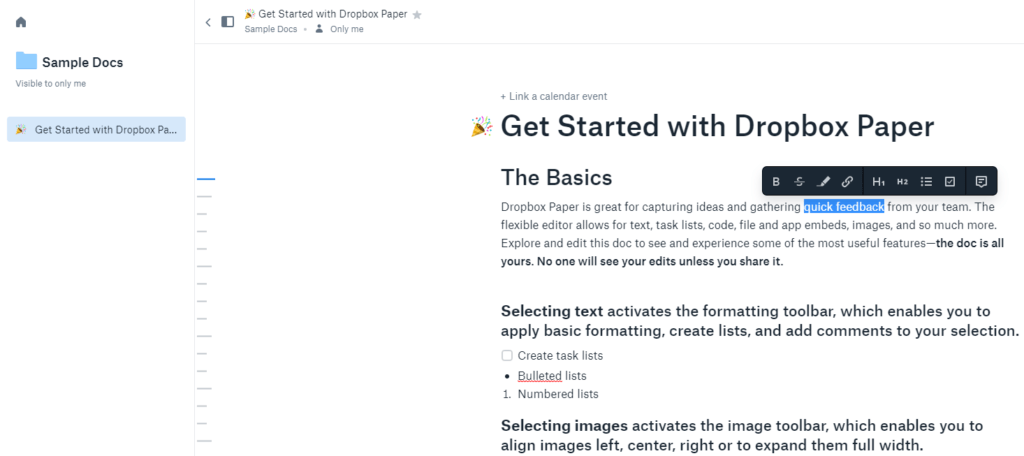 Dropbox Transfer
It does pretty much what it sounds like. It allows you to send large files to anyone, even people that don't have a Dropbox account. The professional plan enables branding, passwords, expiration dates and increases file size.
Dropbox Showcase
Only available in the Professional plan. It allows you to make presentations that you can share with partners and clients and follow the stats in regards to them.
---
Conclusion
pCloud vs Dropbox: We've gone pretty much over every aspect of these two cloud storages. If we take a look and sum up:
pCloud provides more free storage and cheaper plans. They also offer unique lifetime plans.
Both are easy to use and have modern interfaces.
Both provide selective sync but pCloud also enables you to sync any folder on your desktop.
pCloud provides a wider array of sharing options but Dropbox offers more sharing bandwidth.
Both offer the Rewind feature that helps you retrieve files. pCloud offers a longer time frame but you must pay additionally.
pCloud without a doubt offers better security and privacy. Dropbox with its data breach in 2012 can't compare with client-side encryption offered by pCloud.
Online support is better with Dropbox due to the massive forums. They both provide equal email and social media support.
After going through all these points once again I believe it's only fair to give pCloud.com the winners cup. They simply offer more for less money.
---
---
Hopefully, we've gone through everything that you wanted to know about the comparison pCloud Vs Dropbox. If you have any more questions, feel free to ask in the comments section down below and I'll answer shortly!