Dropbox
€11.99/month 2000 GB
Additional Features
8.0/10
Pros
Easy to use
Quality sync options
Good file retrieving options
Diverse support
Cons
Semi-expensive
No backup feature
Limited sharing options
No client-side encryption
Prone to Patriot and CLOUD Act
Dropbox Review
The reason why I decided to write a Dropbox review is quite simple. Dropbox is one of the most popular hosting companies out there, and there is a reason for that. It's very simple to use. It offers a variety of features that are quite useful. Dropbox pricing & plans seem alright as well when compared to their competition, however, there are cheaper and better alternatives.
While doing good on almost every field, Dropbox fails to provide proper security. Without the client-side encryption, you never know who has access to your files.
Read the full Dropbox review down below.
---
Dropbox Alternatives
| # | Service | Rating | Description | Paid Plan | Go To |
| --- | --- | --- | --- | --- | --- |
| 1 | pCloud | Read review | pCloud is a great cloud service that takes pride in offering the highest protection available (client-side encryption included) with amazing syncing solutions. It was also the first cloud storage to introduce innovative LIFETIME plans. It is easy to use and is one of the best cloud storage solutions on the market. 10 GB of free storage. | $4.99/month 500 GB | Go to pCloud |
| 2 | Sync.com | Read review | Sync.com is a Canadian cloud storage that utilizes the Zero-knowledge principle. It offers unparalleled privacy and security (via client-side encryption) with great syncing, sharing and file retrieving solutions. 5 GB of free storage. | $8/month 2000 GB | Go to Sync.com |
| 3 | Icedrive | Read review | Icedrive is a UK cloud storage with a main focus on the security of your files. They achieve that with Twofish client-side encryption which certainly raises a few eyebrows. A slick-looking minimalistic design combined with great mobile apps and interesting LIFETIME plans makes them an interesting choice! 10 GB of free storage. | €4.99/month 1000 GB | Go to Icedrive |
| 4 | MEGA | Read review | MEGA offers a secure cloud storage with client-side encryption. It has a modern/responsive interface. The online support is limited and down/upload speeds could be better. 15 GB of free storage. | €4.99/month 400 GB | Go to MEGA |
| 5 | Tresorit | Read review | Tresorit protects your files with Swiss privacy laws and client-side encryption. It has amazing syncing speeds, sharing options and excells in pretty much all other areas but takes the bullet with very expensive and uncompetitive prices. 3 GB of free storage. | €9.99/month 500 GB | Go to Tresorit |
---
Jump to:
Pricing & Plans
Who is it for?
Ease of use
File syncing
File sharing
Retrieving files
Security
Online support
Additional features
Conclusion
---
Dropbox Features
www.dropbox.com

Pricing & Plans
Free storage
2 GB
Free trial
Lifetime plans
Payment methods
Credit card, PayPal
Ease of use
Open in-browser
Office, PDF, Music, Images, Videos
Edit in-browser
Office & Google Integration
Mobile apps
Android, iOS
WebDAV
File syncing
Supported systems
Windows, macOS, Linux
Imaginary drive
Sync folder
Block-level file sync
Selective sync
Sync any folder
File sharing
Share download links
Link password protection
Link expiration dates
Link branding
Link download limits
Link stats
Share upload links
Share folders
Set folder permissions
Retrieving files
File versioning system
Trash bin
Rewind feature
Security
Server location
US
HIPAA Compliance
Encryption protocol
256-bit AES
At-rest encryption
In-transit encryption
Client-side encryption
Zero-knowledge privacy
Two-factor authentication
Online support
FAQ base
Forums
E-mail support
Live chat support
Phone support
---
Pricing & Plans
Dropbox offers a few different plans. They have 4 plans that are meant for personal users and 3 that are meant for businesses. Remember that you can opt-in for yearly payments and that way save 17% on all plans. Another thing worth mentioning is that VAT still needs to be applied to all business plans. Dropbox does not offer any lifetime cloud storage plans nor does it fall under the cheapest cloud storage providers out there.
---
Personal Plans
---
Business Plans
---
Who is it for?
Who's it not for would be the right question here. It offers a lot of features that have proved to be useful over the time I was using it. It's very straightforward and easy to use. If you're somebody that needs just a bit of storage for your school assignment, a few photos or just enough space for those word documents that your co-worker sent you from work, then the free "Basic Dropbox" plan is for you. It offers more than you will ever need. If you would like to get the bigger storage, you can always do so by paying the upgrade cost.
If you're looking for a cloud service that will automatically backup files on your personal computer or your smartphone, then Dropbox is not the company you want to go with. The backup feature is one of the few things this cloud service hasn't got to offer.
---
Ease of use
To register you must enter an email and a safe password. You can also use Google to sign up.
Dropbox is generally very easy cloud storage to use. Every person, whether you're a computer wizard or just an everyday average user, should be able and will be able to learn how to use it. You log into your account and just upload your files, whether that's in folders and subfolders or just on its own. Dropbox isn't just a cloud service, it also offers you to share files or even allows other people to upload files to your account. The data can be shared by creating a link that anyone can access or just send them via e-mail. The interface is modern and feels responsive.
File previews & edits
You're able to preview PDF documents and edit Office documents directly in the browser.
Likewise, you can listen to music, watch videos and preview images directly in the browser. Dropbox does a great job in this area.

---
File syncing
Dropbox has developed a program that you can download to your computer. It is available on Windows, Mac and Linux. With Dropbox's Selective Sync feature, you can prevent certain folders from syncing on all of your computers, if you wish to keep them separate on only one PC. They are just simply uploaded to the cloud instead. Dropbox isn't meant for cloud backup.
I find this one of the best features of Dropbox. Whatever I am doing I just simply drag the files into the folder as I would to my hard drive. You then wait for a second or two, depending on your internet speed for the files to sync across all platforms. The files are uploaded to the folder instantly though, and you can continue to use them while they're uploading, it feels so natural, and it's just another "drive" where you can store your files. Moreover, if you're offline, you can still access the folder and use all of its contents. That is, of course, a two-edged blade. It means that all of the files you synchronise get saved to your local hard drive taking up space.
There's no hard limit on transfer speeds with Dropbox programs. The speed depends entirely on your position and your internet provider. Dropbox also uses block-level sync which reduces upload times when updating already synced files.
When uploading files through the website you're stuck with 50GB file size limit per file. There's no limit when uploading via the Dropbox client.
Dropbox clients don't allow you to sync any folder on your computer.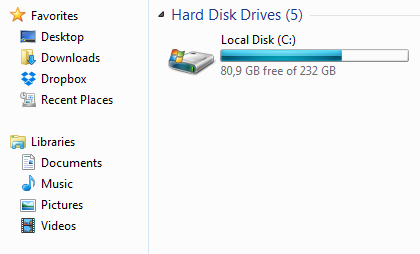 ---
File sharing
You can share your files with whoever you want really. Even to people that don't own Dropbox. You just click on the share button and you can then forward files or whole folders. When you do that it creates a new link which you can then send to your friends to edit or view. It also gives you additional moderation options where you can decide on various things like:
People can edit or just view
Put a password on your link (Professional)
Add an expiry date on your link (Professional)
Disable downloads for your link (Professional)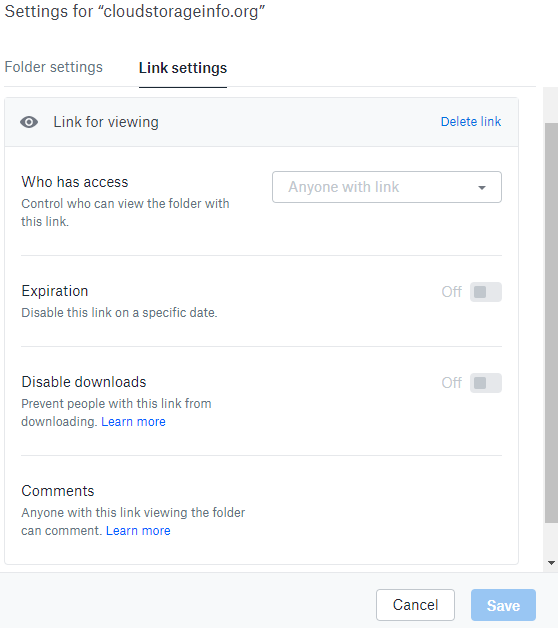 Dropbox introduced limits to the sharing links:
Free accounts:
20 GB per day: The total amount of traffic that all of your links and file requests combined can generate
100,000 downloads per day: The total number of downloads that all of your links combined can generate
Pro accounts:
About 200 GB per day: The total amount of traffic that all of your links and file requests combined can generate
There's no daily limit to the number of downloads that your links can generate
There appears to be no file size limit when it comes to sharing files via Dropbox.
---
Retrieving files
Dropbox has an integrated versioning and recovery system. Even if your PC has a meltdown your files saved in the cloud won't be affected by it. In case you're using the Dropbox desktop application your files are actually backed up multiple times.
You can recover files and versions with:
Basic and Plus accounts – Up to 30 days
Professional accounts – Up to 180 days
They also offer the Dropbox Rewind feature that lets you take your account back in time. That feature is available only to Plus and Professional accounts.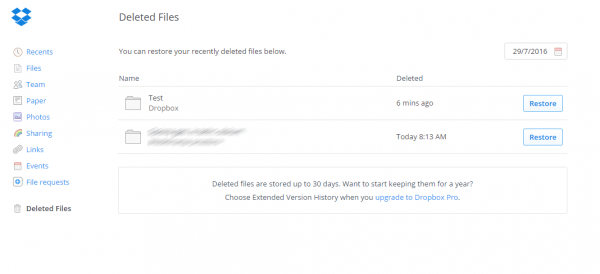 ---
Security
As a lot of you probably know Dropbox is known for having a security breach back in 2012. They do have an advanced security system in place, but as you see even that can't be enough at some point. Cloud storage security depends on the infrastructure and encryption methods it deploys. As Dropbox doesn't provide client-side encryption, they'll always be able to access your files unless you encrypt them yourself (zero-knowledge privacy is not provided) which doesn't make them a secure cloud storage provider.
All of your data is stored on servers across the United States which means that it's subject to the Patriot Act and the CLOUD Act. That's certainly not ideal from a privacy perspective which is why you should take a look at our Top 10 Cloud Storage Providers list.
You can take a look at Dropbox compliances to check their privacy policies and compliances. HIPAA compliance, for example, is quite complicated with Dropbox. You need to follow a bunch of instructions, sign a BAA and you can still breach the HIPAA rules at any point. Dropbox is GDPR compliant.
For advanced users: Dropbox files are encrypted using 256-bit Advanced Encryption Standard (AES). Dropbox uses Secure Sockets Layer (SSL)/Transport Layer Security (TLS) to protect data in transit between Dropbox apps and their servers; it's designed to create a secure tunnel protected by 128-bit or higher Advanced Encryption Standard (AES) encryption.
Two-step verification is available for an extra layer of security to log in. You can choose to receive security codes by text message or via any Time-Based One-Time Password (TOTP) apps, such as Google Authenticator.
---
Online support
Dropbox has already created a Dropbox Help Center to which anyone can access. From the help centre, you can access guides, how-to videos and support articles.
A lot of the questions that you might have are probably already answered there or on their forums. If you will have any additional questions regarding the programs they're offering, there's a live chat for you to use. In case you're having any technical difficulties you can contact their support directly. If you need assistance with anything, you will get it, whether it's using the Help Center, the forums or by messaging them directly.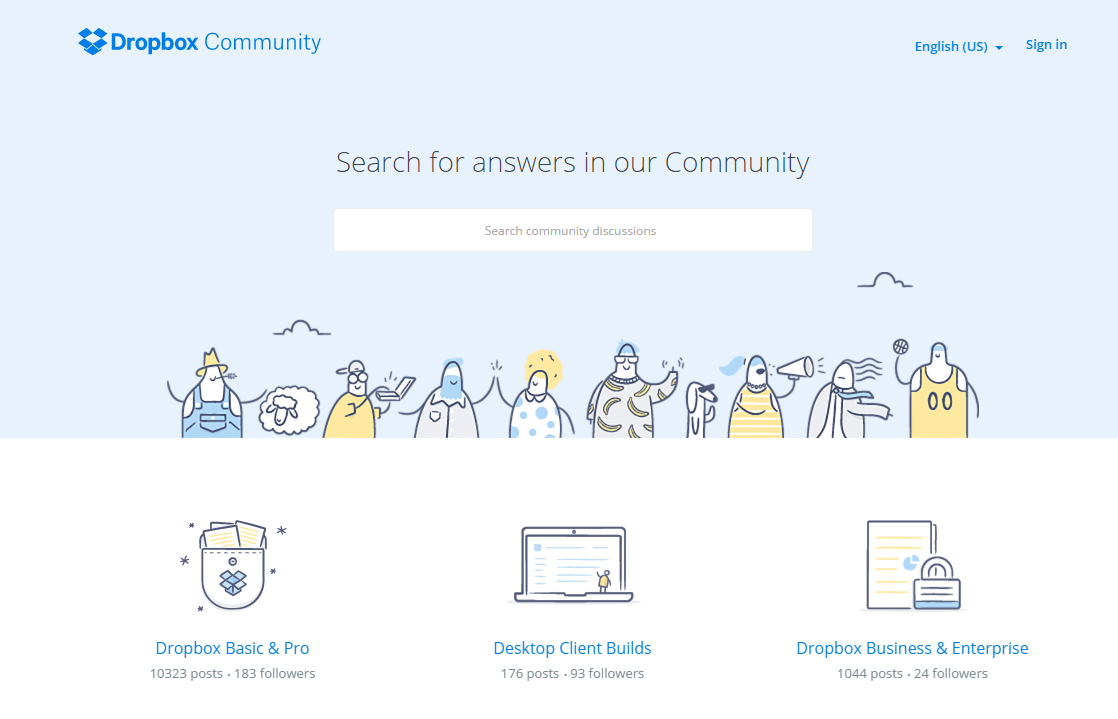 ---
Additional features
---
Dropbox Paper
This feature allows more people to work on one document at the same time. It offers its own type of editing system (not integrated Google Docs or Microsoft Office). It's quite useful when it comes to commenting on certain parts of the document and allows for collaboration between multiple users.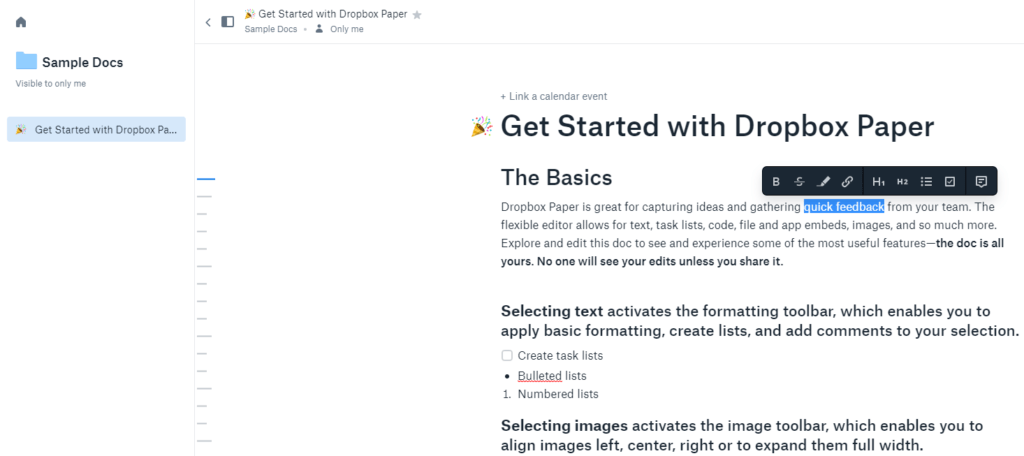 ---
Dropbox Transfer
It does pretty much what it sounds like. It allows you to send large files to anyone, even people that don't have a Dropbox account. The Professional plan enables branding, passwords, expiration dates and increases file size.

---
Dropbox Showcase
Only available in the Professional plan. It allows you to make presentations that you can share with partners and clients and follow the stats in regards to them.
---
Mobile application
Dropbox supports iOS, Windows Phone and Android systems.
The Dropbox mobile application allows you to access your files anywhere you are. It feels the same as if I would be browsing on my computer. It also adds an additional feature to upload your photos automatically. I guess you could call that one way to backup your photos. Overall it's a nice looking interface, and the whole application is well made. Here's a screenshot of it.
You can listen to music, watch images and videos directly from the app. You can also preview Office and PDF documents.
If you wish to access your files when offline as well just set the specific files for offline usage. Automatic camera uploads are also a thing.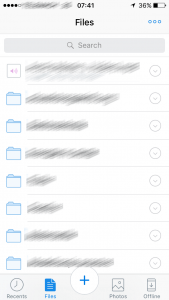 ---
Conclusion
Dropbox is a very useful cloud storage, and you won't miss if you decide to use it. Keep in mind that if you would like the automatic backup of files as well, go ahead and pick another cloud storage.
Dropbox offers a wide variety of features. However, it lacks in the privacy area. If you would like to have cloud storage that has no access to your files and is based on a "Zero-knowledge" platform and offers client-side protection, I would suggest you take a look at pCloud.com or Sync.com.
---
---
Hopefully, I've gone through everything that you wanted to know about Dropbox within this Dropbox review. If you have any unanswered questions feel free to ask them in the comments section down below and I'll answer them shortly!