---
Sync.com vs pCloud – Every Inch Explored
Uf, now we're talking business! I'm excited to compare the two best cloud storage providers at Cloudstorageinfo.org: Sync.com vs pCloud. pCloud has about +10.000.000 users while Sync.com sits at about +1.800.000. Both are very popular due to the amazing features they offer alongside the client-side encryption to ensure the security and privacy of your files! Read the comparison down below and check the individual reviews: Sync.com vs pCloud.
4.6/5


★★★★★
PRICING & PLANS


★★★★★★★★★

★

9.5/10
EASE OF USE


★★★★★★★★★✩

9.0/10
FILE SYNCING


★★★★★★★★★✩

9.0/10
FILE SHARING


★★★★★★★★

★

★

9.5/10
RETRIEVING FILES


★★

★

★★

★

★★

★

★

9.5/10
SECURITY


★★★★★★★★★★

10.0/10
SUPPORT


★★★★★★★★✩✩

8.0/10
ADDITIONAL FEATURES


★★★★★★★★★✩

8.5/10
PROS
Zero-Knowledge platform
Not subject to US Patriot Act
Client-side encryption
30-day money back guarantee
Easy to use, modern platform
Great syncing, sharing and file retrieving options
Unlimited bandwidth
CONS
No live chat/phone support for individuals
---
4.6/5
★★★★★
PRICING & PLANS


★★★★★★★★★★

10.0/10
EASE OF USE


★★★★★★★★★✩

9.0/10
FILE SYNCING


★★★★★★★★★★

10.0/10
FILE SHARING


★★★★★★★★★✩

8.5/10
RETRIEVING FILES


★★★★★★★★★✩

8.5/10
SECURITY


★★★★★★★★★★

9.5/10
SUPPORT


★★★★★★★★★✩

8.5/10
ADDITIONAL FEATURES


★★★★★★★★★✩

9.0/10
PROS
Up to 10 GB of free storage
Amazing sycing solutions
Unlimited transfer speeds
Easy to use
Unlimited file sizes
Client-side encryption
Innovative lifetime plans
US & EU Servers
Desktop folder backup included
CONS
No client-side encryption in the free plan
No dedicated live chat/phone support
---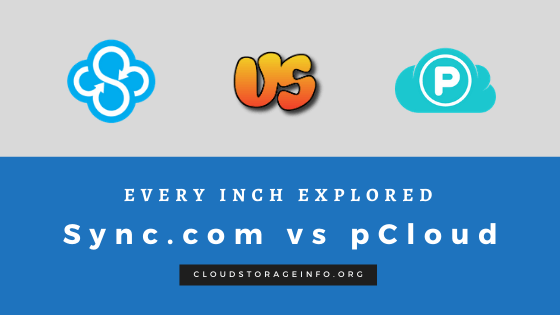 ---
Jump to:
Pricing & Plans
Ease of use
File syncing
File sharing
Retrieving files
Security
Online support
Additional features
Conclusion
---
Pricing & Plans
Sync.com
Sync.com offers a variety of plans. They vary from the 5 GB free offer to the larger 6 TB capacity plans. Going for those will also give you access to certain advanced features. When compared to other cloud storage providers they're without a doubt offering great value for the money. A 30-day money-back guarantee comes on all their plans. Sync.com doesn't offer any lifetime cloud storage plans.
All the plans are paid yearly and not monthly.
---
Personal Free
5 GB Secure Storage
Share files up to 5 GB
Sync Vault
Solo Basic
2000 GB Secure Storage
Advanced sharing & collaboration
Sync Vault
Solo Professional
6000 GB Secure Storage
Custom branding
Advanced sharing & collaboration
---
| Plan | Personal Free | Solo Basic | Solo Professional |
| --- | --- | --- | --- |
| Storage | 5GB | 2TB | 6TB |
| Data transfer | 5GB | Unlimited | Unlimited |
| File versions & recovery | 30 days | 180 days | 365 days |
| Account rewind | No | Yes | Yes |
| Advanced share controls | No | Yes | Yes |
| Restrict downloads | No | Yes | Yes |
| Sharing links | 3 | Unlimited | Unlimited |
| Team shared folders | 3 | Unlimited | Unlimited |
| File requests | No | Yes | Yes |
| Document previews | No | Yes | Yes |
| Offline access | Yes | Yes | Yes |
pCloud
pCloud offers 10 GB of cloud storage for free. They have 2 paid plans when it comes to the amount of storage you get. Client-side encryption is available via their Crypto plan. pCloud was also the first cloud storage provider to successfully introduce lifetime cloud storage plans in return for a single payment. Those are quite interesting since they can save you money in the long run. A 10-day money-back guarantee is put on all their plans.
---
Monthly Plans
---
The prices above are displayed if you pay Yearly. If instead, you go for monthly payments, you end up with $4.99/month for 500 GB and $9.99/month for 2000 GB.
---
Lifetime Plans
Premium
500 GB Storage
500 GB Shared Link Traffic
Premium Plus
2 TB Storage
2 TB Shared Link Traffic
Custom Plan
10 TB Storage
2 TB Shared Link Traffic
---
Sync.com vs pCloud Round 1 Thoughts
pCloud and Sync.com are both amongst the best providers when it comes to value for the provided money. Sync.com gives you more options with higher storage capacities and provides you with client-side encryption from the get-go but requires you to commit to a yearly membership. pCloud, on the other hand, requires you to subscribe to an additional Crypto plan which enables the client-side encryption but they provide lifetime plans which are great in my opinion.
Proclaiming one being better than the other here is quite hard since they both offer valuable benefits in their own right. I'll put pCloud on top here just because of their lifetime plans which can save you a lot of money in the long run.
Pricing & Plans Winner: pCloud
---
Ease of use
Sync.com


Sync.com has a modern and responsive UI. I've had no problems using it. Cycling through files feels good and allows me to manage my files in the same folder structure that I would use on my computer. It's possible to cycle between the grid and list view though I prefer the list view due to its simplicity.
The "Vault" feature allows me to store files and folders just in the cloud. Data in the "Vault" won't be synchronised to my devices which is a nice little feature to have. It's also possible to look at all file changes via the "Events" tab which comes in useful if you share folders/files with somebody.
It's possible to preview Office and PDF documents directly from the browser which is nice. It's also possible to preview images but you can't watch movies or listen to music. Editing the Office files requires an Office 365 license which is then integrated with Sync.com.
pCloud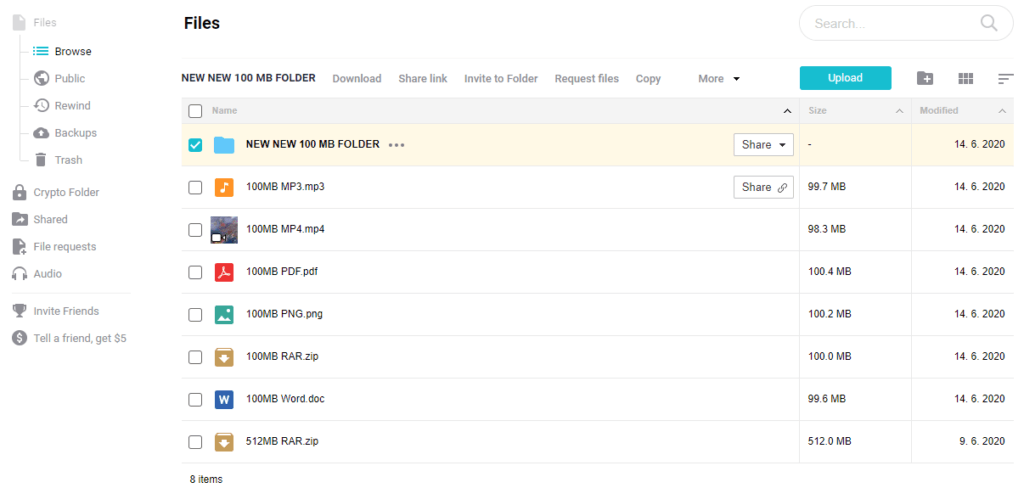 pCloud features a well-made UI. Perhaps it's not the most modern-looking one but it without a doubt does the needed job. I actually prefer for the UI to be as simple looking as possible with all the needed "actions" accessible at a moments notice. And pCloud does just that.
Files – Allows you to manage your files.
Crypto Folder – Accessible to those that upgrade to the Crypto plan which enables client-side encryption.
Shared – Shows all the files you shared with people and what they have shared with you.
File requests – Enables you to manage all of the pending file requests, shutting them down or changing their settings.
Audio – Displays all the sound files in one place and allows you to play them.
It's possible to preview both Office and PDF documents directly from the browser but you can't edit them. Watching movies, listening to music and previewing images is all likewise possible. That is all available outside the Crypto folder. These actions are more restricted in there due to the client-side encryption.
---
Sync.com vs pCloud Round 2 Thoughts
Taking a look at just the UI of both providers this round brings us to another hard choice. While Sync.com offers a more slick-looking design they both do the file management quite well. Sync.com also offers that sweet "Vault" feature. Unfortunately, they can't provide the level of accessibility that pCloud does due to the fact that they cover all of the files with client-side encryption. That is a plus from the security standpoint for sure but it does restrict features like file previewing & watching. pCloud, on the other hand, divides your files into two parts. One that allows you to interact with your files with no client-side encryption and one that is far more limited. And that's the reason why pCloud takes round 2 as well!
Ease Of Use Winner: pCloud
---
File syncing
Sync.com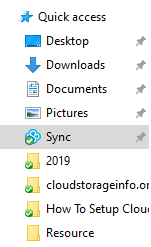 Sync.com client is available on Windows and macOS systems. During the installation of the client, you choose where you want your files from the cloud synced to locally. Whenever you make a change in that folder it will be recognised in your cloud as well.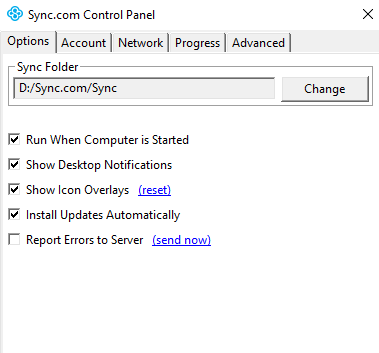 The Sync.com control panel also allows you to edit various settings such as set the sync folder, change the password, set up/download speeds, set monthly bandwidth limits and select which files you want synced to that specific device (selective sync).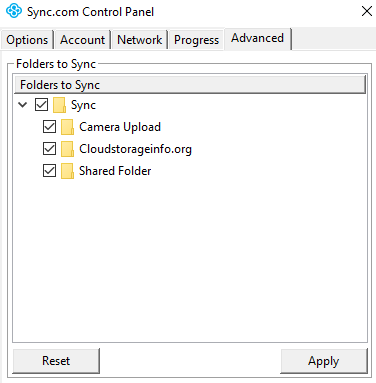 Transfer speeds between you and the cloud are limited to 5 MB/s. They do support file-deduplication but can't support block-level sync due to the client-side encryption put all over your files. It's also not possible to sync any folder from your computer. No file size limits though so that's good!
pCloud

pCloud client is available on Windows, macOS and Linux systems. pCloud creates an imaginary drive on your computer which takes up no local storage space. That's a very neat feature if you want to save up space. It's still possible to mark files for offline access if you plan to use your computer without an internet connection. It's also possible to sync any folder from your computer to the cloud.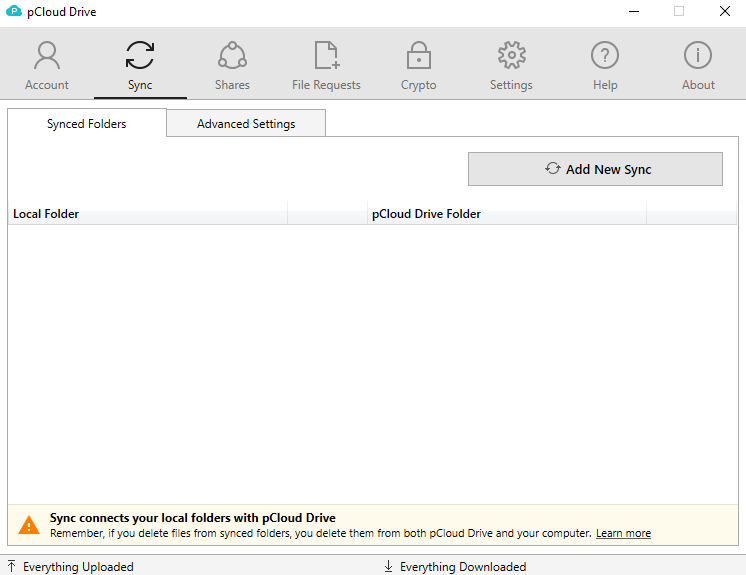 There's no hard limits on transfer speeds though you can limit them yourself. There's also no limit on file sizes.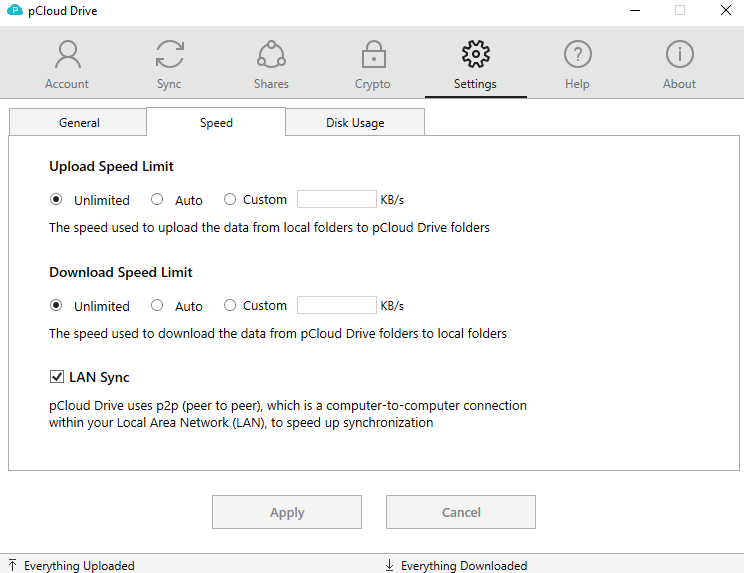 pCloud also provides block-level file sync for the section that's not encrypted client-side (so not the Crypto folder). That shortens the time needed to upload updated files.
---
Sync.com vs pCloud Round 3 Thoughts
Phew, another hard-fought battle. Both Sync.com and pCloud do exceptionally well when it comes to file synchronisation and their desktop clients. pCloud has that main selling point which is that the files don't take up any space on your local storage (apart from cache). They also provide block-level file sync for the non-encrypted folders, something that Sync.com can't do. pCloud also allows you to sync any folder from your computer, a very useful feature! Sync.com provides a quality solution but just gets beaten by pCloud in this area.
File Syncing Winner: pCloud
---
File sharing
Sync.com
There are 2 ways of sharing files with Sync.com. The first one being the download links which are available with almost all cloud storage providers. You simply create a link that you can pass on to anyone and he can download the files/folders you have shared.
The free users are limited to 5 GB per month in regards to sharing links bandwidth. All other plans have unlimited bandwidth.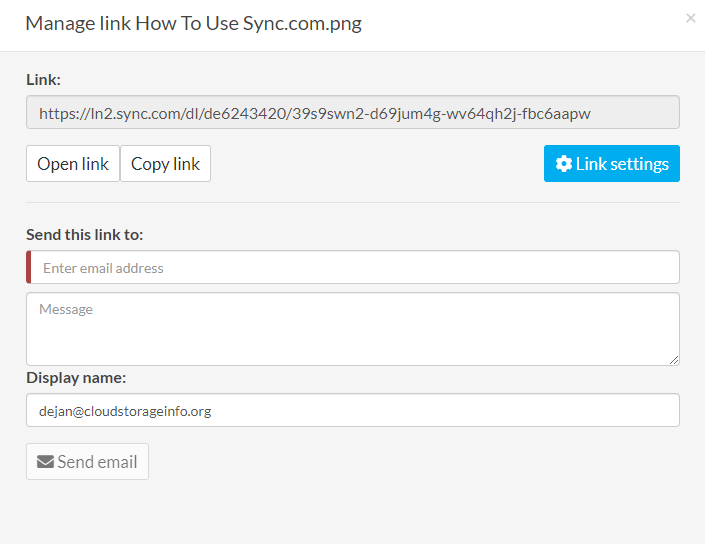 There are plenty of advanced features available when it comes to sharing via the link. Sync.com does exceptionally well here:
Starter Plan:
Paid plans:
Set expiry dates.
Set preview permissions (view&download or view only).
Set download limit.
Enable email notifications.
Enable enhanced privacy (zero-knowledge links).
Link branding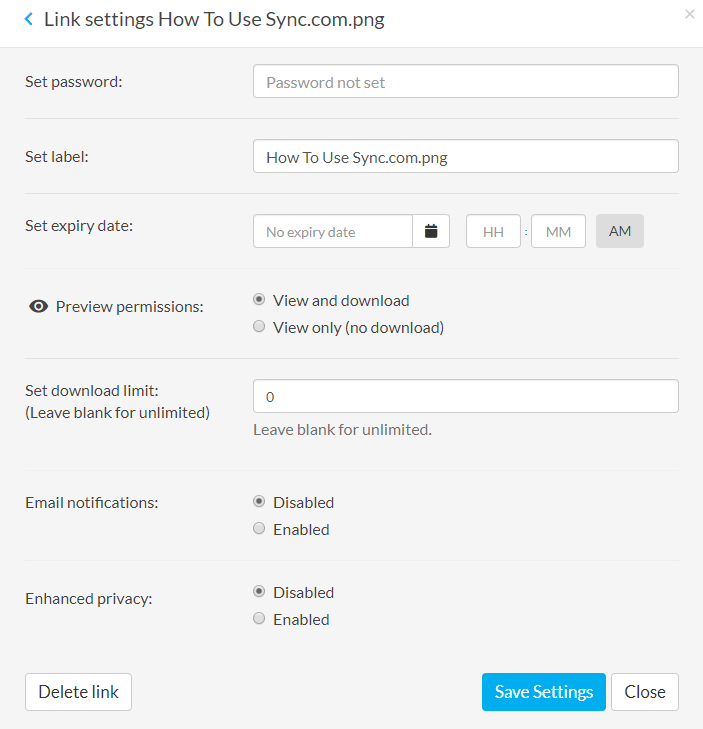 The second option you have is sharing complete folders to specific people that have a Sync.com account as well.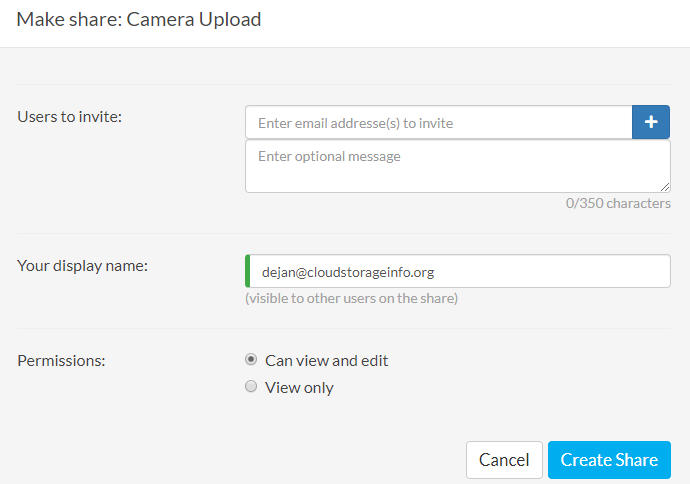 pCloud
Let's divide sharing of files within pCloud into 2 main categories: Sharing folders and sharing files. They're pretty much the same but sharing folders comes with extra features:
Invite to a folder – This allows your friends to view, download and/or modify the files as if they were their own.
Share link – Generates a link with specific settings that can be sent to friends and coworkers for file sharing.
Request files – Request files from anyone through a specific link.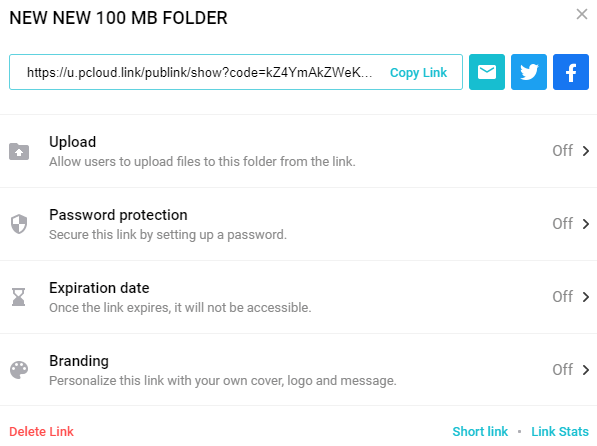 When it comes to sharing links you're able to:
Upload – Allow users to upload files to the folder or not. Presents with 3 different options: "Nobody can upload", "Anyone can upload", "Only selected users can upload".
Password protection [Premium] – Protects the generated link with a password which should then be shared with the people that should gain access to the folder.
Expiration date [Premium] – It allows us to put a time limit on the link which is great for setting up a link and then easily forgetting about it. Awesome from the security and privacy perspective.
Branding – Allows for a custom title, description, logo image and background image to be used for the sharing link. Works great and looks professional, especially suitable if you plan to use pCloud as part of your business.
Short link – Great for sharing on social media such as Twitter where we're limited with character number.
Link Stats – Displays the weekly stats for a specific link. Includes the link creation date, total downloads and total traffic.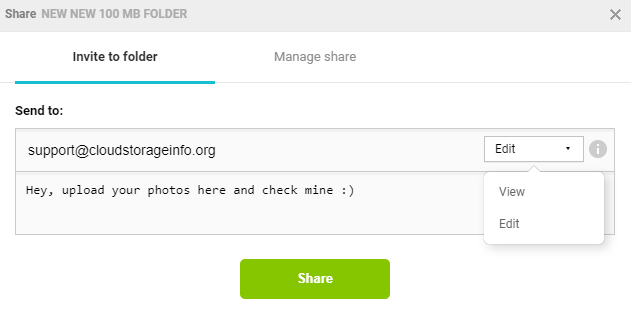 Sharing an entire folder with someone is also simple and gives you the option to either give them view or edit access.
Requesting files grants no permission to modify or view the files in the folder. Instead, the person can only upload his own file. It's also possible to set an expiry date or a file size limit on the link.
---
Sync.com vs pCloud Round 4 Thoughts
While pCloud provides an additional third option (requesting files) it doesn't grant advanced features such as preview permissions, download limit, email notifications and zero-knowledge links. You also get the password-protected links in the free plan with Sync.com. They both offer link branding for business users. Both cloud storage providers offer great features here but in my eyes, Sync.com comes out on top.
File Sharing Winner: Sync.com
---
Retrieving files
Sync.com
Sync.com offers both a file versioning and trash bin system. The duration of how long the files stay accessible to you depends on the plan you have with them. In the free option, you can access the files for up to 30 days, 180 days in the 2TB plan and 365 days with the 6TB plan. The Rewind feature is available for all paid users – it requires a sent email to their support team which then resets your account to a point in the past.

pCloud
pCloud features both a file versioning and trash bin system with the addition of the "Rewind" feature. File versions and deleted files are stored for 15 days with the free plan and 30 days with all the premium plans.
pCloud also offers "Extended file history" which moves that duration to 365 days for additional payment.
The "Rewind" feature allows you to see your account as it was on a specific date and time. The same timings apply here (15, 30 and 365 days with EFF).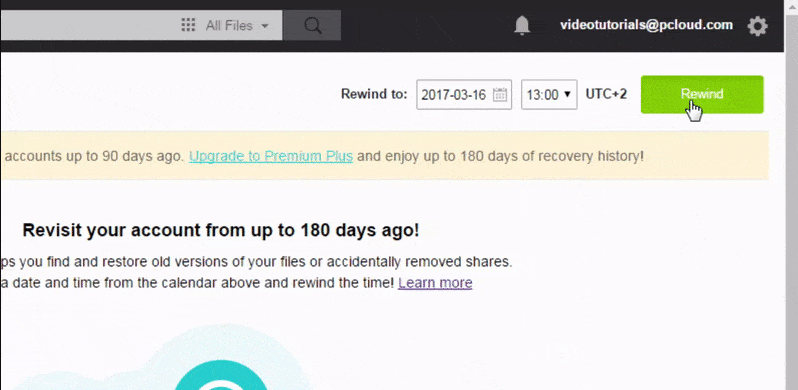 ---
Sync.com vs pCloud Round 5 Thoughts
Both Sync.com and pCloud support file recovery. The "Rewind" feature that pCloud offers is much more simple to use than the one Sync.com has but Sync.com offers far longer durations without the additional cost. That's why Sync.com wins this round in my eyes.
Retrieving Files Winner: Sync.com
---
Security
Sync.com
Sync.com has its servers located in Canada – Toronto and Ontario. They use client-side encryption to maximize the security of your files. That makes them a zero-knowledge platform combined with a strong privacy policy. What does that mean? All of your files and information are encrypted with keys that only you have access to. You can say goodbye to any government interventions and the possibility of your files being hacked. Not even Sync.com administrators can access your files.
For the tech-savvies: Sync.com uses 2048 bit RSA, 256 bit AES, SSL and TLS encryption.
Compliances:
Sync.com is also HIPAA compliant which means it's suitable for companies and firms that are dealing with sensitive patient information. Every institution that is dealing with such information must be part of a network or cloud that is HIPAA compliant.
They're also compliant with EU GDPR and PIPEDA. Canada has its own set of privacy laws known (PIPEDA being one of them). We have covered all the relevant ones in this article.
Additional security:
To make your account even more secure, you can enable Password Hints, Two-Factor Authentication, Automatic Logout. In addition to that, your password can't be recovered by anyone, not even yourself. This can be bypassed by enabling Password Recovery in the settings before you lose it, or by changing your password in the desktop application.
Subpoena:
If Sync.com receives a subpoena, demanding the data stored on the server the following will happen: The content of the files that you store on their service is encrypted, and only you can decrypt it. Thus they will not be able to decrypt your data. If they're demanded to disclose your personal information such as your name, e-mail and mailing address they will do so. They will also do anything in their power, within legal boundaries, to inform you that your personal information has been disclosed.
pCloud
pCloud stores all of your data in servers owned by them located in the US and EU. It's possible to pick your desired location upon registration. Files will then be stored there and won't be moved without your permission or knowledge. Every file is stored in at least 3 various server locations, divided and stored in 15 different racks.
pCloud uses TLS/SSL encryption with data in transfer. If you want client-side encryption you can go for their Crypto plan which does just that. Nobody but you will be able to access those files.
pCloud Crypto is the thing you should pay attention to here. In fact, pCloud is the first cloud storage provider to offer both client-side encryption and server-side encryption. You might ask yourself, what are the advantages of that? Why not simply do client-side encryption across all files and with that disable any sort of access by the government authorities? There's one big downside. Encrypted files can't be accessed by anyone. Even the servers and processors don't understand the data. That way all possible applications such as image previews, playing videos and music directly in the cloud, previewing documents,… aren't possible.
It is for that reason that pCloud has both the client-side encryption (zero-knowledge) where you can place your important files and the server-side encryption where you can place music, videos and other stuff. That is if you wish to view them directly in the cloud. You can still opt-in to upload everything to your Crypto folder and unlock that whenever you need it.
They're fully GDPR compliant. They are also compliant under the ISO 9001:2015 – Quality Management Systems (QMS) and ISO 27001:2013 – Information Security Management Systems (ISMS).
pCloud also offers two-factor authentication.
They have no security breaches on their record and it looks like it will stay that way.
---
Sync.com vs pCloud Round 6 Thoughts
Phew, that was a long one and justly so. Both Sync.com and pCloud care about the security of your files. While pCloud offers client-side encryption it comes at an additional cost. They also have their servers located in the US which is why I recommend getting the Crypto plan to avoid any privacy issues (due to the Patriot and CLOUD act) if you plan to store your files on their US rather than EU servers. Sync.com, on the other hand, encompasses all of your files and protects them with client-side encryption. The HIPAA and PIPEDA compliances also speak for themselves. That's why I believe Sync.com to be the winner of this round.
Security Winner: Sync.com
---
Online support
Sync.com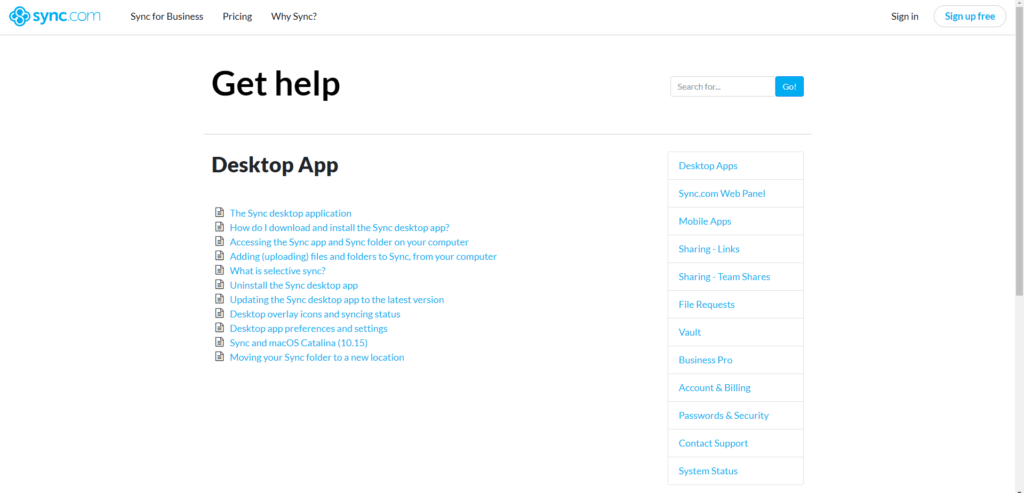 Sync.com offers a large FAQ base, mostly in the form of various guides with included pictures. That's all great but you just want to have that additional support options. You can contact them via their support form and they will get back to you, usually within a day. They don't offer any live support though such as live chat or phone calls for idividuals. Phone call support is reserved for users on the Teams Unlimited plan.
pCloud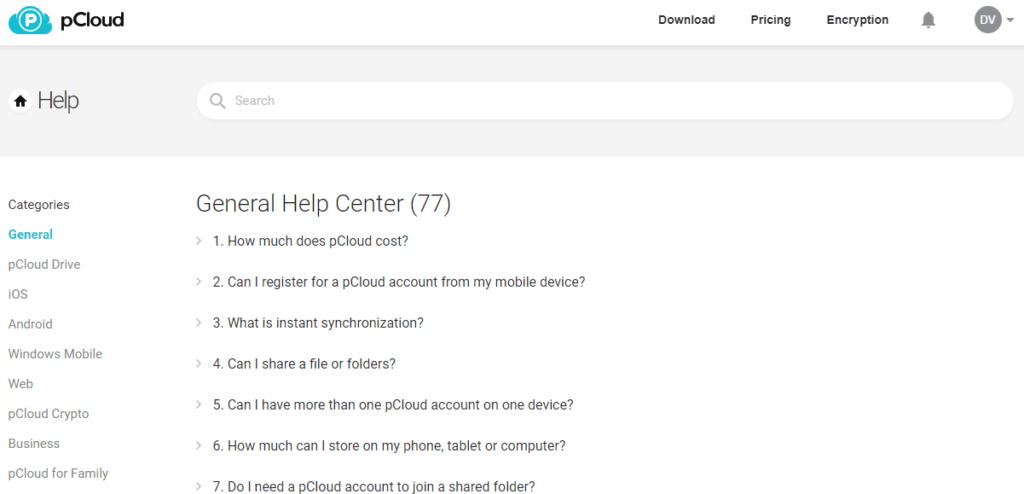 If you have any questions, it's very probable that they have already been answered in the pCloud FAQ base. They have answered and explained most of the topics there and it's really great to see such dedication from the company. If you need additional help you can contact them via their contact form and they'll reply in a timely manner. Live chat or phone call support are out of the question.
---
Sync.com vs pCloud Round 7 Thoughts
Both Sync.com and pCloud offer about the same level of support with pCloud really giving it that push with their FAQ base. Not many cloud storages offer live support for personal users so I would say they're pretty much up to standard when it comes to the support options.
Online Support Winner: pCloud
---
Additional features
---
Mobile Application
Sync.com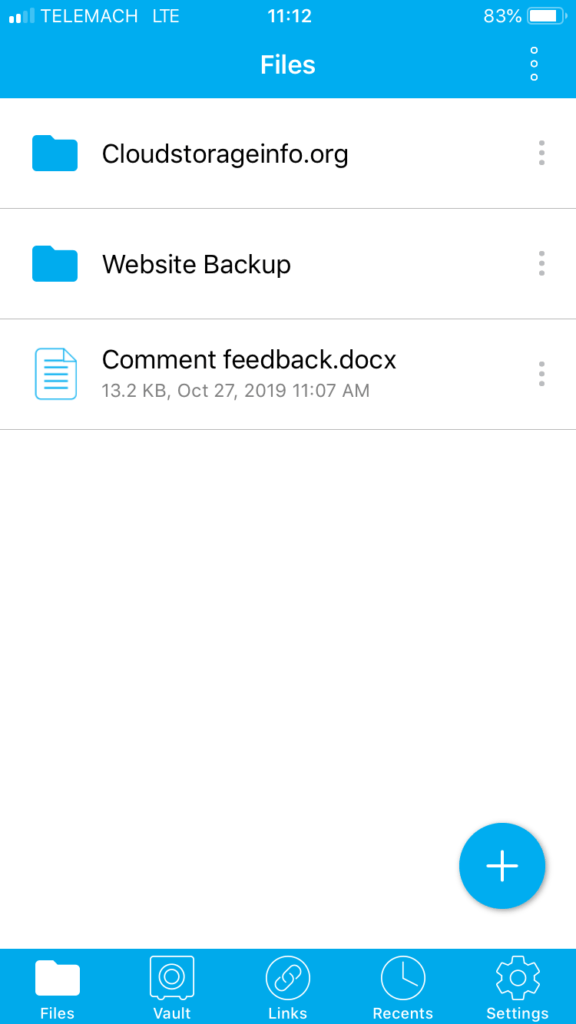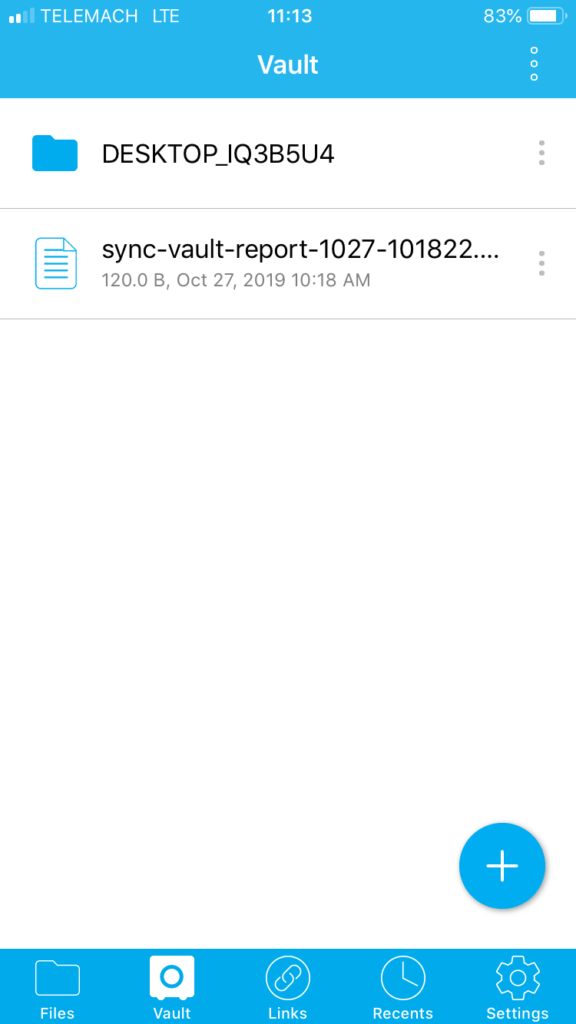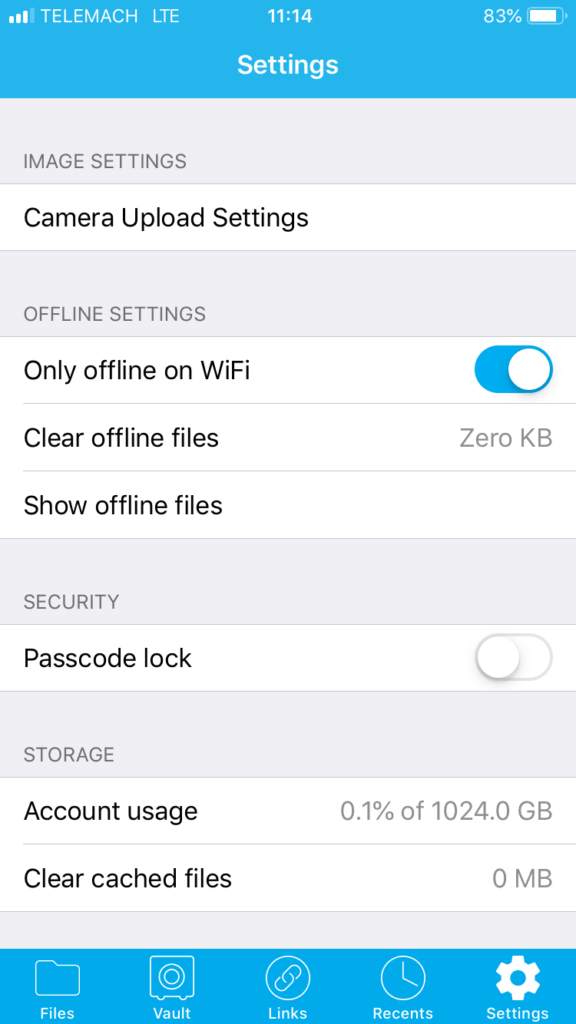 Sync.com app is available for Android and iOS systems. It allows you to access the files you have in the cloud right from your mobile device. All of the features that are available from your desktop can be access via the app as well. It's also possible to enable automatic upload of camera files which makes it a great backup solution. Marking files for offline usage is also a thing, allowing you to access them without an internet connection.
pCloud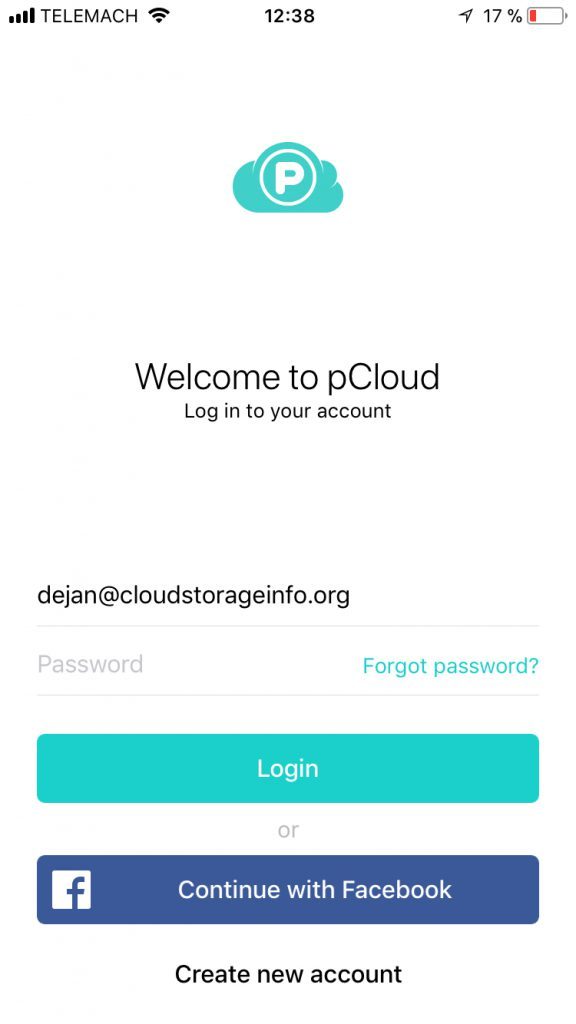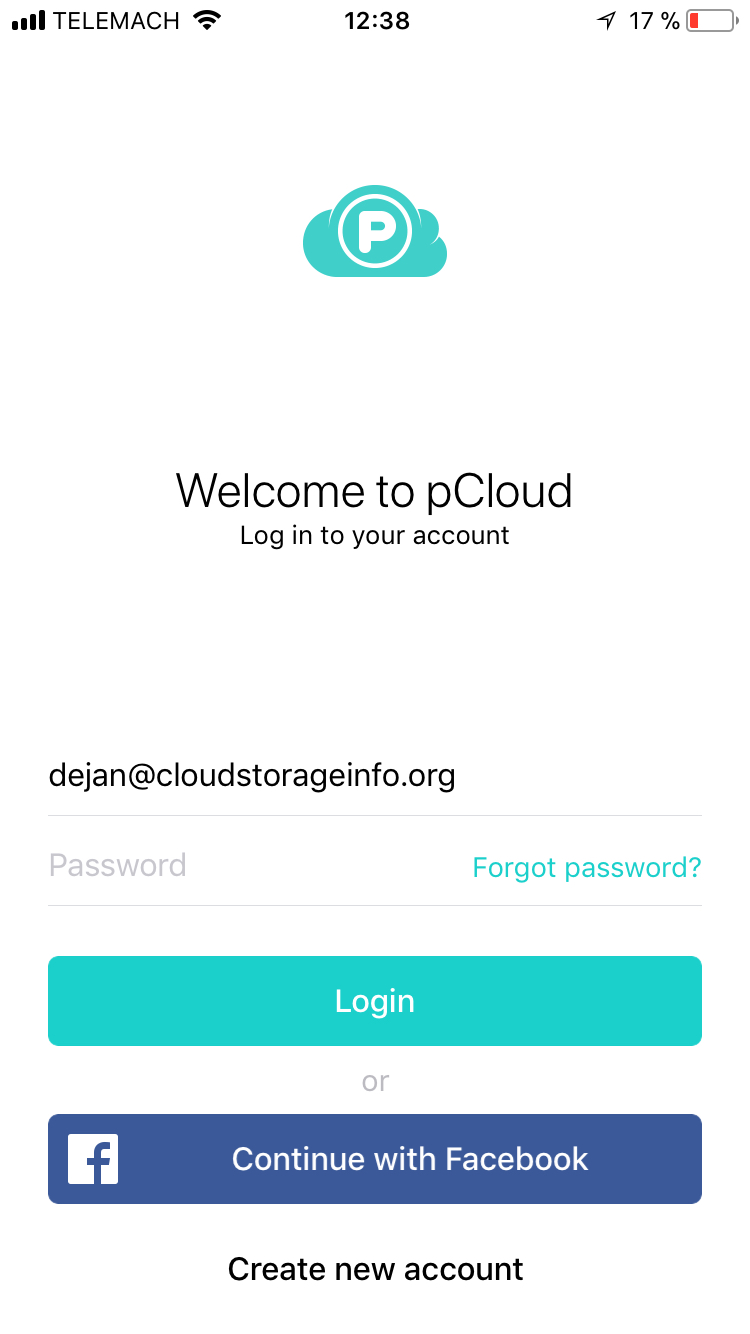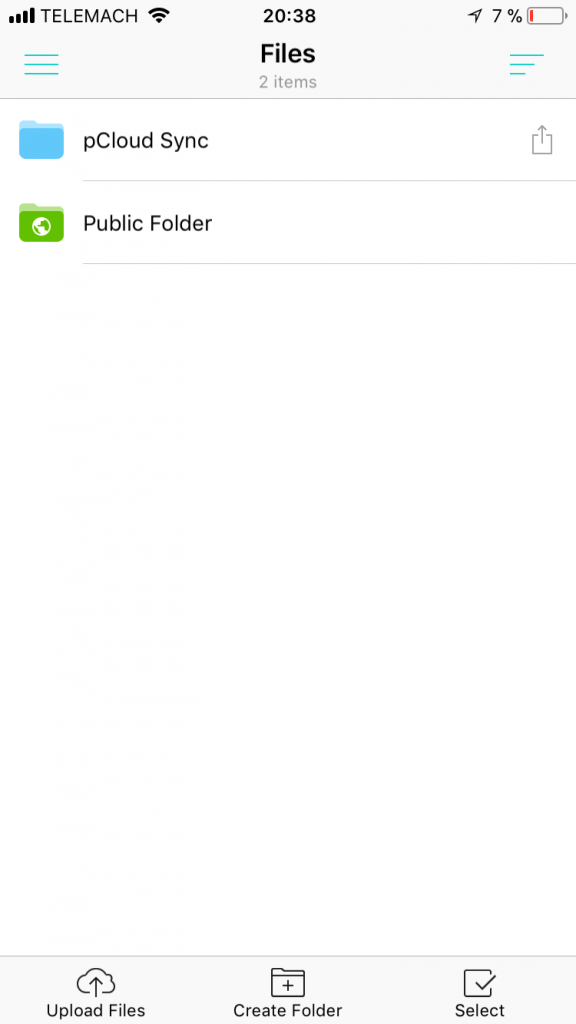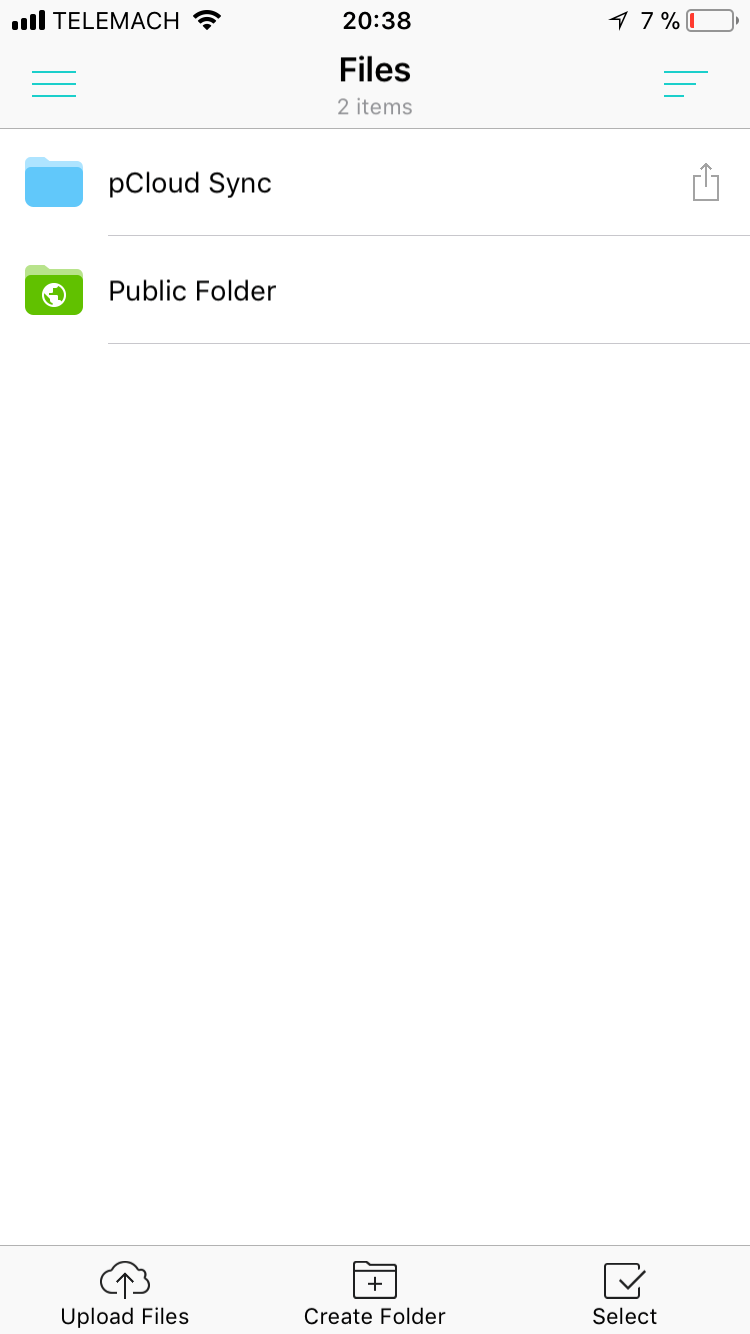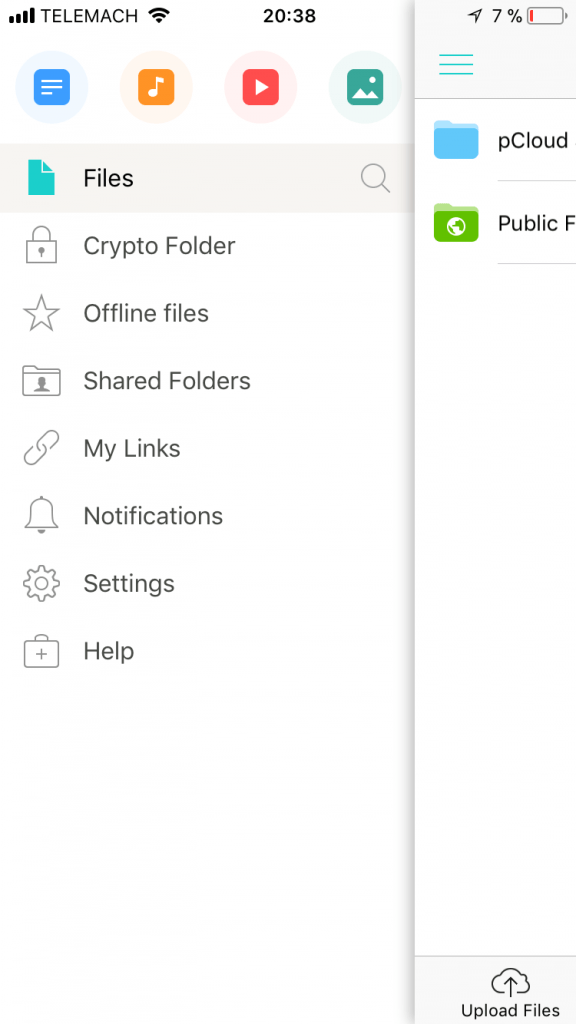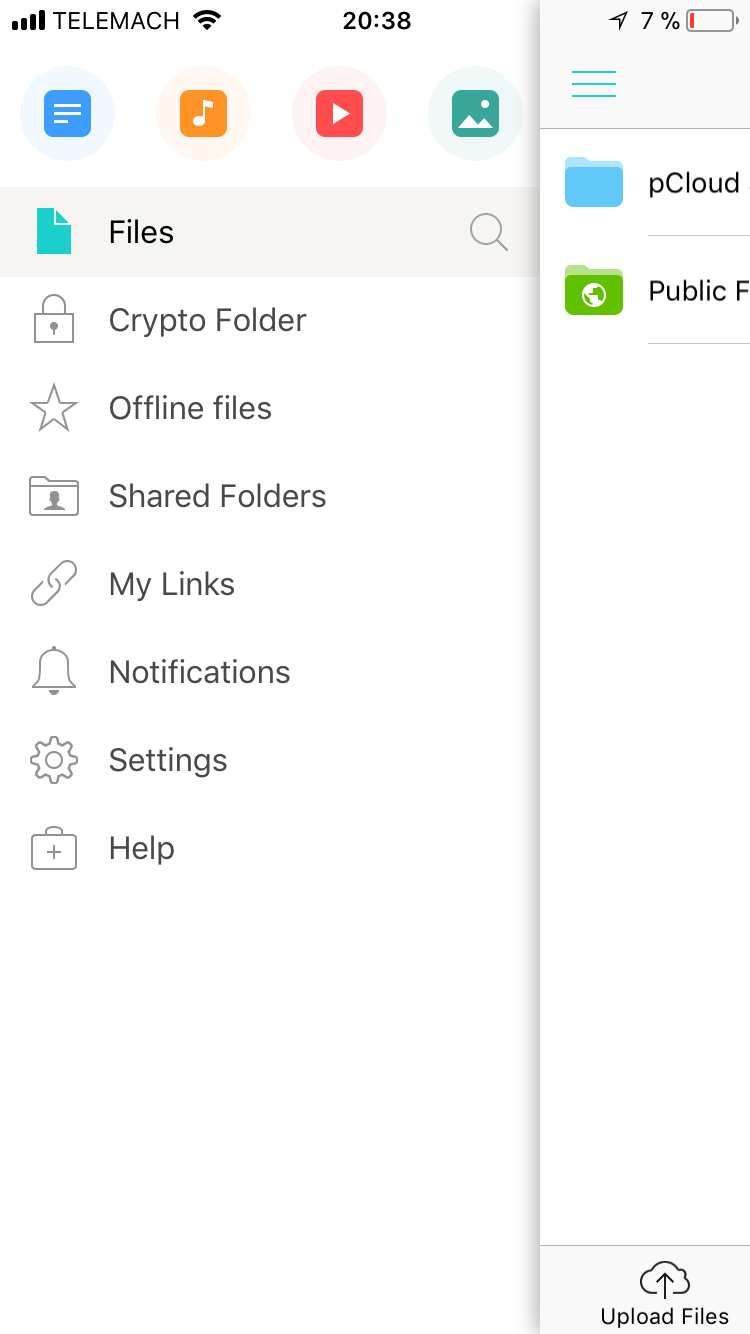 pCloud app is available for Android and iOS systems. It allows you to access and manage your files directly from your mobile device. In addition to the automatic upload media files, it also gives you the option to auto-delete them as they're being uploaded.
Apart from that, you can watch videos, preview images, Office and PDF documents and listen to music directly from the app.
---
Sync.com Additional Features
Events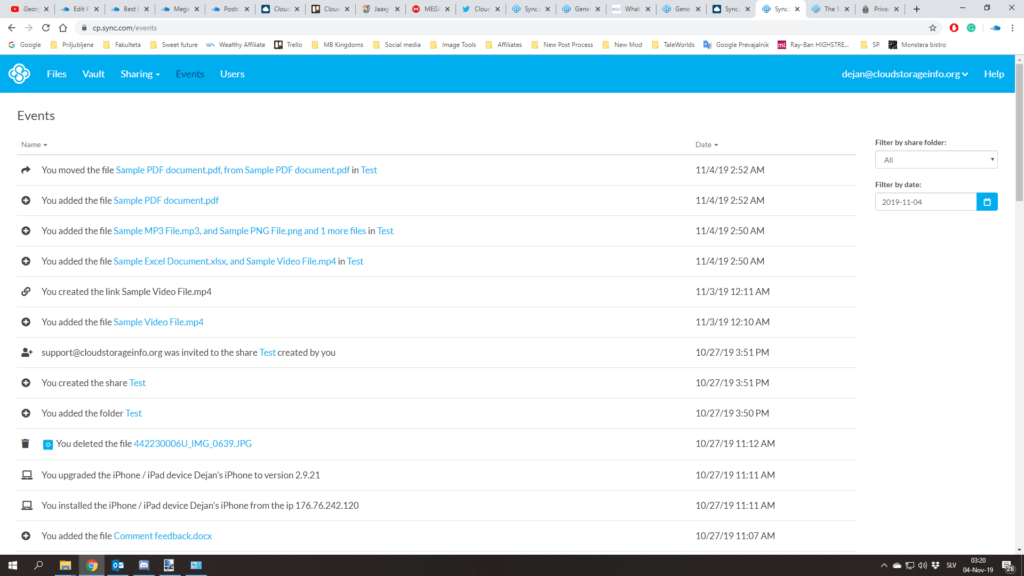 It's quite straight forward. The events tab allows you to see the activity on your account and what's happening with your files. Great for having oversight over your files.
Vault
The Vault that I have already mentioned previously under "Ease of use" makes for a great additional feature. Having the compartment of files that aren't synced to your local device is great for storing files you don't need on a daily basis.
---
pCloud Additional Features
Public folder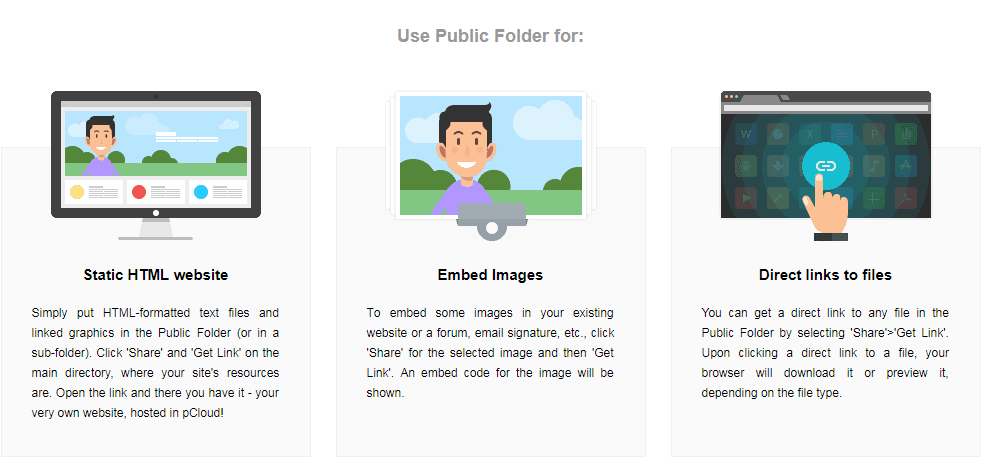 Public folder allows you to get links to specific files and freely share or embed those links anywhere on the web. That's quite useful if you're for example making a portfolio and need to embed your image into it.
pCloud Save & Remote Upload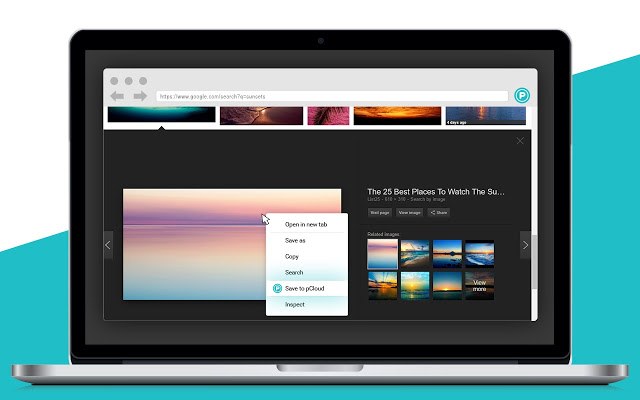 pCloud Save is an extension for the following browsers: Google Chrome, Opera and Firefox. It allows you to save images, text content and other files directly to the cloud from the web. That eliminates the need to download them to your desktop and makes for a great time-saver.
Remote Upload is a feature that has the same functionality as the pCloud Save extension. Simply take a link to a video or an image and place it directly in the pCloud upload manager. The files will then be downloaded directly to the servers of the provider, eliminating the need to save them locally first.
Free accounts get 15 GB of one-time Remote Upload traffic while premium users get an unlimited amount.
pCloud Backups
You can backup multiple platforms directly within the pCloud dashboard: Google Drive, Dropbox, Facebook, Instagram and OneDrive. It makes for a useful feature if you are using multiple cloud storages or you would like to save your pictures that have been uploaded to the social media.
It's also possible to backup your WordPress website.
---
Conclusion
Sync.com vs pCloud: What a battle this was. Not only do pCloud and Sync.com take up the top 2 spots on my Top 10 Cloud Storage Providers list, but they also come crazy close when it comes to my rating of their features. To sum up the comparison:
Both pCloud and Sync.com offer great pricing plans when compared to other providers but pCloud also offers lifetime cloud storage plans.
Both are very easy to use and have great user interfaces. Sync.com has a more modern looking one but pCloud offers more actions such as video streaming and listening to music.
Both provide a great synchronisation client but pCloud takes up no local storage space with their imaginary drive.
Sync.com provides a wider array of advanced sharing capabilities.
pCloud offers a more easy-to-use "Rewind" feature for retrieving your files but Sync.com offers longer file retrieving periods at no additional cost.
Sync.com offers better security and privacy due to the client-side encryption placed across all your files (pCloud offers that just in the Crypto plan) combined with their strong privacy policy (HIPAA and PIPEDA compliant).
They both offer practically the same online support options, pCloud having a slight edge over Sync.com with a larger FAQ base.
After going through all the features both cloud storage providers offer I believe it's important that you decide which is best suited for your needs rather than me telling you which one is better overall. Have a look at the features and decide based on that. Both are one of the best services on the market right now so you won't go wrong with either of them!
---
---
Hopefully, we've gone through everything that you wanted to know about the comparison Sync.com vs pCloud. If you have any more questions, feel free to ask in the comments section down below and I'll answer shortly!