4.5/5


★★★★★
PRICING & PLANS


★★★★★★★★★★

9.8/10
EASE OF USE


★★★★★★★★★✩

9.1/10
FILE SYNCING


★★★★★★★★★✩

9.0/10
FILE SHARING


★★★★★★★★✩✩

8.4/10
RETRIEVING FILES


★★★★★★★★★★

9.8/10
SECURITY


★★★★★★★★★★

9.5/10
SUPPORT


★★★★★★★★✩✩

7.5/10
ADDITIONAL FEATURES


★★★★★★★★★✩

8.5/10
PROS
Great pricing options
Interesting lifetime plans
Modern and minimalistic user interface
Twofish client-side encryption
Responsive support
Great Android & iOS mobile applications
Two-factor authentication
Crypto payments on lifetime plans
CONS
No selective sync
No block-level sync
---
Icedrive Review
Icedrive is a product made with love in Wales, United Kingdom. That's what their little footer sign says! And I have to admit it's not hard to notice the love put into this service, especially when it comes to the security of your files. They're using the Twofish encryption to ensure the maximum security of your files. They're still relatively new to the cloud storage market but have been making swift progress with the development of various features as we'll discover in this Icedrive review.
Read the full Icedrive review below.
---
Jump to:
Pricing & Plans
Who is it for?
Ease of use
File syncing
File sharing
Retrieving files
Security
Online support
Additional features
Conclusion
---
Icedrive Features
Pricing & Plans
Free storage
10 GB
Free trial
Lifetime plans
Payment methods
Credit card, PayPal, Crypto
Ease of use
Open in-browser
PDF, Office, Videos, Images, Music
Edit in-browser
Mobile apps
Android, iOS
WebDAV
File syncing
Supported systems
Windows, macOS, Linux
Imaginary drive

An imaginary drive allows you to access all of the files that are in the cloud directly from your desktop via an application without taking up local storage space.

Sync folder

A sync folder allows you to access all of the files that are in the cloud directly from your desktop via an application. Since it synchronises the files to the device, it takes up local storage space.

Block-level file sync
Selective sync

Selective sync allows you to choose which folders that are located in the cloud should and shouldn't be synchronised to your device.

Sync any folder

The sync any folder feature allows you to choose any local folder and synchronise it to the cloud without any further actions.

File sharing
Share download links
Link password protection
Link expiration dates
Link branding
Link download limits
Link stats
Share upload links
Share folders
Set folder permissions
Retrieving files
File versioning system
Trash bin
Rewind feature

The rewind feature allows you to go back in time and inspect your cloud storage as it was in that moment. This enables easy retrieval of files in various scenarios such as malware infection.

Security
Server location
UK, Germany, US
HIPAA Compliance
Encryption protocol
256-bit Twofish
At-rest encryption
In-transit encryption
Client-side encryption
Zero-knowledge privacy
Two-factor authentication
Online support
FAQ base
Forums
E-mail support
Live chat support
Phone support
---
Pricing & Plans
Icedrive offers 10 GB of free permanent storage with a 3 GB daily bandwidth limit. That number is quite good when you compare it with for example Dropbox that only offers 2 GB of free storage. The free offer is quite enough if you need to store a few documents and a small music collection but I need my storage capacity a lot bigger than that due to the big photo collection. In which case, we need to look at their paid plans. Icedrive has 3 different paid plans when it comes to storage capacity. You can pay for them monthly or yearly. They've also introduced lifetime plans alongside pCloud. It is a really unique opportunity to invest into cloud storage and save money in the long run. In return for a one-time payment, you get to keep your online storage space for a lifetime. Now, who knows what will happen in 20 years but it's easy to calculate that you will start seeing massive savings after 2-3 years of cloud storage usage. Icedrive is also one of the cheapest cloud storage providers out there.
Paying for the plans can be done via PayPal, Visa and MasterCard. A 14-day money-back guarantee is placed on all Icedrive plans. If you don't like their service simply grab the money back and take it elsewhere. Crypto payments are available only for their lifetime plans.
---
Yearly Plans
---
The above plans must be paid annually. They also have plans for which you pay monthly but they come at a slightly higher price with $4.99/month for 1 TB and $17.99/month for 5 TB of storage.
---
Lifetime Plans
---
Who is it for?
I would recommend Icedrive to anyone in need of a secure, useful and modern cloud storage provider. Icedrive takes it a step further when it comes to making sure your files are protected to the maximum. Their lifetime cloud storage plans are especially interesting.
---
Ease of use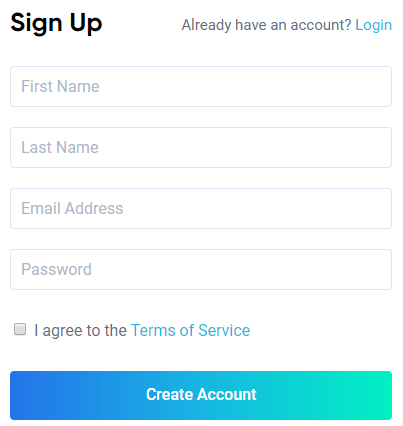 Registering an account with Icedrive is no challenge, you simply enter the credentials shown above and you're in (Google or Facebook sign-ups aren't possible). Once you're inside you're greeted by a slick-looking user interface that has a minimalistic design and looks very clean. It's possible to switch between two views:
List View

On the left you have the menu from where you can access all the important features:
My Icedrive: Represents your total cloud storage space where you can access and manage your files.
Encrypted: This is the department within which all of your data is encrypted with Twofish client-side encryption.
Shared with me: All of the folders&files shared with you from another Icedrive user will show up here.
Favourites: Using the UI it's possible to favourite any folder or file. These items then show up under this section which enables quick access.
Recent: This displays the recently uploaded files, filtered by date.
Trash: Displays all the deleted files.
Tile View

I prefer the list view, especially since I own a larger collection of files to cycle through. Using the UI was a great experience though. It's very responsive and easy to use. It's also possible to download both folders (they get compressed) and files directly from the website.
The "Encrypted" folder also uses advanced streaming decryption piping method for Google Chrome that enables the download of larger encrypted files.

File previews & edits
Icedrive allows you to preview PDF and office documents. You can also stream videos, preview images and listen to music. All of this is possible outside the client-side encryption.
When we enter into the "Encrypted" folder all of this is also possible with the inability to preview Office documents. The previews in the encrypted area are possible only for files below 50MB. This is actually unique to Icedrive. The ability to listen to music and watch videos directly from the client-side encrypted area is not available with any other cloud storage providers.
---
File syncing
Icedrive has 2 desktop clients. A virtual drive application that is available only for Windows and a Portable app that is available for Windows, macOS and Linux.
Virtual drive

The virtual drive client installs an imaginary drive on your computer that doesn't take up any storage space (except cache). When launching the client you're greeted with a screen that displays your current usage, stats and useful information. On the top you have various tabs:
Account: Displays important information.
Sync: Allows you to sync any folder on your computer to the cloud.
Mount: Allows you to enable/disable the virtual drive.
Transfers: Shows file transfers in progress.
Settings: Allows you to configure the application.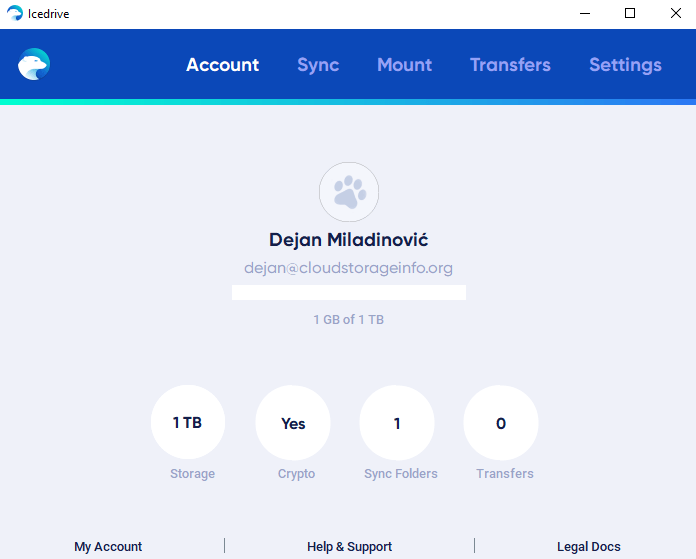 The "Sync" tab allows you to "Sync any folder" from your computer to the cloud which is a great QoL feature. Additionally, you don't need the drive enabled for this feature to work which is even better if you don't want anything from the cloud that isn't already on the computer synced locally.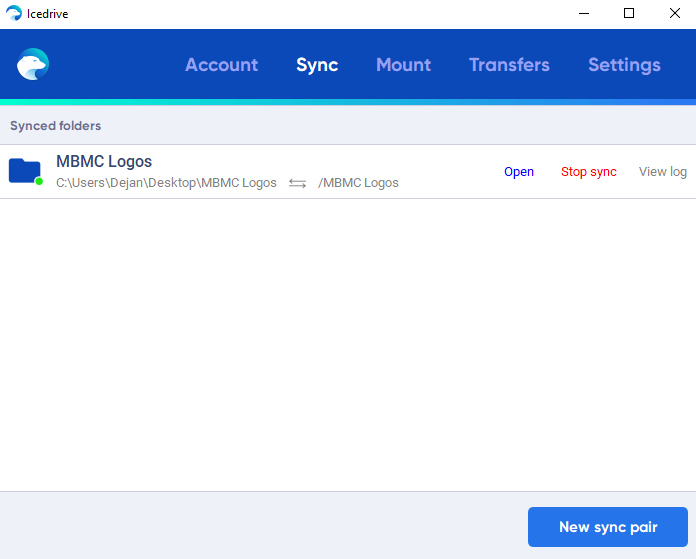 The settings tab allows you to set various preferences:
Start up with Windows
Request thumbnails and previews – Turning this off essentially stops all downloads.
Encrypted folder as cloud root – Allows you to mount the drive as your client-side encrypted cloud storage.
Read-only cloud storage – No changes/edits can be made in the mounted drive.
Cache size – Set the desired cache size.
Cache location
Preferred disk letter
Clear cache – Wipes all the local cache data (nothing in the cloud will be deleted).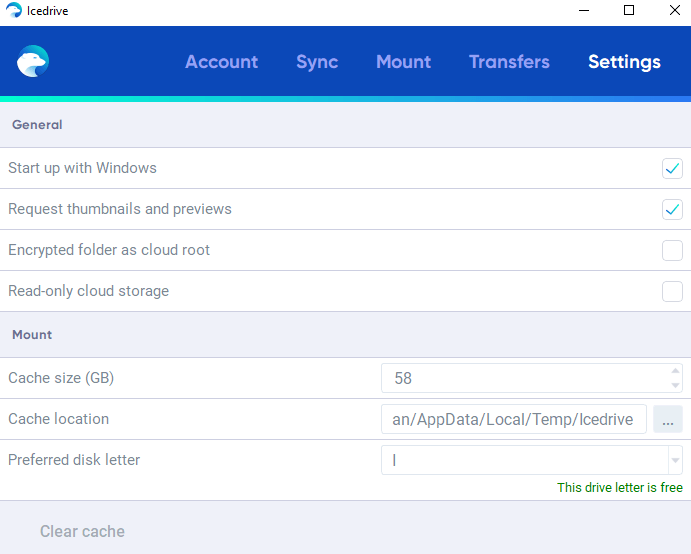 The cache is used to download files from the cloud to enable accessing them at any point in time. When the limit is reached, the older files in the cache simply get deleted.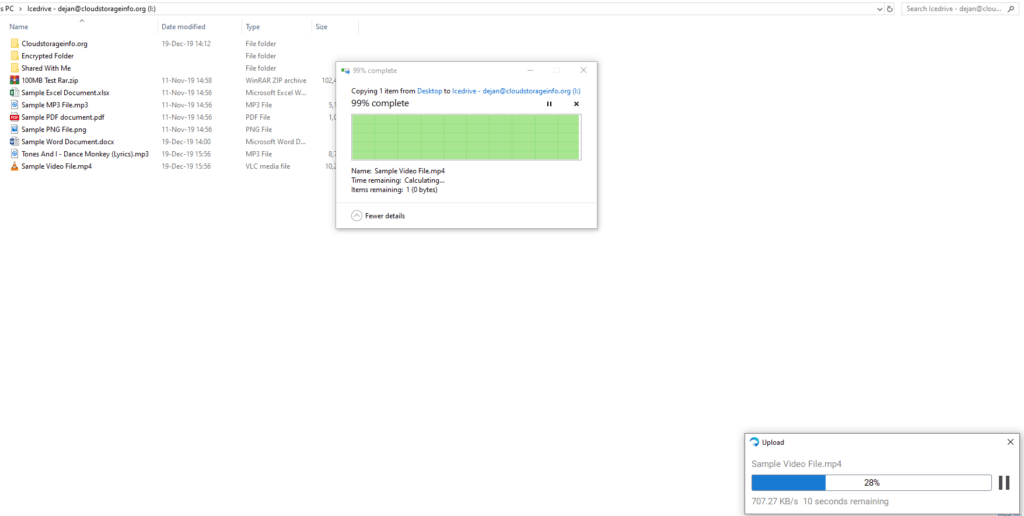 The drive allows you to access and edit the files in the cloud. You can also access the Encrypted Folder (for which you have to enter your decryption password) and "Shared With Me" folder.
Portable app
The portable app basically allows you to manage your files at a greater scale than their virtual drive app. It requires no install, you download the program and just launch it. You can watch movies, images and open documents with it. It's also possible to share files from it.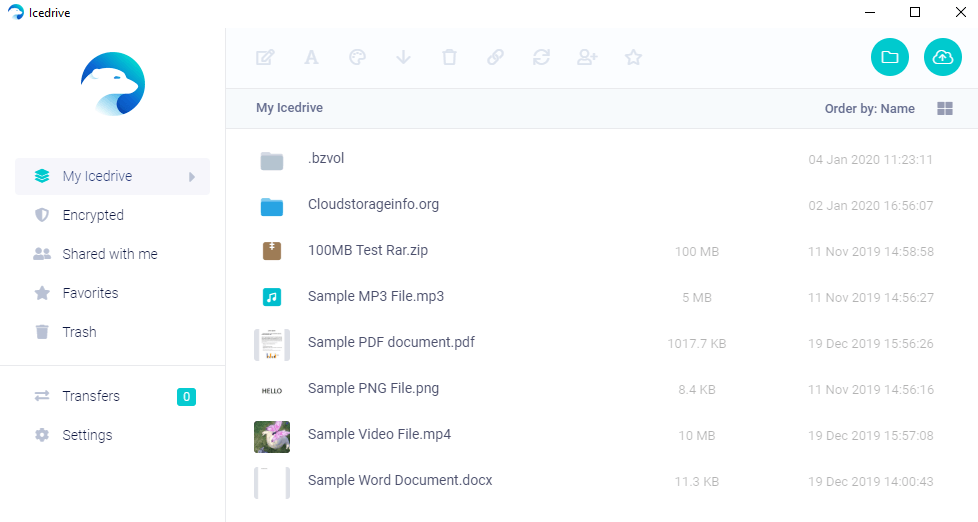 There's no file size limit with Icedrive. Upload however big files you want. There are also no limits to up/download speeds.
The current clients don't support block-level sync nor selective sync.
Have a look at our best online backup list if you're searching for backup features specifically.
---
File sharing
Sharing files and collaborating on them with your friends, family members and coworkers are two great advantages of cloud storage. Uploading files to a USB, carrying the USB to your friend, him plugging in the USB and transferring the files is simply too much of a hassle. Icedrive removes the need to bother with that stuff, just like other cloud storage providers they offer you the ability to create public links.
Public links can be created for both files and folders. Anyone with access to that link can then download the files contained in that link.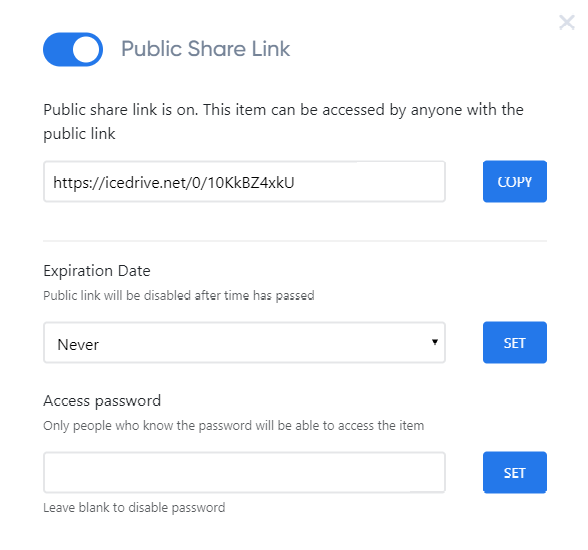 If you are on a paid plan you also get the ability to add password protection to your public links. Expiration dates are also available in all paid plans. Both of these advanced features are great if you plan to share the files with an enclosed audience or you simply want to remove the file from the web after a certain period of time.
It's also possible to share entire folders or just specific files with other people that own and Icedrive account. They will be able to see all the files within that folder at all times and download them as needed.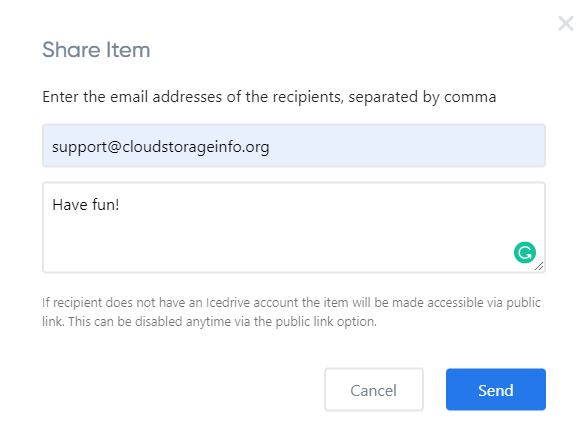 Icedrive also provides a "Request Files" function which comes in handy in a number of situations where you don't necessarily want someone to view or download any of the files in a specific folder but simply want them to upload their files, for example, homework, an assignment, project presentation,… Simply right-clicking on a folder and then going with "Request Files" brings up the following menu: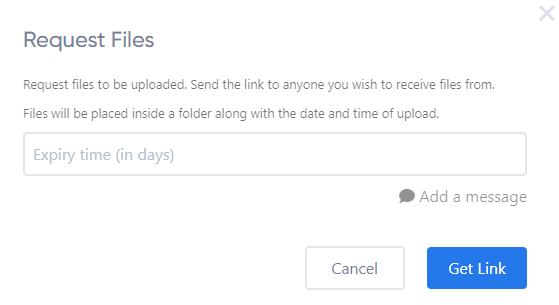 This generates a link that has an expiry limit (0 to 180 days) that can then be shared with anyone. When they open the link, they are greeted with a modern-looking upload page where they insert their name and attach as many files as they want.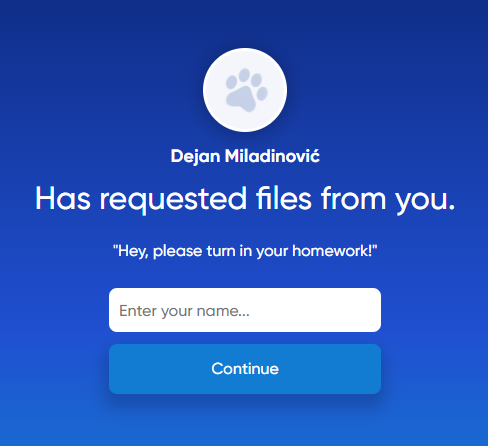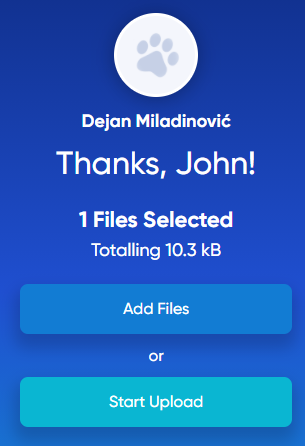 ---
Retrieving files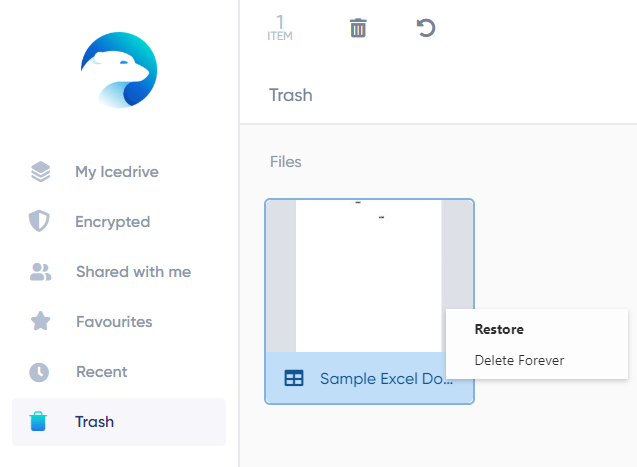 Icedrive offers a trash bin that saves all of the files that you delete. The good thing about it is that files stay there indefinitely until you decide to delete them yourself. The files do count towards the total storage space though so if you start running out of space simply go to the trash bin and permanently delete the files you don't need.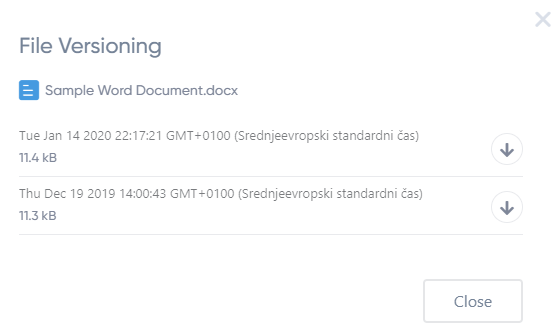 Icedrive also offers a file versioning system. Currently, all of the file versions get stored indefinitely and don't take up any cloud space.
---
Security
Icedrive is a product of the ID Cloud Services LTD company from Cardiff, Wales, United Kingdom. Icedrive has its servers located in the UK, Germany and USA.
Icedrive is fully GDPR compliant. You can at any time download all the data Icedrive holds about you, erase that personal data or completely delete your account. Having such control over data stored with a cloud storage is a great feature.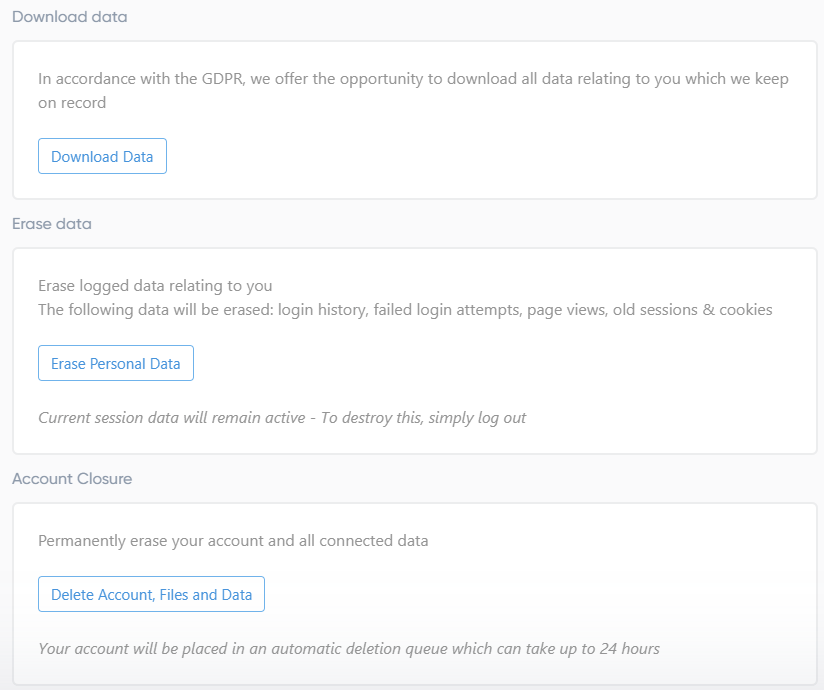 They also have a fleshed-out DMCA policy which handles sharing of any stolen content that is being shared via Icedrive. Their privacy policy states that no details are passed on to third parties. They use website cookies and Google Analytics to better tailor your experience with their service. They don't use any tracking software on personal areas like your dashboard though.
Their "Encrypted Folder" makes use of Twofish encryption which is not the standard encryption within the industry. Most cloud storage providers use AES encryption. How do the two compare? Twofish encryption is considered to be more complicated and more secure but makes use of more resources to operate. Icedrive generates secure 256-bit keys using your encryption passphrase. Keys are generated client-side and never get passed to their servers. Only you have access to them.
Files that aren't covered with client-side encryption are also encrypted server-side both while in transit (TLS/SSL) and while stored with full redundancy.
Icedrive also offers two-factor authentication through Google Authenticator, FIDO/U2F (Yubikey etc.) or SMS/text message. I gave it a go and it works as intended, just make sure to scan the QR code before enabling the 2FA through Google Authenticator.
Icedrive is without a doubt one of the most secure cloud storage providers on the web.
---
Online support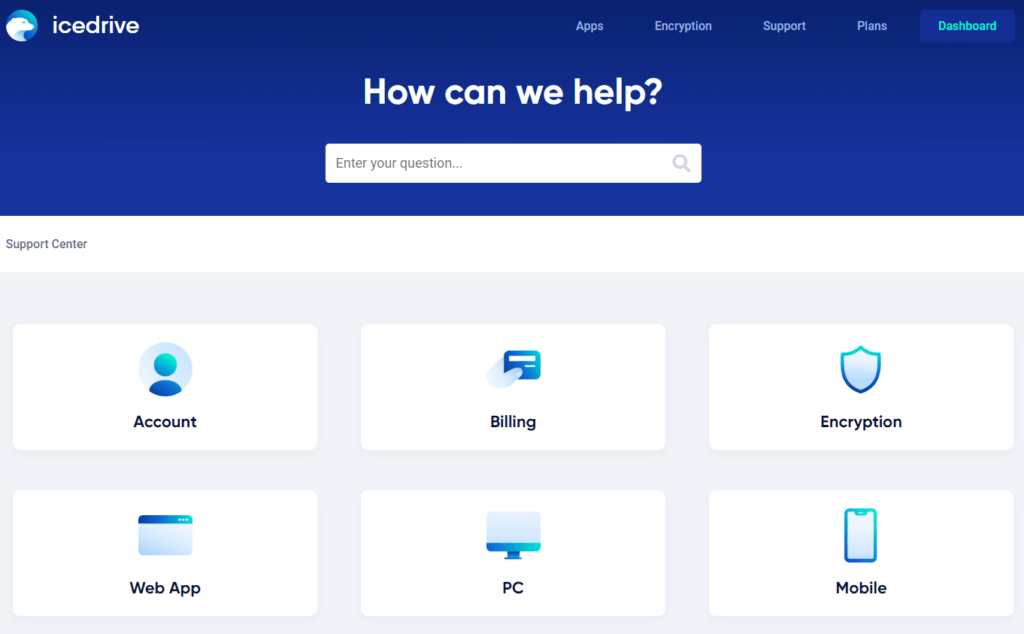 Icedrive has a support page where you can find answers to some questions. It's certainly not as fleshed out as I would like it to be. They do make use of a ticket system though that has a great track record. They always respond to all inquiries within a day. They have responded to my inquiry within a few hours. Live chat or phone call support options aren't available though.
---
Additional features
---
WebDAV support

You can connect to their service using WebDAV with all the paid plans. This way you can collaborate with others or just work on your files via your network.
---
Mobile application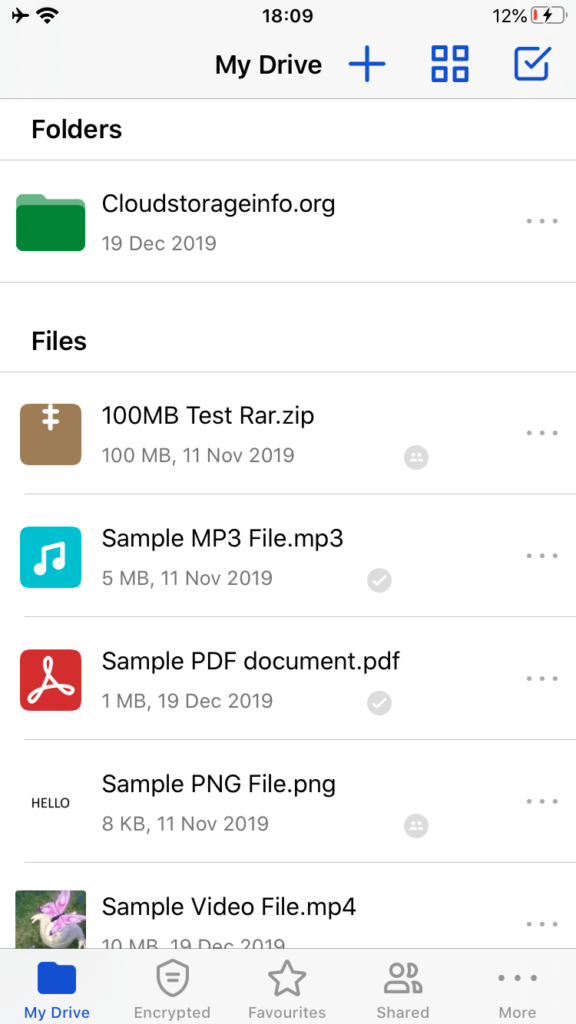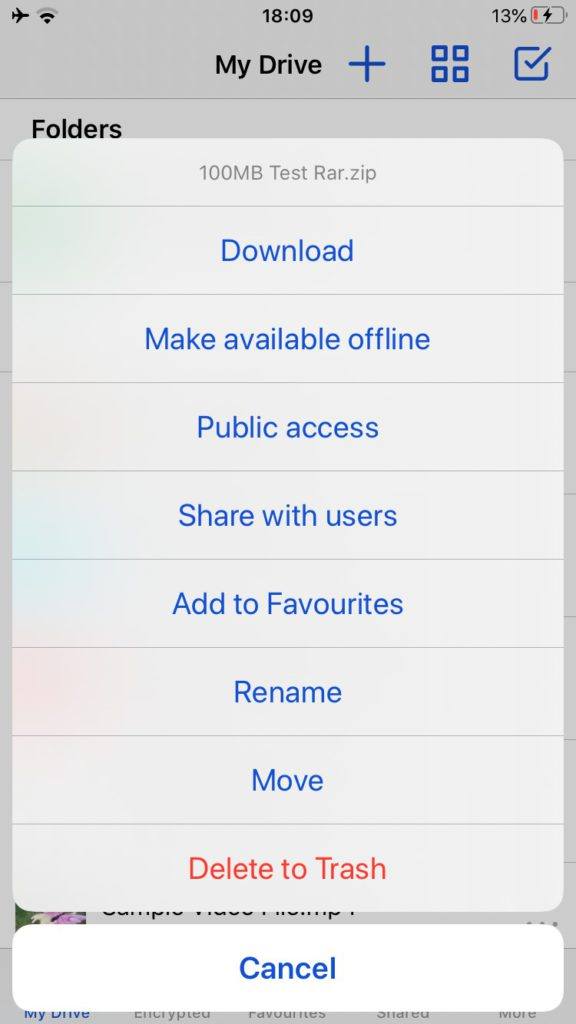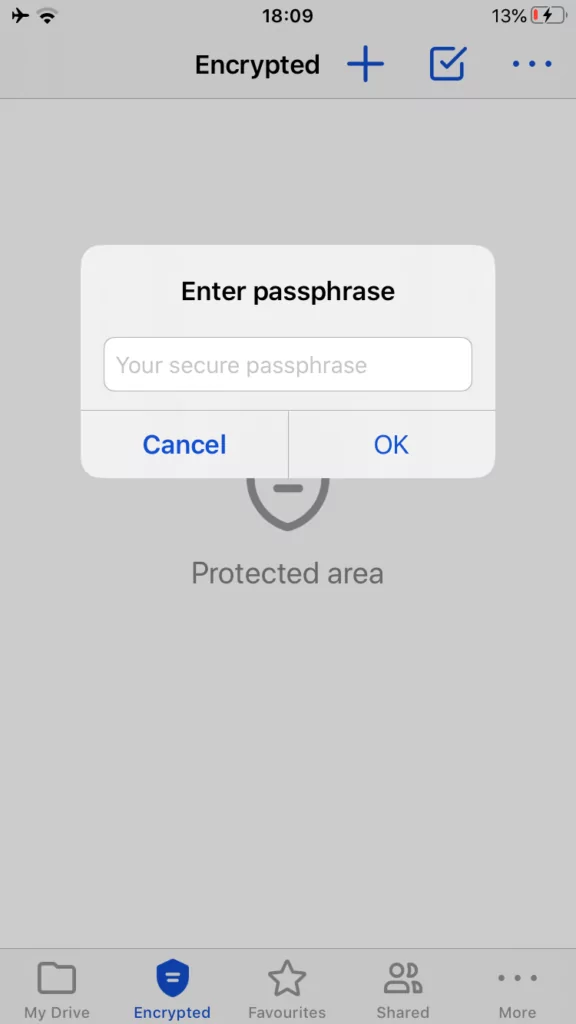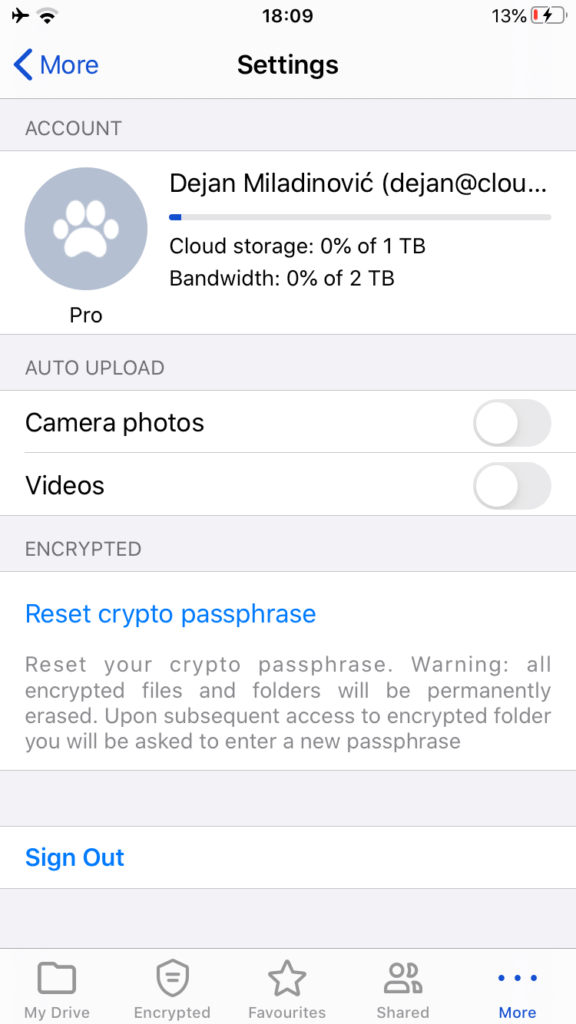 Icedrive application is available for both Android and iOS systems. Both applications are really fleshed out in terms of features and are well made. As shown above you're able to do pretty much everything that you can do via the browser. Everything from viewing the files, listening to music, streaming videos, sharing files to accessing your Encrypted folder.
It's also possible to turn on automatic upload of photos and videos which is great as a backup solution for your smartphone. If you think you'll stay without internet access simply mark the desired files for offline access and that way make them available even when you're offline.
---
Conclusion
Icedrive is the new guy on the market and yet it's already making a few waves due to the modern and well-developed features. They're also continuously improving their features. A great minimalistic design definitely hit the spot with me, the prices are good (lifetime plans included) and they do a great deal to keep your files secure. The mobile applications are also fleshed-out. They also feature a full versioning system and two-factor authentication for better security. I have talked with one of their developers though and they have great plans for the future of the service, including the missing features I mentioned. I believe Icedrive is worth a shot and will allow you to manage your files online with no problems alongside all the security features.
---
---
What's your experience with Icedrive? Please share it down below. I hope I answered all your questions about Icedrive within this Icedrive review. If you have any unanswered questions feel free to ask them in the comments section down below and I'll answer them shortly!