BigMIND
€2.99/month 100 GB
Security & Privacy
8.0/10
Additional Features
9.5/10
Pros
Modern interface
Browser file previews
Scheduled backup
Hybrid backup
NAS&External hard drive backup
Extremely fast
Strong encryption & HIPAA compliance
Cloud storage & sharing of files
Backup of other cloud storages
Cons
No true continuous backup
No unlimited plans
No client-side encryption
---
BigMIND Review
BigMIND is the next-gen cloud backup solution provided by Zoolz, an already existing company that deals with cloud solutions. The company comes from London, UK and has been in the cloud game for a long time which will become obvious during our BigMIND review. It's certainly worth taking a look if you're searching for a quality cloud backup solution.
Read the full BigMIND review below.
---
BigMIND Alternatives
| # | Service | Rating | Description | Paid Plan | Go To |
| --- | --- | --- | --- | --- | --- |
| 1 | Acronis True Image | Read review | Acronis True Image is an online backup software with excellent security & privacy. You can perform scheduled, Hybrid, NAS, external hard drive, server and other backups. The download & upload speeds are decent and you can always rely on their support to give you a hand. 30-day trial period. | €8.33/month 1000 GB | Go To Acronis True Image |
| 2 | BigMIND | Read review | BigMIND is the next-gen cloud backup provided by Zoolz. It has a modern interface with very well developed backup features. It includes scheduled, hybrid, NAS, external hard drive,... backup. The upload and download speeds are incredibly fast which is a bonus in comparison with other cloud backup providers. 1 GB of free backup storage. | €2.99/month 100 GB | Go to BigMIND |
| 3 | Polar Backup | Read review | Polar Backup originates from the UK and aims to provide an affordable complete cloud backup solution. Their lifetime online backup plans certainly make them an interesting choice due to the well developed backup client with client-side encryption included. No free plans. | $3.33/month 1000 GB | Go to Polar Backup |
| 4 | CloudAlly | Read review | CloudAlly is not your regular backup service. It focuses on backing up other cloud services such as G Suite, Microsoft 365, OneDrive, Dropbox, Box.com... Keep in mind though that it is business-focused so no plans for personal users. 14-day trial period. | $3 per 10 GB | Go To CloudAlly |
| 5 | IDrive | Read review | IDrive has been around for what seems an eternity now. They basically cover all of the possible backup solutions and for a decent price as well but there seems to be a few technical issues with the service alongside the somewhat poor download & upload speeds. 5 GB of free backup storage. | $4.34/month 2000 GB | Go to IDrive |
---
Jump to:
Pricing & Plans
Who is it for?
Ease of use
File backup
Speed
File restoration
Security & privacy
Online support
Additional features
Conclusion
---
Pricing & Plans
BigMIND has divided their plans into personal and business ones as many cloud backups do. The business plans are intended for companies and enterprises with a larger number of users and greater needs for advanced features such as server and SQL backup.
There are 4 personal plans available for ordinary users though. It's possible to go with their free option which gives you 1 GB of cloud backup storage. Unfortunately, that is hardly enough for my needs so I had to look at paid options. It is good for testing out their service without any risk though. Free plans are always a welcome feature.
---
Personal Plans
---
---
Business Plans
---
---
There are also a few differences between the business plans:
| | | | | |
| --- | --- | --- | --- | --- |
| Plan | Starter | Standard | Premium | Smart Archive |
| Audit | Basic | Basic | Lifetime | Lifetime |
| Mobile Backup | No | Yes | Yes | No |
| SaaS & Network Backup | Yes | Yes | Yes | No |
| eDiscovery | No | No | Yes | No |
| OCR | No | No | Yes | No |
| SQL Backup | No | Yes | Yes | No |
It's important to note that SQL backup, mobile devices and OCR need to be paid for additionally, depending on the plan you go with. It's also possible to increase the backup storage. All business plans also come with a 14-day trial period during which you can test out the service and back off if needed.
---
Who is it for?
BigMIND is great for both personal and business users. While it provides no unlimited storage it certainly offers a lot of features and a quality cloud backup solution.
---
Ease of use
To register simply use your e-mail and create a secure password for it. It's also possible to use either Google or Facebook to sign up with BigMIND.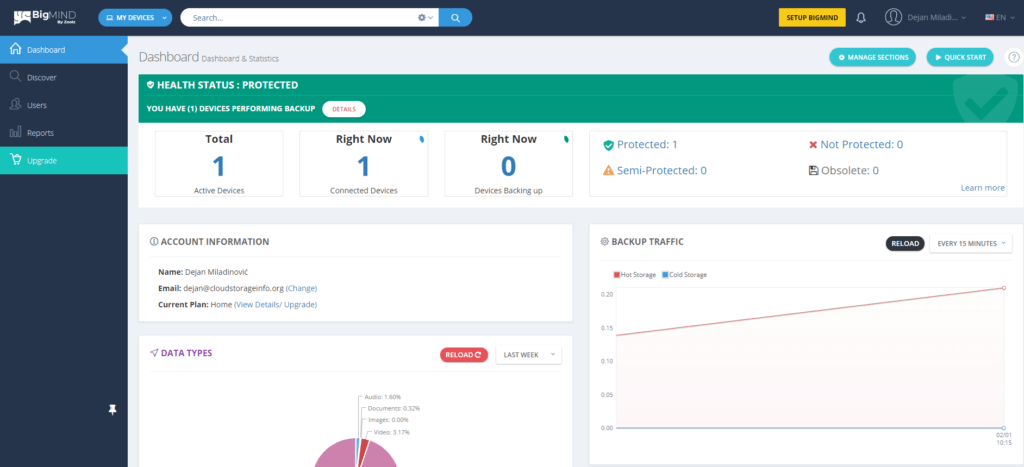 Once inside you'll be greeted with a dashboard that sums up your current status of backed up computers. It also provides you with an array of statistics such as backup traffic, data types, shows the activity stream, restore traffic,… These sections are also manageable via the "Manage settings" button on the top right. I was able to also drag and drop them into different slots which is a nice little customization feature. While the dashboard provides a few useful statistics you'll be doing the bulk of your file management under the "Discover" tab accessible via the left menu.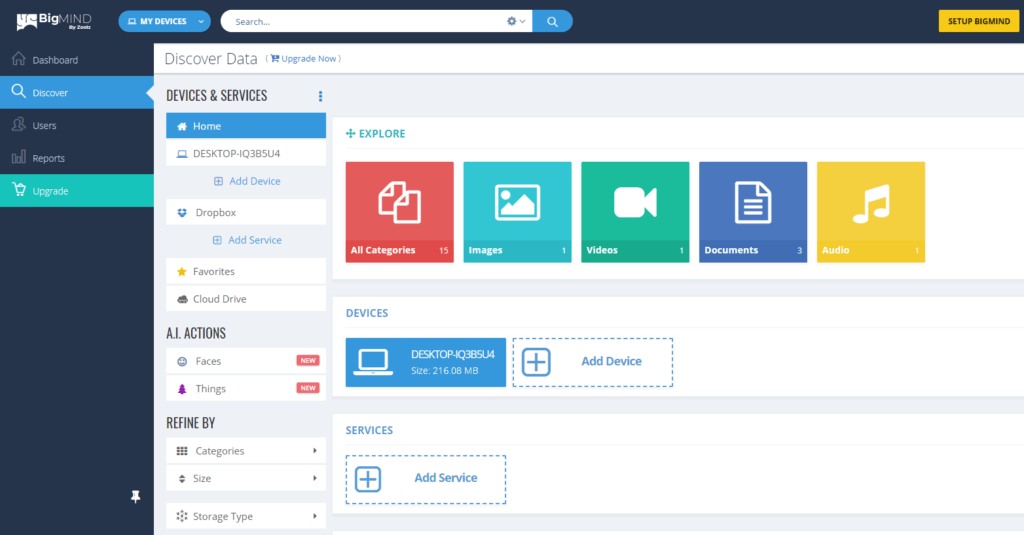 Here's where you can access all of your backed up files. You're able to also search and filter through all of the data using the "Search" function on the top or the filters on the left. The user interface is friendly to the eyes with the ability to switch between the list and grid view. Switching between pages is also fast and everything works smoothly.

File previews & edits
BigMIND is full of features that you might not find with other cloud backup providers. Via the browser, you're able to preview all types of documents such as Word, Excel or PDF. That's great for a backup solution as it means you can open a document without downloading it first.
Listening to music, streaming videos and previewing images is all also possible.
---
File backup
BigMIND desktop client is available on both Windows and macOS systems (not available on Linux). The client allows you to back up all of your data to the cloud. You just set it up from the start and then let it work in the background, constantly uploading everything you have selected to BigMIND servers.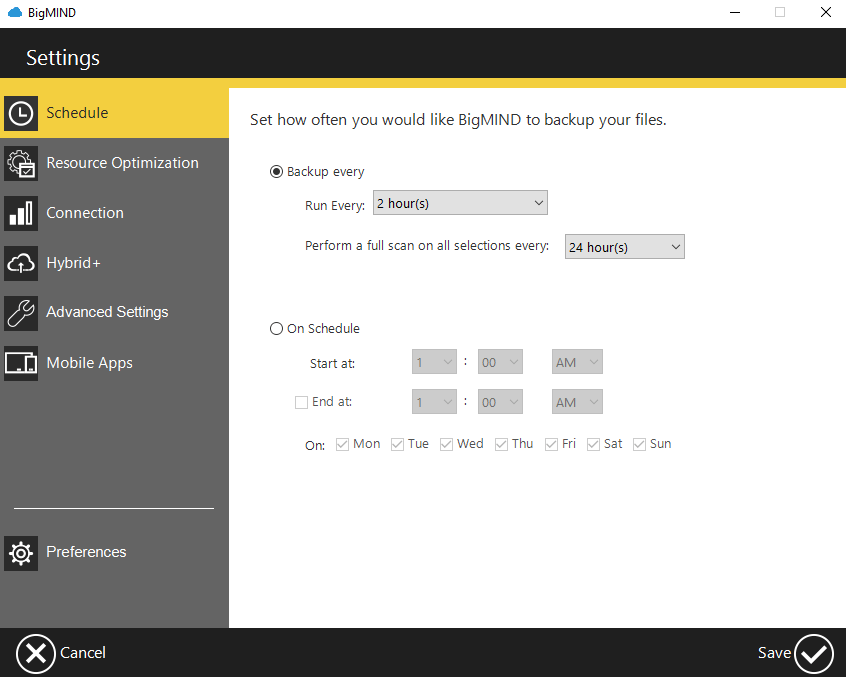 It's possible to set a schedule for all the backups as seen above. You can opt-in for the "Run every X time" option or go for specific times if you find that more optimal.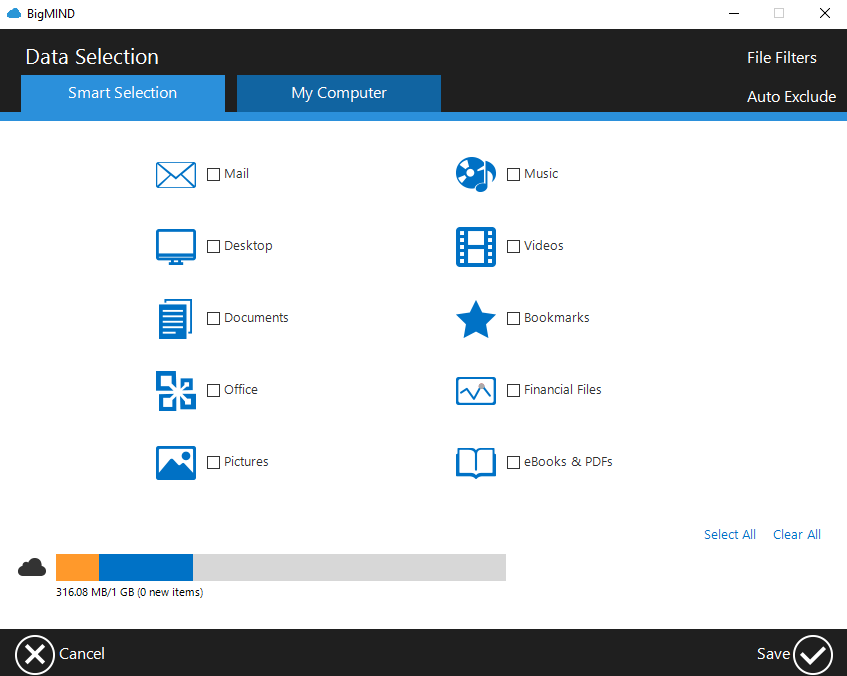 At any point in time, you can decide what exactly you want backed up to the cloud. You can either go with the smart selection which uploads specific file types or go to the "My computer" option and select specific folders that you want to be backed up. At the top right you can also mess with file filters and auto-exclusion which both prevent the uploads of specific file types or uploads from certain folders. A useful feature if you wish to save up some cloud space or simply don't want to upload certain files.
Using the desktop software provided by BigMIND there are no limitations when it comes to file sizes nor do they limit the bandwidth in any form.
It does lack continuous backup in it's true form (upload of files as they change) but you can set for the backup to run every 5min which is pretty close to that. Incremental backup is available though, with the service uploading only the files that have changed.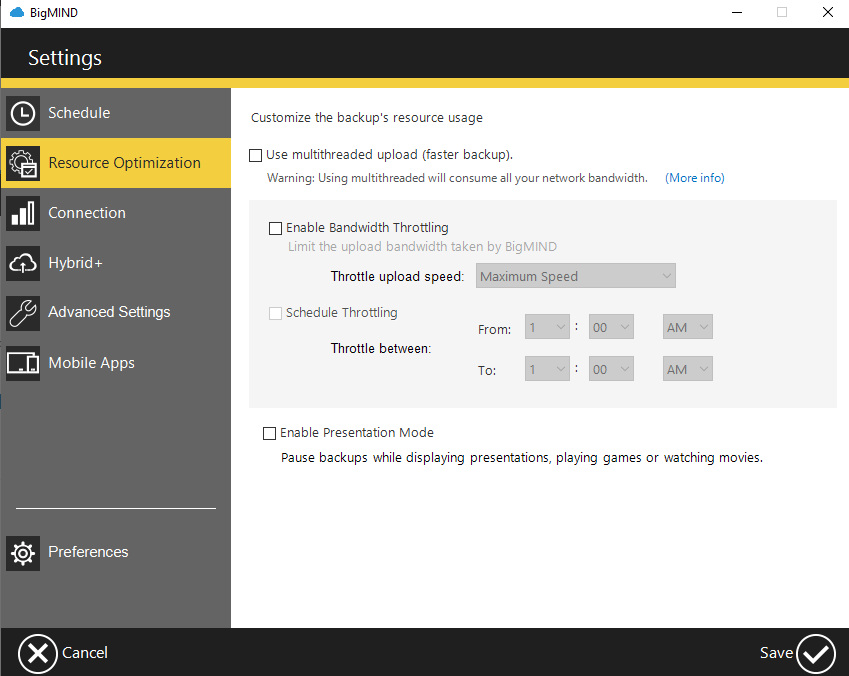 Both multithreaded upload and bandwidth throttling are available via the "Resource Optimization" option. There's also the Presentation Mode that pauses backups while playing games, watching movies,… Proxy and connection settings are available under the "Connection" option. Via the "Advanced settings" you can also decide if you want the backup to turn on when the PC turns on and which file types should be uploaded to the cloud using the block-level method. Via this method, BigMIND uploads only the parts of a file that have been changed rather than the whole file.
Hybrid backup is also available via their Hybrid+ option which simultaneously uploads both to the cloud and the external hard drive of your choice for double security.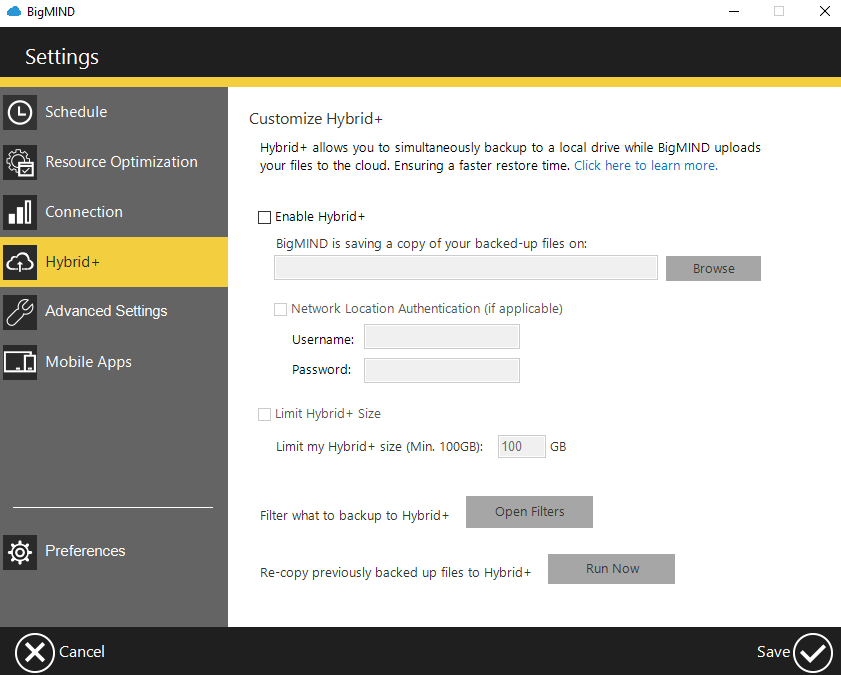 Both NAS and external hard drive backup are available via the "My computer" selection process. Backing up of Windows servers is available only to business users.
Mobile application
BigMIND cloud backup app is available on Android and iOS systems. The application allows you to both back up the mobile device and access the already backed up files from other devices. Contacts, photos, videos and the calendar can all be backed up. It's also possible to set files for offline usage in-case you want them accessible without internet access. Previewing images, watching videos, listening to music and opening documents is all possible directly from the app.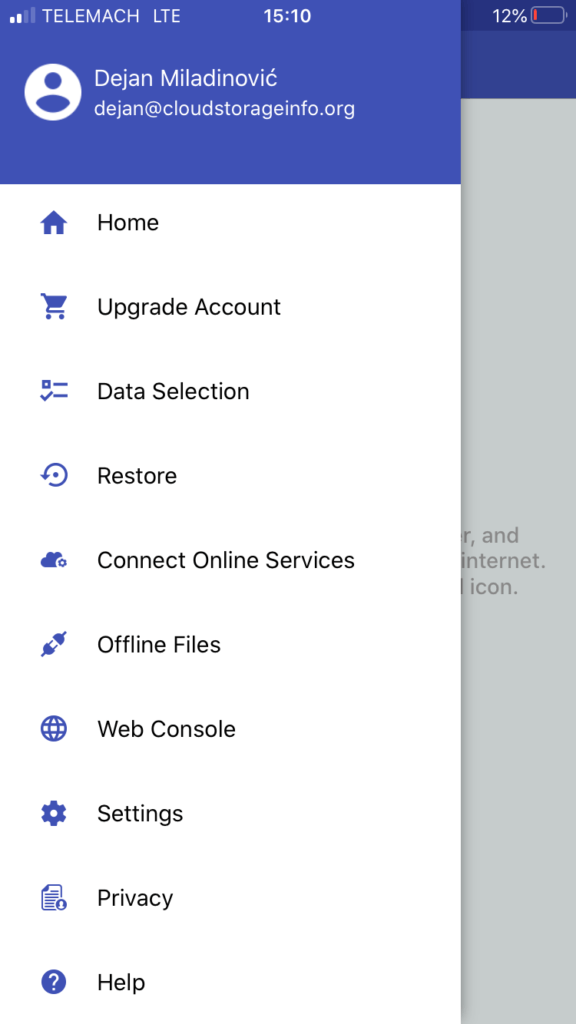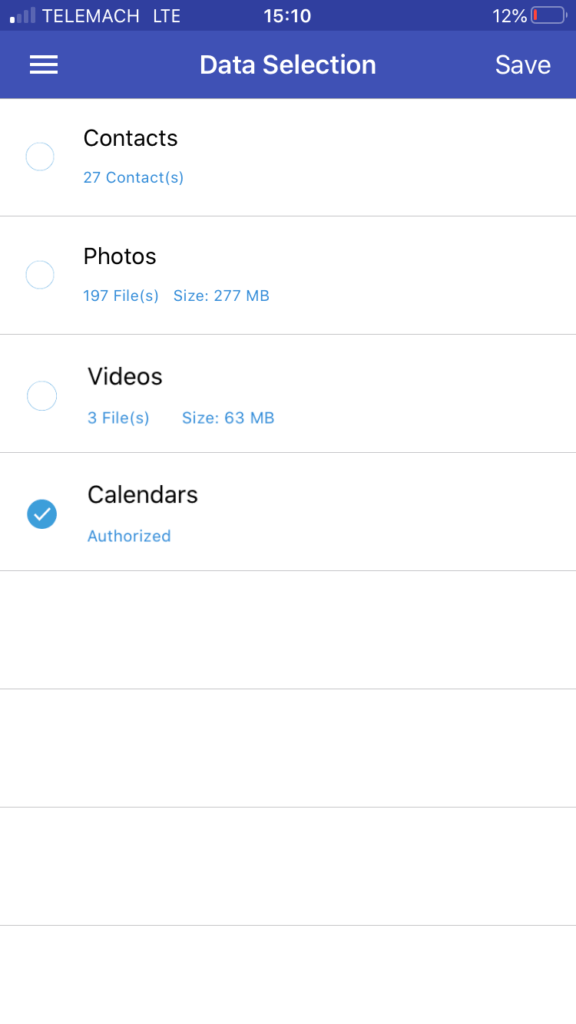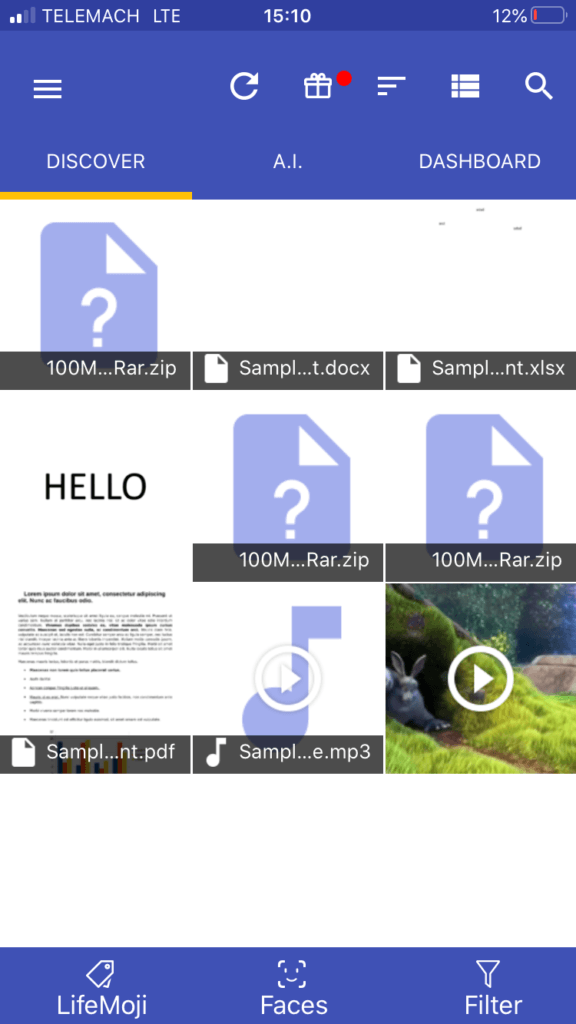 ---
Speed
I've performed a speed test using the application provided by BigMIND from Ljubljana, Slovenia with an internet speed of 190/5.73 Mbps which translates into 23.75/0.72 MB/s (download/upload). It's important to take note that the initial upload of the files will always take up quite a lot of time and can take from a few days to a few weeks – depending on your internet speeds.
| | | | | |
| --- | --- | --- | --- | --- |
| 1 GB File | Internet provider (max speeds) | Test 1 | Test 2 | Average |
| Time (download) | 00:00:42 | 00:01:30 | 00:01:33 | 00:01:27 |
| Time (upload) | 00:23:08 | 00:24:54 | 00:25:06 | 00:25:00 |
I am very satisfied with the speeds provided by BigMIND. In comparison with other cloud backup providers, they certainly stand out and are amongst the fastest out there.
---
File restoration
If you accidentally remove a file on your computer then it's very simple to get it back. You simply go to the desktop app and click on the "Restore" option. In the next step just select the folders you want to be restored and the missing files will automatically download into their previous locations.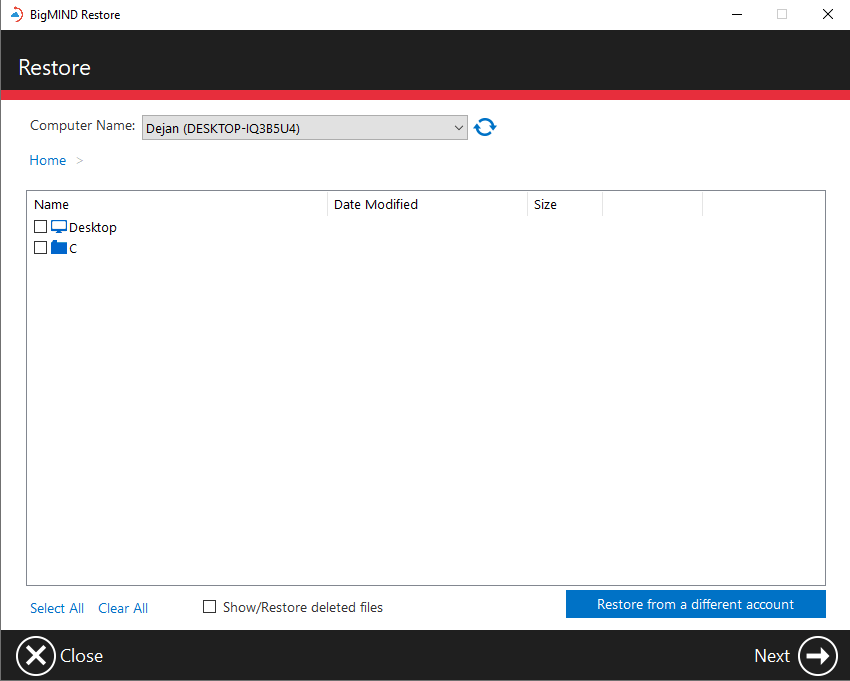 Any files that you delete in the browser will get moved to the trash bin. BigMIND will also store versions of your files. When the number of versions of a specific file reaches more than 10, the oldest versions will be deleted as new ones are created.
---
Security & privacy
BigMIND uses the Amazon Web Services (AWS) to store our data on the servers. All of the files are encrypted in transit with 256-bit AES SSL encryption and 256-bit AES encryption at rest on multiple servers at the same time. They also feature a fully-fledged Multi-Factor authentication which improves the security of your account. With MFA enabled, a verification call is required next to the e-mail and password when logging in.
BigMIND is compatible with a number of certificates such as ISO 27001, ISO 9001, SOC 1&2&3,… It's also HIPAA compliant (which is needed for storing sensitive patient information) alongside many other laws and regulations all over the world (EU, New Zealand, Australia, Japan,…). BigMIND will as such sign a BAA with any company dealing with sensitive patient information.
Unfortunately, BigMIND doesn't provide client-side encryption which would prevent access to anyone, including government agencies and BigMIND employees.
BigMIND also gathers information about your certain preferences and demographic information but will only use that information for improving their services internally and will never share it or sell it to third parties. They also guarantee that they will not view your backed up files in their privacy policy.
---
Online support
BigMIND provides a very extensive FAQ base containing plenty of answers and tutorials to the many questions you might have and they have done a really good job with that (note that BigMIND is the next-gen product of Zoolz and they share the FAQ base).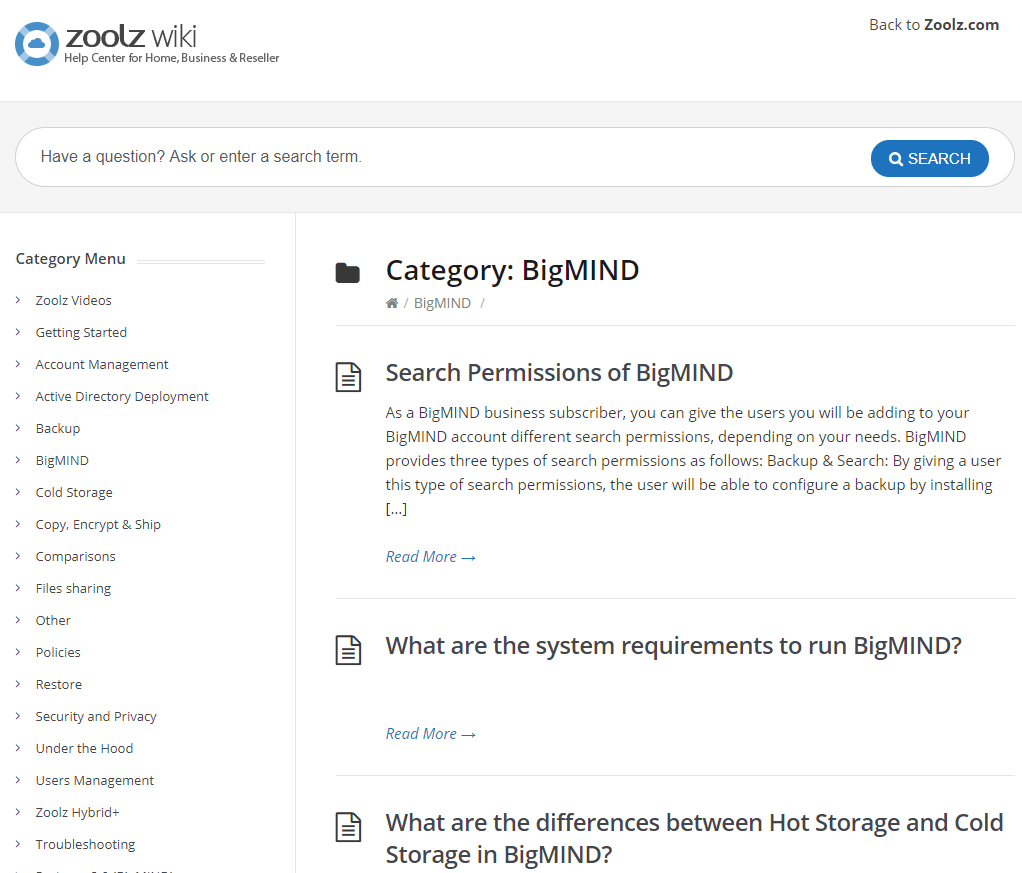 Support is otherwise available via the support form (note that free plans have no support). If you have any questions in regards to sales you can contact them via the two phone numbers provided at the bottom. They also have a live chat (open during business hours) that is meant for sales and minor cases with technical support.
---
Additional features
---
A.I. actions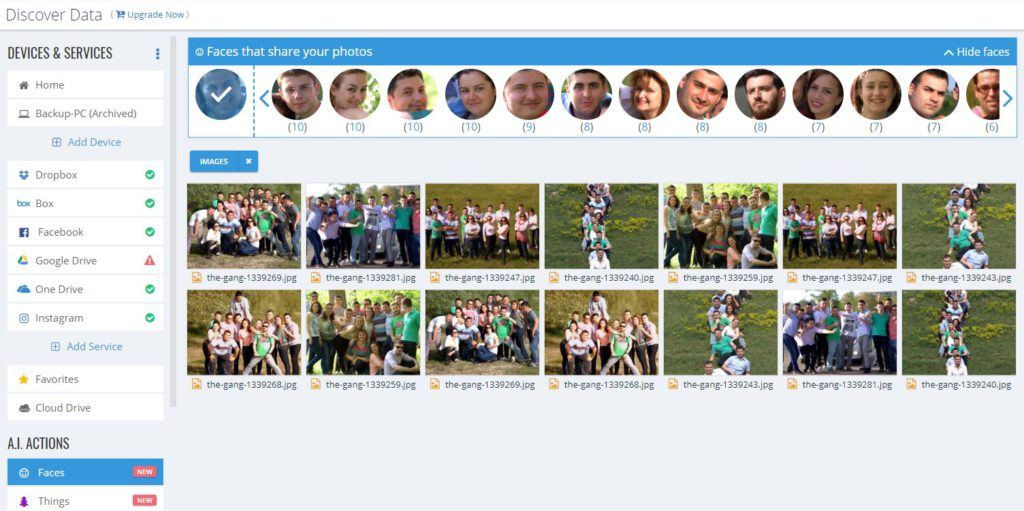 BigMIND has implemented two advanced systems: Faces & Things. The Faces feature automatically recognizes faces from photos. You can then filter the images via people present on images. The things feature works in the same way but for things.
---
Users & reports
The reports tab provides you with extensive statistics not present with any other cloud backup providers such as alerts, bandwidth usage, activity stream and device reports.

Via the users tab you can see all the users and registered devices. It's also possible to archive a computer via this tab which stops the back up of that computer but retains all the data in the cloud.
---
Sharing files
Sharing files is a very expanded feature with BigMIND, not something that is regular with cloud backup providers. You can share the files by sending a direct e-mail or by sending a link. There are also a few advanced options available:
Password protection
Download notifications
Expiration dates
View only links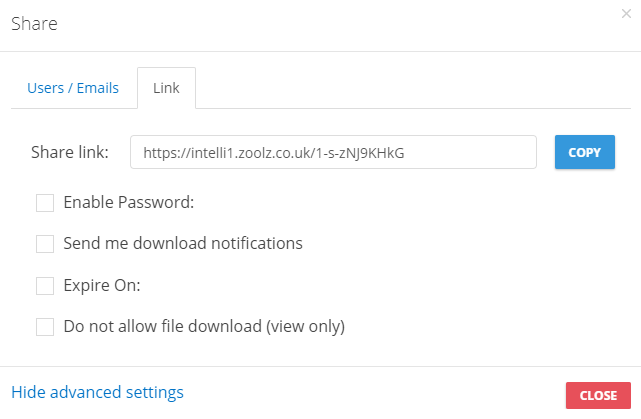 BigMIND also makes it easy to overview all the shares and files shared with you via the menu options on the left.
---
Cloud Drive

It's possible to upload files to the cloud drive manually and have it act as a cloud storage. Sharing files from it works in the same way as from the backed up files.
---
Backup other services
Backing up of other services is also available which makes it great to act as an additional security option. Dropbox, Box, Facebook, Google Drive, OneDrive and Instagram are all supported.
---
Conclusion
BigMIND has definitely improved in comparison with Zoolz cloud backup in many different ways. I am certainly liking the incredibly fast upload and download speeds. The attention that has been put to additional features, security and compliances is also great. The FAQ base is massive so I doubt you'll be missing the live chat but it would certainly be nice to have it. Their backup features, on the other hand, are great and that's why we're here for. I would recommend the service to anyone searching for a quality solution and doesn't mind the absence of an unlimited plan.
---
I have also reached out to BigMIND and they have agreed to give 20% off to all our readers! Just use the coupon code "CSI20" and you'll get 20% off any subscription!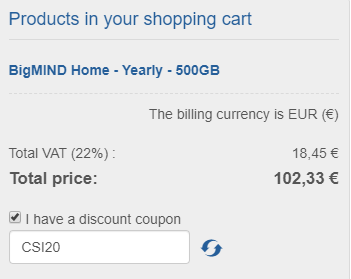 ---
---
What's your experience with BigMIND? Please share it down below. I hope I answered all your questions about BigMIND within this BigMIND review. If you have any unanswered questions feel free to ask them in the comments section down below and I'll answer them shortly!