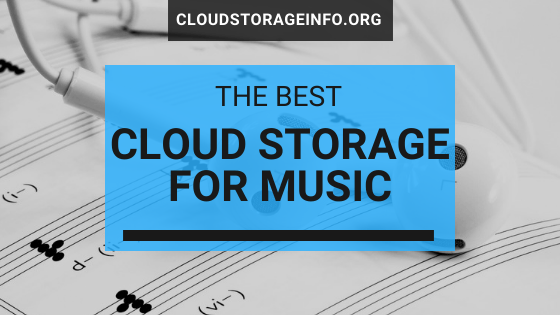 ---
Best Cloud-Based Music Storage
It almost seems like the days of storing music on your hard drives are over. Either we listen to music through YouTube or we play it directly from some software like Spotify. But believe it or not, some of us still like to keep our own list of music safely stored on our hard drive. That might not be the safest option for your music storage though.
I used to store my playing list on my PC but it wasn't very handy. I was able to listen to it while I was at home but that's pretty much where its usefulness ended. I couldn't carry the music collection with me unless I plugged in my phone and uploaded it. But I had to do that every day in order to keep my list updated on both ends – and that was pretty tedious.
Well, that's where cloud storage comes in. It's not only useful for work documents but with media as well. There are actually many real advantages of having your music in the best cloud storage service provider.
This is the reason why in this article, I will show you some of the most compelling reasons why you need to subscribe to the services of the best cloud-based music storage. On top of that, I will also explain the different features that it can offer you. At the end of this article, I will also show you 6 of the best cloud storage options you can lay your hands on when thinking of compiling music albums.
But before we jump into figuring out which is the best cloud storage for music, let me explain them to you.
Skip this and find out which is the best cloud storage for photos.
---
Best Cloud-Based Music Storage Feature #1: Available Anywhere At Any Time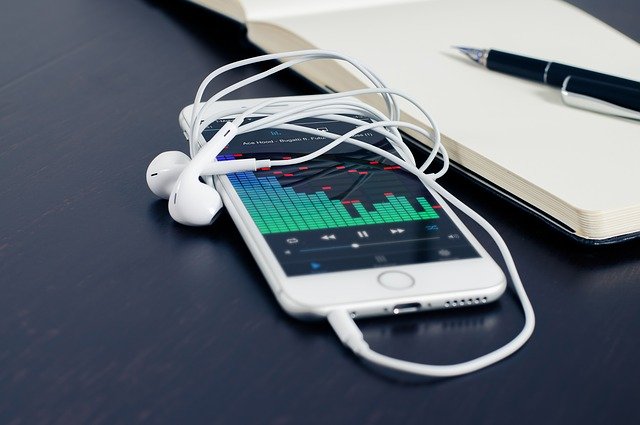 When you install applications provided by your cloud service across all your devices you'll have access to music at all times, wherever you are. Just upload the music on your computer and it will get synced to your smartphone or laptop where you can continue listening to it on the go.
You also don't need to get physical access to your laptop or desktop computer in order to play a music album you really do love. All you have to is find the best cloud-based music storage in the industry and then upload all the music files you want to hear on the said cloud storage system. It is very tiresome if you need to always bring with you your laptop. So having the best cloud storage for music files is indeed a game changer.
While you can always bring with you a USB flash drive or a memory card, it is still not an assurance that you can access all your music files 100% of the time. This is primarily because these types of data storage options are very fragile. They can be easily lost, stolen, and most of the time they could also be broken. As a matter of fact, the data inside the USB flash drive or inside a memory card can easily be corrupted. If the music files are stored there, then there is a high chance that they can't be played at all since the files are already corrupted due to various reasons.
The same goes for your mobile phone where you usual store your music files. Even if you can listen to the music files on the go, your mobile phone can also be lost or stolen in the process. It happened to me before. The sad part is that I don't have any backup of the music files that I originally stored in my mobile phone. That's why I need to search for the songs and music files on the internet once again and manually download and select the corresponding MP3 versions of the songs that were previously stored.
It can really be a horrible experience. Imagine manually downloading thousands of songs once again. It is really time-consuming and a really tiresome process. Luckily, I have learned from that experience which allowed me to always use the best cloud-based music storage instead.
---
Best Cloud-Based Music Storage Feature #2: Saves Storage Space On Your Devices
Uploading and making sure that all of the music is updated on all devices is time-consuming and annoying. If you decide to go for cloud storage you can have unlimited storage directly on your phone. All of the music is stored in the cloud so that it doesn't take up space on your device.
You don't have to worry about the data storage space it will consume since some of the best cloud storage for music files have an imaginary drive capability. This means that even music files are synced from a different device, the music files will not consume additional space in the memory. In case the imaginary drive capability is not available, then you can still upload all your music files to the cloud and listen to the songs inside a music album or playlist using the web user interface of the cloud-based music storage. However, if this is the case, just be sure that you have an internet connection in order to log-in to your cloud storage account where you stored all your music files.
---
Best Cloud-Based Music Storage Feature #3: Guaranteed Safety
Hard disk drives are mechanical devices. Everything that's mechanical will break sooner or later. By uploading your music to the cloud, you get rid of that problem. Your files are backed up multiple times on different servers in multiple locations. While Solid State Drives (SSDs) are already invented to replace the hard disk drives on your local desktop computer or laptop, it is still better to use the best-cloud based music storage to solve the problem. It is true that SSDs are not prone to mechanical failure since there are no moving parts but there are more efficient solutions than buying one. This is primarily because a Solid State Drive (SSD) is way more expensive than ordinary hard disk drives. I'm pretty sure you won't really invest that much on an SSD drive since it will cost you a lot of money. So following the rule of cost-benefit analysis on various data storage options, I would easily pick an affordable cloud-based music storage platform over an expensive SSD drive.
---
Best Cloud-Based Music Storage Feature #4: Sharing Music With Your Friends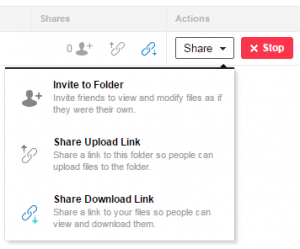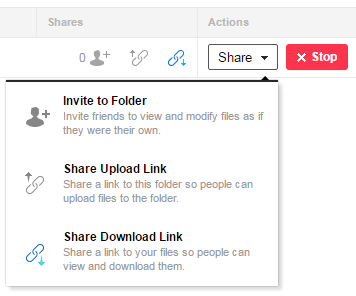 If you wanted, you could also create a shared folder with your friend so that you can both upload music to it and then listen to it together, while being in 2 different places. It is really a pretty cool feature if you ask me. On top of that, it is really convenient to have a shared music folder with friends. This is primarily due to the fact that cloud-based music storage systems allows both uploading and downloading of files to and from the shared folder containing music files. It is a great way of collaborating with friends as to music choices.
---
Things To Pay Attention To When Picking Your Cloud Storage For Music
There are certain things that you should consider when choosing your cloud storage for music. These include but not limited to ease of synchronization, amount of storage capacity, affordability of pricing, the availability of mobile application systems, as well as the convenience of the redundancy systems that have been placed by various cloud-based music storage platforms.
---
Synchronization of the Cloud-Based Music Storage
Whatever cloud storage you pick, make sure that it has a well-developed synchronization system and apps that work without problems. You don't really want to end up uploading your entire music collection just to realize it won't sync to your mobile phone because of some glitch or bug. Pay attention to upload and download speeds as well. While it isn't that important on a daily basis it's definitely important the first time you upload your collection. You don't want to wait for a week before you can start using your cloud.
---
Capacity & Pricing of the Cloud-Based Music Storage
Cloud storage capacity and pricing go hand in hand. The more storage you want, the more money you'll have to put aside for it. With that being said, I am definitely not recommending you to go for the cheapest option out there.
However, you should know that not all expensive cloud storage platforms perform better than others. It is also not true that all cheap cloud storage providers have poor performance. You should be able to find the balance. This is the best piece of advice I can give you considering that I have studied each and every cloud storage platform I can get my hands on. The availability of the various features can also affect the pricing of the cloud storage platform. There are basically lots of key performance indicators that can affect the pricing strategy of a cloud-based music storage solution.
Pay attention to their features and know how well the different cloud storage service providers run. Reading a few reviews beforehand is not a bad idea either. Luckily, I made another article for you regarding the best cheap cloud storage providers so that you can save some time from experimenting on various cloud storage systems unnecessarily.
---
Mobile App of the Cloud-Based Music Storage
Pick a cloud storage that has developed its applications for music as well. That means integrated music players that allow you to play directly from the cloud. It will spare you the issues of integrations within your mobile or on your computer. On top of that, look for certain capabilities like previewing of music files even if the contents of the cloud storage are not yet synced on your mobile phone. This feature is usually useful if you want to save your local storage space on your mobile phone. It is somewhat similar to opening the web user interface of the cloud-based music storage on your mobile device.
---
Redundancy Systems of the Cloud-Based Music Storage
Doesn't matter why you're getting cloud storage, it's very important that you pick one that makes sure your files are backed up multiple times on different servers or locations. You can explore the cloud storage's website for that information or you can just check my reviews here at CloudStorageInfo.org.
---
Best Cloud Storage For Music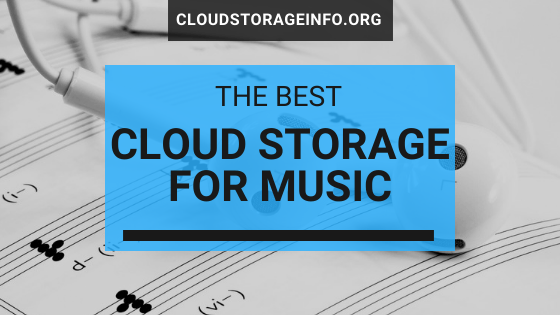 I have made the following recommendations based on hundreds of hours of research and testing of 25+ cloud storages. I have taken into account all of the important features listed above when deciding what is the best cloud storage for music.
I would also love to hear your thoughts about it in the comments section down below!
---
Best Cloud-Based Music Storage #1: pCloud
pCloud
$4.99/month 500 GB
Additional Features
9.0/10
Pros
Up to 10 GB of free storage
Amazing sycing solutions
Unlimited transfer speeds
Easy to use
Unlimited file sizes
Client-side encryption
Innovative lifetime plans
US & EU Servers
Desktop folder backup included
Cons
No client-side encryption in the free plan
No dedicated live chat/phone support
pCloud is absolutely my top pick when searching for the best cloud storage for music. It offers unlimited upload and download speeds and protects your files and music with the best security options available. By default, this particular cloud-based music store uses the unbreakable 256-bit AES encryption. If you want your music encrypted client-side, you can also go for the pCloud Crypto. You can save lots of music files in this cloud storage platform since the free plan of this online music storage solution can offer you up to 10 GB worth of cloud storage.
pCloud has an inbuilt media streaming player which allows you to listen to your music directly from the cloud. It also offers a very affordable 500 GB plan which you can take advantage of if you have a bigger music collection.
It isn't good just for music. it has a wide variety of features that will make your life easier. The biggest of them is that it doesn't take up any space on your devices or computer to store your music. This is possible because of the imaginary drive capability and functionality of pCloud. There is also no file size limit which makes it beyond reproach when compared to other best cloud storage for music.
Moreover, pCloud has a Rewind Feature which allows you to restore every file that you may have accidentally deleted in your cloud storage. You can rewind back up to 30 days for all pCloud Premium & Premium Plus subscriptions. In the case of the free plan, you can go back in time as much as 15 days before the current date.
Check out the full review of pCloud here.
---
Best Cloud-Based Music Storage #2: Icedrive
Icedrive
€4.99/month 1000 GB
Additional Features
8.5/10
Pros
Great pricing options
Interesting lifetime plans
Modern and minimalistic user interface
Twofish client-side encryption
Responsive support
Great Android & iOS mobile applications
Two-factor authentication
Crypto payments on lifetime plans
Cons
No selective sync
No block-level sync
Icedrive offers very decent pricing plans (including lifetime cloud storage plans) with a very modern user interface which makes listening to music and managing your sound files very simple. Listening to music is possible straight from the browser, without ever downloading any of the music.
Security is also taken care of with their Twofish client-side encryption. All the files within that encrypted folder are accessible only to you and nobody else. On top of that, Icedrive has an imaginary drive capability. This means that you simply mount the Icedrive desktop client version on any device and sync your files from there. As previously discussed, cloud storage platforms that have imaginary drive capability does not take up storage space on your local computer or mobile device whenever files are synced.
Icedrive also does not limit uploads in terms of file size. On top of that, it also this cloud storage system has a trash bin where all deleted files are stored there indefinitely. This is perfect solution for unwanted music file deletions that have been made mistakenly.
Check the full review of Icedrive here.
---
Best Cloud-Based Music Storage #3: Koofr
Additional Features
9.5/10
Pros
A variety of pricing plans
Easy to use with useful interface
Amazing sharing capabilities
GDPR compliant
Integration with Google Drive, Dropbox and OneDrive
Detailed monitoring
Cons
Syncing desktop client slightly complicated
No block-level sync
Low trash bin file duration
No client-side encryption
No live chat/direct calls
Koofr offers decent pricing plans and has a very useful user interface. The syncing client they offer is slightly complicated and doesn't offer block-level sync despite the fact they don't offer client-side encryption. The file-sharing capabilities are on another level though and they certainly match and exceed other bigger cloud storage names. The free plan offers up to 2 GB of storage.
Koofr has an integrated music player that lets you play the music even while shuffling through your other files in the browser which is a great feature. On top of that, there is a feature which allows you to integrate files and folders coming from other cloud storage platforms such as Dropbox, OneDrive, and Google Drive. I also found out that Koofr offers unlimited file sharing. This means that I can share lots of music files to unlimited number of persons using the shared links. You also don't have to worry if you accidentally deleted a music file from your collection since you have 7 days to retrieve the deleted files. These erroneously deleted files are automatically sent to the "Deleted Files" section of the cloud storage platform.
Check the full review of Koofr here.
---
Best Cloud-Based Music Storage #4: Sync.com
Sync.com
$8/month 2000 GB
Additional Features
8.5/10
Pros
Zero-Knowledge platform
Not subject to US Patriot Act
Client-side encryption
30-day money back guarantee
Easy to use, modern platform
Great syncing, sharing and file retrieving options
Unlimited bandwidth
Cons
No live chat/phone support for individuals
Sync.com doesn't provide a built-in music player which is what you will have to take into account if you go for this cloud storage. The reason it came in this article is that it's one of the best cloud storages out there. With its Zero-knowledge privacy and client-side encryption, it is one of the most secure cloud storage out there. As a matter of fact, it also uses the 256-bit AES encryption in combination with 2048-bit RSA encryption on top of the client-side encryption. It also does not put a file size limit whenever uploading music files to the cloud. This means that you can upload an entire music album or upload an entire music collection all at once.
Unlimited bandwidth, great syncing and sharing options are one of the many features that Sync.com offers and is definitely one of the cloud storages I recommend to newcomers. When you sign up for an account you also get 5 GB of free cloud storage.
Check out the full review on Sync.com here.
---
Best Cloud-Based Music Storage #5: Google Drive
Google Drive
€1.99/month 100 GB
Additional Features
8.5/10
Pros
Integrated Google Apps
Free 15 GB storage
Easy to use
Great 3rd party programs
Cons
No client-side encryption
Lacks certain team features
Basic synchronisation client
Up/download speeds could be better
Limited sharing settings
Google Drive is widely known for its integration with other Google services. It's easy to start using it and it provides an integrated music player. Unfortunately, it provides quite limited sharing options and no client-side encryption. Luckily, Google Drive currently uses the 128-bit AES encryption to protect all your files stored in the cloud. It also allows you to preview and listen to the songs in your music collection using the web user interface of this cloud storage provider. Google Drive also offers 15 GB of free cloud storage space upon successful creation of an account.
Check out the full review of Google Drive here.
---
Best Cloud-Based Music Storage #6: Dropbox
Dropbox
€11.99/month 2000 GB
Additional Features
10.0/10
Pros
Easy to use
Quality sync options
Good file retrieving options
Diverse sharing options
A wide range of support options
A huge app library of integrated services such as Zoom, Slack, Trello,...
Additional services like the password manager, HelloSign,...
Cons
Semi-expensive
No backup feature
Many features locked behind paid plans
No client-side encryption
Prone to Patriot and CLOUD Act
Dropbox is one of the better cloud storages that you can use for your music collection. It has an integrated music player and a bunch of other features that aren't necessarily connected with music. Having said that you will have to make a compromise, due to the fact that Dropbox isn't the safest place where you can store your files. Their privacy settings are questionable, but that shouldn't be a big issue if you only plan to store music in the cloud. There is a 50 GB file size limit when you use the web user interface in uploading the music files. However, there is no known file limit size limit if you use the desktop client version.
The free version comes with 2 GB of cloud storage.
Check out the full review of Dropbox here.
---
---
---
Do you agree with my "Best Cloud Storage For Music List"? Let me know what is your favourite cloud storage in the comments section down below!