Additional Features
3.5/10
Pros
Up to 50 GB of free storage
Cheap 10 TB plan
No file size limit
Decent mobile apps
Cons
Slow down/upload speeds
Fishy refund policy & no support
Very basic sharing options
Support limited to the forum and FAQ base
No versioning system
No trash bin
Bad syncing solution
No local encryption
---
hubiC Review
Is hubiC a scam? Well, I think they are the only ones that can answer that. Actually, scrap that. A bunch of other angry costumers can respond to that question for them. hubiC is a cloud storage that offers you insane amounts of storage for ridiculously low prices, but you most always look at the wider picture which is what I did within this hubiC review.
IMPORTANT NOTICE: hubiC has suspended new registrations which means you can't use it anymore if you're a new user. To find an alternative check our Best Cloud Storage Providers list. To learn more about the event check https://www.ovh.co.uk/subscriptions-hubic-ended/.
Their sync and sharing tools are very basic and slow. The security of your files is questionable, and they offer limited support. The only positive thing I could draw out of their service is the application for smartphones, which I must admit is well made.
Read the full hubiC review down below.
---
hubiC Alternatives
| # | Service | Rating | Description | Paid Plan | Go To |
| --- | --- | --- | --- | --- | --- |
| 1 | pCloud | Read review | pCloud is a great cloud service that takes pride in offering the highest protection available (client-side encryption included) with amazing syncing solutions. It was also the first cloud storage to introduce innovative LIFETIME plans. It is easy to use and is one of the best cloud storage solutions on the market. 10 GB of free storage. | $4.99/month 500 GB | Go to pCloud |
| 2 | Sync.com | Read review | Sync.com is a Canadian cloud storage that utilizes the Zero-knowledge principle. It offers unparalleled privacy and security (via client-side encryption) with great syncing, sharing and file retrieving solutions. 5 GB of free storage. | $8/month 2000 GB | Go to Sync.com |
| 3 | Icedrive | Read review | Icedrive is a UK cloud storage with a main focus on the security of your files. They achieve that with Twofish client-side encryption which certainly raises a few eyebrows. A slick-looking minimalistic design combined with great mobile apps and interesting LIFETIME plans makes them an interesting choice! 10 GB of free storage. | €4.99/month 1000 GB | Go to Icedrive |
| 4 | Cubbit | Read review | Cubbit is a distrubited cloud storage platform which relies on Cubbit Cells all around the world hosted by ordinary users. It takes pride in zero-knowledge privacy alongside taking the quest of reducing CO2 emissions by having no data centres. Definitely a service worth checking out! 1 GB of free storage. | $419 - 1TB Cell | Go To Cubbit |
| 5 | MEGA | Read review | MEGA offers a secure cloud storage with client-side encryption. It has a modern/responsive interface. The online support is limited and down/upload speeds could be better. 15 GB of free storage. | €4.99/month 400 GB | Go to MEGA |
---
Jump to:
Pricing & Plans
Who is it for ?
Ease of use
File syncing
File sharing
Retrieving files
Security
Online support
Additional features
Conclusion
---
hubiC Features
Pricing & Plans
Free storage
25 GB
Free trial
Lifetime plans
Payment methods
Credit card
Ease of use
Open in-browser
Edit in-browser
Mobile apps
Android, iOS, Windows
WebDAV
File syncing
Supported systems
Windows, macOS, Linux
Imaginary drive

An imaginary drive allows you to access all of the files that are in the cloud directly from your desktop via an application without taking up local storage space.

Sync folder

A sync folder allows you to access all of the files that are in the cloud directly from your desktop via an application. Since it synchronises the files to the device, it takes up local storage space.

Block-level file sync
Selective sync

Selective sync allows you to choose which folders that are located in the cloud should and shouldn't be synchronised to your device.

Sync any folder

The sync any folder feature allows you to choose any local folder and synchronise it to the cloud without any further actions.

File sharing
Share download links
Link password protection
Link expiration dates
Link branding
Link download limits
Link stats
Share upload links
Share folders
Set folder permissions
Retrieving files
File versioning system
Trash bin
Rewind feature

The rewind feature allows you to go back in time and inspect your cloud storage as it was in that moment. This enables easy retrieval of files in various scenarios such as malware infection.

Security
Server location
EU
HIPAA Compliance
Encryption protocol
Unknown
At-rest encryption
In-transit encryption
Client-side encryption
Zero-knowledge privacy
Two-factor authentication
Online support
FAQ base
Forums
E-mail support
Live chat support
Phone support
---
Pricing & Plans
At first glance, hubiC cloud storage seems to be very generous with its storage. It almost seems too good, but you must always look at the wider picture when picking cloud storage. Apart from that, the prices are far too kind, and we'll find out why's that later on in the review.
Plan
Pricing
Storage
hubiC Free
Free
25 GB
hubiC 100 GB
€1.00 / month

€10.00 / year

100 GB
hubiC 10 TB
€5.00 / month

€50.00 / year

10 TB
You can also increase your storage to 50 GB for free by inviting five friends, gaining 5 GB per each one. You either give them your referral code, or you invite them through e-mail, Facebook or Twitter. hubiC certainly belongs amongst the cheap cloud storage providers but it's still not worth the money due to the poor features.
---
Who is it for ?
Despite the fact that you can get 10 TB of storage for a ridiculous price, I would advise you not to use this cloud storage. I would seriously recommend you to spend some more money monthly to get better cloud storage. It will spare you a lot of grey hair and nerves in the long run. There are far better alternatives on the market which you can find here.
---
Ease of use
For some reason I had some issues with registering on their website, an error popped up, and the whole process was just slow. Well, it might have been a one-time event, but I still feel obligated to mention that in the review.
In general, hubiC cloud storage uses the basic file system which works fine with little to no delays. The uploading feature seems a bit rusty and not as responsive as you would want it to be. Apart from that it's easy to use and won't be an issue, not even for a non-experienced user.

You can also switch the language of the whole interface to French, Spanish, Portuguese, Italian, Czech, Polish, Lithuanian, German, Dutch or Finnish language.
File previews & edits
hubiC doesn"t support the option to preview or edit any type of PDF or Office documents. Music, videos and image previews/streaming are also out the window.
---
File syncing
hubiC cloud application is available to you on Windows, Mac OS X and Linux. The application creates a sync folder to which you then store your files – Like in many other cloud storages.
I am not impressed by this feature, simply because it doesn't work as it should. I've deleted a file on the website which then never got deleted in my desktop application.
The upload and download speeds aren't that bad however they could have been much better. Their servers are set up in France so that might influence the rate as well. The maximum download speed was 1.5 MB/s and 0.5 MB/s for the uploads. Now, let us be honest, this could be so much better, and it wasn't my internet that was throttling the connection. You would think that you're going to get better speeds since you live on the same continent, but that's obviously not the case with hubiC. Can't even imagine what's the speed in the US or Canada then.
pCloud solves this problem with very fast synchronisation that doesn't even take up space on your computer – pCloud Review.

hubiC doesn't offer any cloud backup features present in the best cloud backup providers.
---
File sharing
hubiC cloud storage has one of the most basic sharing tools I've seen in a while. Like in other cloud storages you're allowed to make a sharing link which you can then send to your friends. You only have one setting to adjust, and that is the amount of time this link will stay active(online) – For 5, 10 or 30 days. You can also cancel the link at any time. The person who receives the link doesn't need to have a hubiC account to download the files.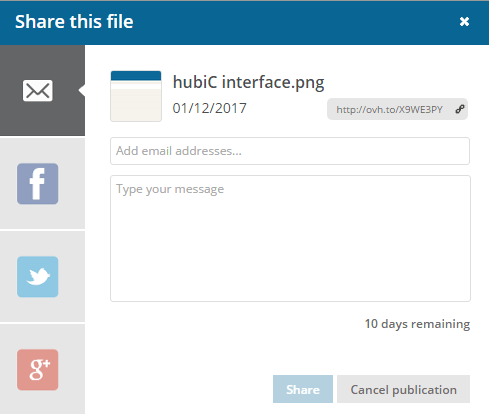 ---
Retrieving files
Now, this is where hubiC fails to provide what, I am sure, every user needs. You need a versioning system, and you definitely need a trash bin. hubiC fails to provide any of these features. If you delete a file there's no way of retrieving it, so you'll have to be careful whenever you're making changes to your files.
Once again you could take a look at pCloud.com or Sync.com which both have these features developed and at the same time provide excellent security.
---
Security
hubiC is full of pages saying how they provide the best security solutions on the market. However, they fail to provide what do they do to make it so. They have an extensive post saying how they have your data stored in multiple locations, protected by dogs and butterflies and what-not but who knows if that's true. They only write about the physical protection of your files and making sure that there's plenty of copies. But what if there's a breach in their system, by a hacker or an inside man? Nothing is stopping them from getting your files which I believe is a huge downside to any cloud storage.
They do use SSL to protect file transfers. However, they made no mention that your files are encrypted while on their servers and they don't offer any local encryption.
You should look for cloud storage that offers client-side encryption or a Zero-Knowledge platform.
---
Online support
hubiC has a help centre which acts as an FAQ base, and they have a forum where people ask all sorts of stuff.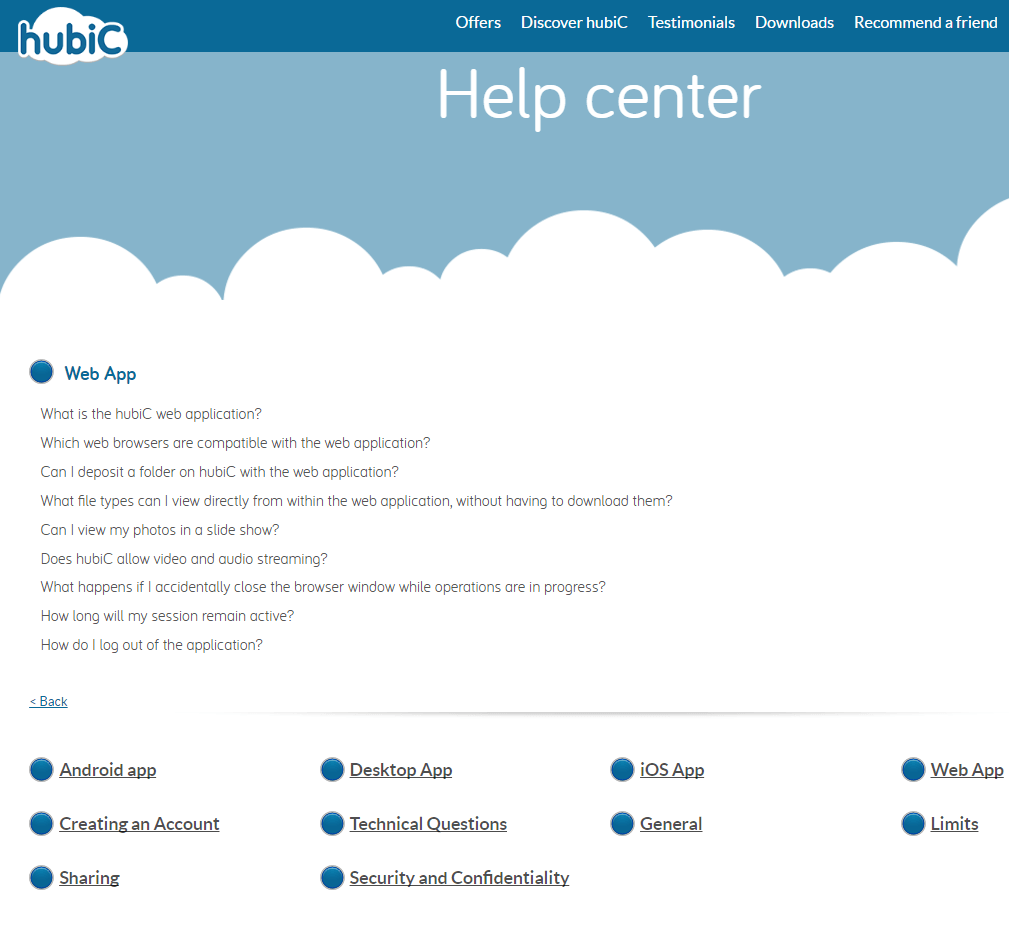 I've done some digging through the forums and ran into some severe problems from multiple people. I'll quote springtide9-12.01.2017:
"I think a lot of people are realising that there is no support for this product at all. I paid for 12 months upfront, and after realising it doesn't work properly, I tried to cancel.. but no response from the support email even after many days."
And smagier-12.01.2017:
This is sick. I bought a subscription to test the service, but I did not like. I called OVH, but they know nothing about hubiC. I wrote an email to help@hubic.com, but no one is written off. I wrote on Twitter and told me to write an email to help@hubic.com. I give up. I have another facture to pay. I do not know what to do, or not to pay? To be sure I removed the account on hubiC.
I think it's safe to say that something is not right with this cloud service.
---
Additional features
---
Mobile Application
You can get the application on iOS, Android, Blackberry and Windows Phone systems.
The applications are well designed and offer pretty much all the features that you see on the website. You can also backup all of your images and photos to the cloud directly as you take them. All in all, it's a useful and well-made application.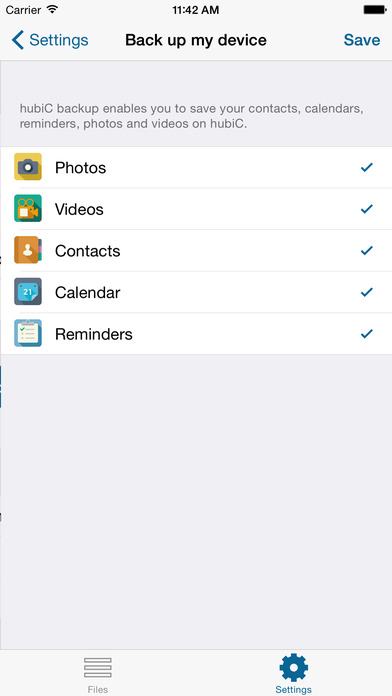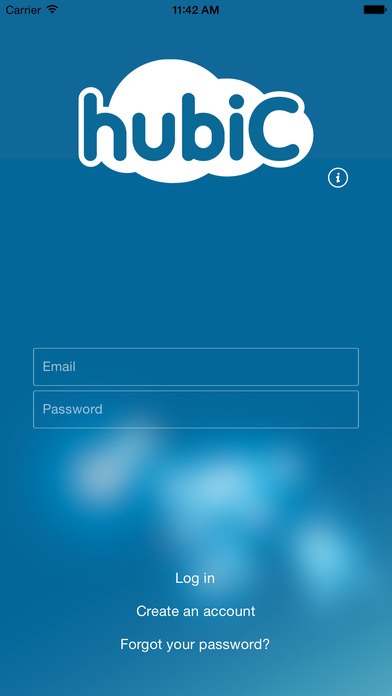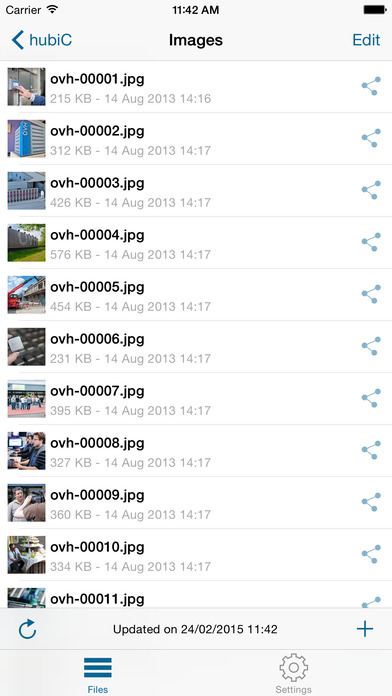 ---
Conclusion
When you draw the line, hubiC cloud storage falls into the lower part of our Top Cloud Storage Providers list. There's a reason why the storage is so cheap because all of the other features are just miserable. Sync, sharing, support and the trash bin, how could I forget. There's no trash bin! If I were you, I would take a look at our Top Cloud Storage Providers list and find a better solution more suitable to your needs.
---
---
---
Hopefully, we've gone through everything that you wanted to know about hubiC within this hubiC review. If you have any unanswered questions feel free to ask them in the comments section down below and I'll answer them shortly!