4.0/5
★★★★✩
PRICING & PLANS


★★★★★★★★★✩

9.0/10
EASE OF USE


★★★★★★★★★✩

9.0/10
FILE SYNCING


★★★★★✩✩✩✩✩

5.0/10
FILE SHARING


★★★★★★★✩✩✩

6.5/10
RETRIEVING FILES


★★★★★★★★★✩

9.0/10
SECURITY


★★★★★★★✩✩✩

7.0/10
SUPPORT


★★★★★★★★★★

9.5/10
ADDITIONAL FEATURES


★★★★★★★★★✩

8.5/10
PROS
Integrated Google Apps
Free 15 GB storage
Easy to use
Great 3rd party programs
CONS
No client-side encryption
Lacks certain team features
Basic synchronisation client
Up/download speeds could be better
Limited sharing settings
---
Google Drive Review
Google Drive is a cloud storage deeply integrated with all Google services. If you used Gmail or any other Google service you've used Drive as well since all the data goes to the same basket. Google Drive is perfect for users that need a few documents safely stored. Google Drive pricing and plans are also decent and comparable to the competition. Having said that, I have found during this Google Drive review that it's not quite suitable for big amounts of data or backup of your computer.
Read the full Google Drive review down below.
---
Google Drive Alternatives
pCloud
4.6/5


★★★★★

5-10 000 GB
10 GB Free

❌Sync Folder
✔️Selective Sync
✔️Link Sharing
✔️Zero Knowledge


Read Review
Sync.com
4.6/5


★★★★★

5-6000 GB
5 GB Free

✔️Sync Folder
✔️Selective Sync
✔️Link Sharing
✔️Zero Knowledge


Read Review
Icedrive
4.5/5


★★★★★

10-10 000 GB
10 GB Free

✔️Sync Folder
❌Selective Sync
✔️Link Sharing
✔️Zero Knowledge


Read Review
Cubbit
4.5/5


★★★★★

1-8000 GB
1 GB Free

✔️Sync Folder
✔️Selective Sync
✔️Link Sharing
✔️Zero Knowledge


Read Review
Mega
4.2/5


★★★★✩

15-16000 GB
15 GB Free

✔️Sync Folder
✔️Selective Sync
✔️Link Sharing
✔️Zero Knowledge


Read Review
---
Jump to:
Pricing & Plans
Who is it for?
Ease of use
File syncing
File sharing
Retrieving files
Security
Online support
Additional features
Conclusion
---
Google Drive Features
Pricing & Plans
Free storage
15 GB
Free trial
Lifetime plans
Payment methods
Credit card, Paysafecard
Ease of use
Open in-browser
Office, PDF, Music, Images, Videos
Edit in-browser
Google Integration
Mobile apps
Android, iOS
WebDAV
Only via third-party integration
File syncing
Supported systems
Windows, macOS
Imaginary drive

An imaginary drive allows you to access all of the files that are in the cloud directly from your desktop via an application without taking up local storage space.

Teams only
Sync folder

A sync folder allows you to access all of the files that are in the cloud directly from your desktop via an application. Since it synchronises the files to the device, it takes up local storage space.

Block-level file sync
Selective sync

Selective sync allows you to choose which folders that are located in the cloud should and shouldn't be synchronised to your device.

Sync any folder

The sync any folder feature allows you to choose any local folder and synchronise it to the cloud without any further actions.

File sharing
Share download links
Link password protection
Link expiration dates
Link branding
Link download limits
Link stats
Share upload links
Share folders
Set folder permissions
Retrieving files
File versioning system
Trash bin
Rewind feature

The rewind feature allows you to go back in time and inspect your cloud storage as it was in that moment. This enables easy retrieval of files in various scenarios such as malware infection.

Security
Server location
US
HIPAA Compliance
Encryption protocol
128-bit AES
At-rest encryption
In-transit encryption
Client-side encryption
Zero-knowledge privacy
Two-factor authentication
Online support
FAQ base
Forums
E-mail support
Live chat support
Phone support
---
Google Drive Pricing & Plans
Google has a different way of doing things. They're unique in nearly everything they do. Well, pricing&plans are no exception to that. Usually, when you're looking at other cloud services, they offer multiple plans with various features and limitations. That's not the case with Google Drive. Once you join Google Drive, you are granted permission to more or less all the features out there. Their prices are very competitive when compared to other cloud storages. Differently, from the others, they also offer some plans with larger storage limitations with up to 30 TB. You can also check our list to find the cheapest cloud storage.
| | | |
| --- | --- | --- |
| Plan | Pricing | Storage |
| Google Drive Free | Free | 15 GB |
| Google Drive 100 GB | €1.99 / month | 100 GB |
| Google Drive 200 GB | €2.99 / month | 200 GB |
| Google Drive 2 TB | | 2.000 GB |
| Google Drive 10 TB | €99.99 / month | 10.000 GB |
| Google Drive 20 TB | €199.99 / month | 20.000 GB |
| Google Drive 30 TB | €299.99 / month | 30.000 GB |
When upgrading to a paid plan you're granted access to Google One which enables you to:
Get help from Google experts.
Allows you to add your family into your plan (you can share your plan with up to 5 people).
Some extra member benefits (Google Play credits, special hotel pricing and more).
Google Drive offers no lifetime cloud storage plans.
---
Who is it for?
Google Drive is meant for all the Google users out there. If you need cloud storage to save your files to, Drive will do that for you. If you're searching for a backup service, then you've come to the wrong place. Uploading huge amounts of data is also not the best idea since it would probably take less time for you actually to find another fast cloud storage and upload it there.
---
Ease of use
This is something that Google Drive has an advantage over all the other cloud services. Creating an account has never been so easy. Most of you already have a Google account. If you've ever used any of their services (Gmail, Google+, YouTube, Calendar, Photos, etc.), it means that you already have an account ready to use at Google Drive. You just sign in, and you're ready to go. If you've never used any of the Google services, it only takes a few minutes to set it up, and it's very simple.
The interface is elegant and modern, as expected for an internet giant like Google.

File previews & edits
Google Drive allows you to preview and edit all of the Office documents directly in the browser via their Google Docs integration. You can also preview PDF documents.
Previewing images, watching movies and listening to music is also possible directly from the browser.
---
File syncing
Google Drive has made a desktop version as well. It is available on Windows and macOS. I was a bit surprised by it, not in the right way. After testing it for a few hours, I ran into problems with administration access when trying to delete individual files that were just uploaded. The upload and download speeds were also not the best when comparing them to pCloud, Sync.com and Dropbox. Apart from that, it worked as it should. It creates a sync folder to which you then upload your files. It's straightforward and useful. Here's how it looks.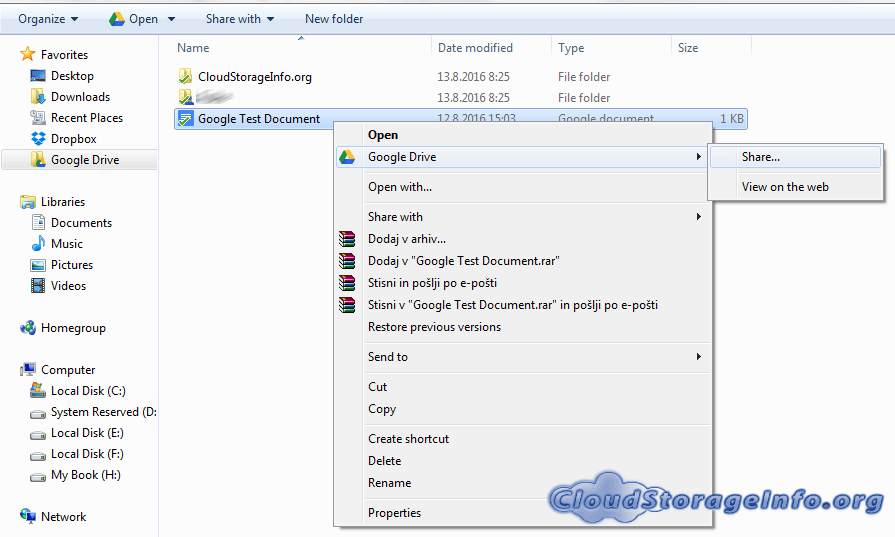 Google Drive takes up space on your hard drive in order to synchronise all of your files, unlike some other cloud storages. There's no hard limit on transfer speeds but you can set one up in your preferences.
Google Drive gets a bit more complicated when it comes to file size limits:
Documents: Up to 1.02 million characters. If you convert a text document to Google Docs format, it can be up to 50 MB.
Spreadsheets: Up to 5 million cells for spreadsheets that are created in or converted to Google Sheets.
Presentations: Up to 100 MB for presentations converted to Google Slides.
All other files: Up to 5 TB.
Google Drive does not support block-level sync which would make uploading already existing but changed files to your cloud faster.
You're able to use selective sync though, which enables you to disable syncing of specific folders to your devices.
You are able to back up specific folders on your device but you aren't able to sync any folder on your device. Google Drive also isn't meant for cloud backup, check our best cloud backup list for that.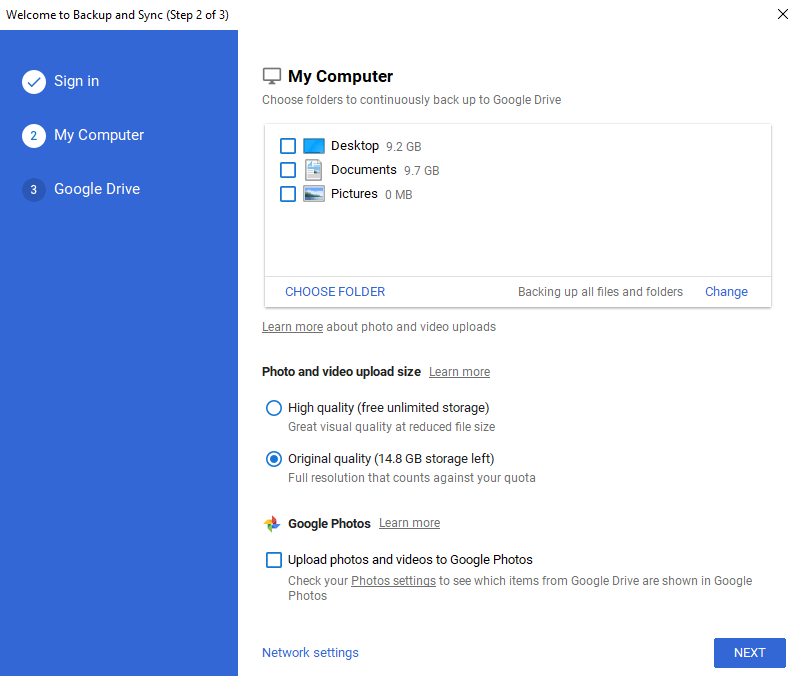 ---
File sharing
There are more ways of sharing your files through Google Drive.
Create a shareable link – Once you create the link, you can send it to whoever you want. When creating the link, you can configure who's allowed to interact with it.
You have the following options: Anyone with the link can view/comment/edit. At the same time, you can manually select who has special permissions when interacting with the file.
At any time you can switch the sharing of one particular file on or off. There's also the option to share your files with people that aren't even signed into Google. You just make the file public, and from that point, it's open to anyone on the internet. There are even more settings that you can change, which will be best explained by showing you a picture of them.
Google Drive does lack many features like expiry dates, password protection, branded links,…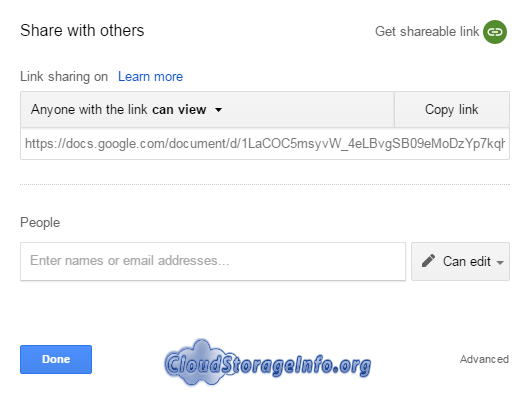 Google Drive does not specify the bandwidth limits they have set on sharing files but they do have them in place. Downloads will become unavailable if you go over a certain checkpoint that was set by them as "fair usage".
---
Retrieving files
There are two different ways of how Google Drive saves your previous versions of files.
Keeping Google Docs, Sheets, Slides, Drawings (Note: Google Forms does not have a revision history.) – When modifying these a version is saved every time you edit them. It obviously doesn't save every time you add a letter to it, but rather in bigger chunks of writing. When trying to retrieve an older version of your file, you just click on it, and it replaces the newest version. If you don't like it, you can always just revert the process by clicking on that previous version. All in all a very useful tool.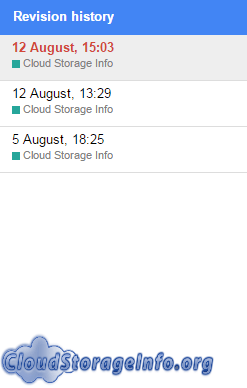 Saving other files – The versions are kept for 30 days or until it reaches 100 versions. You also have the ability to permanently save a particular version by clicking on the "Keep Forever" button in that file's settings.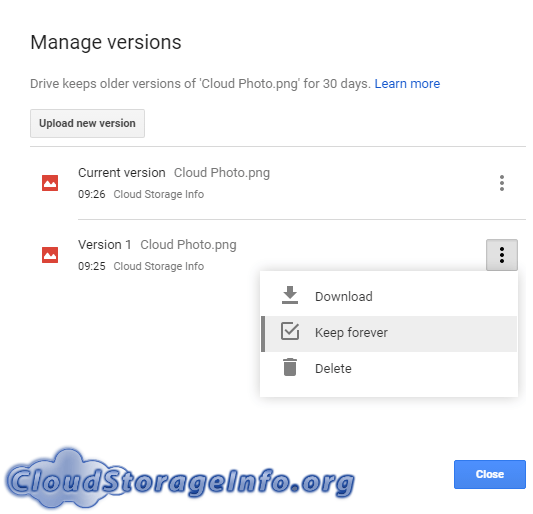 Deleted files – When you delete a file it goes to your trash. It stays there for 30 days. Even permanently deleted files can be retrieved through contacting Drive specialist. This can be done only up to a few weeks from deletion, while the data is still in cloud storage's cache.
---
Security
Google Drive has its servers located all around the world, mostly in the U.S.
Google Drive matches a number of compliances (ISO 27001, FedRAMP, SOC 1). They are also HIPAA and PIPEDA compliant with the use of their G Suite for businesses. For a full list of compliances visit their website. Google Drive is, of course, GDPR compliant.
Google Drive is encrypted using SSL, the same security protocol that protects Gmail and other Google's services. Before your data leaves your device, it is encrypted using the TLS standard. Then it gets uploaded to Google. When it arrives at their servers, it gets decrypted and then encrypted again with 128-bit AES. The AES encryption keys are then encrypted again with another set of rotating encryption keys.
Unfortunately, Google Drive does not provide client-side encryption nor zero-knowledge privacy, unlike pCloud or Sync.com. The combination of both makes sure that nobody but you has access to your information and files. That's not the case with Google Drive which is why I recommend you take a look at our Top 10 Cloud Storage Providers list.
You can use two-step verification to add an additional layer of protection to your account. There's no doubt Google Drive cares about the security of your files but it lacks the client-side encryption which is present with some of the most secure cloud storage providers.
---
Online support
We can without hesitation say that Google Drive has one of the best or even the best Online support. You have multiple options when seeking help:
Google Drive Help Forum – The magnitude and the size of this forum is unbelievable. If you have a problem with something, there is 95% chance that someone else already had this issue and posted a topic about it on the forum. A community specialist usually answers the same day. The panel is available in English, Spanish and Portuguese.
Submit user feedback – If you discover any new bugs or run into any technical difficulties, you can report the issue via "Send feedback" feature.
Contact a Drive specialist – You can do this via email, live chat or call.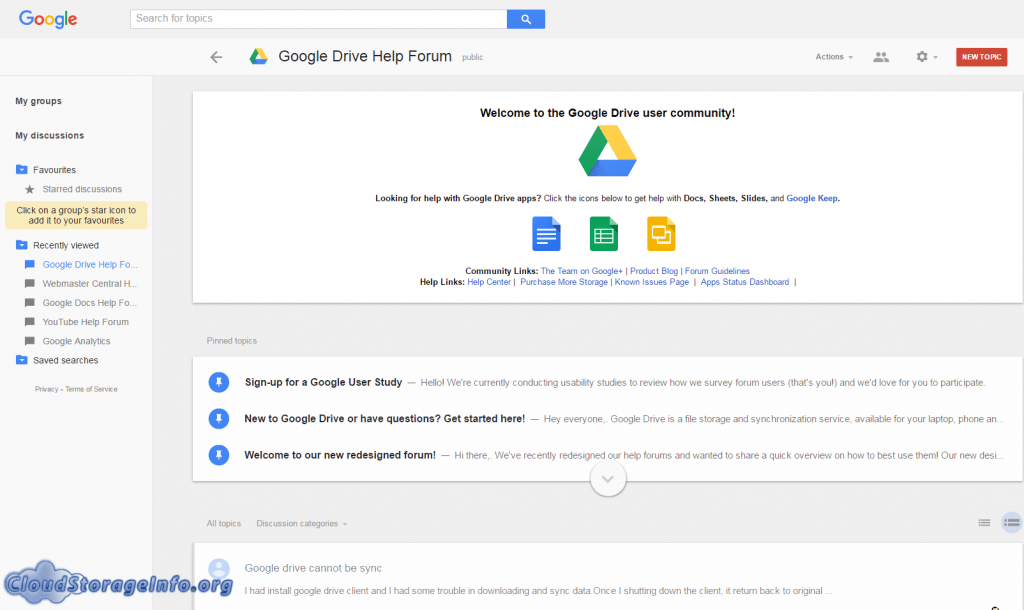 ---
Additional features
---
How To Use Google Drive
---
Integration with Google
The whole "Why should I use this cloud storage instead of so many others?" can be answered with this feature. Google has become such a broad platform, and it offers us so many applications to use. By using Google Drive, you will connect all these features. You don't know it yet, but if you've been using Gmail or Google photos or any of that sort, you've been using Google Drive as well. It's all connected in one big storage. The reason why you will have some of those free 15 GB occupied already, lies within the fact that it's all stored in the same storage.
Saving to Drive from Gmail – Any attachments that come with your incoming mail can be easily stored to the drive.

Google Photos – All of your photos from Google Photos are stored in Google Drive.
Chromebooks – If you decide to buy a Chromebook, it already comes with Google Drive and free 100 GB of storage for two years.
---
Google Drive Apps
Applications like Google Docs, Sheets, Slides, Forms, Drawings and more are all integrated into Google Drive. There are hundreds of additional applications that work with Google Drive. Pixlr Editor, WeVideo, Audio Converter, draw.io are some of the more noticeable ones. Check the full list here.
---
Mobile Application
Google Drive is available for iOS and Android systems. You can also get it for Windows phones and Blackberries, as a client application (not made by Google).
The application itself is well made and very responsive. If you have multiple Google accounts, you can switch between them by just swiping your finger. It also allows you to backup your photos or even shoots your pictures and save them directly to the cloud. Putting a passcode lock on the app is one of the many features it offers to its users.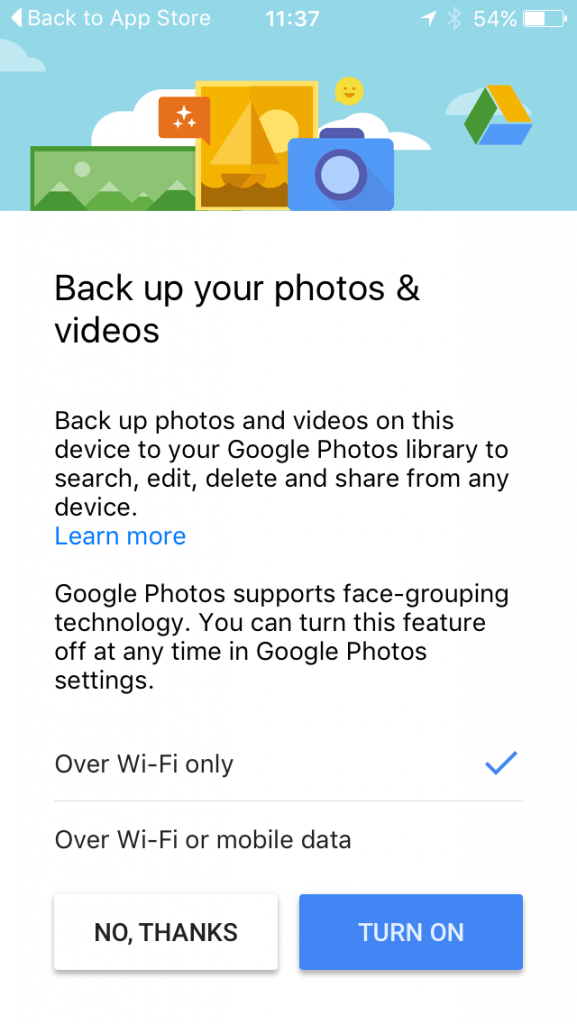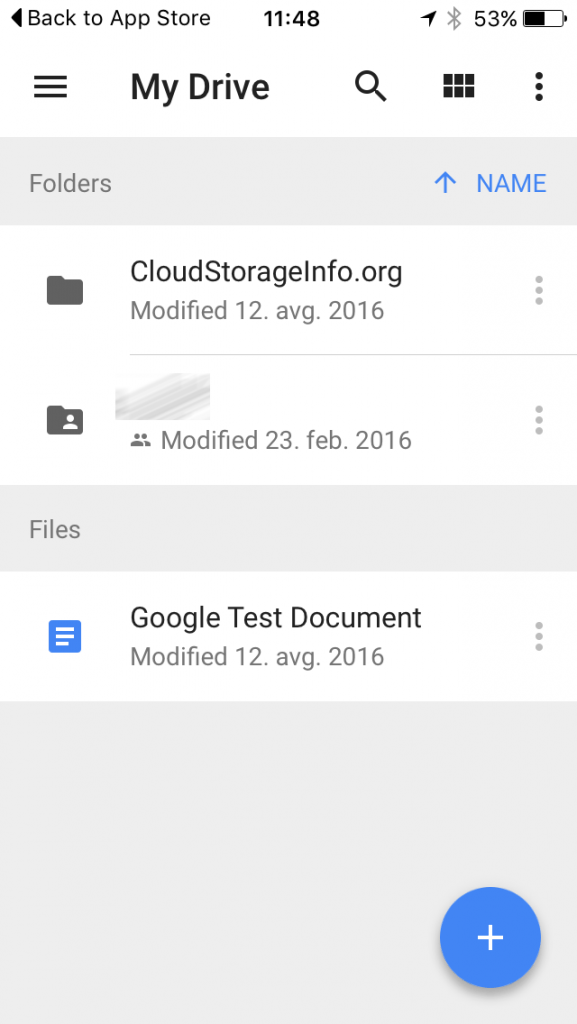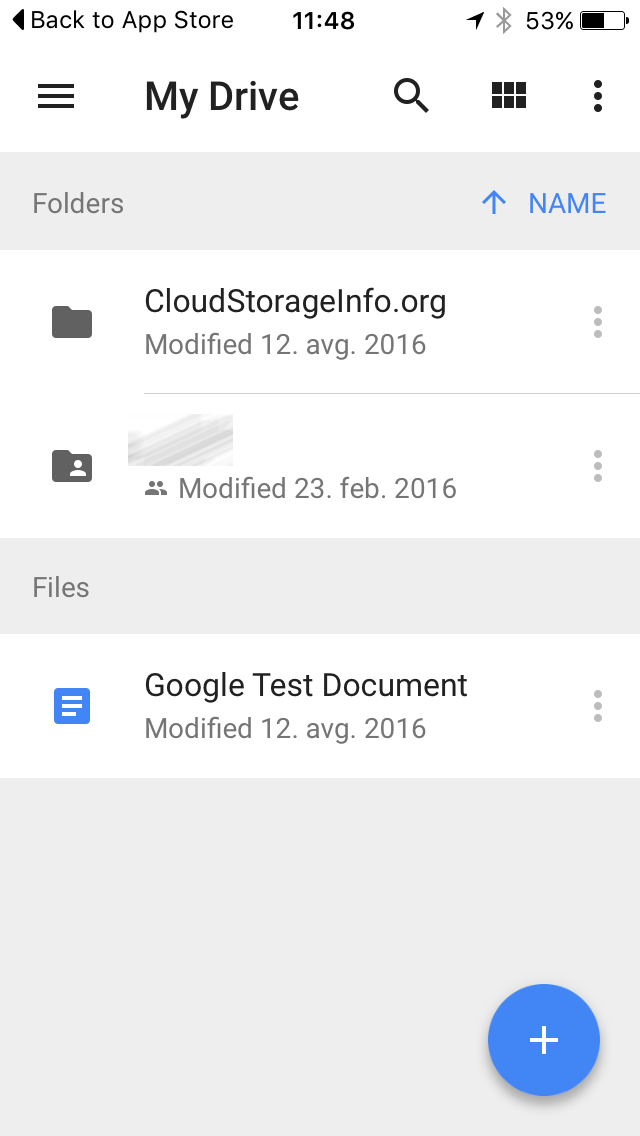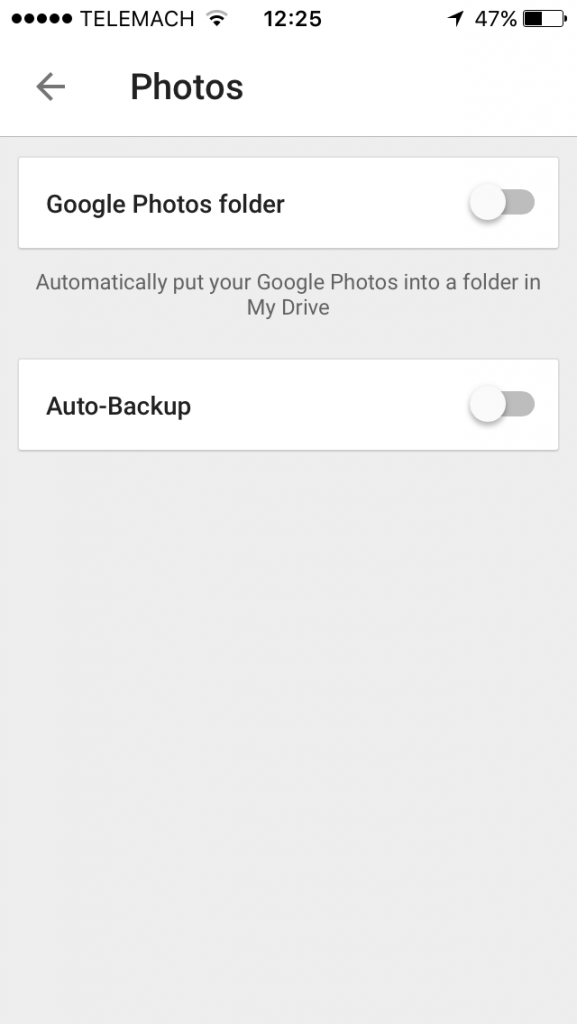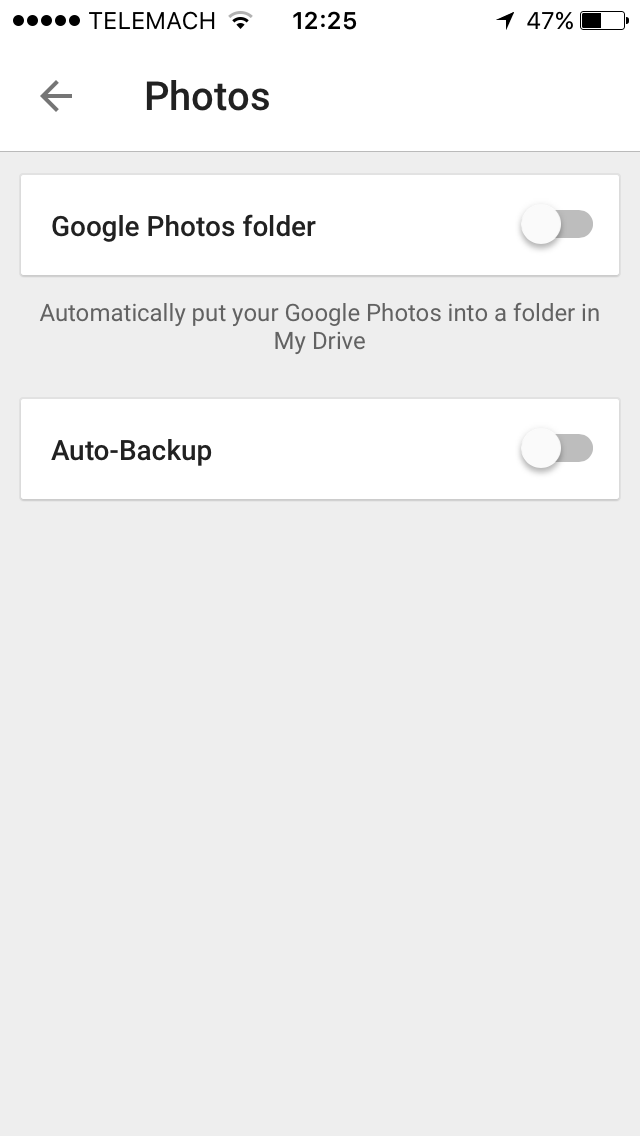 ---
Conclusion – Google Drive Review
I think it's safe to say that Google delivered another quality product. It's also safe to say, that there are other cloud services that are better. It offers a lot of features that are integrated within the service already. It lacks certain "team" features that for example Dropbox and pCloud offer. The desktop version is not perfect and neither are the download and upload speeds. The pricing&plans are comparable to the competition.
Overall, it's good cloud storage with many good quality features and it is one that I recommend to every Google enthusiastic out there. Though I would encourage you to also look further on, especially if you're concerned about the privacy of your files. In that case, search for a cloud storage that offers client-side encryption and zero-knowledge privacy.
---
---
Hopefully, we've gone through everything that you wanted to know about Google Drive within this Google Drive review. If you have any unanswered questions feel free to ask them in the comments section down below and I'll answer them shortly!