3.5/5
★★★★

✩
PRICING & PLANS
★★★★★★★★

✩

✩
8.0/10
EASE OF USE
★★★★★★★

✩

✩✩
6.5/10
FILE SYNCING
★★★★★

✩

✩✩✩✩
5.0/10
FILE SHARING


★★★★★✩✩✩✩✩

5.0/10
RETRIEVING FILES


★★★★★✩✩✩✩✩

5.0/10
SECURITY


★★★★★★★★★★

9.5/10
SUPPORT


★★★★★★★★★✩

8.5/10
ADDITIONAL FEATURES


★★★★★★★✩✩✩

8.0/10
PROS
Up to 10 GB of free storage, decent pricing plans
Sharing files via links (including password protection)
Zero-knowledge privacy & client-side encryption
GDPR compliant with a focus on user privacy
Open-source project
Nifty features (Send, Password Checker, Virus Scanner)
CONS
Needs further polishing with some bugs still present
1 GB file size limit for interacting via the browser
Limited browser file previews & edits
Limited synchronisation features with further polishing required (no block-level sync)
Limited advanced sharing features (no folder permissions, no upload-only links,…)
No file versioning system
---
Internxt Review
Internxt, a company based in Valencia, Spain, officially set out back in 2020 to create a platform for their users where their right to privacy & security of files will be respected by technical design as well as policies that further enable that. We celebrate that and can only wish them good luck on their path. Nothing we have seen has given us reason to doubt their intentions or solutions but their service still needs some mileage under its belt to compete with other giants in the space. Read the full Internxt review down below to see why is that.
---
Jump to:
Pricing & Plans
Who is it for?
Ease of use
File syncing
File sharing
Retrieving files
Security
Online support
Additional features
Conclusion
---
Internxt Features
Pricing & Plans
Free storage
2 GB (Up to 10GB)
Free trial
Lifetime plans
Payment methods
Credit Cards, Crypto & More
Ease of use
Open in-browser
PDF, Images
Edit in-browser
Mobile apps
Android, iOS
WebDAV
File syncing
Supported systems
Windows, macOS, Linux
Imaginary drive

An imaginary drive allows you to access all of the files that are in the cloud directly from your desktop via an application without taking up local storage space.

Sync folder

A sync folder allows you to access all of the files that are in the cloud directly from your desktop via an application. Since it synchronises the files to the device, it takes up local storage space.

Block-level file sync
Selective sync

Selective sync allows you to choose which folders that are located in the cloud should and shouldn't be synchronised to your device.

Sync any folder

The sync any folder feature allows you to choose any local folder and synchronise it to the cloud without any further actions.

But, they do provide "Backups"
File sharing
Share download links
Link password protection
Link expiration dates
Link branding
Link download limits
Link stats
Share upload links
Share folders
Set folder permissions
Retrieving files
File versioning system
Trash bin
Rewind feature

The rewind feature allows you to go back in time and inspect your cloud storage as it was in that moment. This enables easy retrieval of files in various scenarios such as malware infection.

Security
Server location
EU
HIPAA Compliance
Encryption protocol
256-bit AES
At-rest encryption
In-transit encryption
Client-side encryption
Zero-knowledge privacy
Two-factor authentication
Online support
FAQ base
Forums
E-mail support
Replies within a few hours
Live chat support
Replies within a few hours
Phone support
---
Pricing & Plans
Internxt is not much different to any other cloud storage provider out there when it comes to pricing & plans. They do offer a permanent 10 GB free storage which is quite decent. It's worth noting here that I needed to perform certain actions to open up all that free capacity (installing apps, creating sharing links, inviting friends,…). Not hard to do though not a fan of the "inviting friends" one.
From the get-go, we can divide their plans into personal and business. The difference? Business plans allow you to set up multiple users from a single administration account and manage all of them.
It's also always great to see the company offer a 30-day money-back guarantee which Internxt does. Makes you think they believe in the service they provide and gives you a way out if you aren't satisfied. They currently accept payments via credit and debit cards (Mastercard, VISA, American Express, etc). Under request, they also accept iDeal, Bancontact, EPS, Giropay, SEPA Debit, P24, and Sofort.
---
Personal Plans
Personal plans can be paid for on a monthly or annual basis. Going for an annual payment comes with a discount anywhere from 10% to 22% off with the 200 GB option having the largest discount. These plans are semi-comparable to other cloud storage providers like pCloud, Icedrive, Google Drive and Mega, coming in at quite a high price point for 200 GB and a decent storage-for-money at 2000 GB. Overall, if you like the service otherwise, the prices are decent enough not to dissuade you from purchase but I wouldn't call it ultra cheap either.
---
Business Plans
Business plans can be used by anyone that needs to manage multiple users under their account (family, enterprise,…). At the moment, they allow for joint team cloud storage as well as private space per each user, with more team-focused features coming in the future. Their prices are good when compared with other cloud storage providers.
Paying annually again brings in some savings. Do bear in mind that a minimum of two users need to be signed up for the business plans.
---
Who is it for?
Internxt's primary focus is ensuring both the privacy of its users and the protection of the files held by them. They achieve this through a variety of mechanisms. If you don't want your files being looked at, your password being known to anybody or want the best protection against hacks then Internxt does that job very well. Just keep in mind that it's rough around the edges and needs further development to bring it up to par with the best cloud storage providers.
---
Ease of use
The Internxt registration procedure isn't anything special and can be completed easily. Full name, password and an e-mail and you're done. An important note: Due to the way Internxt ensures the security and privacy of your files (via the zero-knowledge principle) you're unable to restore the password through the usual "e-mail recovery" procedure if it's lost. Make sure to download the backup key from the Settings page.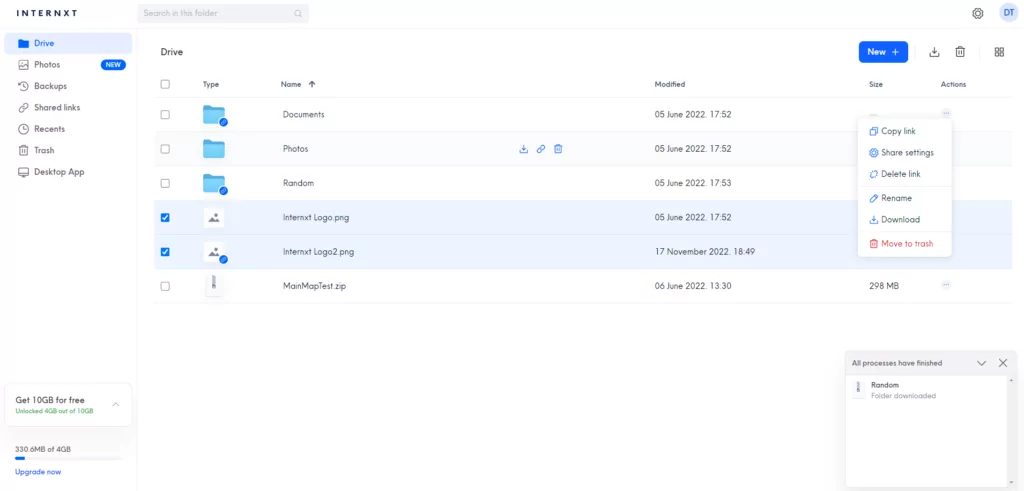 When it comes to the browser experience – the interface itself feels modern and clean. You can switch between the two views to view the files in the cloud: List and Tiles. During our testing, we haven't run into any glitches and the interface was quite responsive.
The interface allows you to upload files directly to the cloud. There's no button to upload a whole folder but drag & drop works just fine for that purpose. It is possible to download folders directly as well – the software zips it up and hands it over to your browser downloader.
It's important to note that files larger than 1 GB can't be uploaded or downloaded via the browser which is a shame.
The Settings tab allows you to manage the plan you're on as well as enable two-factor authentication.
File previews & edits
Previewing & editing files directly from the browser is great for staying on top of your files wherever you are. With Internxt it's possible to preview PDF documents and images directly in the browser but previewing other Office documents (Word, Excel,…), watching videos as well as listening to music aren't available. A cloud storage like Koofr does a great job at that with its integrated media player.
If Internxt manages to support some file previews, it allows for no in-browser editing so you'll be forced to work on any files locally.
---
File syncing
Any decent cloud storage comes with a desktop app as well. Internxt provides a desktop client for Windows, Mac and Linux users. It has a few functionalities but if we start with the main one – it creates a local sync folder that allows you to interact with the files on the cloud. All of the files on the cloud are transferred to that local folder and any files put into that folder get transferred to the cloud, constantly synchronising both ends with each other. This is a great feature that in my opinion has to be there. Keep in mind that this does take up local storage space, Internxt doesn't provide the imaginary drive functionality which would allow you to interact with your files on the cloud directly via the imaginary folder, without taking up local storage space.

We tested how well the files synchronise across the devices and we can't say it worked without issues. Deleting a file on my computer, for example, didn't then delete a file in the cloud but instead downloaded that file to my computer again upon clicking the "Sync" button. I also missed the tiny icons which would inform me if a file has synchronised to the cloud successfully, if the synchronisation is in progress,… (available with other cloud storage providers). All in all, I really wish Internxt went for continuous and autonomous synchronisation between the cloud and files on my desktop instead of me having to click on a button to commence the act.
There's no file size limit when it comes to synchronisation to the cloud via the desktop app. The same goes for the transfer speed limits.
Internxt also doesn't provide selective sync which is a crucial feature if you want to optimize local storage space by only synchronising specific files to the device and keeping the rest just on the cloud. They do, however, provide a "Backups" functionality which more or less acts as a "Sync any folder" functionality but with the downside of doing it at a specific upload frequency (Manually, Daily, Every 12h, Every 6h) instead of constantly. You pick which local folders you want to be backed up to the cloud and at what frequency and the software does the rest.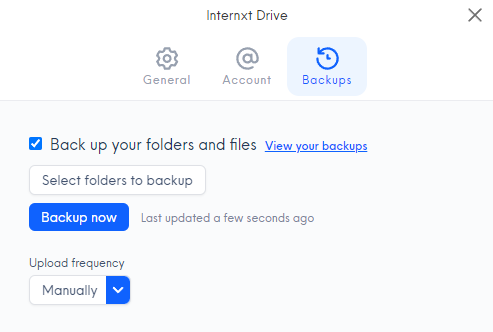 Internxt also doesn't make use of the block level sync which would make re-uploading of files that received changes much faster.
---
File sharing
There's a variety of options a cloud storage can offer when it comes to sharing your files. That ranges from sharing specific files via links, sharing folders with specific permissions, creating "upload-only" folders for others to drop files into them,… the list goes on.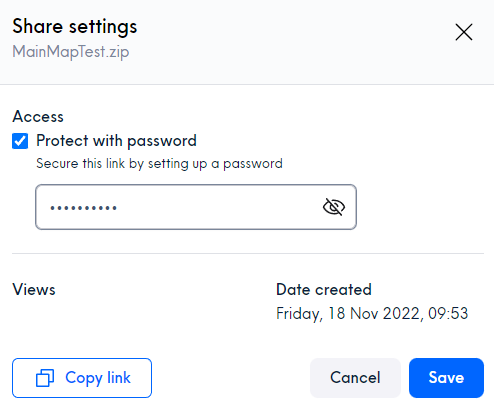 Internxt at its current stage gives you the ability to create a link to either a specific file or a specific folder which you can then share with your friends, colleagues,… There are no specific permissions you can assign (view-only, upload-only, editing permissions,…), it's all about making that specific file or folder available for download to the guy on the other side of the line. It is possible to protect the shared files with a password which is a must in certain cases. There are no bandwidth limits when it comes to sharing files. There is, however, a limit to the size of the file you can share (1 GB). No limit for shared folders.
They also have the "Shared links" tab which offers an overview of which files/folders you have shared. You can also disable the sharing link by right-clicking on the file.
Internxt, unfortunately, disappoints when it comes to file sharing, sticking to the very basic features one can expect from a cloud storage.
---
Retrieving files
A file versioning system comes in very handy in case of ransomware attacks. Your files get corrupted but that's not a big issue as you have their previous versions backed up on the cloud. It's also handy when dealing with documents, allowing you to roll back to a previous version if you mess up. Internxt doesn't provide a file versioning system. When trying to upload a file via the browser with the same name it throws out an error instead of replacing it which I guess is a safe way of preventing file loss (they could add number iterations to the file name instead of refusing the upload) but file versioning remains a must-have feature in my book.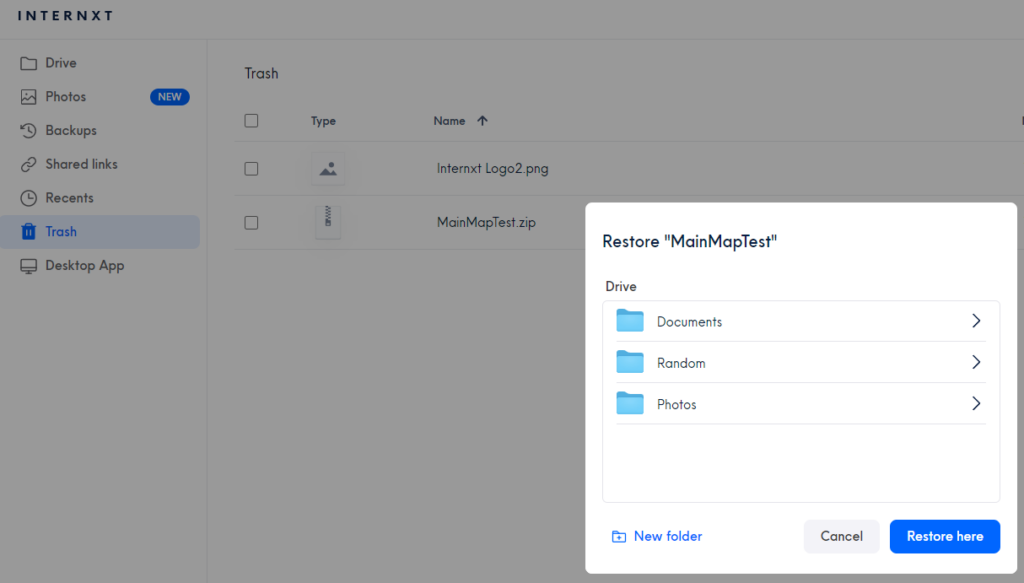 They do, however, provide a trash bin for deleted files. Files that are in the trash bin continue to take up cloud storage space so permanently deleting them is a viable way of freeing up some extra storage. Restoring a file is as easy as right-clicking on it and choosing its final destination.
---
Security
Internxt uses several locations in the EU to store user data – with the servers being provided by OVHcloud. We can certainly give them a thumbs up for avoiding the Patriot and the CLOUD act that would be enforced if they had the user data stored in the US. On the other hand, one of the data centers owned by OVHcloud faced a large fire back in 2021, causing millions of websites to go offline and some even losing data. This remains a risk with most cloud storage providers and the usage of centralized data centers – and the way they can minimize that risk is by using sufficient redundancy protocols that copy user files across multiple physical data center locations.
Files are split and replicated across different data centers with Internxts – thus mitigating the risk of a hack, natural disaster,… Each file is replicated three times in a different zone. They also use erasure coding which makes extrapolation of damaged file shards possible in order to restore a pristine file.
Internxt is completely open-source, including their website and apps which is a great plus in our book as it allows for their code to be peer-reviewed and any bugs ironed out. This isn't something we're used to seeing with other cloud storage providers.
User files are encrypted both while in transit and at rest, using 256-AES encryption. They perform the encryption client-side which means that nobody but you can access the files. Even the Internxt employees aren't able to take a peak which is what we call the zero-knowledge privacy. That of course also means that, should you lose your password, you won't be able to retrieve it easily. Make sure to download the backup key from the Settings page.
Additionally, it's also possible to enable two-factor authentication which is something we always recommend – despite the small hassle it takes to then log in.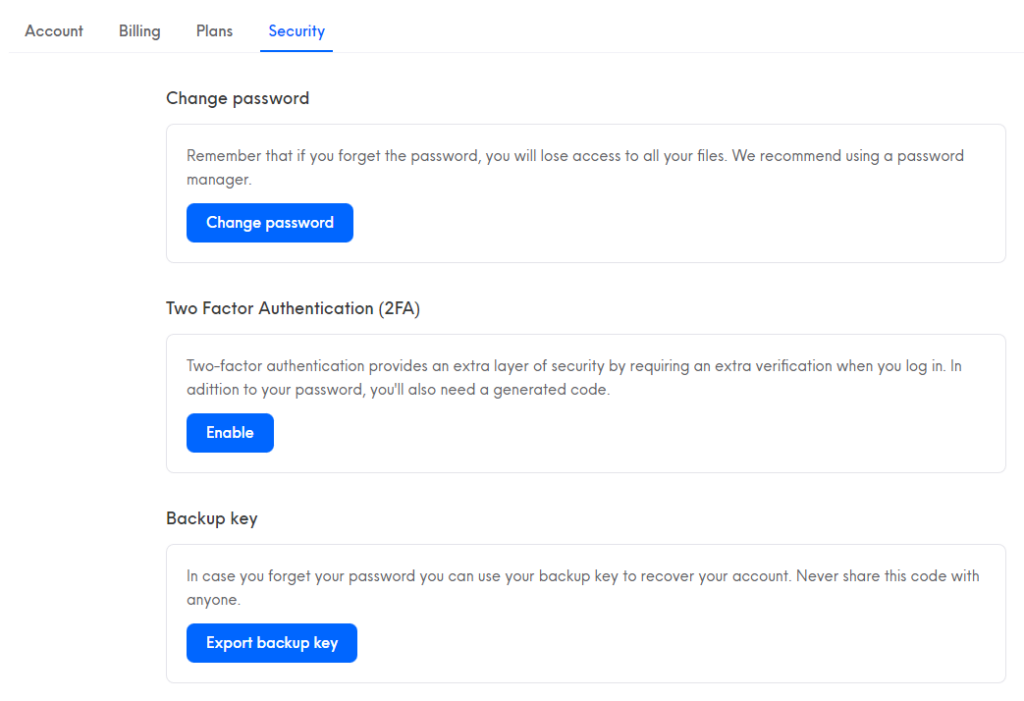 When it comes to their privacy policy, they make every effort to maintain compliance with GDPR (which is required by law) but the combination of a privacy policy written in favour of the user and the technical features to support it (zero knowledge encryption) make Internxt for a very privacy-focused cloud storage and we're happy to see the whole space moving in this direction (as is the case with pCloud, Sync.com, Icedrive, Tresorit,…).
They don't yet support HIPAA compliance to companies that might need it.
---
Online support
Getting in touch with their support team is possible either through e-mail or their live chat. Do note that the usual reply to both of these happens within a few hours – which was the case with us as well when we inquired about a technical issue. We resolved the issue ourselves before receiving a response but the reply was helpful. They claim to provide 24/7 support.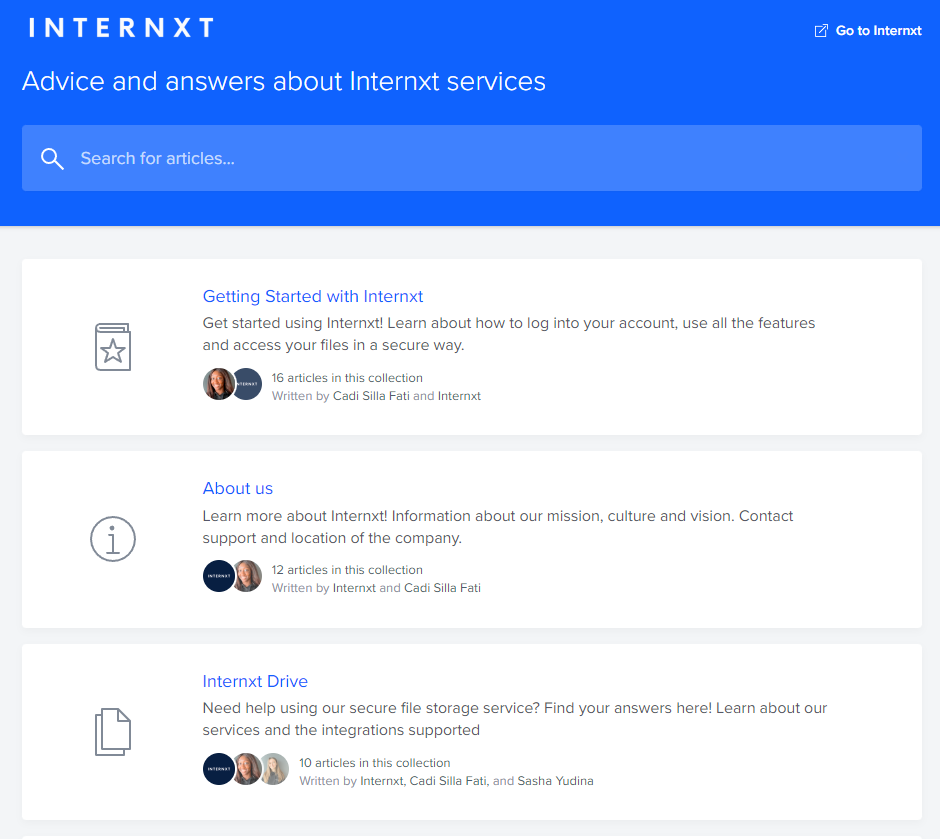 You can search through their FAQ base directly via the chat tab which can be found on the bottom right as well as by going to the dedicated web page. I found it to be quite useful, containing answers to some of the questions I had though there's some outdated information that needs cleaning up (which is usually the case with newer cloud storage providers).
I do wish they had a link to the support section or the live chat enabled once you're actually logged in, I had to go back to the home page to find both of these.
---
Additional features
---
Send
This feature allows you to send files to anyone you want without having to open an account with Internxt. Currently, it allows you to share up to 5GB of files at once (max 100 files). It does it with end-to-end encryption either via a sharing link or an e-mail. A nice thing to have but not really needed if you already own an account.
---
Mobiles Apps & Photos
The mobile apps are available for Android and iOS smartphones. They allow you to interact with the files in the cloud, add new ones and more but it definitely feels like more polish is needed.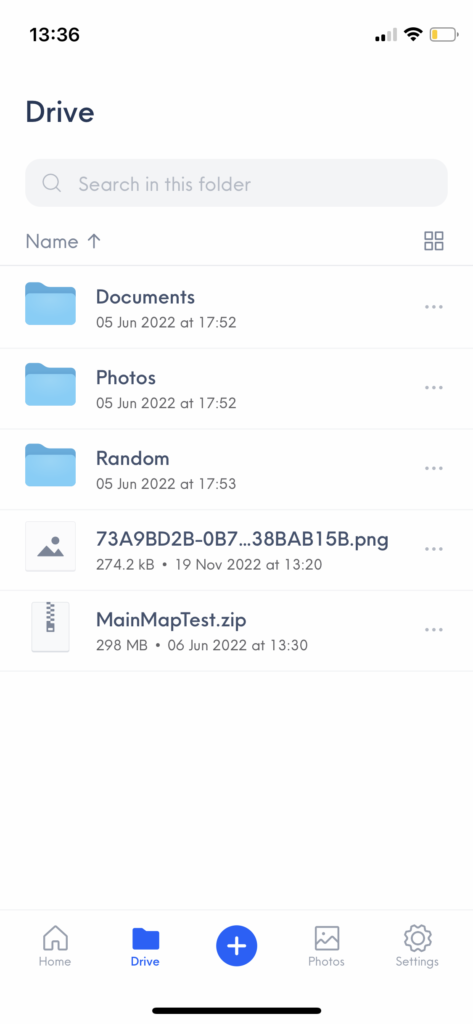 The Photos tab comes in handy if you plan to use Internxt for synchronising photos taken with your smartphone to the cloud. And that's not such a bad idea as we all know accidents happen way too fast. It's a cool feature and it worked mostly without issues as we tested it but we definitely wish we had more control over which photos get synced initially. You also can't opt out of the synchronisation of the library once you opt in. Instead, you have to manually delete each of the photos which is incredibly annoying as you can't select all of them at once. We also wish it had some sorting features.
---
Password Checker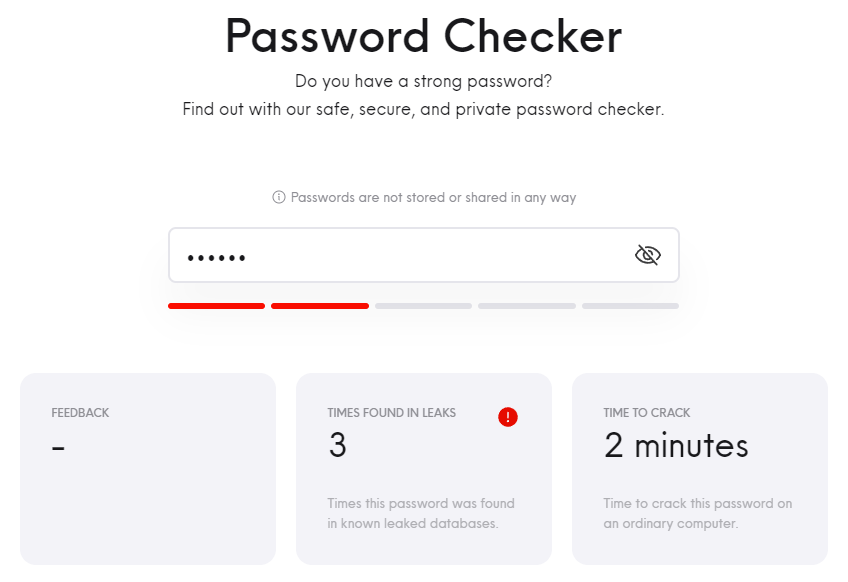 Accessible by anyone, the password checker allows you to verify how strong your password is and gives some handy tips on how to improve it. The inserted passwords are not stored or shared in any way. It also checks the known databases for any instances of when the password might have been leaked.
---
Virus Scanner
While we haven't given it a spin with an infected file ourselves to confirm it's working, it's nice to see that Internxt developed these security and privacy tools around its service to complement it, showing real care for its users. You can upload a file of up to 1 GB for it to be scanned for viruses and malware.
---
Conclusion
Overall, we appreciate that Internxt provides up to 10 GB of free storage to their users in a manner that leaves them and their files protected against hacks, natural disasters, and third-party involvement,… The whole project being open-source adds further weight to that. They also have nifty additional features such as Send, Password Checker and the Virus Scanner but we would prefer if they focused on polishing their core service – extending the file-sharing options, improving their synchronisation desktop client and implementing a file versioning system.
We expect more features and improvements to come from Internxt in the future so we'll be keeping an eye on it. For the time being, feel free to give it a try but bear in mind some of the short comings we listed above.
---
---
Hopefully, we've gone through everything that you wanted to know about Internxt within this Internxt review. If you have any unanswered questions feel free to ask them in the comments section down below and I'll answer them shortly!