Additional Features
9.5/10
Pros
A variety of pricing plans
Easy to use with useful interface
Amazing sharing capabilities
GDPR compliant
Integration with Google Drive, Dropbox and OneDrive
Detailed monitoring
Cons
Syncing desktop client slightly complicated
No block-level sync
Low trash bin file duration
No client-side encryption
No live chat/direct calls
---
Koofr Review
Koofr is a cloud storage that originates from Slovenia. It was started by a few engineers and businessmen with the idea that their cloud storage could offer something more on the market. The company received the Best startup in Slovenia award in the year of 2013. They have come a long way since then. The main selling points they offer are privacy and the ability to manage multiple cloud storage providers directly within their platform. But there's so much more to this cloud storage and we'll reveal all the important things you need to know within this Koofr review. As an interesting fact, "koofr" in many languages translates to a luggage bag which is a great metaphor for carrying your files with you.
Read the full Koofr review down below.
---
Jump to:
Pricing & Plans
Who is it for?
Ease of use
File syncing
File sharing
Retrieving files
Security
Online support
Additional features
Conclusion
---
Koofr Features
| | www.koofr.eu |
| --- | --- |
| Pricing & Plans | |
| Free storage | 2 GB |
| Free trial | |
| Lifetime plans | |
| Payment methods | Credit card, PayPal, Bank transfer |
| Ease of use | |
| Open in-browser | PDF, Office, Videos, Images, Music |
| Edit in-browser | |
| Mobile apps | Android, iOS, Windows Phone |
| WebDAV | |
| File syncing | |
| Supported systems | Windows, macOS, Linux |
| Imaginary drive | |
| Sync folder | |
| Block-level file sync | |
| Selective sync | |
| Sync any folder | |
| File sharing | |
| Share download links | |
| Link password protection | |
| Link expiration dates | |
| Link branding | |
| Link download limits | |
| Link stats | |
| Share upload links | |
| Share folders | |
| Set folder permissions | |
| Retrieving files | |
| File versioning system | |
| Trash bin | |
| Rewind feature | |
| Security | |
| Server location | Germany |
| HIPAA Compliance | |
| Encryption protocol | |
| At-rest encryption | |
| In-transit encryption | |
| Client-side encryption | |
| Zero-knowledge privacy | |
| Two-factor authentication | |
| Online support | |
| FAQ base | |
| Forums | |
| E-mail support | |
| Live chat support | |
| Phone support | |
---
Pricing & Plans
Koofr cloud storage offers fairly competitive pricing plans. The top cloud storage companies have recently stepped up a bit which makes Koofr slightly expensive when we come to the prices for plans that have larger cloud storage. It's important to note that you have to commit to a yearly plan and pay upfront if you wish to have more cloud storage than the free plan offers. The prices are listed on a monthly scale for better comparison with other cloud storages.
The prices already include VAT but that can vary slightly based on where you live and your countries VAT percentage.
You can also get up to 8 GB more free cloud storage by inviting friends to Koofr.
| | | |
| --- | --- | --- |
| Plan | Storage | Price |
| Starter | 2 GB | Free |
| S | 10 GB | €0.5/month |
| M | 25 GB | €1/month |
| L | 100 GB | €2/month |
| XL | 250 GB | €4/month |
| XXL | 1 TB | €10/month |
| XXXL | 2.5 TB | €20/month |
| 10XL | 10 TB | €60/month |
Koofr is not exactly expensive but you can certainly find cheaper alternatives (listed in our cheap cloud storage providers list).
---
Koofr Lifetime Plans
Koofr is also now offering lifetime plans for a limited amount of time through their business partner. If you wish to grab one of the huge discounts feel free to check it out below.
---
Who is it for?
Koofr took a large bite with its entry to the cloud storage market. It has recently opened itself for individual users and it certainly doesn't fail to deliver. If you're not bothered about client-side encryption or the ability to live chat then feel free to give Koofr a try. Otherwise, look for a more secure alternative.
---
Ease of use
Registering an account with Koofr is fairly simple. You input your e-mail, verify it and create a safe password. You can also use Google or A1 (Slovenian internet provider) to create an account which is even faster.
When you finally enter the service you're greeted with a modern-looking interface that feels responsive and offers all the tools that you require in order to operate efficiently privately or within your business.

Explanation of all the menu options:
Search – Enables you to scythe through all of your files.
Koofr – This is where you can find all your files in structured folders.
Shared – All the folders & files that you have shared will show up here.
Connect – You can connect with Dropbox, Google Drive and OneDrive via this option.
Deleted files – Contains all of the deleted files still available to be retrieved.
Music player – Displays all of the sounds files in one place and allows you to play them directly from the browser.
Recent – Shows files that have been changed or uploaded recently in descending order.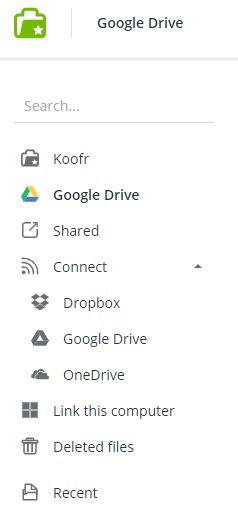 File previews & edits
Koofr allows you to preview both PDF and Office documents directly in the browser. You're not able to edit them via some form of Office online tools.

You're also able to watch videos and preview images directly in the browser. The integrated music player is also a nice touch. It allows you to play the music while cycling through other files in the cloud which is actually a brilliant idea that none other cloud storage thought of.

---
File syncing
Koofr is available as a desktop client on Windows, iOS and Linux platforms. The application allows you to synchronise files that you have in the cloud directly to your devices. The application creates a folder on your computer that is synchronised to the cloud. It doesn't immediately synchronise all the files you have in the cloud to your computer which might be confusing to some of you that are used to other cloud storages. The desktop client saves the synchronised folders directly on your device which takes up local storage space (some cloud storage only show the files but don't store them in the local hard drive).
Via the settings, you can also enable the network drive via the WebDAV protocol. You can see and edit your files in the cloud directly via that connection. All the changes will be noticed in the cloud and on your computer. Note: Windows default maximum file size limit that can be uploaded or downloaded through WebDAV is 50 MB.
They have added the "Local folders" functionality which is available for paid users only. You choose any folder on your device and make it remotely available on all the other devices. No data is transferred to Koofr though. Do note though that when the computer is offline, the local folder won't be available on other devices.
Via the "Syncs" menu you're able to synchronise any folder on your computer with any folder in the cloud.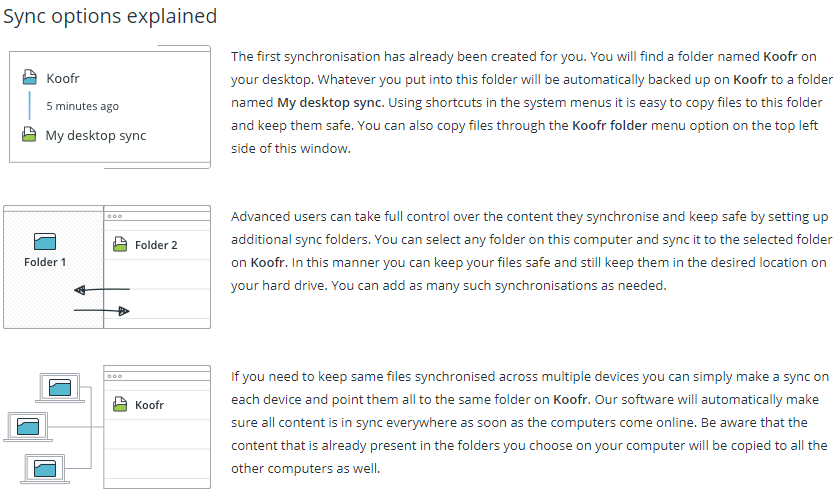 The Koofr synchronisation options certainly seem more complicated and it takes quite a while to get your head around what is actually happening. It's certainly not very suitable for the average Joe.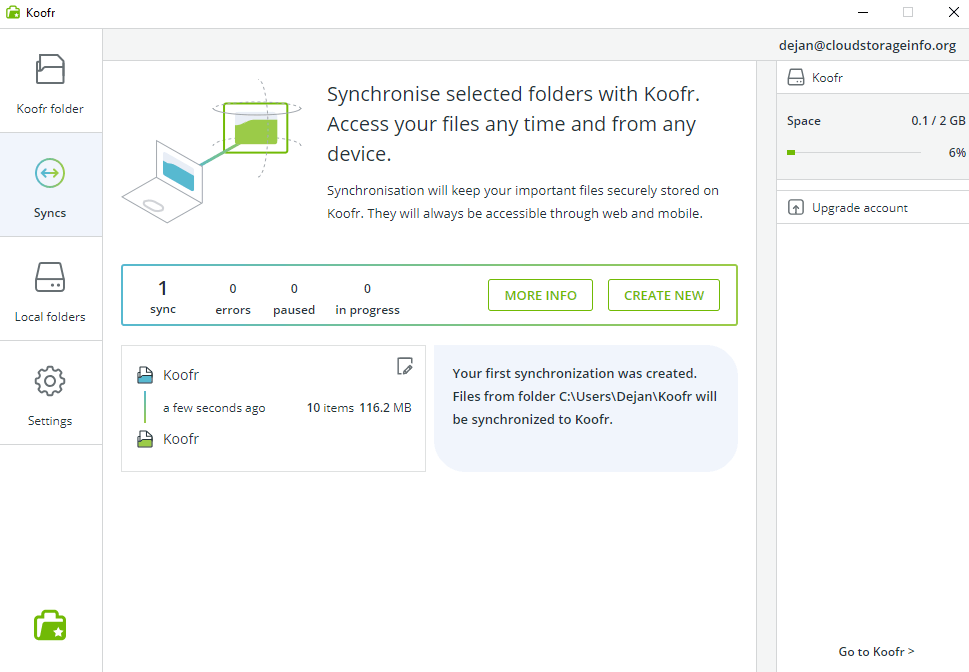 There appears to be no limit to the transfer speeds but neither can you introduce one if you felt like it. The amount of simultaneous uploads depends on your internet speed and the size of the files being uploaded. As such it can range from 3 to up to 10 files at a time. There is no limit when it comes to file sizes though.
Koofr doesn't support block-level sync that would enable you to upload files that need updating at faster speeds.
Koofr is also not a cloud backup solution, find the best cloud backup solution here.
---
File sharing
There are multiple ways of sharing files with Koofr.
Send link
By creating a download link you can share a folder or a file with anybody. The person downloading the files doesn't need a Koofr account. You can also customize the URL of the link, set a password and an expiration date on the download link.
Note: If the file is a .exe, .zip,… (potentially malicious types) a password will be generated automatically and you won't be able to remove it from the download link.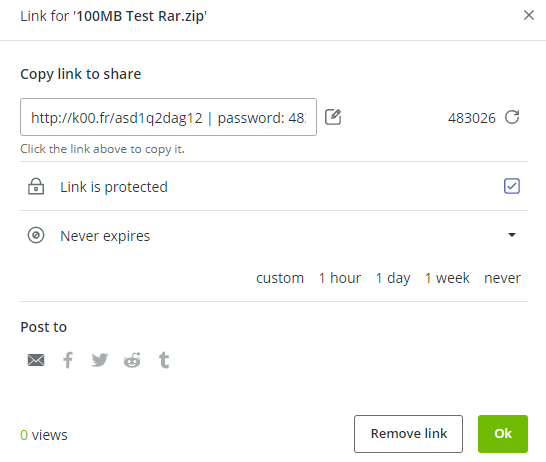 Add people
By adding people to a folder you're able to share specific folders with a large number of people with different permissions. This type of advanced sharing system with different layers of permissions is certainly not common with other cloud storages (they usually offer a less advanced one).
Shared folders only take up space on the account where they originate from (unlike with Dropbox where the shared folders take up space on both accounts).
Can comment
Can modify
Can create download links
Can create upload links
Can manage share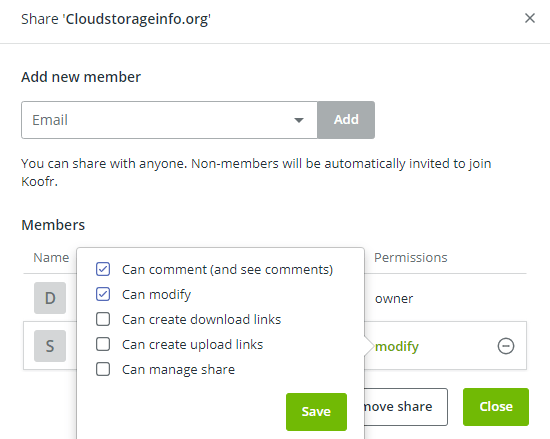 Receive files
You can also decide to open up your folder for people to upload to it. It's especially interesting since you can even set it up via email. For example, you need to collect 30 agreements for an updated policy from your employees. Simply ask them to send an email with the attached signed policy document to a specific email address generated by Koofr and the attachment will automatically land in your cloud storage. Another very unique idea from Koofr here!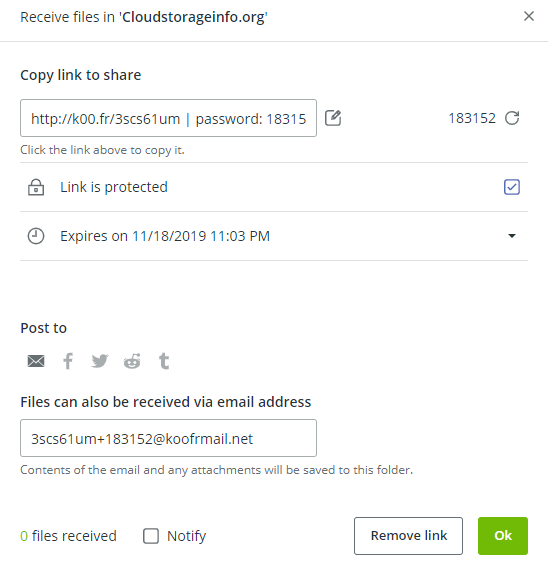 In addition to all the options, Koofr offers unlimited sharing. Unlimited sharing doesn't count for files located on connected cloud storages (Google Drive, Dropbox, OneDrive). If too many files are being shared at the same moment Koofr can also throttle down the speeds. Both of these limits apply to publicly shared files, transfers between Koofr users aren't limited.
---
Retrieving files
With Koofr you can recover your deleted files for up to 7 days from the "Deleted files". The files in the trash bin don't take up any space.

Koofr also has a file versioning system. It allows you to see up to 5 previous versions of the files.

---
Security
Koofr has its servers located in protected and ISO 27001 certified data centres in Germany. The company originates and operates from Slovenia, Europe.
Every transfer is secured using SSL (Secure Sockets Layer) & TSL (Transport Layer Security) encryption from the second your files begin to transfer. Once the files arrive on their servers (on rest) they're encrypted again using server-side encryption. Every file on their servers ends up on at least 3 different physical locations as a disaster recovery plan.
Koofr is GDPR compliant and has its privacy policy prepared in accordance with the European regulation. They also don't use any third-party tracking tools like Google Analytics. The meta-information – such as owner, name, size, type, decryption keys etc. – about your files is kept on separate servers, away from the actual content. That is, of course, great but still not the golden standard that cloud storage companies strive for today. I am talking about client-side encryption which is based on a zero-knowledge principle. Only then are your files truly yours. That is ensured by keeping all the encryption keys in your lap, rather than on the servers of the cloud storage provider.
Koofr does offer integration with rclone (open-source) though which can enable client-side encryption. rclone is a command line program to sync files and directories to and from various cloud storages. It certainly presents a solution for those demanding higher security though not very user-friendly as it demands a separate setup on your device.
Koofr also never sells your data to any advertisers or tracking companies. If you planned to store patient sensitive information and want HIPAA compliance with Koofr that won't be possible. They focus on smaller businesses that don't need such certificates.
Koofr also provides you with the ability to enable two-factor verification which gives your account additional protection. Your account can then be accessed only with the help of the mobile application.
Koofr is not the most secure cloud storage but it certainly comes close.
---
Online support
Koofr offers a semi-sized FAQ base that surprisingly answers quite a few of the common questions. If that is not sufficient you're able to contact them via the contact form/email. Options such as the forums, live chat or direct calls are simply not available. Instead of a forum, Koofr decided to opt-in for Reddit which is a growing solution nowadays.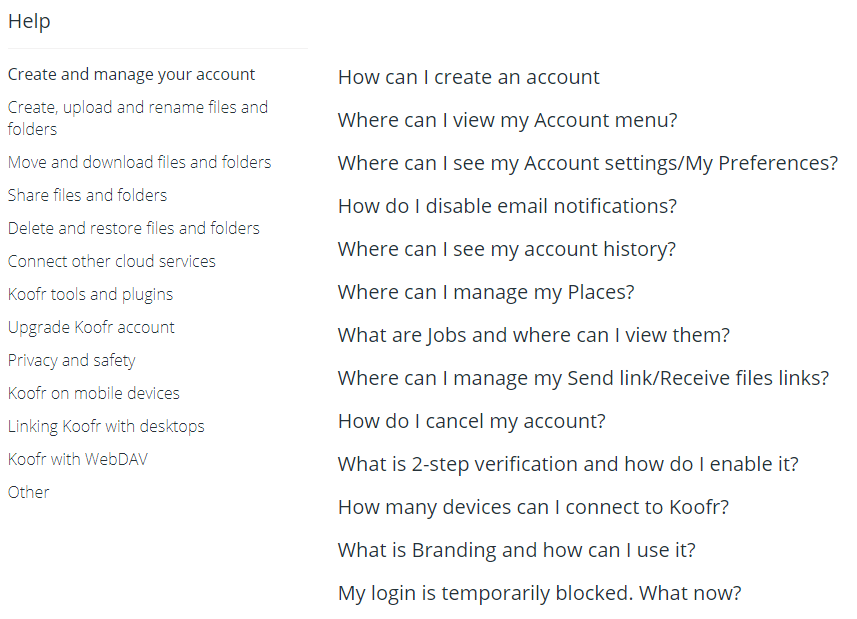 ---
Additional features
---
Integration With Other Cloud Storages
Koofr allows you to connect with other cloud storages – Google Drive, Dropbox and OneDrive. This service doesn't just exist so you can backup your other cloud storages. This is a two-way street! It allows you to manage files of all the other cloud storages. That means, previewing, editing, sharing and deleting. All in one place. A pretty neat feature to have nowadays when a lot of us make use of many cloud storage providers.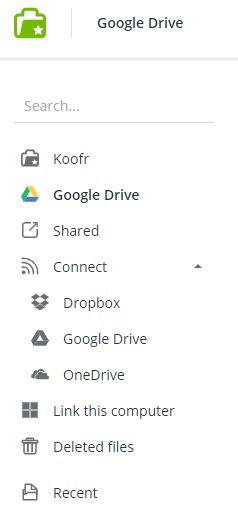 ---
Activity
Koofr has a very detailed activity page where you can see all the changes that happen within your cloud storage and filter thought them.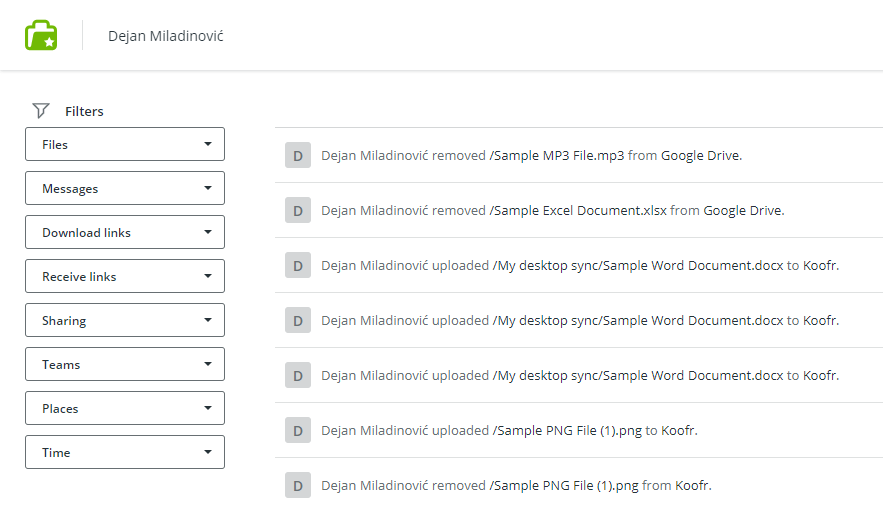 ---
Koofr Exp
Koofr Exp is a small section of Koofr that contains secret little features. Koofr duplicate finder is available within Koofr Exp as a feature only for paid users. It allows you to find and remove duplicates within a specific folder. Another interesting tool is the Koofr space usage tool which lists all the files by their size. Then you can decide which ones you don't need anymore, get rid of them and save up some space.
---
Save to Koofr
"Save to Koofr" is a Chrome extension and a Firefox add-on. It allows you to directly save content to your Koofr cloud storage. That ranges from images, useful links, web pages and text. You simply right-click on an image for example and choose the "Save to Koofr" option.
---
Mobile Application
The Koofr apps are available for Android, iOS and Windows Phone devices. The apps allow you to manage and view files on those devices as well to a certain degree. Some advanced sharing options might be unavailable etc. but must of the stuff is there. You can also enable auto camera upload which backs up your photos and videos.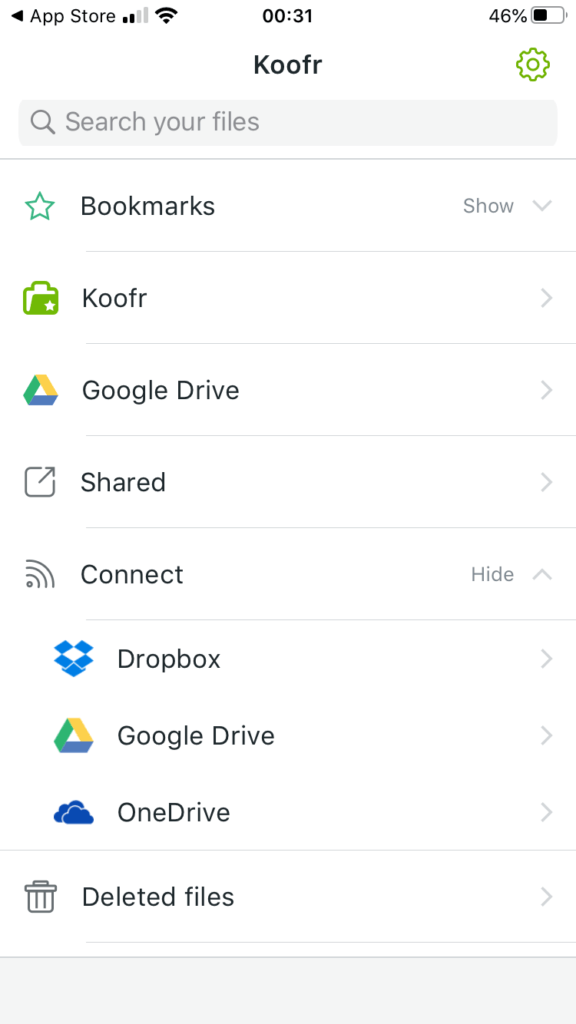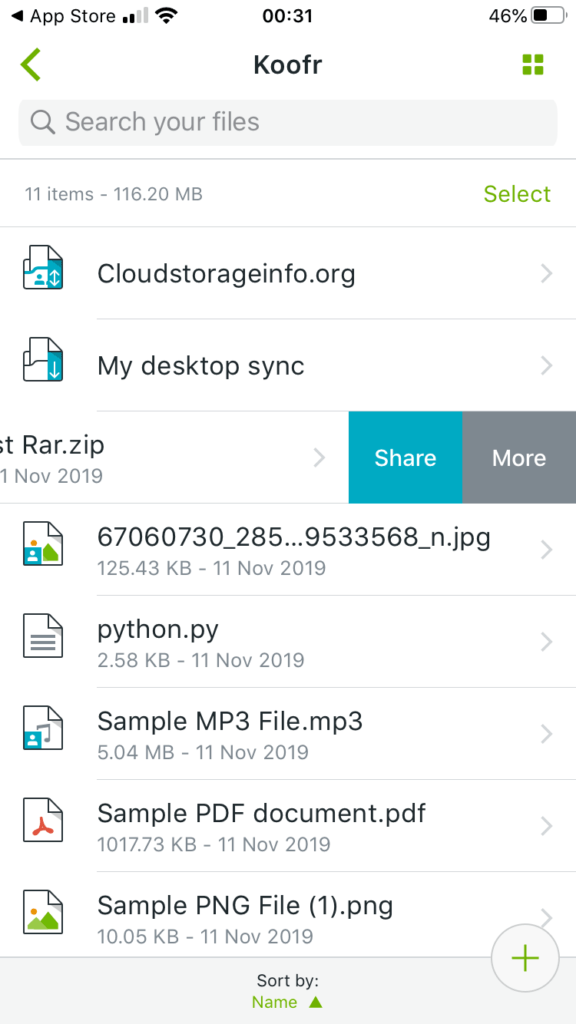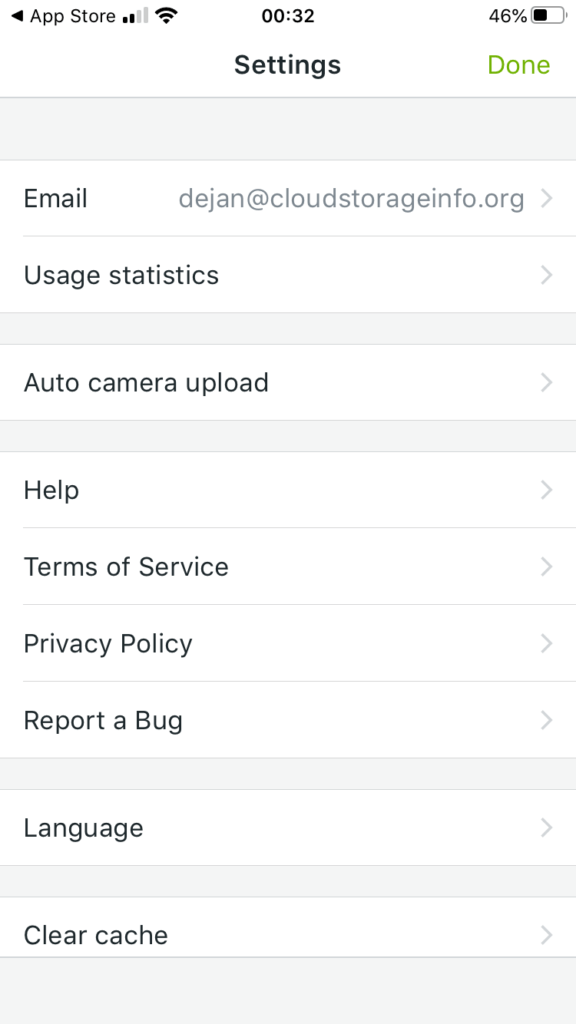 ---
Conclusion
Koofr offers decent pricing plans and has a very useful userface. The syncing client they offer is slightly complicated and doesn't offer block-level sync despite the fact they don't offer client-side encryption. The file-sharing capabilities are on another level though and they certainly match and exceed other bigger cloud storage names. The trash bin retrieving duration falls a bit short and the support options aren't abundant. Koofr does excel when it comes to additional options though, especially with its ability to integrate other cloud storages such as Dropbox, Google Drive and OneDrive.
All-in-all Koofr presents a very viable cloud storage solution but I encourage you to check our Top 10 Cloud Storage Providers list before taking the leap.
---
---
Hopefully, we've gone through everything that you wanted to know about Koofr within this Koofr review. If you have any unanswered questions feel free to ask them in the comments section down below and I'll answer them shortly!