Woelkli
$7.61/month 10 GB
Additional Features
7.0/10
Pros
Nextcloud Interface
Switzerland privacy
Zero-knowledge encryption
GDPR compliance
Good sharing options
Cons
Incredibly expensive
No file versioning for free users
Very limited support for free users
Office tools at additional cost
Buggy at times
---
Woelkli Review
Woelkli is a cloud storage that has its servers located in Switzerland. It uses Nextcloud as a base and as such doesn't have their own system. They're doing just fine in various areas such as security, privacy, file syncing and sharing,… but there's one thing that really deters all their customers away. The pricing plans are just uncompetitive which is why I recommend you take a look at our Best Cloud Storage Providers list after reading this Woelkli review.
Read the full Woelkli review down below.
---
Woelkli Alternatives
| # | Service | Rating | Description | Paid Plan | Go To |
| --- | --- | --- | --- | --- | --- |
| 1 | pCloud | Read review | pCloud is a great cloud service that takes pride in offering the highest protection available (client-side encryption included) with amazing syncing solutions. It was also the first cloud storage to introduce innovative LIFETIME plans. It is easy to use and is one of the best cloud storage solutions on the market. 10 GB of free storage. | $4.99/month 500 GB | Go to pCloud |
| 2 | Sync.com | Read review | Sync.com is a Canadian cloud storage that utilizes the Zero-knowledge principle. It offers unparalleled privacy and security (via client-side encryption) with great syncing, sharing and file retrieving solutions. 5 GB of free storage. | $8/month 2000 GB | Go to Sync.com |
| 3 | Icedrive | Read review | Icedrive is a UK cloud storage with a main focus on the security of your files. They achieve that with Twofish client-side encryption which certainly raises a few eyebrows. A slick-looking minimalistic design combined with great mobile apps and interesting LIFETIME plans makes them an interesting choice! 10 GB of free storage. | €4.99/month 1000 GB | Go To Icedrive |
| 4 | MEGA | Read review | MEGA offers a secure cloud storage with client-side encryption. It has a modern/responsive interface. The online support is limited and down/upload speeds could be better. 15 GB of free storage. | €4.99/month 400 GB | Go to MEGA |
| 5 | Tresorit | Read review | Tresorit protects your files with Swiss privacy laws and client-side encryption. It has amazing syncing speeds, sharing options and excells in pretty much all other areas but takes the bullet with very expensive and uncompetitive prices. 3 GB of free storage. | €9.99/month 500 GB | Go to Tresorit |
---
Jump to:
Pricing & Plans
Who is it for?
Ease of use
File syncing
File sharing
Retrieving files
Security
Online support
Additional features
Conclusion
---
Woelkli Features
| | www.woelkli.com |
| --- | --- |
| Pricing & Plans | |
| Free storage | 1 GB |
| Free trial | |
| Lifetime plans | |
| Payment methods | Bank transfer, PayPal |
| Ease of use | |
| Open in-browser | PDF, Office, Videos, Images |
| Edit in-browser | Office integration |
| Mobile apps | Android, iOS, Blackberry |
| WebDAV | |
| File syncing | |
| Supported systems | Windows, macOS, Linux |
| Imaginary drive | |
| Sync folder | |
| Block-level file sync | |
| Selective sync | |
| Sync any folder | |
| File sharing | |
| Share download links | |
| Link password protection | |
| Link expiration dates | |
| Link branding | |
| Link download limits | |
| Link stats | |
| Share upload links | |
| Share folders | |
| Set folder permissions | |
| Retrieving files | |
| File versioning system | |
| Trash bin | |
| Rewind feature | |
| Security | |
| Server location | Switzerland |
| HIPAA Compliance | |
| Encryption protocol | 256-bit AES |
| At-rest encryption | |
| In-transit encryption | |
| Client-side encryption | |
| Zero-knowledge privacy | |
| Two-factor authentication | |
| Online support | |
| FAQ base | |
| Forums | |
| E-mail support | |
| Live chat support | |
| Phone support | |
---
Pricing & Plans
Woelkli might shine in certain areas but it has definitely fallen behind in time when it comes to their pricing plans. It's simply too expensive for what it offers in comparison with other cloud storage providers.
The plans are divided into two groups. Personal plans allow only one user to use the account while the business plans allow multiple users. The multi-user plans can also be used for private installations on your own domains.
It's important to note that the prices don't include the 7.7% VAT. E-mail and phone support are offered to all paid plans.
---
Single-user accounts
---
Multi-user accounts
---
Woelkli offers no lifetime cloud storage plans. I recommend taking a look at other cheap cloud storage providers as Woelkli simply doesn't make the cut here.
---
Who is it for?
Due to the fact, their pricing plans are so outdated I would advise against using Woelkli until they change their pricing strategy. No matter what features they throw at us, they're simply not worth the money when compared to other cloud storages. If 1 GB of free storage is enough for your needs then feel free to give them a go.
---
Ease of use
The registration is rather simple though a bit outdated. You must complete the registration with your email and your own password (no sign-ups with Google or Facebook). The sign-up interface is rather slow and it takes a while for you to get into your account.
Though once you're finally in you're greeted with a slick-looking interface. It feels responsive though I have run into a bug or two such as the help windows staying open after leaving a particular page or being stuck on a certain option. It offers quite a few features that come under file management such as:
All files
Recent files
Favourites
Gallery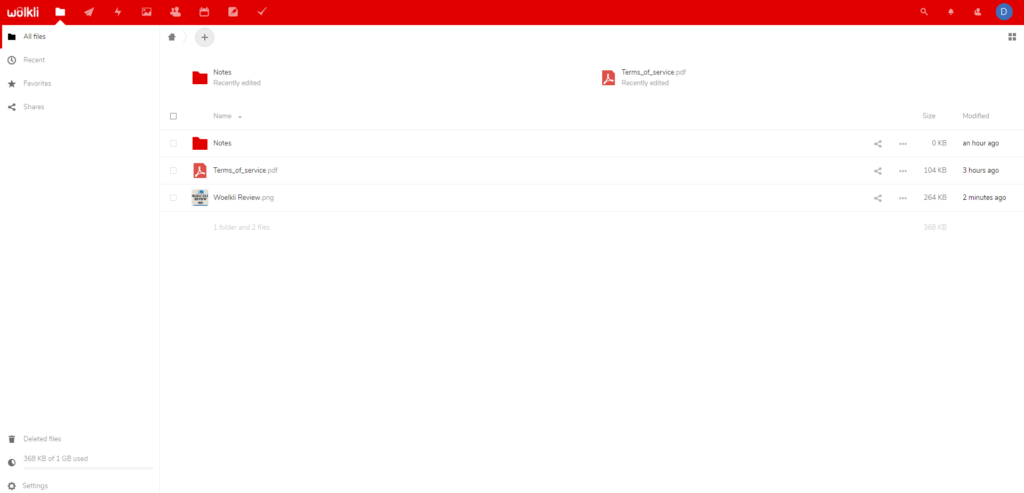 File previews & edits
The interface allows you to preview PDF files and edit .txt files directly in the browser. Office tools can't be previewed or edited in the browser without the special paid extensions that I'll mention later on under "Additional features".
You can watch images and videos directly from the browser but can't listen to audio & music unlike with these cloud storages.
---
File syncing
As mentioned above, Woelkli uses Nextcloud as the base of all their software. That includes all the client apps as well. As such, you're free to download Nextcloud apps on Windows, macOS and Linux. The application requires a few more steps to connect with Woelkli after installation on your device. I wouldn't say it's inconvenient but it's certainly easier with other cloud storage providers.
Like with other cloud storages the application creates a sync folder to which you can store your files. These files will then be synchronised with all your devices.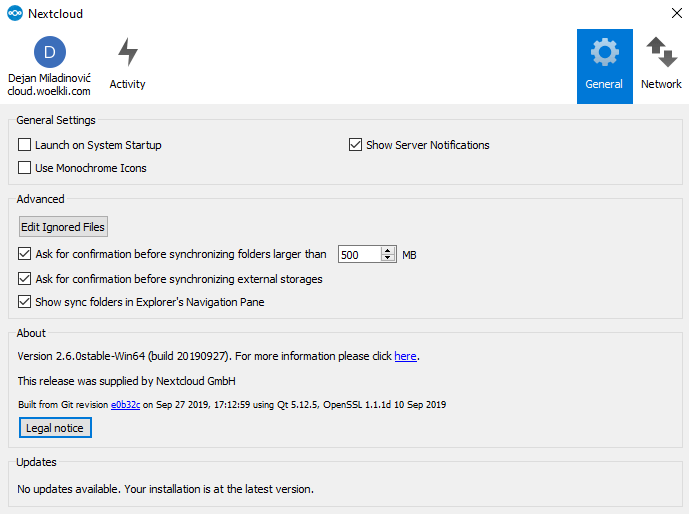 There are a few settings available to you directly in the application such as launch on system startup, setting up bandwidth limits or using proxies.
There are no limits when it comes to transfer speeds. It all comes down to where you're situated and how good your internet is. The higher the speeds and the closer you're to Switzerland the better it will be for you.
You can also sync any folder on your computer to the cloud storage. Woelkli doesn't use block-level file sync due to their encryption systems.
If you need a cloud backup solution then have a look at our best cloud backup list instead.
---
File sharing
You can share files and folders with your friends or coworkers via the "Share links". The "Share links" also allow you to set a few rules such as:
Allow editing – Allows anyone with the link to edit the files
Hide download – Essentially makes the link "view only" and prevents all downloads.
Password protection – This step is actually mandatory which I dislike completely. There are plenty of times when I just want to share a file with a friend and don't want to bother setting a password for it.
Set expiration date – Removes the "Share link" after a certain period of time (on the exact date).
Note to the recipient – This adds a small note in the top right corner that's hardly noticeable.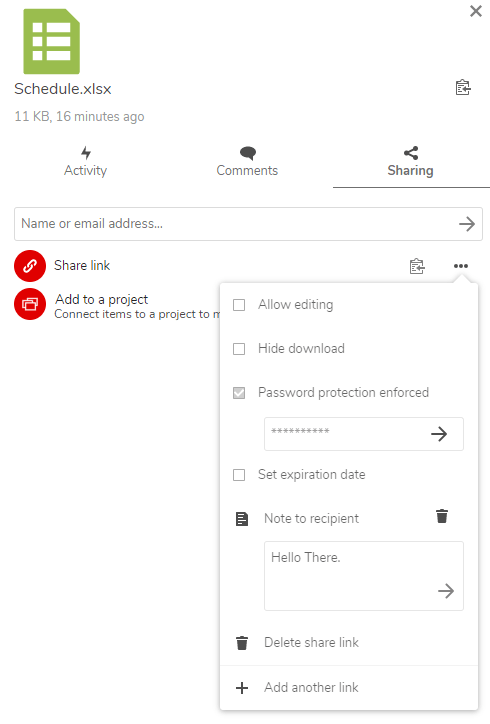 I tried using the option "Allow editing" but is simply wouldn't let me with any file. The option is completely unavailable for folders.
The person downloading the files doesn't need a Woelkli account but it's certainly required if he wants to edit the files.
---
Retrieving files
The versioning system is available only in pro accounts (CB, C2, C3, C4 and multi-user accounts). You can access file versions when clicking on "Details" of a specific file. The system is quite complicated and comes from Nextcloud itself:
For the first second, they keep one version
For the first 10 seconds, Nextcloud keeps one version every 2 seconds
For the first minute, Nextcloud keeps one version every 10 seconds
For the first hour, Nextcloud keeps one version every minute
For the first 24 hours, Nextcloud keeps one version every hour
For the first 30 days, Nextcloud keeps one version every day
After the first 30 days, Nextcloud keeps one version every week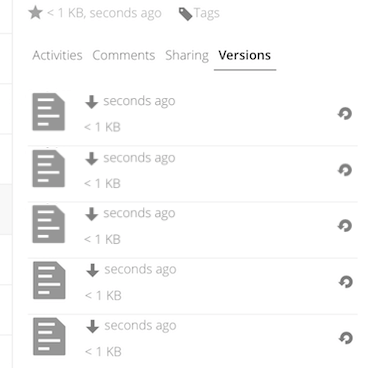 Any file that gets removed roams to the "Deleted files" folder. From there you can either retrieve it or delete it permanently. Files in the trash bin are not counted towards your storage quota. By default, Nextcloud software saves your deleted files for 30 days or until the Deleted Files app allocates a maximum of 50% of your currently available free space to deleted files. If your deleted files exceed this limit, Nextcloud deletes the oldest files.
---
Security
The whole security system is of course based on Nextcloud. You should protect your privacy online and make sure to go with secure cloud storage.
Woelkli stores all of your files redundantly in a data centre based in Switzerland that is according to them self-owned which is good news for anyone concerned about privacy laws. It's certainly much better than having your cloud storage servers situated in the U.S. (Patriot act and Cloud act makes government intervention easy).
Every communication to and from their servers through the Internet is secured, thanks to the Transport Layer Security (TLS) protocol, also known as Secure Socket Layers (SSL). Your files are stored encrypted on their storage servers using the Advanced Encryption Standard (AES 256), to ensure that nobody – including them – can read your data. It's not the most secure cloud storage but it comes fairly close.
Woelkli provides zero-knowledge privacy by making sure only you hold the encryption keys. It also enables you to turn on two-factor authentication.
In regards to privacy policies, Nextcloud comes in quite far. It doesn't collect any information from cloud storages that use it as their base. Nextcloud is also GDPR compliant. Woelkli doesn't share any of your data with third-parties nor can it access your files due to the fact you hold all the encryption keys.
---
Online support
Woelkli offers a very small FAQ base that answers the very basic questions one might have about their cloud storage. However, I am still left wondering about many things they could have modified in regards to Nextcloud. Nextcloud is a base they're using to provide the cloud storage service and it comes with many default values. They have not explained anywhere if they have made any changes to them (file size limits, sharing bandwidth limits,…).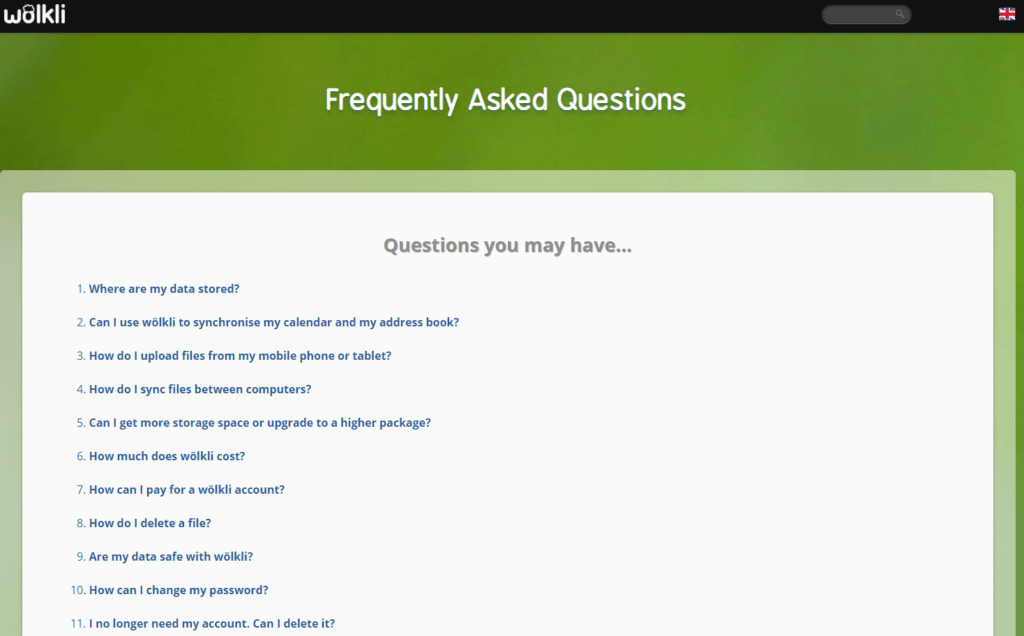 Email and phone support in the work hours are available only to users with paid accounts.
No live chat or forums are available.
---
Additional features
Woelkli comes in with a lot of additional features that you might not directly associate with cloud storage in the first place but could come in handy:
ONLYOFFICE – This is a package for which you have to pay monthly that allows you to view and edit office documents directly in the browser.
Collabora Online – This paid package allows you to collaborate on office documents.
Calendar – It allows you to save events and organise reminders and have them synced across all your devices.
Contacts – Save and synchronise all of your contacts (email, phone, personal data,…).
Tasks – You can create to-do lists which help you organise your time and work on your priorities.
Photo galleries – Create, save, view and share photo galleries with family, friends or work colleagues.
Notes – Basically allows you to save shopping lists, to-do stuff or pretty much anything you want to write down.
Moving to a pro plan unlocks a few additional features such as:
Antivirus – Scans your files using ClamAV
Plug-ins and applications
Bookmarks
Mail – Lets you connect and use multiple emails accounts.
Access to API
---
Mobile Application
The Nextcloud apps that you use to connect to Woelkli are available on iOS, Android and BlackBerry smartphones. With the average rating of 4.7 on iOS, 4.2 on Android and 2.5 on BlackBerry it's clear that the application has some issues on certain platforms. Many of the users point out the synchronisation problems. The applications allow you to use the cloud storage in the same manner that you would in your browser.
You can also set files for offline usage.
---
Conclusion
That concludes our Woelkli review. Woelkli is without a doubt cloud storage that shows promise in many areas such as file sharing, syncing and security. Yet all of that is simply trampled by the fact they're using pricing plans that are simply too expensive. To me, that looks like a sign of cloud storage going under the water. We have seen it before with JustCloud and ADrive and I wouldn't rule it out with Woelkli. It is my recommendation to check our Top 10 Cloud Storage Providers list and find better cloud storage with more suitable prices.
---
---
Hopefully, we've gone through everything that you wanted to know about Woelkli within this Woelkli review. If you have any unanswered questions feel free to ask them in the comments section down below and I'll answer them shortly!