JustCloud
€10.43/month 1 GB
Additional Features
3.5/10
Pros
24/7 online support
Good mobile application
Cons
Uncompetitive prices
Payable additional features
Very bad sync solution
Slow backup speeds
---
JustCloud Review
Is JustCloud a scam? I'll leave that for you to decide. In my opinion, you should stay away from this cloud service. The writing of this JustCloud review was made extremely hard due to uncompetitive prices, it just seems like they want to get every penny out of you for each additional feature you subscribe to. It's more of a backup solution than it is cloud storage. Sync folder is shamefully small and expensive. The interface is modern but not that easy to use. If you actually want the best service out there check our my Best Cloud Storage Providers List.
IMPORTANT NOTICE: JustCloud no longer accepts new registrations!
Read the full JustCloud review down below.
---
JustCloud Alternatives
| # | Service | Rating | Description | Paid Plan | Go To |
| --- | --- | --- | --- | --- | --- |
| 1 | pCloud | Read review | pCloud is a great cloud service that takes pride in offering the highest protection available (client-side encryption included) with amazing syncing solutions. It was also the first cloud storage to introduce innovative LIFETIME plans. It is easy to use and is one of the best cloud storage solutions on the market. 10 GB of free storage. | $4.99/month 500 GB | Go to pCloud |
| 2 | Sync.com | Read review | Sync.com is a Canadian cloud storage that utilizes the Zero-knowledge principle. It offers unparalleled privacy and security (via client-side encryption) with great syncing, sharing and file retrieving solutions. 5 GB of free storage. | $8/month 2000 GB | Go to Sync.com |
| 3 | Icedrive | Read review | Icedrive is a UK cloud storage with a main focus on the security of your files. They achieve that with Twofish client-side encryption which certainly raises a few eyebrows. A slick-looking minimalistic design combined with great mobile apps and interesting LIFETIME plans makes them an interesting choice! 10 GB of free storage. | €4.99/month 1000 GB | Go to Icedrive |
| 4 | MEGA | Read review | MEGA offers a secure cloud storage with client-side encryption. It has a modern/responsive interface. The online support is limited and down/upload speeds could be better. 15 GB of free storage. | €4.99/month 400 GB | Go to MEGA |
| 5 | Tresorit | Read review | Tresorit protects your files with Swiss privacy laws and client-side encryption. It has amazing syncing speeds, sharing options and excells in pretty much all other areas but takes the bullet with very expensive and uncompetitive prices. 3 GB of free storage. | €9.99/month 500 GB | Go to Tresorit |
---
Jump to:
Pricing & Plans
Who is it for ?
Ease of use
File backup
File syncing
File sharing
Retrieving files
Security
Online support
Additional features
Conclusion
---
JustCloud Features
www.justcloud.com

Pricing & Plans
Free storage
15 MB
Free trial
Lifetime plans
Payment methods
Credit card, PayPal
Ease of use
Open in-browser
Edit in-browser
Mobile apps
Android, iOS, Windows
WebDAV
Only via third-party integration
File syncing
Supported systems
Windows
Imaginary drive
Sync folder
Block-level file sync
Selective sync
Sync any folder
File sharing
Share download links
Link password protection
Link expiration dates
Link branding
Link download limits
Link stats
Share upload links
Share folders
Set folder permissions
Retrieving files
File versioning system
Trash bin
Rewind feature
Security
Server location
US
HIPAA Compliance
Encryption protocol
256-bit AES
At-rest encryption
In-transit encryption
Client-side encryption
Zero-knowledge privacy
Two-factor authentication
Online support
FAQ base
Forums
E-mail support
Live chat support
Phone support
---
Pricing & Plans
JustCloud has a bit different approach to how they're going to sell their service to you as a customer. Not in a good way, I am afraid.
In essence, they're offering four major plans and a lot of smaller features that you can buy additionally to that. This would be alright if those additional features wouldn't be so "basic" in any other better cloud storage.
They're also offering a 70% initial term discount and 30-day money-back guarantee if you're not satisfied with the service.
You receive a 1 GB cloud storage with any payable plan, and you can get up to 20 GB more for absurd amounts of money. On the other hand, you have the backup service which you can use to backup your computer.
The difference between Sync and Backup:
Backup:
Takes a copy of the file and uploads it to their servers for safekeeping. You can get your files back at any time if you accidentally delete or lose a file by downloading from the Control Panel on the web app or restoring via the desktop application.
Sync:
Allows you to sync the same files between multiple computers, syncing mirrors a folder on one computer to another.
Plan
Pricing
Sync/Cloud Storage
Backup Storage
Free
Free
15 MB
15 GB
Home
€10.43 / month

€7.43 / month (yearly)

1 GB
75 GB
Premium
€11.93 / month

€8.93 / month (yearly)

1 GB
250 GB
Ultimate
€14.93 / month

€11.93 / month (yearly)

1 GB
1000 GB
In addition to those four major plans they're also offering these features: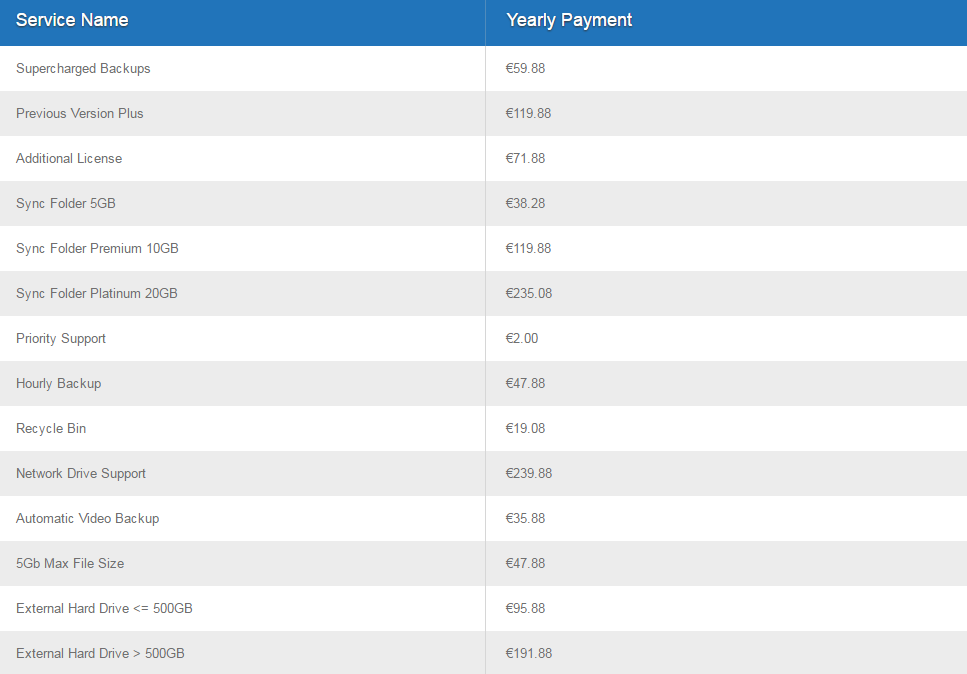 Features explained:
Supercharged Backups: Supercharged backups, this upgrade will decrease the backup time of your queued files.
Additional License: If you would like to backup multiple computers, you will have to buy a permit for each one of them. The first license is for free. You can also transfer licenses between computers.
Automatic Video Backup: Automatic video backup, no more having to select your video files manually.
Hourly Backup: Hourly Backup, if once a day isn't a regular enough backup for the user, then this upgrade is a must. This upgrade automatically backs up any changes made to your files within an hour.
Recycle Bin: Accidentally deleted a file you need back urgently? With this upgrade, users can quickly restore files which they have removed from their backup.
Previous Versions Plus: Plus version of Previous Versions gives the user unlimited access to their file history. They store every version of each file for the account for as long as the user is with them. So if you want to retrieve something you did a year ago, that won't be a problem.
External Drive under 500GB / External Drive over 500GB: External hard drive, allows external drives less/more than 500GB in the capacity that are attached to the computer to be backed up.
JustCloud is more of a backup service than cloud storage, but it can be used for both purposes. Read more about pricing & plans. It's certainly not a cheap cloud storage which is why I would skip if you want to save some cash.
---
Who is it for ?
JustCloud is more of a backup service than cloud storage, but it can be used for both purposes. Their prices are quite absurd and aren't competitive with the rest of the market. JustCloud has started off their journey with a bad reputation a few years back, and it seems that they haven't done anything to improve that.
The desktop application is available for Windows, Mac and Linux users.
I advise you to find a better service than JustCloud, which you can find here. If you're searching for a cloud backup solution then JustCloud isn't for you either.
There is also a bunch of negative reviews on JustCloud, one of them can be found here.
---
Ease of use
Unlike many other cloud services, JustCloud isn't that easy to use. I wouldn't advise a beginner or a non-techy person to start with it. You can try, but you will run into many problems, not knowing how to face them. If you're new to cloud storage try pCloud. The interface itself looks alright and feels responsive to your commands.
---
File backup
JustCloud allows you to back up your files to their servers. Once you install your client, you get to choose which folders you would like to backup, and the process runs in the background every day. Backup is being updated once per day unless you subscribe to their "Hourly Backup" feature which does exactly what it says.
I've achieved a maximum upload speed of 0.15 Mbps while my internet provider offers a maximum of 4 Mbps. They're saying that their upload/download speeds are unlimited, yet they weren't able to explain why is the upload speed so slow. The bottom line is, they need to improve their upload speeds if they wish to compete with other providers.
Once you don't need the files backed up anymore, you can remove them. You will have to wait for 24 hours for them to get deleted, which I find very time-consuming and annoying at times.
They're also offering a "SuperCharged Backups" feature that eliminates the server traffic and reduces the CPU usage as well as connects to a server with less load which ideally makes the backup faster. However, this is a feature that should already come with the payable plans, not an additional 60€ per year.
This is the software that you can download to your computer in order to back it up. It's modern and responsive, however not as useful as the solutions that for example pCloud or Dropbox offer.
---
File syncing
JustCloud offers a very limited file syncing solution. Their software doesn't create an imaginary drive like in many other cloud storages. Instead, you can access the folder with their client. You get up to 15 MB of space as a free user and 1 GB if you decide to go for one of their plans. You can also upgrade that up to 20 GB, however, the prices are just uncompetitive and you would be better off going to some other cloud service.
Maximum file size that you can upload is 1 GB. You can increase that to 5 GB by subscribing to their additional feature which costs 48.88€ per year.
You can upload files to your sync folder by clicking on the upload button or just dragging them inside.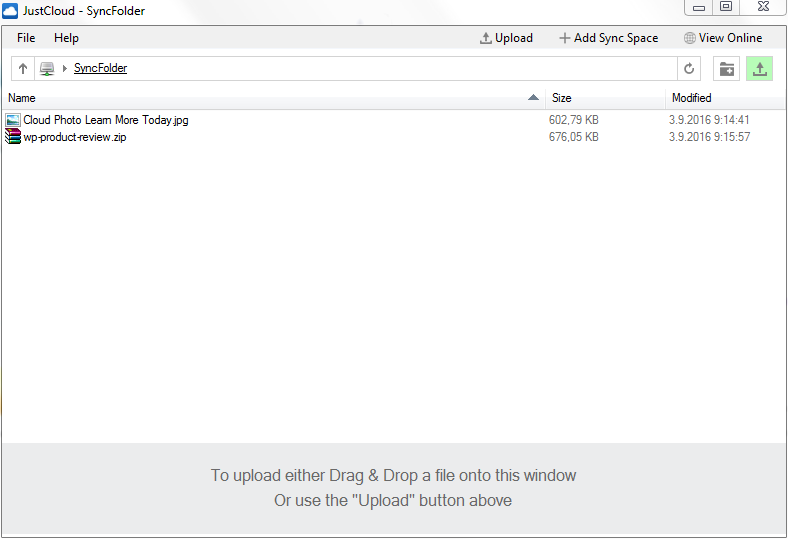 ---
File sharing
You can share your files by e-mail or by creating a link, which you can then share with whoever you want. The link can also be protected with a password, making it accessible to only those who have it.
The person you're sharing the files with doesn't have to be a JustCloud user.
---
Retrieving files
File retrieving: Whenever you accidentally delete any files, Recycle Bin is the only add-on that enables you to retrieve them quickly. Without this add-on, you can not recover deleted files. Recycle Bin stores deleted files for 30 days.
File versioning: JustCloud saves only seven previous versions of files (paid users only). If you would like to have unlimited versions of your data you will have to subscribe to the additional feature "Previous Version Plus". File versions are then saved indefinitely.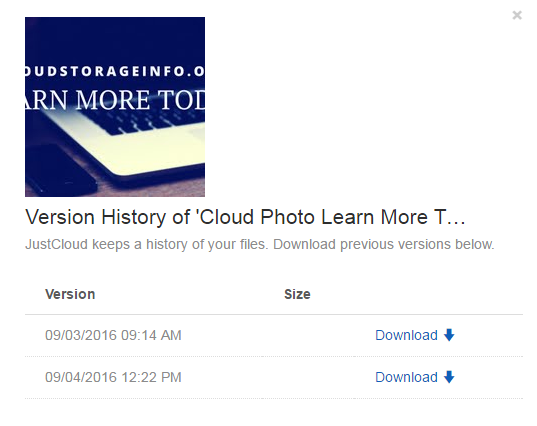 ---
Security
JustCloud uses Google's servers to store all your data. You might as well move to Google Drive since they offer a better service than JustCloud does. Check Google Drive's Review to see how it's protected. I definitely wouldn't trust JustCloud with my data which is why I recommend taking a look at our most secure cloud storage providers list.
---
Online support
JustCloud offers 24/7 customer support via e-mail. They usually respond to your e-mail within 4 hours, which is great.
Their FAQ base is very lacking though, so there is a high chance that you will need to contact them directly if you run into any questions. Their plans are also insufficiently explained.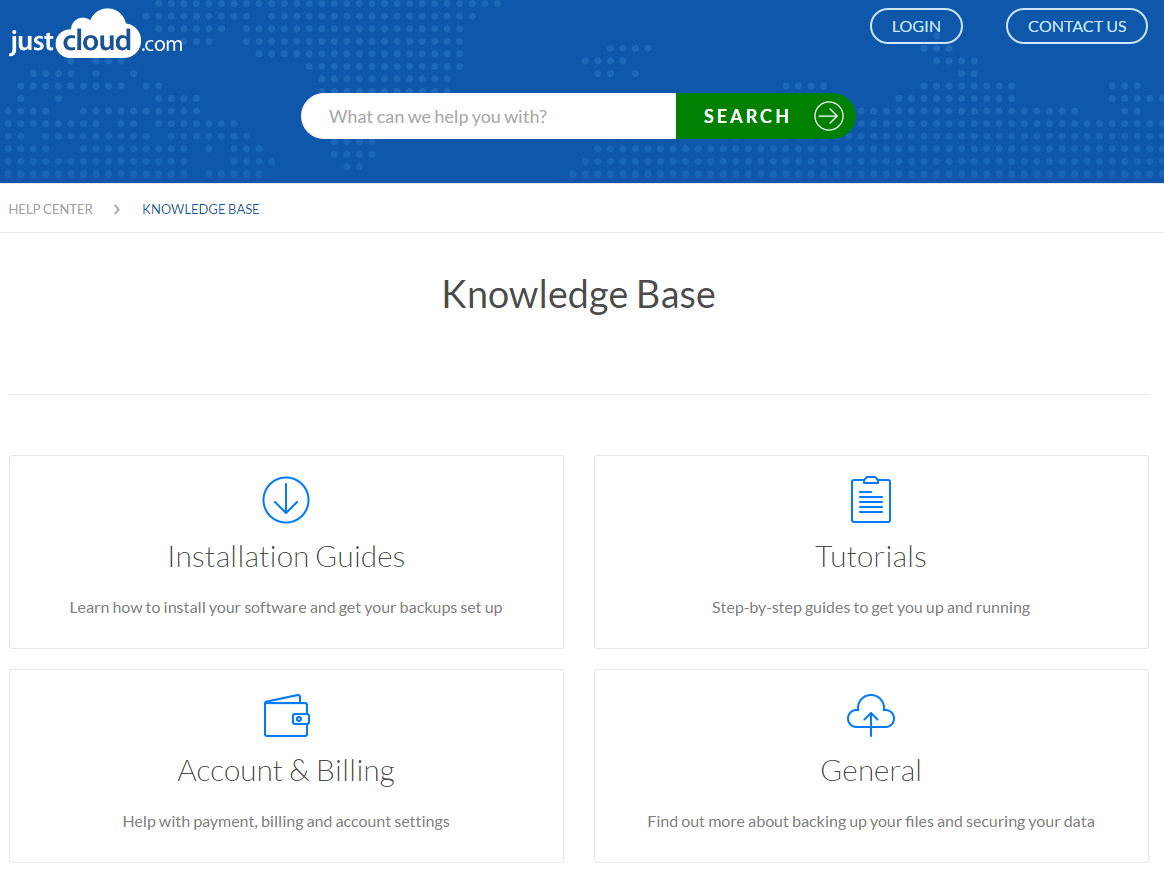 ---
Additional features
---
Mobile Application
You can download JustCloud app on the following systems: iOS, Android, Windows Phone, Blackberry and Kindle Fire.
The application feels very responsive and looks modern. You can access your sync folder from it or backup your photos, videos and music that you have on your mobile.
Other features: Sharing files, Passcode lock, setting the upload quality of photos and videos.
---
Conclusion
JustCloud is one of those services that have the potential to be really great, but they fail to provide competitive prices. If you would want the same features on JustCloud that you have on pCloud you would probably end up paying 20 times more. If you really want quality and cheap service I advise you to check my Top 10 Cloud Storage Providers List and pick the one that suits you the best.
JustCloud has a lot of work to do before it gets to a "One of the best services" status.
---
---
---
Hopefully, we've gone through everything that you wanted to know about JustCloud within this JustCloud review. If you have any unanswered questions feel free to ask them in the comments section down below and I'll answer them shortly!