Sync.com Cloud Storage – SCAM or LEGIT? – Review 2019
Sync.com
$8/month 2000 GB
Additional Features
8.5/10
Pros
Zero-Knowledge platform
Not subject to US Patriot Act
Locally encrypted files
30-day money back guarantee
Easy to use, modern platform
Great syncing, sharing options
Unlimited bandwidth
Cons
No live chat
No linux client
---
Sync.com Review – SCAM or LEGIT
Sync.com Review Summary: Sync is one of the cloud storages you should take into consideration if you're searching for one. It prides itself by it's "Zero-knowledge" easy to use and modern platform. They take good care of your privacy and ensure that your files are saved safely. Apart from that they offer great syncing and sharing options which get even better if you decide to upgrade to the Pro version. Their prices and plans are very competitive, one of the best on the market. The support is also quite good with an excellent FAQ base and quick response team.
It almost feels too good. However, everything has a downside as well. Their mobile application could be improved by a bit and the up/download speeds vary, depending on where you live.
All-in-all Sync.com is a great alternative to Dropbox and a good cloud storage solution.
Read the full Sync.com review down below.
---
Jump to:
Pricing & Plans
Who is it for ?
Ease of use
File syncing
File sharing
Retrieving files
Security
Online support
Additional features
Conclusion
---
Pricing & Plans
Sync.com cloud storage has rather special but attractive plans to offer. They don't have the option to pay monthly like many other cloud storages. Instead, you pay your premium membership annually. Having said that, you're given a 30-day money-back guarantee to request a refund if you're not satisfied with their service or you just don't need it anymore. When compared to other cloud storages their prices are relatively decent, pretty much the same as what pCloud offers.
The starter plan is free and gives you 5 GB of free cloud storage forever.
Referral program – You can increase your free storage by inviting friends to Sync.com with a referral link. Each time a friend joins you, you and the friend that joined you get an additional 1 GB of free storage.
The limit is 20 referrals per month, although you can apply to increase that to unlimited. Technically you could have a free 100 GB storage if you brought 95 friends.
You can read an extensive review of Sync.com Business and the pricing plans here.
All pricing plans must be paid annually and not monthly.
---
Starter Plan
Access to applications

Desktop (Windows and Mac)
Mobile (Android and iOS)
Web access

Sharing features

Send links to files and folders
Password-protected links
Your colleagues don't need a Sync account to download from your links

Collaboration tools
Backup and restore

Sync or restore to any computer
Real-time backup
Selectively sync folders
Deleted file recovery (30-day)
File version history (30-day)

Support
PRO Personal
PRO Personal includes all the Starter features and more:
Increased cloud storage to either 500 GB or 2000 GB
Advanced sharing

Expiry dates, notifications, stats and download limits on the sharing links you create
Unlimited bandwidth with no file size limits
Allow people to send files to you through Sync.com without having a Sync account

Advanced collaboration tools

Per-user, per folder access controls
User permissions such as read-only, read-write, invite, see others
Remote wipe

Statistics

Logs for all user activity, file changes and filters for logs

Advanced backup and restore

Deleted file recovery (unlimited)
File version history (unlimited)
Vault (cloud-only storage archive)

Support
---
Who is it for ?
Sync.com cloud storage is suitable for anyone really. It's easy to use, has its modern looks and works as it should. In addition to that your privacy is well protected, and so are your files. You can always stay with the Starter plan for free, but if you want that additional storage and advanced features you'll have to upgrade to a Pro plan. And keep in mind that you take 0 risks when doing that since they offer a 30-day money-back guarantee.
---
Ease of use
First of all, I must say that Sync.com doesn't use the classic interface, the design itself looks more futuristic, but still very simple to use. It's also very responsive to your commands and just runs smoothly in general. Once you get inside you'll need a minute or two to get used to it and see how it works. It certainly has some features that other cloud storages don't, which I will address later on in the review.
Download and upload speeds fluctuate depending on where you live so take into account that the servers are situated in Canada. If you live in Europe, you can expect to have a little slower down/upload speeds, but they're still acceptable to the average user.

You can now also use the drag&drop feature with Google Chrome, Firefox or Microsoft Edge. Simply drag the local folder to the browser and it will upload it automatically.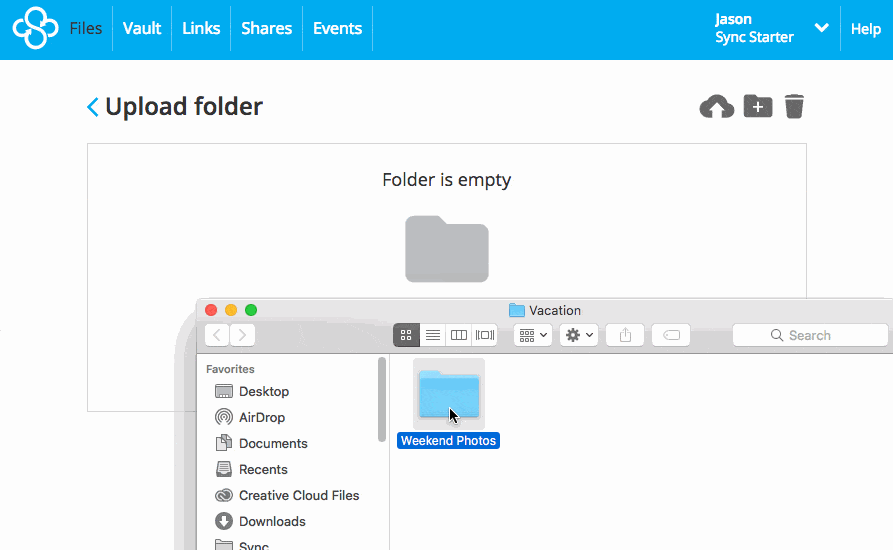 ---
File syncing
You can install Sync.com cloud application on your Windows or Mac. One feature that a lot of people requested was support for Linux on which I will quote Maxwell from Sync support: "A Linux client is still on our long-term roadmap." The date of arrival of this feature is still unknown to the public.
Once you install the client on your desktop, it creates an imaginary drive to which you can then store your files. Sync-ing speeds are quite fast and shouldn't be an issue.

Transfer speeds between you and the cloud are limited to 5 MB/s.
You can restrict speeds, bandwidth and decide which folders to sync in the Control Panel, which is always nice if you're doing something else at the same time and don't want Sync to throttle you down.
The files you sync across your devices are also available to you offline.
---
File sharing
You can share your files via two different methods. Either you create a link which you then send to your colleagues, or you create a shared folder, which is then implemented in your friend's Sync account.
The free users are limited to 50 GB per month in regards to sharing links bandwidth. Paid plans have no bandwidth limit.
Sync.com team finally upgraded their sharing feature. You can now download multiple files as a ZIP file and that way skip the long process of clicking the "Download" button for each file separately.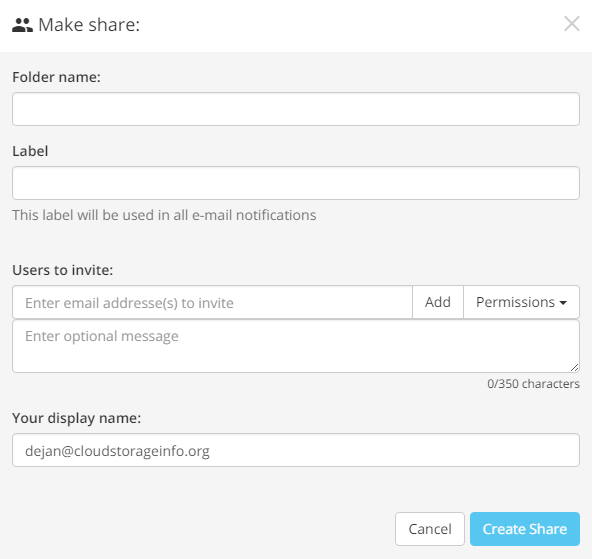 Starter Plan:
Send links to files and folders
Password-protected links
Your colleagues don't need a Sync account to download from your links
Pro Personal Plan:
Expiry dates, notifications, stats and download limits on the sharing links you create
Unlimited bandwidth with no file size limits
Allow people to send files to you through Sync.com without having a Sync account
---
Enhanced Privacy Link explained:
You can create links from the website or your desktop application. They also give you the option to create an Enhanced Privacy Link which is best explained by them:
"With enhanced privacy enabled, linked files are only ever decrypted locally, by the web browser – making them zero-knowledge. This feature is fully supported by Chrome (files up to 25GB), Firefox (files up to 500MB in size), Internet Explorer 10+ (files up to 500MB in size) and Microsoft Edge (files up to 500MB in size). This feature is not entirely supported by Safari and some mobile browsers.
While enabling zero-knowledge encryption on links is an excellent way to increase the privacy of a link, it also means that not everybody will be able to open the link. Recipients using Safari or mobile browsers may not be able to open the files contained within a link.
With enhanced privacy disabled, there are no file size limits, and virtually all web browsers (e.g. Safari) are fully supported, however, when the link is viewed by the recipient the data may be streamed through a Sync mem-cache to help with local decryption. Of course, the link is still fully encrypted in transit, and the decrypted link data and encryption keys are never stored by Sync."
---
Retrieving files
The retrieving feature is quite useful with Sync.com. You can recover your deleted files for 30 days in the Starter Plan. In the Pro Personal plan, your deleted files stay there forever. There is no specific folder where your deleted files are kept; they just become invisible when you delete them. If you want to retrieve a deleted file, you just click on the "Toggle deleted files" button and pick the one you wish to recover.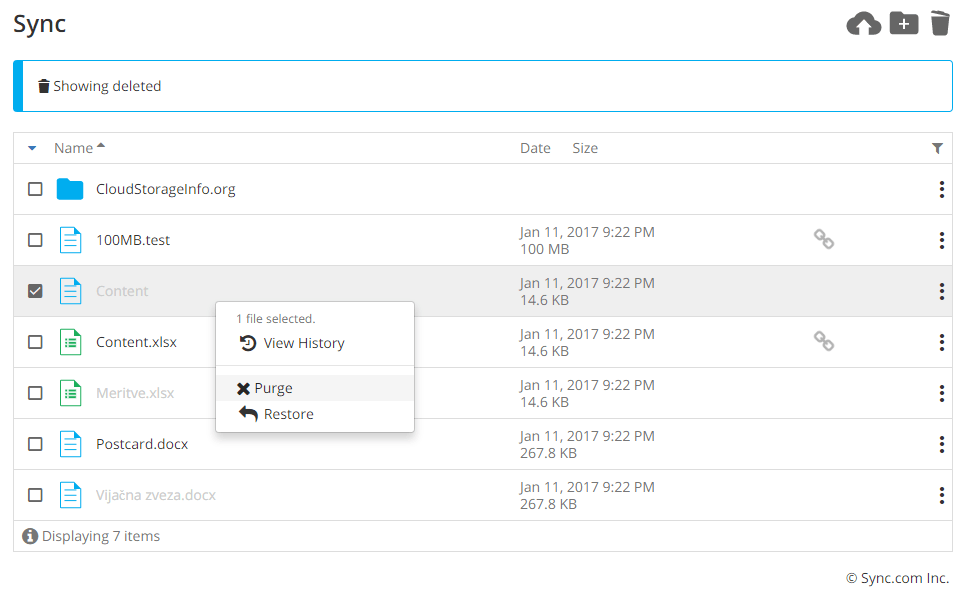 The same goes for the file versioning system. Versions of your files are stored for 30 days in the Starter and forever in the Pro Personal Plan.

---
Security
Sync.com uses "Zero-Knowledge" platform which guarantees your privacy by encrypting and decrypting your data client-side. Moreover, the encryption keys that are used to encrypt your files aren't in the hands of Sync.com, but only you. Even the password to your account is unknown to them.
The servers are located in Canada – Toronto and Ontario.
For the tech-savvies: Sync.com uses 2048 bit RSA, 256 bit AES, SSL and TLS encryption.
HIPAA Compliance:
Sync.com is also HIPAA compliant which means it's suitable for companies and firms that are dealing with sensitive patient information. Every institution that is dealing with such information must be part of a network or cloud that is HIPAA compliant.
Additional security:
To make your account even more secure, you can enable Password Hints, Two-Factor Authentication, Automatic Logout. In addition to that, your password can't be recovered by anyone, not even yourself. This can be bypassed by enabling Password Recovery in the settings before you lose it, or by changing your password in the desktop application.
Subpoena:
If Sync.com receives a subpoena, demanding the data stored on the server the following will happen: The content of the files that you store on our service is encrypted, and only you can decrypt it. Thus they will not be able to decrypt your data. If they're demanded to disclose your personal information such as your name, e-mail and mailing address they will do so. They will also do anything in their power, within legal boundaries, to inform you that your personal information has been disclosed.
---
Online support
Let me start off by saying that Sync.com has one of the best FAQ bases I have seen in a while. It's not about the quantity, it's more about the quality. All of the answers posted there are relevant and I couldn't help myself, but to praise that. I found the answers to nearly all of the questions I had and I think that's a great feature to have.
Sync, on the other hand, doesn't offer any live support, live chat or the ability to call them. The only way to get in contact with the support is through the mailing service. With that being said they do promise to answer to all of the emails as quickly as possible, giving an advantage to Pro and Business users. They responded to my inquiry the next working day.
---
Additional features
---
Vault
Vault is a part of your storage that you don't want to be synced across all your computers. Let us say, for example, you don't want something stored on your computer so that it doesn't take space, but you don't use it daily or even weekly. You just want those files to stay on the cloud, accessible everywhere, and yet invisible. Vault is a part of your storage that doesn't get synced across your devices and can only be accessed through your website or mobile application.
You could say: "Why not just disable syncing on one of the folders and that way make the same thing?" Well, I just think this makes it more organised and neat. A nice feature to have.
---
Mobile Application
You can install their Sync.com mobile app on Android and iOS systems.
I've tested the app myself for quite some time, but couldn't run into any major bugs. They have also recently upgraded their application with the much-needed features. You can now access your files directly in the application, share them through advanced links, access the vault and enable automatic camera upload for photos and videos. Setting files for offline use is also an option.
You can also play music, view images, videos and documents directly in the application. All-in-all they've done a very good job with the application.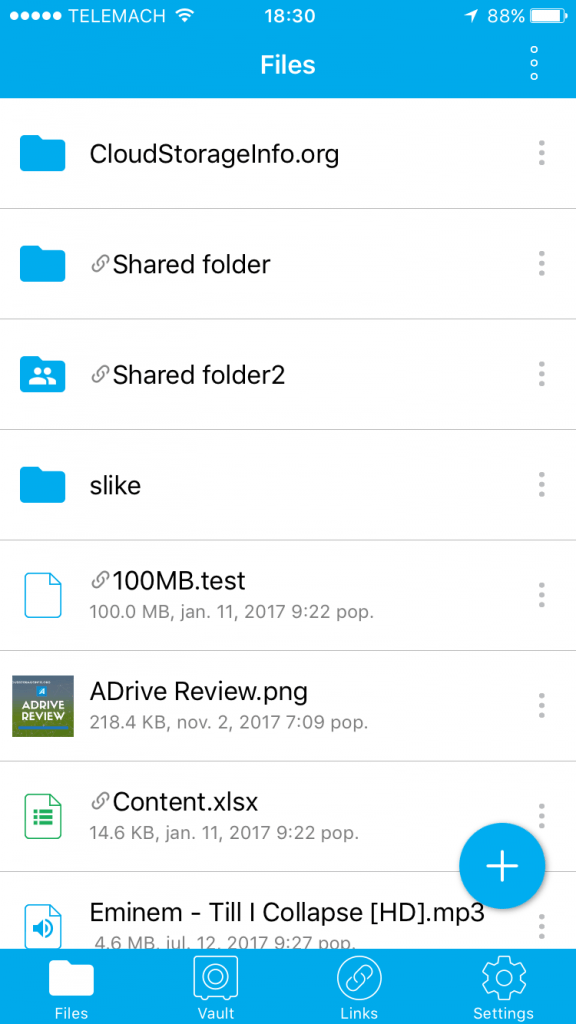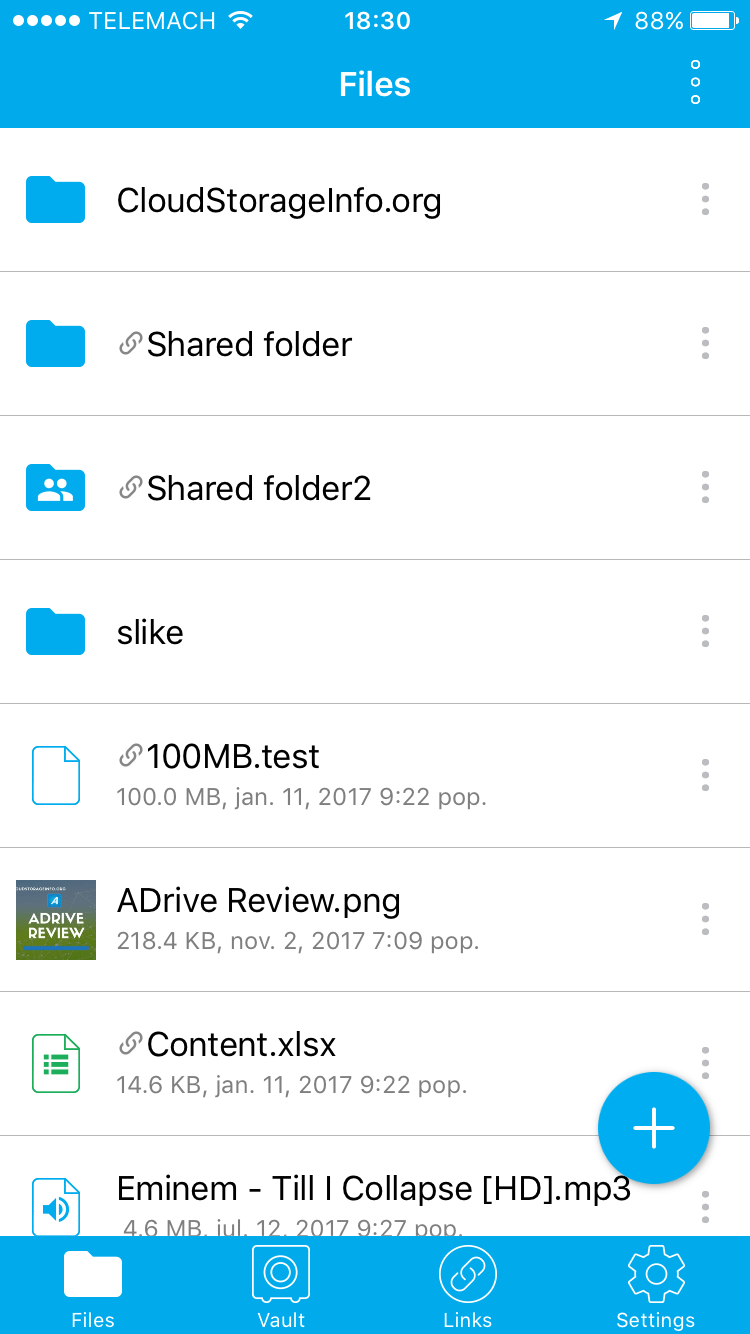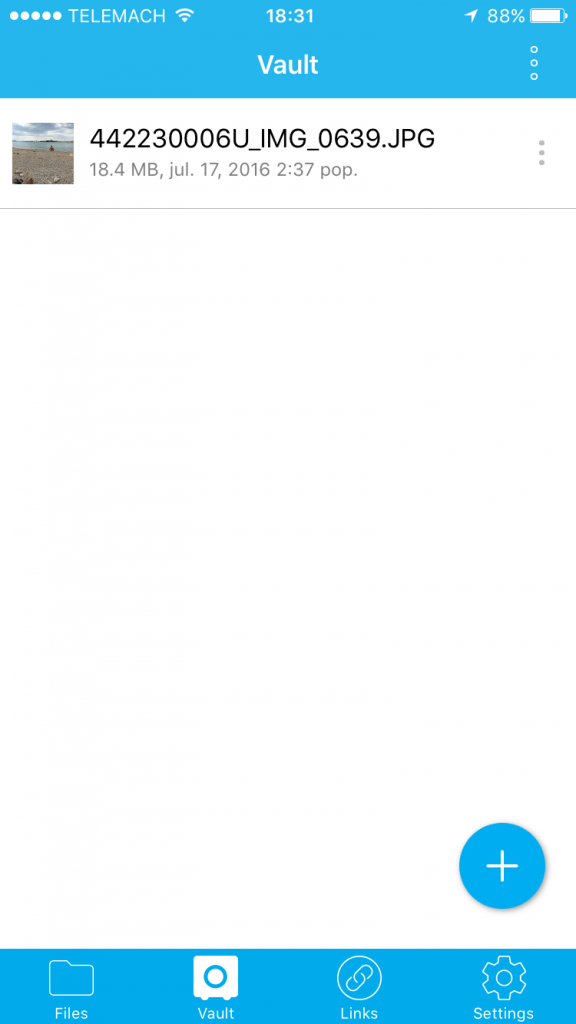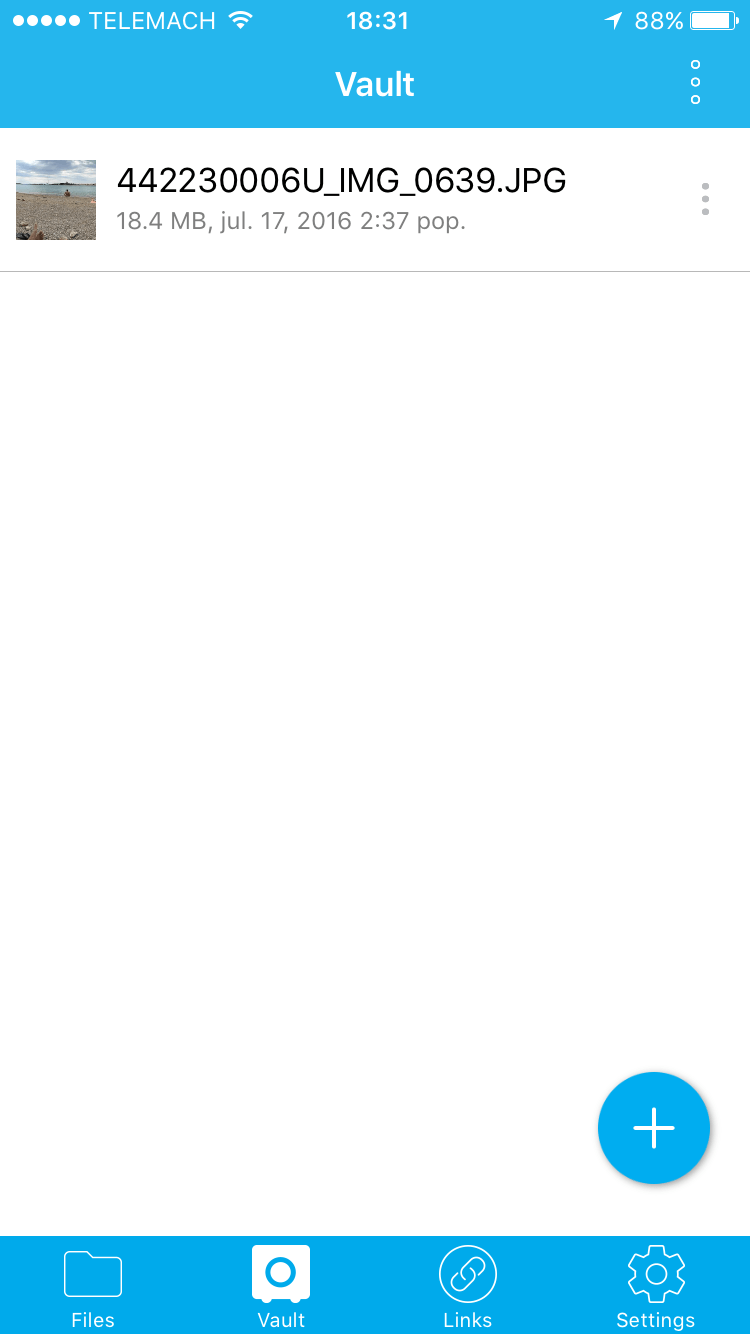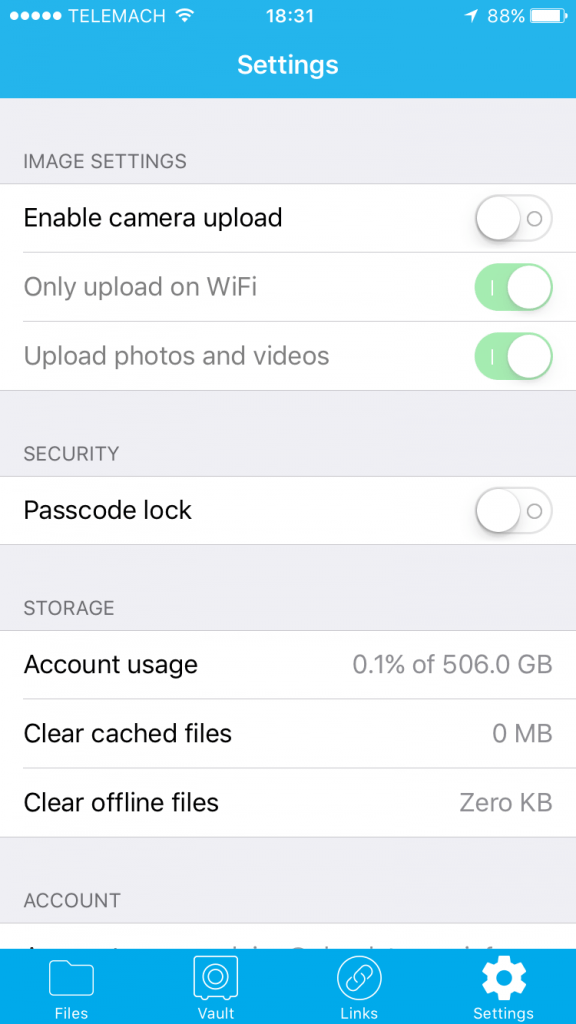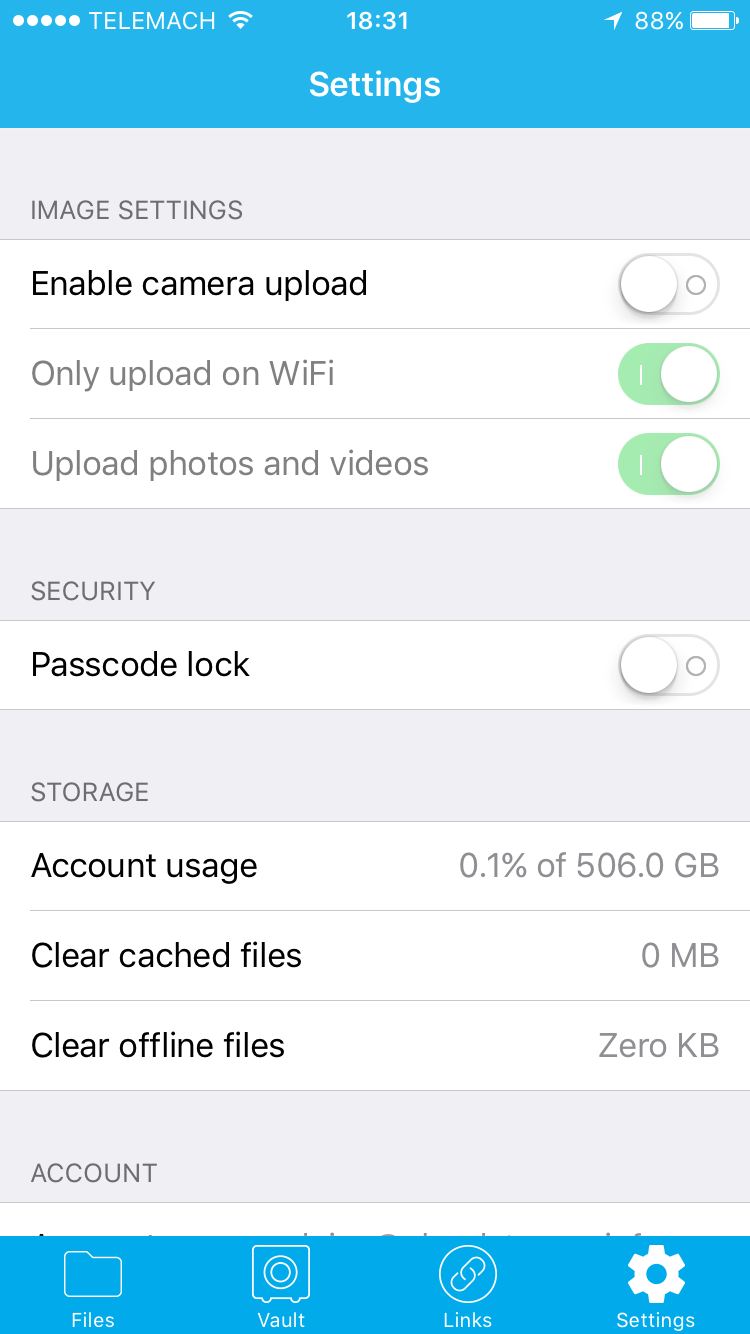 ---
Conclusion
"Zero-knowledge" easy to use modern platform, good syncing, sharing options and competitive prices make this cloud storage one of the better solutions out there. I am a huge fan of the zero-knowledge principle and this is one of the biggest things with this cloud storage. Security and privacy are important and Sync.com is very good with that. They have also recently upgraded their mobile apps and added even more features since I've made this review. The review is up to date, I am just trying to point out that they're actively working on improving their service which is always a good sign.
Anyways, I would definitely recommend this cloud storage to anyone out there. Give it a try for free and if needed upgrade later on. Have a good day!
---
---
Hopefully, we've gone through everything that you wanted to know about Sync.com within this Sync.com review. If you have any unanswered questions feel free to ask them in the comments section down below and I'll answer them shortly!