MediaFire
$5.00/month 1000 GB
Additional Features
4.5/10
Pros
Up to 50 GB of free storage
Cheap 1000 GB storage
Cons
Very slow interface
No desktop client
Unpolished mobile app
Slow up/download speeds
Unclear security protocol
No file versioning system
Most features walled behind Pro plan
---
MediaFire Review
MediaFire has 150 million users registered in its database. They offer up to 50 GB of free storage and a cheap 1000 GB plan when compared to other cloud services. I've found during this MediaFire review that the quality of the service they offer drastically reduced over the years. The interface is easy to use. However, it feels a bit slow. Their mobile application is not that well made as there are no options to download files to your mobile. Online support is also very lacking. It feels like MediaFire is falling behind in time.
Important: MediaFire Desktop application isn't available anymore, and there are no plans on bringing it back.
Read the full MediaFire review down below.
---
MediaFire Alternatives
| # | Service | Rating | Description | Paid Plan | Go To |
| --- | --- | --- | --- | --- | --- |
| 1 | pCloud | Read review | pCloud is a great cloud service that takes pride in offering the highest protection available (client-side encryption included) with amazing syncing solutions. It was also the first cloud storage to introduce innovative LIFETIME plans. It is easy to use and is one of the best cloud storage solutions on the market. 10 GB of free storage. | $4.99/month 500 GB | Go to pCloud |
| 2 | Sync.com | Read review | Sync.com is a Canadian cloud storage that utilizes the Zero-knowledge principle. It offers unparalleled privacy and security (via client-side encryption) with great syncing, sharing and file retrieving solutions. 5 GB of free storage. | $8/month 2000 GB | Go to Sync.com |
| 3 | Icedrive | Read review | Icedrive is a UK cloud storage with a main focus on the security of your files. They achieve that with Twofish client-side encryption which certainly raises a few eyebrows. A slick-looking minimalistic design combined with great mobile apps and interesting LIFETIME plans makes them an interesting choice! 10 GB of free storage. | €4.99/month 1000 GB | Go To Icedrive |
| 4 | MEGA | Read review | MEGA offers a secure cloud storage with client-side encryption. It has a modern/responsive interface. The online support is limited and down/upload speeds could be better. 15 GB of free storage. | €4.99/month 400 GB | Go to MEGA |
| 5 | Tresorit | Read review | Tresorit protects your files with Swiss privacy laws and client-side encryption. It has amazing syncing speeds, sharing options and excells in pretty much all other areas but takes the bullet with very expensive and uncompetitive prices. 3 GB of free storage. | €9.99/month 500 GB | Go to Tresorit |
---
Jump to:
Pricing & Plans
Who is it for?
Ease of use
File syncing
File sharing
Retrieving files
Security
Online support
Additional features
Conclusion
---
MediaFire Features
| | www.mediafire.com |
| --- | --- |
| Pricing & Plans | |
| Free storage | 10 GB |
| Free trial | |
| Lifetime plans | |
| Payment methods | Credit card |
| Ease of use | |
| Open in-browser | Images only |
| Edit in-browser | |
| Mobile apps | Android, iOS, Windows |
| WebDAV | Only via third-party integration |
| File syncing | |
| Supported systems | |
| Imaginary drive | |
| Sync folder | |
| Block-level file sync | |
| Selective sync | |
| Sync any folder | |
| File sharing | |
| Share download links | |
| Link password protection | |
| Link expiration dates | |
| Link branding | |
| Link download limits | |
| Link stats | |
| Share upload links | |
| Share folders | |
| Set folder permissions | |
| Retrieving files | |
| File versioning system | |
| Trash bin | |
| Rewind feature | |
| Security | |
| Server location | US |
| HIPAA Compliance | |
| Encryption protocol | Unknown |
| At-rest encryption | |
| In-transit encryption | |
| Client-side encryption | |
| Zero-knowledge privacy | |
| Two-factor authentication | |
| Online support | |
| FAQ base | |
| Forums | |
| E-mail support | |
| Live chat support | |
| Phone support | |
---
Pricing & Plans
MediaFire offers two plans that you can take. There's also a business plan with up to 100 TB of storage. However, I won't discuss that in this review.
The price for the Pro plan is very cheap when compared to other cloud services. Though it's also important to note that they wall off pretty much most of the features behind the Pro plan.
Plan
Pricing
Storage
Details
MediaFire Basic
Free
10 GB
The Basic version is free. However, you will be seeing a lot of ads on download and sharing pages.
MediaFire Pro
$5.00 / month

$3.75 / month (yearly plan)

1000 GB
1 TB of space with no ads and captcha codes to bother you. The size of the files you upload also increases to 20 GB.
Short-term vs. Long-term storage:
The free version of MediaFire includes short-term storage. That means that you will have to sign in once per year to keep your account. Not only that, if your files are not downloaded for a longer period they will be deleted. That, of course, won't be done without a warning – You will receive an email if your files get in trouble.
If you want long-term storage, you will have to upgrade to the Pro plan.
Bulk-downloads:
You can download only one file at a time as a Basic user. If you upgrade to Pro, you can download more files and folders at a time.
In case you're an owner of a Pro account, you receive 10 TB of bandwidth. If not enough bandwidth is available the download is going to be treated like a free account download – Meaning you will have to look at those ads again. You also lose access to bulk-downloads.

Expanding your free storage:
You can also increase your free cloud storage by a whopping 40 GB up to a total of 50 GB. That can be done by either sharing MediaFire on Facebook and Twitter, referring your friends and installing the free MediaFire mobile app. You get 2 GB for each friend you refer to MediaFire.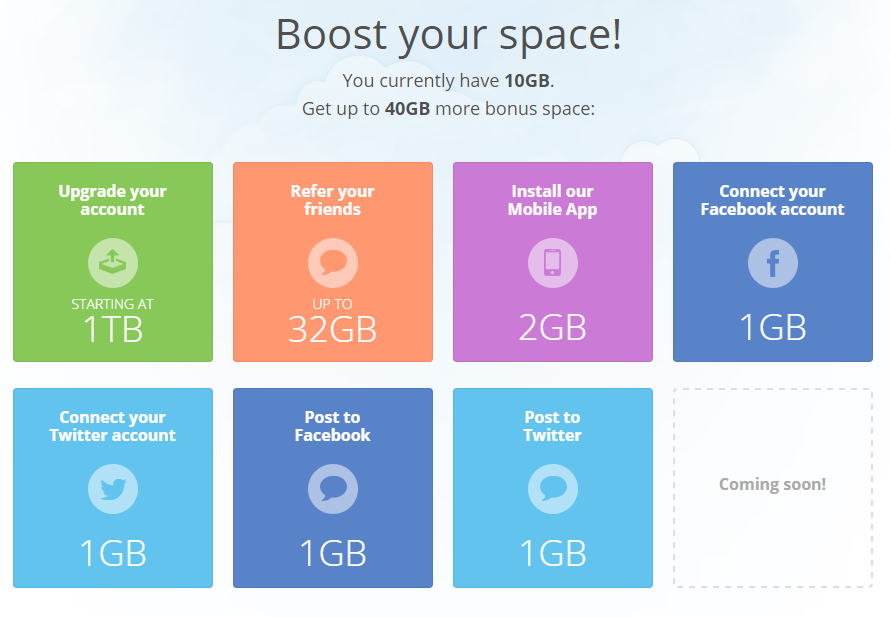 MediaFire offers no lifetime cloud storage plans. It does belong amongst the cheap cloud storage providers out there but the quality just isn't there.
---
Who is it for?
I would not recommend MediaFire to anyone at this stage of their lifespan. There was without a doubt a time when MediaFire took the cloud storage floor but those days are long gone. I believe it's better to invest a bit more money and be satisfied with what you have than be sorry afterwards. That's why I recommend you take a look at our Best Cloud Storage Providers list or our best cloud backup list if you're searching for a backup oriented service.
---
Ease of use
MediaFire is quite easy to use. The registration process is quick, and you can even sign in with Facebook or Twitter. Once you get in 5 startup folders are automatically generated for you. You can, of course, delete them or proceed to use them however you like. The interface looks modern and nice, however, doesn't feel as responsive as it should. It takes a couple of seconds before the page loads up once you click on a folder or a file you wish to access.
You can pick between two ways of displaying your files: The standard list or with thumbnails.

File previews & edits
You can't preview any PDF or Office documents directly from the browser with MediaFire which is quite counter-productive.
You also can't listen to music or watch videos. They do have the option to preview images but it's so slow that my image preview never loaded up.
---
File syncing
MediaFire at the moment doesn't offer a desktop application like many other cloud services. Their desktop app has been shut down on July 30th, 2016. They have decided to do that since they're developing a new application that will make sharing and storing your files even easier. You can read more about that in this article.
Important update: There are no plans for introducing a new desktop program.
In my eyes, that is a huge downside, which is the reason for poor grading.
You can still use your website to download and upload your files, which are then synced with all your devices. Download and upload speeds are also not the best.
The maximum size of a file that you can upload is 20 GB, which is well over the size I need for personal use. You have to be a Pro user for that. If you're a free user, the biggest file you can upload is 2 GB.

---
File sharing
Sharing your files with other people is quite easy. You can either share entire folders or just separate files. The person receiving the file doesn't have to be a member of MediaFire.
You can share a file by creating a link and sending that link to your friend via e-mail or social media like Facebook, Pinterest, Google+,… If you ever decide that you don't want those files shared anymore, you can just disable the link.
If you open the advanced sharing options, it creates an HTML or Forum embed code that you can post on your website, which I think is quite useful. Another useful option is that you can create a 1-time download link. This can be used out of security reasons, and I am surprised that other cloud services haven't looked at this option yet. This is the first cloud service I ran into that offers this option.
I did miss the option to lock your download links with passwords, which I believe is quite important.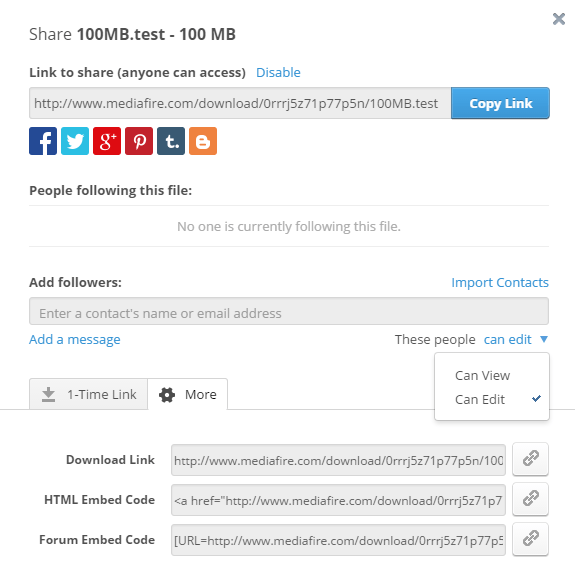 MediaFire did introduce the option to create upload links though which is accessible to Pro users only under the "FileDrop uploads" feature name.
---
Retrieving files
MediaFire currently doesn't offer any file versioning which is a big downside since it can be quite useful.
Files that you delete are moved to the Trash bin. You can retrieve them from there any time you want. Data will remain in the garbage bin permanently or until you delete them yourself.

---
Security
MediaFire for some reason chose not to provide any information about what security protocols they use. Now that is a big issue because I do believe that many of you will find that troubling. I am certainly not willing to trust my data to somebody that chooses not to tell me on how he protects it. You can find which is the most secure cloud storage here.
It's clear though that client-side encryption and zero-knowledge privacy are not part of the deal unlike with pCloud and Sync.com. Signing a BAA for health companies to ensure HIPAA compliance can also be forgotten. MediaFire is GDPR compliant though. It's also missing the much needed two-factor authentication.
---
Online support
MediaFire used to have a quite decent knowledge base. However, it's not being updated anymore and is not accessible anymore. They've made a new knowledge base that contains answers to about 15 basic questions which are quite disappointing. If you run into any problems, you will have to contact them through email since that is the only option that they offer.
They reply to emails in about 2-3 days which is not the best.
All in all, the online support at MediaFire is very limited, so don't count on it.
---
Additional features
---
MediaFire for Roku
Roku is a media streaming device that displays content from the internet on your TV – More information.
If you have a Roku device, you can stream whatever you have on your MediaFire cloud directly to your TV. You just upload the video to your PC and then watch it on television through Roku.
Although it does seem like a useful thing to have, there are easier ways of watching videos on your TV. Learn more about MediaFire Roku channel here.

---
Mobile Application
MediaFire app is available on iOS, Android, Windows Phone and Blackberry. You can use the apps to watch and edit your files that are saved to your cloud. For some reason, you can't download them directly to your mobile from the application itself, which is quite annoying at times. It almost feels like they're not your files anymore. You can share, move, rename and trash the files. It allows you to watch videos and listen to music directly from the application as well.
You can also upload photos from the mobile to the cloud automatically to keep them safe.
The applications received a lot of negative reviews due to the inability to download files and other bugs and crashes. It's not the best option out there.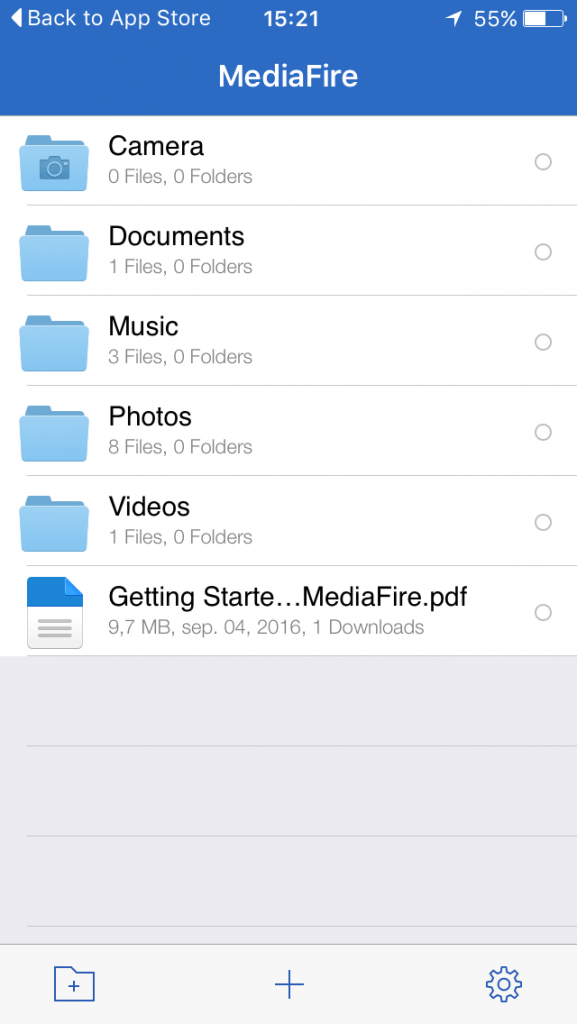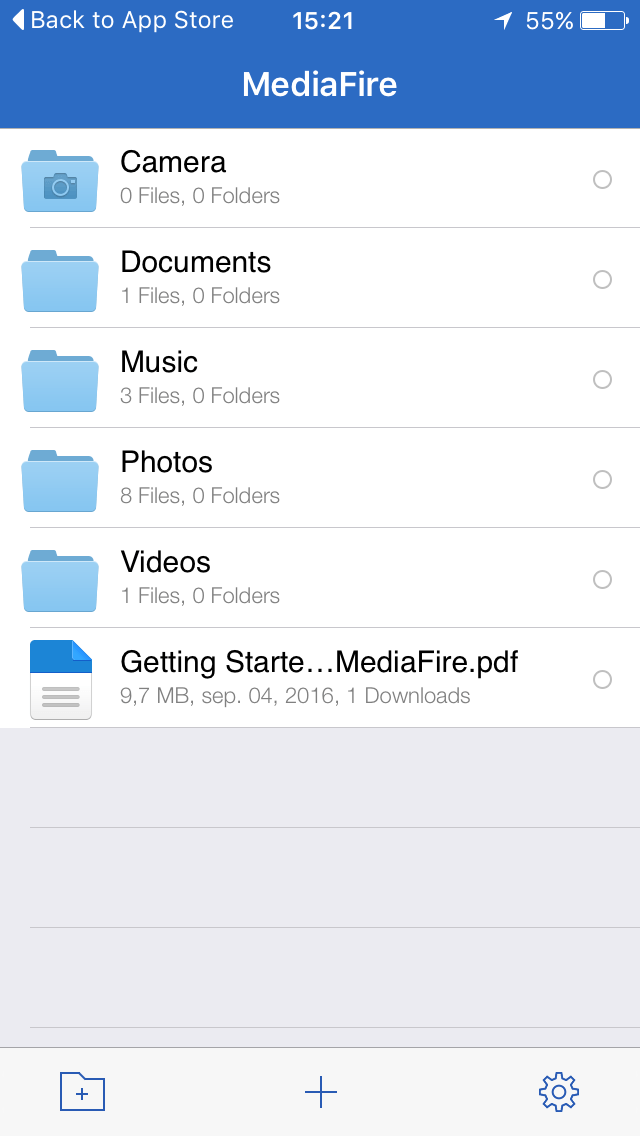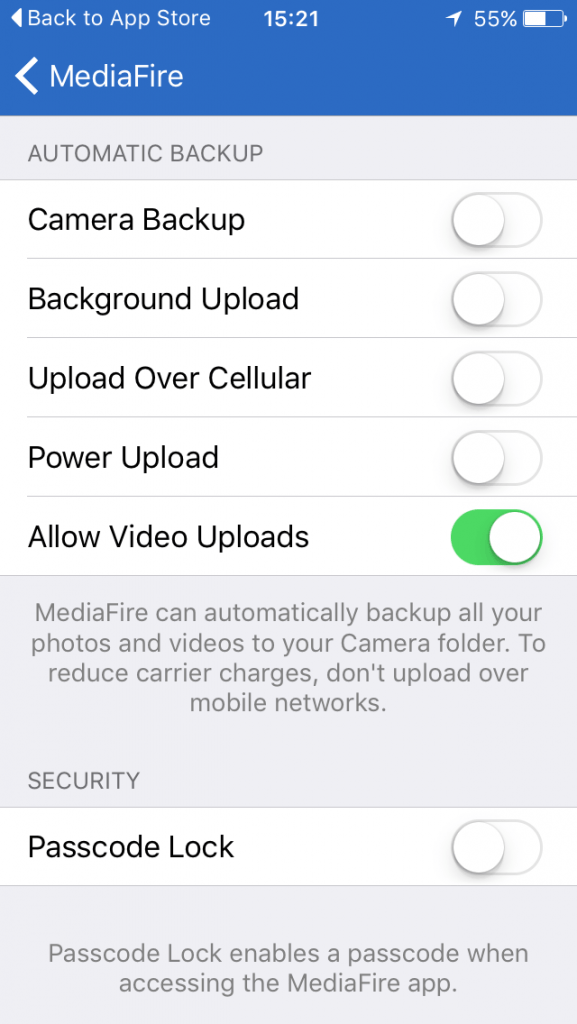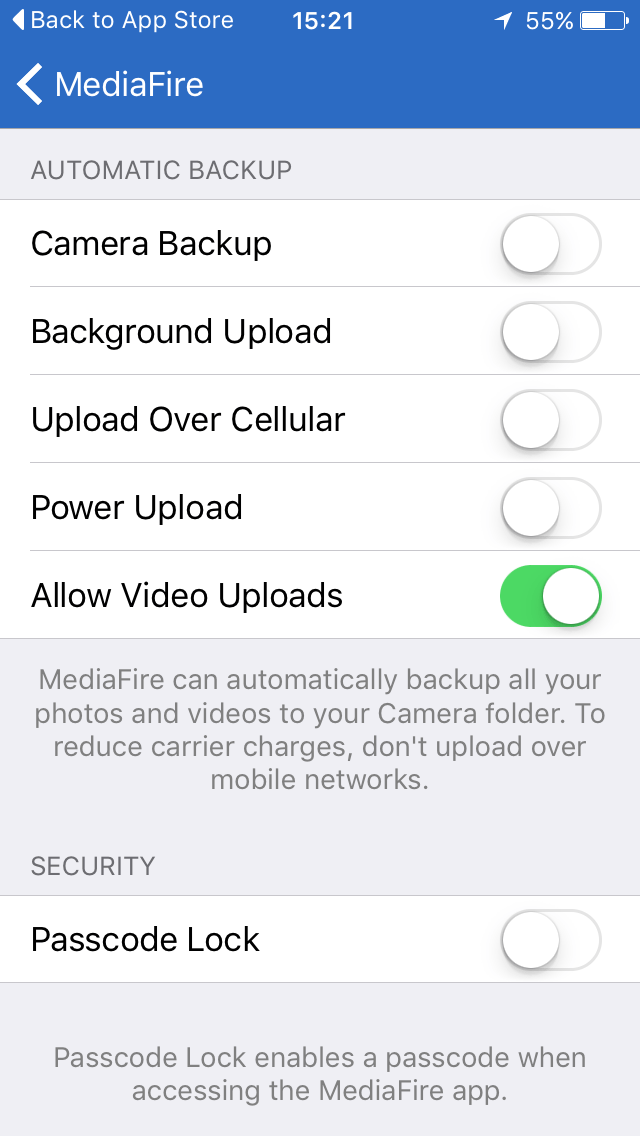 ---
Conclusion
Hopefully, we've gone through all the little things that they offer within this MediaFire review. In my experience, it is better to pay more for quality service and not be disappointed afterwards. If you pick MediaFire, I can't give you a guarantee that you won't run into any problems, as you probably will. My advice to you is – explore your options a bit more and enjoy the benefits that come with better cloud storages. I mean you pretty much need a desktop client nowadays. The fact that they don't have it is a massive turn off for me. Check which cloud storage is the best here.
---
---
Hopefully, we've gone through everything that you wanted to know about MediaFire within this MediaFire review. If you have any unanswered questions feel free to ask them in the comments section down below and I'll answer them shortly!