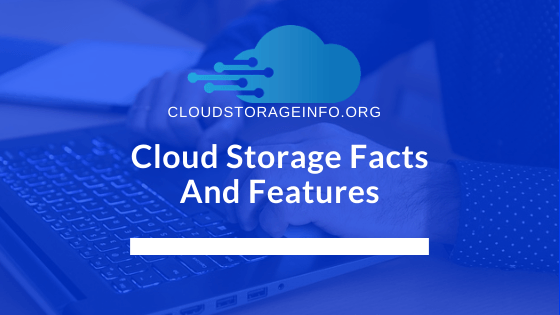 ---
Cloud Storage Facts And Features
Today we'll be discussing some cloud storage facts and features in general. I've decided to do this since it can and hopefully will be beneficial to a lot of you.
Now we know what cloud storage is and what are all the advantages of using it (if you haven't read it yet click here). But there are some terms in this industry that might be unknown to some of you. Various cloud storage providers offer different features that can be more or less beneficial to the user. I don't have a favourite regarding this since they're all different and offer distinctive features. However, some general terms are present in each cloud storage service. Here's the list.
---
Cloud Storage Features explained:
Hosting companies often offer multiple features, while saving data to the "cloud" remains the "main" thing.
---
Synchronisation (File syncing) – What this essentially means is that whatever you save to your cloud on one device will be accessible on any other device as well. Whether it is videos, images, documents or music – it can all be placed into the cloud. Most of the hosting companies already have this implemented, because it just represents the very essence of cloud storage. Upload your data at work and access it when you come home. They also create a desktop version, which looks like an imaginary drive to which you can store your files. It's much more easy to use the desktop version instead of logging into your account in your browser over and over again. It came as a surprise to me when I first saw it. It just seemed such a fascinating way to store your data. It's just there, waiting for you like it was on your computer. Amazing. Here's an example of how that looks.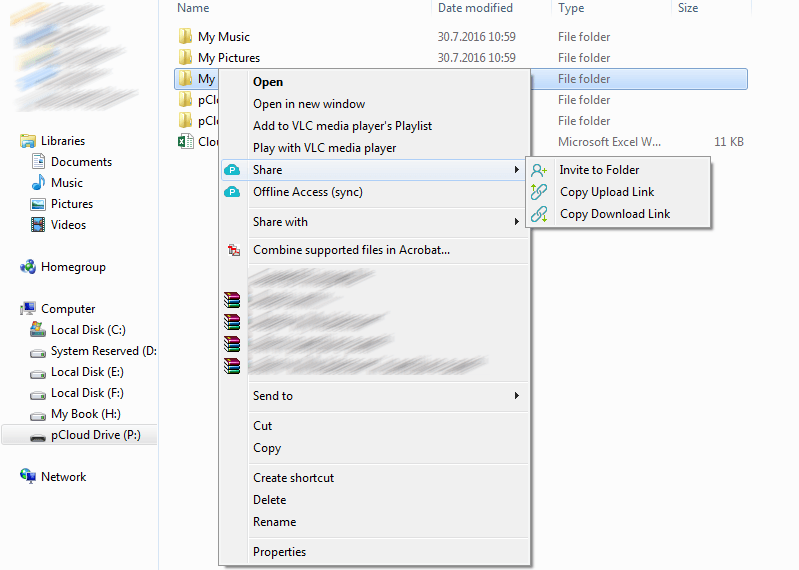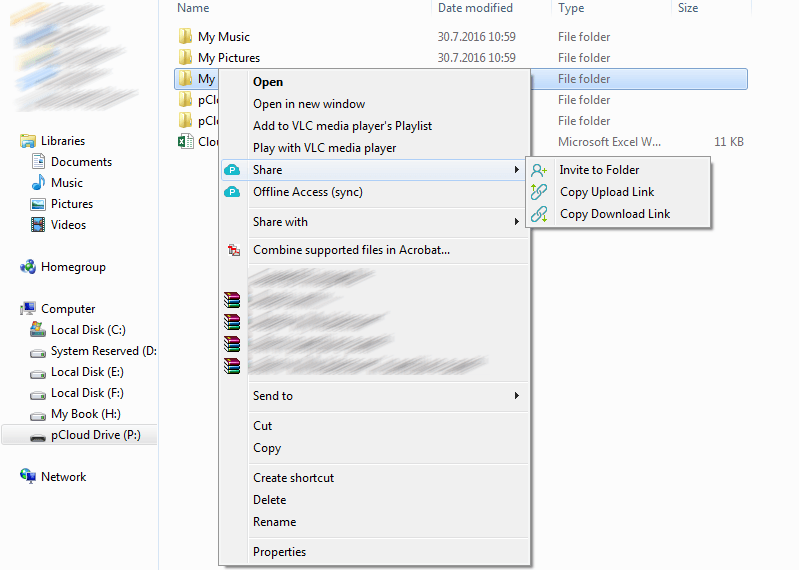 One of our readers remembered me of something that we used to, and some are still using today – Sending an e-mail full of files to yourself. This is something you won't have to do anymore with this feature enabled. You upload it on one end, and it shows up on the other.
pCloud, Sync.com and Dropbox provide excellent synchronisation.
---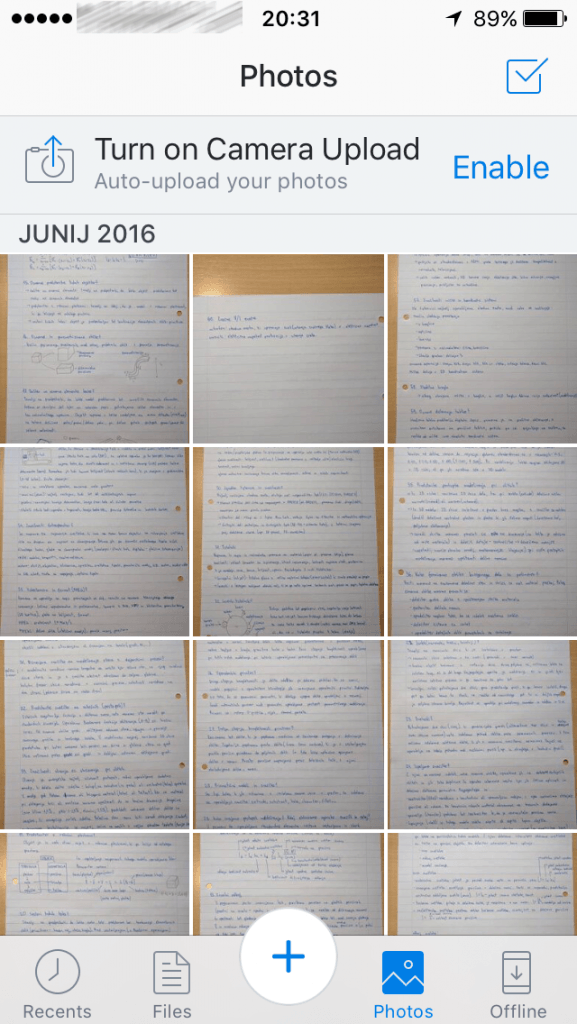 Backup – While cloud storage requires you to save your data online manually, the backup feature enables you something better. It allows your data to be seamlessly transferred to the cloud for safe keeping. This comes very handily in case your hard drive breaks, or you lose your smartphone/notebook. Another way of using this is by downloading backup applications on your mobile, which are many times provided by the cloud storage companies already. You can just choose to store your photos in your backup folder, deleting the photos saved on the phone and that way creating an unlimited storage.
Multiple cloud storage services don't even have the backup option available. On the other hand, there are a lot of them that focus precisely on backing up your files.
Here's an example of the backup feature on an iPhone.
---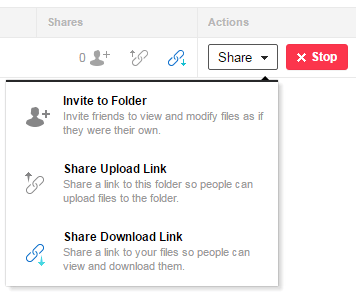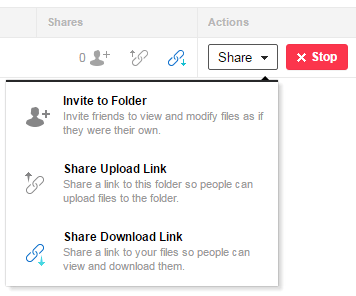 Share files – The feature already explains itself. Are you working on a school assignment with your friends or a project with your colleagues? Use the various options through which you can share your files. You can add your folders into joined use, or you can just create download links that you can then share with your friends. I guess this is one of the features that you don't have on your hardware storage. To be honest, I can't imagine working without cloud storage support. In the last few years, it's become such a widely spread way to store your data, in particular between the businesses. Not to mention the personal users that are counted in hundreds of millions, but we'll get to that later.
---
Object versioning – Cloud storage allows you to enable this feature. Once you enable this, a history of modifications of files is kept for all objects. This allows you to retrieve older versions of your files or even get your deleted files back. Every object has some properties attached to it which make it easier for you to recognise it. When you delete an object that has this feature enabled, a copy of the object is automatically saved with properties that will help you identify it. I guess I should warn you that not all of the service providers offer this feature in the free plans. Moreover, some don't even have it in their payable plans.
---
Retrieving files – It's a similar thing to object versioning. What some/most cloud services offer either by default or by installing various add-ons is for you to retrieve the files you deleted. Some have a time limit in which you can recover the data while the others store them indefinitely. They're usually stored in a "trash" or "deleted files" folder. If you can't find it, that means it's probably not available on your current plan. You can contact me, and I will be glad to help you by doing the research instead of you or just providing you with the information straight from my head. You can also check my reviews section for more information. Here's an example of it.

---
3rd party programs – One example of this is Box. It has 3rd party programs like Microsoft Word, Powerpoint, Google Documents, Google sheets and other integrated within the program itself. It's one parameter that you should look at when deciding on what cloud storage to use. Not many cloud services have 3rd party applications integrated.
---
Cloud Storage Facts
---
Popularity
Cloud storage is becoming one of the most favorite ways to save your data.
Security measures
3/4 of service providers intend to increase or have increased their budget for the safety measures in 2016.
The number of users is going through the roof
There are about 1600 millions of cloud storage personal users worldwide, which equals to 1,6 billion.
Global cloud service revenue from storage services
Global cloud service revenue from storage services is about 4 billion in U.S. dollars.
Mobile data traffic
A whopping 85% of data is transferred through cloud services.
Lifetime cloud storage plans
Data has been retrieved from Statista.com. Check it out for more extensive information.
---
---
---
What do you think of the above cloud storage facts and features? Let me know down below!