2.7/5
★★★✩✩
PRICING & PLANS


★★★★★★★★✩✩

8.0/10
EASE OF USE


★★★★★★★★✩✩

7.5/10
FILE SYNCING


★★★★★★★★✩✩

8.0/10
FILE SHARING


★★★★✩✩✩✩✩✩

4.0/10
RETRIEVING FILES


★★★★✩✩✩✩✩✩

4.0/10
SECURITY


★★★✩✩✩✩✩✩✩

3.0/10
SUPPORT


★★★★✩✩✩✩✩✩

4.0/10
ADDITIONAL FEATURES


★★★★★✩✩✩✩✩

5.0/10
PROS
Good variety of plans
Well made mobile application
Unlimited photo storage for Amazon Prime
CONS
Plenty of bugs
Limited sharing options
No versioning system
Security and privacy unknown
Very limited support
---
Amazon Drive Review
Amazon Drive Review – After extensive testing and research of the Amazon cloud, I've come to the conclusion that there are plenty of features missing and that this service should perhaps still be in beta. Amazon pricing & plans are slightly more expensive when compared with other top cloud storages, however, not justly. There are plenty of bugs lying around, sharing options are limited and there's no versioning system. The mobile application is well made but that's pretty much everything that's positive about this cloud service. I would recommend you to check our Best Cloud Storage Providers List and find the cloud service best suited for you.
Read the full Amazon Drive review down below.
---
Amazon Drive Alternatives
pCloud
4.6/5


★★★★★

5-10 000 GB
10 GB Free

❌Sync Folder
✔️Selective Sync
✔️Link Sharing
✔️Zero Knowledge


Read Review
Sync.com
4.6/5


★★★★★

5-6000 GB
5 GB Free

✔️Sync Folder
✔️Selective Sync
✔️Link Sharing
✔️Zero Knowledge


Read Review
Icedrive
4.5/5


★★★★★

10-10 000 GB
10 GB Free

✔️Sync Folder
❌Selective Sync
✔️Link Sharing
✔️Zero Knowledge


Read Review
Cubbit
4.5/5


★★★★★

1-8000 GB
1 GB Free

✔️Sync Folder
✔️Selective Sync
✔️Link Sharing
✔️Zero Knowledge


Read Review
Mega
4.2/5


★★★★✩

15-16000 GB
15 GB Free

✔️Sync Folder
✔️Selective Sync
✔️Link Sharing
✔️Zero Knowledge


Read Review
---
Jump to:
Pricing & Plans
Who is it for?
Ease of use
File syncing
File sharing
Retrieving files
Security
Online support
Additional features
Conclusion
---
Amazon Drive Features
Pricing & Plans
Free storage
5 GB
Free trial
Lifetime plans
Payment methods
Credit card
Ease of use
Open in-browser
PDF, Word, Videos, Images
Edit in-browser
Mobile apps
Android, iOS
WebDAV
File syncing
Supported systems
Windows, macOS
Imaginary drive

An imaginary drive allows you to access all of the files that are in the cloud directly from your desktop via an application without taking up local storage space.

Sync folder

A sync folder allows you to access all of the files that are in the cloud directly from your desktop via an application. Since it synchronises the files to the device, it takes up local storage space.

Block-level file sync
Selective sync

Selective sync allows you to choose which folders that are located in the cloud should and shouldn't be synchronised to your device.

Sync any folder

The sync any folder feature allows you to choose any local folder and synchronise it to the cloud without any further actions.

File sharing
Share download links
Link password protection
Link expiration dates
Link branding
Link download limits
Link stats
Share upload links
Share folders
Set folder permissions
Retrieving files
File versioning system
Trash bin
Rewind feature

The rewind feature allows you to go back in time and inspect your cloud storage as it was in that moment. This enables easy retrieval of files in various scenarios such as malware infection.

Security
Server location
US
HIPAA Compliance
Encryption protocol
Unknown
At-rest encryption
In-transit encryption
Client-side encryption
Zero-knowledge privacy
Two-factor authentication
Online support
FAQ base
Forums
E-mail support
Live chat support
Phone support
---
Pricing & Plans
Amazon Drive has a very simple type of pricing & plans. You're given all of the features as a free user and if you want more storage you have to upgrade to the plan most suitable to your needs.
The free plan includes 5 GB of free cloud storage which you receive forever.
When we compare the prices with other cloud storages they are slightly more expensive than Sync.com or pCloud. That slight difference becomes larger and larger if you wish to go for more terabytes. Amazon Drive certainly doesn't come between the cheapest cloud storage providers.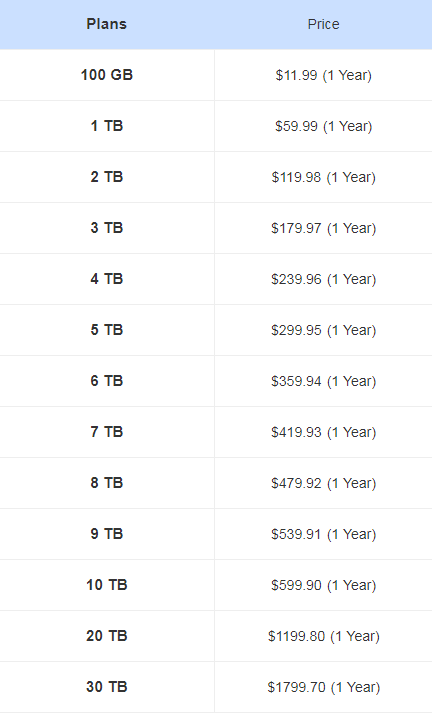 If you're part of Amazon Prime you also receive unlimited photo storage and 5 GB of storage for videos and other files.
Amazon Drive offers no lifetime cloud storage plans.
---
Who is it for?
I would recommend Amazon Drive only to those that are part of Amazon Prime which gets you unlimited cloud storage for your photos. Even then, you'll still feel that there are multiple features missing. I would recommend you to pick better cloud storage which you can find here.
---
Ease of use
The registration itself is very simple, there's no need to provide any bank details or anything of the sort. If you already own an Amazon account you'll be through it even faster. The interface itself feels responsive and has a modern feel to it though nothing special.

File previews & edits
Amazon Drive allows you to preview PDF and Word documents directly in the browser, however, the same won't be possible with other Office documents. Editing those documents is also out of the question.
You can also watch videos and preview images but can't listen to music directly in the browser.
---
File syncing
The Amazon Photos official application is available for Windows and macOS.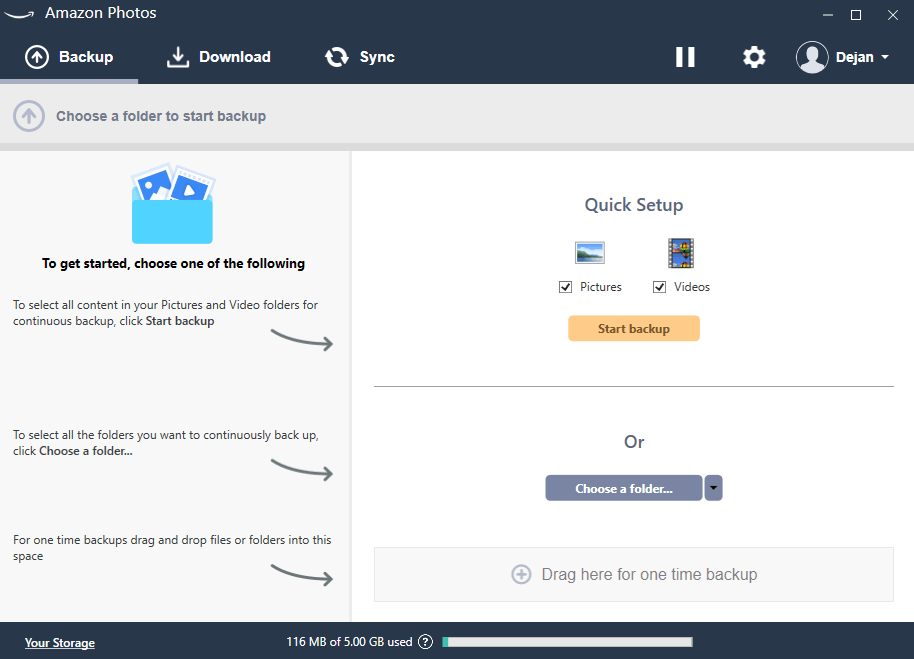 The primary focus of the application is to backup and upload your photos as it's stated in the name. You can also backup any folder on your computer which is a characteristic of the cloud backup services.
The "Download" tab enables you to download folders and files to a specific place on your computer without syncing them (one-time download).
You can also enable the "Sync" folder which mirrors all of your files in the cloud to your local storage as well. This is the standard feature all of us has come to expect from a decent cloud storage.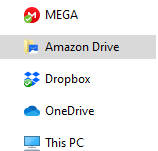 Selective Sync is also available. You can disable the synchronisation of certain folders that are in the cloud directly to your device. It is not possible to sync any folder on your computer though.
There's no limit to transfer speeds but you're able to limit them yourself via the application settings.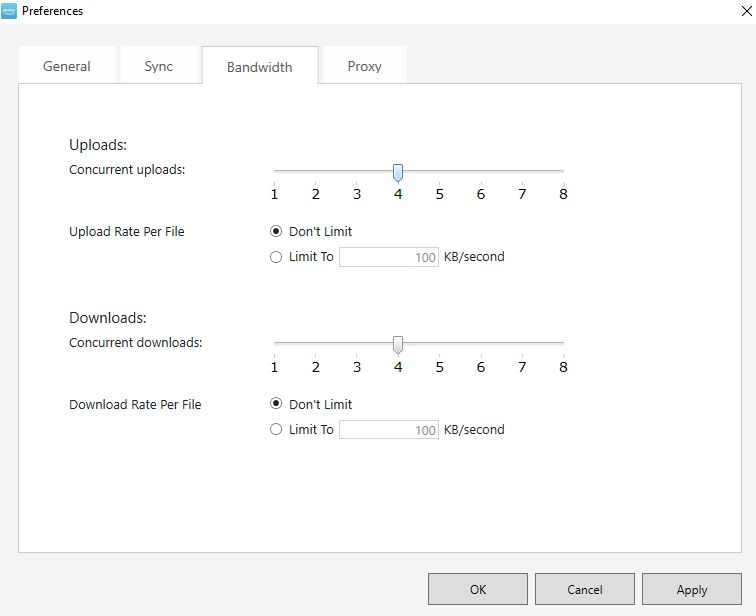 Amazon Drive also utilizes block-level sync which enables faster upload of files that need updating. When a file is uploaded, it gets separated into smaller pieces. Only the pieces that have changed then get uploaded. That reduces the time needed to upload files that have been updated.
---
File sharing
You're able to share your files with your friends or co-workers with email, social media or by creating a shareable link, which can also be cancelled at any point. Unfortunately, there are no additional options like password protection, time, download limits and so on. The sharing features are very limited and I wish they had more advanced options.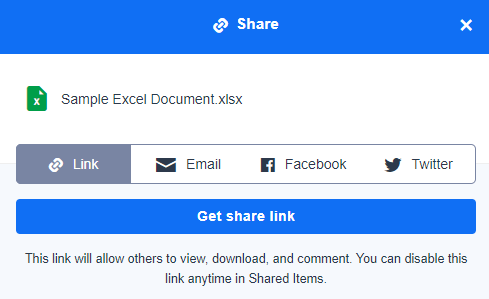 ---
Retrieving files
Versioning system is not available with Amazon Drive. That's a great feature to have which prevents the loss of overwritten files.
Deleted files are kept in a trash bin for 30 days, after which they're permanently deleted.

---
Security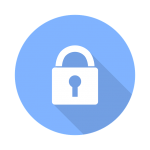 There's absolutely no information provided from Amazon regarding the safety of your files. We do know that they don't provide client-side encryption (unlike pCloud and Sync.com) and we don't really know what are their measures to ensure your privacy. The best way to protect your files nowadays is to protect them client-side with your own software or by joining a cloud service like pCloud or Sync.com which provides that for you.
Amazon's really a big question mark when we touch the security and privacy. If they did anything to ensure your safety they would surely publish it somewhere, which they didn't. A big minus for Amazon Drive within this topic.
We've decided to contact Amazon Drive support to check what encryption methods if any they use to protect our data. The responses were border-line confusing to say the least.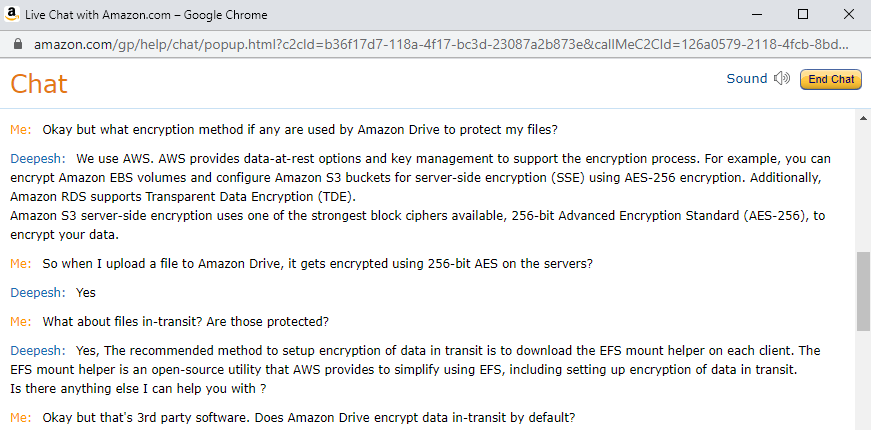 As displayed above the support agent clearly has a few pre-made answers to display when it comes to the security of files with Amazon Drive but we just wanted to find out how they encrypt the files if they encrypt them at all.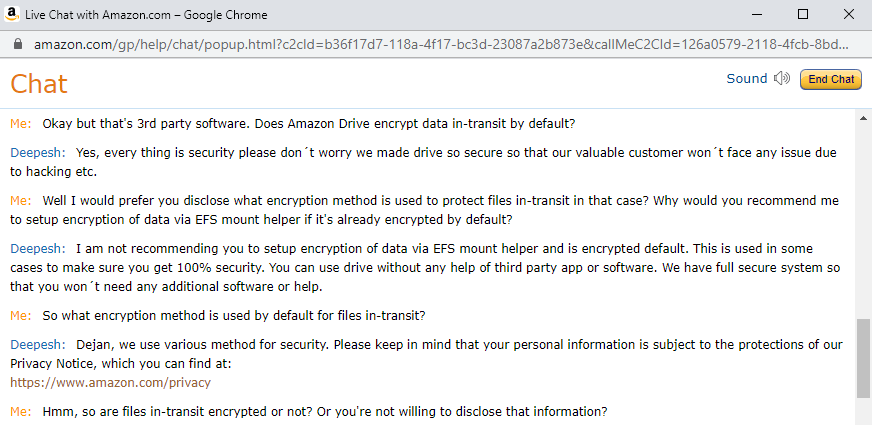 Trying to convience us that "every thing is security" isn't too reassuring either.

To sum up this whole live chat, the support agent stated that files are encrypted both while in-transit and while at-rest on their S3 servers. He claimed that they use 256-bit AES for encrypting files at-rest but didn't feel comfortable disclosing which encryption protocol they use for encrypting files in-transit – only saying that they use different methods which doesn't make much sense at all.
I am having a hard time believing anything he said, especially after reviewing other statements on the web in regards to Amazon Drive services. The fact that they don't disclose this information publicly anywhere worries me enough already not to trust them with my files without any client-side encryption. This makes Amazon Drive insecure and certainly doesn't qualify it amongst the most secure cloud storage providers.
You're able to use two-factor verification with Amazon accounts though.
---
Online support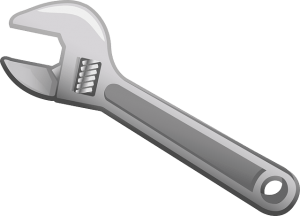 I wish I could say this is finally a topic at which Amazon Drive excels at, but that's not the case. You have quite limited options for support. There's a small FAQ base available to you which probably won't solve your problems. There's also no specific way to contact them. Amazon does offer email support and live chat in regards to their broader service so you can try your luck there if you have any issues. You can also leave them feedback, but that's not the same.
In our experience, the live chat agent was trying to be helpful but he either chose not to answer our questions directly, he didn't have the knowledge to answer them or he was just telling us false statements. In any case, Amazon should have provided better support to their users and be more upfront in regards to their features & security issues.
---
Additional features
---
Mobile Application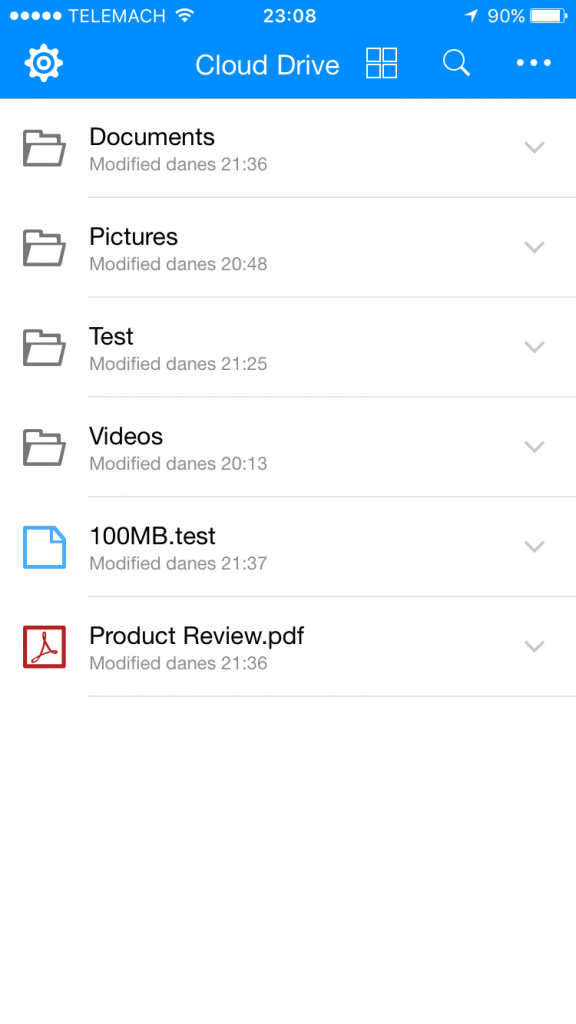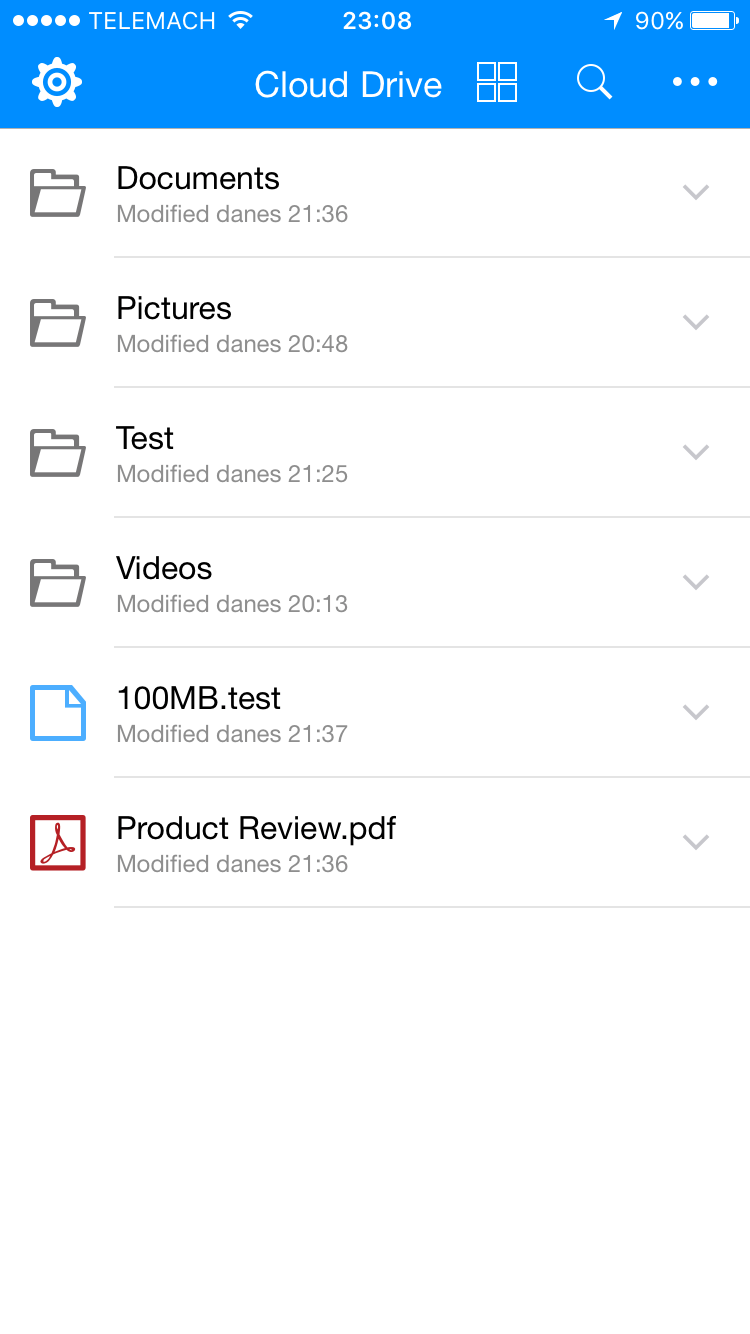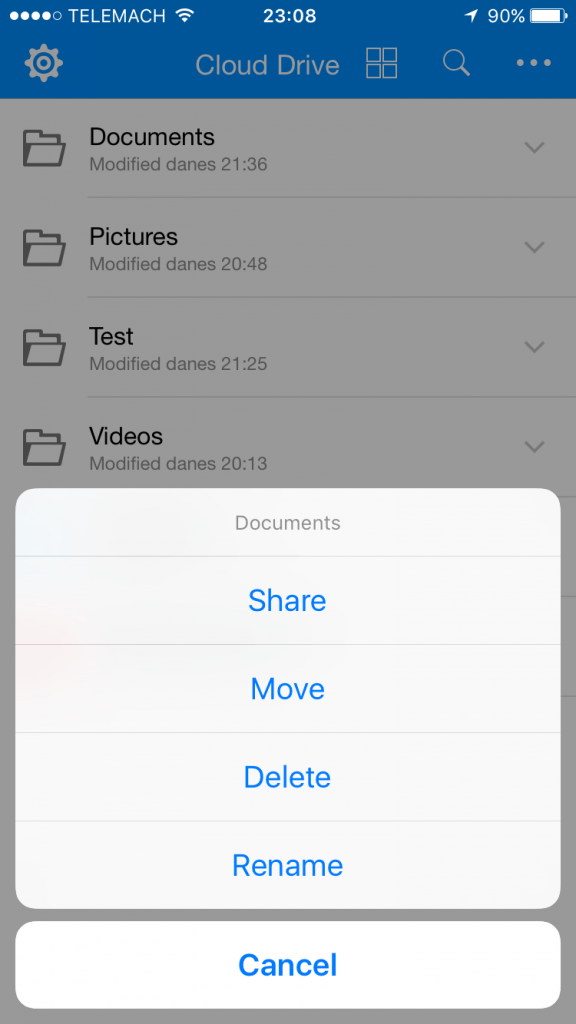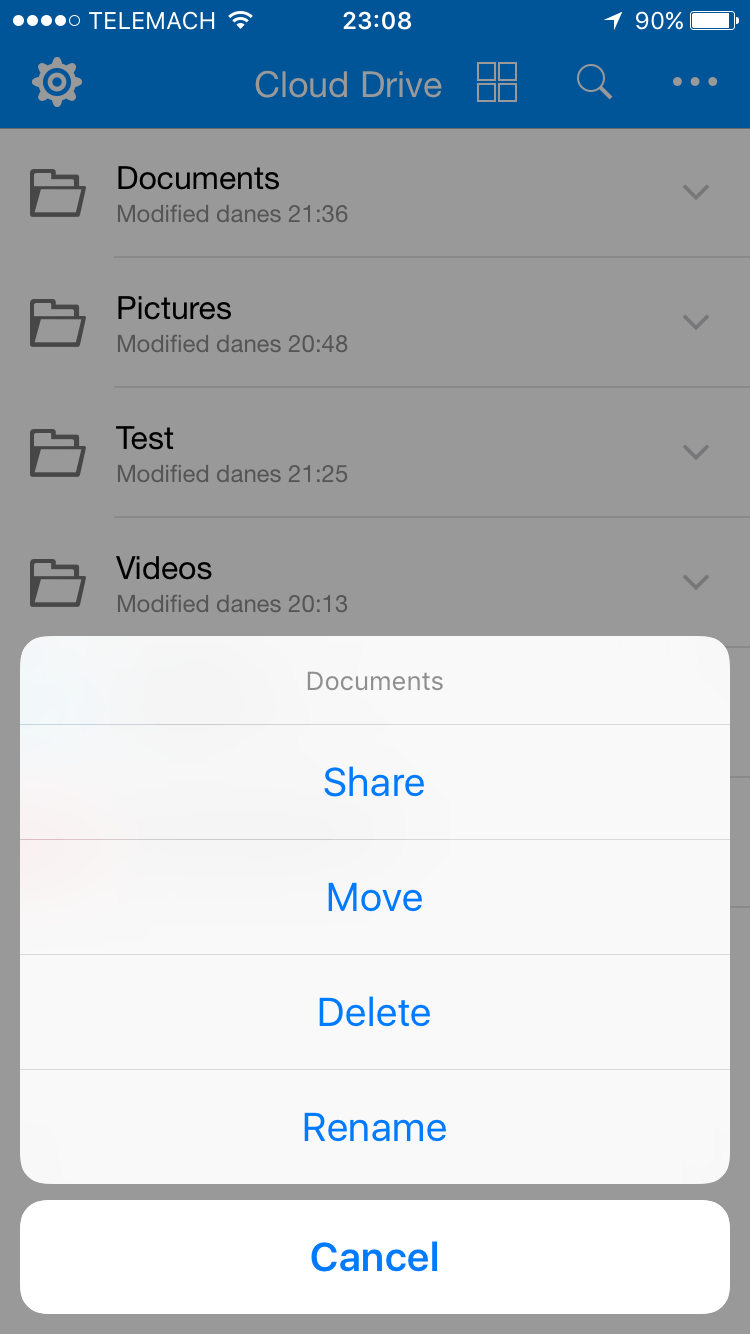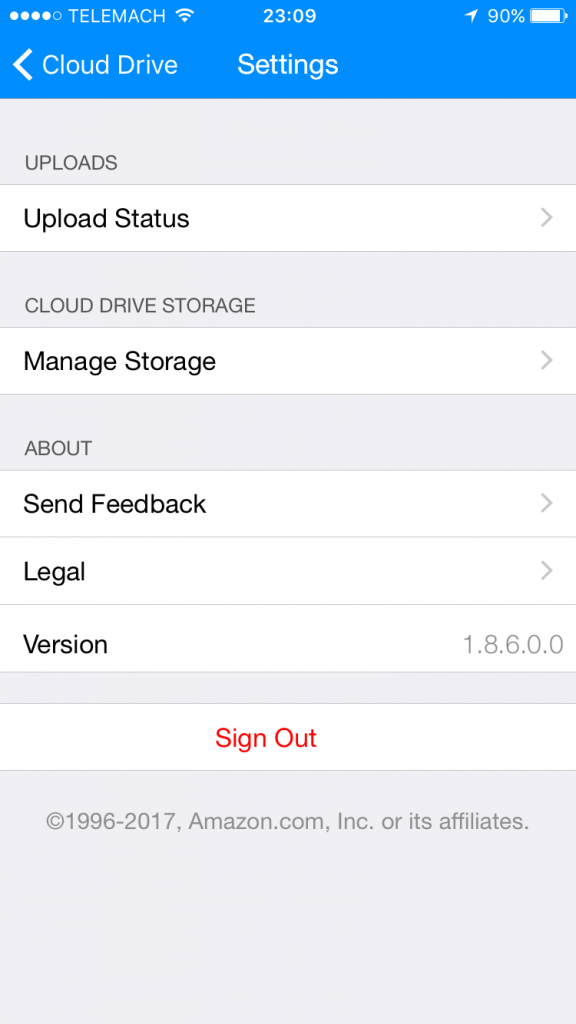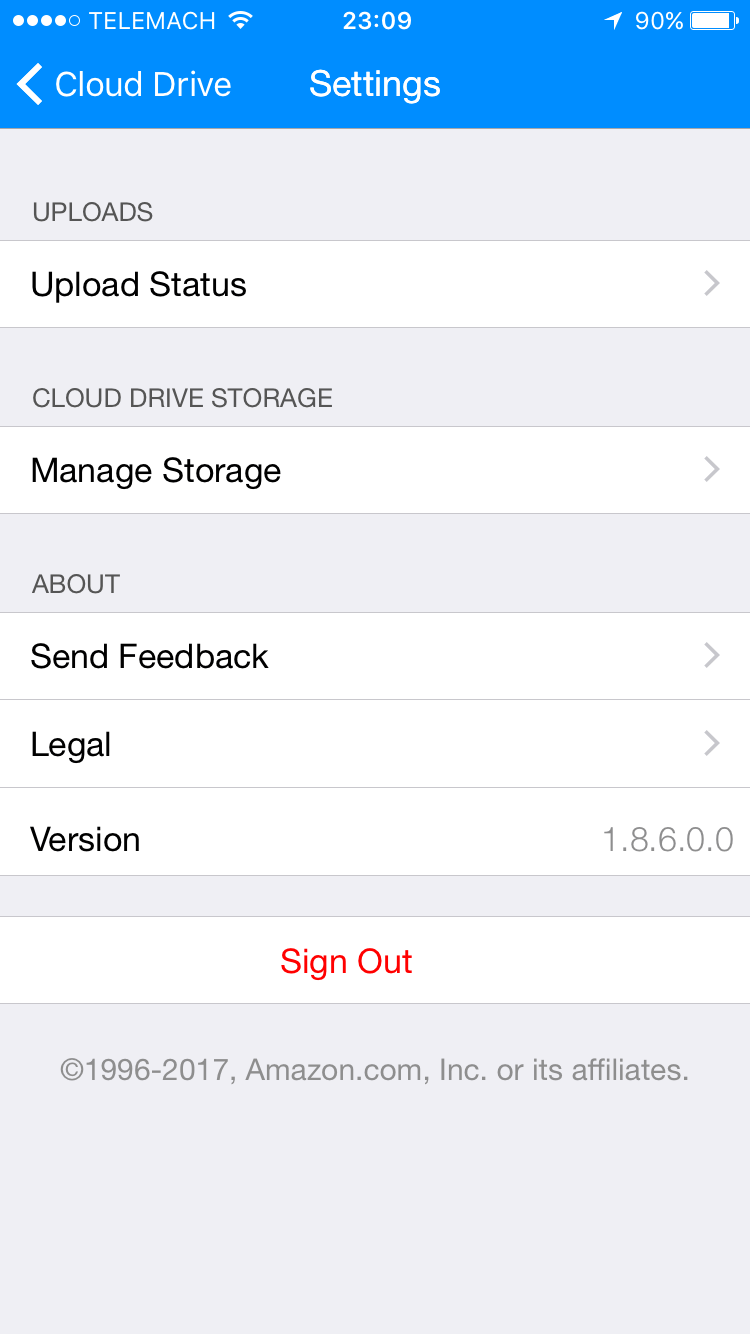 The mobile application is available for Android and iOS systems.
I've tried the application for iOS and it's really well designed. Files get synced across devices quickly, you can share, move and delete files within the app. All-in-all a well made application.
---
Conclusion
Amazon Drive feels like a service that wasn't paid much attention in the grand scheme of things within Amazon. It's obvious that they don't pay much attention to it and is more of a side product of their other features such as Amazon Photos etc. Pricing & Plans are decent when you look at them alone, but the whole cloud service doesn't deliver.
When you realise that there's no versioning system and notice the number of bugs, those plans become really expensive. Sharing options and support is also very limited which is why I would recommend you go for proper cloud storage which you can find here.
---
---
Hopefully, we've gone through everything that you wanted to know about Amazon Drive within this Amazon Drive review. If you have any unanswered questions feel free to ask them in the comments section down below and I'll answer them shortly!