Memopal
€4.08/month 200 GB
Security & Privacy
4.5/10
Additional Features
6.0/10
Pros
Affordable subscription plans
Outstanding online support system
File & folder sharing capability
Folder sync capability
Uses RAID-5 system
Easy to use
NAS backup available
External HDD backup available
Fast download speed
Cons
Weak privacy & security measures
Slow upload speed
---
Memopal Review
Memopal launched in 2007 with the goal of providing cloud backup services while customers can enjoy certain cloud storage features. In 2016, Memopal was purchased by Defenx, a cyber-security solutions provider. Read the comprehensive Memopal Review to learn more.
---
Memopal Alternatives
| # | Service | Rating | Description | Paid Plan | Go To |
| --- | --- | --- | --- | --- | --- |
| 1 | Acronis True Image | Read review | Acronis True Image is an online backup software with excellent security & privacy. You can perform scheduled, Hybrid, NAS, external hard drive, server and other backups. The download & upload speeds are decent and you can always rely on their support to give you a hand. 30-day trial period. | €8.33/month 1000 GB | Go to Acronis True Image |
| 2 | BigMIND | Read review | BigMIND is the next-gen cloud backup provided by Zoolz. It has a modern interface with very well developed backup features. It includes scheduled, hybrid, NAS, external hard drive,... backup. The upload and download speeds are incredibly fast which is a bonus in comparison with other cloud backup providers. 1 GB of free backup storage. | €2.99/month 100 GB | Go to BigMIND |
| 3 | Polarbackup | Read review | Polar Backup originates from the UK and aims to provide an affordable complete cloud backup solution. Their lifetime online backup plans certainly make them an interesting choice due to the well developed backup client with client-side encryption included. No free plans. | €4/month Unlimited GB | Go to Polarbackup |
| 4 | CloudAlly | Read review | CloudAlly is not your regular backup service. It focuses on backing up other cloud services such as G Suite, Microsoft 365, OneDrive, Dropbox, Box.com... Keep in mind though that it is business-focused so no plans for personal users. 14-day trial period. | $3 per 10 GB | Go to CloudAlly |
| 5 | IDrive | Read review | IDrive has been around for what seems an eternity now. They basically cover all of the possible backup solutions and for a decent price as well but there seems to be a few technical issues with the service alongside the somewhat poor download & upload speeds. 5 GB of free backup storage. | $4.34/month 2000 GB | Go to IDrive |
---
Jump to:
Pricing & Plans
Who is it for?
Ease of use
File backup
Speed
File restoration
Security & privacy
Online support
Additional features
Conclusion
---
Pricing & Plans
There are 3 types of subscription plans you can choose from should you use Memopal as your cloud backup provider. First and foremost, you can get a free account that you can use forever. However, you should be aware that the cloud backup space you can use in the free account is only 3 GB. Second, you can select the Pro plan wherein you can pay annually for the service.The amount you will pay depends entirely on the amount of cloud backup space you are getting. You can select 50 GB, 200 GB, 500 GB, 1 TB, or 5 TB in the Pro subscription plan.
---
Personal Plans
---
The third option is availing the Business subscription plan which you can pay annually. You can select 500 GB, 1 TB, 2 TB, 5 TB, 10 TB cloud backup space options for the Business subscription plan.
---
Business Plans
---
You can pay via debit card, credit card, PayPal and bank transfer. However, in order to purchase a subscription plan, they are getting certain information that should not be brought up in the first place.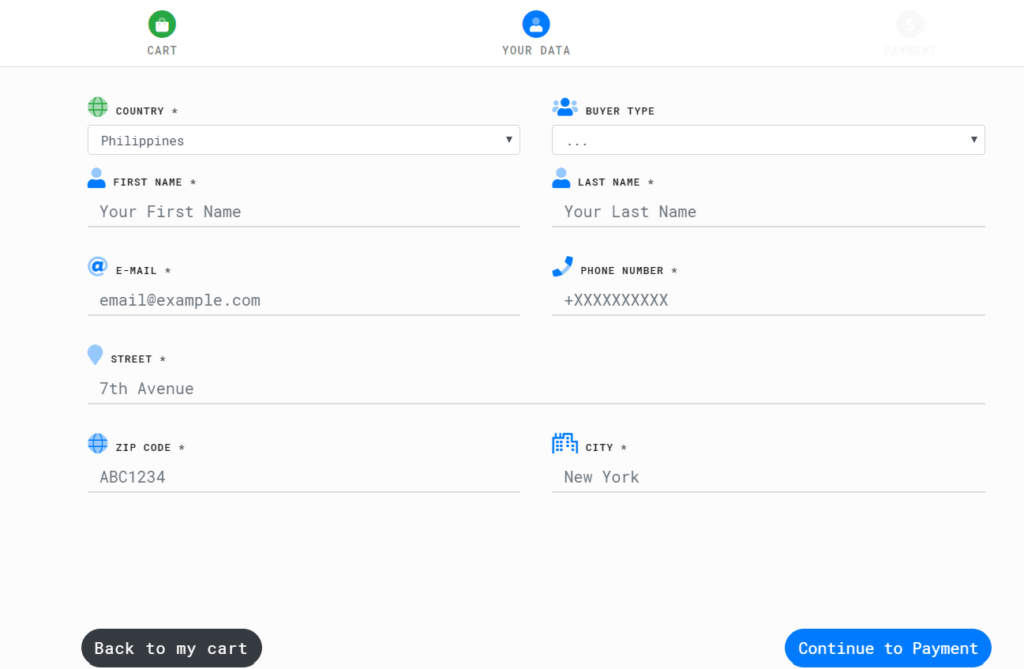 ---
Who is it for?
Memopal is designed for people who want to protect their files and other forms of data through a cloud backup while enjoying the features that are similar to a cloud storage system. It is also for people who want to implement a RAID-5 disk parity and disk striping technology.
---
Ease of use
In order to use Memopal, you need to download the appropriate desktop client from the website. When the installer has been successfully downloaded, you just need to run it. You will then be asked to select a language. Select the English language for easier use. Click the install button, and Memopal will take care of the rest of the processes.
After installing Memopal, you will be directed to a page where you can create, register and activate your free account. You just need to have a valid email address as well as a unique password. If you have bought a subscription plan, then you can use the activation key instead.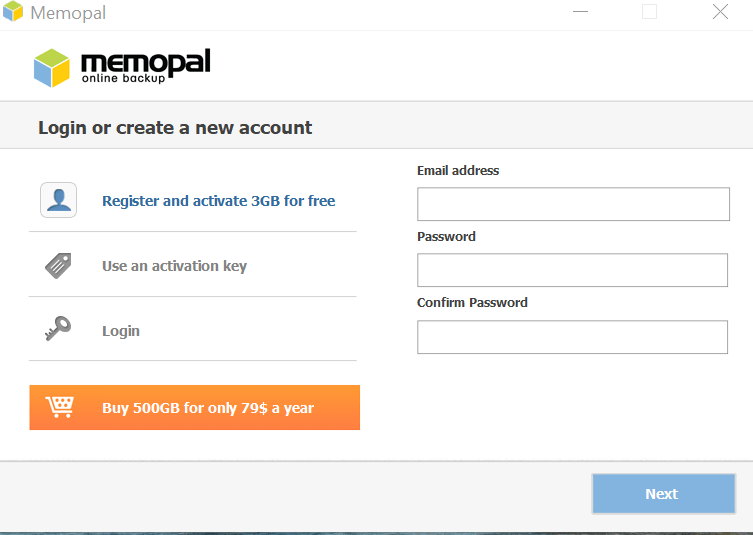 File previews & edits
You can only preview photos, videos, and music files when using the Memopal cloud backup system. There's no preview option for documents.
---
File backup
Memopal is compatible with Windows, Linux and Mac operating systems. Be sure that your MAC OS is at least X 10.7 to be able for the system to be compatible. A server backup is also possible as there is an installer dedicated to the Windows server for 2003 and 2008.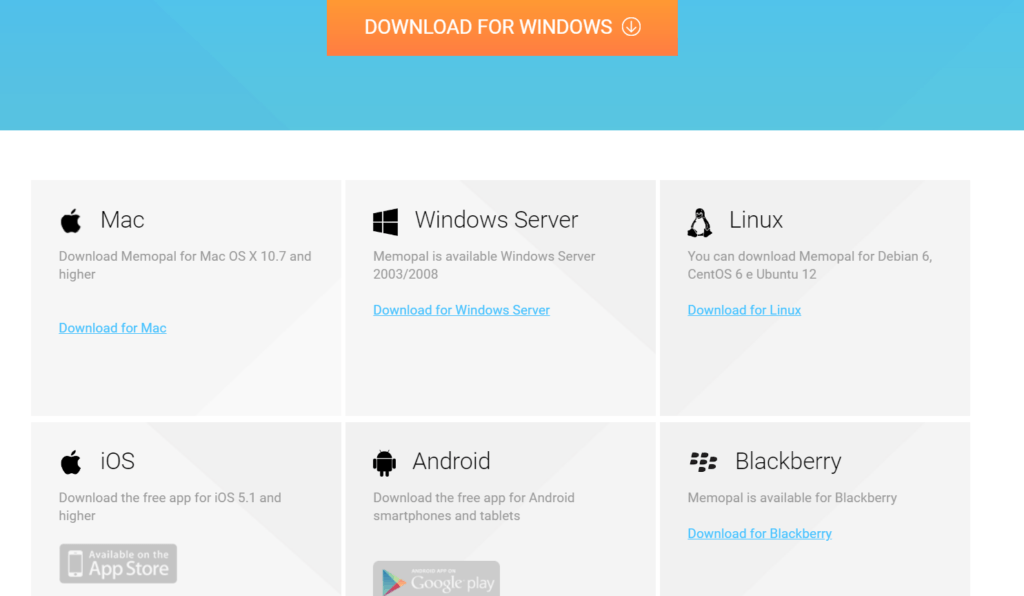 You can schedule backups as well for the Memopal cloud backup system. You can backup daily, weekly or even in a very specific time schedule. You can also adjust the backup speed so this is the counterpart of optimizing network usage and CPU usage.
Continuous and automatic backup is also provided by this best cloud backup system. There is no file type limitation. You also have the option to adjust the restriction as to file sizes being uploaded. While there is no limit as to file size, it is better to put some limitations to it considering the slow upload speed of the cloud backup system. I recommend setting the restriction to 500 MB.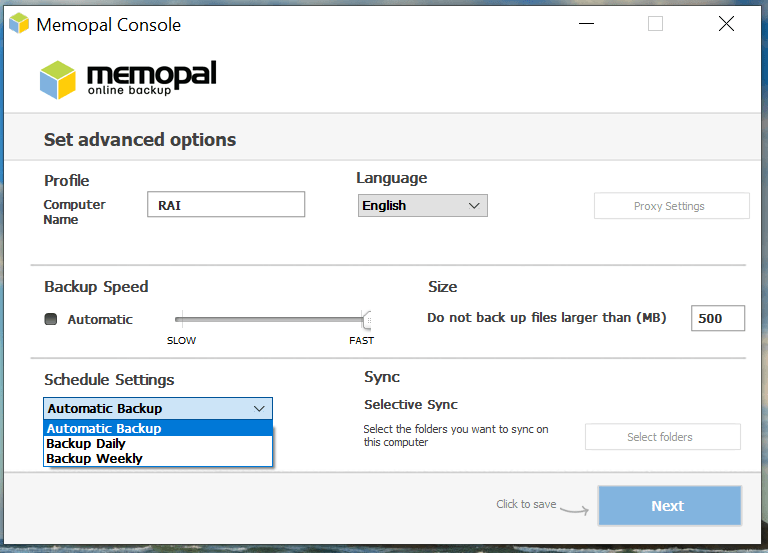 You can select one of the 16 languages that can be used in the Desktop client. We set it to English by Default as it is the most comfortable one across geographical locations. NAS backup, as well as external hard disk drive backup, is also available in Memopal through network mapping. However, there is no hybrid backup system with Memopal. Deduplication and incremental backup procedures are also being used by this particular best online backup service.
You can back up any file or folder in your computer by right-clicking on it. For folders, an option will appear stating "Add folder to backup." Once you click that option, backup procedures will proceed immediately. For individual files, an option will appear stating "Add to backup." The same thing happens afterwards. You can also drag any file or folder to the Memopal Sync folder. Anything you put there will automatically be backed up and synced to all of your devices.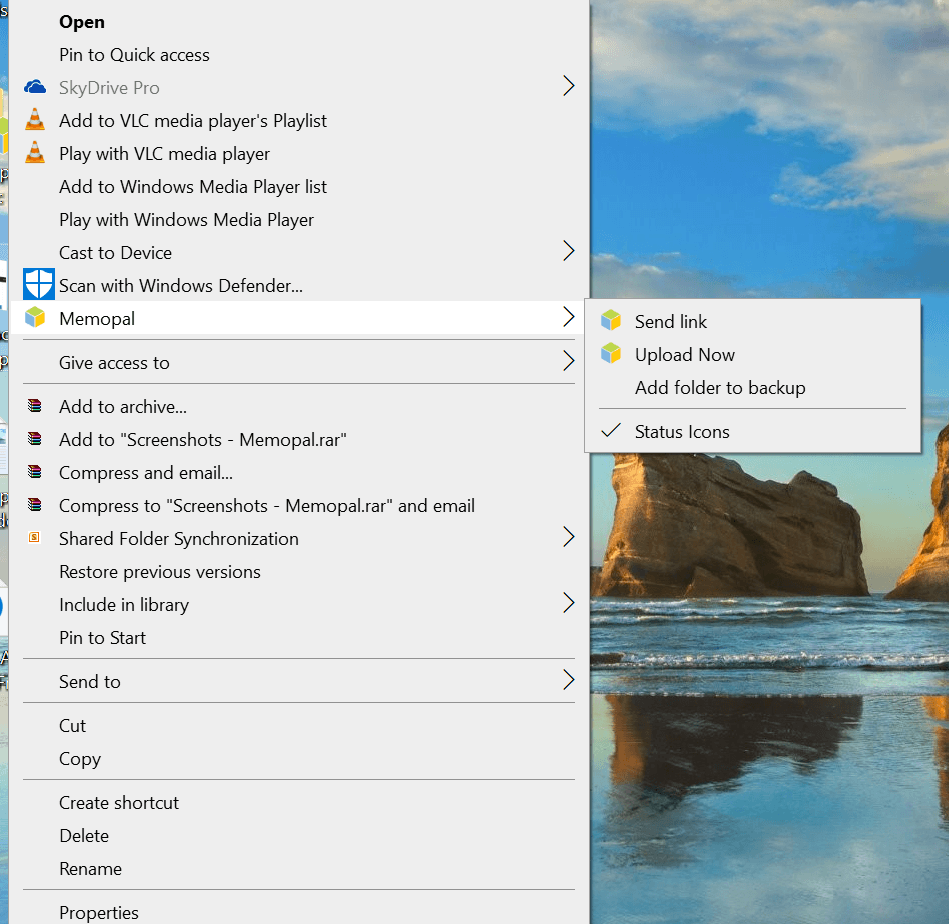 Mobile Application
Memopal can be used in Android, IOS and Blackberry mobile devices. Be sure that you have at least the 5.1 IOS version in order for the device to be compatible with the cloud backup system. You can upload any file coming from your mobile phone to the Memopal cloud backup system. This includes photos, audio files, videos as well as documents.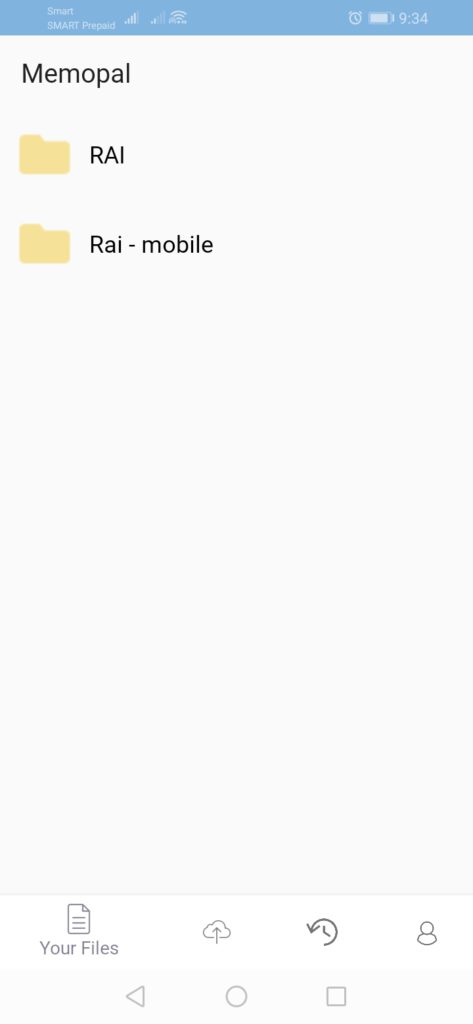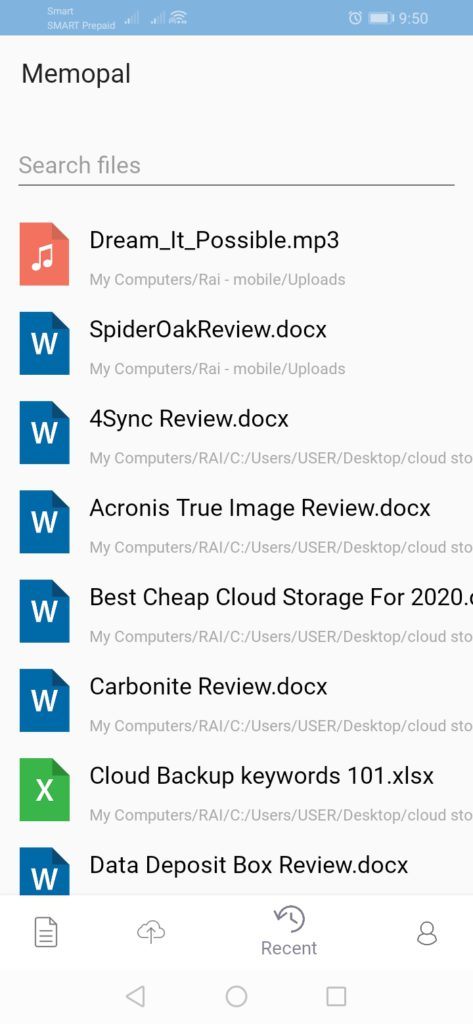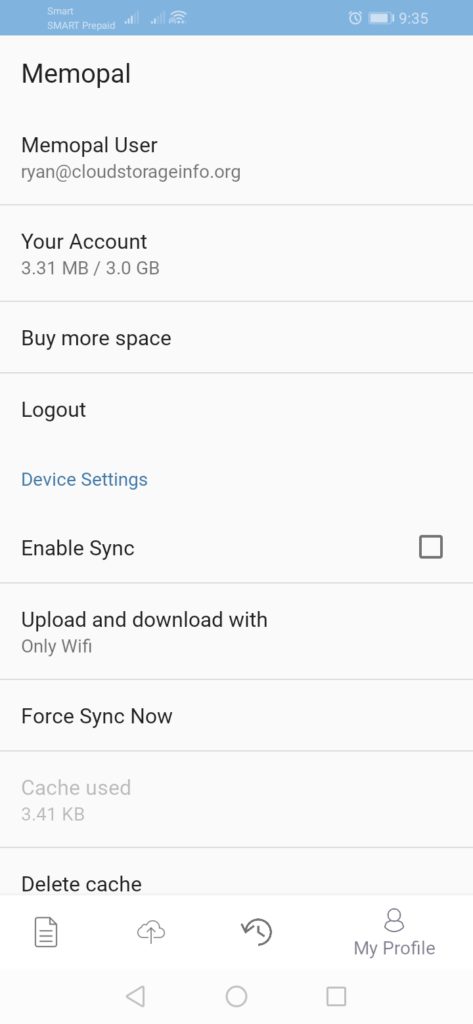 ---
Speed
We tested the speed of Memopal here in the Philippines. During such time, the local internet provider has a speed of 5.00 MBPS /5.00 MBPS download/upload speed. The results are listed below.
| | | | | |
| --- | --- | --- | --- | --- |
| 1 GB File | Internet Provider (max speeds) | Test 1 | Test 2 | Average |
| Time (Download) | 00:26:40 | 00:27:06 | 00:27:10 | 00:27:08 |
| Time (Upload) | 00:26:40 | 00:51:29 | 00:51:27 | 00:51:28 |
Download speed is okay. However, the upload speed is very slow considering the max internet speed the provider has given. I suggest that you find a better alternative as it will take you lots of time when uploading files with a huge size.
---
File restoration
There are 2 different ways where you can restore your files. First, you can download files, folders and other data types directly to your computer using the desktop client. Through this feature, you can also download the entire backup as well.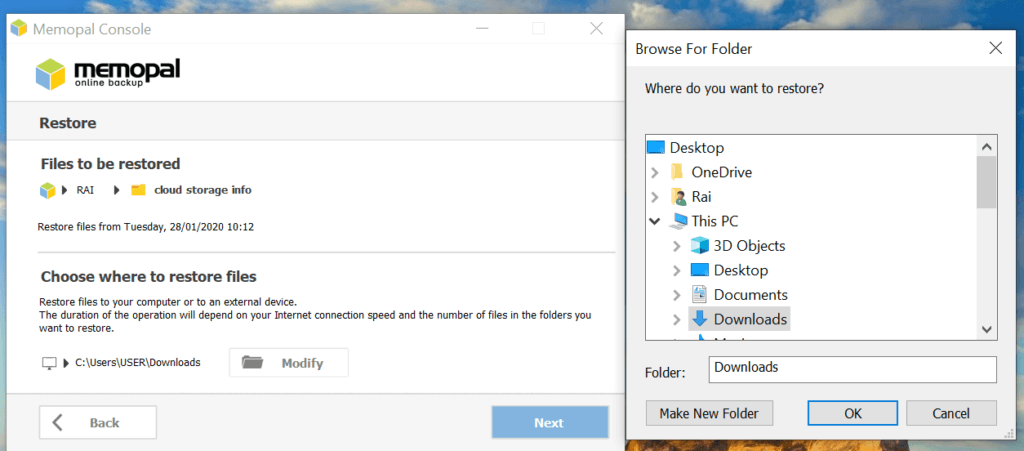 You also have a choice regarding the specific place where you will put the downloaded files. You can restore it to your computer or to any external hard disk drive and NAS. However, there is no option where you can automatically restore the files and folders to the specific place where it once belonged. With this system, you can select the version of the files, folders and entire backup as Memopal implements an unlimited file versioning system.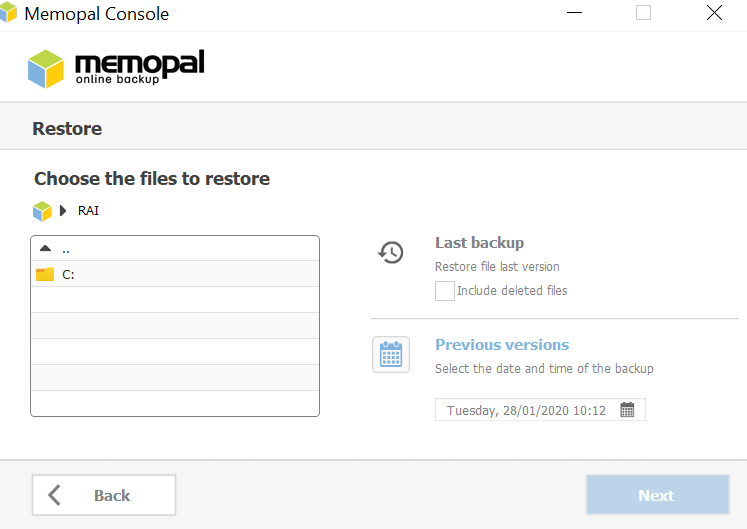 Second, you can directly download files, folders and the entire backup by accessing the web user interface of Memopal. The recycle bin is not functioning properly as you can only permanently delete a file and not be able to restore it in the web user interface.

---
Security & privacy
While Memopal ensures its users that all the files, folders as well as all forms of data sent and stored in the cloud are encrypted every step of the way, the cloud backup provider did not actually disclose what encryption system they are currently using. Memopal did not specify whether they are using AES, Twofish or even Blowfish. Although some Memopal reviews reveal that they use the AES encryption, I have not found any evidence that they are using such kind of encryption system. The company is actually quite secretive about it.
What Memopal actually disclosed is that the encrypted files, folders as well as data transmitted to the cloud from your local computer are distributed in bits and pieces using a RAID-5 system. This means that the risk of losing the data in the process due to disk failure, ransomware or other cyber threats is diminished because of disk striping and disk parity measures o RAID-5.
Memopal cloud backup system is also protected by SSL security certificate to prevent any Man-in-the-Middle attacks during data transmission. Memopal also implements the HTTP/HTTPS protocol for added security. On top of that, you need to have a user account with the right password in order to install Memopal on any other device or computer in order to sync your files and folders. This means that no one can access your backup files aside from you. However, there is no Two-Factor Authentication system and any client-side encryption protocol.
Memopal is silent about its privacy policy and other data security compliances. So I suggest that you don't trust Memopal with regards to its privacy policy as you are vulnerable to the provisions of the PATRIOT Act and CLOUD Act.
---
Online support
Memopal has a very impressive online support system. First and foremost, Memopal does have customer care representatives working at regular intervals in 3 different countries. Whenever you have technical issues or whenever you have concerns you have to voice out to the cloud backup provider, you can easily call the phone numbers dedicated to serving clients in the United States, London as well as in Rome. While you may be in another country, you can still place a call at these hotlines during business hours from 10:00 AM to 4:00 PM Central European Time. For people calling from the United States, it will be toll-free.
Memopal also has a live chat system during business hours. If you send a message in the chat box and it is after the prescribed business hours, then you should be happy to know that such a message will be forwarded and a customer care representative will respond in less than 24 hours in both Italian and English language. You can also send a direct e-mail at support@memopal.com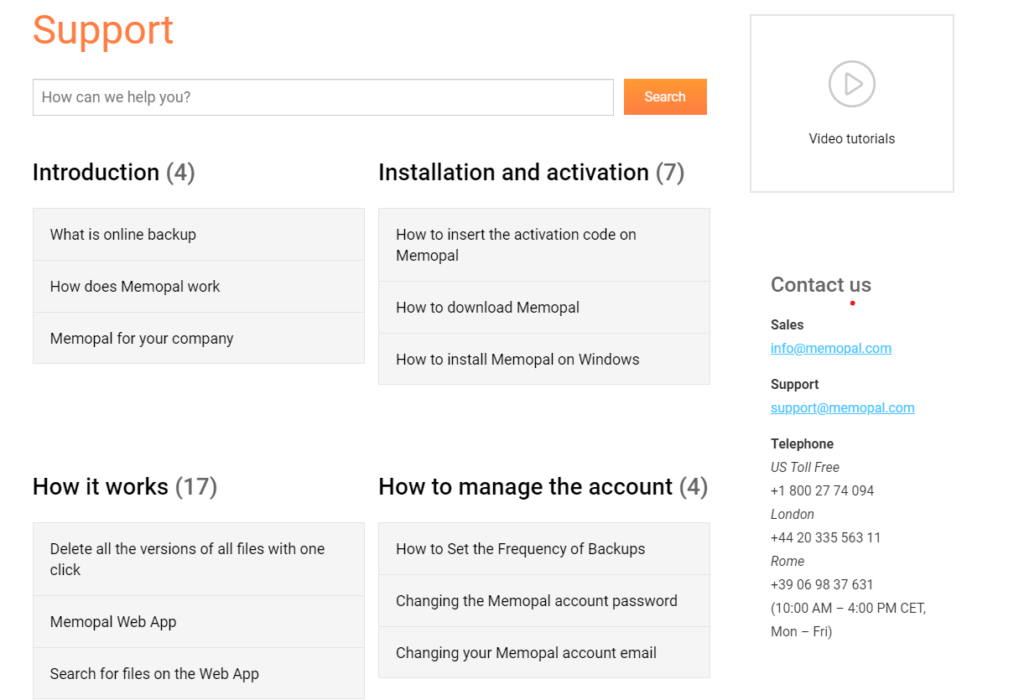 Moreover, Memopal has comprehensive user manuals and answers to frequently asked questions (FAQs) from their website. The manuals will help you install and activate Memopal as well as manage your Memopal account. The user manuals also give you an introduction to what Memopal is and how the cloud backup system works.
When you click the link to Memopal's tutorial videos, you will be redirected to YouTube where their comprehensive tutorial videos are saved.
---
Additional features
File & Folder Sharing – Memopal has the ability to create links that can be accessed by anyone who has a copy of the particular link. A download option comes with the created link.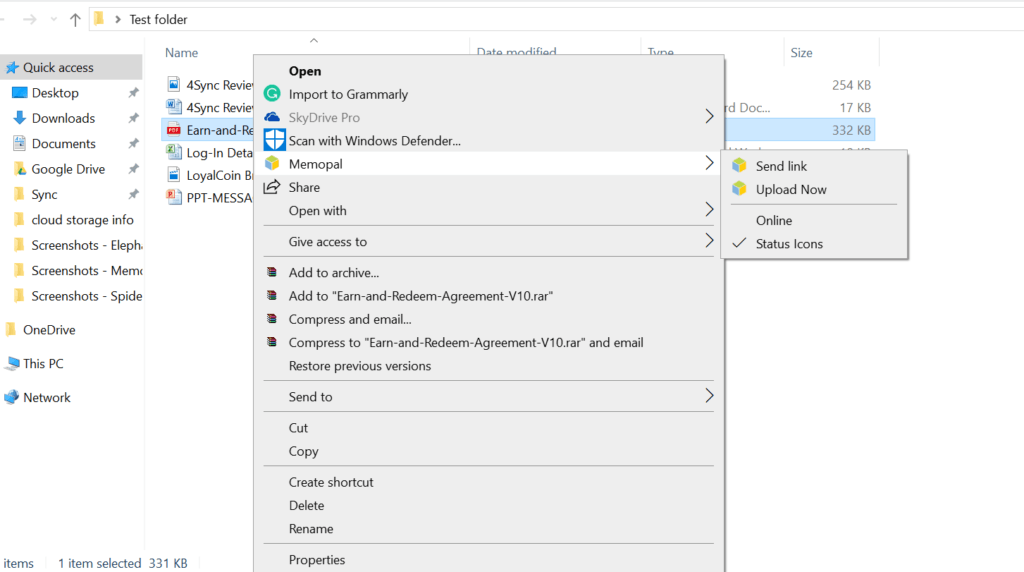 Memopal Sync Folder – Any file or folder that you stored in the Memopal Sync folder will be synced automatically across all of your devices.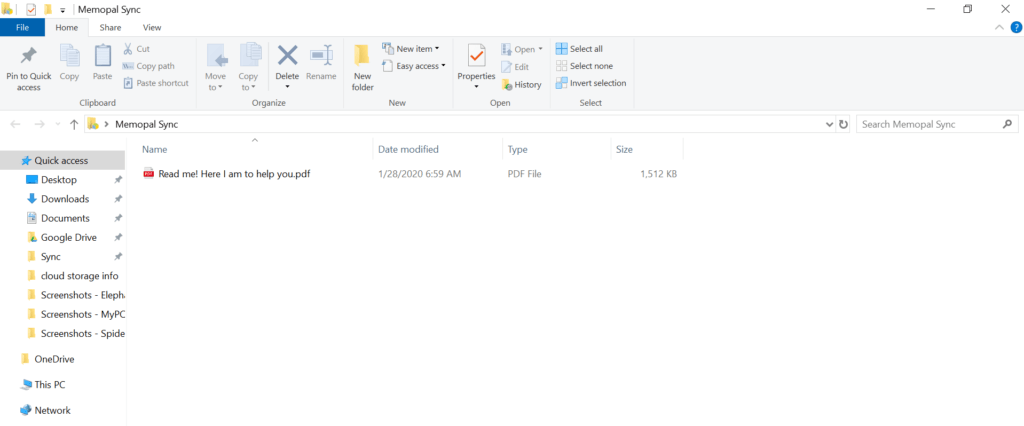 ---
Conclusion
While it is easy to use and has an unlimited file version system, I would not recommend Memopal because of some security and privacy issues that need to be settled and clarified first by the cloud backup provider. Upload speed is also slow.
---
---
I hope I answered all your questions in this Memopal Review. If you have some questions, don't hesitate to ask them in the comments section down below!