Mega Cloud Online Storage – SCAM or LEGIT – Review October 2019
Additional Features
6.5/10
Pros
Free 15 GB of storage
Modern client
Well made mobile app
Good sharing options
Secure storage
Cons
Limited online support
Slow speeds at peak hours
MEGA Cloud Storage Review
MEGA Cloud Storage Review: The service offers an excellent 15 GB free program for its users. If you wish to get more, you'll have to upgrade. Their plans are a bit unique since they come with a bandwidth limit. Apart from that, they have a very modern and responsive client. Download and upload speeds are slow at peak hours, and the sync&sharing feature is decent with some negative aspects. They also offer browser extensions and a very well made mobile app for iOS, Android, BlackBerry and Windows Phone. Online support is limited to e-mails and poor FAQ base. Overall a viable pick, but there are better options out there.
Find the best cloud storage by clicking here.
Read the full MEGA cloud storage review down below.
---
Jump to:
Pricing & Plans
Ease of use
File syncing
File sharing
Retrieving files
Security
Online support
Additional features
Conclusion
---
Pricing & Plans
You can create a free account that comes with a very generous 15 GB storage limit. I have to say that MEGA is something special regarding their plans. It records how much data you transfer through your cloud. Once you reach your cap your down/uploads will be halted, and you are left with two choices, you either wait for your monthly bandwidth to reset, or you upgrade your plan.
Regardless of how bad that sounds, in my personal opinion the bandwidth is large enough for even those more demanding users. I mean, unless you're always downloading, uploading and erasing bigger files, you should be okay.
| | | | |
| --- | --- | --- | --- |
| Plan | Pricing | Storage | Details |
| Free | Free | 15 GB | Dynamic bandwidth limit |
| Lite | €4.99 / month | 200 GB | 1 TB monthly bandwidth limit |
| Pro I | |  1000 GB | 2 TB monthly bandwidth limit |
| Pro II | €19.99 / month |  4000 GB | 8 TB monthly bandwidth limit |
| Pro III | €29.99 / month | 8000 GB | 16 TB monthly bandwidth limit |
If you go yearly, you get two months for free.
Dynamic bandwidth limit explanation: Free account has a dynamic bandwidth.
Allowance limit is dynamic and depends on the system utilisation. It has a sliding 6-hour window, moving every hour, to calculate the free bandwidth.
Bandwidth is counted per IP address, but the free allocation can vary by country, ISP, time of day, etc.
Once you exhaust your free account's allowance, you will have to wait to gain more bandwidth or purchase more transfer volume by upgrading to an upper level.
Additional detail: Pro account users get one allocation of bandwidth per billing period so that annual PRO users will get one year's worth of bandwidth all at once.
Once you get over the bandwidth allocation, downloads stop completely instead of throttling the speed down. The server tells you when more bandwidth will be available and then you can try again.
How to get more free storage with Mega:
35 GB account registration bonus (30 days)
20 GB install MEGASync (180 days)
15 GB install mobile app (180 days)
10 GB referral bonus (365 days)
There's no limit on how many friends you can refer.
---
Ease of use
MEGA has a modern-looking interface. It does what it was meant for, meaning it's user-friendly. It feels very responsive and interactive. You have two options to pick from, the standard list or the larger icons. Both are viable – The list if you have a lot of files or the larger images for better clarity. There is no limit to how big the files when uploading them to the cloud except your storage limit.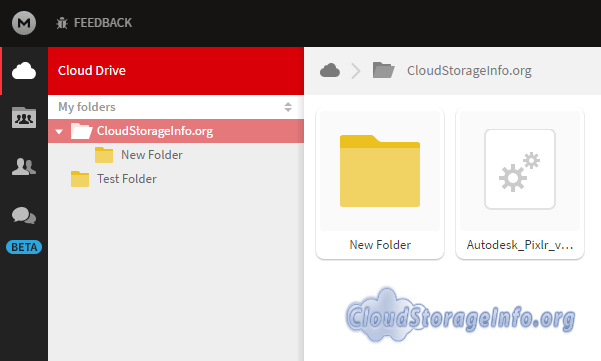 They also recommend you to use Google Chrome or Firefox as your browser. They have developed extensions for these two browsers. The extensions reduce loading times, improve download performance and strengthen security. More about them under the Additional features.
---
File syncing
MEGA is no exception to the universal tradition. They've created their desktop application. It's called MEGAsync. If you're not aware of how this works check it here. Like in any other sync application, it allows you to create an imaginary disk to which you can then store your files. This is probably one of the most useful features overall when we're talking about cloud storage. The idea itself, that you just pick and drop your files to your imaginary disk that could potentially have infinite storage capacity, is fantastic.


MEGAsync is a bit slow when responding to new changes. When I copied an already existent document to a new location, it wasn't even registered and wasn't shown in the desktop application. I resolved the issue by moving the new item to the rubbish bin and back. Apart from that, it works as it should.
The speed of downloads/uploads is apparently unlimited. However, that's not what I have experienced. Download speed varied from 1.3 MB/s to 2.2 MB/s, whereas my maximum download speed reaches 8 MB/s. This is apparently dependent on the speed and state of your computer, software, OS and your ISP provider's package on the network wholesale market – Or so I was told by their support team.
However, I have to say that I haven't had any issues of this form when using other cloud storages, my computer is new and up to date. I will leave the judgment to you, but I do believe that they still have some work to do in that area.
---
File sharing
You have two options through which you can share your data. They both offer additional settings that you can modify as you wish.
Sharing a link – You can create a link to any folder or file in your storage. There are two different links that you can build – Locked or unlocked. If you wish to keep your data private and share it with only certain people, you send them the closed link with the password included. You can also send a locked link without the password. This is especially suitable when putting the link in public. After that, you just give the password to those that need it. This way of sharing files can be for example seen in universities and colleges. You can also share the unlocked link – Files will be accessible to anyone.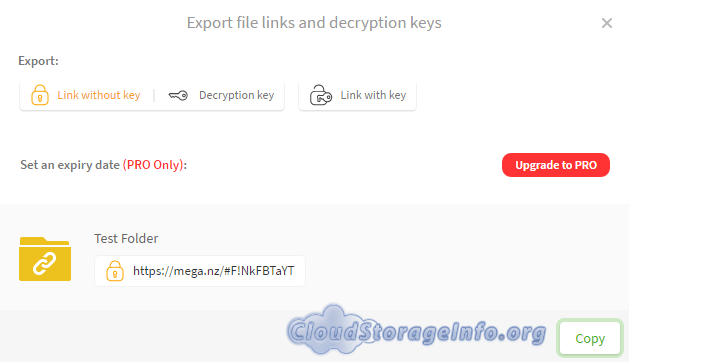 Sharing through email – You can share your files with a particular person by sending a link to their email. To access the files, they require to have a MEGA account. The sharing options are:

Just reading
Reading and writing (allows them to add files and folders, but they can't delete or modify the current ones)
Full access (allows adding, modifying and deleting files on your cloud)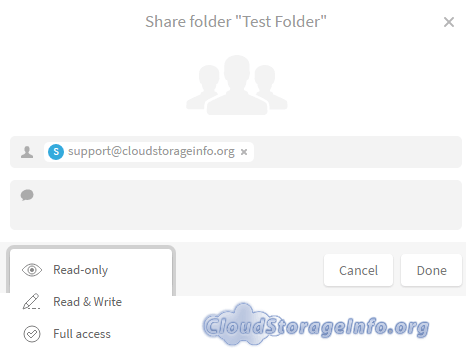 ---
Retrieving files
MEGA offers a file versioning system. If a file with the same name is uploaded again it gets replaced and the older version gets saved for a limited time period (up to 30 days). That time period can be expanded by upgrading to a pro version.
Restoring your data is rather easy. You just head to your trash bin and transfer them back to your cloud by clicking on the "move" button. Files in your bin keep their folder structure in case you need them again. When moving them back, you can also decide to which folder they should go.

---
Security
Mega is known for its good security protocol. It uses AES encryption to secure files. In addition to that, they use the "Zero-knowledge privacy" which means that they don't keep any of your passwords or master keys, only you have access to them. The only way to recover your lost password is the master key which you receive upon registration. This makes Mega one of the more secure cloud services on the market.
Find out more about Zero-knowledge privacy here.
---
Online support
This is one of the fields that MEGA could improve on. If you need any help, you can either contact them or go to their support centre. The support centre provides you with basic answers. You head there with one simple question and return with three more unanswered questions. The answers lack additional explanation and are missing some of the crucial facts, which were the reason why you would go there in the first place.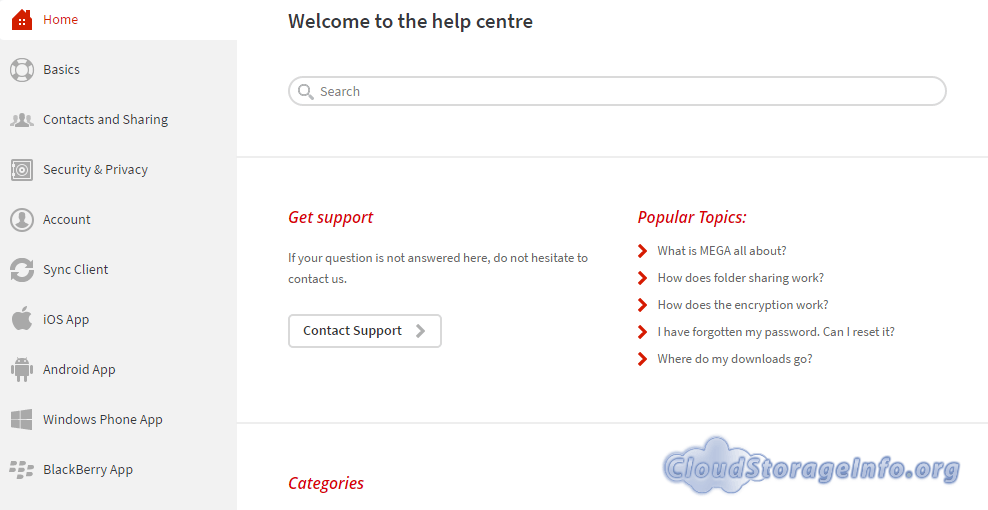 If you don't find an answer there, which is likely to happen, you can contact their support through e-mail. While they prioritise the Pro users when answering the email, I still received the responding email when I was trying out MEGA as a free user the next day. They do not offer live chat and you can not call them for any additional questions.
---
Additional features
---
Chrome/Firefox Extension
"This extension will allow you to install MEGA into your browser. It will reduce loading times, improve download performance and strengthen security" – That's what they say. There are a lot of positive reviews on the Chrome store, but they're related to the cloud storage itself, not the extension. The extension itself doesn't offer anything else than a button on the top through which you can connect to your cloud directly. The loading times are slightly better.
---
Mobile application
The mobile app is available for iOS, Android, BlackBerry and Windows phone systems. The synchronisation is actually really good and the whole app feels very responsive.
You also have the ability to upload photos and videos, store your files for offline usage and share them directly from the phone. You can also take pictures and save them directly to the cloud.  Overall a very decent app.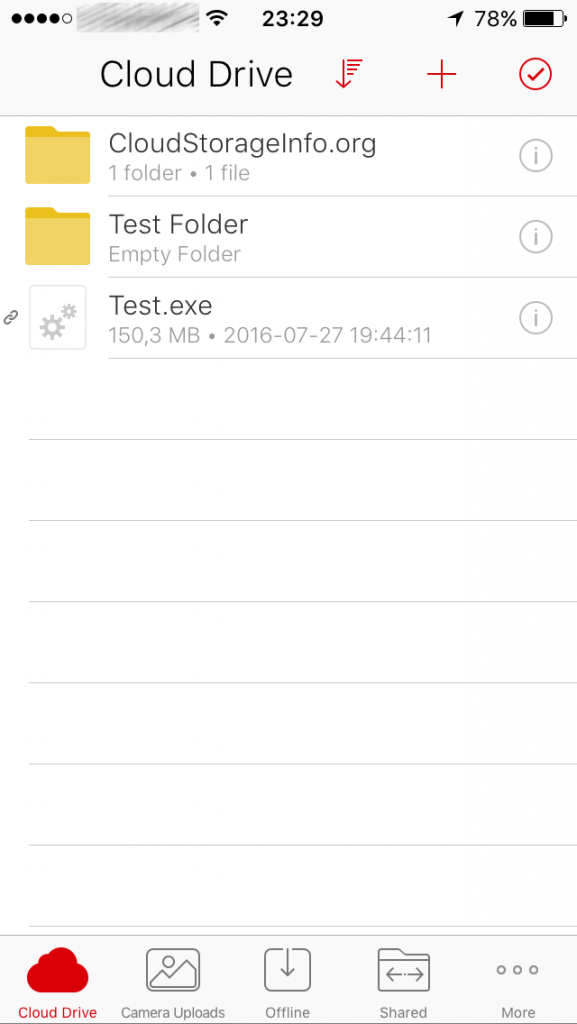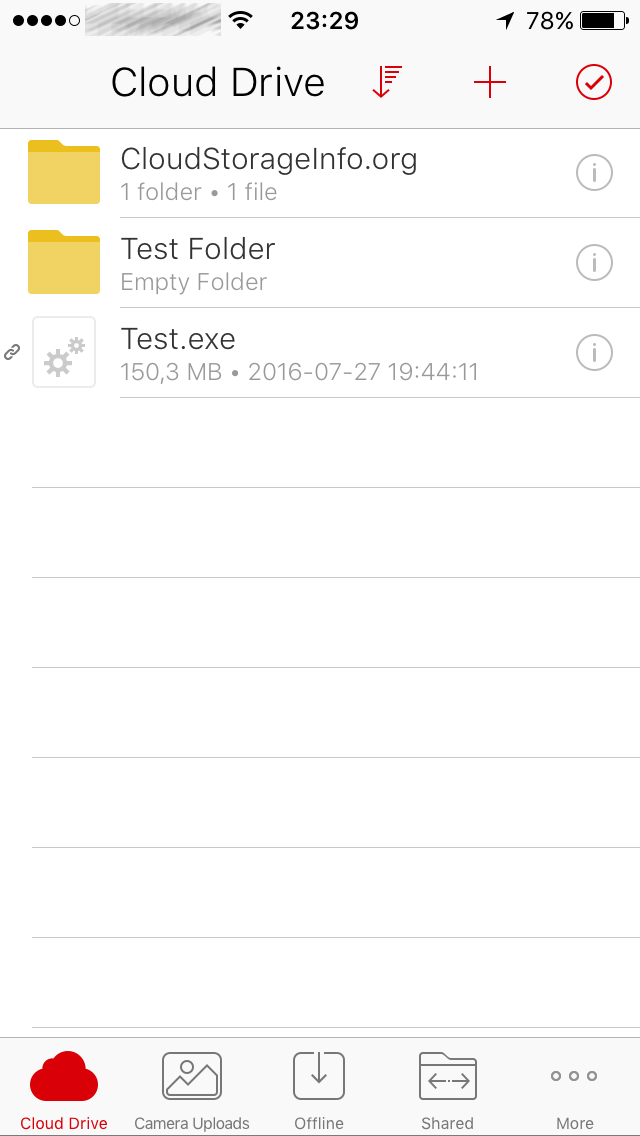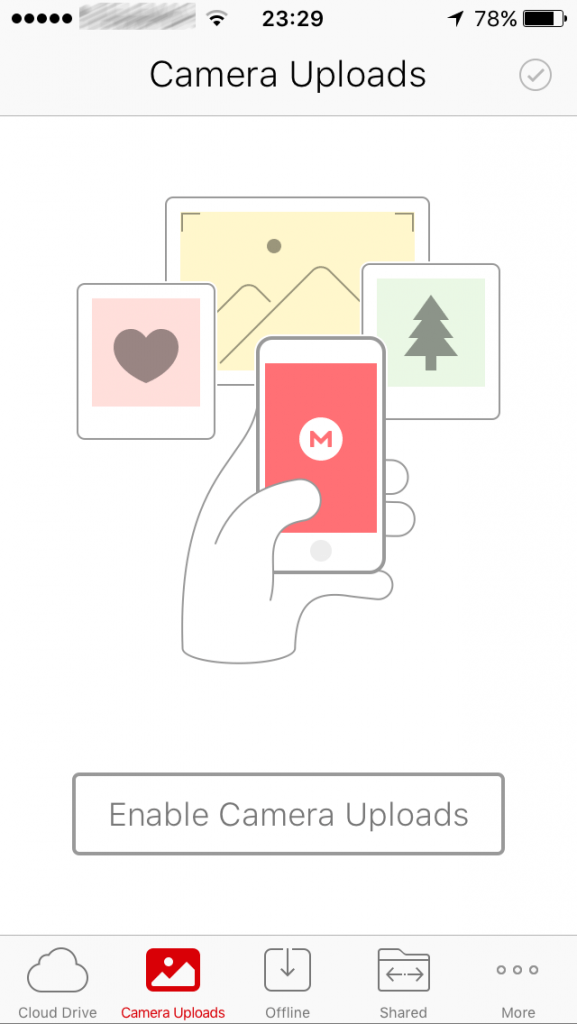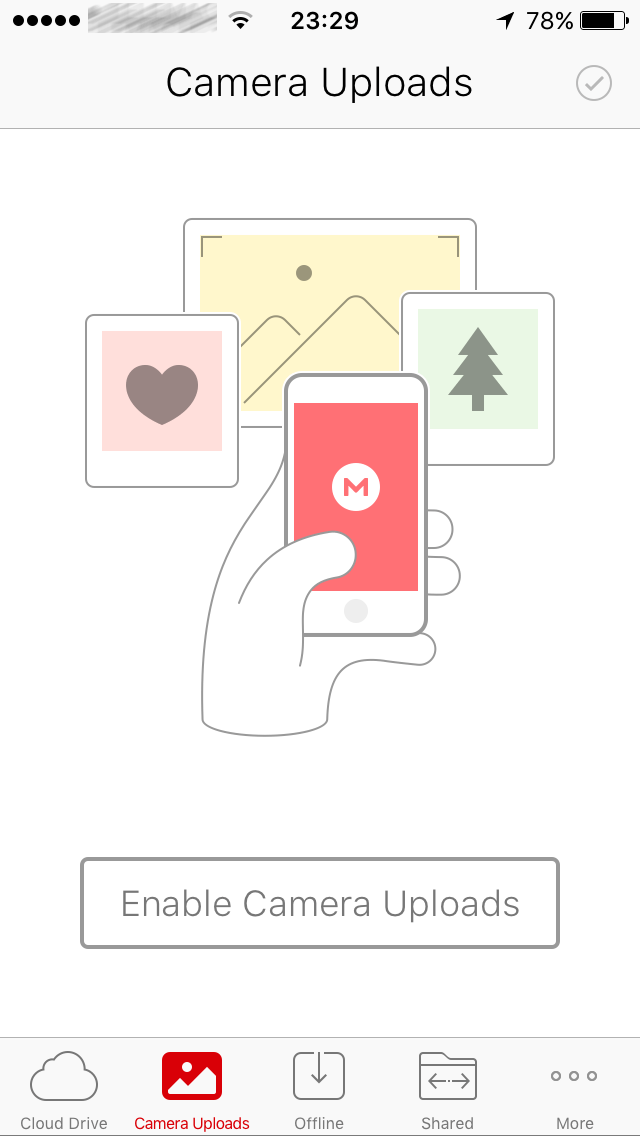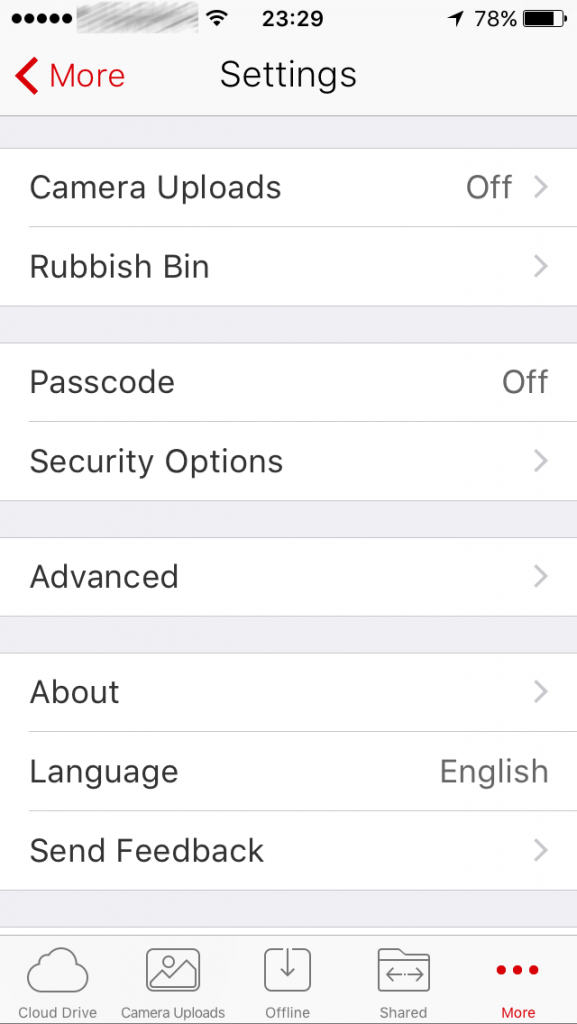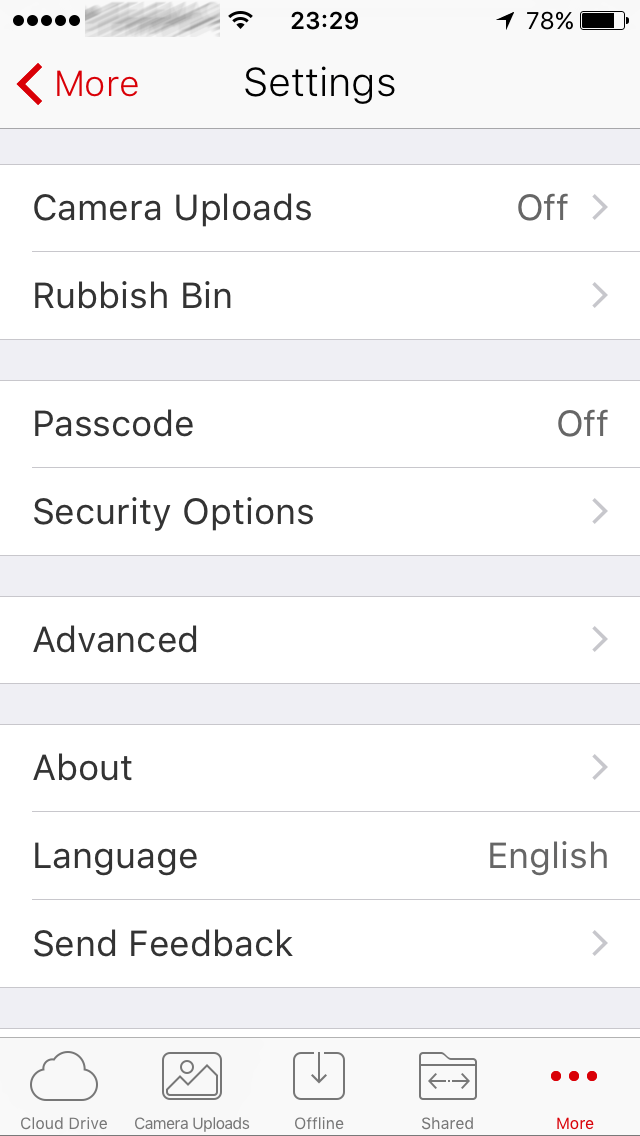 ---
Conclusion
Mega offers some unique pricing & plans, perhaps a bit expensive (Pro I plan) when compared to other cloud storages. The interface is modern and responsive. Download and upload speeds are unlimited but very dependent on your connection to their servers, resulting in slow speeds. The online support is a bit limited. The mobile application is well made and it feels very responsive. Overall, MEGA is a viable pick, but there are definitely other better options available on the market.
---
---
Hopefully, we've gone through everything that you wanted to know about Mega within this Mega review. If you have any unanswered questions feel free to ask them in the comments section down below and I'll answer them shortly!