How To Set Up Cloud Storage Safely With Multiple Employees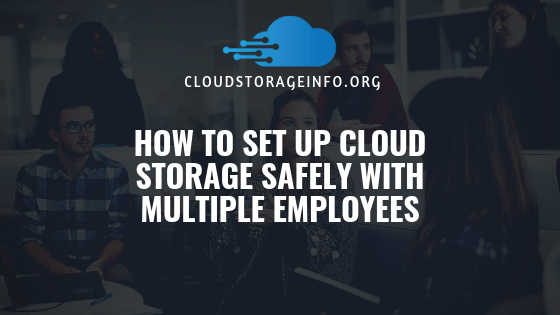 How To Set Up Cloud Storage Safely With Multiple Employees
Cloud storage has become a widely used technology not only by people that need it for storing their files but also by many small businesses and larger enterprises. And yet there are certain things you have to understand when it comes to cloud storage. Especially when it comes to using it within the limits of your business. There are plenty of safety and privacy concerns which is why we'll have a look into how to set up cloud storage safely with multiple employees.
---
Dangers Of Poor Database Management
I don't believe it will take much to convince you that saving your data on the local hard drive is a poor choice of saving your company files. Hard drive failures are not a rare occurrence and will happen eventually. Besides, chances are that if you are operating a small business or an enterprise you have long passed that point and are now either utilizing a local server or you're renting a server online. And if you're not doing that you should at the very least be backing up your local hard drive.
The headaches that would come with losing company-related files are simply not worth it. And the headaches will be the least of your worries when you end up losing important contracts, receipts, transaction books,… It's your pocket that will end up empty because of it. As such it's important to save your files safely.
Uploading the files to just any cloud storage or backup won't do the trick either. Safety and privacy are of course the two most important parameters when it comes to picking cloud storage for your business. When you have that you can look at the extra features that will enable your business to run more efficiently.
---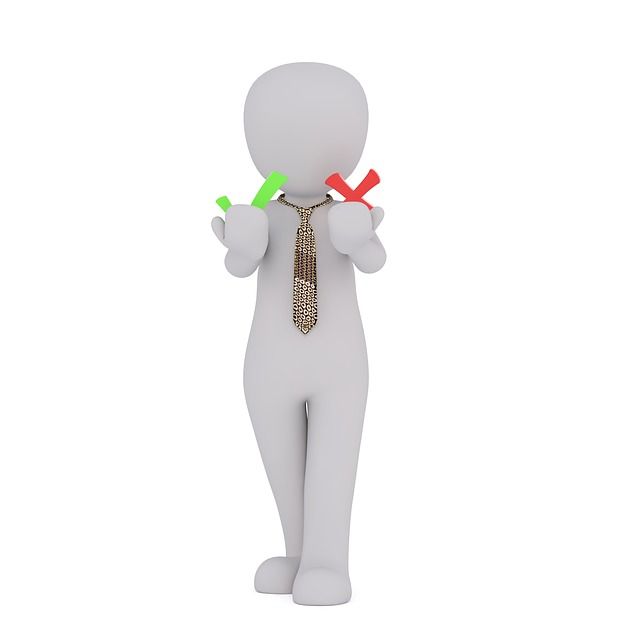 Advantages Of Cloud Storage For Your Business
The fact of the matter is that you need enough storage nowadays to be able to operate and compete with other businesses. But having your files stored locally brings forward several challenges:
How do you collaborate with your co-workers when the files are stored on your computer?
How do you ensure the safety of the files?
How do you share the files with outside collaborators?
How do you establish a versioning system in terms of mix-ups?
How do you retrieve deleted files?
And many other issues that spring up when there's a need for technical assistance, expanding your storage and more.
There are 3 types of clouds you can go with that can match your business:
Private cloud enables you to have direct control over it by having physical servers directly within your reach. As such you have to take care of maintenance and all issues that come up with it. This results in much higher costs in comparison with the public cloud.
Public cloud is provided by a cloud storage provider which takes care of all the technical issues and provides you with the storage and additional features you need.
Hybrid cloud is, you guessed it, a mixture of the two. It's typically used in transition between the two or when one is used as a backup solution for the other.
I will without a doubt advise you a public cloud that brings in a magnitude of advantages to your business:
Collaboration: Working on files together with your coworkers is without a doubt one of the best perks.
Scalable: You can increase or decrease the amount of storage you need at any time.
Cost-efficient: Public clouds are more cost-efficient due to no maintenance and hardware costs.
Accessibility: All the data is available to you at all times, wherever you are.
Easy setup: Setting yourself up with a public cloud is very simple in comparison to having a private solution. Most cloud storage providers provide you with a trial period as well.
Security & Privacy: A cloud storage that's based on a zero-knowledge principle and client-side encryption will make that only you have access to your files. Likewise, cloud storages backup your files multiple times to ensure no data can be lost in terms of a disaster.
Utility-based payments: In various instances, you can also pay accordingly to your usage of resources.
We have also done an extensive article covering all the advantages of cloud storage for your business.
---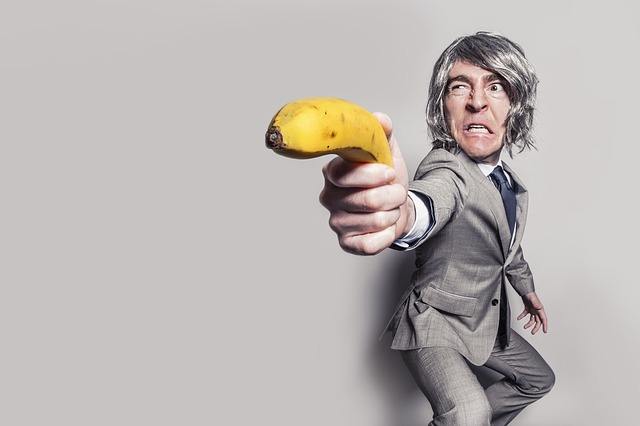 Dangers Of Using Singular Cloud Storage Accounts
Okay. You have decided to use cloud storage for your business due to the many perks it provides. But most cloud storages offer personal and business plans. And the business ones are usually paid per month per user, right? When calculating the costs that sums up to a larger amount of money. And yet you should go for plans that offer "Team features" and allow collaboration on a greater scale. Here are some of the dangers of using a single cloud storage account and sharing it with your coworkers:
You will have to share your password with everyone. They will then normally save the password on their computers and other devices. If you share your password with just 5 people (that save it on the home computer, work computer and their smartphone) you're likely to end up having it saved on at least 15 different devices. That increases the security risk right off the bat.
Password management will become a hassle. What happens when an employee leaves your company? A change of password for everyone is required.
User control and activity checks are practically impossible.
Assigning different zones of control and access to different employees is impossible. As such everyone has access to all the files on the account. A very bad thing if you have things such as paychecks saved on the cloud!
Go for a plan that allows you to set up and manage separate accounts for each employee.
Employees represent a variable in your business. They come and go due to various reasons, from technological excess, expansion and reduction of traffic, disagreements in wages and so on. The list simply doesn't end which is why you should go for a plan that enables you to easily set up and manage separate accounts for each employee.
If an employee was using personal cloud storage during their work for your company they'll be keeping all the data when they leave your company. You want to prevent that. By being a manager of their cloud storage account you get to retain all the data that was saved on it.
---
How To Set Up Cloud Storage Safely With Multiple Employees
Given the various problems and dangers of using a single cloud storage account with multiple employees, it's my strong recommendation to use a business account when getting cloud storage. That will allow you to achieve collaboration in a secure and cost-efficient way. Sync.com is one of the best options when it comes to keeping your files secure with their zero-knowledge principle. Nobody but you has access to the files. They're also based in Canada which means they're not subject to the US Patriot act and Cloud act. They're also HIPAA compliant which makes them an ideal cloud storage for any business that handles sensitive patient information.
Sync.com
1TB/user $5.00/month/user
Pros
Zero-Knowledge encryption
Not subject to US Patriot Act
30-day money back guarantee
Unlimited file sizes
Unlimited bandwidth
Great sharing features
HIPAA compliant
Advanced admin tools
Cons
Live support only for Enterprise level accounts
No Linux client
---
How To Register With Sync.com Business Pro Teams Plan
The procedure to register at Sync.com with a Business Pro Teams plan is quite simple:
Go to Sync.com.
Select the Business Pro Teams plan.
Proceed to fill out the information (storage, users, email address and password).
Enter your billing details and pay via credit card, PayPal, AMEX or Bitcoin.
Complete your registration.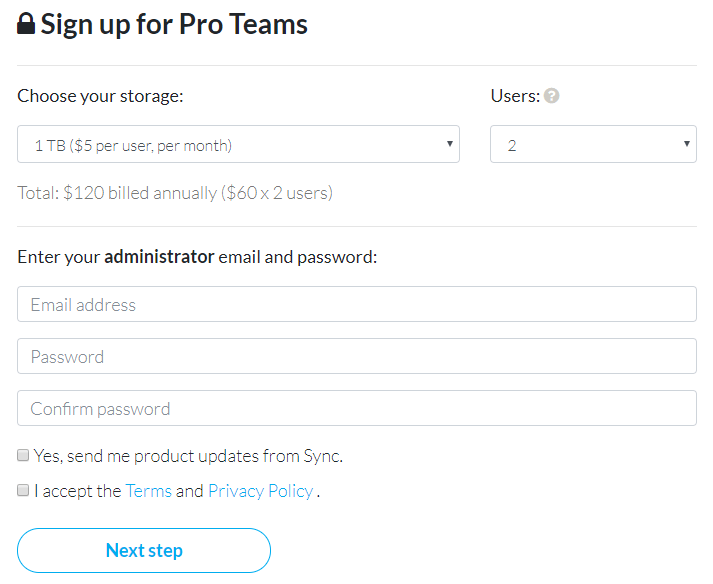 ---
How To Create Accounts For Your Coworkers
Now you should be nicely tucked in with your new administrator account. You're now able to register and create accounts for your coworkers.

You can then either add existing Sync.com users to your account or create completely new accounts and have them assigned under your business account.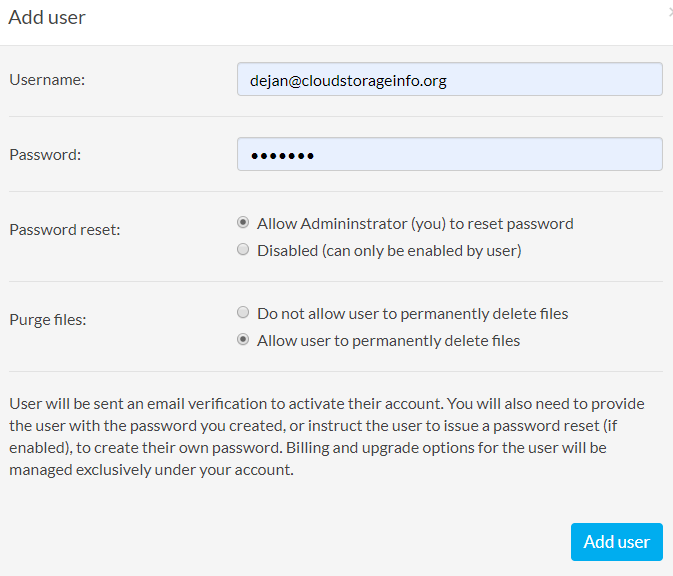 Once that is done simply give your coworker the email and the password. He will now have an account of his own to use under your control.
---
How To Share Files With Your Coworkers
Now that both you and your coworkers have your own accounts you're able to collaborate in a safe manner. Simply create a new shared folder under "Sharing" and share it with your coworker. You can also assign him 4 levels of permissions:
Can view
Can edit
Can invite
See others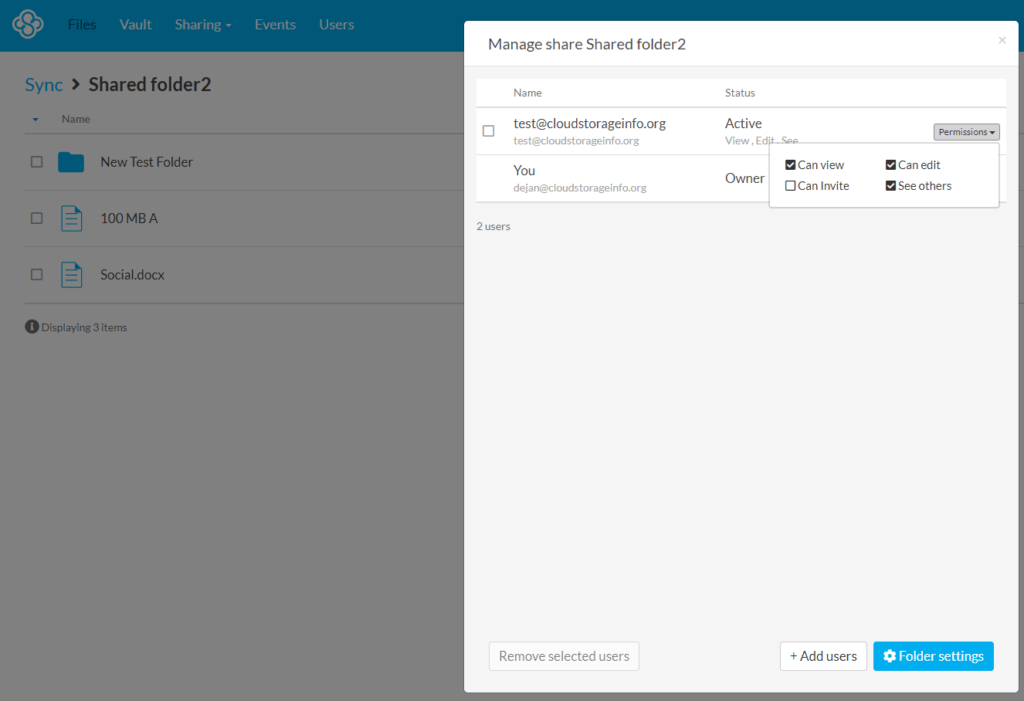 With this system, you can now easily create teams and assign them to their specific folders to which they can contribute in a manner decided by you.

---
How To Monitor Your Coworkers
Under "Events" you're able to see the audit log of all the accounts present under your business account. From file uploads, new shared folders to password changes – It's all there. A very useful feature to have in order to make sure nobody is spilling the beans to people outside your company.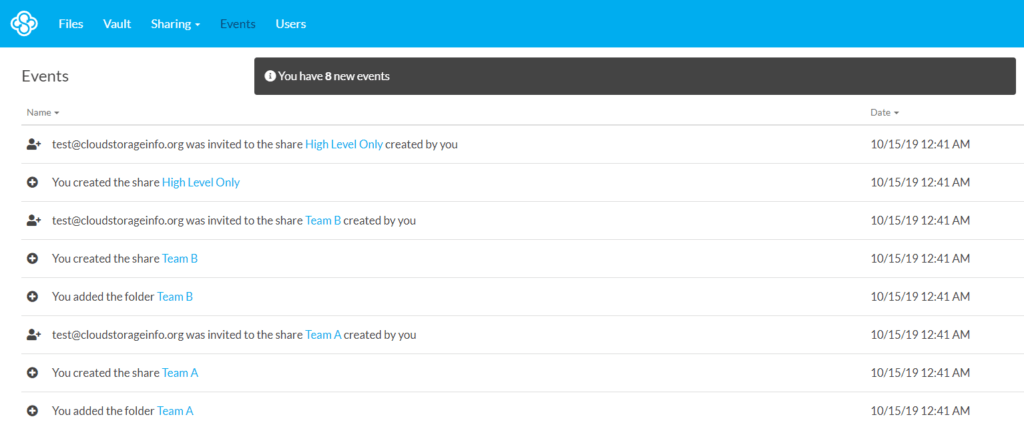 ---
Conclusion
Within this post, we have set up cloud storage to be used safely with multiple employees. We have evaded all the dangers we would face if we went with a single cloud storage account. Using a business account allows you to collaborate with your team and expand the storage whenever needed. Sync.com is most certainly a fitting candidate. You can also check the in-detail review of personal Sync.com plans and business Sync.com plans.
---
---
Hopefully, we've gone through everything that you wanted to know about how to set up cloud storage safely with multiple employees. If you have any more questions, feel free to ask in the comments section down below and I'll answer shortly!