FlipDrive
$5.00/month 100 GB
Additional Features
2.5/10
Cons
Limited free version
Riddled with errors and bugs
Slow interface
No desktop client
Very limited and buggy sharing
No versioning system
Abysmal security of your files
Practically zero support
Buggy mobile applications
FlipDrive Review
FlipDrive is a cloud storage based in the U.S. You may have noticed that I have not included a single Pro feature within this FlipDrive review. Unfortunately, pretty much everything about FlipDrive is wrong and outdated. Read the full FlipDrive review down below to find out the details or find a better cloud storage here.
---
FlipDrive Alternatives
| # | Service | Rating | Description | Paid Plan | Go To |
| --- | --- | --- | --- | --- | --- |
| 1 | pCloud | Read review | pCloud is a great cloud service that takes pride in offering the highest protection available (client-side encryption included) with amazing syncing solutions. It was also the first cloud storage to introduce innovative LIFETIME plans. It is easy to use and is one of the best cloud storage solutions on the market. 10 GB of free storage. | $4.99/month 500 GB | Go to pCloud |
| 2 | Sync.com | Read review | Sync.com is a Canadian cloud storage that utilizes the Zero-knowledge principle. It offers unparalleled privacy and security (via client-side encryption) with great syncing, sharing and file retrieving solutions. 5 GB of free storage. | $8/month 2000 GB | Go to Sync.com |
| 3 | Icedrive | Read review | Icedrive is a UK cloud storage with a main focus on the security of your files. They achieve that with Twofish client-side encryption which certainly raises a few eyebrows. A slick-looking minimalistic design combined with great mobile apps and interesting LIFETIME plans makes them an interesting choice! 10 GB of free storage. | €4.99/month 1000 GB | Go To Icedrive |
| 4 | MEGA | Read review | MEGA offers a secure cloud storage with client-side encryption. It has a modern/responsive interface. The online support is limited and down/upload speeds could be better. 15 GB of free storage. | €4.99/month 400 GB | Go to MEGA |
| 5 | Tresorit | Read review | Tresorit protects your files with Swiss privacy laws and client-side encryption. It has amazing syncing speeds, sharing options and excells in pretty much all other areas but takes the bullet with very expensive and uncompetitive prices. 3 GB of free storage. | €9.99/month 500 GB | Go to Tresorit |
---
Jump to:
Pricing & Plans
Who is it for?
Ease of use
File syncing
File sharing
Retrieving files
Security
Online support
Additional features
Conclusion
---
FlipDrive Features
| | www.flipdrive.com |
| --- | --- |
| Pricing & Plans | |
| Free storage | 10 GB |
| Free trial | 15 days |
| Lifetime plans | |
| Payment methods | Credit card |
| Ease of use | |
| Open in-browser | Images |
| Edit in-browser | |
| Mobile apps | Android, iOS |
| WebDAV | |
| File syncing | |
| Supported systems | |
| Imaginary drive | |
| Sync folder | |
| Block-level file sync | |
| Selective sync | |
| Sync any folder | |
| File sharing | |
| Share download links | |
| Link password protection | |
| Link expiration dates | |
| Link branding | |
| Link download limits | |
| Link stats | |
| Share upload links | |
| Share folders | |
| Set folder permissions | |
| Retrieving files | |
| File versioning system | |
| Trash bin | |
| Rewind feature | |
| Security | |
| Server location | US |
| HIPAA Compliance | |
| Encryption protocol | Unknown |
| At-rest encryption | |
| In-transit encryption | |
| Client-side encryption | |
| Zero-knowledge privacy | |
| Two-factor authentication | |
| Online support | |
| FAQ base | |
| Forums | |
| E-mail support | |
| Live chat support | |
| Phone support | |
---
Pricing & Plans
FlipDrive offers 1 free plan, 2 personal plans and 1 business plan that's meant for companies. All of the plans also come with a 15 day trial period. You will be billed at the end of this period which means that you lose nothing in the process of testing this cloud storage. If you opt-in for yearly payments you also get 2 months for free.
Plan
Basic
Personal
Pro
Business
Price
Free
$5/month
$50/year
$10/month
$100/year
$20/month
$200/year
Storage capacity
10 GB
100 GB
1000 GB
2000 GB
File size limit
25 MB
1 GB
Unlimited
Unlimited
Folder & file sharing links
10
Unlimited
Unlimited
Unlimited
Direct links to files
No
Yes
Yes
Yes
The plans are when compared with other cloud storage providers certainly on the more expensive side. You get double the storage with providers like Sync.com and pCloud for $10/month. The 25 MB limit also introduces a heavy barrier for all Basic users. Pretty much all the videos are out of the question.
FlipDrive offers no lifetime cloud storage plans. I recommend looking at our cheapest cloud storage list to find a better alternative.
---
Who is it for?
I seriously advise you not to use FlipDrive as your cloud storage. It's only a matter of time before it goes under the water. Instead, choose a cloud storage from our Top 10 Cloud Storage Providers list.
---
Ease of use
The registration procedure is fairly simple. You pick your plans, input the data and click "Continue". It's not possible to use any 3rd party logins to register with FlipDrive (such as Google or Facebook). After the registration, you'll have to confirm your e-mail address and you're in.
FlipDrive uses the dashboard as a platform from where you can go to various services. I was going to show a screenshot of it but the page simply failed to load up properly.

I managed to get through that obstacle and land on the interface that lets you manage your files. The interface itself doesn't look bad and has a modern feel to it but there's one big flaw. It's quite slow so you will just have to get used to waiting before seeing your files. This is how that looks:

After a few moments, I finally ended up on the interface. I was able to switch between a list and a card view. On the left you have the menu with all the various options:
My Drive – Allows you to manage your files.
Shared with me – Shows the folders/files shared with you.
I'm sharing – Shows the folders/files you shared.
Recents – Displays file changes.
Favorites – Displays files you marked as a favourite.
Trash – Shows deleted files.
It's also important to note that I have been randomly logged out of the service multiple times during my sessions. That was not an automatic logout feature (time-out after a certain period of inactivity), it happened as I was using the service. At the end I wasn't even able to stay logged in without being immedietely logged out.

I was able to drag&drop files and folders to upload them to the cloud but the speeds at which that happened was painful to watch. If I scheduled 5 uploads it would take a few seconds between each upload for the next file to start uploading.
File previews & edits
You're not able to preview or edit documents directly in the browser. Likewise, you're not able to watch videos or listen to music. There's only a small window where you can preview an image.
---
File syncing
FlipDrive does not provide a synchronisation client for your desktop which is a huge downside to any cloud storage. The sync client would allow you to synchronise files to your desktop and access them there directly. It allows for greater control of your files and increased productivity. Any other better cloud storage provides one.
File size limits vary depending on your plan as described under Plans & pricing. The free plan certainly limits your freedom here with the 25 MB file size limit.
It also can't be used as a cloud backup, find the best cloud backup here.
---
File sharing
With FlipDrive you can share files and folders directly via the email. As such it is required that the other person also has a FlipDrive account. When you're sharing a folder you can set a degree of permissions:
Read Only
Read & Write
Full Access
It is interesting that when I tried to share a file and a folder to another email simply nothing came through. Perhaps you have to wait a few days… FlipDrive disappoints when it comes to sharing my files as well.
With the free version, you can share up to 10 files/folders which is quite a hard limit. With all the paid plans that jumps to unlimited.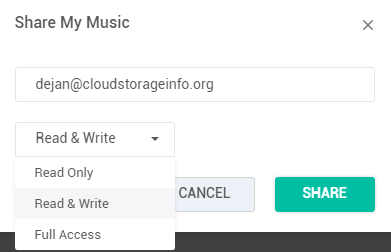 Download links are only available for paid users and include no special features such as password protection or expiry dates.
---
Retrieving files
FlipDrive offers no versioning system. When the same updated file gets uploaded it will simply add a number to itself.
There's a trash bin but it's unclear for how long your files remain there. I tried contacting the support about it but that's another sad story about this service explained under "Online support".
---
Security
FlipDrive provides absolutely zero information when it comes to the security of your files. Their data centre is located in New York, US. Though their website offers SSL (like all decent website nowadays) it's clear that FlipDrive provides no encryption of your files. Files are not encrypted on transit or while resting on their servers. That means that anybody who gains access to their servers, either authorised access or unauthorised will be able to see your files and personal information.
Client-side encryption is obviously out of the question as well. Other cloud storages such as pCloud, Sync.com or Tresorit encrypt your files and provide you client-side encryption as well. Client-side encryption ensures only you can access to your files by saving the decryption keys directly with you. Not only the cloud storage administrators can access them. There's also no indication if FlipDrive is GDPR or HIPAA compliant.
You can also say goodbye to two-factor authentication as there is none with FlipDrive.
FlipDrive also uses your information to place ads onto the interface. FlipDrive contracts with third-party ad-serving companies to display advertisements within FlipDrive. By using their service you agree that these companies place cookies on your computer.
FlipDrive is poor when it comes to security to say the least, find the most secure cloud storage here.
---
Online support
Support is simply terrible with FlipDrive, there's no other way to put it. They offer a FAQ base that consists of 8 questions and 8 answers. The FAQ base is practically useless. When I tried to contact them via "Help" the website simply threw out a 404 error which means that the page no longer exists. Don't count on any support from FlipDrive team.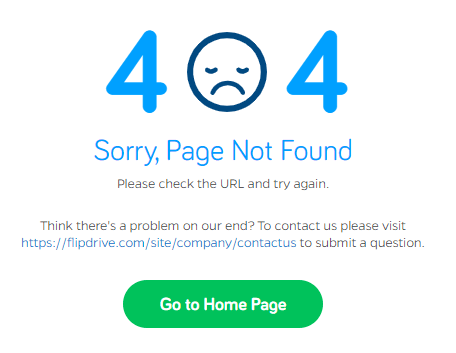 ---
Additional features
---
Apps
FlipDrive also offers a few different apps:
Photos – Allows you to organise photos into albums.
Contacts – Allows you to store contacts.
Bookmarks – Allows you to store bookmarks to websites.
All of these apps are practically redundant nowadays. Photos should organise into albums automatically nowadays or with the file structure. Contacts allow you to store information about people and bookmarks are fairly obvious. But when you see the interface that looks like it's been made in 2008 you'll definitely want to pass all of these apps.

---
Mobile application
The mobile application is available for Android and iOS devices. With an average rating of 2,8 on iOS and 3,5 on Android, I would say it's safe to assume the apps are not the best. They look fine when scanning them for the first time but you soon realize that half the features are missing and errors popping up everywhere. Users also report that they can't access their accounts via the app at all. The applications also haven't been updated since 2017.
---
Conclusion
FlipDrive is a cloud storage from an era gone by. The free version is very limited. The whole interface is slow and riddled with errors. They provide no desktop client and have very limited sharing options. The security and support are also on an all-time low.
FlipDrive as a cloud storage failed and is pretty much waiting to die. I would recommend you take a look at Top 10 Cloud Storage Providers to find a service that is up to today's standards.
---
---
Hopefully, we've gone through everything that you wanted to know about FlipDrive within this FlipDrive review. If you have any unanswered questions feel free to ask them in the comments section down below and I'll answer them shortly!