4Sync
$16.99/month 1000 GB
Additional Features
5.5/10
Pros
Easy to sign up
Has referral program
Has Android & IOS mobile apps
Has Symbian & Blackberry mobile apps
Support Windows & Mac desktop clients
Okay sharing options
Cons
No versioning system
No client-side encryption
No two-factor authentication
No previews for Microsoft Excel, Word & PPT
No live chat support
Linux OS not supported
4Sync Review
While you might be more familiar with apps such as Dropbox, Google Drive and even OneDrive, it doesn't really mean that you need to stop looking for a better alternative. While these cloud storage providers have their own pros and cons, I would like to introduce you to 4Sync. If you are interested to know more, then it is your lucky day because we have prepared a comprehensive 4Sync review below.
4Sync was launched in 2011 with the vision of providing the best cloud storage service there is. Its goal is to capture the hearts and minds of its service subscribers and potential app users just like you and me. What's exciting to know about 4Sync is that it allows you to upload up to a maximum of 20GB file at once. If you are intrigued by what I just said, then perhaps you need to pay close attention to the details of this service review as we go deeper with the discussion.
Read the full 4Sync review down below.
---
4Sync Alternatives
| # | Service | Rating | Description | Paid Plan | Go To |
| --- | --- | --- | --- | --- | --- |
| 1 | pCloud | Read review | pCloud is a great cloud service that takes pride in offering the highest protection available (client-side encryption included) with amazing syncing solutions. It was also the first cloud storage to introduce innovative LIFETIME plans. It is easy to use and is one of the best cloud storage solutions on the market. 10 GB of free storage. | $4.99/month 500 GB | Go to pCloud |
| 2 | Sync.com | Read review | Sync.com is a Canadian cloud storage that utilizes the Zero-knowledge principle. It offers unparalleled privacy and security (via client-side encryption) with great syncing, sharing and file retrieving solutions. 5 GB of free storage. | $8/month 2000 GB | Go to Sync.com |
| 3 | Icedrive | Read review | Icedrive is a UK cloud storage with a main focus on the security of your files. They achieve that with Twofish client-side encryption which certainly raises a few eyebrows. A slick-looking minimalistic design combined with great mobile apps and interesting LIFETIME plans makes them an interesting choice! 10 GB of free storage. | €4.99/month 1000 GB | Go To Icedrive |
| 4 | MEGA | Read review | MEGA offers a secure cloud storage with client-side encryption. It has a modern/responsive interface. The online support is limited and down/upload speeds could be better. 15 GB of free storage. | €4.99/month 400 GB | Go to MEGA |
| 5 | Tresorit | Read review | Tresorit protects your files with Swiss privacy laws and client-side encryption. It has amazing syncing speeds, sharing options and excells in pretty much all other areas but takes the bullet with very expensive and uncompetitive prices. 3 GB of free storage. | €9.99/month 500 GB | Go to Tresorit |
---
Jump to:
Pricing & Plans
Who is it for?
Ease of use
File syncing
File sharing
Retrieving files
Security
Online support
Additional features
Conclusion
---
4Sync Features
| | www.4sync.com |
| --- | --- |
| Pricing & Plans | |
| Free storage | |
| Free trial | 60 days |
| Lifetime plans | |
| Payment methods | Credit card, PayPal |
| Ease of use | |
| Open in-browser | PDF, Videos, Images, Music |
| Edit in-browser | |
| Mobile apps | Android, iOS, BlackBerry, Symbian |
| WebDAV | |
| File syncing | |
| Supported systems | Windows, macOS |
| Imaginary drive | |
| Sync folder | |
| Block-level file sync | |
| Selective sync | |
| Sync any folder | |
| File sharing | |
| Share download links | |
| Link password protection | |
| Link expiration dates | |
| Link branding | |
| Link download limits | |
| Link stats | |
| Share upload links | |
| Share folders | |
| Set folder permissions | |
| Retrieving files | |
| File versioning system | |
| Trash bin | |
| Rewind feature | |
| Security | |
| Server location | US |
| HIPAA Compliance | |
| Encryption protocol | SSL |
| At-rest encryption | |
| In-transit encryption | |
| Client-side encryption | |
| Zero-knowledge privacy | |
| Two-factor authentication | |
| Online support | |
| FAQ base | |
| Forums | |
| E-mail support | |
| Live chat support | |
| Phone support | |
---
Pricing & Plans
You don't need to jump right away and subscribe to what 4Sync is offering. For a maximum of 60 days, you can try their cloud storage service absolutely for free. What's best to know is that for 2 months of trial period you can use up to a maximum of 1 TB of storage space in your account. When the trial offer expires, you can easily upgrade to a premium account. The original price of the subscription is $16.99 per month which literally translates to $203.88 a year. This is not that cheap when compared with other providers that we listed on our cheapest cloud storage list.
---
If you allow the company to bill you annually instead of monthly for the Premium account, then a 50% discount is automatically offered! This means that you only need to pay $99 for the entire year. That translates to just $8.25 per month with the discounted rate. You can pay your subscription via debit card or credit card. But based on experience it is better for you and me to pay for the service via PayPal. It is considered to be the preferred method of payment that is deemed to be safe as well as efficient and effective.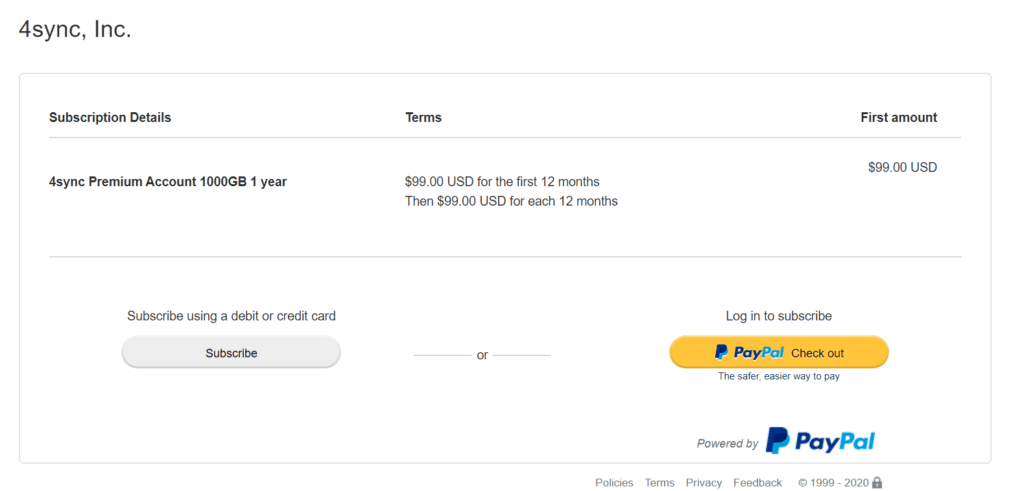 While a premium account comes with a built-in 1TB of cloud storage, there is no limit to the amount of bandwidth you can get from 4Sync. All you need to do is to e-mail premium@4sync.com and request for a quotation for the additional space you need. Another good news that you absolutely want to hear is that there is no limit in terms of file sharing and cloud storage sharing. You can easily share as much as you can to as many people as you can. As they say, sharing is caring. So you can just share your cloud storage with your family, friends and business partners right away.
If you are really on a tight budget, and you want to get the benefits of using this cloud storage without paying any fee, then I suggest that you listen very carefully. 4 Sync actually offers a referral marketing program where you can be part of. This particular program allows the existing users an additional 1 month of free service subscription for every person they have successfully convinced to sign-up an account within the cloud storage platform.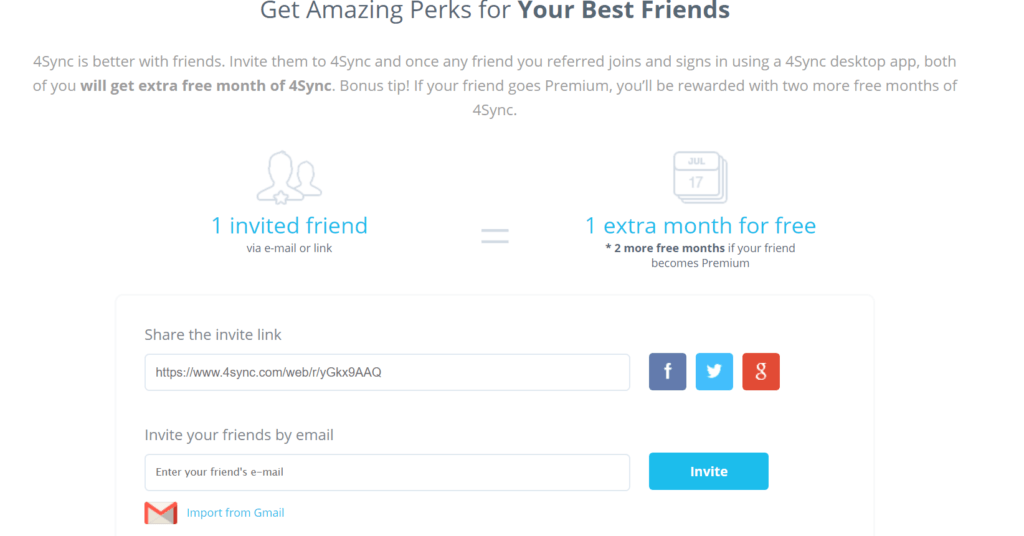 On top of that, if the referred user purchases a premium account, then the owner of the referral link used in the original sign-up procedure will be credited with additional 2 months of free service subscription. The computation of the free service will be based on the number of referred users and how many of those people have purchased a premium account. To know more about the referral marketing program, feel free to read the 4Sync Referral Program Terms and Conditions.
---
Who is it for?
If you try to think about it, 1 TB of cloud storage space is really big. Because of this huge space, I can definitely say, that this is the best cloud storage app to use for photographers, video editors as well as event organizers who want to document every little thing they do.
It is for a fact that video editors take up a lot of storage space whether on their computer's hard drives or in the cloud due to the nature of their work. If you are dealing with editing videos with such a great length, you can actually see that videos are for a fact heavy in terms of eating storage space.
It is also a perfect fit for event organizers who wishes to record every exciting moment of any event. Be it a wedding, a wedding anniversary celebration, birthday party, Christmas party, New Year gathering, baptismal, graduation or any other joyous event, these are once in a lifetime experiences that any human being wants to capture, record and preserve through the years. You can only do that if you have enough space to record and document everything.
4Sync can also serve a great purpose in keeping a collection of movies and TV series. If you are tired of streaming videos online due to unstable connection, then you might as well try to download every episode of your favorite TV series and every movie you can think of. You can really appreciate this cloud storage platform since you know that 1 single movie downloaded to your hard drive with 780p to 1080p display can consume more than 1 GB of space already. This means that you can save at least 1,000 movies with the 4Sync cloud storage platform easily.
If you are a TV series addict, then you might as well subscribe to the services being offered by 4Sync. Imagine downloading and saving an entire TV series with approximately 8 seasons with about 20 episodes each. That alone can consume 80 GB of space already. It's already 8% of the space you get from your premium plan with 4Sync.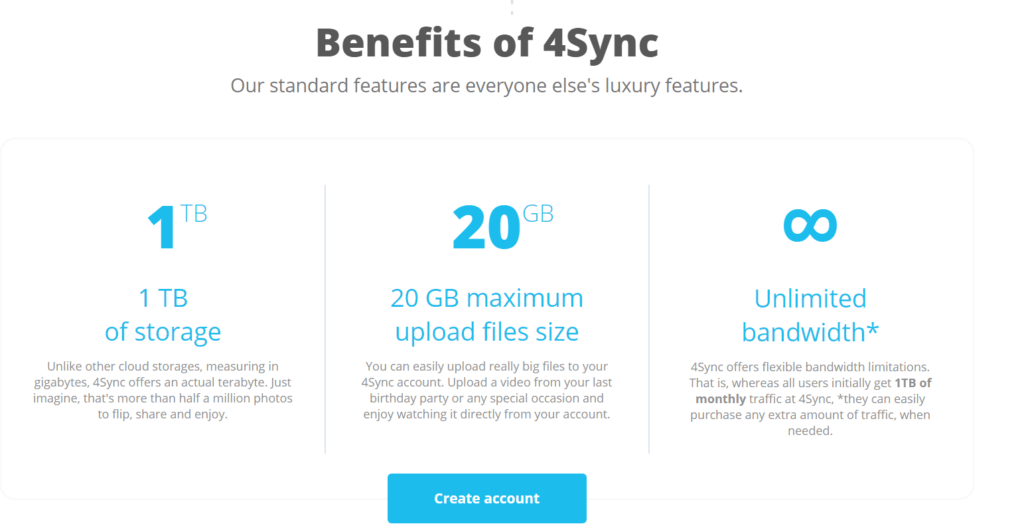 ---
Ease of use
You need to sign up and create an account first before you can use the 4Sync cloud storage platform. The good thing is that it is very easy. As a matter of fact, you can sign-up quickly in less than 10 seconds using Facebook, Twitter or Gmail account. You just need to click one of the 3 buttons and the registration will definitely come through. You don't need to fill out a lot of required details in the forms at all. You just need to be signed in any of those 3 accounts. Then just choose a unique password and click the "Create Account" button.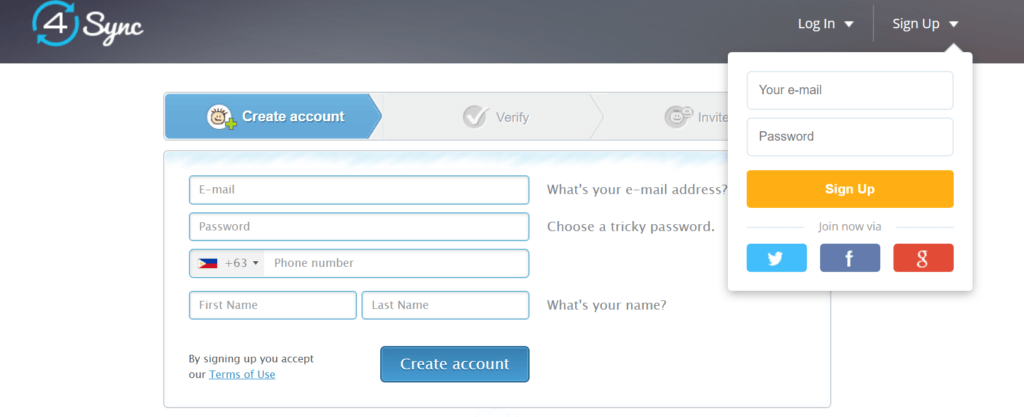 File previews & edits
With 4Sync, you can only have preview options for pictures, videos, audios as well as PDF files. You can't have previews for other important documents such as Microsoft word document, Microsoft Excel and Microsoft PowerPoint presentations. This is the reason why it might not be a good fit for sharing important documents especially if it is for business use.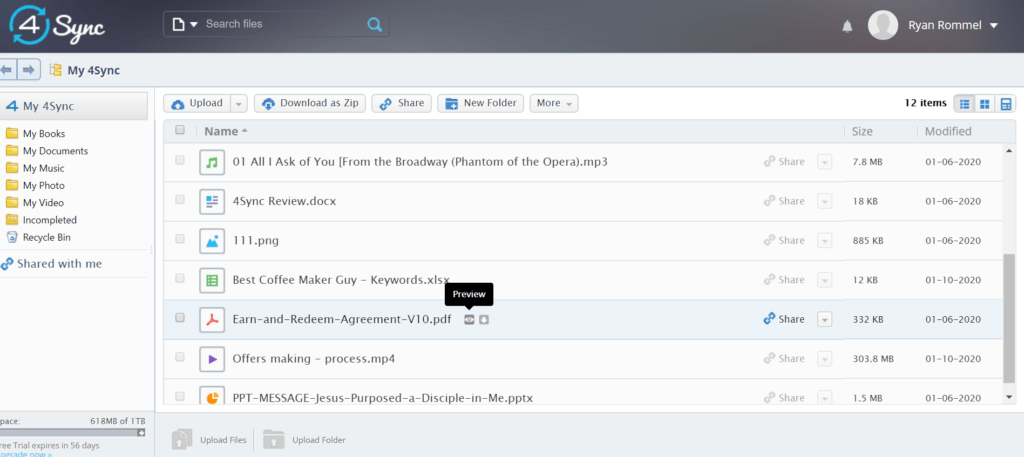 On the upper right corner, you can see that you have 3 options for the user interface. You can switch to detailed view, thumbnail view or the simple view.
You can't directly edit any document from the cloud storage itself. You need to go to the offline 4Sync folders, open a document, make changes there and it will automatically sync the file to the cloud. If you want to look for a better file synchronization software, then I suggest you click the button down below.
---
File syncing
In order to start syncing files from your laptop or desktop computer, you need to download the appropriate version of the app. As a matter of fact, you can choose whether to download the version for the Windows operating system or the macOS version. Just click the "Download Now" button in the 4sync.com webpage. After it has been successfully downloaded, just run the 4Sync Installer as an administrator, click the yes button to allow changes in your computer and then just follow the rest of the instructions. It is really easy, right? However, we should also consider that the Linux operating system is not yet supported as of this moment.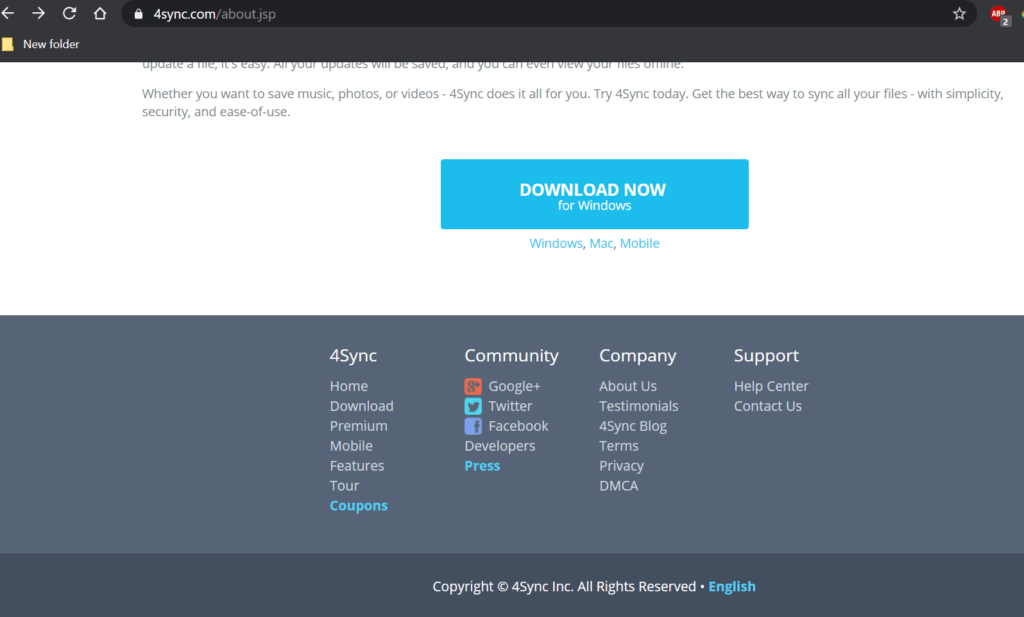 On average, transfer speeds go as high as 650 KB/second. In this case, testing happened in the Philippines with an internet provider speed of 3.60 MBPS / 2.00 MBPS download/upload speed. It has a high limit with regards to file uploads.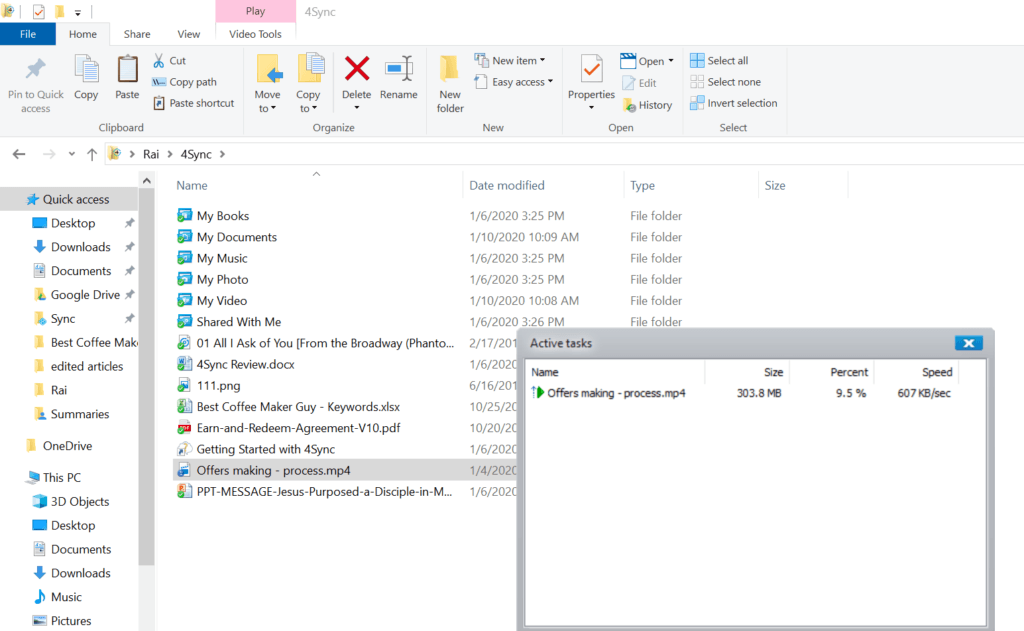 It actually allows as much as 20GB of file size per item uploaded in the cloud storage platform. It also provides selective sync option on its platform.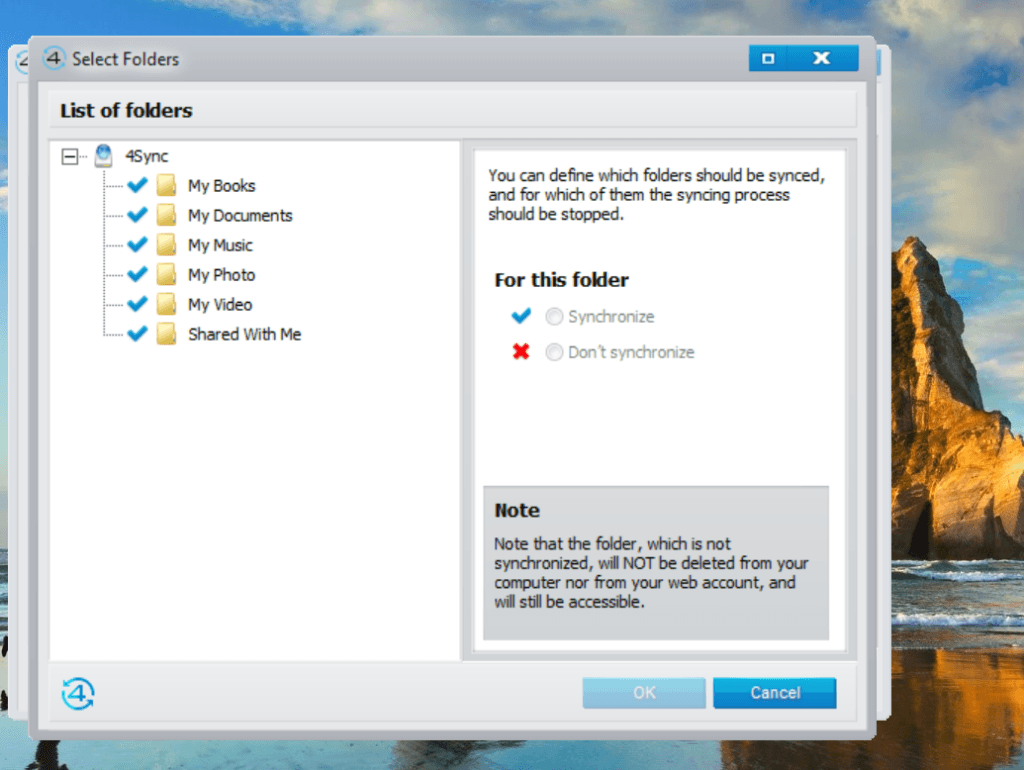 4Sync doesn't have block-level sync which would enable faster uploads of changed files. It is much faster to sync the changes on the offline 4Sync folder than the original upload of the document to the browser. You can also "Sync Any Folder" on your computer. You should look at our best online backup services list if you are searching for more backup features though.
---
File sharing
Folder sharing, as well as file sharing, is available through 4Sync's cloud storage service. You have the option to make the shared folders private or public. This means that if you set the option to private access, then no one except invited members can access it. However, this option is not possible with individual files.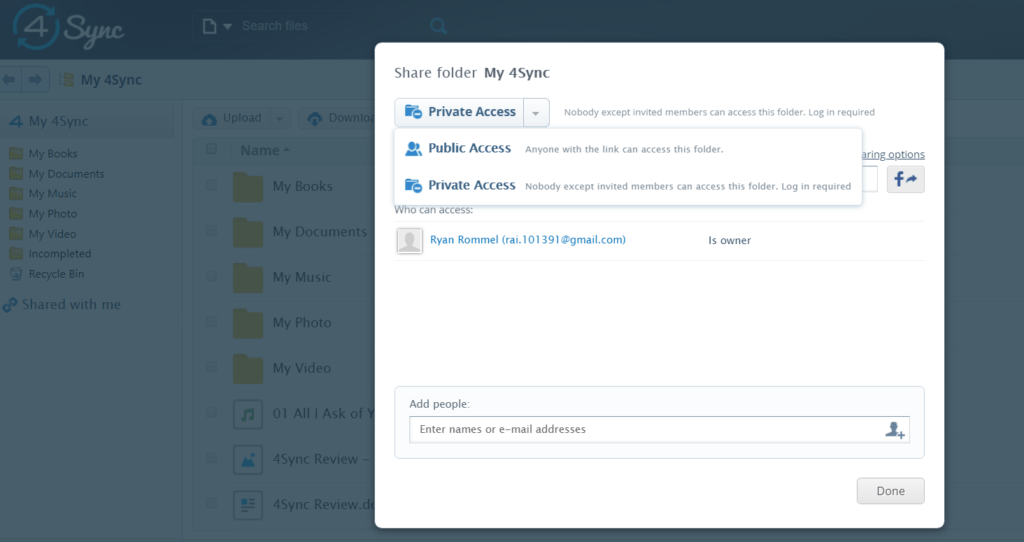 Download links are also available in 4Sync platform. On top of that, in the folder sharing option, you can choose whether team members who have access to the folder can only view or can upload and edit files accordingly. Moreover, there is no bandwidth limit per month.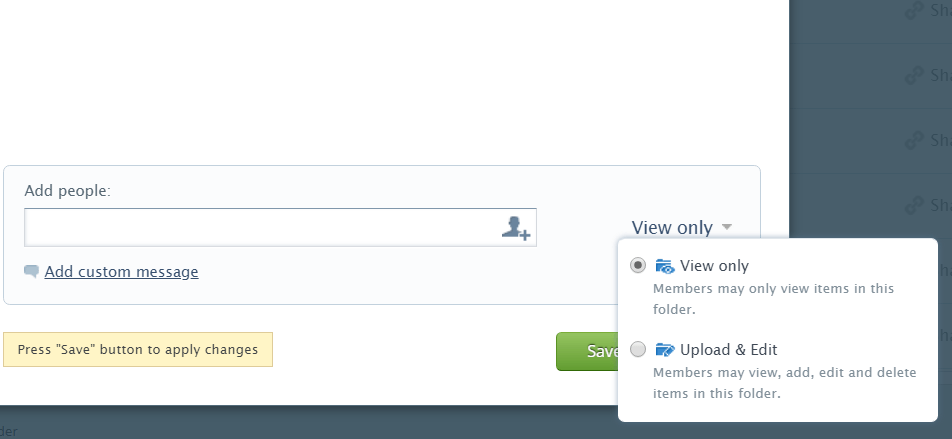 You can also set passwords in order for someone to access a folder. However, passwords are not applicable to individual files.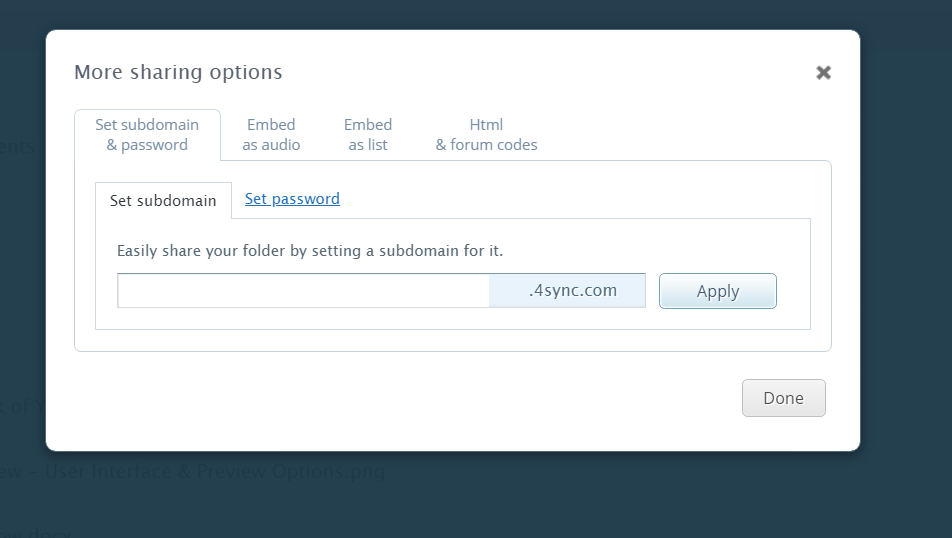 ---
Retrieving files
There is a recycle bin within the 4Sync cloud storage platform. Should you choose to restore the file or folder, you can do it easily. It stays in the recycle bin unless you delete it permanently. However, there is currently no file versioning system.

There is even no in-app editing system with 4Sync. Should you wish to edit the files, you need to edit the offline version of it on your hard drive. You can also download files and folders as a zip file.
---
Security
4Sync adheres to the rules and regulations set forth in the GDPR (General Data Protection Regulation) of the European Union. In addition to this, the cloud storage platform also strictly follows EU data protection and privacy regulations. It also abides by the California Consumer Privacy Act as well as DMCA.
Since this particular cloud storage provider is not straightforward with regards to security, I personally don't recommend it. This is because you and your precious files are susceptible to the provisions set forth by the Patriot Act & Cloud Act of the United States of America.
Moreover, there is no 2 Factor Authentication system with this particular cloud storage platform. However, you can use secure SSL data transfer with the 4Sync platform.
4Sync unfortunately just lacks many of the needed features in order to make it to our most secure cloud storage list.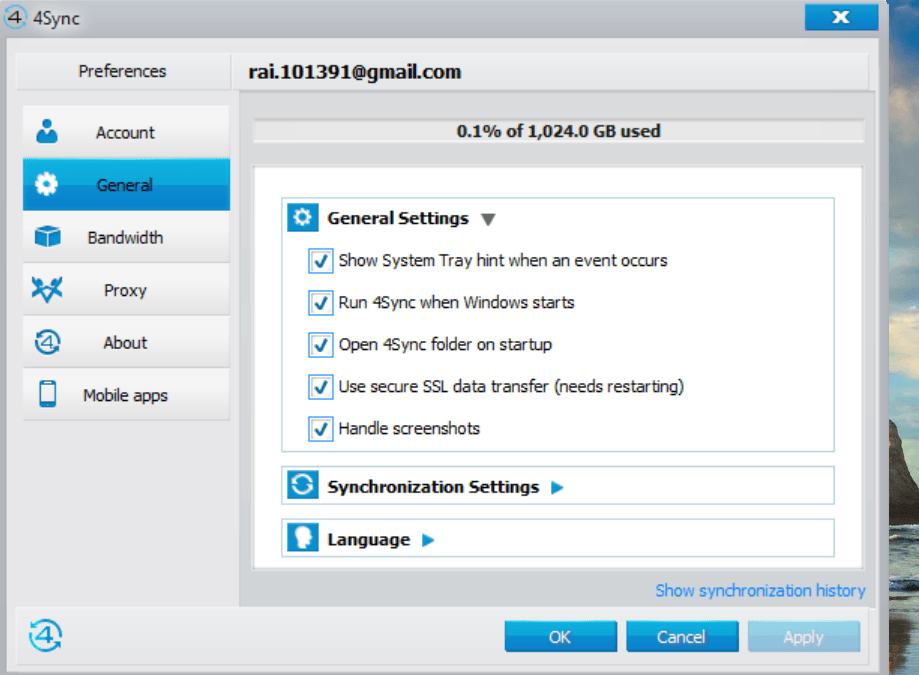 ---
Online support
There is a comprehensive FAQ guide within the website of the platform so I'm pretty sure that most of your questions can be answered there. However, there is no technical support available via phone or live chat. There are no forums as well. The e-mail support is available via the form available on their website. Overall, the platform is quite weak in terms of online support.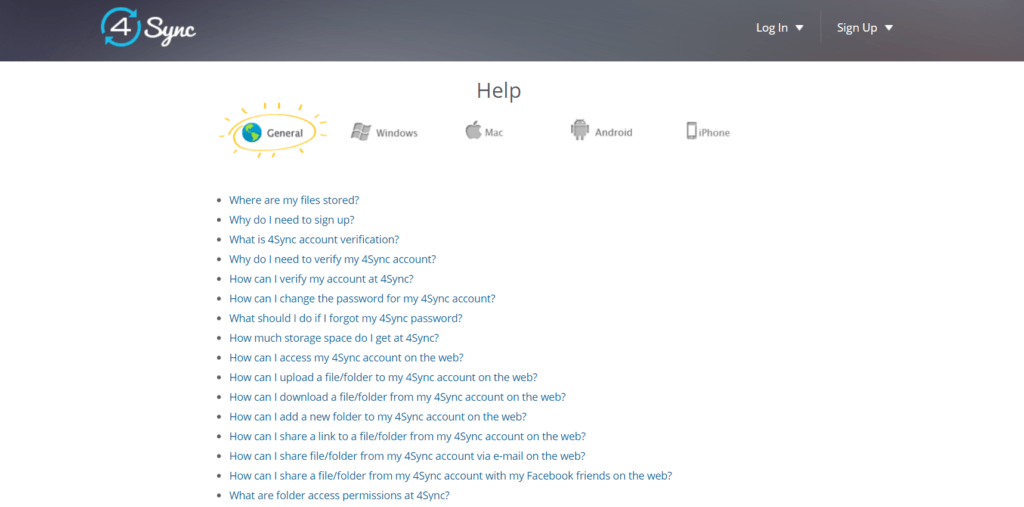 ---
Additional features
---
Comment pins
4Sync has comment pins functionality which allows you to annotate parts of the images, discuss values in charts and reply directly to comments without extra software. Watch the video below to learn more.
---
Mobile application
You can download the mobile version of the 4Sync cloud storage through the platform's website. For Android phone users, you can download directly from Google Play. For iOS users, you can download directly from the apple store. For both Symbian and Blackberry, you can download the app through 4Sync's website.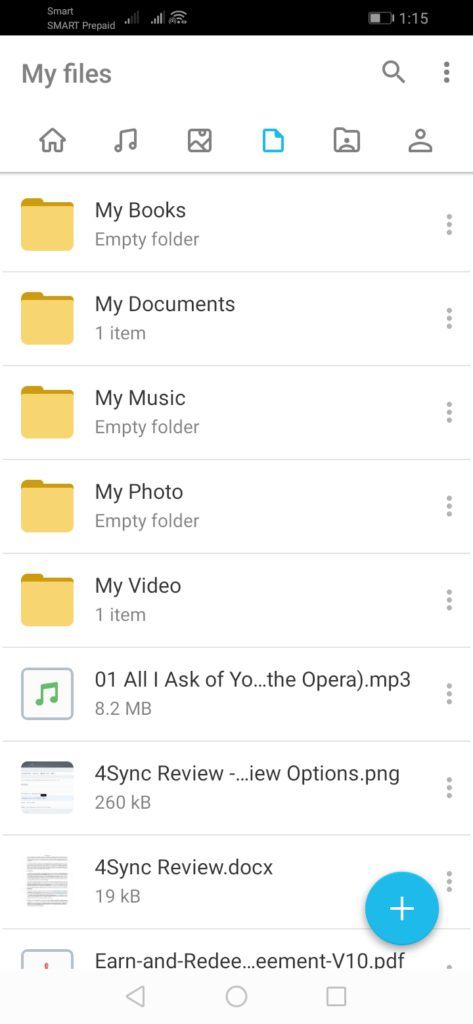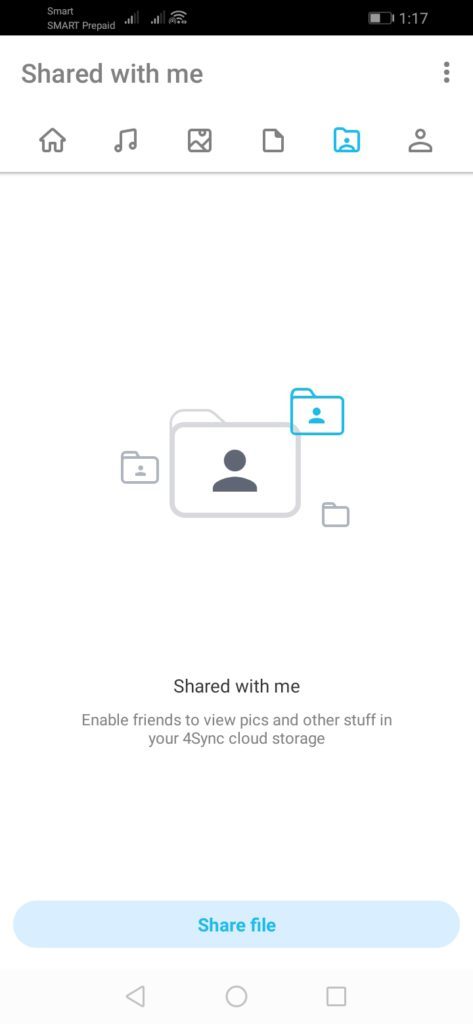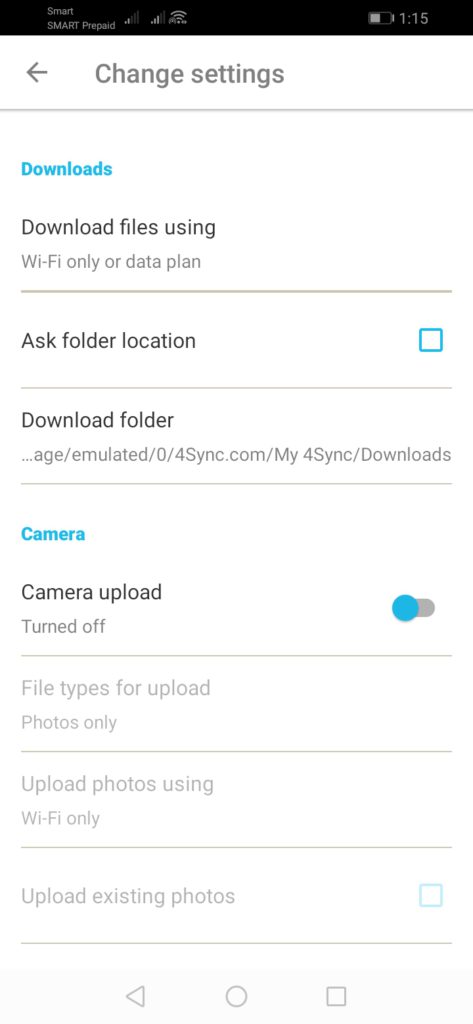 Through the 4Sync mobile app, you can directly upload photos and videos, store your files for offline usage and share them directly from the phone. You can also take photos and save them directly to the cloud.
---
Conclusion
It is better to use the 4Sync cloud storage platform for storing pictures and videos as advised earlier. This is perfect for photographers, video editors, event organizers as well as movie fanatics and TV series lovers. If you are planning to put some files, be sure that it is in the PDF format so that you can take advantage of the preview feature.
However, since it lacks security features such as client-side encryption and 2-factor authentication, I would not advise 4Sync in storing important document files and folders with sensitive content and information. If you are planning to find a better alternative, then I suggest you click the button below. Read more about the top 10 Cloud storage providers we have reviewed for you.
---
---
What's your experience with 4Sync? Please share it down below. I hope I answered all your questions about 4Sync within this 4Sync review. If you have any unanswered questions feel free to ask them in the comments section down below and I'll answer them shortly!