OpenDrive
$5.00/month 500 GB
Additional Features
3.5/10
Pros
Unlimited storage for a low price
Client-side encryption for premium users
Extensive sharing features
Cons
Very limited features in the free plan
Very buggy interface
No client-side encryption in the free plan
Known for having issues with backup
Fishy refund policy
---
OpenDrive Review
OpenDrive could be decent cloud storage if only they kept working on it, but it almost seems like the development has halted and there will be no new updates. It's also very hostile to the free users, so unless you're planning to upgrade to one of their plans you should skip this one right away. They are one of the few cloud storages that offer unlimited storage for a decent price. However, I found during this OpenDrive review that there are so many problems which you will probably run into, making this cloud storage quite bad when compared to the best cloud storage providers.
Read the full OpenDrive review down below.
---
OpenDrive Alternatives
| # | Service | Rating | Description | Paid Plan | Go To |
| --- | --- | --- | --- | --- | --- |
| 1 | pCloud | Read review | pCloud is a great cloud service that takes pride in offering the highest protection available (client-side encryption included) with amazing syncing solutions. It was also the first cloud storage to introduce innovative LIFETIME plans. It is easy to use and is one of the best cloud storage solutions on the market. 10 GB of free storage. | $4.99/month 500 GB | Go to pCloud |
| 2 | Sync.com | Read review | Sync.com is a Canadian cloud storage that utilizes the Zero-knowledge principle. It offers unparalleled privacy and security (via client-side encryption) with great syncing, sharing and file retrieving solutions. 5 GB of free storage. | $8/month 2000 GB | Go to Sync.com |
| 3 | Icedrive | Read review | Icedrive is a UK cloud storage with a main focus on the security of your files. They achieve that with Twofish client-side encryption which certainly raises a few eyebrows. A slick-looking minimalistic design combined with great mobile apps and interesting LIFETIME plans makes them an interesting choice! 10 GB of free storage. | €4.99/month 1000 GB | Go To Icedrive |
| 4 | MEGA | Read review | MEGA offers a secure cloud storage with client-side encryption. It has a modern/responsive interface. The online support is limited and down/upload speeds could be better. 15 GB of free storage. | €4.99/month 400 GB | Go to MEGA |
| 5 | Tresorit | Read review | Tresorit protects your files with Swiss privacy laws and client-side encryption. It has amazing syncing speeds, sharing options and excells in pretty much all other areas but takes the bullet with very expensive and uncompetitive prices. 3 GB of free storage. | €9.99/month 500 GB | Go to Tresorit |
---
Jump to:
Pricing & Plans
Who is it for?
Ease of use
File syncing
File sharing
Retrieving files
Security
Online support
Additional features
Conclusion
---
OpenDrive Features
| | www.opendrive.com |
| --- | --- |
| Pricing & Plans | |
| Free storage | 5 GB |
| Free trial | |
| Lifetime plans | |
| Payment methods | Credit card, PayPal |
| Ease of use | |
| Open in-browser | Office, PDF, Music, Images, Videos |
| Edit in-browser | Zoho Integration |
| Mobile apps | Android, iOS |
| WebDAV | |
| File syncing | |
| Supported systems | Windows, macOS, Linux |
| Imaginary drive | |
| Sync folder | |
| Block-level file sync | |
| Selective sync | |
| Sync any folder | |
| File sharing | |
| Share download links | |
| Link password protection | |
| Link expiration dates | |
| Link branding | |
| Link download limits | |
| Link stats | |
| Share upload links | |
| Share folders | |
| Set folder permissions | |
| Retrieving files | |
| File versioning system | |
| Trash bin | |
| Rewind feature | |
| Security | |
| Server location | US |
| HIPAA Compliance | |
| Encryption protocol | 256-bit AES |
| At-rest encryption | |
| In-transit encryption | |
| Client-side encryption | |
| Zero-knowledge privacy | |
| Two-factor authentication | |
| Online support | |
| FAQ base | |
| Forums | |
| E-mail support | |
| Live chat support | |
| Phone support | |
---
Pricing & Plans
On first glance, OpenDrive has a very tempting pricing structure. For 9.95$/month you have unlimited storage. That's something that not many cloud services offer and is very tempting. On the other hand, their free program offers a very limited experience. File size, daily bandwidth, up/download speeds are all limited which all combine into a non-enjoyable experience, and they almost force you to either upgrade your plan or switch to another cloud storage.
Plan
Pricing
Storage
OpenDrive Personal
Free
5 GB
OpenDrive Custom
Custom
Custom
OpenDrive Personal
$9.95 / month

$99.00 / year

Unlimited
You can find a more detailed description of their programs in the following table: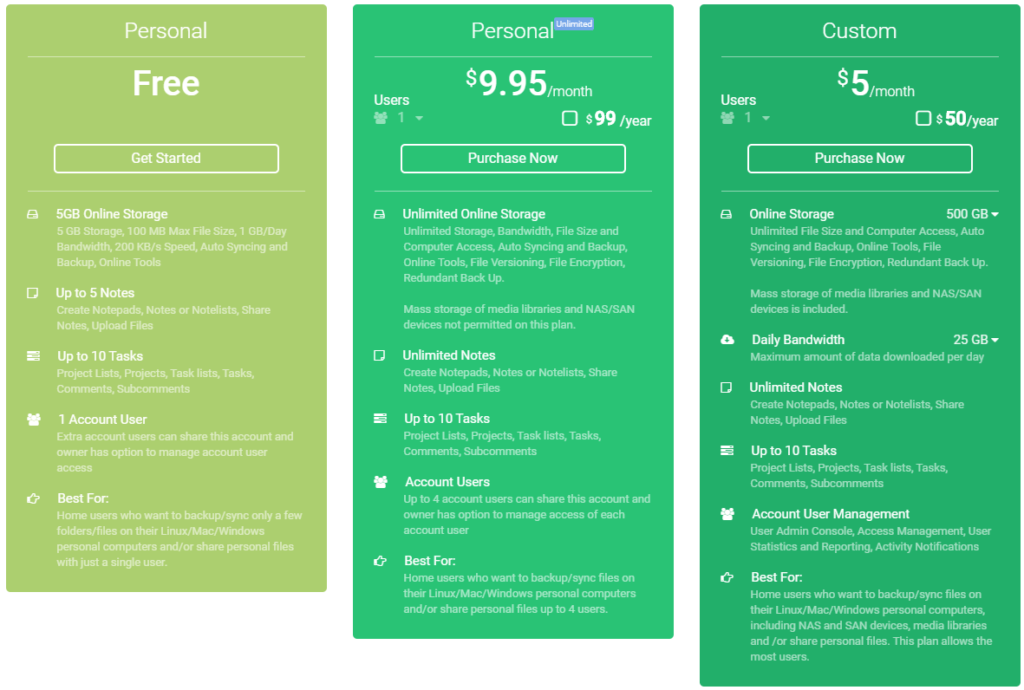 Features explained:
Notes, tasks and project – You can write down reminders or just notes of what you have to do. Projects are compilations of task lists and tasks. To be honest with you this just seems like an awful waste of time and energy. I mean, would you use this? I for one wouldn't.
Account user management – You can share your account with more people to allow them to manage the files as well.
Bandwidth Limit – The amount of data you can download or upload per day.
You can also increase your free storage by leaving a review or sharing OneDrive on social media or referring friends to OpenDrive.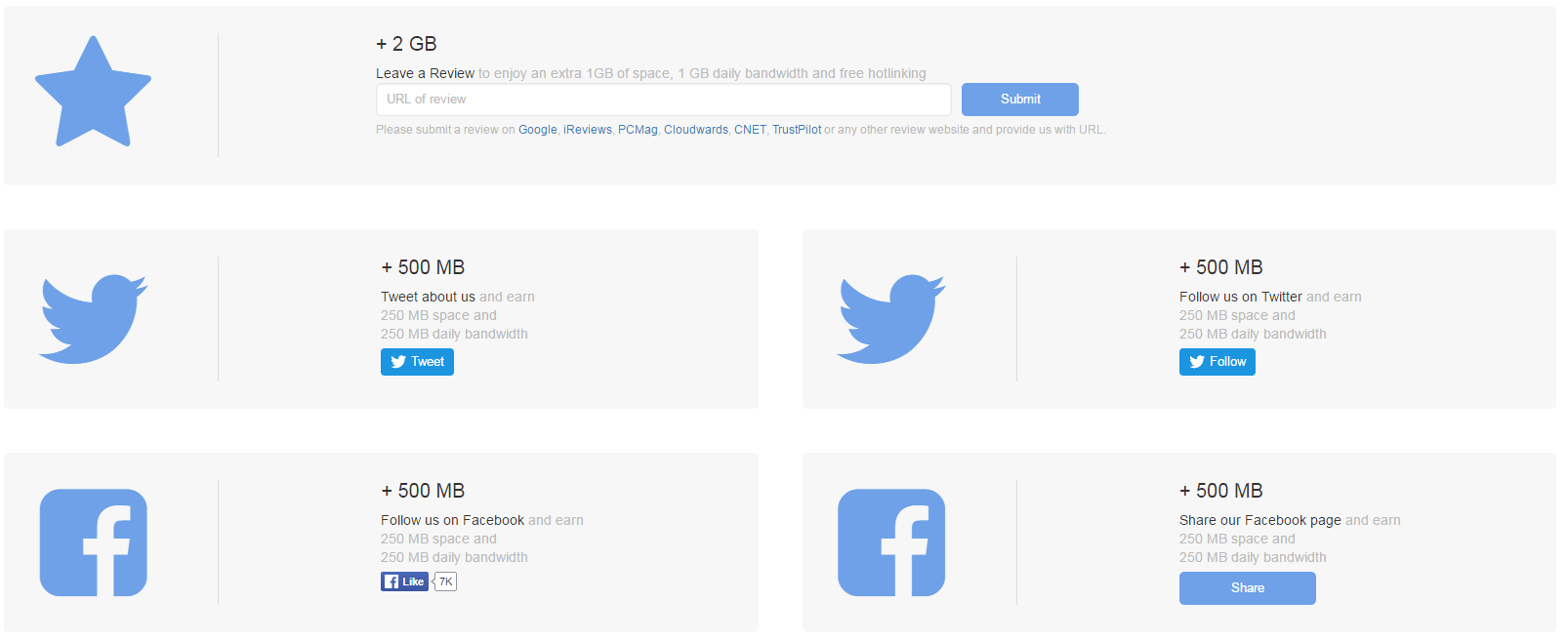 OpenDrive offers no lifetime cloud storage plans. OpenDrive is a cheap cloud storage but one has to look at more than just price with these services.
---
Who is it for?
OpenDrive doesn't seem to be very friendly to its free users; you're almost forced to either upgrade or go for some other cloud storage. So, in case you're one of those free users you should keep looking. Check this list for my Top 10 Cloud Storage Providers.
On the other hand, the unlimited storage sounds very attractive, just hope you don't run into any problems.
Important notice: When you have a free account, and it has been more than 90 days since your last login, your account will become inactive, and the files stored in your account will be removed permanently.
---
Ease of use
To start off, you just register like you would on any other website. After that, you are forwarded to your homepage. From there you can manage your files. The interface itself doesn't look anything special; it has the essential features that you would expect from a file-management system. Here's what it looks like:

The interface feels semi-responsive, but it's still acceptable. Sometimes it takes forever to just open a single MP3 file in order to listen to music. One issue that I've run into is that if you decide to upload a bigger file to one folder, you're not allowed to switch to another folder while the file is being uploaded otherwise it will stop the process. I for one find that very annoying, and I hope they fix this in the future.
You can pick from 2 standard views (the one above and the one with bigger images).
File previews & edits
OpenDrive also has some limited versions (they're using Zoho editors) of Word, Powerpoint and Excel (online tools) implemented in their system. As such you can view and edit those files. You can also preview PDF documents. However, I miss some of the advanced functionalities and resort to using desktop Office applications which makes those integrated functionalities a bit redundant.
I've run into an error when trying to play a video directly via the browser with their integrated player. So that's out of the window. I was able to listen to music and preview images. After a period of waiting that is. The whole software is just so damn slow and buggy.
---
File syncing
You can install OpenDrive on Windows, macOS and Linux. My experience with it isn't the best. Once you install their program, it creates an imaginary drive to which you can then upload files like any other cloud storage. You can also backup individual folders or sync any folder (mirror them). For some reason, the interface works a bit slow. There have also been multiple users complaining that the backup feature isn't working as it should, meaning not backing up their files at all or just a portion of it.

Max file size is set on 100 MB for free users which is ridiculously low for a cloud storage company in this age. They also have a 1 GB per day transfer limit and 200 kb/s speed limit. With the upgraded version all of these values change to "unlimited".
OpenDrive client is not capable of block-level sync that would otherwise enable you to speed up file uploads. That is achieved by updating just parts of the files that have changed instead of uploading whole files again.
They also enable you to use selective sync but in a way that's quite unrecognizable. You're able to use the "Move" function in their desktop client which basically enables you to move specific folders to the cloud and leaves nothing behind. This feature is quite barebones and can become tiresome to use. OpenDrive doesn't offer any cloud backup features present with the best cloud backup providers.
---
File sharing
Like in other cloud storages you can share your files by creating links which you then send to your friends or colleagues. All files automatically create download links which is something I don't like. You can't turn them off if you would, for example, decide not to share the files anymore with somebody that you already gave the link to. All in all, they could have done a far better job at this.

As already mentioned previously you can create groups and sub-accounts for your main account. You can then share those sub-accounts with other people who will have access to your files. A useful feature if you're working in a smaller team with your classmates or colleagues. You can only have up to 1 additional user in the free version and up to 4 with the Personal plan.
It's also possible to create "Expiring links" which can have either an expiry date on them, a download number limit or both at once which is a nice advanced feature. The service also tracks the number of uses which is a great additional touch.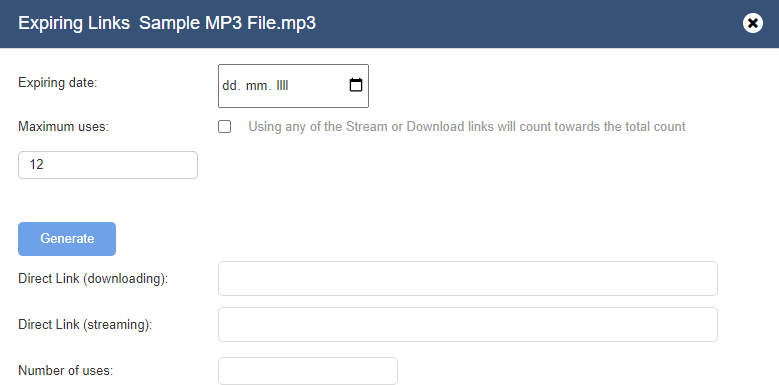 Sending the file link by e-mail can also spare us some time if we're mass sending e-mails to our coworkers.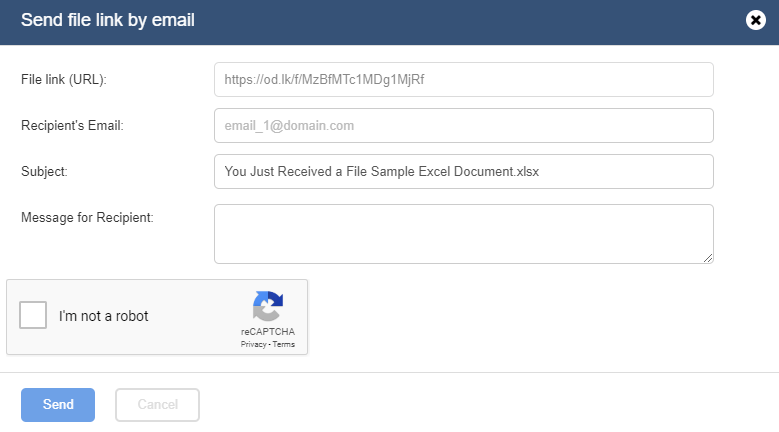 We almost missed the fact that it's possible to password-protect files. Normally this option is available directly from the "Link sharing" user interface. With OpenDrive it's not there, instead, you have to right-click on a file and click on "Properties". The password field can be found in there. It's good that they have the feature but it's certainly more cumbersome compared to other cloud storage providers that have this feature available in the aforementioned menu.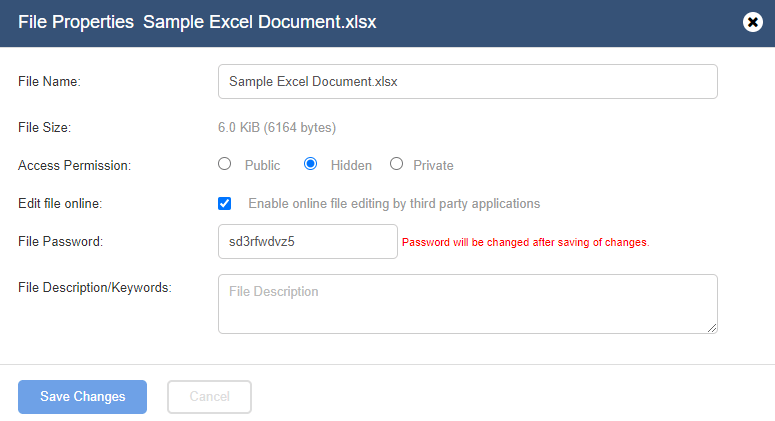 We ran into the same situation with folder sharing. It's certainly possible and once again available for advanced options via the "Properties" option. From there it's possible:
Set access permission (public, hidden, private)
Enable/disable public upload: Anyone with the link will be able to upload files to the folder
Enable/disable public content: Displays folder content to others
Enable/disable display subfolders
Enable/disable public download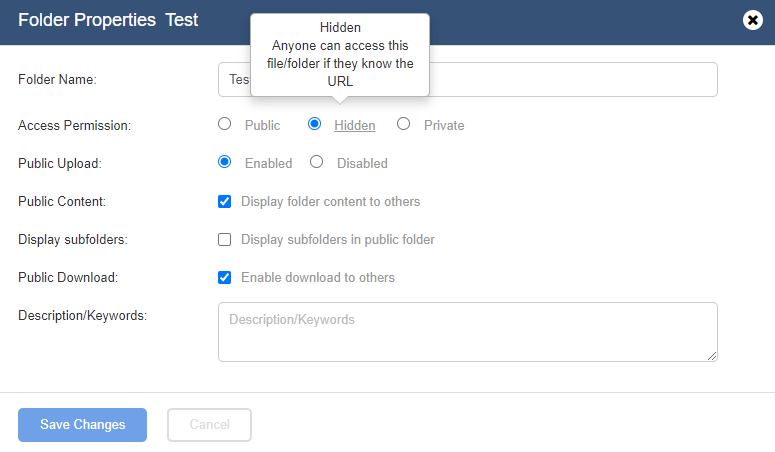 In practice this means that we can set up a variety of different shared folders, everything from upload-only folders to view-only folders to download-only folders. I bet half of the OpenDrive users don't even know this many features exist. I wish they moved the whole thing to the "Sharing link" user interface rather than "Properties".
Download bandwidth limit depends on the plan you're using. You get 1 GB per day in the free version and then everywhere from 25 GB to 5 TB per day in the upgraded versions.
---
Retrieving files
When files are deleted, they are moved to the Trash folder the same way deleted files on your computer are moved to the Recycle Bin or Trash Can. You can restore files from the Trash folder up to 90 days after you delete them. If you empty the Trash folder, or if files are in the Trash folder longer than 90 days, they are physically and permanently deleted and can no longer be restored.
Files and folders that are moved to the Trash folder after being deleted are still part of your used storage as long as they remain in your Trash folder.
File versioning system is available only to premium users, meaning you won't get one if you're a free user. If you decide to upgrade you can enable the system in your account settings. You can store up to 99 versions of a single file, however, keep in mind, that it all counts towards the total amount of space that is available to you.
---
Security
OpenDrive has a single data centre located in Phoenix, Arizona (US).
There are 2 ways to look at the safety of cloud storage. First is how well are your files secured against mechanical failure and second, how well are your files secured against people that shouldn't have access to your data in the first place.
Your files are encrypted on transfer with 2048-bit SSL connection. OpenDrive also creates a zero-knowledge folder called "Secure Files" for all their premium users. This folder utilizes client-side encryption which means that only you have access to these files. This is a similar system that you have at pCloud. Sync.com on the other hand employes client-side encryption across all your files. Your encryption keys never leave your device and the files are encrypted before they're sent to OpenDrive servers.
They use Comodo HackerGuardian Antivirus Protection to scan their servers for additional file protection.
Their hosting is also fully compatible with GDPR, HIPAA and PCI compliant organisations. They're also SAS 70 Type II certified and SOC 2 audited.
I've been reading some OpenDrive reviews from their clients. There've been reports of people losing their data with OpenDrive on many occasions. One of the people lost all his data just because the hard disk had a malfunction and the backup of his data was actually stored on the same disk. This makes OpenDrive one of the less secure cloud storage providers.
---
Online support
OpenDrive offers a decent-sized FAQ base and a forum base where you're able to find some answers in case you run into problems, or you just want to find something out. Apart from that, you can contact their support team, and they usually answer the next working day.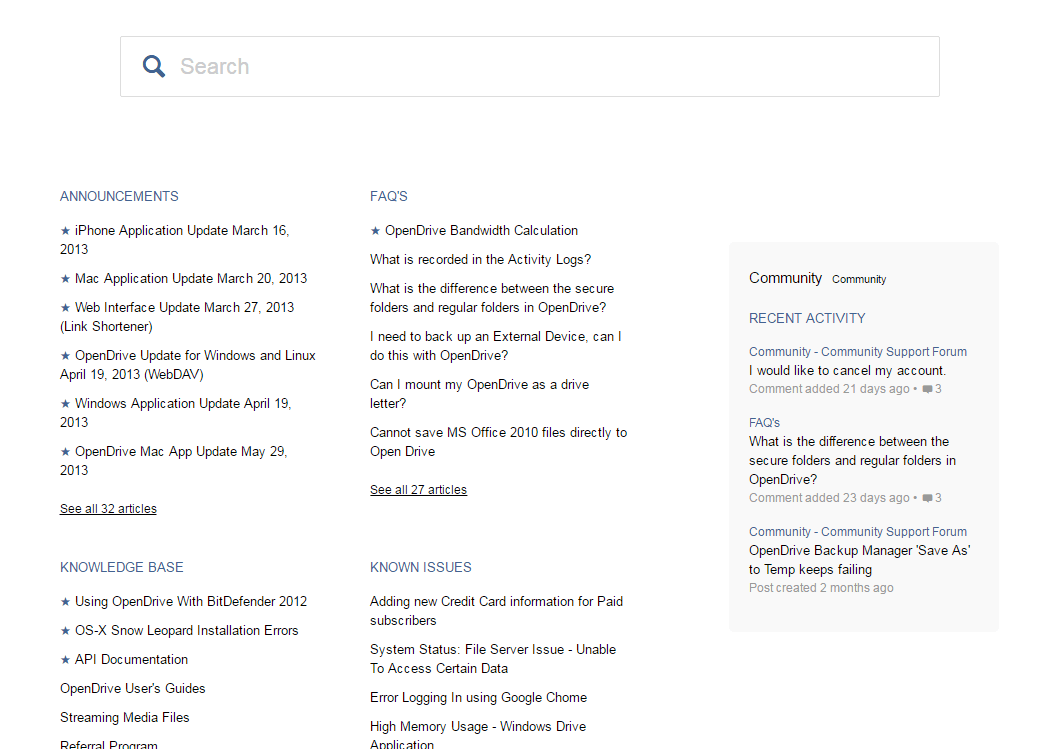 ---
Additional features
---
Mobile Application
You can install OpenDrive on Android and iOS.
The application was tested on an iOS system, and it felt responsive and well made. You can do pretty much everything that you can do on your computer. The settings are a bit limited, and there's no option to backup files from your mobile device which is a disadvantage compared to other cloud storages that offer that feature.
---
Conclusion
OpenDrive is one of those cloud storages where you feel like they tried to make good and useful storage but failed somewhere in the process. I also don't believe there will be any new updates since the whole development kind of fell into nothing. There are far better cloud storages out there, and I don't see why you would pick this one over any other, despite the fact that you can have unlimited storage for 10$.
---
---
Hopefully, we've gone through everything that you wanted to know about OpenDrive within this OpenDrive review. If you have any unanswered questions feel free to ask them in the comments section down below and I'll answer them shortly!