OpenDrive Cloud Storage – SCAM or LEGIT – Review October 2019
OpenDrive
$5.00/month 500 GB
Additional Features
3.5/10
Pros
Unlimited storage for a fair price
Cons
Very limited features in the free plan
Unpleasant for free users
No encryption in the free plan
Known for having issues with backup
Questionable security of your files
Fishy refund policy
---
OpenDrive – SCAM or LEGIT – Review – Quick summary
OpenDrive Review: It could be decent cloud storage if only they kept working on it, but it almost seems like the development has halted and there will be no new updates. It's also very hostile to the free users, so unless you're planning to upgrade to one of their plans you should skip this one right away. They are one of the few cloud storages that offer unlimited storage for a decent price. However, there are so many problems that you will probably run into, which makes this cloud storage quite bad when compared to others.
It's known for having issues with the backup feature, the refund policy is fishy, and the security of your files is questionable.
Read the full OpenDrive review down below.
---
Jump to:
Pricing & Plans
Who is it for ?
Ease of use
File syncing
File sharing
Retrieving files
Security
Online support
Additional features
Conclusion
---
Pricing & Plans
On first glance, OpenDrive has a very tempting pricing structure. For 9.95$/month you have unlimited storage. That's something that not many cloud services offer and is very tempting. On the other hand, their free program offers a very limited experience. File size, daily bandwidth, up/download speeds are all limited which all combine into a non-enjoyable experience, and they almost force you to either upgrade your plan or switch to another cloud storage.
Plan
Pricing
Storage
OpenDrive Personal
Free
5 GB
OpenDrive Custom
$5.00 / month

$50.00 / year

500 GB
OpenDrive Personal
$9.95 / month

$99.00 / year

Unlimited
You can find a more detailed description of their programs in the following table: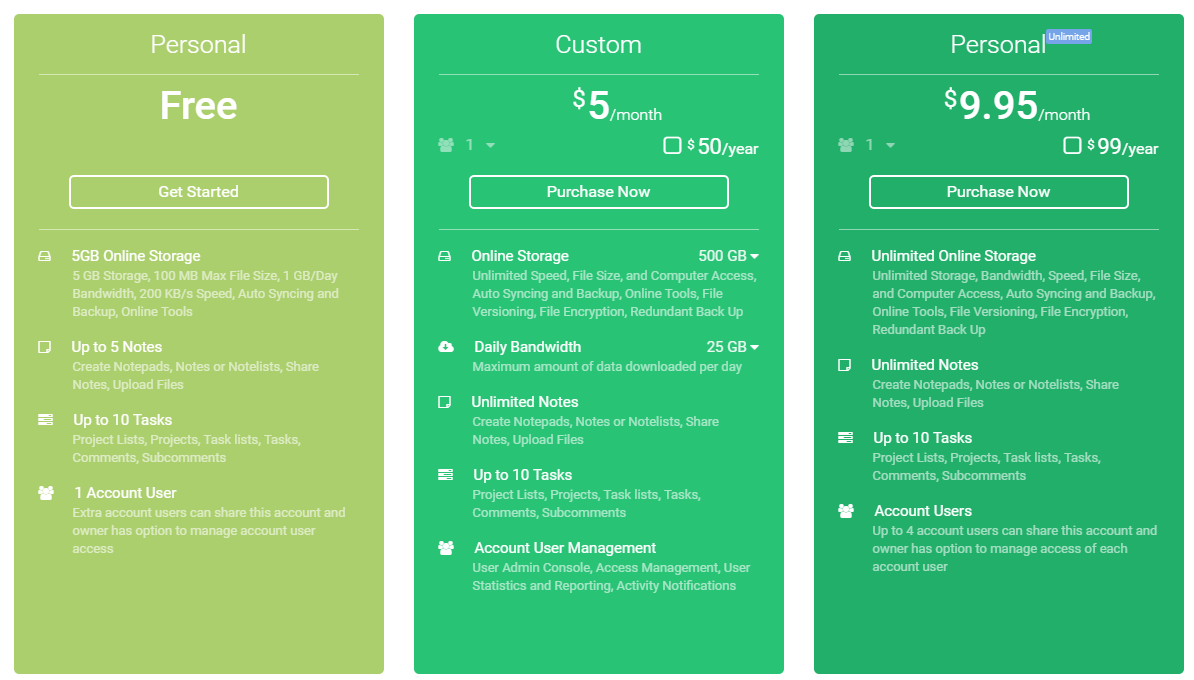 Features explained:
Notes, tasks and project – You can write down reminders or just notes of what you have to do. Projects are compilations of task lists and tasks. To be honest with you this just seems like an awful waste of time and energy. I mean, would you use this? I for one wouldn't.
Account user management – You can share your account with more people to allow them to manage the files as well.
Bandwidth Limit – The amount of data you can download or upload per day.
You can also increase your free storage by leaving a review or sharing OneDrive on social media or referring friends to OpenDrive.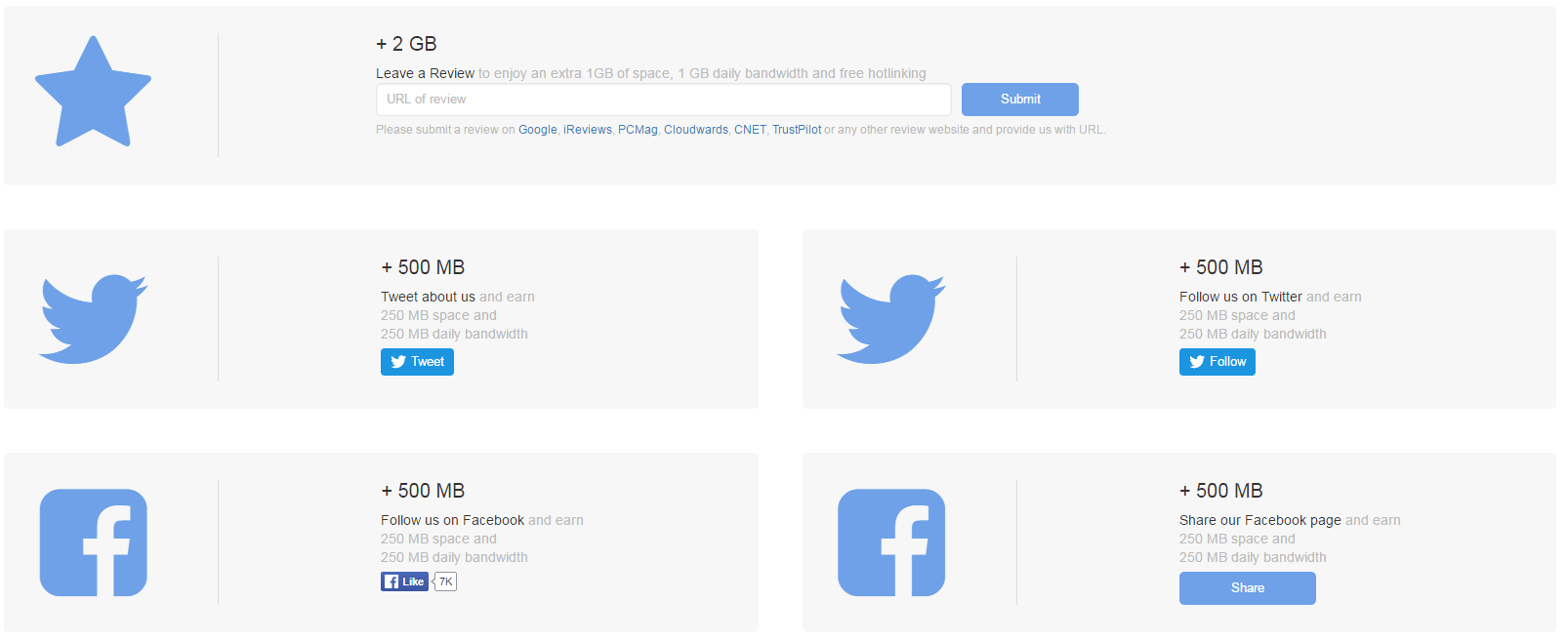 ---
Who is it for ?
OpenDrive doesn't seem to be very friendly to its free users; you're almost forced to either upgrade or go for some other cloud storage. So, in case you're one of those free users you should keep looking. Check this list for my Top 10 Cloud Storage Providers.
On the other hand, the unlimited storage sounds very attractive, just hope you don't run into any problems.
Important notice: When you have a free account, and it has been more than 90 days since your last login, your account will become inactive,, and the files stored in your account will be removed permanently.
---
Ease of use
To start off, you just register like you would on any other website. After that, you are forwarded to your homepage. From there you can manage your files. The interface itself doesn't look anything special; it has the essential features that you would expect from a file-management system. Here's what it looks like:

The interface feels semi-responsive, but it's still acceptable. One issue that I've run into is that if you decide to upload a bigger file to one folder, you're not allowed to switch to another folder while the file is being uploaded otherwise it will stop the process. I for one find that very annoying, and I hope they fix this in the future.
You can pick from 2 standard views (the one above and the one with bigger images).
OpenDrive also has some limited versions of Word, Powerpoint and Excel (online tools) implemented in their system. However, I would never edit my files directly on the cloud. It would be much easier to download them, edit them and upload them back to the cloud.
---
File syncing
You can install OpenDrive on Windows, Linux or your Mac. My experience with it isn't the best. Once you install their program, it creates an imaginary drive to which you can then upload files like any other cloud storage. You can also backup individual folders or keep them synced(mirror them). For some reason, the interface works a bit slow. There have also been multiple users complaining that the backup feature isn't working as it should, meaning not backing up their files at all or just a portion of it.

---
File sharing
Like in other cloud storages you can share your files by creating links which you then send to your friends or colleagues. You can also password protect links that you share to other people. All files automatically create download links which is something I don't like. You can't turn them off if you would, for example, decide not to share the files anymore with somebody that you already gave the link to. All in all, they could have done a far better job at this.

As already mentioned previously you can create groups and sub-accounts for your main account. You can then share those sub-accounts with other people who will have access to your files. A useful feature if you're working in a smaller team with your classmates or colleagues. You can only have up to 1 additional user in the free version and up to 4 with the Personal plan.
---
Retrieving files
When files are deleted, they are moved to the Trash folder the same way deleted files on your computer are moved to the Recycle Bin or Trash Can. You can restore files from the Trash folder up to 90 days after you delete them. If you empty the Trash folder, or if files are in the Trash folder longer than 90 days, they are physically and permanently deleted and can no longer be restored.
Files and folders that are moved to the Trash folder after being deleted are still part of your used storage as long as they remain in your Trash folder.
File versioning system is available only to premium users, meaning you won't get one if you're a free user. If you decide to upgrade you can enable the system in your account settings. You can store up to 99 versions of a single file, however, keep in mind, that it all counts towards the total amount of space that is available to you.
---
Security
There are 2 ways to look at the safety of cloud storage. First is how well are your files secured against mechanical failure and second, how well are your files secured against people that shouldn't have access to your data in the first place.
I've been reading some OpenDrive reviews from their clients. There've been reports of people losing their data with OpenDrive on many occasions. One of the people lost all his data just because the hard disk had a malfunction and the backup of his data was actually stored on the same disk.
Data Encryption
Files are transferred through a 128-bit encrypted Secure Socket Layer (SSL) connection.
For premium users, OpenDrive creates a  folder called "Secure Files", where uploaded files are encrypted with strong AES-256 encryption on-the-fly. Your custom encryption key never leaves your computer and files are encrypted before they are sent to OpenDrive servers. Your files are locally encrypted, and nobody else can access them. The same feature that pCloud offers however much more complicated and limited for that fact.
---
Online support
OpenDrive offers a decent-sized FAQ base and a forum base where you're able to find some answers in case you run into problems, or you just want to find something out. Apart from that, you can contact their support team, and they usually answer the next working day.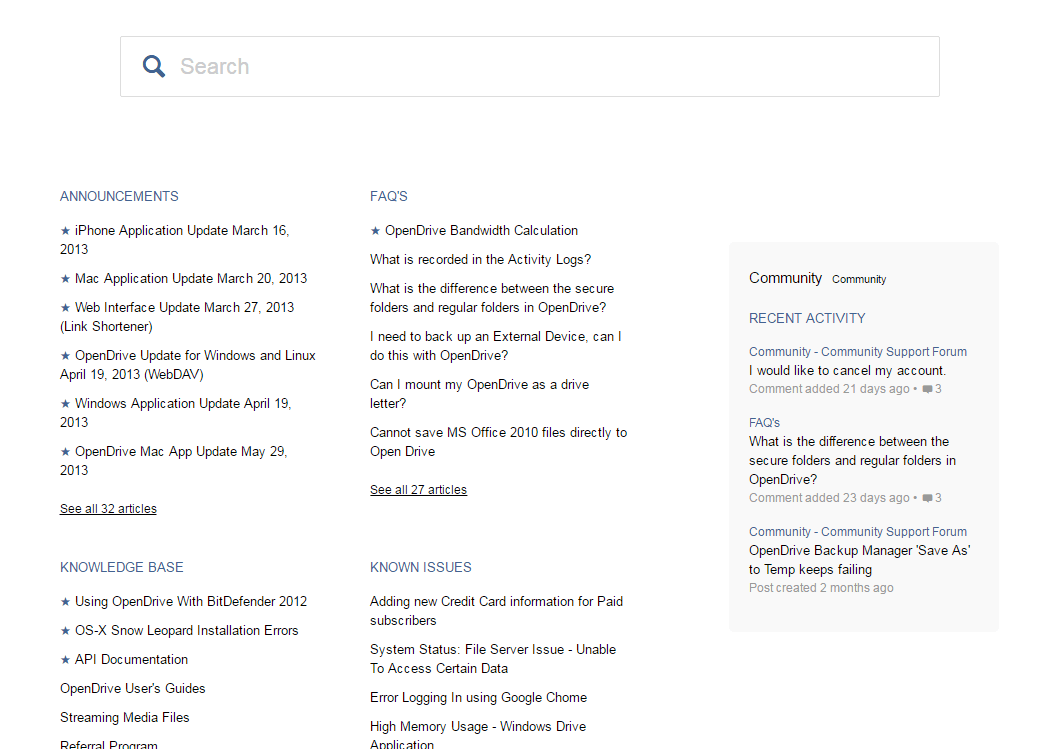 ---
Additional features
---
Mobile Application
You can install OpenDrive on Android, iPhone and Blackberry.
The application was tested on an iOS system, and it felt responsive and well made. You can do pretty much everything that you can do on your computer. The settings are a bit limited, and there's no option to backup files from your mobile device which is a disadvantage compared to other cloud storages that offer that feature.
---
Conclusion
OpenDrive is one of those cloud storages where you feel like they tried to make good and useful storage but failed somewhere in the process. I also don't believe there will be any new updates since the whole development kind of fell into nothing. There are far better cloud storages out there, and I don't see why you would pick this one over any other, despite the fact that you can have unlimited storage for 10$.
---
---
Hopefully, we've gone through everything that you wanted to know about OpenDrive within this OpenDrive review. If you have any unanswered questions feel free to ask them in the comments section down below and I'll answer them shortly!