MiMedia
$7.99/month 500 GB
Additional Features
6.0/10
Pros
Simple pricing plans
Decent mobile application
Cons
Unfriendly UI
No sync folder
No advanced sharing options
No versioning system
No trash bin
No client-side encryption
MiMedia Review
MiMedia is a cloud storage provider from the United States that focuses on providing a solution for storing media online. It does an "okay" job at that but fails to provide certain features that are extremely important for cloud storage. Read the full MiMedia review down below.
---
MiMedia Alternatives
---
Jump to:
Pricing & Plans
Who is it for?
Ease of use
File syncing
File sharing
Retrieving files
Security
Online support
Additional features
Conclusion
---
Pricing & Plans
MiMedia as a cloud storage meant for media (photos, videos & music) makes no difference between their plans in terms of features. If you pay more you get more storage, simple. With the free 10 GB plan, it might attract a few of you that would want to perhaps use MiMedia as a storage for your music collection but it's very easy to pass that point if you plan to save your entire media collection on the cloud. Going for yearly payments will save you some money in the long run as they offer a discount on all yearly plans.
In comparison with other cloud storage providers, MiMedia falls on the more expensive side. Though if their features are enough to convince you it's not that far off to make your investment with them completely wild.
Plan
Starter
Basic
Plus
Premium
Price
Free
$7.99/month
$85.00/year
$9.99/month
$100.00/year
$15.99/month
$160.00/year
Storage
10 GB
500 GB
1000 GB
2000 GB
MiMedia offers no lifetime cloud storage plans.
---
Who is it for?
MiMedia was clearly built as a cloud storage for one thing -> Storing media. What a shocker that was, right… While they do an okay job with that I don't believe they have polished their service to a degree that would make them the preferable choice for media in comparison with the best cloud storage providers out there that can do it all.
---
Ease of use
To register with MiMedia you can either fill in the data as you would with any other online service or use Google/Facebook to register with their service. Once you confirm your email the service is made available to you via a not-so-ordinary menu.

It's from this menu that you can then navigate to various sections of your online storage. Sections such as Photos, Videos, Music and Documents allow you to upload your media in designated sections. You then also have your "MiDrive" which is what they call they call your storage space. You can create multiple "MiDrive" folders to which you can then upload your media (but not your documents).
It's very important to note that you can't upload certain popular file formats to MiMedia. Most the media is good to go (such as jpg, png, MP4, MOV, WEBM, MP3, ACC) and most of the document formats (DOC, XLS, PDF, TXT) as well but you can say goodbye to all compressed file types (RAR, ZIP,…). For a full list of supported file formats check their help section.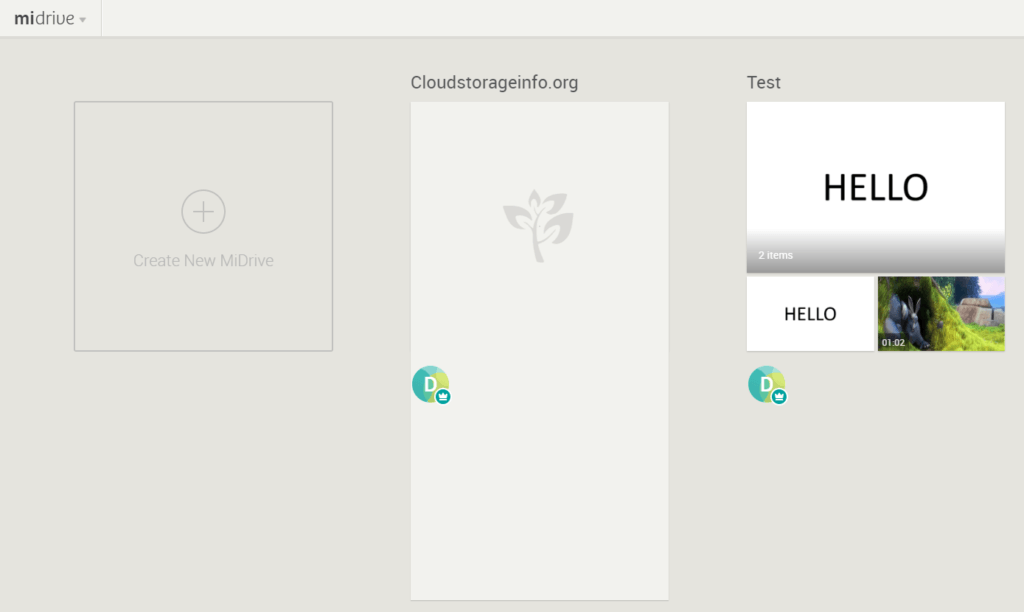 I personally found MiDrive extremely unfriendly. I fully understand that this is a cloud storage meant for media only but I can't go over the fact that they want to mimic a Gallery on your phone rather than full-on storage that lets you concretely manage your media which is what I would want from a service like that. The UI also doesn't allow you to display the files in a "List" type of system. Instead, it forces you to use the "Thumbnails" system.
On the other hand, some may be interested in their features such as "Collections", "This day" that makes a slideshow out of your media and the sorting of images per date.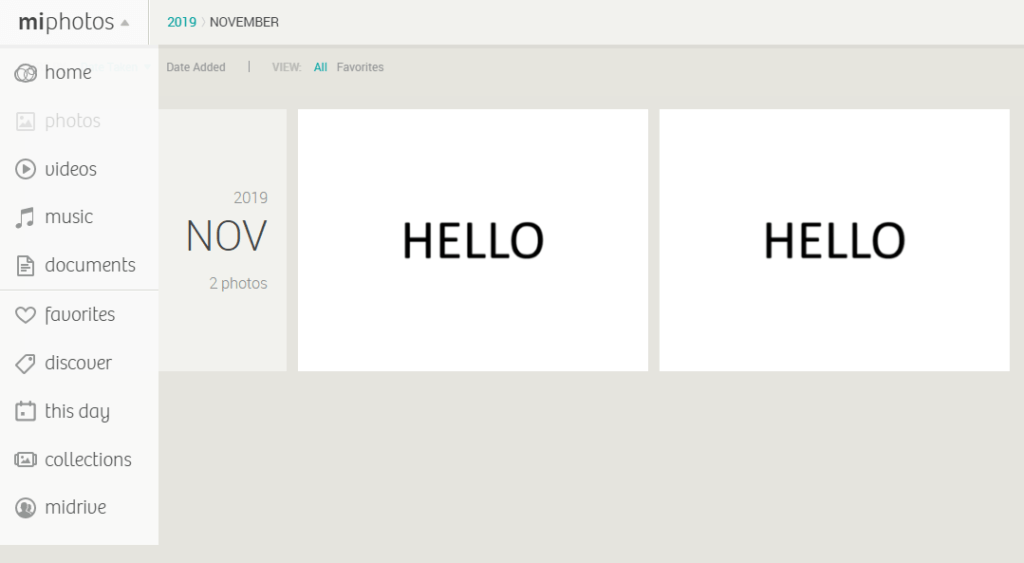 It's possible to connect MiMedia with Dropbox, Facebook, Flickr, Google and Instagram. Via this connection, you can then upload all the media to your MiMedia cloud storage.
On multiple occasions, I ran into problems when trying to upload a file to the cloud. I would just end up on an endless "Processing" stage. The upload would never finish and I needed to restart the whole process.

File previews & edits
MiMedia does not allow you to preview documents such as Office or PDF files directly in the browser. You can, however, watch movies, listen to music and preview images which is the main focus of this cloud service.
---
File syncing
MiMedia desktop client is available for Windows and macOS users. Upon installation of the client you can during the setup perform a scan that searches for all media and documents on your computer.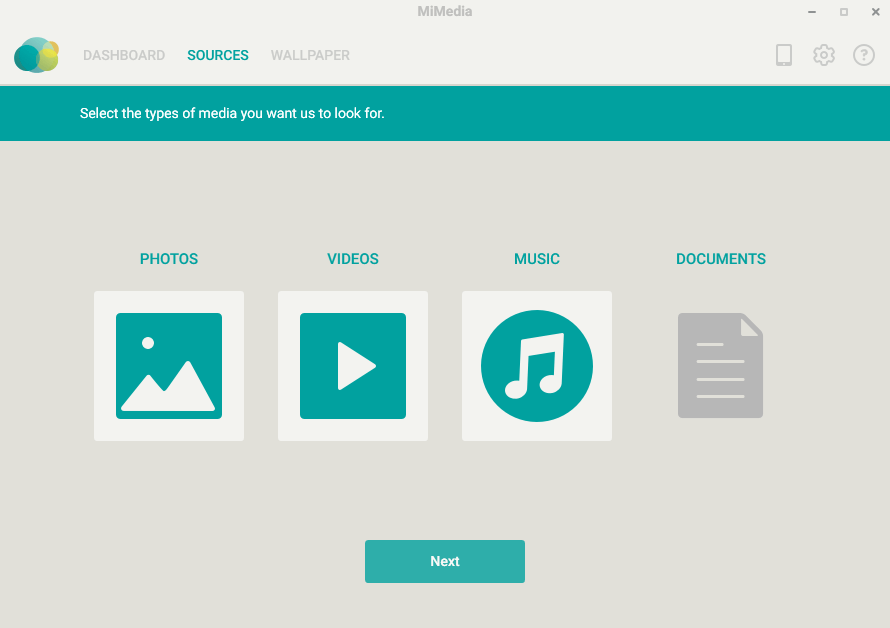 MiMedia as such provides no sync folder to which you could upload your files and have them synced across all devices. Instead, it allows you to select specific folders (sync any folder) on your computer and only sync the media files they support. Their client acts more as a backup service rather than a system that allows you to synchronise data across multiple devices.
As such you can say goodbye to the sync features such as block-level sync or selective sync.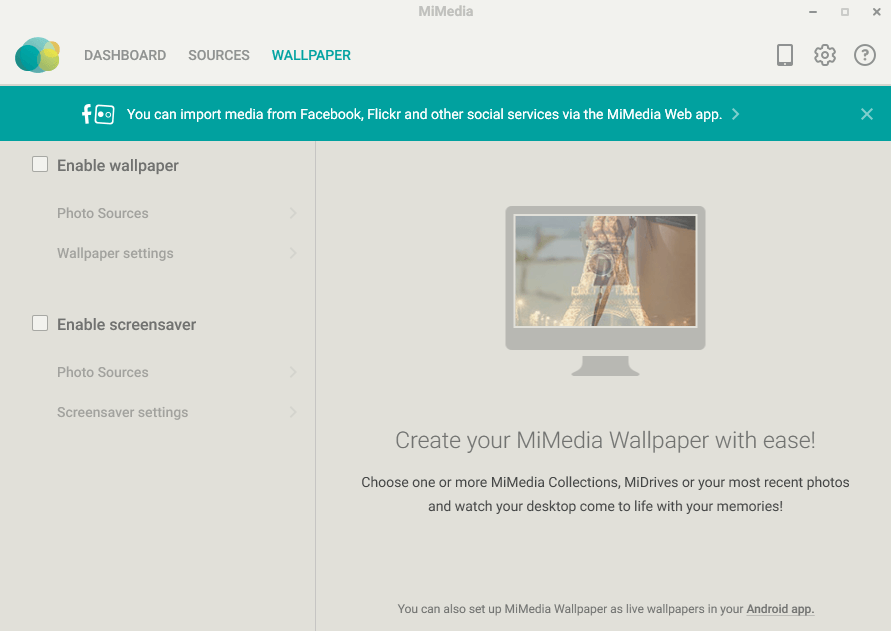 With their client, I was able to have some fun with the wallpapers which is a nice bonus.
There's a 5 GB file size limit with MiMedia for all users.
---
File sharing
Sharing any file can happen either via email or a download link. There are no advanced options such as password-protected links or expiry dates. So you either enter an email, a custom message and send the file via an email or copy the link and send it to your friend. He can then open the link and download the image. For both of these methods, the other person does not require a MiDrive account.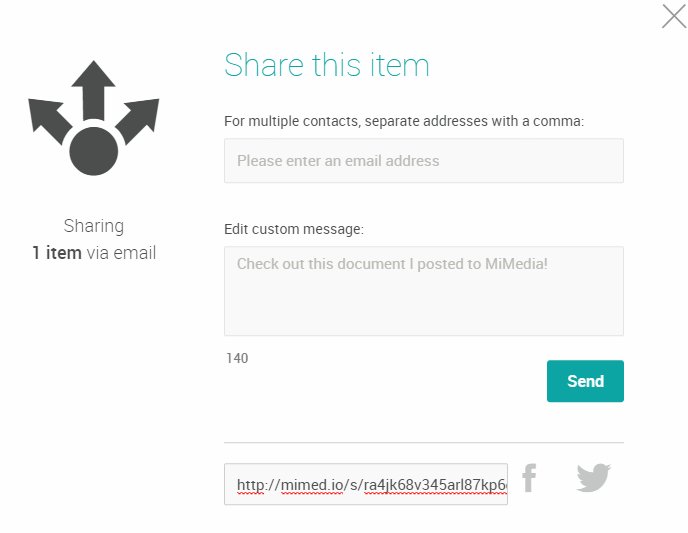 It is possible to invite a person to your MiDrive though. He will require an account and then you can both add media to that "MiDrive" folder. It's also possible to add comments to media files and divide the media files into sections by date.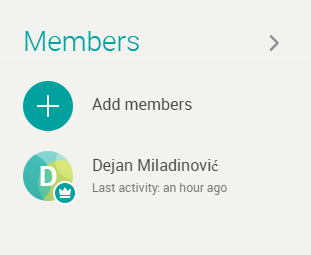 Under settings, you can remove any shared links you have created to stop sharing the files.
---
Retrieving files
You have deleted an entire folder of pictures and movies accidentally. Alright, not all is lost, after all you're using a cloud storage to fix mistakes like that, right? Well, not with MiMedia. There's no file versioning system nor can you retrieve a file from a trash bin. They simply though these systems aren't worth their time or that they're not what their userbase wants. In either case, I need at least a trash bin with my cloud storage provider which makes MiMedia a not-so-great solution.
---
Security
MiMedia server is located in the US.
MiMedia focuses on media which is clear by now. My photo collection is very valuable in terms of sentimental value. As such I want it saved in a cloud service that is both private and secure. MiMedia claims that "the security of my data is their top concern". As such, they use 128-bit SSL protection to encrypt my data on transit.
"To prevent data loss, we utilize a highly-reliable and redundant server architecture with enterprise-grade disk drives. In other words, your media will be as secure with us as technologically possible! "
Is that really true? I wouldn't say so. They've said nothing about how my files are encrypted while at rest nor do they provide client-side encryption which would truly ensure my data remains in my hands.
To the question if anyone else but myself can access my data they answer with: " Well, only if YOU let someone, because we sure won't! ". They don't say "can't", they say "won't". That doesn't go far in the US. With the Patriot and CLOUD act, it's easy for government authorities to request your data from cloud storage providers. If no client-side encryption is provided they will get that data one way or another.
Two-factor authentication is available with MiMedia.
---
Online support
MiMedia created a pool of frequently asked questions like all other cloud storage providers and answered them in a pretty decent capacity. You are likely to find an answer to your question in there.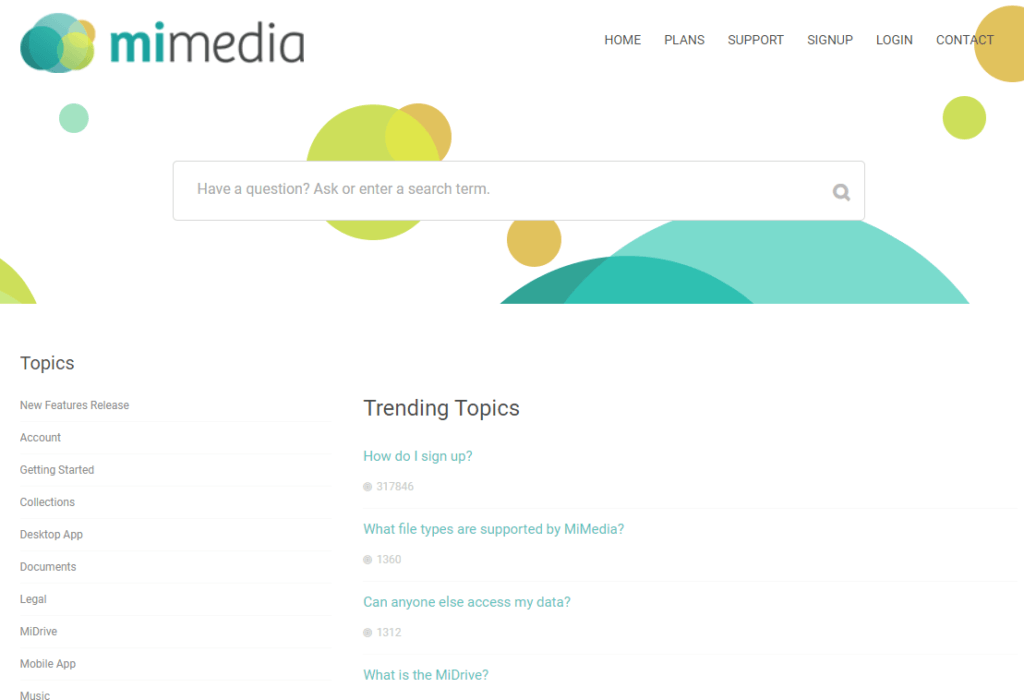 If that won't answer your question you can contact them via their "Contact Us" page. They don't promise any kind of support with their plans though, nor do they make any mention of live chat or phone call support.
---
Additional features
---
Mobile application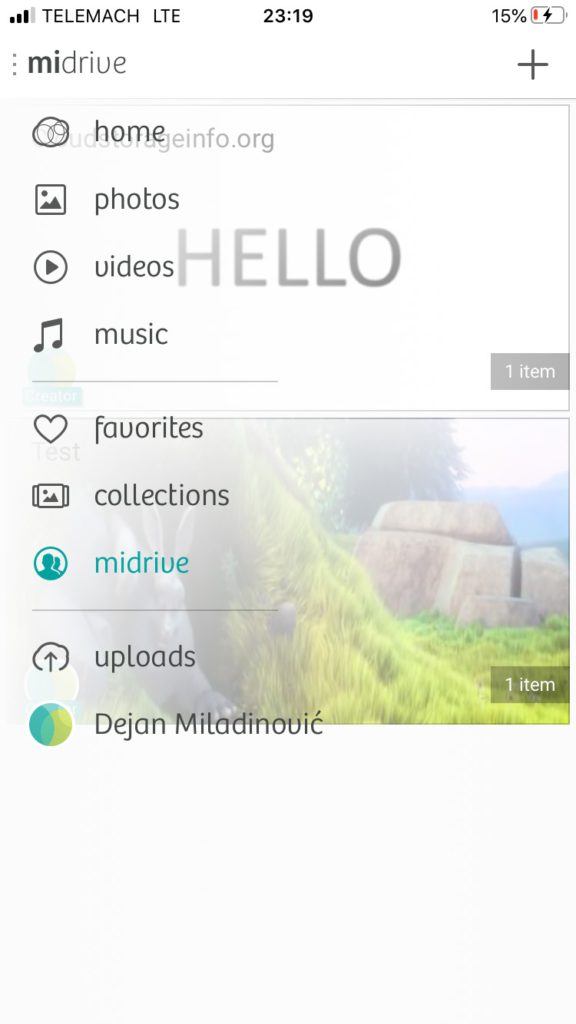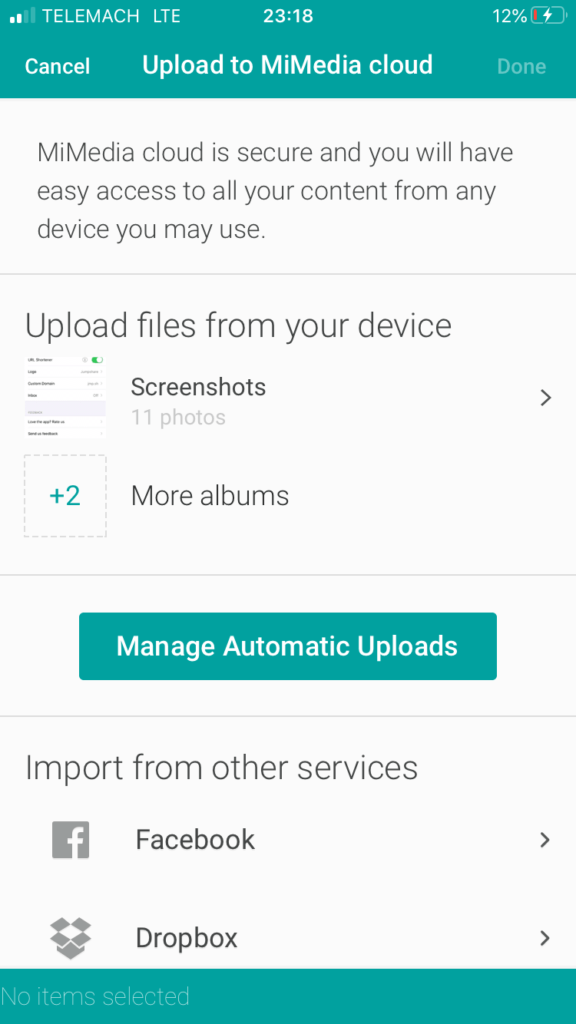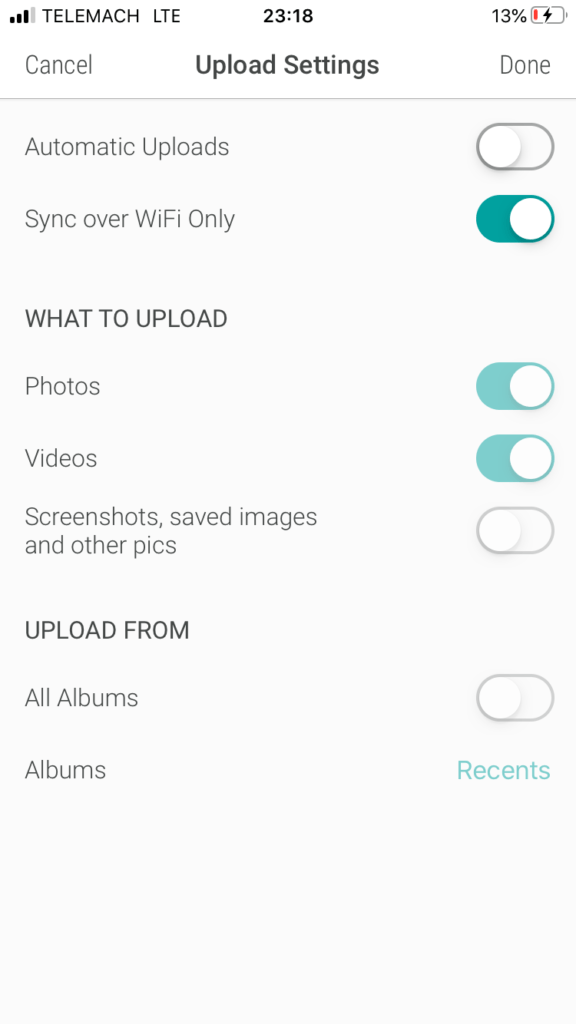 The mobile application is available for Android and iOS systems with MiMedia. It focuses on uploading your photos and videos to the cloud. It allows you to also enable automatic uploads and as such backup your media storage. There's no option for offline access though.
---
Conclusion
MiMedia tried to be different than other cloud storage providers by focusing on videos, pictures and music. In my opinion, they just ended up restricting their service instead of providing a great product specifically designed for those file types. With no sync folder and an unfriendly UI, their service didn't convince me to switch from my current cloud storage provider where I store my photo collection.
---
---
Hopefully, we've gone through everything that you wanted to know about MiMedia within this MiMedia review. If you have any unanswered questions feel free to ask them in the comments section down below and I'll answer them shortly!