Livedrive
£6.99/month Unlimited GB
Security & Privacy
8.0/10
Additional Features
5.0/10
Pros
Unlimited cloud backup
No file size limitation
Compatible with Android & IOS devices
File versioning system is available
Uses 256-bit AES encryption
Cons
Slow upload & download speeds outside UK
Online support is quite limited
Asking credit card details during free trial
No client-side encryption
---
Livedrive Review
Livedrive is a cloud backup and cloud storage provider created and launched by Andrew Michael and Nicholas Cowell in 2008. As of 2011, Livedrive has been acquired by J2 Global. Read the comprehensive Livedrive Review to learn more about the details.
---
Livedrive Alternatives
Jump to:
Pricing & Plans
Who is it for?
Ease of use
File backup
Speed
File restoration
Security & privacy
Online support
Additional features
Conclusion
---
Pricing & Plans
There are 3 types of subscription plans you can avail of if you choose Livedrive as your cloud backup provider. First, you can choose the Personal Cloud Backup subscription plan for £6.99 per month. Second, you can also avail of the Briefcase subscription plan for £10.00 per month. Third, you can also choose the Pro Suite subscription plan for £15.00 per month. The Pro Suite subscription plan is a combination of the Personal Cloud Backup and the Briefcase cloud storage system of Livedrive. Check the price table below to learn more about the details.
---
Personal Plans
---
Business Plans
---
There is also a 14-day trial for each of the subscription plans. This means that you can test Livedrive thoroughly during the trial period.
---
Who is it for?
Livedrive is a recommended cloud backup system for people residing in Europe especially in the United Kingdom where the data centers are currently located. It is also for people who want to back up and restore files easily.
---
Ease of use
It is easy to create an account with Livedrive. You just have to give a valid e-mail address and a password you want to use.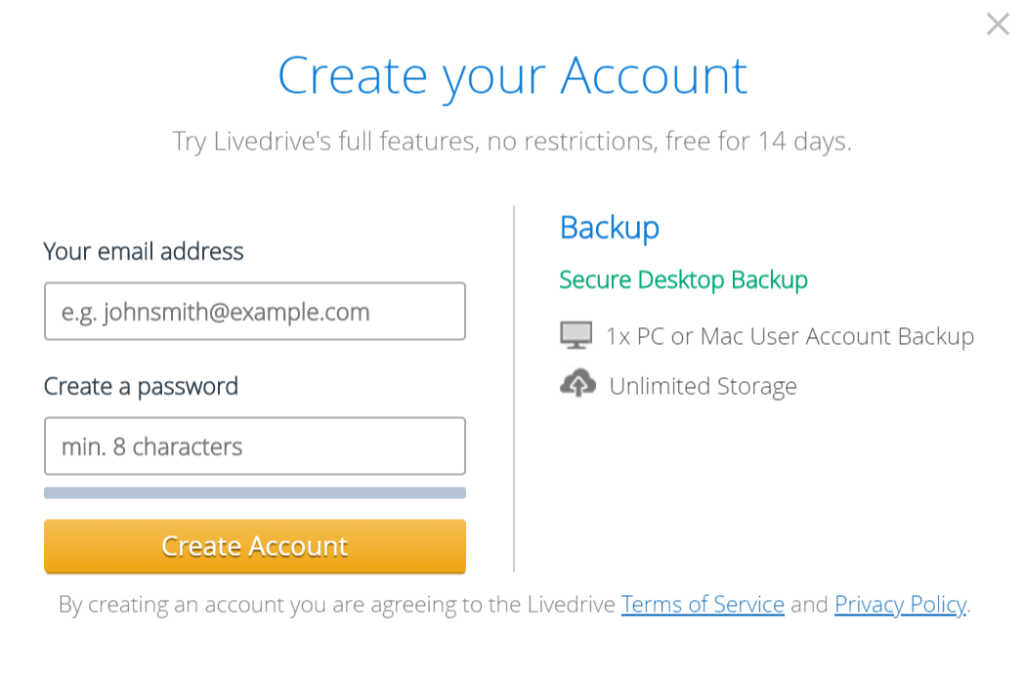 However, you should take note that you can't start using Livedrive without exposing the debit card or credit card details. This means that you can't activate the free trial account without exposing credit card details. This is something that should be considered by Livedrive on improving in the near future.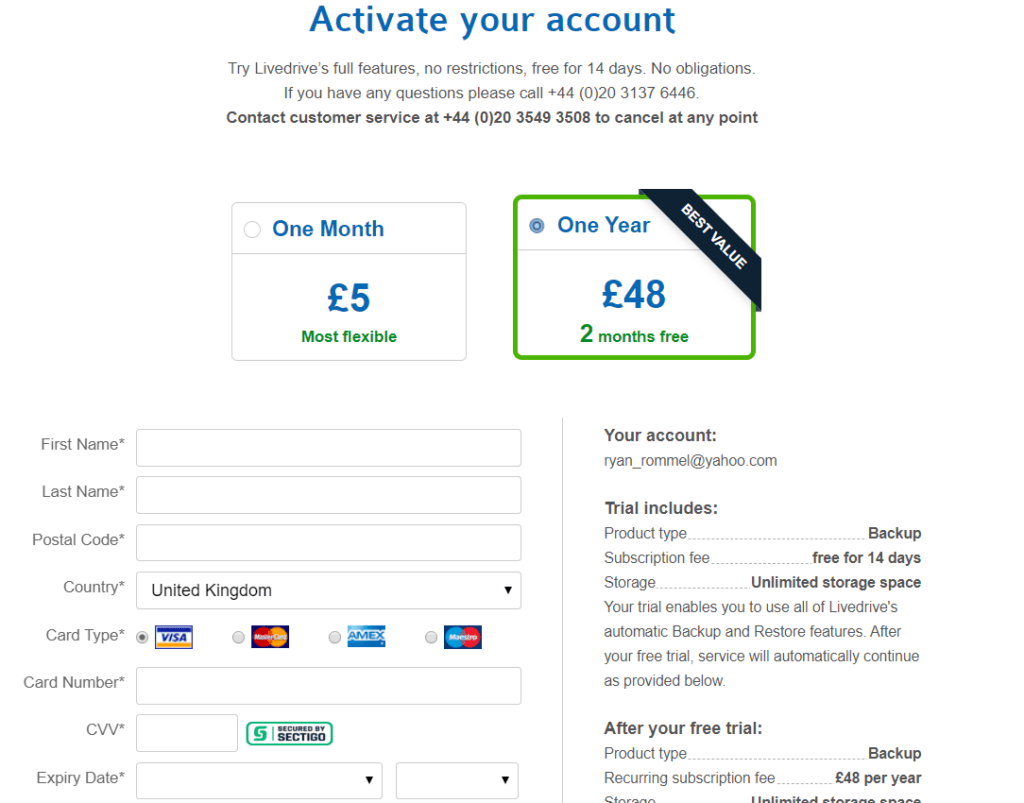 File previews & edits
Livedrive has the capability to preview files such as photos, videos, music as well as PDF files. Microsoft Word, Microsoft Excel, and Microsoft PowerPoint documents can't be previewed directly. I suggest that you subscribe to the Pro Suite subscription plan of Livedrive so that you can preview all files including documents. This is because the Pro Suite subscription plan gives you the authority to use the "Briefcase" which is the cloud storage system of Livedrive.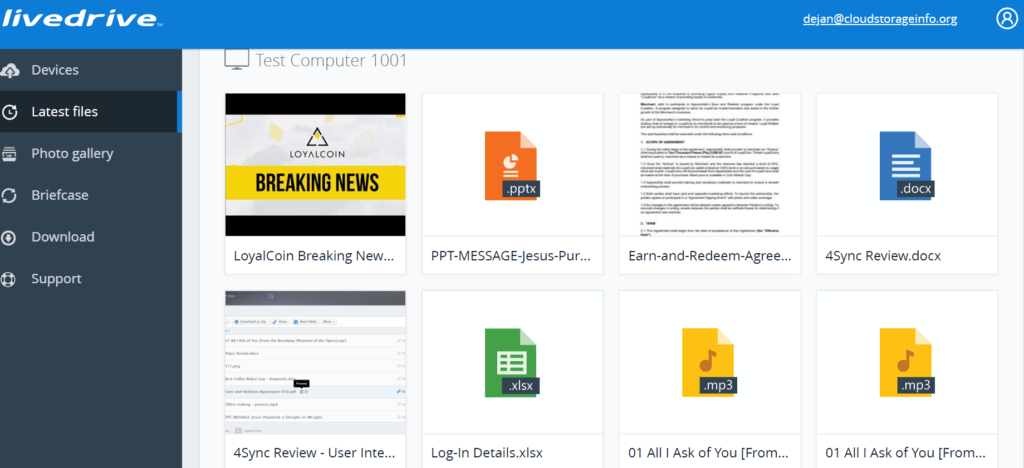 ---
File backup
Livedrive is compatible with Windows OS that is version 7 or higher and the MAC OS that is version X 10.11 or higher. You can schedule backups in Livedrive. However, scheduling options are very limited. Real-time and continuous backup is also supported.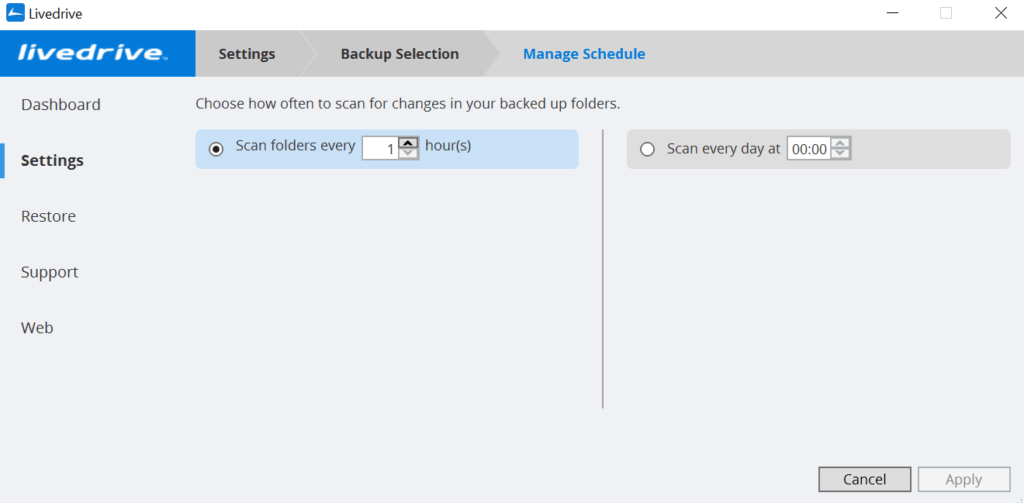 NAS Backup is available. However, you need to pay an extra £5 per month on top of your regular subscription fee. External Hard Disk Drive backup is also supported. However, there is no hybrid backup option available for Livedrive as of the moment.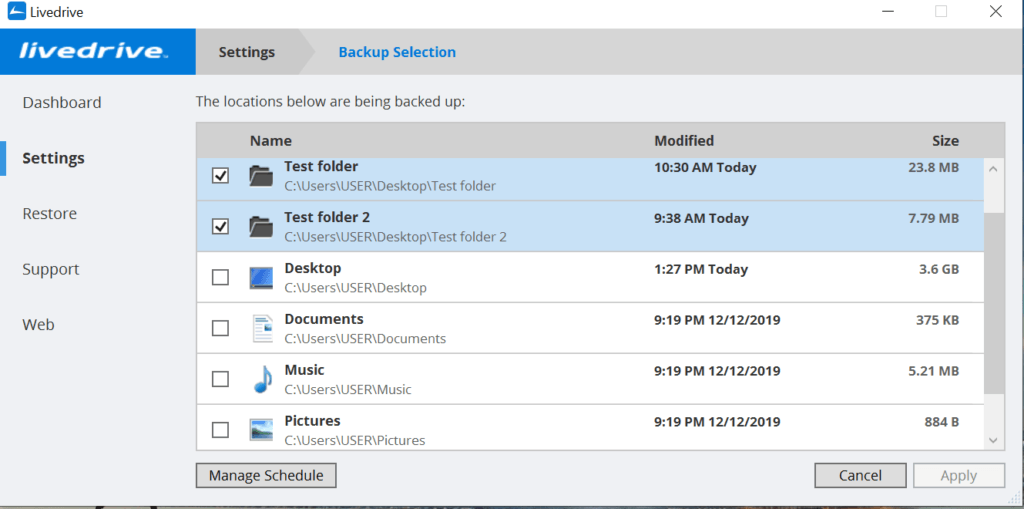 Incremental backup and deduplication procedures are supported by Livedrive. You can also adjust the settings as to bandwidth.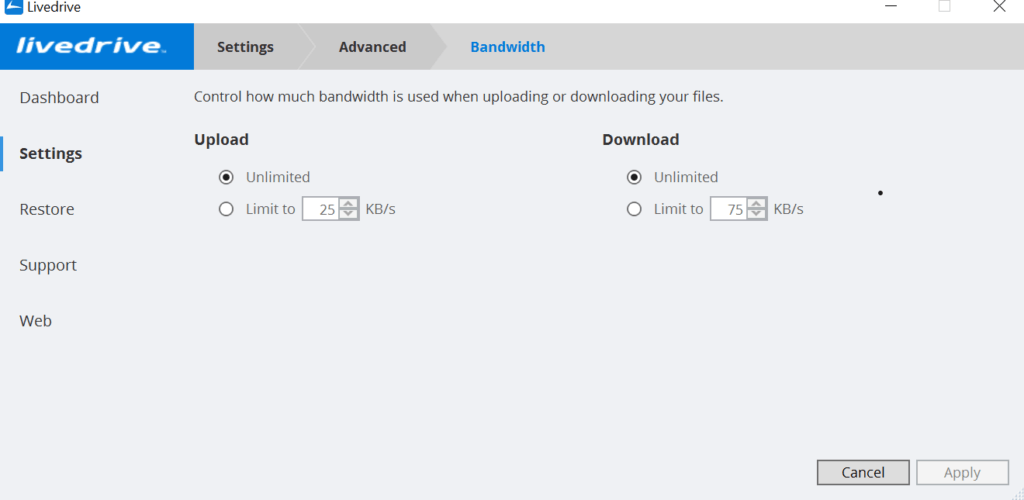 There is no file size limitation in Livedrive.  You can also set file type exclusions and folder exclusions in the desktop client of Livedrive. Livedrive doesn't back up operating systems, temporary files as well as system files.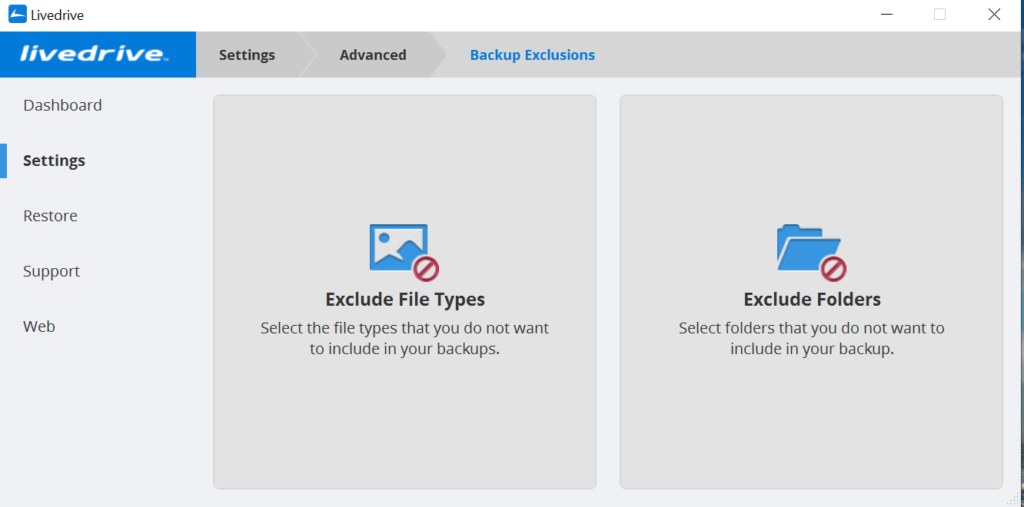 Mobile Application
Livedrive is compatible with devices running on Android 5.0 version or higher as well as devices running on IOS 11 version or higher.  You can access and download files directly from the cloud through your mobile phones. However, you should take note that backing up files originating from your mobile phones is only possible if you have availed the Briefcase subscription plan or the Pro Suite subscription plan.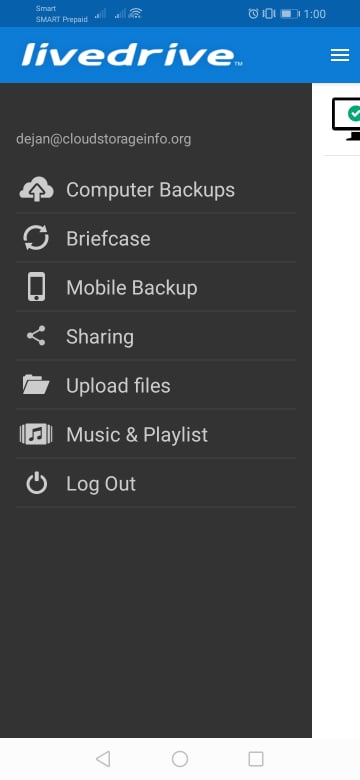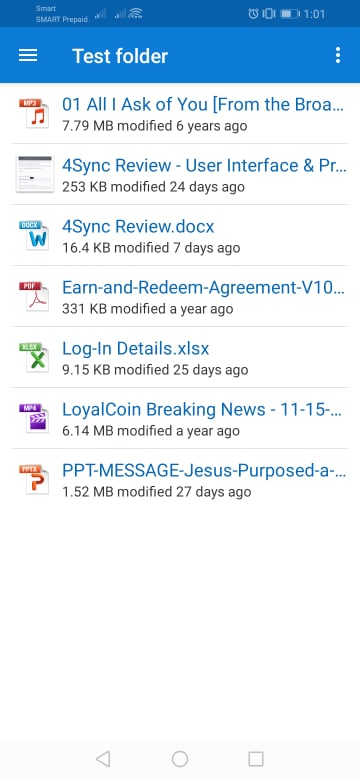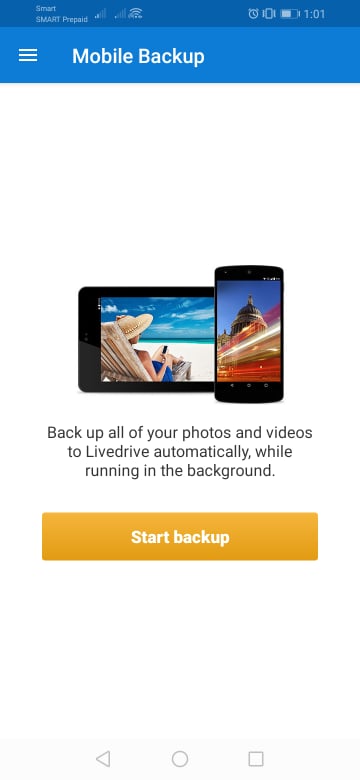 ---
Speed
We tested the speed of Livedrive here in the Philippines. During such time, the local internet provider has a speed of 4.00 MBPS /2.00 MBPS download/upload speed. The results are listed below.
| | | | | |
| --- | --- | --- | --- | --- |
| 1 GB File | Internet Provider (max speeds) | Test 1 | Test 2 | Average |
| Time (Download) | 00:33:20 | 01:32:00 | 01:33:06 | 01:32:03 |
| Time (Upload) | 01:06:40 | 03:08:17 | 03:08:15 | 03:08:16 |
Both the download speed and the upload speed are quite slow when tested here in the Philippines. This can be attributed to the fact that the data centers of Livedrive are all located in the United Kingdom. The physical proximity of the data centers to the local computer where the files are being uploaded and downloaded can significantly affect the download and upload speeds.
---
File restoration
It is easy to restore files and folders to your local computer. You can do the process very quickly using the desktop client version of the Livedrive cloud backup system. First, you need to select the source of the files and folders you wish to restore. You can either select the "cloud backup" or the "briefcase." If you have a personal cloud backup subscription plan, then you can only choose the cloud backup option.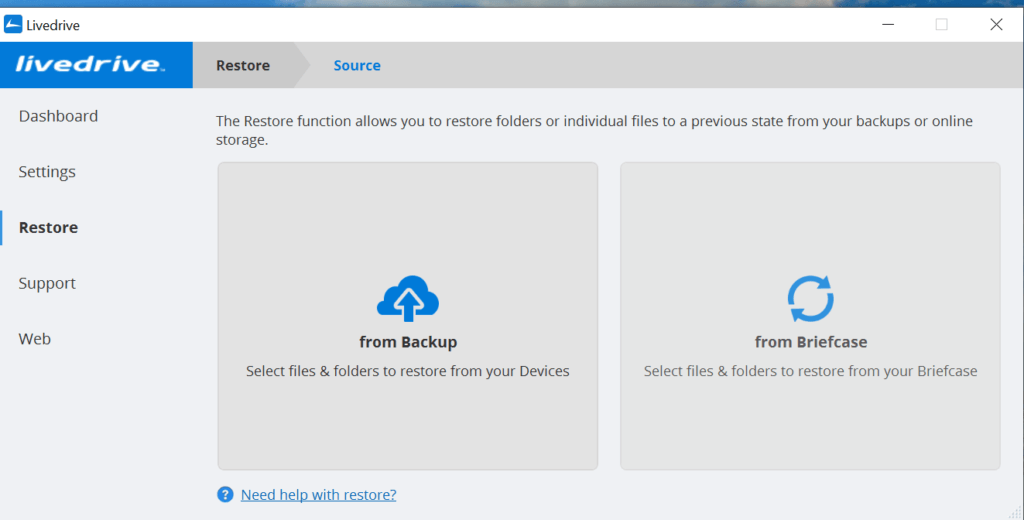 The next thing you need to do is select which files or folders you want to download and restore to your local computer. You have the option to download the files individually or to download an entire folder.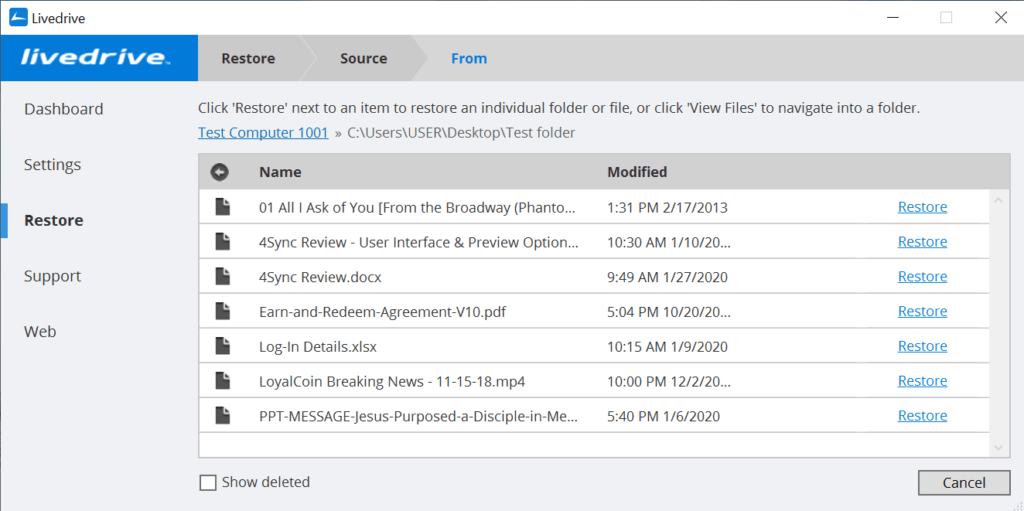 You also have the power and authority as to where you want the files and folders to be downloaded. It could be stored anywhere in the local hard disk drive of your computer. You can also make another folder if you wish to isolate the downloaded files on your computer.

Aside from the options mentioned above, you can also easily restore files and folders from your cloud backup through the web user interface of Livedrive. You can download files or folders directly from the web user interface.

You can store up to 30 versions of your files, folders, and backup in the Livedrive cloud backup system. Unfortunately, there is no recycle bin attached to the Livedrive cloud backup system.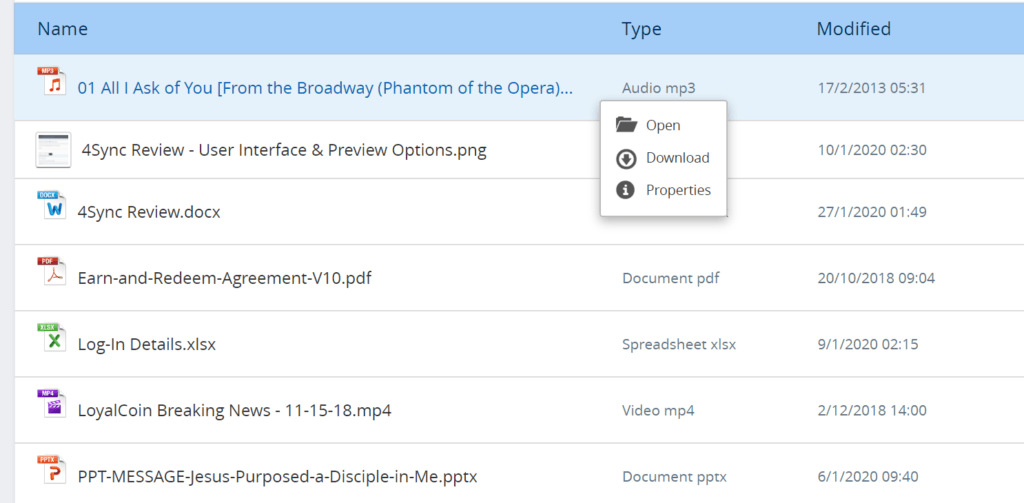 ---
Security & privacy
Livedrive has implemented strong security measures in order to protect the integrity and secrecy of the data files stored in the cloud backup system and its briefcase type of cloud storage system. First and foremost, Livedrive uses military-grade encryption technology. This means that the cloud backup provider currently uses the 256-bit AES encryption system in order to protect all of your files stored in the cloud. There is no mention, however, whether or not the files are being encrypted first locally before sending it to the cloud. This is something that must be clarified with the developers of Livedrive.
Please take note that you need to manually set your briefcase (cloud storage system of Livedrive) to be encrypted as it is not the default option. This is one of the things you should be aware of. You also have the ability to set the Livedrive cloud backup system to always ask for a password each time the cloud backup system stars running on your computer. In this way, you can protect your backup files from unauthorized access.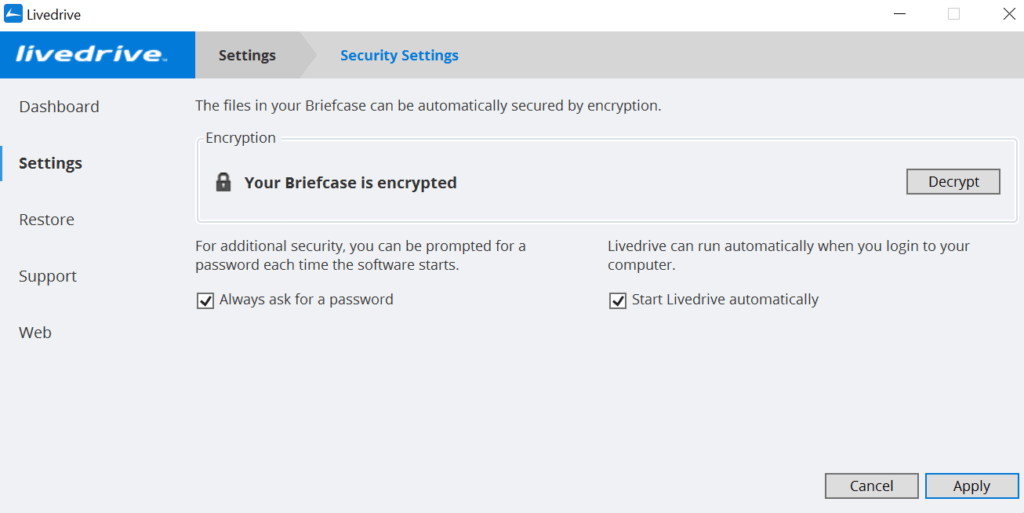 During data transmission from your local computer to the cloud, Livedrive uses the strongest possible TLS encryption protocol in order to protect your files from being intercepted by hackers. The same holds true when you back up your files from your mobile phones and tablets. Livedrive also uses the concept of obfuscated data as well as the principle of distributed data in order to protect the identity and data files of the customers and clients of Livedrive. 
Livedrive is also PCI compliant. This means that the cloud backup provider stores, transmits, and processes your card details according to the rules and regulations of the Payment Card Industry Data Security Standard. However, you should be aware that during the process of creating an account for Livedrive dedicated to the 14-day trial period, you are required to input credit card details along with other bank details that shouldn't be asked in the first place.  This can be considered as an invasion of privacy as Livedrive is asking for personal information in order for you to test their cloud backup system. You need to contact the online support group first in order to resolve this issue.
The data centres of Livedrive are currently based in the United Kingdom. All of the data centres are ISO 27001 certified. Such data centres are fully protected as there are 24/7 surveillance and monitoring systems in place.
Livedrive complies with the rules and regulations set forth in the GDPR, Data Protection Act as well as the California Consumer Privacy Act.
However, you must know that there is currently no client-side encryption protocol and no Two-Factor Authentication system that is being implemented within the cloud backup system of Livedrive. The concept of Zero-Knowledge is not applicable as of the moment and you are personally vulnerable to the provisions of the CLOUD Act and the PATRIOT Act.
---
Online support
Livedrive has a good online support system. However, it must be seriously improved in the long run. First and foremost, the cloud backup provider has a comprehensive knowledge base and a complete database of frequently asked questions (FAQs). The online support system caters to different nationalities across geographical locations. This means that aside from the English language, you have the option to read the user manuals and the entire knowledgebase in German, French, Italian, Spanish, and Dutch.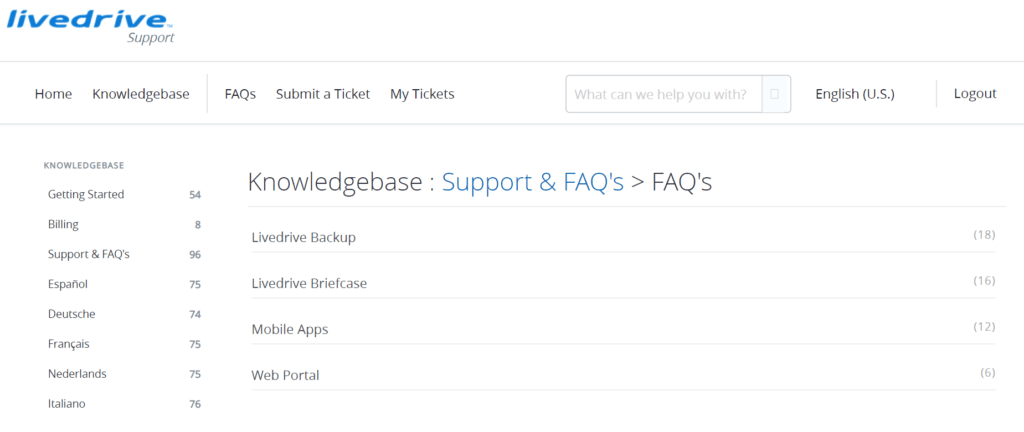 You can also contact the online support team of the company by submitting a ticket wherein your concerns are thoroughly documented. You can expect to receive answers to your questions and solutions to your technical problems anytime from 9 AM to 6 PM of the UK Time Zone. You can also monitor the progress of your submitted tickets by clicking on the "My Tickets" menu of the online support system.
However, in order to access the online support system, you need to log-in to your account first on the website of Livedrive. This is quite an inconvenience in the part of customers and clients to sing-in to the account just to read the knowledgebase and FAQs.
There is also no phone support available as of this moment. The phone number Livedrive disclosed on their website is intended for the sales team. If you have some questions regarding the pricing and subscription plans of Livedrive, then you can make a call to +44(20)3137-6446.
On top of that, there is also no live chat system where customers and clients can interact with tech support in real-time. I suggest that you and I call the attention of the company to address the issues cited above.
---
Additional features
Briefcase – If you avail of the Pro Suite subscription plan, you can use the briefcase system which is the cloud storage system of Livedrive. All features of a cloud storage system are available through the "Briefcase" system. These include file share and file syncing.
---
Conclusion
Livedrive is easy to use. However, the upload and download speeds are slow if customers and clients are not in Europe. Online support is also limited. The price is also quite high compared to other cloud backup providers with the same features. There are also security and privacy concerns that need to be addressed and clarified by Livedrive. I recommend that you find a better cloud backup provider especially if you are outside the United Kingdom.  
---
---
I hope I answered all your questions in this Livedrive Review. If you have some questions, don't hesitate to ask them in the comments section down below!