ElephantDrive
$10.00/month 1000 GB
Security & Privacy
8.5/10
Additional Features
6.0/10
Pros
Has great online support
Price is affordable
Has mobile applications
Linux OS is supported
NAS backup is supported
Has file sharing capability
Cons
Slow download and upload speeds
No client-side encryption
---
ElephantDrive Review
We are all fond of using the cloud to access, share and backup files that are important to us. We actually have already used several cloud storage services in our lifetime but we are not satisfied. Every cloud storage service provider and every cloud backup service provider has its own set of limitations. As a customer, we don't want that. We always want the best. We want to combine the features that a cloud storage service can give to us and the capabilities and functionalities that a cloud backup service can provide us. This is the reason why I want you to read entirely this ElephantDrive Review as this will be an interesting discussion.
---
ElephantDrive Alternatives
| # | Service | Rating | Description | Paid Plan | Go To |
| --- | --- | --- | --- | --- | --- |
| 1 | Acronis True Image | Read review | Acronis True Image is an online backup software with excellent security & privacy. You can perform scheduled, Hybrid, NAS, external hard drive, server and other backups. The download & upload speeds are decent and you can always rely on their support to give you a hand. 30-day trial period. | €8.33/month 1000 GB | Go To Acronis True Image |
| 2 | BigMIND | Read review | BigMIND is the next-gen cloud backup provided by Zoolz. It has a modern interface with very well developed backup features. It includes scheduled, hybrid, NAS, external hard drive,... backup. The upload and download speeds are incredibly fast which is a bonus in comparison with other cloud backup providers. 1 GB of free backup storage. | €2.99/month 100 GB | Go to BigMIND |
| 3 | Polar Backup | Read review | Polar Backup originates from the UK and aims to provide an affordable complete cloud backup solution. Their lifetime online backup plans certainly make them an interesting choice due to the well developed backup client with client-side encryption included. No free plans. | $3.33/month 1000 GB | Go to Polar Backup |
| 4 | CloudAlly | Read review | CloudAlly is not your regular backup service. It focuses on backing up other cloud services such as G Suite, Microsoft 365, OneDrive, Dropbox, Box.com... Keep in mind though that it is business-focused so no plans for personal users. 14-day trial period. | $3 per 10 GB | Go To CloudAlly |
| 5 | IDrive | Read review | IDrive has been around for what seems an eternity now. They basically cover all of the possible backup solutions and for a decent price as well but there seems to be a few technical issues with the service alongside the somewhat poor download & upload speeds. 5 GB of free backup storage. | $4.34/month 2000 GB | Go to IDrive |
---
Jump to:
Pricing & Plans
Who is it for?
Ease of use
File backup
Speed
File restoration
Security & privacy
Online support
Additional features
Conclusion
---
Pricing & Plans
There are 3 pricing structures you can choose when subscribing to the services of ElephantDrive. Depending on what you need, you can select Home, Business or even the Enterprise subscription plan with ease. All types of subscription plan the company is offering can be billed either monthly or annually. Check the price table to learn more about the details of the subscription plans.
---
Monthly Plans
---
Yearly Plans
---
Free Plans
---
You can also avail of the free trial version of ElephantDrive for 30 days by signing up for a free account. The free trial allows you to use 1,000 GB worth of cloud backup space. If you wish to use ElephantDrive but you have exhausted the 30-day free trial, then you can also use the 2 GB free account forever when you sign up with ElephantDrive.
You can pay via debit card or credit card that is associated with Visa, MasterCard, Discover, and American Express. You can also pay yearly via PayPal but you do have to make it manually as there is no automatic PayPal checkout button integrated with ElephantDrive. Be sure to send the payment at paypal@elephantdrive.com.
---
Who is it for?
ElephantDrive is for people who want to have access to the best online backup service that also acts as reliable cloud storage without an extra fee.
---
Ease of use
It is easy to create an account with ElephantDrive. You just have to give two details in order to set up your account. ElephantDrive will ask for a valid e-mail address and password you want to use. You just have to validate these two details by retyping them once again. When they match, and once you clicked the small box accepting the terms of use and the privacy policy of the cloud backup provider, you should be able to successfully create an ElephantDrive account. After that, you just have to download the desktop client installer and follow the instructions that will appear on the screen.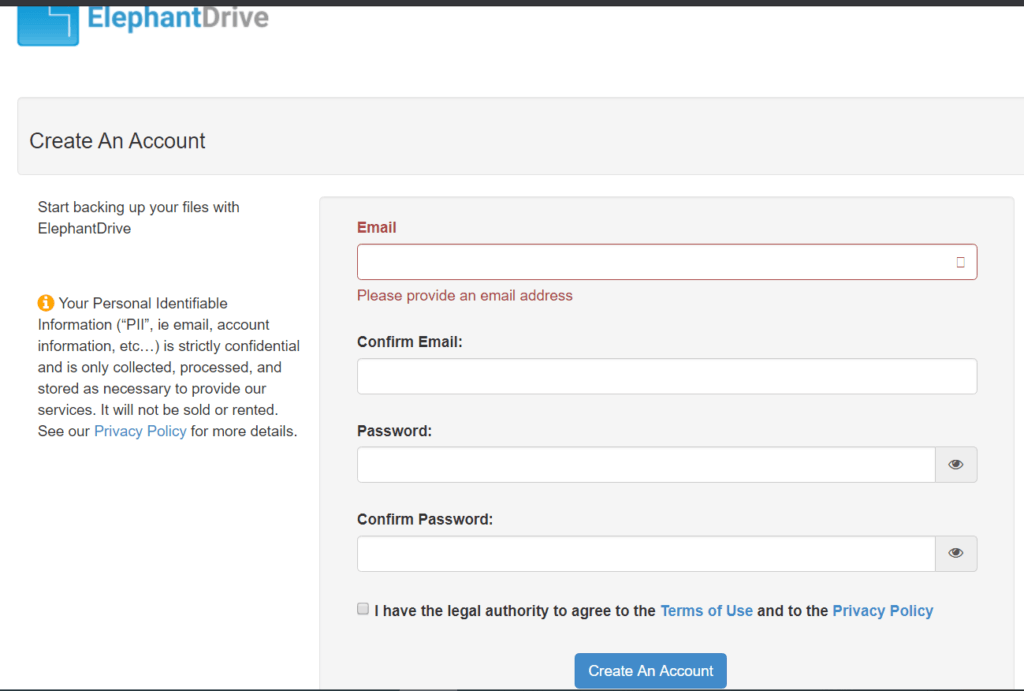 File previews & edits
Unlike a regular cloud storage provider, ElephantDrive does not offer any form of file preview. You can't also edit documents directly from the cloud backup. What you can do is edit a file or document in the "Everywhere" folder of ElephantDrive so that changes you made to a specific document can be synced automatically across all your devices that are using the ElephantDrive cloud backup system.
---
File backup
There are 5 different ways to back up your files using ElephantDrive. First, you can back up an entire folder stored in your computer by right-clicking the specified folder. When you right-click it, a menu will appear. Find the particular menu option named ElephantDrive. Click it and a submenu will appear. Choose the "Backup this folder" option. It will automatically be uploaded to the cloud backup. You just need to know that with this particular backup option, you can't back up individual files.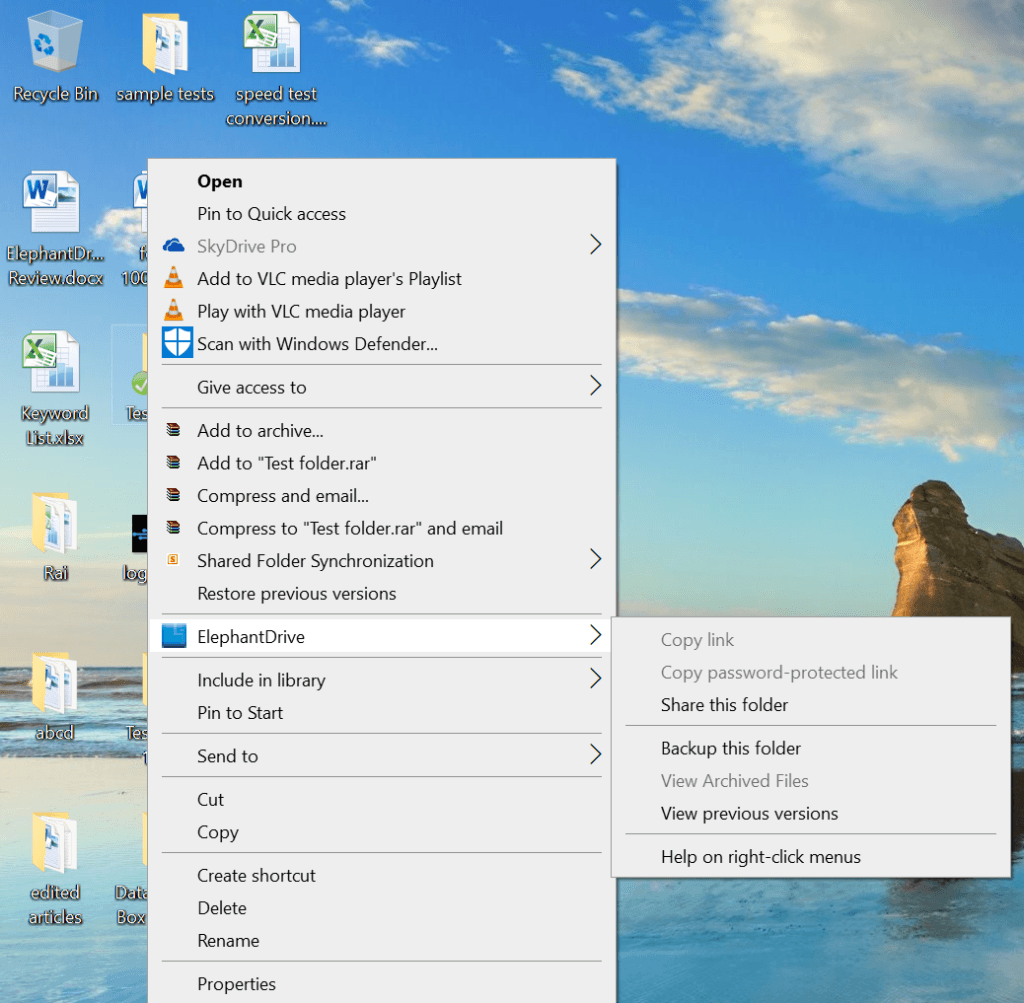 Second, you can also implement backup procedures of your files by dragging and dropping any file or folder to the My ElephantDrive "Backup" folder that can be found on your local computer. Once you drag and drop any file or folder in the said location, the backup process will automatically start. Any file that you add to the particular folder that has been already backed up will also be backed up as well.

Third, you can also implement back up procedures by dragging and dropping any file or folder to the My ElephantDrive "Everywhere" folder that can be found on your local computer. Once you drag and drop any file or folder in the said location, the ElephantDrive cloud backup system will automatically sync the files and folders uploaded to all of your devices that have been connected to ElephantDrive. These include your desktop computers, laptops, netbooks, tablets, and mobile phones.
Fourth, you can also back up your files and folders using the upload option in the web user interface of ElephantDrive.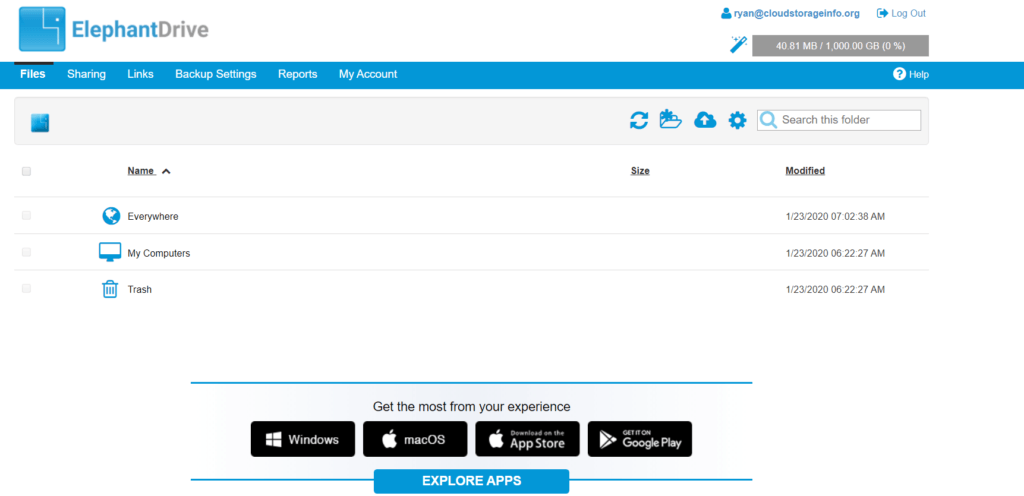 Fifth, you can also back up your files and folders automatically during the installation process. You can automatically back up documents, music, pictures, and every file and every folder that can be found on your desktop.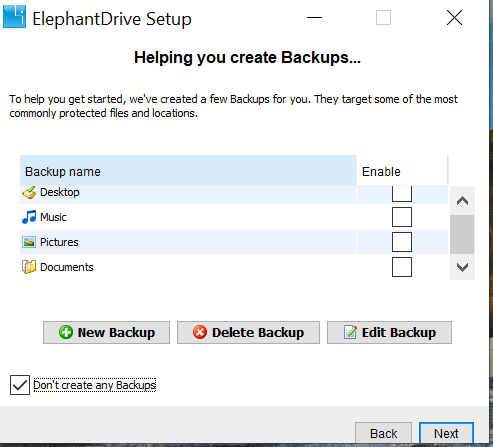 You can schedule backups daily, weekly, or even monthly using the web user interface of ElephantDrive. You can also have a continuous backup system as well. On top of that, there is no file type limitation in this best cloud backup system. However, you have the power to choose which file types can be included and can be excluded in your backups.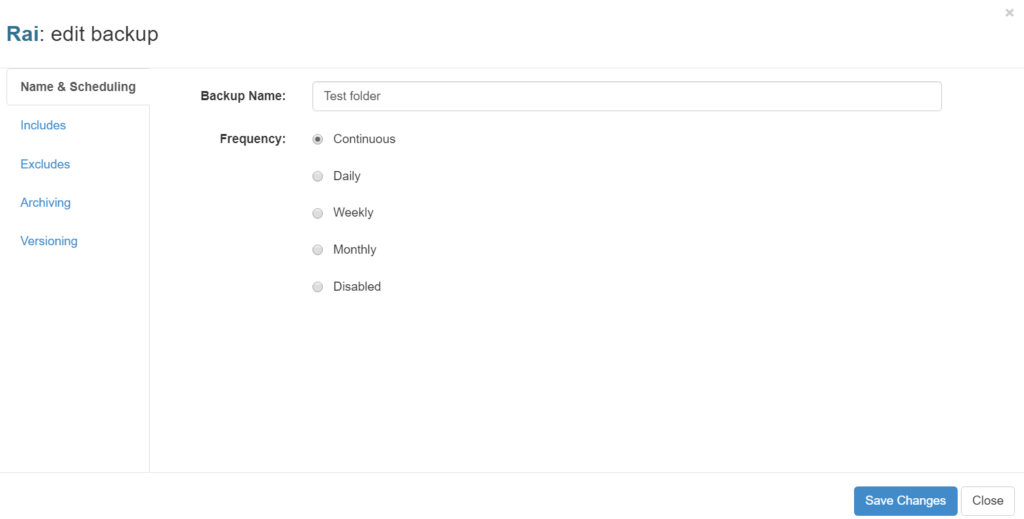 The individual max size of a file upload is 2 GB for the Home subscription plans. While the individual max size of a file upload is 15 GB for the Business subscription plans. The max size of a file upload for the Enterprise subscription plans is 200 GB.

Incremental backup, server backup as well as external hard drive backup are available in ElephantDrive. On top of that, NAS backups are also supported as well. This includes ASUSTOR, D-link, Drobo, NETGEAR, QNAP, Seagate, TerraMaster, Thecus, and Western Digital. However, there is no hybrid backup as of the moment. ElephantDrive is compatible with Windows OS, MAC OS as well as Linux OS. You can also adjust the network and CPU Usage of ElephantDrive.


Mobile Application
ElephantDrive is also compatible with both Android and IOS devices and smartphones. Through the mobile application of ElephantDrive, you can back up contacts, pictures as well as videos.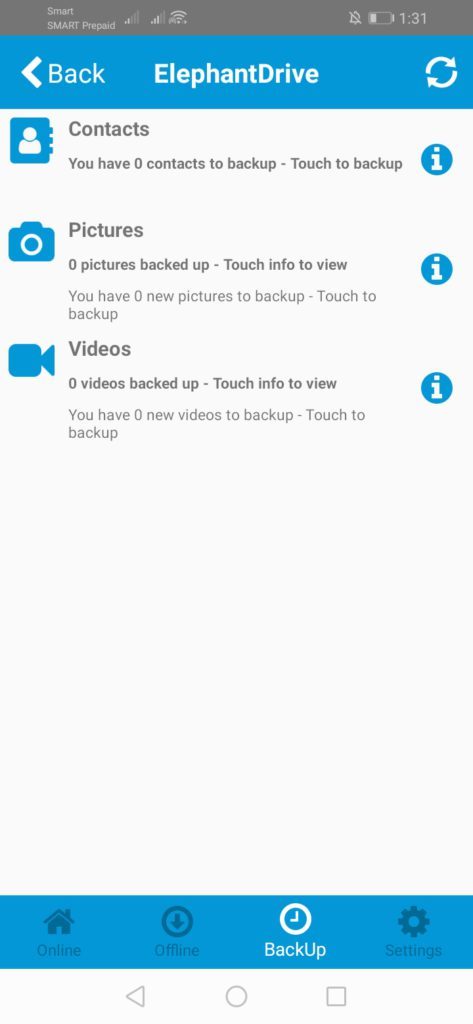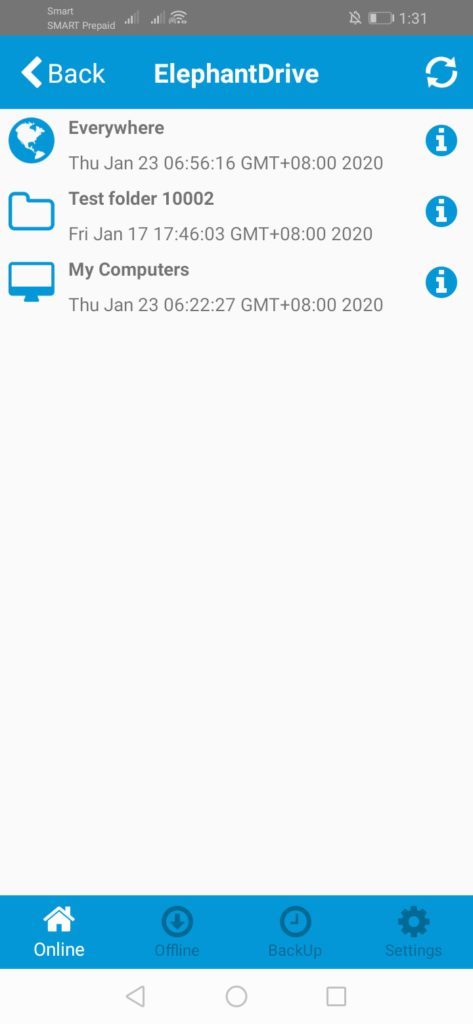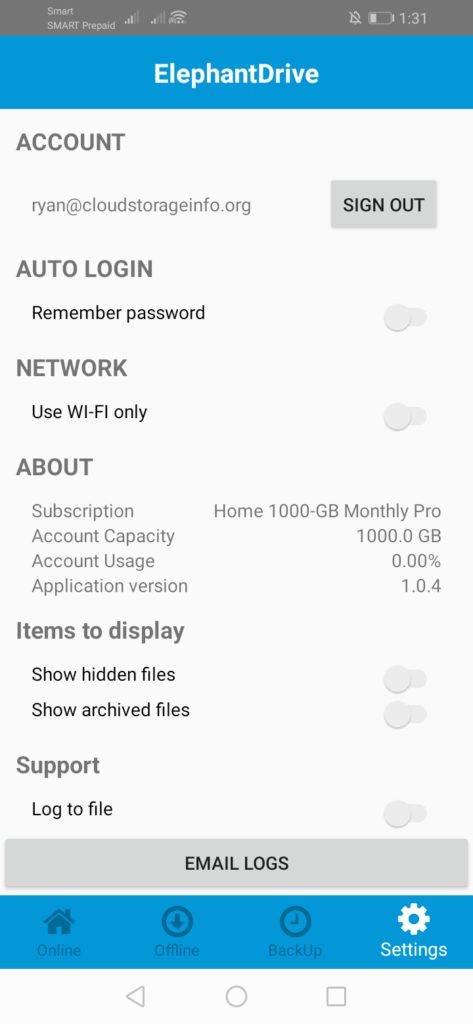 ---
Speed
We tested the speed of ElephantDrive here in the Philippines. During such time, the local internet provider has a speed of 5.00 MBPS /5.00 MBPS download/upload speed. The results are listed below.
| | | | | |
| --- | --- | --- | --- | --- |
| 1 GB File | Internet Provider (max speeds) | Test 1 | Test 2 | Average |
| Time (Download) | 00:26:40 | 00:40:39 | 00:40:37 | 00:40:38 |
| Time (Upload) | 00:26:40 | 01:12:48 | 01:12:44 | 01:12:46 |
Download speed and upload speed are slower than the maximum internet speed set by the internet provider. You should take note however that upload speed will increase when it is already backed up and just being edited due to the increment backup capability of ElephantDrive.
---
File restoration
There are 3 ways to restore files to your computer. First, you can directly download files and folders stored in the cloud backup using the web user interface of ElephantDrive. Through this option, you can select where you want the files and folders to be downloaded and saved. Second, you can also restore an entire folder to where it once belonged. Third, you can also restore files using the trash bin of ElephantDrive. In this option, you can undelete the files or the folders you previously deleted. You can also choose to delete the file permanently.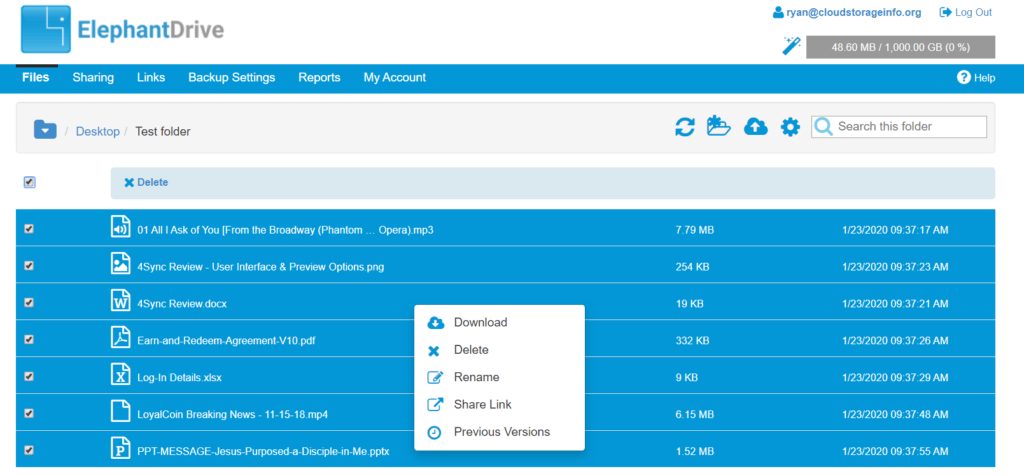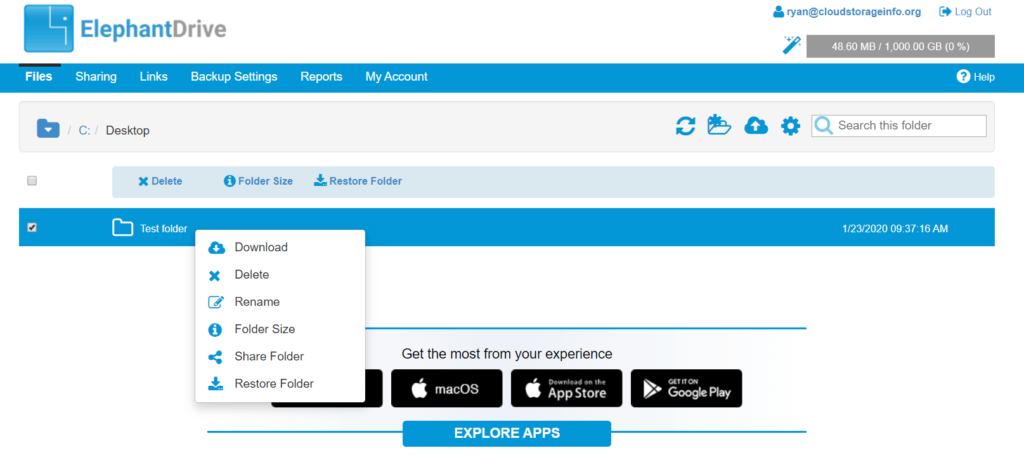 You can archive files and folders as long as you want. You can adjust the number of days that deleted files and folders on your local drive can be restored. File versioning is also unlimited. You can keep also file versions as long as you want. However, you can adjust the number of file versions you want to keep and the number of days each of the versions can be stored in your cloud backup.


---
Security & privacy
Through a partnership with Amazon Web Services, servers and network devices of ElephantDrive are kept secured in data centres across the United States, Ireland, and Singapore. It also has data centres in Sao Paolo, Brazil, Sydney, Australia as well as Tokyo, Japan. Data centres are concentrated on the United States of America specifically in Oregon, in Virginia and even in Northern California.
ElephantDrive also removes any program and any port that are not vital to the cloud backup system. In this way, there will be no backdoors that hackers could potentially exploit. On top of that, the computers being used by ElephantDrive are locked inside protective cages that are located in temperature-controlled facilities. Such locations are actually have added protection against fire and floods and have been embedded with redundant power supply and backup connectivity technology. Moreover, access to these facilities is being monitored by and is only granted to authorized-personnel-only.
Before files are being sent to the cloud, ElephantDrive encrypts all of your data locally using the 256-bit key Advanced Encryption Standard (AES) encryption system to prepare your files and folders for secured data transmission. This is the type of encryption system that governments, banks as well as military institutions are currently using. You are assured that your security is a priority by ElephantDrive. This is also the type of encryption the cloud backup provider is using when your files and folders are already stored in the cloud. Moreover, during the process of uploading files to the cloud, ElephantDrive uses the 128-bit SSL channel.
ElephantDrive also complies with the provisions set forth in the GDPR, HIPAA, HITECH Act as well as the Privacy Shield Framework.
---
Online support
ElephantDrive has a good online support system. In terms of frequently asked questions (FAQs), the ElephantDrive has comprehensive answers. It answers questions pertaining to various topics such as ElephantDrive's features, security, and privacy as well as backup procedures, file access procedures, file-sharing procedures, and file restoration procedures. It also answers questions about how to use the Elephant cloud backup system when dealing with NAS and mobile devices. On top of that, the frequently asked questions (FAQs) answers questions pertaining to account & subscription, pricing & payment as well as queries with regards to troubleshooting. You can also type a certain question in the search box of ElephantDrive's help centre so that your query can be answered by the system efficiently.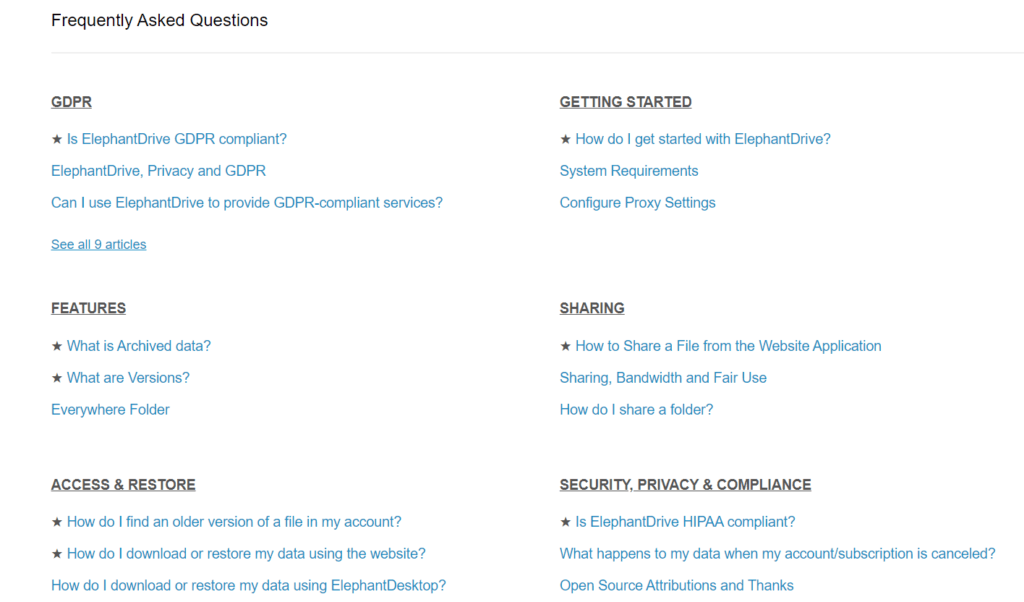 You can call customer service representatives of ElephantDrive by dialing (+1)(800)778-4055. However, the company did not disclose what hours and time zone they are accepting such calls. You can also send an e-mail to contact@elephantdrive.com in order to reach the tech support of ElephantDrive.
Because of the comprehensive knowledge base of ElephantDrive, using phone support and e-mail support can actually be minimized.
---
Additional features
File Sharing – You can share files with other people through this feature. You can set a password to the file link so that only designated people can view the shared file. You can also set an expiration date to the link as well. You can also share an entire folder as well. You need to type the e-mail address of the people you want to give folder access to.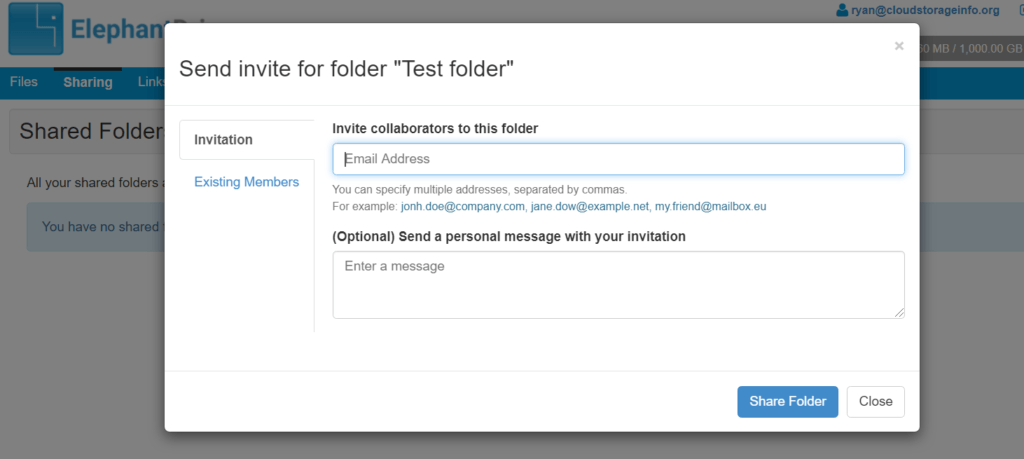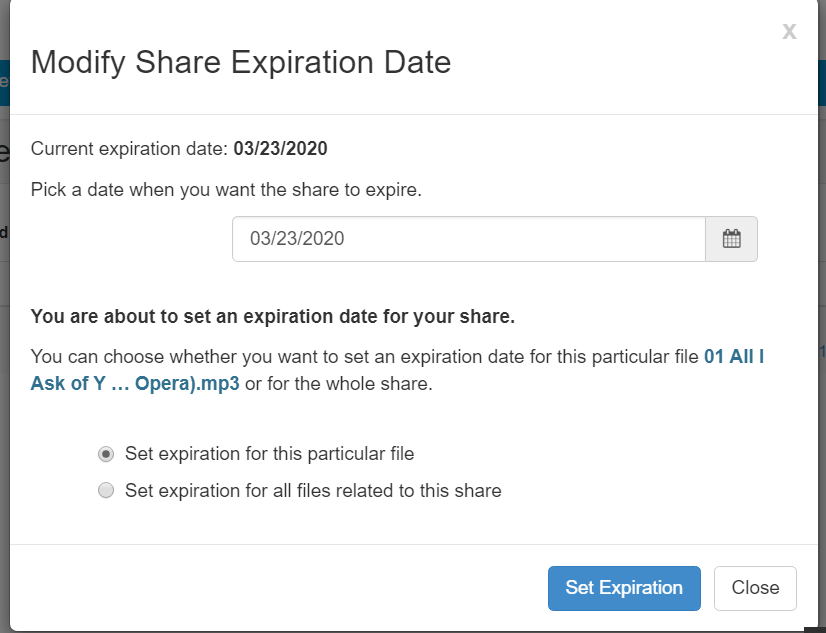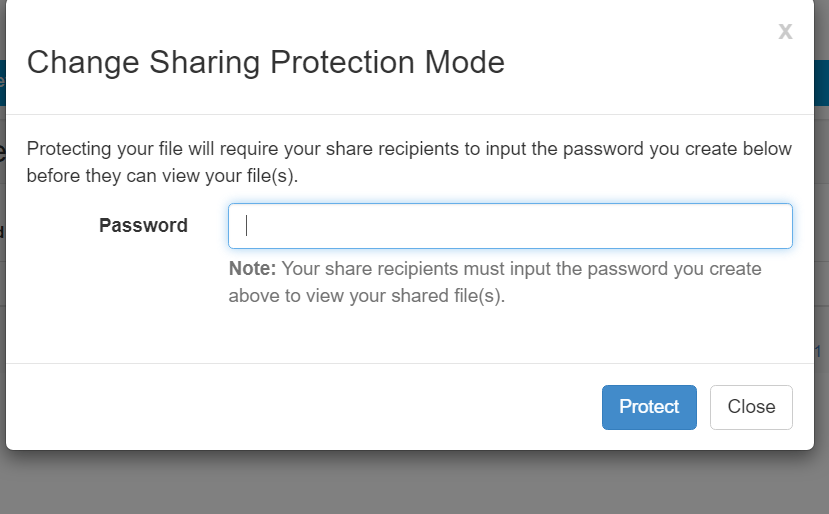 ---
Conclusion
I would definitely recommend you to use ElephantDrive. Using the system is easy. Privacy, security and online support of ElephantDrive are also of good quality. Creating and restoring backup files and folders as easily done as well. File sharing is also possible which makes this cloud backup service even better.
---
---
I hope I answered all your questions in this ElephantDrive Review. If you have some questions, don't hesitate to ask them in the comments section down below!