Data Deposit Box
$20.00/month 200 GB
Security & Privacy
8.5/10
Additional Features
5.0/10
Pros
Has mobile applications
Great online support system
Military-grade encryption
NAS backup
Cons
No client-side encryption
Slow download speed
No desktop client
Expensive price
Linux OS nor supported
Slow web user interface
---
Data Deposit Box Review
There are various reasons why you should constantly back up your files. If you have a deeper perspective in life, you will realize that anything could happen in a moment of time. You will be able to understand that a series of incidents and unfortunate events can cost you a lot. For example, your laptop is accidentally misplaced and you can no longer find it. You then consider it lost or you consider it to be stolen. The sad news here ladies and gentlemen is that if you don't have a backup of your files saved in that particular laptop, you can't recover them anymore. You lost something more important than just a piece of technology that you previously have. You can certainly buy a new laptop. However, I'm sure that you can never buy lost data and files. This is the reason why I would like you to consider having the best cloud backup that is available. With this, I would like you to read this comprehensive Data Deposit Box Review.
---
Data Deposit Box Alternatives
| # | Service | Rating | Description | Paid Plan | Go To |
| --- | --- | --- | --- | --- | --- |
| 1 | Acronis True Image | Read review | Acronis True Image is an online backup software with excellent security & privacy. You can perform scheduled, Hybrid, NAS, external hard drive, server and other backups. The download & upload speeds are decent and you can always rely on their support to give you a hand. 30-day trial period. | €8.33/month 1000 GB | Go To Acronis True Image |
| 2 | BigMIND | Read review | BigMIND is the next-gen cloud backup provided by Zoolz. It has a modern interface with very well developed backup features. It includes scheduled, hybrid, NAS, external hard drive,... backup. The upload and download speeds are incredibly fast which is a bonus in comparison with other cloud backup providers. 1 GB of free backup storage. | €2.99/month 100 GB | Go to BigMIND |
| 3 | Polar Backup | Read review | Polar Backup originates from the UK and aims to provide an affordable complete cloud backup solution. Their lifetime online backup plans certainly make them an interesting choice due to the well developed backup client with client-side encryption included. No free plans. | $3.33/month 1000 GB | Go to Polar Backup |
| 4 | CloudAlly | Read review | CloudAlly is not your regular backup service. It focuses on backing up other cloud services such as G Suite, Microsoft 365, OneDrive, Dropbox, Box.com... Keep in mind though that it is business-focused so no plans for personal users. 14-day trial period. | $3 per 10 GB | Go To CloudAlly |
| 5 | IDrive | Read review | IDrive has been around for what seems an eternity now. They basically cover all of the possible backup solutions and for a decent price as well but there seems to be a few technical issues with the service alongside the somewhat poor download & upload speeds. 5 GB of free backup storage. | $4.34/month 2000 GB | Go to IDrive |
---
Jump to:
Pricing & Plans
Who is it for?
Ease of use
File backup
Speed
File restoration
Security & privacy
Online support
Additional features
Conclusion
---
Pricing & Plans
Data Deposit Box offers a pretty straightforward pricing plan. It doesn't matter whether it is for business or for personal use. This cloud backup provider actually charges the same rate. For US $20 per month, you can get 200 GB of cloud backup. If you wish to increase the amount of cloud backup you can use, you will be charged with $0.10 for every 1 GB worth of data. So, if you are storing large amounts of files, then I would not recommend you to use it. If you think of it, Data Deposit Box actually charges a higher price than most cloud backup providers for the same amount of data backup. So if the price is a deciding factor for you, then I suggest you find an alternative cloud backup provider.
---
---
However, before you judge, you can try using the cloud backup system free of charge for 14 days. This is to give you enough time for you to consider whether or not this cloud backup provider is worth your money.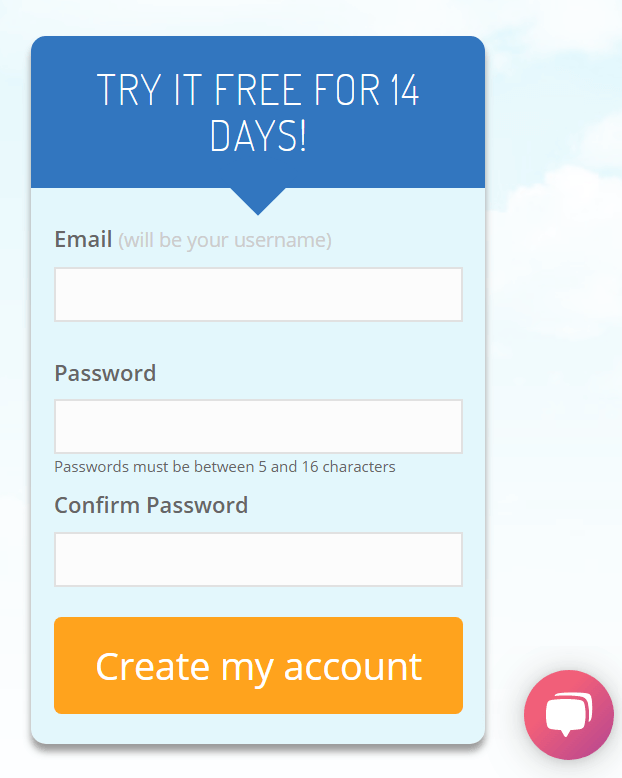 Currently speaking, Data Deposit Box only accepts Visa, Mastercard, and American Express credit cards. You can view the invoice Data Deposit Box created through the "Account" menu in the dashboard. Moreover, you can update your payment information details under the "Payment Information" menu on the dashboard.

---
Who is it for?
Data Deposit Box is for people who are looking to back up their files in a secure manner. Do take note, however, that if you are sensitive to price, this might not be the best cloud backup provider for you. Moreover, due to how the system was designed, Data Deposit box if for advanced users who know how to explore its functionalities and technological capabilities.
---
Ease of use
Data Deposit Box offers easy registration. You just have to fill up two details in the registration box. Type your preferred e-mail address and your preferred password. As soon as you confirm your password and it matches, you can finish the registration. You will then be redirected to a page where you can download the user agent system of Data Deposit Box. As soon as you hit the download button, the website can automatically detect whether your computer or laptop is Windows or MAC OS.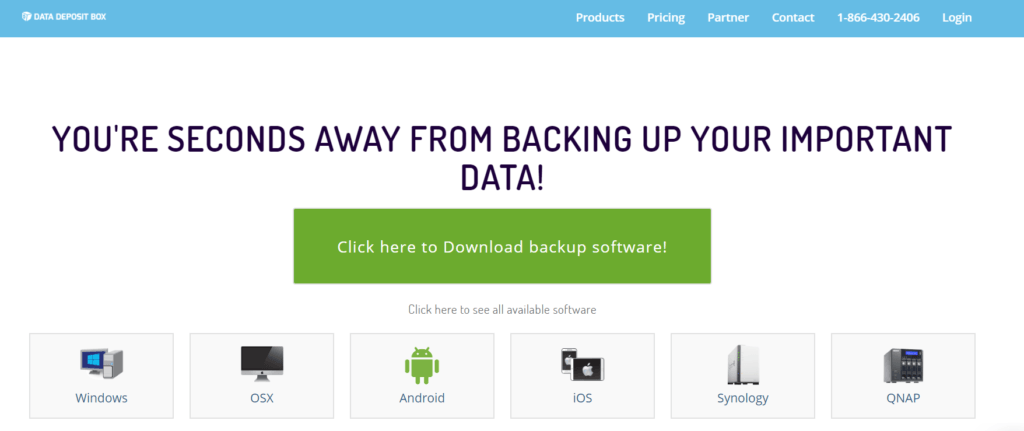 Every transaction you make with Data Deposit Box is done in the web user interface of the cloud backup provider. This creates an issue with regards to the speed in the backup and recovery process. This is mainly due to the fact that when trying to explore all the capabilities of the cloud backup provider through its web user interface, there is a lag in the system. Such lag in the system can't be ignored simply because it is very evident. It's too slow. If you are the kind of person who does not have the patience to wait for a while, you should not use this particular cloud backup service provider.
File previews & edits
You can't preview and edit files directly from the Data Deposit Box cloud backup. However, there is a LiveLink program embedded in the system, wherein you can share your files and folders to other people. Through that link, your files and folders can be accessed and be downloaded by you and other people regardless of where you are. You also have the option to make the link password protected.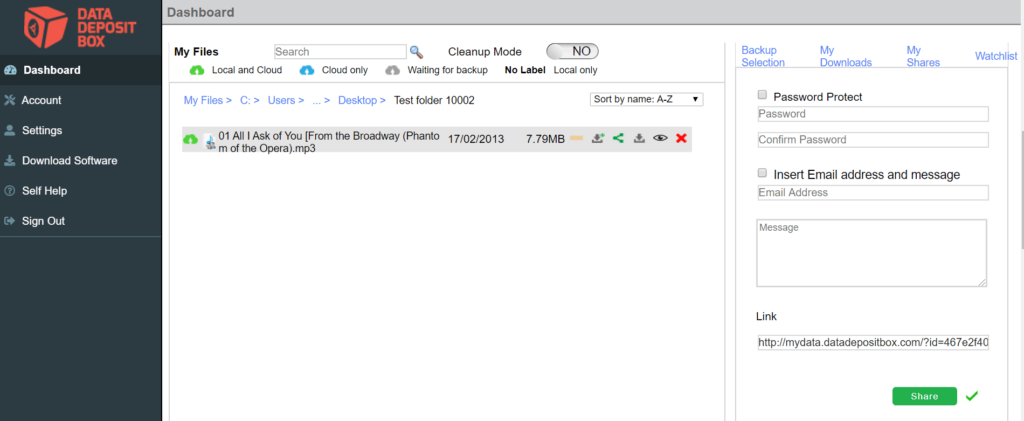 ---
File backup
Once the installer is downloaded, you just need to run the program and the system will take care of everything else. You should take note however, that Data Deposit Box does not have a desktop or laptop user interface. What you downloaded was simply the user agent so that you can connect your local computer to Data Deposit Box's cloud.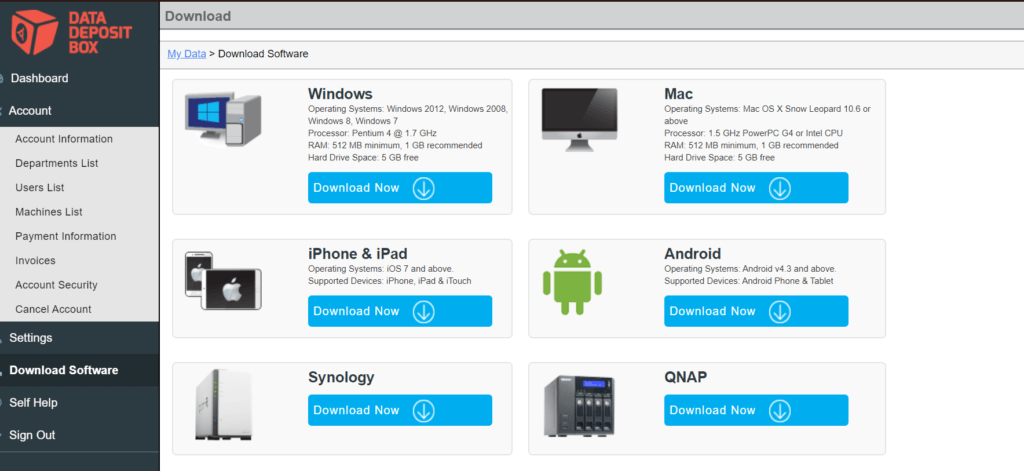 The cloud backup system can be used in both Windows and MAC OS. On top of that, Data Deposit Box is also compatible with Network Attached Storage (NAS) systems such as QNAP and Synology. The cloud backup provider can back up any type of file. You can also customize the setting as you have the option to exclude certain file types from being backed up. You can't schedule a backup with Data Deposit Box. However, you have the option to disable backup during selected time and day.

Aside from this technology, you can set-up regular backup reports with specific time and day through e-mail to keep you updated on what's happening in your cloud backup.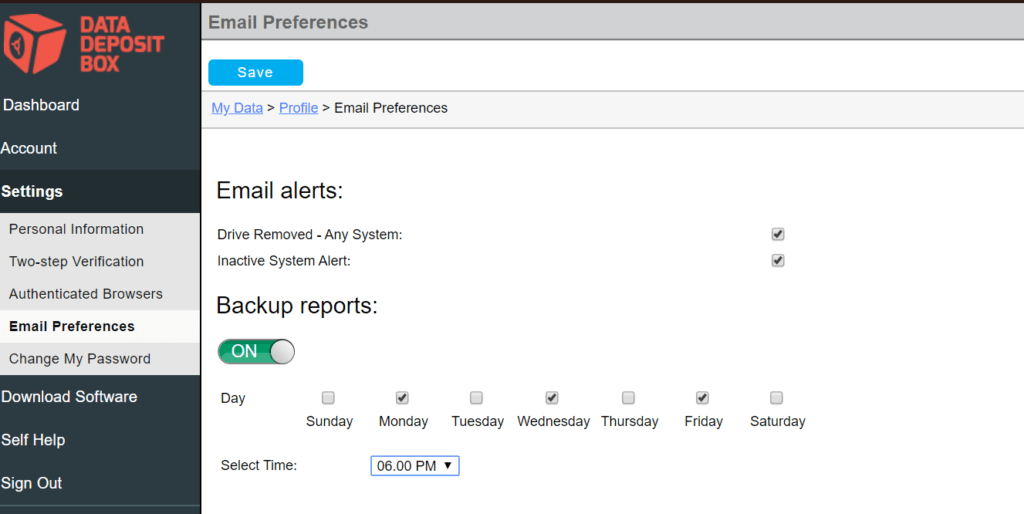 Continuous backup, incremental backup, and hybrid backup are also available in Data Deposit Box. Unfortunately, I have to tell you that server backup, external hard drive backup, multithreaded backup as well as deduplication are currently not being supported by this particular cloud backup service provider. I suggest you find another cloud backup provider if these features are the kinds of capabilities you are looking for.
Data Deposit Box also allows you to control the CPU and bandwidth utilization with a slider adjustment feature.

Mobile Application
Data Deposit Box is available on both Android and IOS devices. Be sure that your Android system is at least version 4.3. For IOS devices, it must be at least IOS 7 version and above. With the mobile application, you can backup contacts, photos, videos, documents as well as music.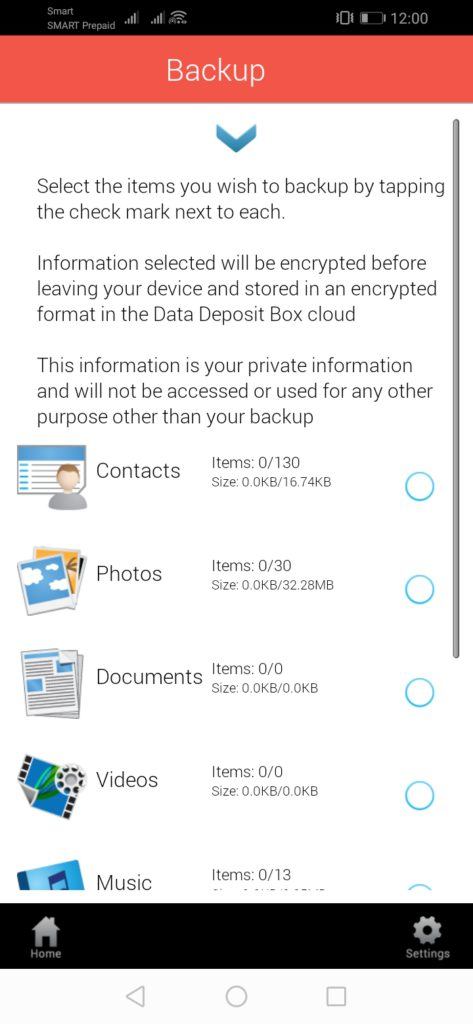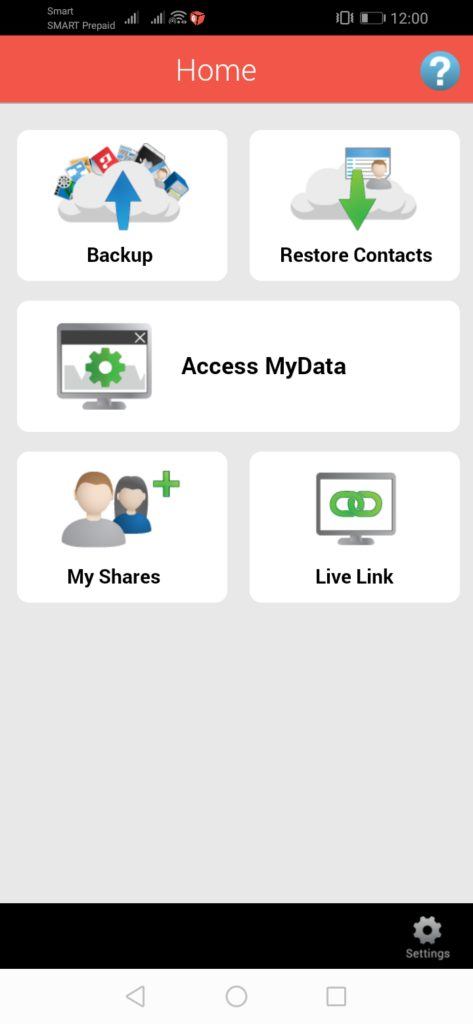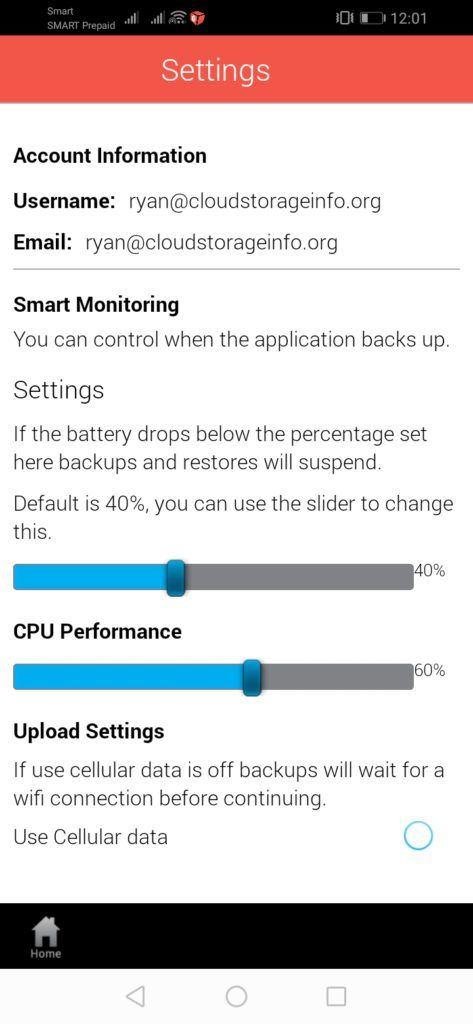 ---
Speed
We tested the speed of Data Deposit Box here in the Philippines. During such time, the local internet provider has a speed of 5.00 MBPS / 5.00 MBPS download/upload speed. The results are listed below.
| | | | | |
| --- | --- | --- | --- | --- |
| 1 GB File | Internet Provider (max speeds) | Test 1 | Test 2 | Average |
| Time (Download) | 00:26:40 | 12:54:35 | 12:54:39 | 12:54:37 |
| Time (Upload) | 00:26:40 | 00:27:48 | 00:27:50 | 00:27:49 |
You can see that the upload speed works perfectly fine. However, you can see the disparity with regards to download speed. It's too low from the baseline data. The server might be far away from the country that's why download speed was greatly affected. Because of the speed of this cloud backup provider, I would hesitate to recommend it.
---
File restoration
You can easily restore files and folders with the use of the download button in the web user interface of Data Deposit Box. You can store up to a maximum of 64 versions of your backup. However, you should take note that there is no recycle bin.

---
Security & privacy
Data Deposit Box offers military-grade encryption. As a matter of fact, the cloud backup provider uses 448-bit Blowfish server-side encryption system to protect your data against any form of data theft and privacy intrusion. However, please take note that there is no client-side encryption system that is being implemented. The zero-knowledge encryption protocol is not possible. Therefore, your data is still endangered by the provisions set forth in the PATRIOT as well as the CLOUD act. However, Data Deposit box complies with the requirements set forth in the GDPR.

Data Deposit Box also uses Two-Factor authentication system by sending a secondary code on your mobile phone, or through Google Authenticator.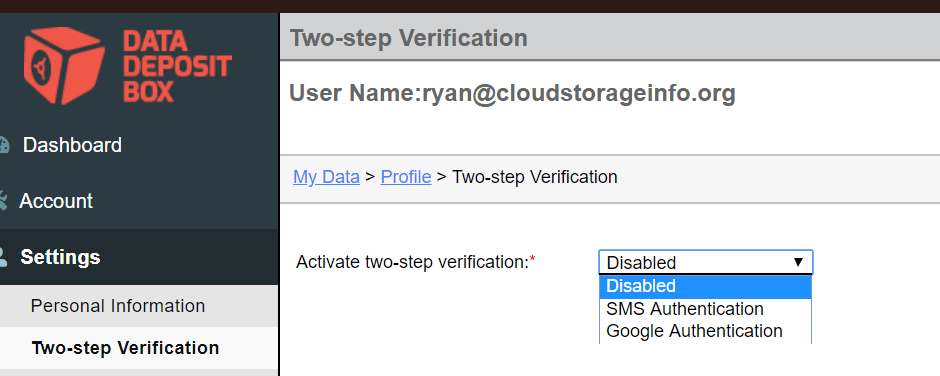 ---
Online support
Data Deposit Box has good online support. The cloud backup provider has a complete set of answers to Frequently Asked Questions (FAQs). On top of that, they also have video tutorials as well to guide you in using their cloud backup system.

They also offer e-mail as well as phone support as well. On top of that, live chat with a customer care representative is available. In case the representatives are not on duty, the chat bot will still process your concern and will be forwarded to a representative on the next business day.

---
Additional features
Data Deposit Box also offers e-mail archiving for office 365 and G Suite. However, it is being sold as a different service. It costs US$ 3.99 per month.
---
Conclusion
I would not recommend using Data Deposit Box as my cloud backup provider. First, the cloud backup service doesn't have client-side encryption. It also doesn't have a desktop client. Speed is also way too low. Moreover, this particular service is also overpriced considering the features that come with it. I recommend you check our best online backup services list below and find a better provider.
---
---
I hope I answered all your questions within this Data Deposit Review. Feel free to ask questions in the comments section down below!