Backblaze
$6.00/month Unlimited GB
Security & Privacy
10.0/10
Additional Features
6.0/10
Pros
Great online support
Client-side encryption is available
Strong privacy & security measures
Affordable subscription price
Unlimited cloud backup
Cons
Slow upload speed
Can't back up files in mobile applications
Individual file & folder backup is not supported
---
Backblaze Review
Backblaze was originally released in 2007 as a personal cloud backup system. Throughout the years, Backblaze Inc. expanded its product line to include the Business Cloud Backup system and the B2 Cloud Storage system. If you are interested to know more, then I suggest you read this comprehensive Backblaze Review below.
---
Backblaze Alternatives
| # | Service | Rating | Description | Paid Plan | Go To |
| --- | --- | --- | --- | --- | --- |
| 1 | Acronis True Image | Read review | Acronis True Image is an online backup software with excellent security & privacy. You can perform scheduled, Hybrid, NAS, external hard drive, server and other backups. The download & upload speeds are decent and you can always rely on their support to give you a hand. 30-day trial period. | €8.33/month 1000 GB | Go to Acronis True Image |
| 2 | BigMIND | Read review | BigMIND is the next-gen cloud backup provided by Zoolz. It has a modern interface with very well developed backup features. It includes scheduled, hybrid, NAS, external hard drive,... backup. The upload and download speeds are incredibly fast which is a bonus in comparison with other cloud backup providers. 1 GB of free backup storage. | €2.99/month 100 GB | Go to BigMIND |
| 3 | Polarbackup | Read review | Polar Backup originates from the UK and aims to provide an affordable complete cloud backup solution. Their lifetime online backup plans certainly make them an interesting choice due to the well developed backup client with client-side encryption included. No free plans. | $3.33/month 1000 GB | Go to Polarbackup |
| 4 | CloudAlly | Read review | CloudAlly is not your regular backup service. It focuses on backing up other cloud services such as G Suite, Microsoft 365, OneDrive, Dropbox, Box.com... Keep in mind though that it is business-focused so no plans for personal users. 14-day trial period. | $3 per 10 GB | Go to CloudAlly |
| 5 | IDrive | Read review | IDrive has been around for what seems an eternity now. They basically cover all of the possible backup solutions and for a decent price as well but there seems to be a few technical issues with the service alongside the somewhat poor download & upload speeds. 5 GB of free backup storage. | $4.34/month 2000 GB | Go to IDrive |
---
Jump to:
Pricing & Plans
Who is it for?
Ease of use
File backup
Speed
File restoration
Security & privacy
Online support
Additional features
Conclusion
---
Pricing & Plans
Backblaze has a very simple price structure. There are 2 options to choose from. Either you subscribe to Backblaze Personal Backup or you subscribe to Backblaze Business Backup. These 2 types of subscription plans can be paid monthly, yearly, or even every 2 years. Check the price table below to learn more about the details.
---
Personal Plans
---
You can pay your subscription plan through debit card or credit card from Visa, MasterCard, AMEX, and Discover. You can also pay via a prepaid code from Backblaze's gift code system.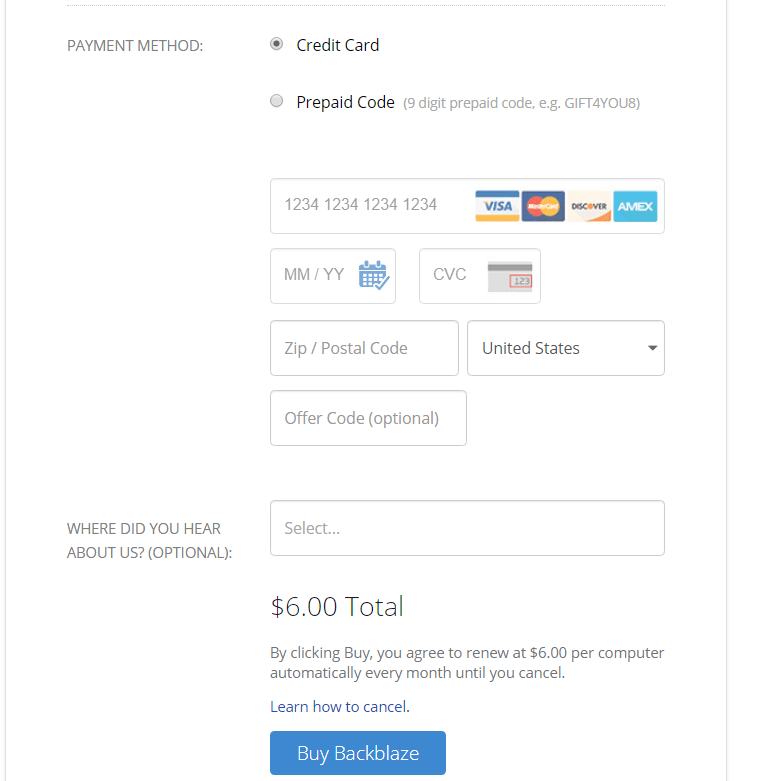 You can also avail of the 15-day free trial offer of Backblaze if you want to test the cloud backup system first before subscribing to its services. During the trial offer, you can back up an unlimited number of files.
Who is it for?
Backblaze is for people who want to backup an entire local drive. If you want to backup individual files and folders, then Backblaze is not the best cloud backup service for you. I suggest you find a better cloud backup alternative.
---
Ease of use
It is easy to create an account for the Backblaze cloud backup system. All you have to do is enter a valid e-mail address and a password you want to use. If you have an existing Google account, you can create an account for Backblaze with a touch of a button. After creating an account, you can download the Backblaze installer to your local computer. Once you have done that, you just have to simply run the program and the installation process will smoothly proceed.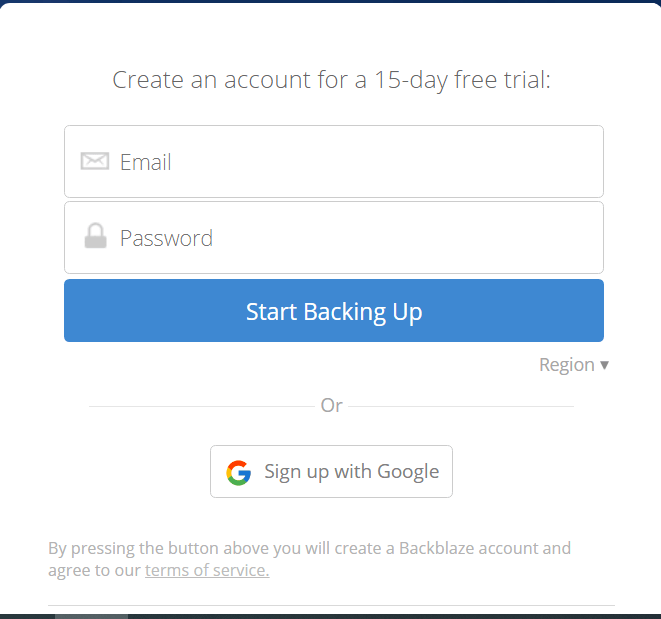 File previews & edits
You can't preview any type of file with the Backblaze cloud backup system. There's no possible way to view documents, photos, music, and videos without downloading the file first.
---
File backup
Backblaze is compatible with both MAC OS and Windows OS. With the Backblaze cloud backup system, you can only create backup files of an entire local hard drive. You can't back up individual files and folders which makes Backblaze a bad file backup solution.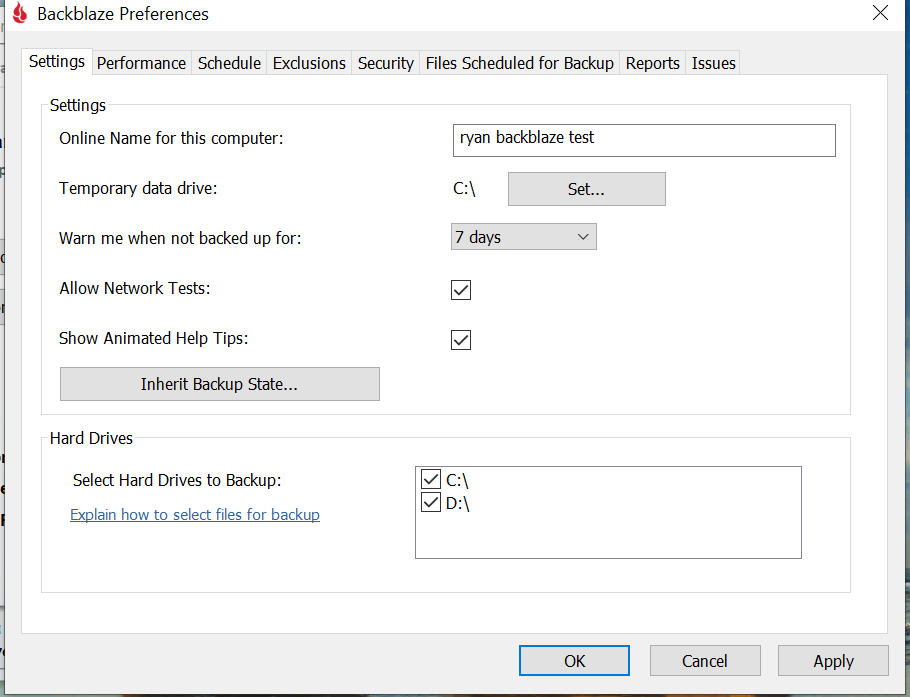 The continuous backup system is available in Backblaze. If you are concerned about scheduling backups, then you should not worry as Backblaze does have an integrated backup scheduling system. However, you only have 3 options. You can either backup the entire local hard drive continuously, back up once per day, or backup only when you click the "Back up now" option.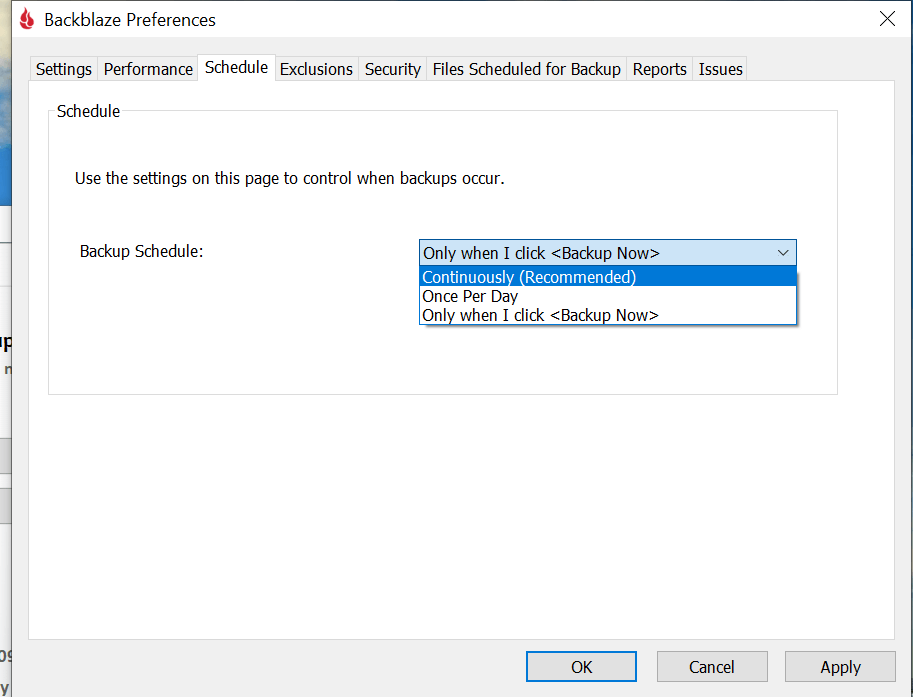 There is no file size limit in the Backblaze cloud backup system. However, you can adjust the setting if you wish to restrict a certain amount of file size during the backup process. Backblaze does not back up your operating system, temporary internet files as well as program application files. You can also throttle the download and upload speed in the Backblaze cloud backup system.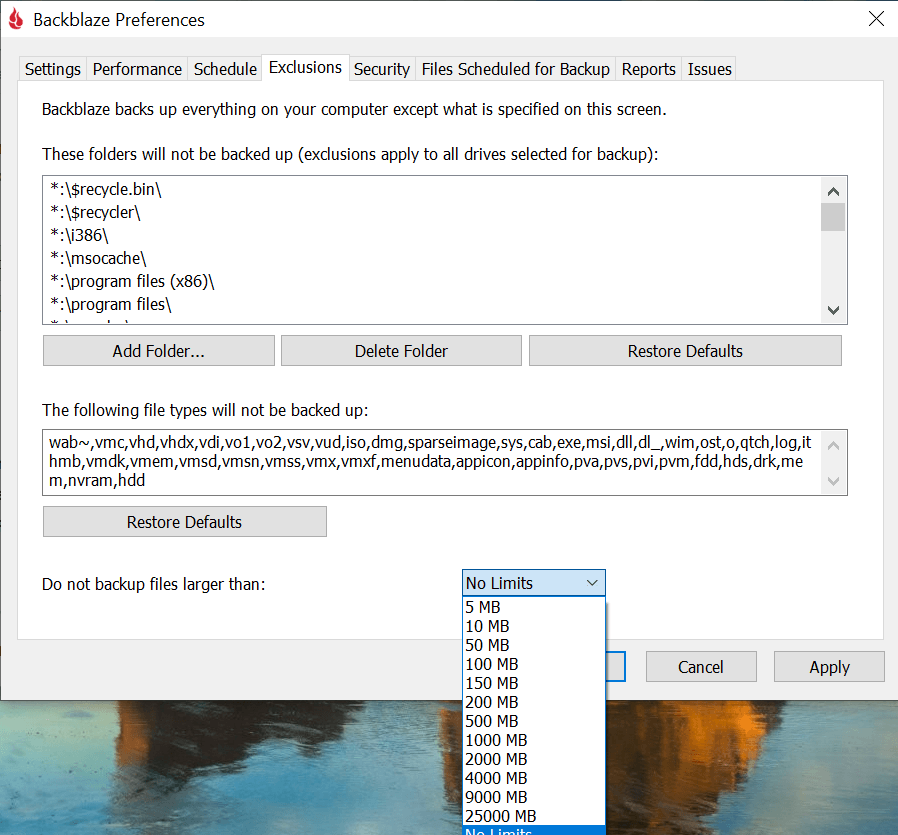 Multithreaded backup is supported in Backblaze. You can use up to 30 threads when backing up files. Deduplication, incremental backup, and external hard disk drive backups are also supported in Backblaze. However, you should be aware that creating hybrid backups is not possible. NAS backup, as well as Server backup, is only available in Backblaze Business Cloud Backup.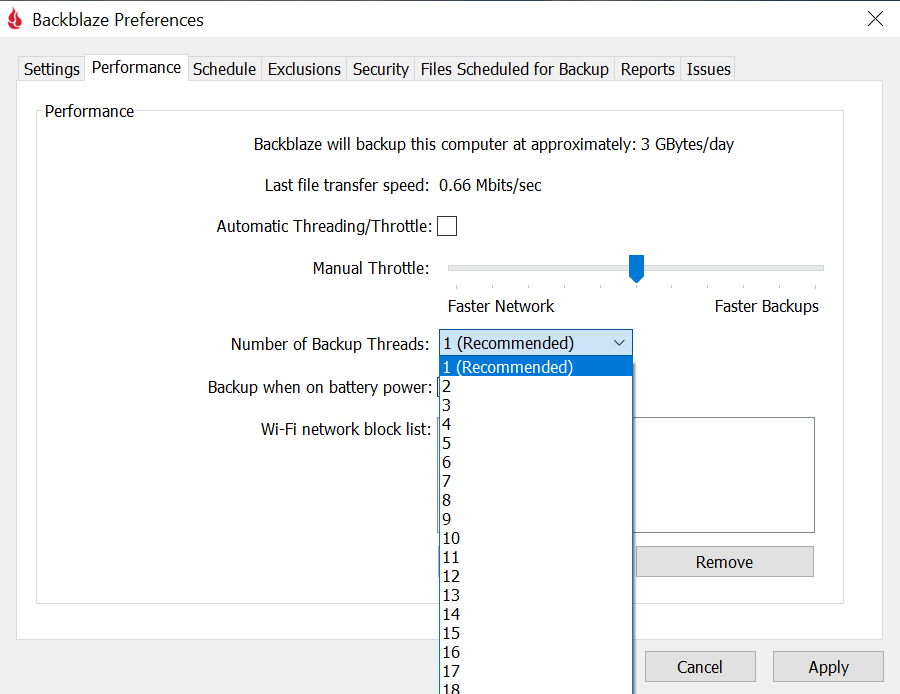 Mobile Application
Backblaze is compatible with both Android and IOS devices and mobile phones. With the mobile application of Backblaze, you can only download files and folders that have been previously backed up. You can't create backups from the files, folders, photos, music, and video files coming from your mobile phone.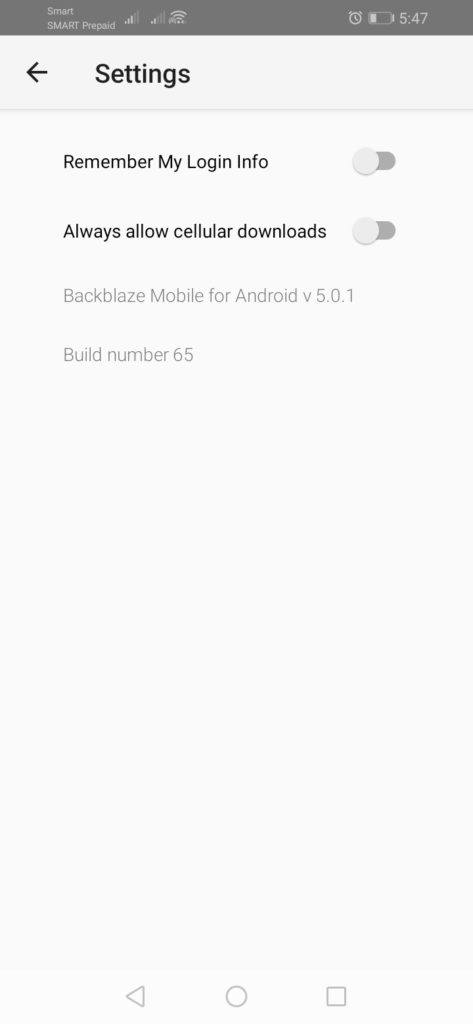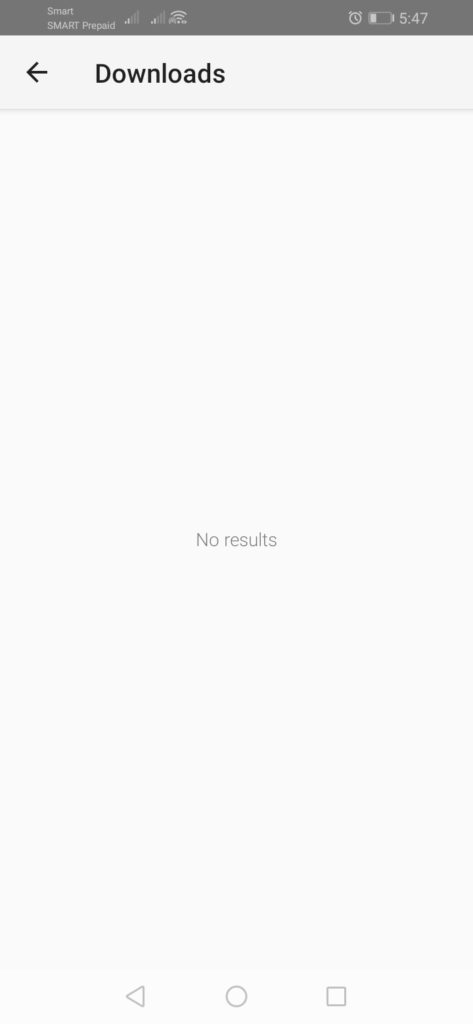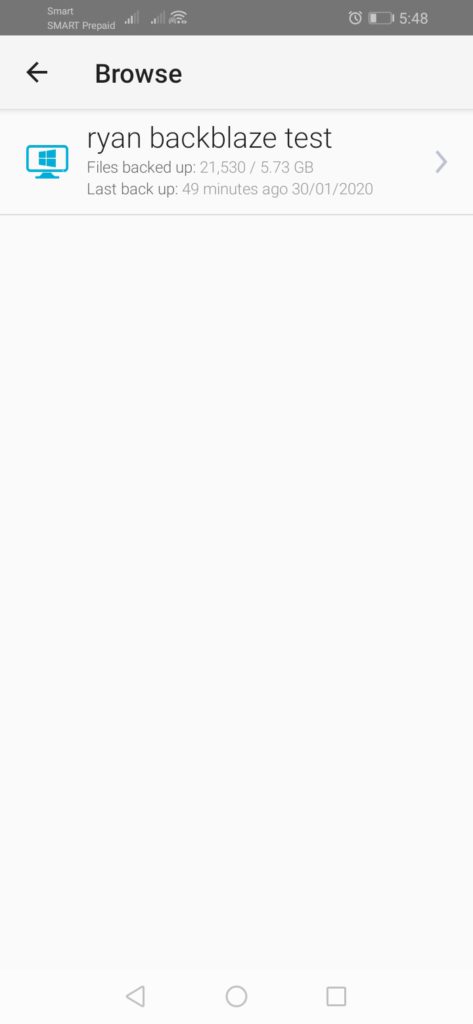 ---
Speed
We tested the speed of Backblaze here in the Philippines. During this time, the local internet provider had a speed of 5.00 MBPS / 2.00 MBPS download/upload speed. The results are listed below.
| | | | | |
| --- | --- | --- | --- | --- |
| 1 GB File | Internet Provider (max speeds) | Test 1 | Test 2 | Average |
| Time (Download) | 00:26:40 | 00:33:20 | 00:33:24 | 00:33:22 |
| Time (Upload) | 01:06:40 | 03:22:12 | 03:22:08 | 03:22:10 |
Download speed is comparable to the maximum internet speed of the local internet provider. However, upload speed is way too low which is unacceptable. Based on the results, it will take 3 times the amount of time to upload files compared to what it should be based on the internet speed of the local provider.
---
File restoration
You need to log in to the web user interface in order to access your backups. You have 4 options to choose from. First, you can directly download your files, folders and entire backups to your computer. This option is entirely free. Second, you can save your files to the B2 cloud storage which is Backblaze's cloud storage service.  Third, you can request Backblaze to send your files, folders, and backups to a USB flash drive which can store a maximum of 356 GB worth of data via regular mail. This option costs US$99.00.Fourth, you can request Backblaze to send your files and backups to an external hard disk drive that can accommodate up to a maximum of 8 TB worth of data via regular mail. This option costs US $189.00. The last 2 options are actually courier service programs being offered by the cloud backup provider.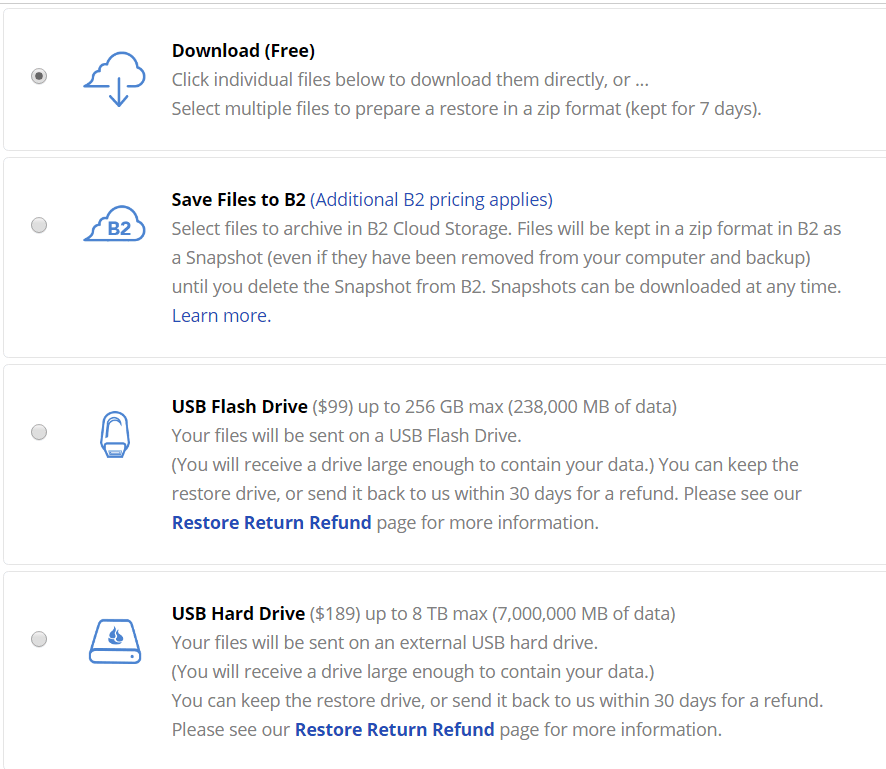 Backblaze will keep all versions of your files and backups for a maximum of 30 days. This means that you have to connect your local computer to the Backblaze cloud backup system at least once a month so that your backup files never get deleted. You can extend the file versioning system up to a maximum of 1 year if you are willing to pay the additional US $2.00 per month.
---
Security & privacy
Backblaze is one of best online backup service providers due to its excellent security measures and outstanding privacy policies. As a matter of fact, Backblaze uses the 128-bit AES encryption system. I know what you are thinking right now. You do have some doubts about whether it is the best encryption there is. I know that the highest standard for AES encryption is the 256-bit key. I also know that it is harder to break 256-bit AES encryption than the 128-bit AES encryption system. While Backblaze uses the older version of the AES, you don't have to worry about anything. This is because there are other security measures that have been placed strategically.
If that is your concern, then let me tell you that Backblaze uses an optional client-side encryption system. You have the power and authority to create our own private key which you will use in order to access all of your backups. You should be careful not to lose your passphrase that you generated though as it can't be replaced. If you lose your own private key, your backup files will be considered lost too. This type of protection uses the zero-knowledge based type of encryption system. Backblaze also uses an SSL protocol during data transmission.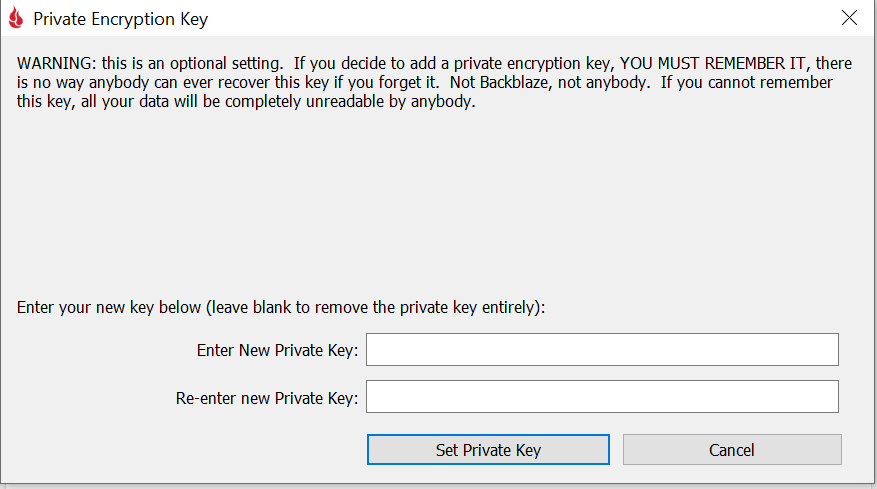 On top of that, the cloud backup provider also implements an optional Two-Factor Authentication system. With this type of security protocol, you need to have to enter a secondary 6-digit code in the log-in page of Backblaze in order to access your backups as well. The 6-digit code will actually be sent to your mobile phone so be sure to have a verified mobile phone number attached to your account in order to implement this security protocol.

The data centres of Backblaze are SSAE-16 / SOC-2 compliant. They are equipped with biometric security measures in order to discourage unauthorized access to the facilities. There are also ID checkpoints and area locks wherein badges are required in order to be able to specific areas within the data centres. The data centres of Backblaze are currently located in California, Arizona, and Amsterdam.
Backblaze abides by the provisions set forth in the GDPR, EU-US Privacy Framework as well as the Swiss-U.S. Privacy Shield Framework. Since Backblaze implements client-side encryption, you are not vulnerable to the PATRIOT Act & CLOUD Act.
---
Online support
Backblaze as a cloud backup provider has great online support. The company provides e-mail support for all of its customers and clients. You can contact Backblaze at helpme@backblaze.com. The cloud backup service provider also allows you to interact with customer service representatives through live chat from Mondays to Fridays of every week from 9 AM to 5 PM Pacific Time.
However, there is no phone support available as of this moment. Since Backblaze provides a very comprehensive user manual along with answers to frequently asked questions (FAQs), phone support might not be needed at all.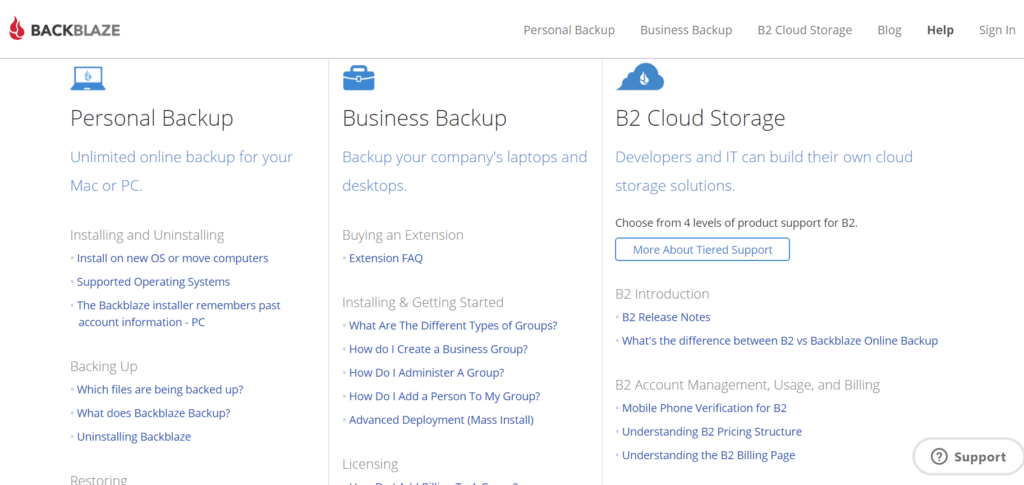 ---
Additional features
Locate My Computer – Backblaze has a very advanced feature that is connected somehow to security. This feature allows you to find your lost or stolen computer easily. If you turn this feature on, you will be able to plot the exact location of your computer or laptop through Google Maps. It uses the global positioning system (GPS) technology in order to do that.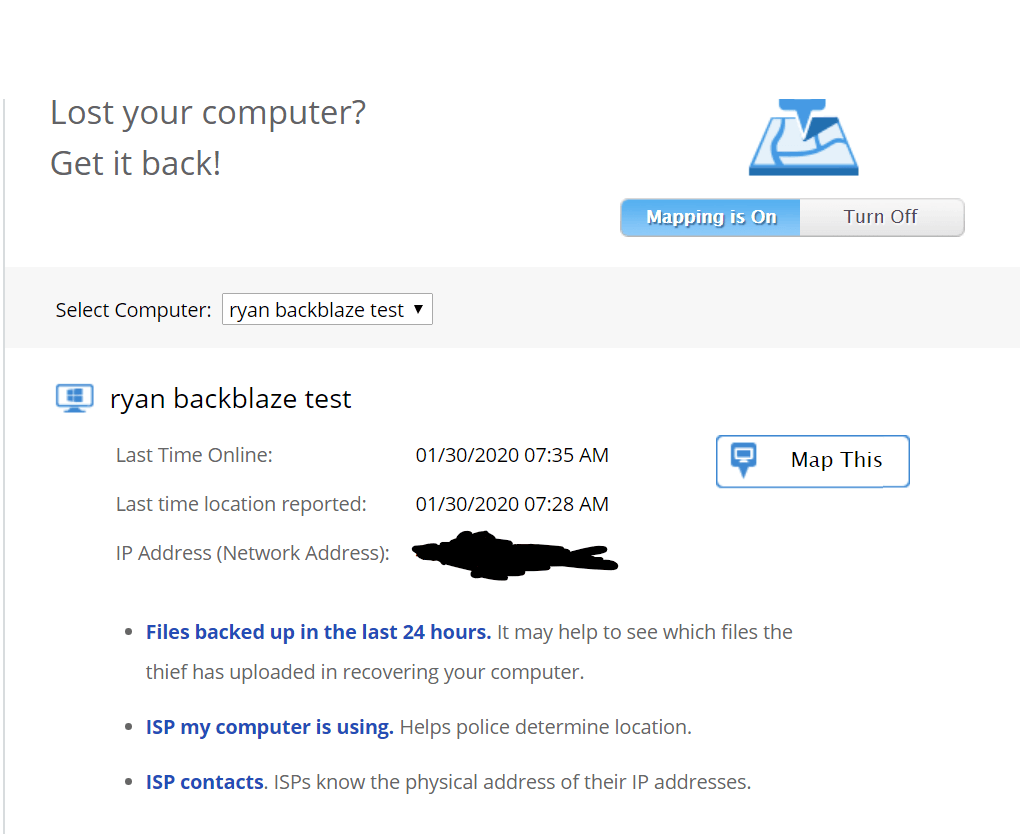 In case your computer or laptop has actually been stolen, this unique feature allows you to see which files have been downloaded and uploaded by the thief in the last 24 hours. Because of this, you will know exactly the level of data exposure you are currently in. On top of that, you will know the exact I.P address of the thief which he or she has used in order to access your files. Knowing the I.P address is helpful so that the police can assist you in recovering your computer legally and arresting the thief accordingly.
The "Locate My Computer" feature is not something you will see with other cloud backup providers. It is one of the unique selling points of Backblaze cloud backup.
File Sharing – Through this feature, you can share individual files with other people by creating a specific link for the shared file using B2 Cloud Storage of Backblaze.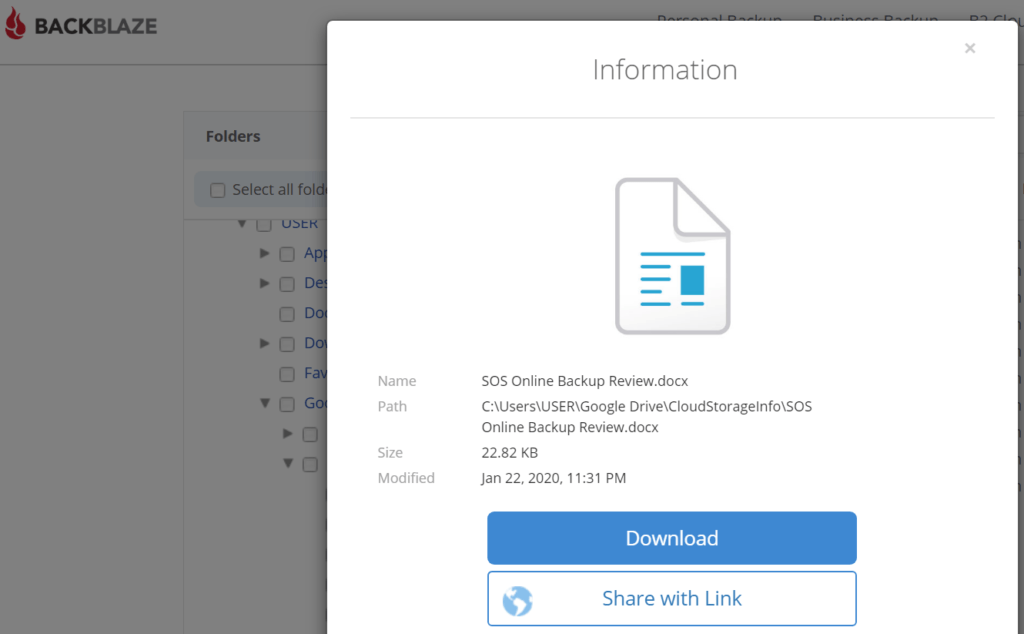 ---
Conclusion
I would not recommend Backblaze as a cloud back provider. While security and privacy are top priorities of Backblaze, it lacks many features that other cloud backup providers easily provide. You can't back up individual files and folders which makes Backblaze unattractive. You can't also back up files, photos, audio files, and videos coming from the mobile phone. Upload speed is also very slow. Because of all of these things, I recommend you to find a better cloud backup provider.
---
---
I hope I answered all your questions in this Backblaze Review. If you have some questions, don't hesitate to ask them in the comments section down below!