SecureSafe
$1.50/month 1 GB
Additional Features
9.0/10
Pros
Integrated password manager
Zero knowledge privacy
Excellent storage security
Mail-In Feature
Cons
Low cloud storage size
Sync on intervals
Limited and cumbersome sharing options
No file versioning for personal users
Very limited support options
SecureSafe Review
SecureSafe is a cloud storage based in Switzerland. It also offers a secure password manager alongside the cloud storage and the latter isn't exactly up to speed with all the other cloud storage alternatives available on the market. Within this SecureSafe review, you'll find quite a few important notes that you should take into account before making your decision to use the service.
Read the full SecureSafe review down below.
---
SecureSafe Alternatives
---
Jump to:
Pricing & Plans
Who is it for?
Ease of use
File syncing
File sharing
Retrieving files
Security
Online support
Additional features
Conclusion
---
Pricing & Plans
SecureSafe offers a few plans that you can pick from. They vary both in storage space, the number of passwords you can save and various other advanced features. One could certainly argue that some of these features should be available within all the plans. It goes without saying that larger storage capacity is needed nowadays if you wish to use the cloud storage for storing images and videos. But SecureSafe decided to focus on customers that need their cloud storage primarily for documents and storing passwords which is fine. But if you need larger storage capacity, SecureSafe is not your solution. Instead, have a look at our Top 10 Cloud Storage Providers list.
---
Private clients
| Plan | Free | Pro | Silver | Gold |
| --- | --- | --- | --- | --- |
| Price | $0.00/month | $1.50/month | $4.00/month | $12.00/month |
| Storage | 100 MB | 1 GB | 20 GB | 100 GB |
| Passwords | 50 | Unlimited | Unlimited | Unlimited |
| SecureSend | | | | |
| 2-factor authentication | | | | |
| PDF & image viewer | | | | |
---
Business clients
| | | |
| --- | --- | --- |
| Plan | For a single project group | For companies |
| Price | $4.00/month per user | $9.50/month per user |
| Storage | 1 team safe with 10 GB storage (expandable) | Several team safes with 10GB storage each (expandable) |
SecureSafe offers no lifetime cloud storage plans.
---
Who is it for?
With the pricing & plans SecureSafe currently offers they simply can't match with other cloud storages in the market in terms of cloud storage. If you want to save a few documents and have a password manager as well then SecureSafe is a viable secure pick. Otherwise, have a look at our Top 10 Cloud Storage Providers list.
---
Ease of use
The registration procedure is fairly simple with SecureSafe. It's important to note that, the same as with Mega, you receive a recovery code upon registration. This recovery code allows you to regain control of your account if you forget your password. If you pass saving the code during the registration procedure, don't worry about it. You're still able to get the recovery code within the account settings. But make sure to save the code somewhere safe as soon as possible as you won't be able to recover your account later on via the email. The recovery code is the only way.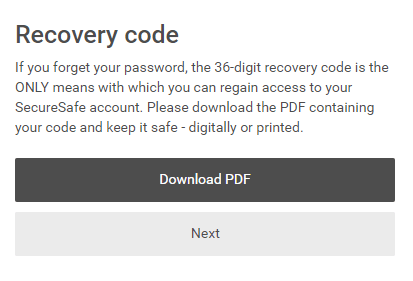 The interface itself feels responsive and provides you with the options needed to manage your files.

File previews & edits
When it comes to documents you aren't able to preview or edit Office files directly in the browser. PDF and image files can only be previewed in the paid plans listed under Pricing & Plans.
Video and music files are off the table as well. SecureSafe isn't exactly friendly when it comes to file previews directly from the browser. The options they do provide are walled off behind a paid plan which is not very user-friendly either. Many cloud storages offer this as a base feature.
---
File syncing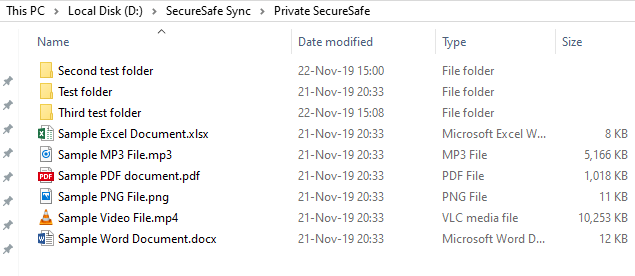 SecureSafe has its desktop client available for Windows 7+ and macOS users. The desktop client allows you to synchronise the files you have in the cloud to your computer. It doesn't create a virtual drive and as such takes up space on your hard drive. It's also important to note that the files get synchronised on intervals rather than constantly whenever a change is noticed. I find that very counter-productive. If I am working on a document with my colleague I wish him to be able to continue working on it as soon as I am done. You can, however, force sync your files but I find that cumbersome and time-consuming.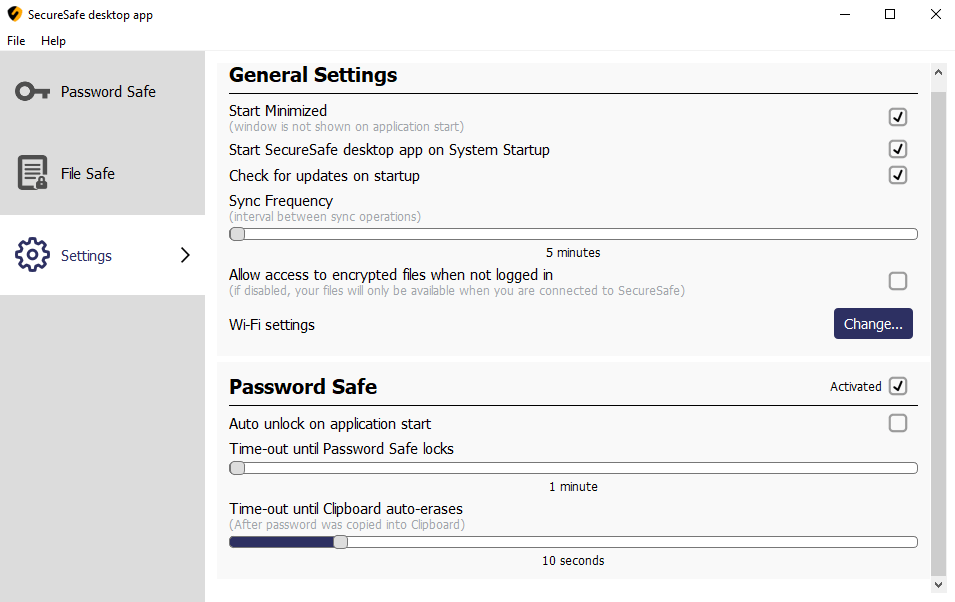 SecureSafe also acts as a password manager. You can access all of your passwords within the desktop client as well.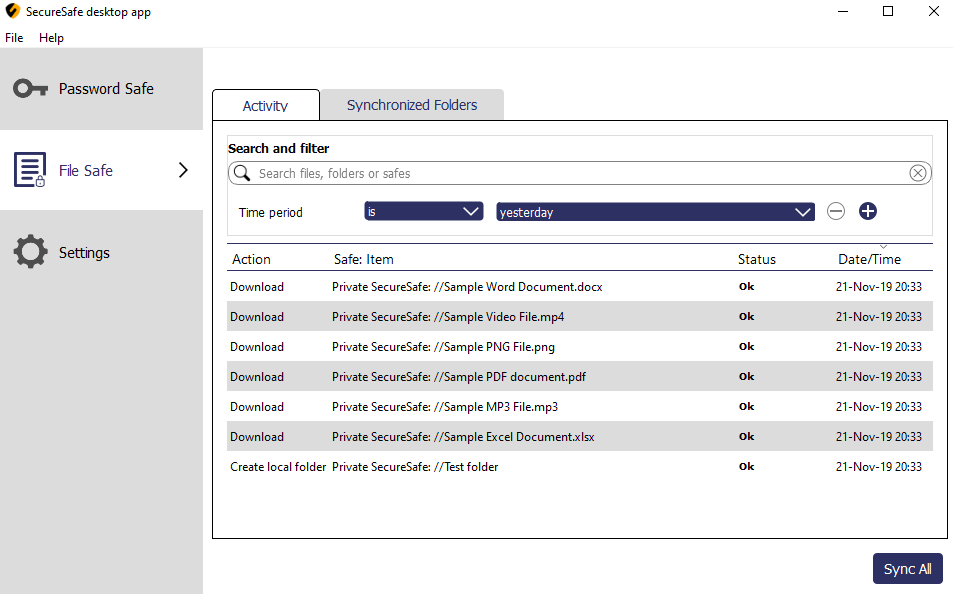 The "File Safe" tab allows you to check the activity on your account and choose which folders you would like synced to this device. Keep in mind though that this is not true selective sync. They only give you the option to sync or not sync all of the files you have. You can't sync or not sync specific folders within your file structure.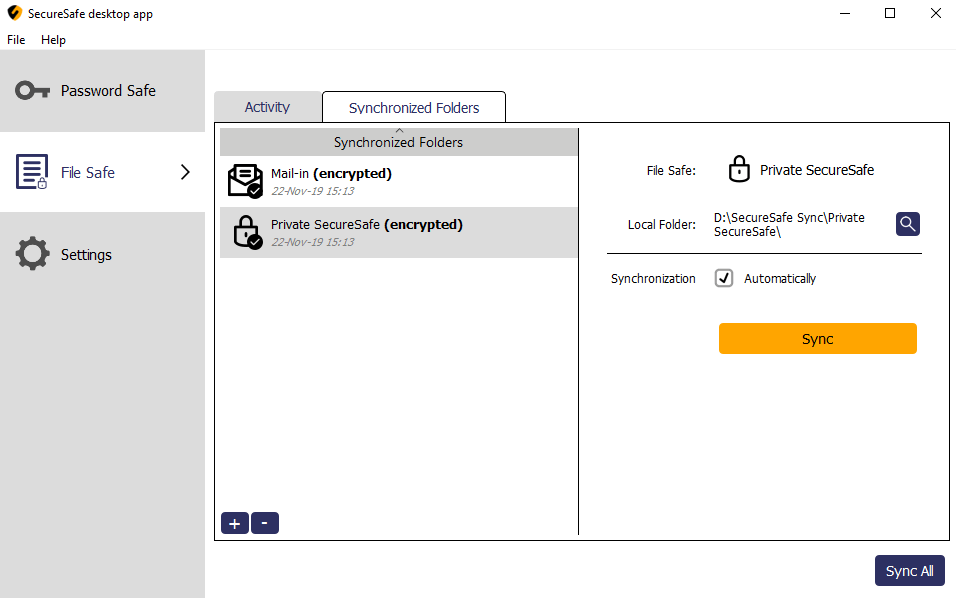 There appears to be no limit to transfer speeds but you aren't able to limit them either. SecureSafe does not provide block-level sync that would shorten upload times of updated files. Not that it would come in very useful here since SecureSafe focuses on smaller files.
You also can't sync any folder from your computer which would come in handy every once in a while.
---
File sharing
SecureSend is a bit bare-bones when it comes to file sharing. It's certainly not the most user-friendly file sharing service out there. You're able to share files via a link and email with it. You can also set an expiration date (10min to Unlimited) on your download link. The option to set a password on it is restricted to Silver and Gold users only. The other person does not need a SecureSafe account to download the files.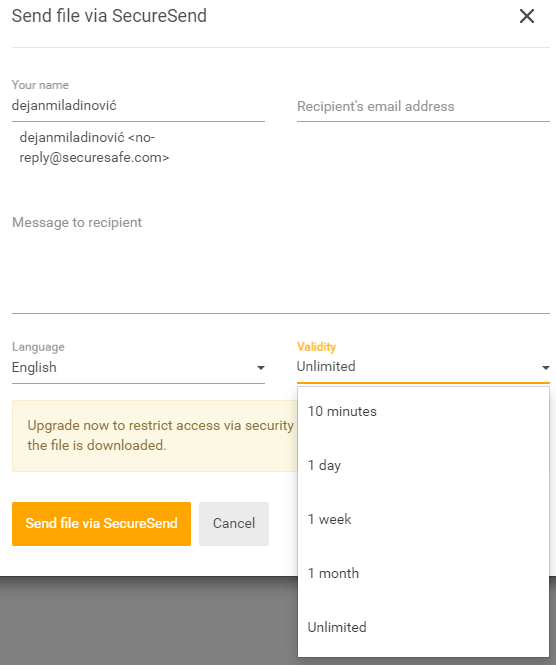 It did bother me however that you just have to pick an email recipient in order to create a download link. Even if I want to send my friend the download link via Twitter for example that simply isn't possible until I create a download link and send it to "someone" via the e-mail. That email can, of course, be fake but it's just cumbersome to do this.
Under the "Sent" menu option you can review all of your download links and see how many times they were used.
It's not possible to share entire folders though. They have bundled up that option into their business plans and are selling it as "Team safes".
The maximum file size you can send with SecureSend is 2 GB. There is no written limit on how much bandwidth you can use for file sharing though.
---
Retrieving files
The file versioning system is limited to business users only which is, in my opinion, a big downside. It's always good to have that safety switch in case you override your files.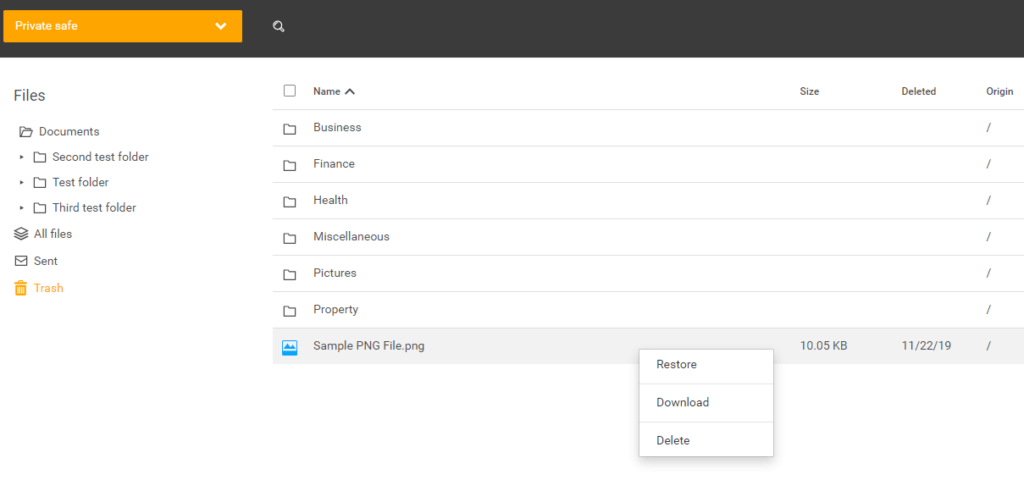 Files stay in the trash bin indefinitely but they also take up cloud storage space so you will eventually have to manually delete them in order to make more space.
---
Security
SecureSafe is located in Switzerland and has two data centres located there as well. Security and privacy are two things they claim to be excellent at due to their system and Swiss privacy laws.
They guarantee that all of your files are visible only to you and the people you share the files with which is nowadays more commonly known as zero-knowledge privacy (available with Sync.com as well). Not even their employees can access your files. All of your files are individually encrypted, both at rest and on transit. They use AES-256 and RSA-2048 encryption standards. Your password is never stored with them and can only be recovered with the "Recovery code" given to you at registration or in your account settings.
All data stored in SecureSafe accounts is encrypted by way of a multi-layered cryptographic architecture. Their security architecture has been made openly available with multiple testing by third parties.
Your files are protected with triple-redundant data storage to prevent data loss in case of a disaster. They are also fully GDPR and ISO 27001 compliant.
They also support full data inheritance in-case the account holder passes on. Two-factor authentication is also available which provides additional protection of your account (only for paid users).
---
Online support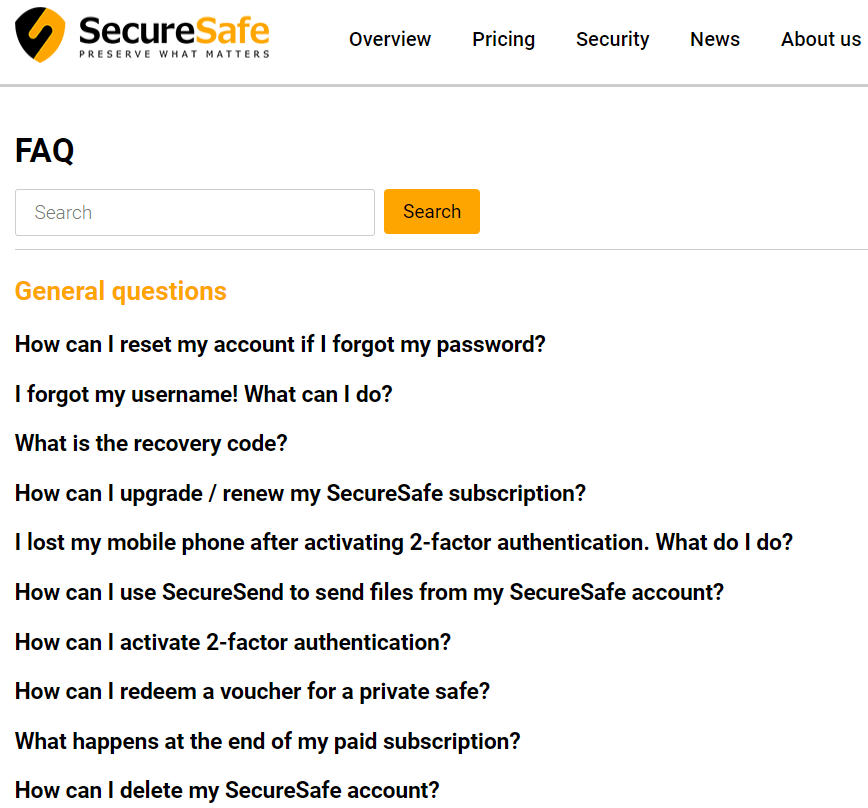 SecureSafe offers a small FAQ base that answers some of the standard questions but it certainly doesn't go very deep in doing that. The contact form is available only to paid users. Live chat or phone calls are off the table.
---
Additional features
---
Password manager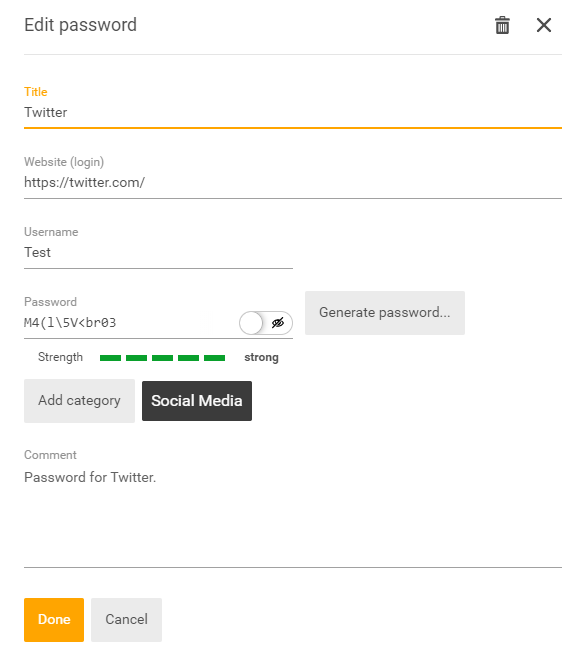 The password manager is without a doubt the main additional feature of SecureSafe. It allows you to store all your passwords securely and use them whenever needed. It also comes with a password generator that has quite a few options:
Length customization
Lowercase only
Use special characters
Use numbers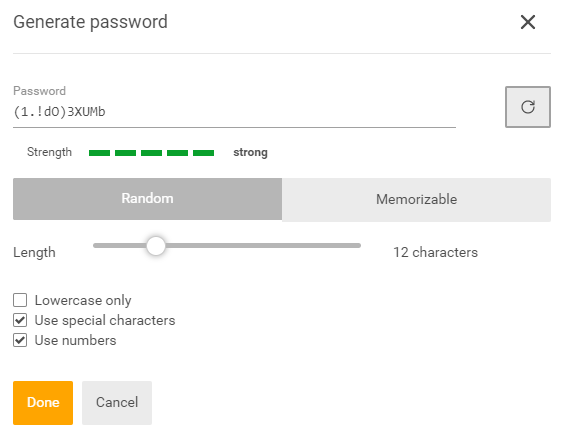 ---
Mail-In
SecureSafe creates an email within your account. That email can then be used to transfer files to your cloud storage. For example, if you need a certain report sent to you from a friend simply give him the SecureSafe generated email. He should then send you the report as an attachment to that email. The attachment will show up in your cloud storage. A pretty neat feature. Keep in mind that it takes a while for the file to show up in your SecureSafe.
---
Mobile application
---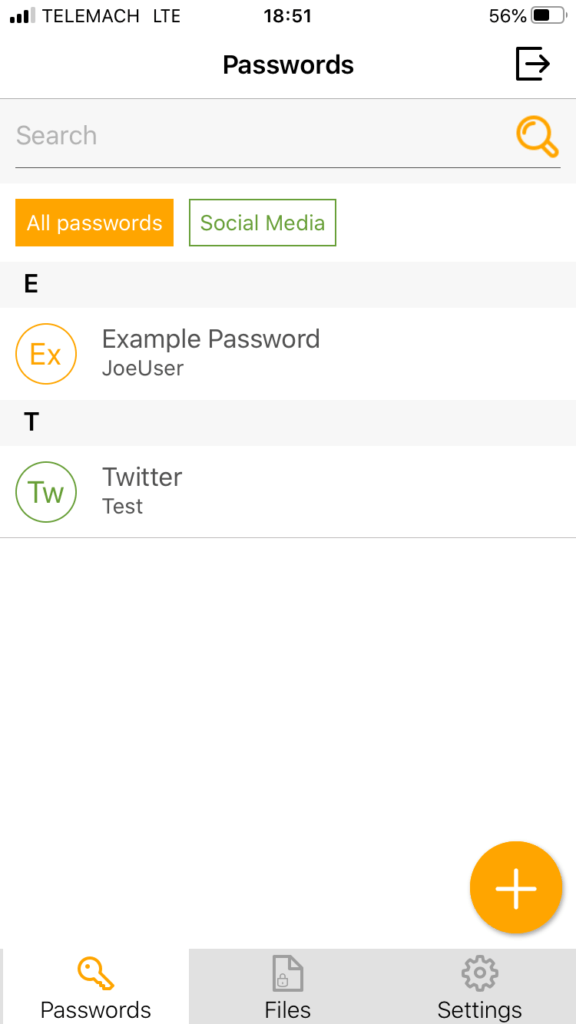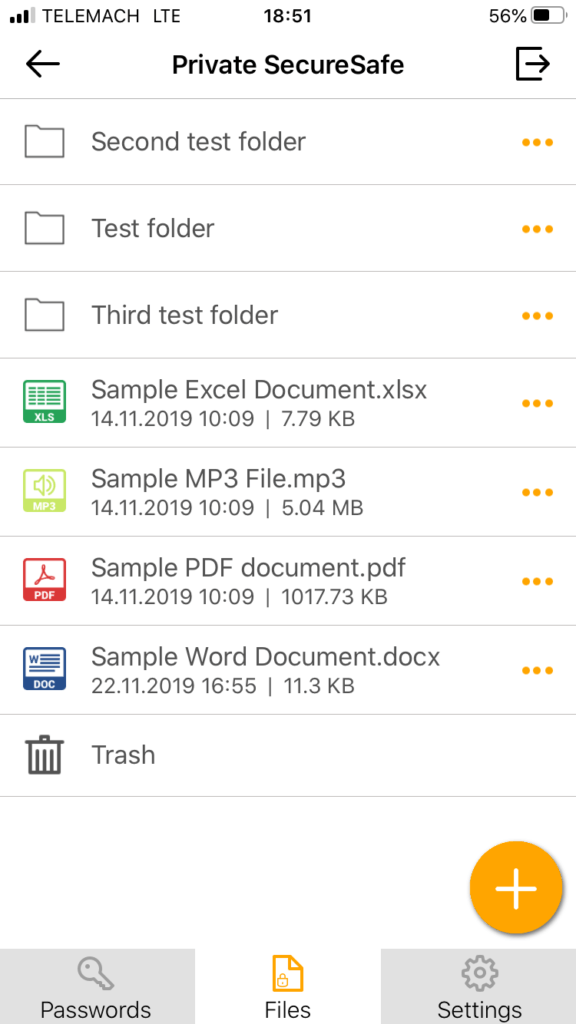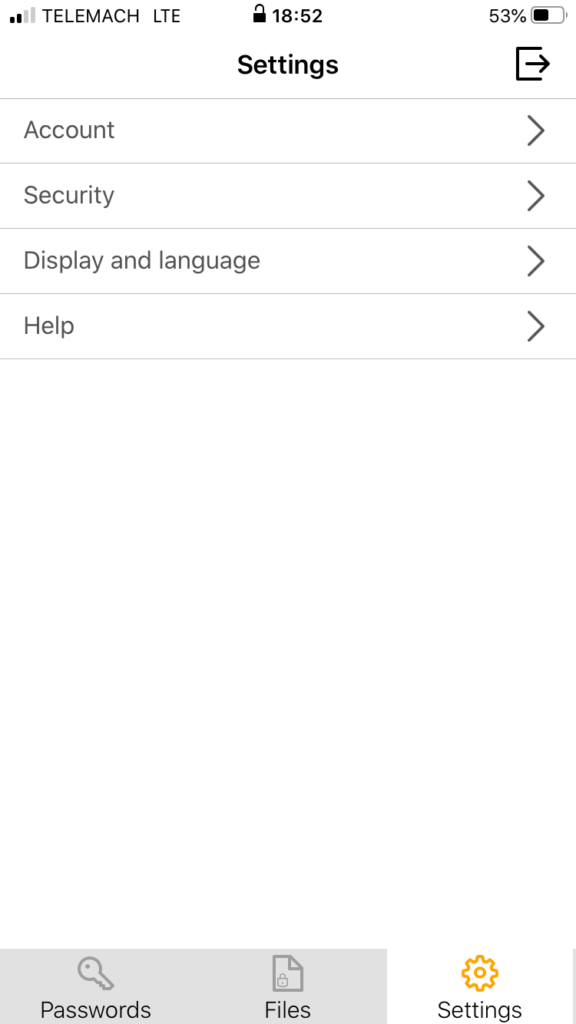 SecureSafe app is available on Android and iOS devices. It allows you to access your files and passwords wherever you are.
During the setup wizard you can decide whether you want to:
Save your username for faster login
Stay logged in when switching between apps.
Access your passwords without an internet connection.
Active Touch ID for faster login.
Let the app fill in username&passwords to log into websites and apps.
It's important to note that the app doesn't allow you to auto-upload images.
---
Conclusion
SecureSafe is certainly a secure cloud storage & password manager solution but that's pretty much where it all ends. With low cloud storage space, cumbersome sync & sharing solutions and limited support SecureSafe doesn't come far in the grand scheme of things. The zero-knowledge system and Swiss privacy laws make for a compelling argument but a cloud storage needs to offer more than just that. It needs to be useful and should encourage increased productivity which in my opinion SecureSafe just doesn't do. I have reviewed 25+ cloud storages on my website, feel free to check my Top 10 Cloud Storage Providers list if you want a SecureSafe alternative.
---
---
Hopefully, we've gone through everything that you wanted to know about SecureSafe within this SecureSafe review. If you have any unanswered questions feel free to ask them in the comments section down below and I'll answer them shortly!