3.2/5
★★★✩✩
PRICING & PLANS


★★★★★★★✩✩✩

6.5/10
EASE OF USE


★★★★★★★★★★

9.5/10
FILE SYNCING


★★✩✩✩✩✩✩✩✩

2.0/10
FILE SHARING


★★★★★★★★★✩

8.5/10
RETRIEVING FILES


★★★★★★★★✩✩

7.5/10
SECURITY


★★★★✩✩✩✩✩✩

4.0/10
SUPPORT


★★★★★★★✩✩✩

7.0/10
ADDITIONAL FEATURES


★★★★★★✩✩✩✩

6.0/10
PROS
Easy to use
Great sharing features
CONS
Very limited free plan
On the expensive side
No sync folder for desktop
No client-side encryption
No two-factor authentication
No Android app
Jumpshare Review
Jumpshare is a US cloud storage that focuses on sharing and collaboration features. They do a fairly good job at that but it might be worth having another look at other best cloud storage providers due to some very troubling sections (that are explained in this Jumpshare review) where Jumpshare just doesn't deliver.
Read the full Jumpshare review down below.
---
Jumpshare Alternatives
pCloud
4.6/5


★★★★★

5-10 000 GB
10 GB Free

❌Sync Folder
✔️Selective Sync
✔️Link Sharing
✔️Zero Knowledge


Read Review
Sync.com
4.6/5


★★★★★

5-6000 GB
5 GB Free

✔️Sync Folder
✔️Selective Sync
✔️Link Sharing
✔️Zero Knowledge


Read Review
Icedrive
4.5/5


★★★★★

10-10 000 GB
10 GB Free

✔️Sync Folder
❌Selective Sync
✔️Link Sharing
✔️Zero Knowledge


Read Review
Cubbit
4.5/5


★★★★★

1-8000 GB
1 GB Free

✔️Sync Folder
✔️Selective Sync
✔️Link Sharing
✔️Zero Knowledge


Read Review
Mega
4.2/5


★★★★✩

15-16000 GB
15 GB Free

✔️Sync Folder
✔️Selective Sync
✔️Link Sharing
✔️Zero Knowledge


Read Review
---
Jump to:
Pricing & Plans
Who is it for?
Ease of use
File syncing
File sharing
Retrieving files
Security
Online support
Additional features
Conclusion
---
Jumpshare Features
Pricing & Plans
Free storage
2 GB
Free trial
Lifetime plans
Payment methods
Credit card
Ease of use
Open in-browser
PDF, Office, Videos, Images, Music
Edit in-browser
Mobile apps
iOS
WebDAV
File syncing
Supported systems
Windows, macOS
Imaginary drive

An imaginary drive allows you to access all of the files that are in the cloud directly from your desktop via an application without taking up local storage space.

Sync folder

A sync folder allows you to access all of the files that are in the cloud directly from your desktop via an application. Since it synchronises the files to the device, it takes up local storage space.

Block-level file sync
Selective sync

Selective sync allows you to choose which folders that are located in the cloud should and shouldn't be synchronised to your device.

Sync any folder

The sync any folder feature allows you to choose any local folder and synchronise it to the cloud without any further actions.

File sharing
Share download links
Link password protection
Link expiration dates
Link branding
Link download limits
Link stats
Share upload links
Share folders
Set folder permissions
Retrieving files
File versioning system
Trash bin
Rewind feature

The rewind feature allows you to go back in time and inspect your cloud storage as it was in that moment. This enables easy retrieval of files in various scenarios such as malware infection.

Security
Server location
US
HIPAA Compliance
Encryption protocol
256-bit AES
At-rest encryption
In-transit encryption
Client-side encryption
Zero-knowledge privacy
Two-factor authentication
Online support
FAQ base
Forums
E-mail support
Live chat support
Phone support
---
Pricing & Plans
Jumpshare divides their users into three main groups: Basic, Plus and Business. The basic plan is quite limited when it comes to advanced options and can, in my opinion, serve just as a testing ground for their service. Once you get a feel for the service you can either choose to upgrade, stick with the limited options or move to another provider. The prices are quite expensive when compared to other cloud storages, you can get double the storage with cloud storage providers like pCloud and Sync.com. If you opt-in for yearly payments you get 2 months for free.
Visa, MasterCard and American Express are the accepted payment types.
The main differences between the plans are:
Plan
Basic
Plus
Business
Price
Free
$9.99/month
$99/year
$15/user/month
$150/user/year
Storage
2 GB
1000 GB
2000 GB
Public bandwidth/month
5 GB
200 GB
Unlimited
File size limit
250 MB
20 GB
No limit
File & version recovery
None
30 days
365 days
Other differences (each plan adds upon the previous one):
Basic
30 seconds screen recording
Capture unlimited screenshots
Basic search
iPhone app
Windows and Mac apps
OAuth via Google
Secure Sharing (SSL)
Plus
Unlimited screen recording
Unlimited tracking alerts
Advanced sharing options
Disable download and printing
Expire share links
Password protection
Self destruct files
Custom branding
Custom domain
Unlimited comments
Analytics
Inbox
Schedule sharing
HD video playback
Share direct links to files
Save annotated screenshots locally
Save videos and GIFs locally
Faster file processing
No Ads and popups in file viewer
Business
Shared team workspace
User management and permissions
Team-only protected sharing
Unlimited team members
Team activity stream
Dedicated infrastructure
Organization-wide policies
Consolidated billing
Custom messages in shared emails
Advanced analytics
99.99% guaranteed uptime
SLA Priority support
Jumpshare provides no lifetime cloud storage plans. All in all JumpShare doesn't come in cheap which is why we recommend taking a look at our cheapest cloud storage list if price is important.
---
Who is it for?
I would recommend Jumpshare to anyone that would be willing to pay a few extra bucks to get a quality sharing solution that focuses on improving and making your business life easier rather than a cloud storage. I don't believe that Jumpshare is a good cloud storage, a moderate one at best. But even as a sharing solution you're probably better off finding a cloud storage that has advanced sharing options rather than settling with Jumpshare. Sync.com would be a very good alternative with quality sharing options.
---
Ease of use
Standard procedure when it comes to registering an account with Jumpshare. You provide info, they send you the confirmation email and that's that. You can also use Google to sign-up for free. Once I got inside I was greeted with a "Thumbnail" interface which is the default option.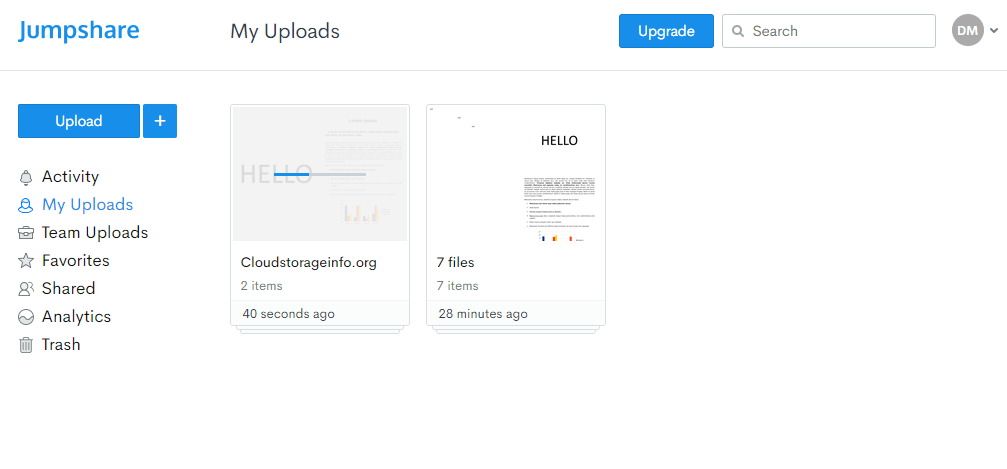 If you go to settings you can choose the "List" interface which is my preferred way of viewing files.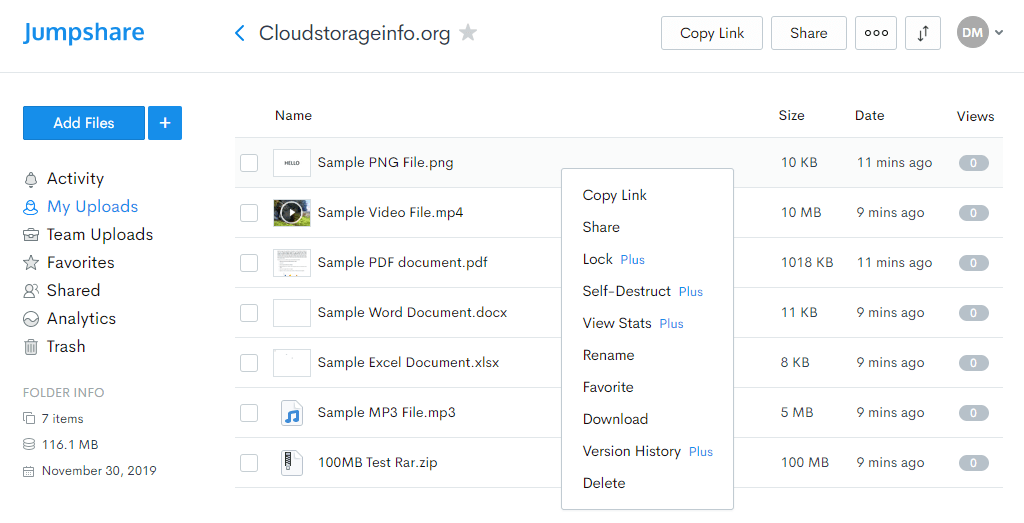 The menu comprises of the following options:
Activity – Shows all the recent activity on your account.
My Uploads – Shows your files.
Team Uploads – Shows files shared with your team (business accounts only).
Favorites – Shows the files you've marked as favourites.
Shared – Shows files & folders shared with you.
Analytics – Shows advanced stats for all the files you've shared (Paid plans only).
Trash – Allows you to retrieve deleted files (Paid plans only).
The interface feels responsive and well made. During my testing, I haven't ran into any bugs or errors. I could even switch between the light and dark theme which is a very popular request nowadays.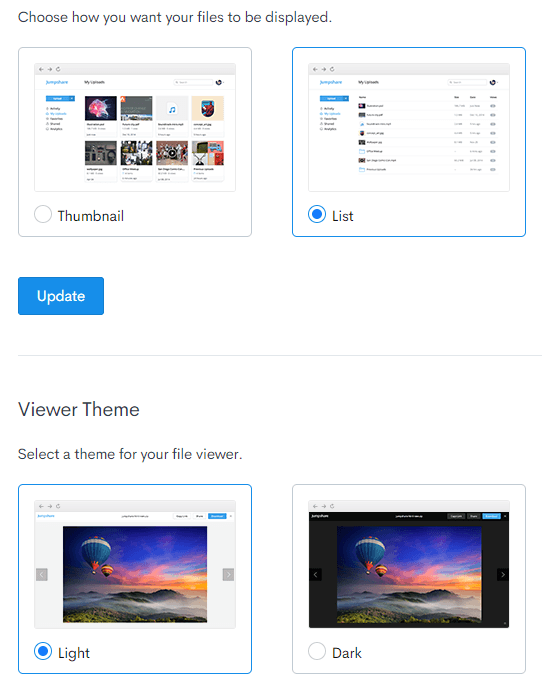 Drag & drop is also available so no need to bother with finding the "Upload" button.
In the settings, you'll also find some advanced features like having a logo on your shared files, custom domains and an inbox to which you can receive files via email. All of that is locked behind a door for paid users only.
File previews & edits
Previewing Office and PDF documents is possible directly in the browser but you can't edit them.
Listening to music, watching images and videos is likewise possible.
---
File syncing
Jumpshare desktop client is available both on Windows and macOS. Support for Linux is not available. The client itself is slightly different when compared to other cloud storages. It doesn't create a sync folder with which you can upload and access files that are in the cloud/synced to your desktop. That is a huge downside in my opinion. Instead, this is all you get: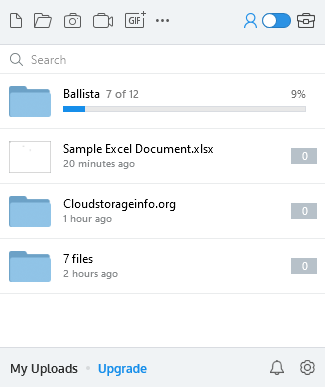 The client allows you to upload files & folders to the cloud but doesn't allow you to interact with them. You can also capture screenshots, record screen, create GIFs, compose notes and record voice clips.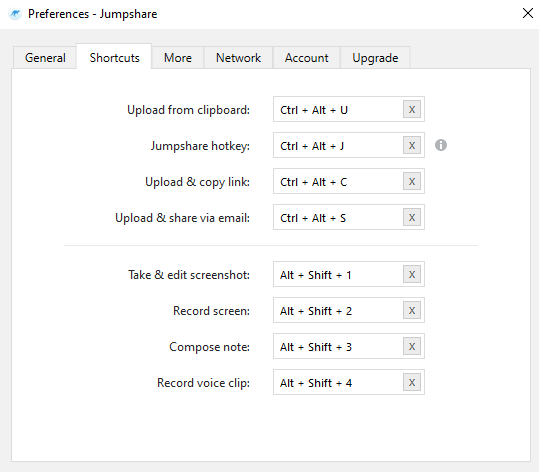 The desktop client certainly allows you to do many things but fails to provide what is, in my opinion, the ultimate advantage of having cloud storage. The ability to synchronise data across multiple devices. You can say goodbye to block-level sync, selective sync and the ability to sync any folder on your desktop.
File size limits depend on your plan and are described under "Pricing & plans". The supported file types can be found here.
Jumpshare isn't suitable for backing up your computer, have a look at our best online backup list if you need a service that does that.
---
File sharing
That's it, we've hit the motherload. Jumpshare claims to be the best at one thing. Collaboration and sharing files with anyone you want. Alright, let's have a look at what I can do to make my life easier.
The sharing bandwidth depends on your plan and can be found under "Pricing & plans" above.
Right-clicking on a file or folder brings up an array of options.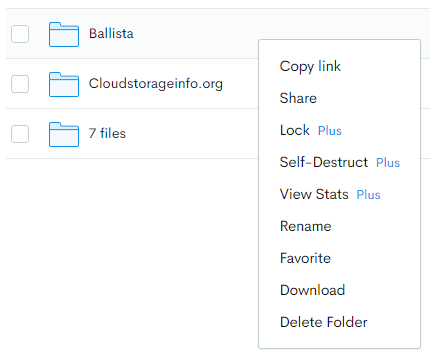 Going with the "Copy link" provides you with a link that you can share with anyone. He can then use it to download the files. If he owns a Jumpshare account he can also join your folder which allows you to collaborate with him on various projects. I am bothered by the fact that I can't manually disable the sharing link though which does make managing my shared files slightly cumbersome.
If you click on the "Share" option you get into the advanced stuff.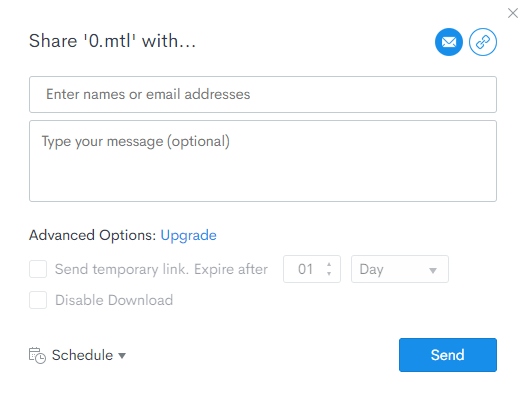 This all falls under options limited to paid plans only:
Sending temporary links with expiry dates.
Disable Download – Allows you to create a view-only link. Useful if you don't want the person downloading the files.
Schedule – This option is available with the e-mail form of sharing. It allows you to share the file or folder at a set time.
Locking the files is the term is used by Jumpshare to password-protect your files, not the links. I guess I see why that would be useful in some situations but it does make sharing files less practical – they could have integrated that feature directly into the "Share" option.
Self-destruct is another feature that enables you to set timers on certain files or folders. When the time runs out the file gets removed from your cloud.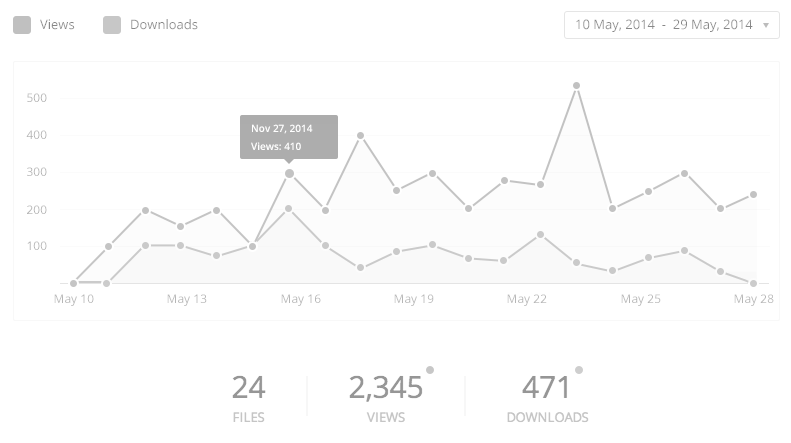 The View Stats option gives you an interesting and valuable insight into what's going on with the files you shared onwards. Everything from views and downloads to browsers and screen resolutions is recorded under this tab. I don't see how this would be useful to a personal user other than something interesting to look at but it can provide valuable information to various businesses.
Overall I would say that Jumpshare does a great job of letting you collaborate and share files but keeps things very limited for free users.
---
Retrieving files
File version history is available to Plus users for 30 days and for 365 days with Business users. The free users have none.

The same timings can be applied to recovering deleted files as well. No file retrieving for free users.
The timings are fairly decent but I am bothered by the fact that free users get pretty much nothing. One small mistake and half a day of work is gone. It certainly makes the free plan quite useless and pushes you to make that leap for a paid plan whenever you get into a troublesome situation. Keep in mind that the files will be saved for 30 days even in the free plan, you just won't be able to retrieve them.
---
Security
Jumpshare does not utilise their own servers. Instead, they store all of your data in an Amazon Web Services data centre in Virginia, US. I would say that's mostly a bad sign since it means that the US government can request your personal information and data whenever they want to due to the Patriot and CLOUD act. Now, some cloud services (such as pCloud) are based in US as well but have built their infrastructure in a way that supports client-side encryption. Jumpshare does not offer client-side encryption nor does it provide zero-knowledge privacy. Client-side encryption means that whenever a file is encrypted it is done on your side. The encryption keys are never stored in the cloud or with your cloud storage provider. That means that only you can access your files which renders any involvement from the government useless.
Jumpshare does encrypt your files with 256-bit AES (Advanced Encryption Standard) protocol though. The 256-bit AES protocol is yet to be cracked and it would take millions of years to brute-force through it.
No two-factor authentication is available though which does make Jumpshare look bad since it's becoming a standard within the industry.
Jumpshare is compliant with GDPR but fails to provide the proper solution for any business involved with sensitive patient information – HIPAA is off the table.
Due to all the facts listed above Jumpshare didn't make it to our most secure cloud storage providers list.
---
Online support
Jumpshare provides online support in the form of e-mails and Twitter replies during their work hours. They also built an FAQ page that will answer some of your questions. The answers there are mostly dedicated to explaining how their service works and what to do in different situations. The FAQ page is divided into General, Plus, Business, Mac, iOS and Windows. Priority support is reserved for business users.
Live chat or phone call support aren't available.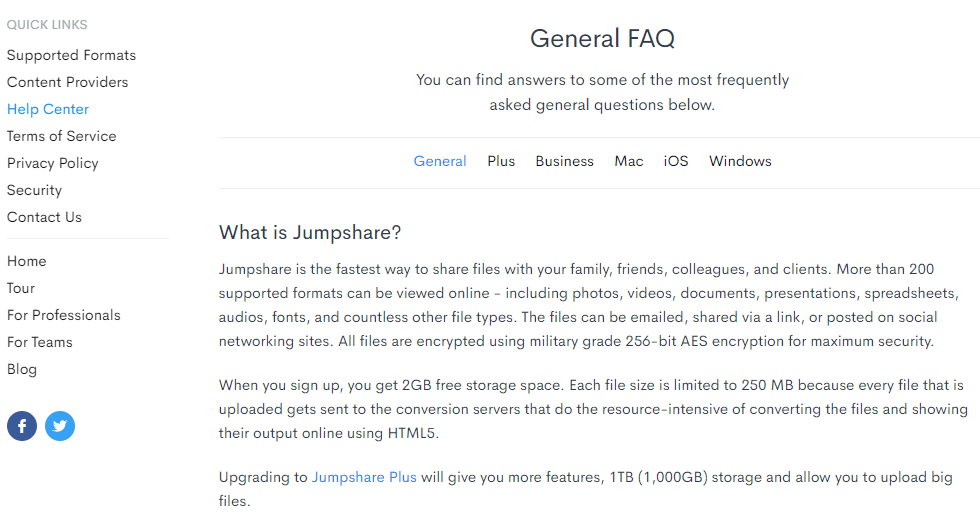 ---
Additional features
---
Mobile application
Jumpshare provides an application for iOS users only. The app for Android is apparently "On the way". None the less, I gave the iOS app a go. The application feels smooth and well made. I haven't ran into any bugs. It allows you to manage your files and share them directly from your mobile device. The options you have are pretty much the same to what you can find in the browser. Certain cloud storage providers allow you to automatically upload files to the cloud from your mobile device. Jumpshare, unfortunately, doesn't provide that feature. You also can't mark files for offline usage which means that an internet connection is required at all times.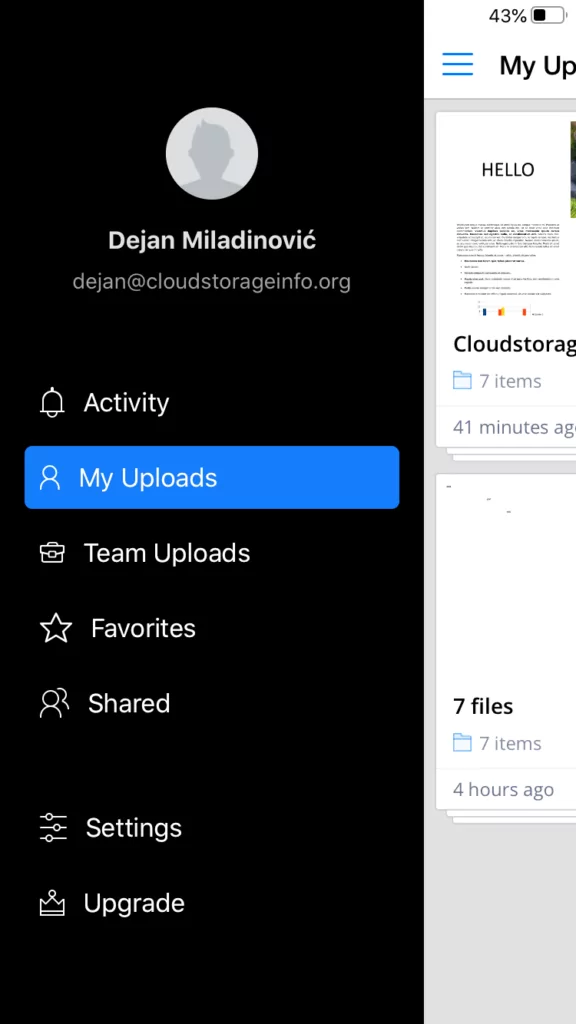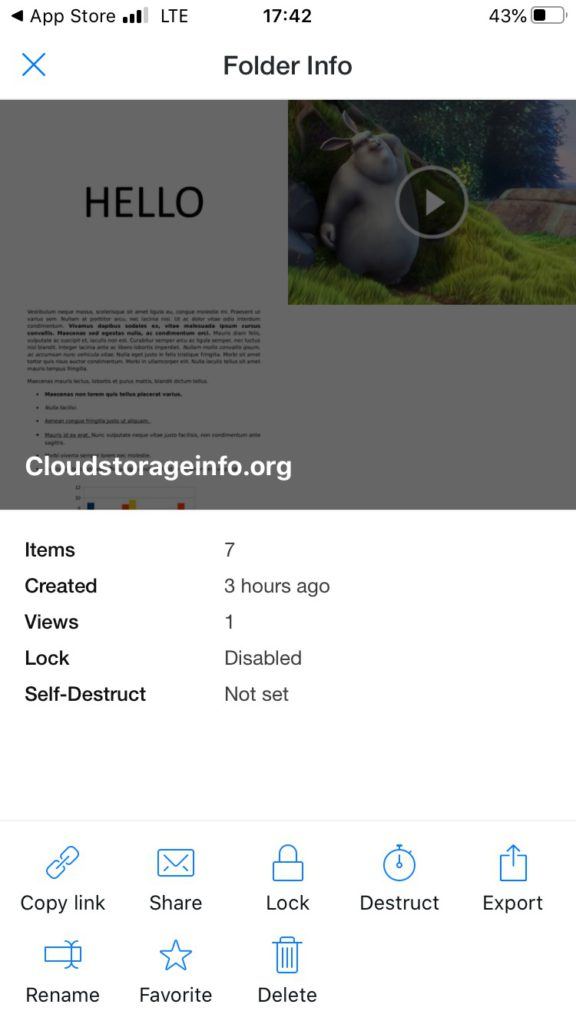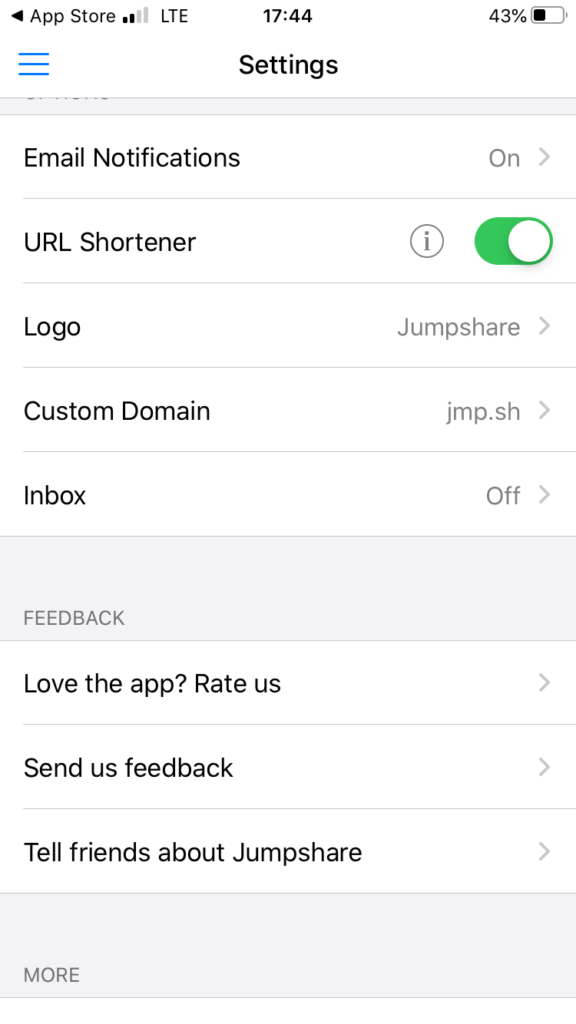 ---
Conclusion
Jumpshare is an interesting cloud storage. They surely didn't follow what everyone else is doing, instead, they focused on sharpening their sharing features. They did that just fine but lack greatly in other areas such as the fact that there is no synchronisation across your devices. You can't access your files from your desktop and that's a big minus.
The security of your files is also put under question due to the fact no client-side encryption or two-factor authentication is provided.
I would recommend Jumpshare as a sharing solution for smaller businesses that don't operate with sensitive files but that's pretty much where it all ends. If you're not that and are searching for something more then look at our Top 10 Cloud Storage Providers list for some better alternatives.
---
---
Hopefully, we've gone through everything that you wanted to know about Jumpshare within this Jumpshare review. If you have any unanswered questions feel free to ask them in the comments section down below and I'll answer them shortly!