Pricing & Subscription Plans
8.1/10
Speed & Server Locations
8.8/10
Security & Privacy
9.7/10
Additional Features
8.0/10
Pros
Easy to use across an array of devices
3000+ servers, 160 server locations in 94 countries
OpenVPN UDP and TCP, L2TP/IPsec, PPTP protocols
No logs policy & 256 AES encryption
Runs all their servers on RAM, nothing is stored on hard drives
Streams Netflix, YouTube, BBC iPlayer, Kodi, Hulu,...
Has a dedicated MediaStreamer service
24/7 support with live chat/e-mails/support tickets
Has kill switch, split tunneling, zero-knowledge DNS, DNS & WebRTC leak protection
Cons
No dedicated P2P or double VPN servers
No ad/malware blocker feature
---
ExpressVPN Review
ExpressVPN has been founded back in 2009 with a base in the British Virgin Islands but has since then expanded all over the world with employees working from Toronto, Lisbon, London, Zagreb, Singapore, Hong Kong, Perth, Manila, and Tokyo. They advocate for internet freedom and privacy through their VPN service which has been in the works for many years. Let's jump right into our ExpressVPN review to see if they succeeded in doing that.
---
Jump to:
Pricing & Subscription Plans
Who is it for?
Ease of Use
Speed & Server Locations
Security & Privacy
Streaming
Online Support
Additional Features
Conclusion
---
Pricing & Subscription Plans
ExpressVPN offers no permanent or trial free plan that would allow us to test their service before making the purchase. None the less, that shouldn't stop us from giving their service a go since they offer a 30-day money-back guarantee with no questions asked. That's good enough for me though it would be nice to have that free trial period. ExpressVPN has 3 different plans, all equal in what they offer but they come at different price points depending on our time commitment. Going for their 6 or 12 months plan will cost us much less in comparison with paying for their service monthly which can get quite expensive. Each subscription supports up to 5 devices. If we need more devices that's also possible but it requires an additional subscription.
---
---
Paying for their plans can be done via credit cards (Visa, Mastercard, American Express, Discover, JCB, Diners Club), PayPal, Bitcoin and other methods such as Webmoney, Giropay and others listed below.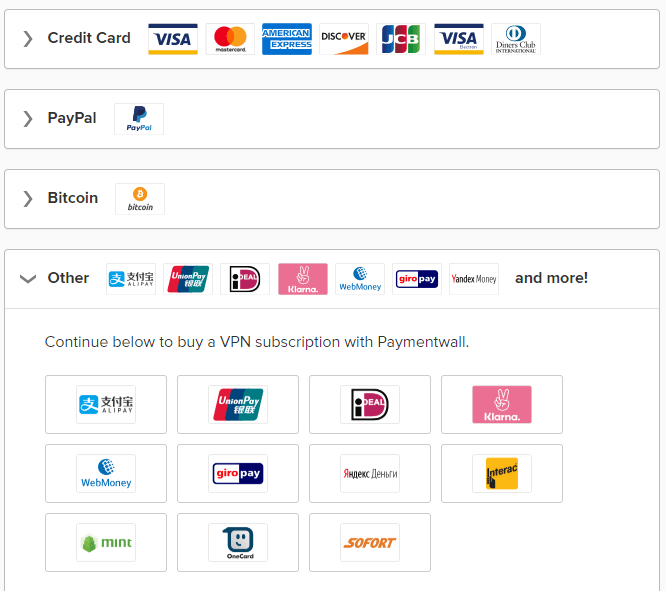 It's also possible to refer a friend which grants both us and our friend 30 days for free. A nice little way to extend our plan for free.
---
Who is it for?
ExpressVPN is meant to be used as a tool to improve our privacy and security online. By connecting to their servers you avoid revealing your own IP address while encrypting your connection to the internet alongside all the DNS requests. With an array of supported systems it's suitable for everyone with multiple devices that might also want to use the VPN while streaming content from platforms such as Netflix, YouTube,…
---
Ease of Use
After selecting the plan, entering my e-mail address and completing the payment I landed in the dashboard that contains all the important information. When downloading an app to one of the supported devices, the login details aren't required to log-in. Instead we used the activation code provided in the dashboard. After that we were pretty much good to go.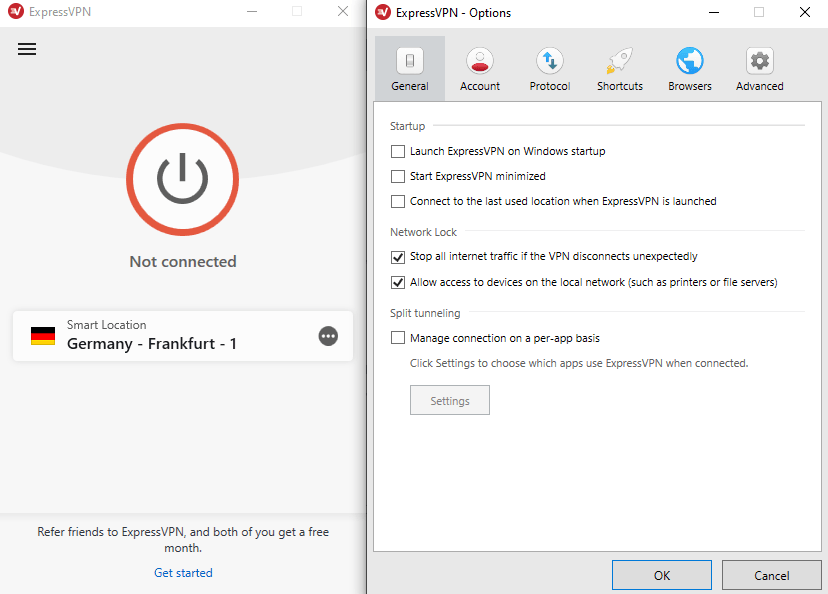 The options tab offers various settings such as:
Launching ExpressVPN on Windows startup
Connecting to the last used location when ExpressVPN is launched
Network Lock: Stopping all internet traffic if the VPN stops working which is otherwise known as a kill switch in the industry.
Enabling Split-Tunneling to manage which apps should use ExpressVPN.
Managing the account
Selecting the protocols (or assigning this to happen automatically)
Show shortcuts when VPN connects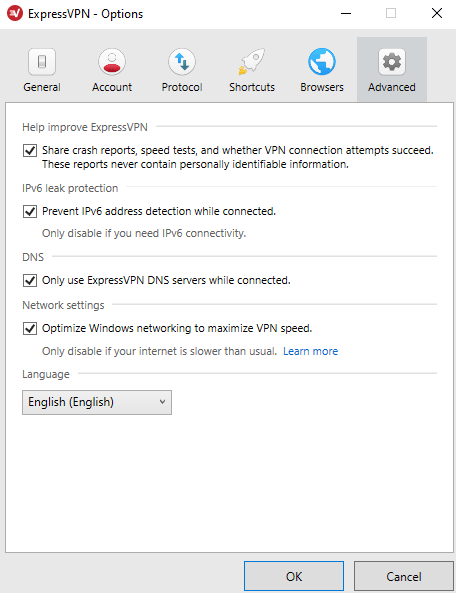 The advanced options tab presents us with a few more settings:
Enable/disable the sharing of crash reports, speed tests,…
Enable IPv6 leak protection
DNS settings
Network settings
Language setting (15-20 available languages)
ExpressVPN is available on an array of systems: Windows, macOS, Linux, iOS and Android. Their apps are also available for Fire TV & Kindle Fire, Apple TV, Chromebook, Xbox, PlayStation, Smart Home Devices and MediaStreamer. They also have browser extensions for both Google Chrome and Mozilla Firefox. They pretty much support most of the platforms out there that are worth the mention. It's also possible to setup a router with ExpressVPN.
If downloading an extra app isn't to your liking then it's also possible to use OpenVPN and their configuration that you get in the dashboard.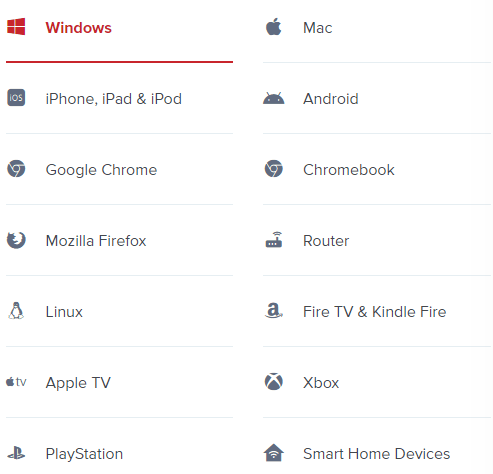 In case you are using a dynamic IP address, the dashboard also has a DNS Settings menu where you can set up a dynamic DNS.
---
Speed & Server Locations
ExpressVPN imposes no bandwidth limits on the user. They claim to have 3000+ servers with 160 server locations across 94 countries. There would be little point in listing all the countries but it suffices to say that their focus lies on the Americas, Europe and Asia Pacific with a few countries supported in the Middle East and Africa.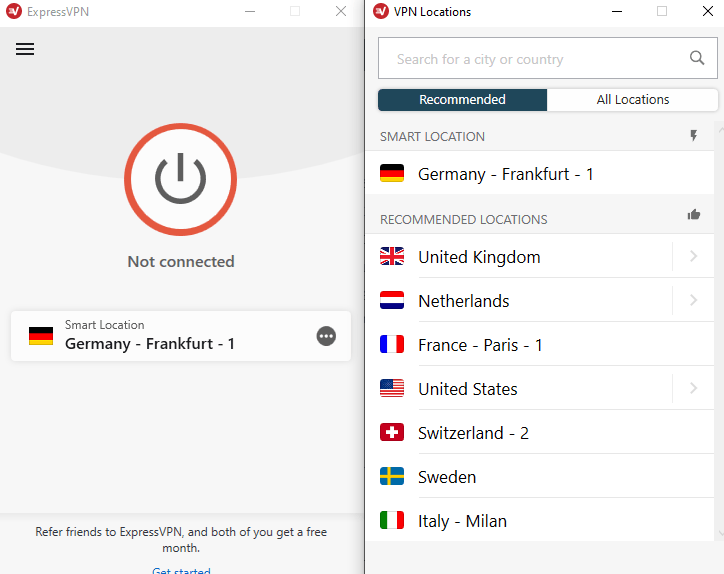 All locations provide both OpenVPN UDP and OpenVPN TCP protocols with L2TP/IPsec and PPTP protocols being available with a handful of popular locations. IPsec and IKEv2 protocols are available only for iOS devices.
ExpressVPN also makes use of virtual servers. A number of countries listed are actually available only through these virtual servers to ensure quality. What is a virtual server in this context? When you connect to a country that doesn't have a server due to unstable connections and poor speeds you are actually connecting to a nearby physical server in another country while being assigned an IP address of the country you connected to. ExpressVPN claims that less than 3% of all their servers are virtual.
It's needless to say that ExpressVPN offers a bigger variety of servers when compared with most other VPN providers. But a bigger variety doesn't immediately mean better service as the servers can get overwhelmed with traffic or they simply don't provide the required speeds. That's why we decided to give ExpressVPN a speed test here at Cloudstorageinfo.org.
| | | | |
| --- | --- | --- | --- |
| Server location | Ping [ms] | Download [Mbps] | Upload [Mbps] |
| No VPN (Slovenia) | 8 | 194.03 | 5.90 |
| Slovenia (With VPN) | 7 | 68.45 | 5.40 |
| Singapore | 183 | 101.30 | 3.03 |
| Australia | 280 | 40.41 | 5.22 |
| Canada | 114 | 105.39 | 4.79 |
| UK-London | 34 | 60.83 | 5.47 |
| USA-New York | 112 | 117.92 | 4.43 |
| South Africa | 192 | 96.81 | 5.50 |
| Average | 131 | 84.45 | 4.83 |
The speed results were quite interesting. While I am very satisfied with the upload speeds I've been getting, both ping and download speeds aren't the best. I've been picking servers at random pretty much all over the world and ignored their "Recommended list" of servers. With their best-recommended server in Switzerland, I was able to achieve 24 ping and 106/5.57 Mbps. Once again the upload speeds are great and the ping isn't bad either but the download speed could be improved since it's almost half of what my ISP provides.
---
Security & Privacy
While connected to ExpressVPN servers your real IP address gets hidden like with any other VPN provider. That's important as it makes you unidentifiable in the world of internet. Unfortunatelly you can't buy a dedicated IP address with them but that doesn't really hinder their ability to keep you safe. You'll get a different or the same IP address each time you connect but it won't be yours which is the important bit.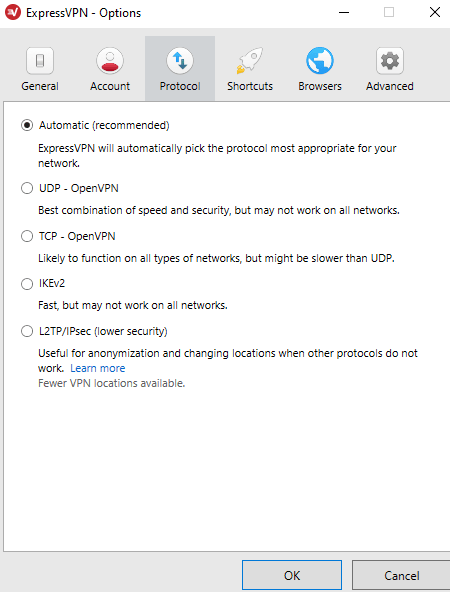 ExpressVPN uses different protocols: OpenVPN UDP and TCP, L2TP/IPsec, PPTP and IPsec, IKEv2 for iOS apps only. Both PPTP and L2TP/IPsec provide weaker security benefits though so avoid them unless absolutely needed.
ExpressVPN doesn't store activity or connection logs but does keep unidentifiable information about the usage of their services to address technical issues and improve their service (such as choice of VPN server location, amount of data transferred per day, apps successfully activated,…). They also use third-party services such as Google Analytics and Google AdWords.
They also encrypt all the data transferred using 256-AES encryption which is regarded as unbreakable across all industry. Tunnelling alone doesn't provide sufficient protection which is why encryption must be applied as well and ExpressVPN fulfils that condition.
Running all the VPN servers on RAM only provides a huge benefit to privacy and security as well. It's what they called a "TrustedServer". Usually, servers relly on hard drives to run which retain data until erased. Running servers on RAM eliminates the risk of that data being in danger in case of a hacking attempt. Every time the power to the server is cut off, all the data stored in RAM disappears as well. When the server is powered on again, software gets installed from scratch, making sure all servers run on the latest up-to-date software.
---
Streaming
ExpressVPN claims to be compatible with a bunch of streaming services such as Netflix, YouTube, BBC iPlayer, Kodi, Hulu, Amazon Prime Video, HBO, Disney+, Showtime, ESPN, and plenty more. We've connected to a bunch of streaming services using their VPN from various countries to give it a go.
ExpressVPN worked extremely well with Netflix US. We tried connecting via the New York server that had decent speeds according to the test and we were able to connect with no proxy errors and then stream the episodes in HD with no buffering in between.
ExpressVPN also has a MediaStreamer service which can optimize your streaming experience by adding geo spoofing but not encrypting your connection. It enables you to stream content from almost any location which is a big plus, even if your connection isn't encrypted.
---
Online Support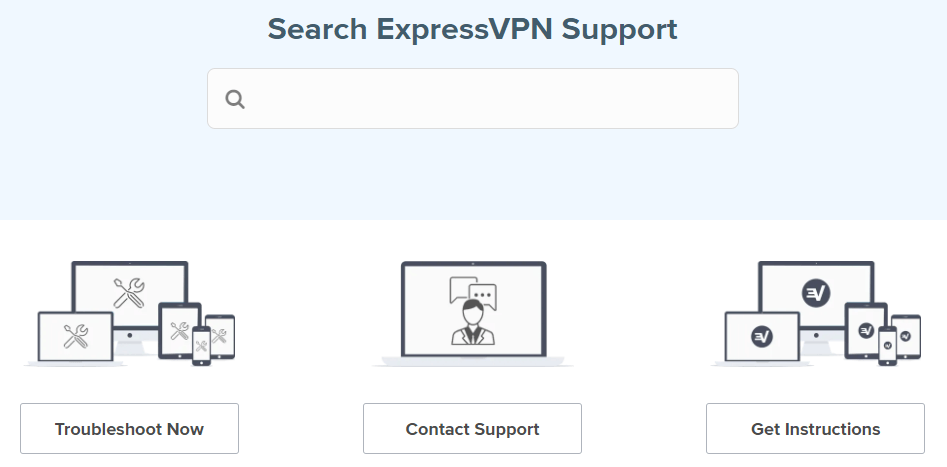 Going to the "Support" tab we're presented with a few options on how to get help. We can either go for "Troubleshoot Now" which contains a bunch of guides on how to tackle different issues and explains the frequently asked questions. A hefty amount of information is stored here so it's not a bad place to use when having difficulties with ExpressVPN. The "Get Instructions" tab offers setup tutorials for various platforms. If all of this fails to resolve our issues we also have the option to contact support. That can be done by filing a support ticket, sending a direct e-mail or via their live chat that's open 24/7.
---
Additional Features
---
Kill Switch

ExpressVPN called their kill switch the "Network Lock". What is it? Whenever your connection to the VPN server gets interrupted it stops all other internet traffic and closes you off. This prevents your real IP from being leaked alongside other information. This can happen when:
Switching between Wi-Fi networks
Putting your device to sleep mode
Toggling internet connection ON/OFF
The internet service provide has an outage
---
Split tunneling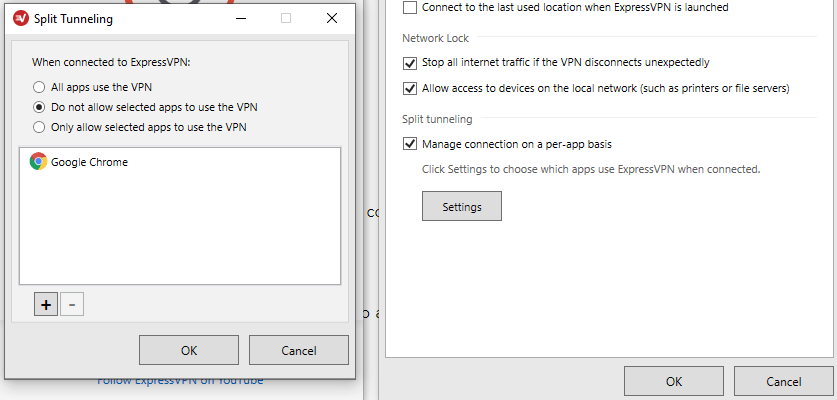 The split tunneling feature allows us to select which apps should or shouldn't have VPN access. As shown in the screenshot above I disabled access to VPN to Google Chrome. I connected to UK using ExpressVPN, checked my IP online using Google Chrome and saw that it's showing my real IP address. Then I went and checked it using Internet Explorer and that one showed a UK IP address which means that their split tunneling feature works as designed. A great thing to have when you want certain apps on your real IP or only certain apps on your fake IP.
---
Zero-knowledge DNS
A zero-knowledge DNS or a private DNS simply means that the VPN provider has an in-house DNS. Why is that good? It means that all our DNS requests are encrypted which means that nobody will be able to see which websites we're visiting.
---
Mobile application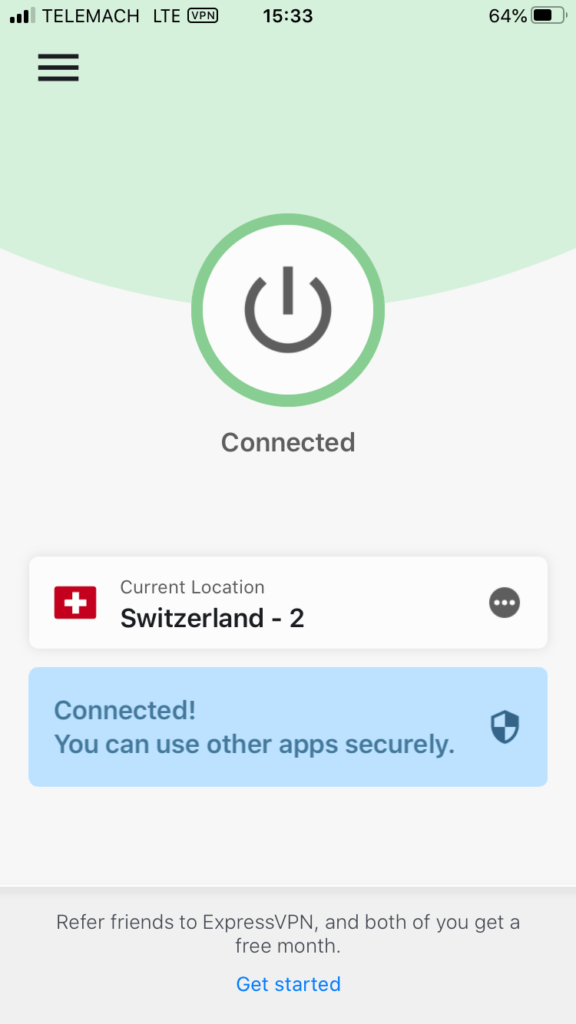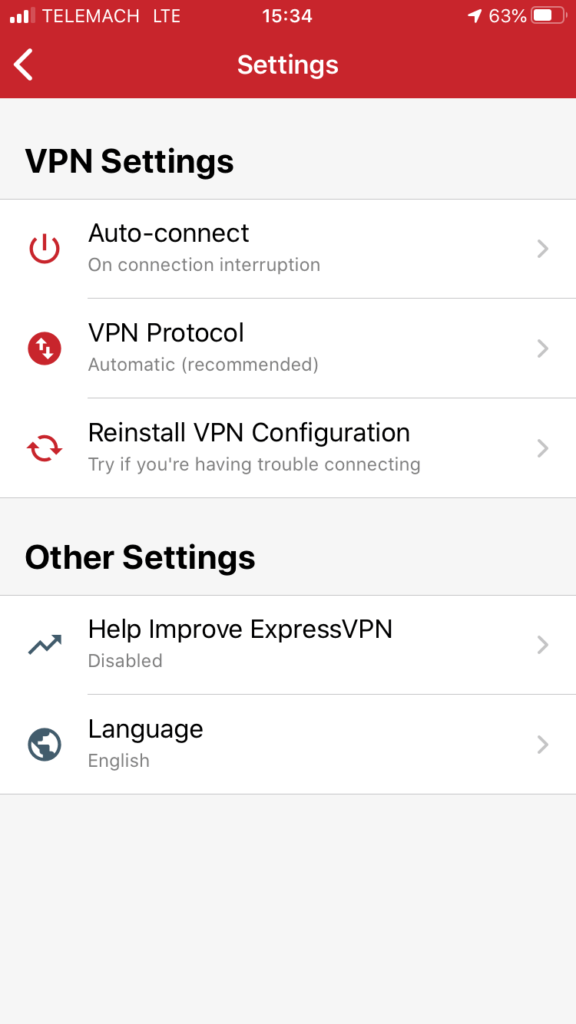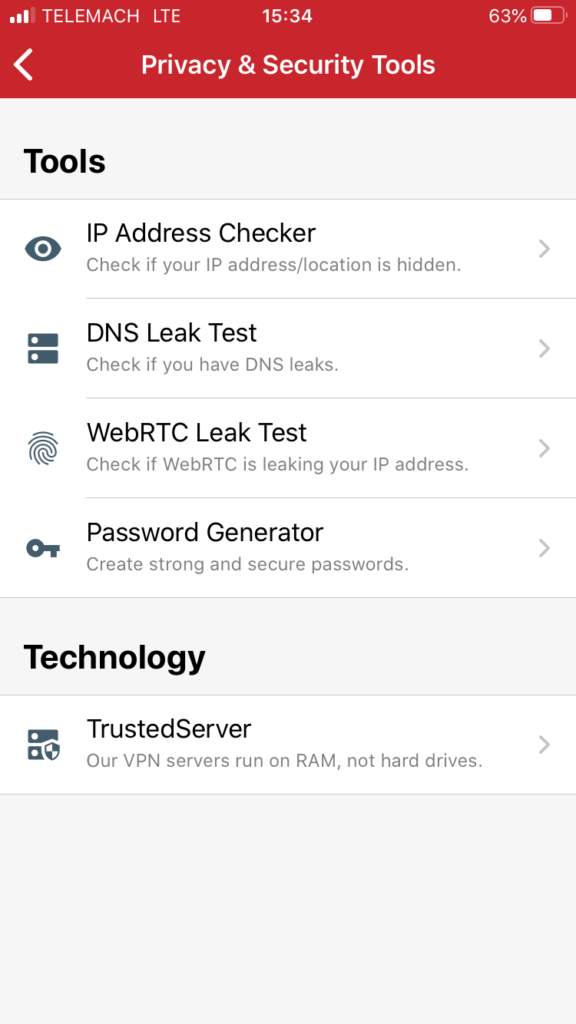 The mobile app is available both on Android and iOS devices as noted above. We've tested it on an iPhone and it worked with no issues. It offers most if not all of the features present in the desktop app. It has a kill switch so we were covered in-case of a VPN disconnect. The server menu also displays all the available locations.
---
Other features
ExpressVPN provides both DNS and WebRTC leak protection. Unfortunately, it doesn't offer different types of servers as some of the other VPN providers. That includes double VPN servers and P2P servers.
They also don't provide an ad or malware blocker feature like some of their competitors.
ExpressVPN also has a Tor website for those that wish to browse their website in a secure manner. That makes Tor over VPN possible which is an upgrade to one's privacy.
---
Conclusion
ExpressVPN certainly took us some time to review with all the advanced features it offers across multiple supported devices. The price is certainly not the cheapest but they have something to back it up with. With 3000+ servers all across the world they are one of the biggest VPN providers. The no logs policy combined with 256-AES encryption and all of their servers running on RAM makes this VPN provider one of the best out there in terms of privacy & security. It doesn't come at the cost of performance & usability though. Streaming pretty much anything is possible as they even have a dedicated streaming service called "MediaStreamer". The 24/7 live chat support is always a good thing to have. They don't provide an ad blocker or dedicated P2P servers though so that's something to take into account. We did like their kill switch and split tunnelling feature though. The zero-knowledge DNS is also another bonus for our privacy.
All in all, we found ExpressVPN to be a complete online privacy tool that provides the much-needed solution nowadays when privacy is a much needed basic human need. Feel free to check it out below!
---
---
I hope I answered all your questions within this ExpressVPN Review. If you have any more questions, feel free to ask them in the comments section down below!