2.3/5
★★✩✩✩
PRICING & PLANS


★★★★★★★★★★

9.5/10
EASE OF USE


★★★★★★★★✩✩

7.5/10
FILE SYNCING


★✩✩✩✩✩✩✩✩✩

1.0/10
FILE SHARING


★★★✩✩✩✩✩✩✩

3.0/10
RETRIEVING FILES


★★★✩✩✩✩✩✩✩

2.5/10
SECURITY


★★★★★★★✩✩✩

7.0/10
SUPPORT


★★★✩✩✩✩✩✩✩

2.5/10
ADDITIONAL FEATURES


★★★★✩✩✩✩✩✩

4.0/10
PROS
Free 100 GB storage
Cheap plans
Decent web browser experience
Okay mobile apps
Zero-knowledge system
CONS
No desktop applications & no file synchronisation
Very limited sharing capabilities
No file versioning system
Has a record of not responding to e-mails/tickets
No two factor authentication
---
Degoo Review
I am not entirely sure what Degoo wants to be – a cloud storage or a cloud backup. And I don't believe they know either though they have certainly shifted their focus from being a cloud backup provider to storage only in the past years. Their home page states "Top Secret Cloud Drive" but there's no actual drive to talk of within their service. It seems that their main goal was simply getting people on-board with their smartphone apps. Everything else is fairly abysmal as we will find out in this Degoo review.
---
Degoo Alternatives
pCloud
4.6/5


★★★★★

5-10 000 GB
10 GB Free

❌Sync Folder
✔️Selective Sync
✔️Link Sharing
✔️Zero Knowledge


Read Review
Sync.com
4.6/5


★★★★★

5-6000 GB
5 GB Free

✔️Sync Folder
✔️Selective Sync
✔️Link Sharing
✔️Zero Knowledge


Read Review
Icedrive
4.5/5


★★★★★

10-10 000 GB
10 GB Free

✔️Sync Folder
❌Selective Sync
✔️Link Sharing
✔️Zero Knowledge


Read Review
Cubbit
4.5/5


★★★★★

1-8000 GB
1 GB Free

✔️Sync Folder
✔️Selective Sync
✔️Link Sharing
✔️Zero Knowledge


Read Review
Mega
4.2/5


★★★★✩

15-16000 GB
15 GB Free

✔️Sync Folder
✔️Selective Sync
✔️Link Sharing
✔️Zero Knowledge


Read Review
---
Jump to:
Pricing & Plans
Who is it for?
Ease of use
File syncing
File sharing
Retrieving files
Security
Online support
Additional features
Conclusion
---
Degoo Features
Pricing & Plans
Free storage
100 GB
Free trial
14 days
Lifetime plans
Payment methods
Credit card
Ease of use
Open in-browser
PDF, Office, Videos, Images, Music
Edit in-browser
Mobile apps
Android, iOS
WebDAV
File syncing
Supported systems
Imaginary drive

An imaginary drive allows you to access all of the files that are in the cloud directly from your desktop via an application without taking up local storage space.

Sync folder

A sync folder allows you to access all of the files that are in the cloud directly from your desktop via an application. Since it synchronises the files to the device, it takes up local storage space.

Block-level file sync
Selective sync

Selective sync allows you to choose which folders that are located in the cloud should and shouldn't be synchronised to your device.

Sync any folder

The sync any folder feature allows you to choose any local folder and synchronise it to the cloud without any further actions.

File sharing
Share download links
Link password protection
Link expiration dates
Link branding
Link download limits
Link stats
Share upload links
Share folders
Set folder permissions
Retrieving files
File versioning system
Trash bin
Rewind feature

The rewind feature allows you to go back in time and inspect your cloud storage as it was in that moment. This enables easy retrieval of files in various scenarios such as malware infection.

Security
Server location
US
HIPAA Compliance
Encryption protocol
256-bit AES
At-rest encryption
In-transit encryption
Client-side encryption
Zero-knowledge privacy
Two-factor authentication
Online support
FAQ base
Forums
E-mail support
Live chat support
Phone support
---
Pricing & Plans
Alright, let's have a look at their plans. Degoo is certainly generous when it comes to their free plan with 100GB of cloud storage for grabs. The free plan is quite limited though as uploading to the cloud via their desktop client simply isn't possible with it. It's important to note that you have to access your account every 90 days in order to keep the uploaded files with the free version. You can get a bunch of additional free storage though by:
Inviting friends – 500 GB upper limit (+5 GB per friend)
Watching ads – Unlimited bonus space (+750 MB per watched ad)
Personally, I am not into these tactics to increase storage space via certain actions. If you're not either then increasing the storage via a paid plan is the way to go. Degoo is certainly cheap when compared to other cloud storage providers. It supports MasterCard, Visa and AmericanExpress (no PayPal supported).
Degoo also offers lifetime 1TB, 2TB, 3TB and 10TB plans which you can check here. I would advise you take a look at other better lifetime cloud storage plans before taking the leap though.
Degoo is certainly cheap but the problem is that it really shows in their feature. I recommend taking a look at other cloud storages that are both better and cheap.
---
Personal Plans
---
Who is it for?
Degoo offers 100 GB of storage for free which is great if you're okay with below average service. Their paid plans somewhat improve that service but it is nowhere where I would want it to be in terms of file sync, sharing capabilities, file retrieval and support. I seriously recommend looking at other cloud storage or cloud backup providers.
---
Ease of use
The registration procedure is simple like with all other providers (you can also use Google to register). After completing the registration and logging in you'll jump into the user interface. The home page of the interface presents you with all of your connected devices which you can click on to see all the data stored via them.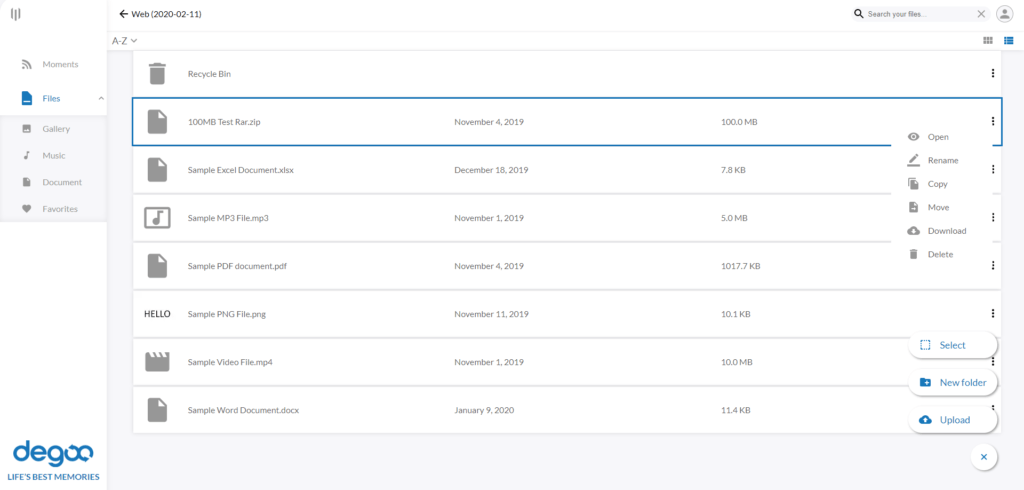 The menu on the left is fairly simple and allows you to filter your files by photos, music, documents and favourites. It's possible to upload several files at the time but you can't copy entire folder structures or folders itself which is not exactly user-friendly.
There's also the switch between list and tile view which is good but I would expect the list view to be more compact and show more files on the screen at once without the need to scroll lower. The interface itself responds quickly though which allows you to find files quickly.
There's also the dark mode which is getting increasingly popular nowadays.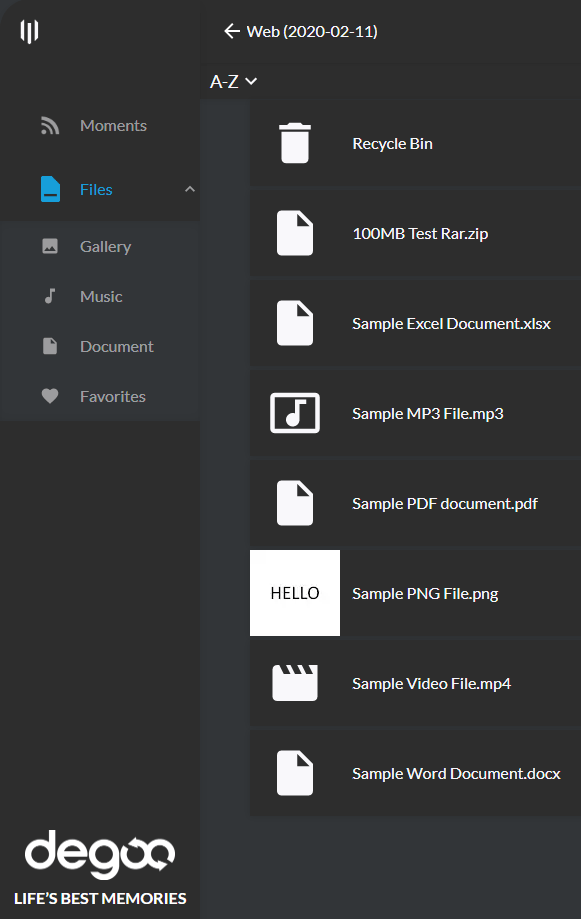 File previews & edits
Any cloud service that doesn't have a fleshed-out desktop client must have a great way to interact with your files online via the browser. Degoo allows you to preview both Office and PDF documents while also enabling video streaming, previewing images and listening to music. I have no complaints in this department apart from not being able to edit those Office documents in some manner. If I want to edit some Word document, I have to first download it, modify it and upload it back which is very counter-productive.
---
File syncing
Degoo has completely removed their desktop applications, now offering no way to synchronise files to your computer. This major switch in focus to mobile apps might make sense from their perspective due to the large base of people that use their service via smartphones but it makes their service uncomplete & dysfunctional from my perspective (below information in regards to "File Syncing" is therefore no longer relevant).
Degoo used to provide a more backup-focused desktop client for both Windows and macOS. They have replaced that with a very limited "Degoo Drive Syncer".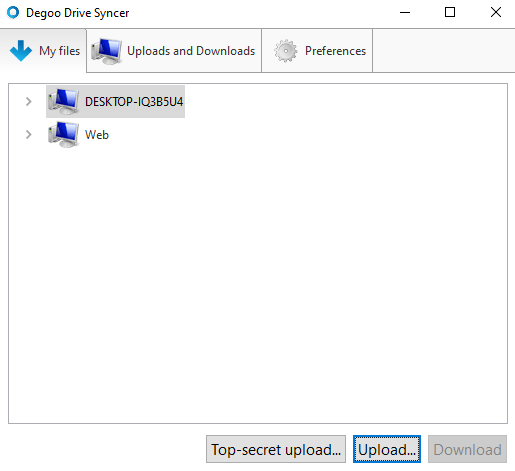 With the free version it's not possible to upload any files using the client. According to them, you should be able to download files from the cloud with it but that simply doesn't work. When I try to check which files are on the "Web" nothing shows up so I can't even see the files, let alone download them. The client also allows for uploading or downloading only one file at the time which makes it practically useless as a backup solution.
The client also creates no imaginary drive or a "Sync folder" where you could interact with your files. Advanced features such as "Sync any folder" or "Selective sync" are therefor also out the window.
To sum it up – if you're using the free version then the desktop client has absolutely no value and if you're on a paid plan then you're getting 1/10 of a service that you would get with other better cloud storage providers.
---
File sharing
Degoo provides very limited file-sharing options. They started out as a cloud backup provider (which often-times lack the sharing capabilities) but then transformed into a cloud storage (which absolutely needs the sharing options) which means that half of their features either don't work or are simply missing. Other cloud storage providers like pCloud, Icedrive, Sync.com and Mega offer various sharing options such as download links, folder sharing, upload links,…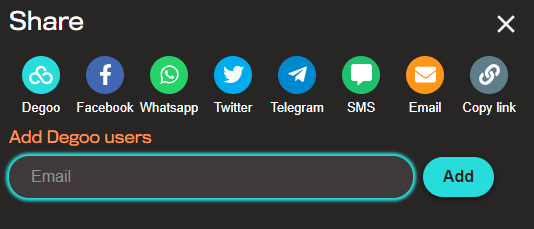 You're able to share both folders and files via their "Share" option when right-clicking on them. You have the option to either add Degoo users via their e-mail or by sending a link via social media, e-mail or other platforms. Copying a link and sending it wherever is also possible. The person downloading the files doesn't need a Degoo account to access them.
Sharing the folders/files via the "Add Degoo users", unfortunately, doesn't give you any higher level of control such as folder permissions.
---
Retrieving files
When a file is deleted in the cloud it's moved to the "Recycle bin" which holds these files for 5 more days. That's an alarmingly low number when compared to other cloud storage providers. It's very important to note that Degoo provides no file versioning system. When I tried uploading a file with the same name it simply replaced it. The older version didn't end up in the trash bin or anything of the sort, it simply disappeared. Now that is fairly scary, imagine working on a report for hours only to then accidentally overwrite it… A huge downside to Degoo.
---
Security
Degoo was founded in Sweden back in 2012 but they have offices both in US and Sweden nowadays with exact server location un-identified but it's clear they use AWS (Amazon Web Services) as stated on their "About" page. That means that the servers are most likely located in the US. Now, Sweeden sounds pretty good in terms of privacy but US is a big no-no due to the Patriot and CLOUD act.
In regards to the security of your files, Degoo uses SSL/TLS to transfer files from your device to their server where they're encrypted using 256-bit AES. PBKDF2 is applied to all passwords before storing them and further protected by HMAC512. They claim that multiple copies of your files are stored in data centres at remote locations across the world. Do note that with the free plan, all of the files are stored in a single data centre rather than multiple ones.
Their paid plans also feature the zero-knowledge encryption with randomly generated AES-256 encryption keys. You choose a passphrase known only by you, not stored anywhere in Degoo, that's used to encrypt and sign your uploaded files to ensure maximum security. Make sure to store this passphrase as it is impossible to retrieve your files if you forget it. Feel free to read their article on this for more technical details.
Unfortunately, Degoo doesn't offer two-factor authentication which can leave your account open to vulnerabilities. Degoo doesn't make it to our most secure cloud storage providers list but it comes fairly close.
---
Online support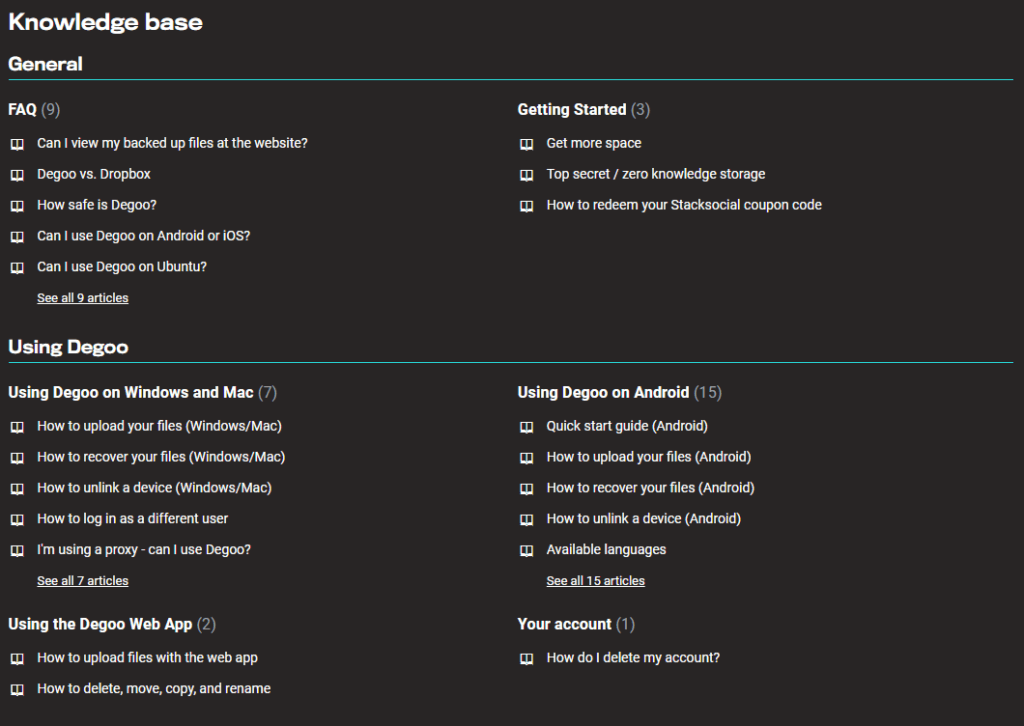 Their FAQ base has quite a few answers on how to do certain actions though much of it is outdated due to the various changes they did to their software over the years (specifically the desktop client). You can post a public question directly in that base or try contacting them via e-mail. The reason why I say "try" is due to their infamous reputation for not responding to e-mails and inquiries. The e-mails simply get lost somewhere in the process or get a response after months. In any case, Degoo does a very poor job at providing support to their users – and this goes for those that paid for this service as well.
---
Additional features
---
Mobile Application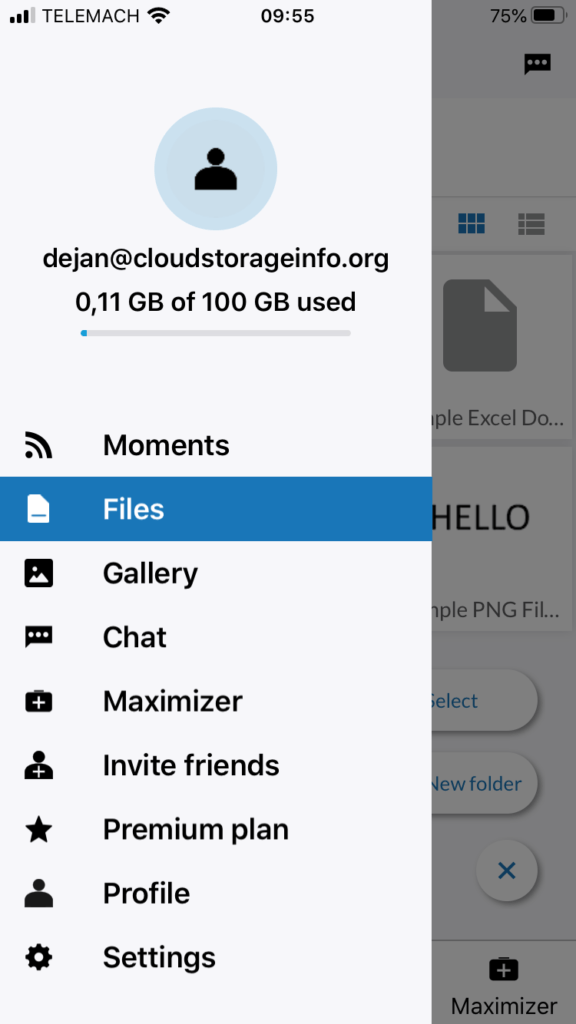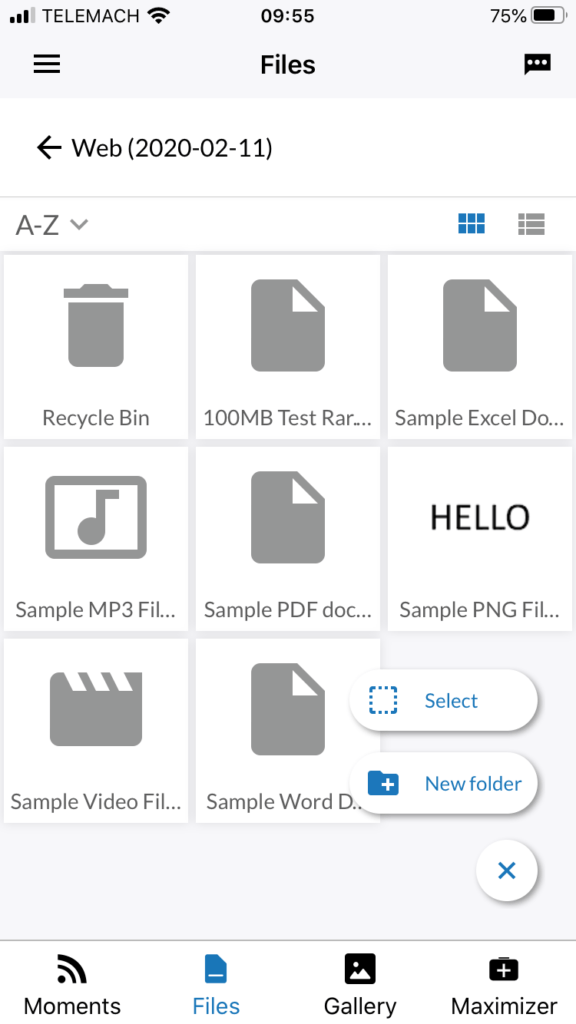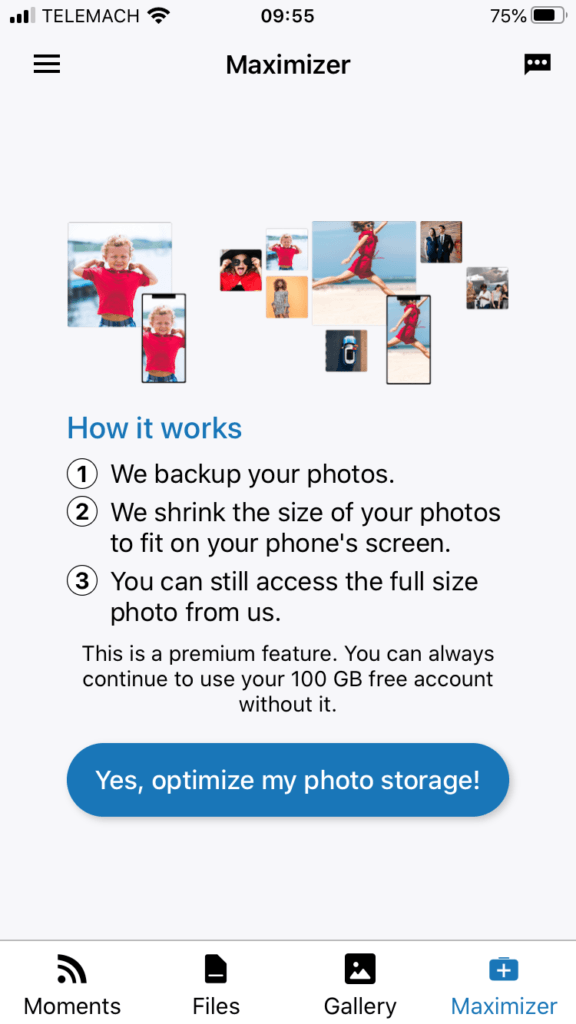 The Degoo app is available for Android and iOS users. The app is what makes up for most of the cloud storage/backup features this service offers. They even ship it as standard equipment with Samsung phones. The free version is once again limited as you can't do manual uploads but it is possible to enable automatic photo uploads. The chat also serves as a sharing option with people that also own a Degoo app. It's possible to preview both Office and PDF documents from the app but it certainly took a while to open them with my iOS app. I was able to watch a video and preview images but couldn't get the music to start playing.
The maximizer is only available in the Ultimate plan and allows you to save space on your mobile device by shrinking the size of the photos to fit on your screen and uploading the full sizes to the cloud.
They also offer the "Top Secret Folder" for all Ultimate users which enables the so-called zero-knowledge encryption that I mentioned above.
---
Conclusion
Degoo certainly holds its fair share on the market with 100.000.000+ users but that's not that hard to get with a free 100 GB offer and a unique position by being partnered with Samsung. I see the appeal of it and the amount of storage you get for free or for a low price but the features it offers simply don't reflect what I search for in a cloud storage. Yes, the web browser experience is fairly okay but I want to increase my productivity by having files available on my desktop and sharing them at a moments notice. There's absolutely none of that available with Degoo not to mention that there's no file versioning system. Reviews all over the internet also speak of how they treat their customers by not replying to any tickets.
Overall, I would avoid this service and recommend you find a better alternative.
---
---
What's your experience with Degoo? Please share it down below. I hope I answered all your questions about Degoo within this Degoo review. If you have any unanswered questions feel free to ask them in the comments section down below and I'll answer them shortly!