Apple iCloud Drive Pricing&Plans – Review May 2019
iCloud
Additional Features
8.0/10
Pros
Great integration with apple devices
Decent prices
Good syncing speeds
Phone call support
Cons
Not suitable for users without apple devices
No sharing link
No real file versioning system
Prone to interference from U.S. government
---
Apple iCloud Drive Pricing&Plans - Review Summary
As you probably already know the iCloud drive is an Apple product. And as that it's meant for users that own Apple devices. iCloud Drive pricing&plans are similar to other top cloud storages with the exception of the 2TB plan which is a tad cheaper. The whole system is easy to use but lacks some advanced options like file sharing and file versioning. The security is good, however not the best possible. Keep in mind that Apple offers no protection against warrants and will disclose all your information if required to.
If you're searching for a safe cloud storage check out this list.
Read the full iCloud Drive review down below.
---
Jump to:
Pricing & Plans
Who is it for ?
Ease of use
File syncing
File sharing
Retrieving files
Security
Online support
Additional features
Conclusion
---
Pricing & Plans
iCloud has taken a very simple approach regarding their plans. You don't get any additional features if you upgrade, there are no yearly discounts and so on. If you decide to go for the upgrade, you'll get additional storage, and that's pretty much it. Everything else is available to you without upgrading.
iCloud offers a free permanent solution with 5 GB of cloud storage.
Prices vary depending on which country you live in. When compared with other top cloud storages the prices are very similar, perhaps a tad more expensive. A very decent 2TB cloud storage can be found for less than $10 at pCloud or Sync.com.
---
iCloud Drive Pricing&Plans For USA:

iCloud Drive Pricing&Plans For EU:

iCloud Drive Pricing&Plans For UK:

You can find the full list of pricing&plans for all the countries at support.apple.com.
---
Who is it for ?
I think it's pretty obvious that this cloud storage isn't meant for anyone else than the people that have Apple products. Even if you're an Apple user yourself, you'll still need to get a hold of additional cloud storage that will allow you to perform more complex and advanced actions such as sharing your files, having a real versioning system, etc.
If you're looking for a cloud storage that does that check our Best Cloud Storage List and find the one that suits you best.
---
Ease of use
If you own an Apple device, you already have everything that you need to just login into your iCloud Drive. You just need the Apple ID & password, and you're in. The registration process is relatively simple if you don't own an Apple account.
The interface itself is probably one of the easiest ones I have ever seen. Too simple, perhaps. While I was using the system, I felt like certain advanced settings were missing like uploading entire folders, sharing them through links, versioning system, etc.

---
File syncing
iCloud Drive application is available for Windows and Mac systems.
The iCloud app allows you to access your files from the desktop by creating an imaginary drive. It also gives you the ability to sync your contacts, calendars with Outlook, Photos and Bookmarks.
The results from speed tests were very surprising. Uploading a file directly to the browser was incredibly slow and downloading it from there wasn't much different. After I installed the application that changed completely. If you upload the file through your application, it gets synced across all your devices with decent speed.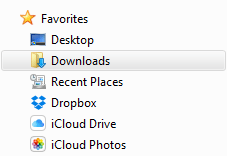 It also installs a separate imaginary drive called "iCloud Photos". You can use that for all your photos. They are then synced across all your devices.
File size is limited to 50GB.
---
File sharing
iCloud Drive isn't your standard cloud storage. It's possible to share photos and videos with people that have Apple accounts by creating shared folders, but that is pretty much all there is. Even that can get annoying sometimes due to the fact that the other side needs an Apple account as well.
Sharing links are not available which is a huge downside. At least not directly from the iCloud Drive. You can share certain documents through iWork.
If you are using iCloud Drive and would still like to share files with links, you will have to integrate two cloud services. I would recommend pCloud or Sync.com for the job.
---
Retrieving files
Versioning system is necessary to have, especially if you're dealing with documents that are relevant to your job. The problem with iCloud is that it lacks the compatibility with Microsoft programs which makes everything that you do harder. There is no real versioning system for files within the iCloud Drive.
Deleted files stay in the trash bin for up to 30 days after which they are permanently removed.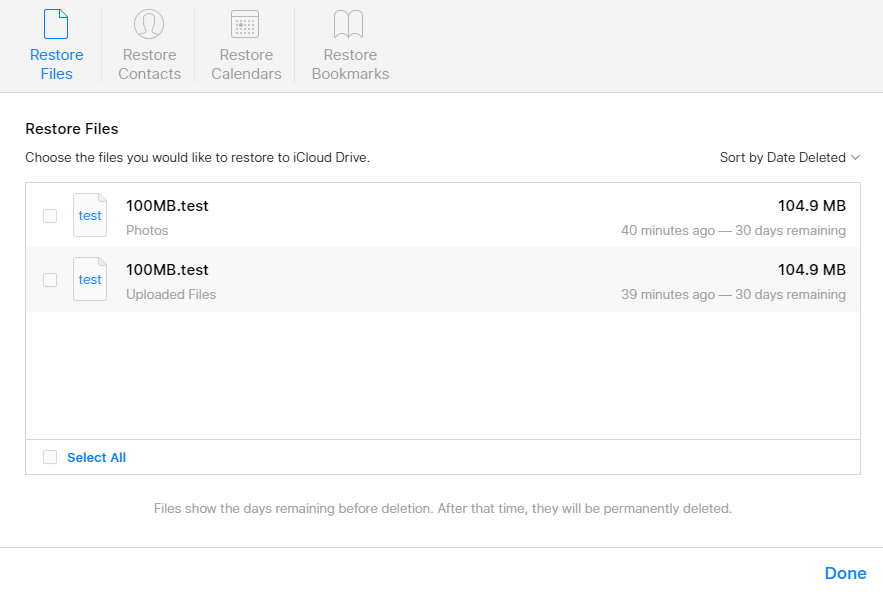 ---
Security
Apple protects your data while in transit and on the server with a minimum of 128-bit AES encryption. Bear in mind that the encryption is available only when you use the latest iOS or macOS. It uses end-to-end encryption which is still not the best option out there. The decryption keys are stored on Apple servers in the U.S.
Two-factor authentication: If you choose to enable this you'll add another layer of security to your account. Whenever you want to sign in with your Apple ID on a new device, you'll be asked for a 6-digit code which will be displayed on a separate Apple device that you trust. I would suggest enabling this feature since it does help if your password gets hacked.
---
Subpoena:
Law enforcement can retrieve basic iCloud subscriber information, such as name, mailing address, email address, and telephone number. Connection logs for the iCloud account, including IP addresses, are available and retained for up to 30 days. The list about subpoena goes on and on but in essence: If they get a warrant for somebodies information, files or anything they will disclose everything they have to the authorities. That is the disadvantage of not being part of a cloud storage that uses a Zero-Knowledge privacy.
If you wish to know more about iCloud Drive security, read it here.
---
Online support
Apple offers an FAQ section that provides answers to the most simple questions. If you're having any problems with their service, you have the option to call them directly from 09:00 to 16:00 (Monday through Friday). If anyone finds a support e-mail for iCloud Drive be sure to notify me because I am yet to find it.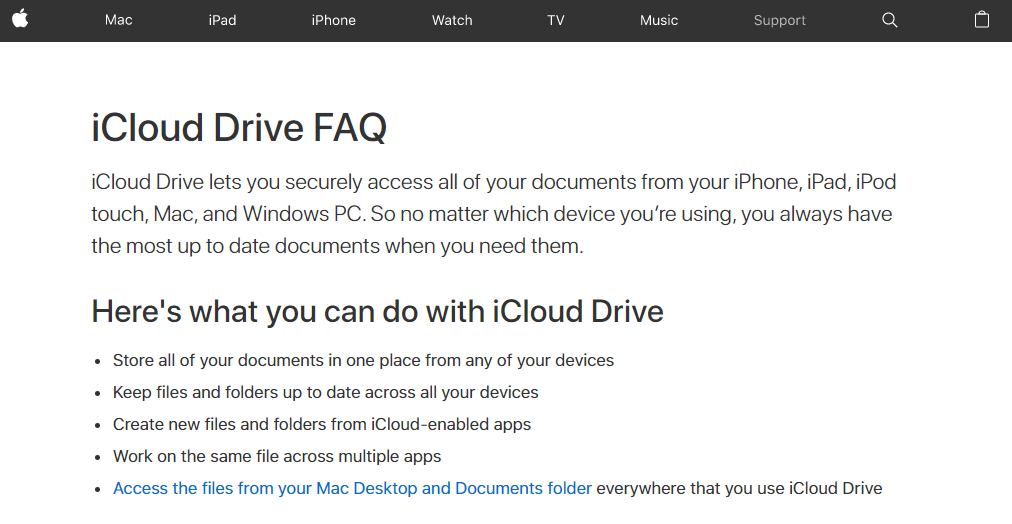 ---
Additional features
---
Apple Apps
By joining iCloud Drive, you also get access to a number of applications that are all part of the Apple circle. Bear in mind that these apps really come to use if you own an iPhone, iPad or Mac.

---
Mobile Application
The mobile application is available only on Apple products such as iPhone and iPad. It's integrated into the whole system. iCloud is used to backup pretty much everything on your phone.
iCloud Drive can be used to access all of the files that you synced across your devices. The application is plain and simple but without all the advanced features that someone would want for a decent cloud storage.
---
Conclusion
iCloud Drive is a decent cloud storage and will satisfy you if you're the most basic user that needs just some space to upload a few files. When we get to more complicated stuff like file sharing and retrieving iCloud fails to provide what any other cloud storage already does. Cloud storages like pCloud, Dropbox, Sync.com, Google Drive are ahead of iCloud by miles. Due to the lack of these features, I would seriously advise you not to use iCloud Drive for business needs.
---
---
Hopefully, we've gone through everything that you wanted to know about iCloud Drive within this review. If you have any questions feel free to ask them in the comments section down below and I'll answer shortly!