Pricing & Subscription Plans
7.0/10
Speed & Server Locations
9.0/10
Security & Privacy
9.0/10
Additional Features
9.0/10
Pros
Has internet kill switch protection
256-bit AES encryption & zero-logging policy
Access Netflix US, Amazon Prime Video, Hulu & BBC iPlayer
Supports OpenVPN, IKEV2, PPTP & L2TP/IPSec
Has split tunneling protocol in MacOS & Android devices
Has zero-logging policy & Zero DNS logging policy
Has Chameleon VPN protocol that defeats VPN blocking
Supports P2P connection & Public W-Fi Protection
Has VyprDNS feature & Unlimited bandwidth
Cons
Monthly subscription plan is higher than competitors
---
VyprVPN Review
VyprVPN is one of the leading providers of virtual private networks in recent years. It was founded by Carolyn & Ron Yokubaitis in 2009 through a company called Golden Frog. The formation of the business organization came up in order to fight the espionage and surveillance activities conducted by various government organizations in the United States on the AT & T servers. The owners of the company decided to put Sunday Yokubaitis as the president & CEO of Golden Frog. The founders of the business organizations are considered to be internet veterans as they are included in the list of people who are early adaptors of the internet revolution since 1994. They previously owned internet businesses such as Texas.net, Giganews, and Data Foundry. Golden Frog is currently operating in Meggen, Switzerland. The place serves as the company's current headquarters. Read the entire VyprVPN Review below to know more.
---
Jump to:
Pricing & Subscription Plans
Who is it for?
Ease of Use
Speed & Server Locations
Security & Privacy
Streaming
Online Support
Additional Features
Conclusion
---
Pricing & Subscription Plans
VyprVPN is currently offering 3 main subscription plans for the use of the VPN service. I can choose the monthly subscription offer that would cost me $12.95 per month. In my experience with VPN providers, this price offer is quite expensive. I can also select the annual subscription plan for only $45.00 each year. I'm more inclined to purchase the annual subscription plan because it will only cost me $3.75 per month when applying cost analysis. There is also a 2-year subscription plan for $60.00 every 24 months. While it is an enticing offer, I will not get that one because the length of the subscription is already too long.
---
---
Regardless of the type of subscription plan that I will get, this best VPN for multiple devices can assure me that I can connect a maximum of 5 simultaneous connections from 5 different devices to the virtual private network's servers. What I like about VyprVPN is that I can easily pay via PayPal and UnionPay.  I can also purchase a subscription plan easily with the use of debit cards and credit cards issued by Visa, Mastercard, American Express, and Discover. I can also get a money-back guarantee for the first 30 days of using the VyprVPN system.

---
Who is it for?
If you are the kind of person who is advocating against illegal cyber espionage and surveillance, then I'm recommending you to use VPN services such as VyprVPN. I know that you want to be protected in whatever way possible at all times. Since I've tried and tested various VPN platforms, I can assure you that you will completely remain anonymous over the internet if you use this best VPN service provider. I can also guarantee you that breach of confidential information is significantly reduced with the use of VPN services. On top of that, if you want to bypass geo-restrictions and internet censorship protocols of various countries, I can confidently say that VyprVPN is worth the try.
---
Ease of Use
It is easy to download the desktop client of VyprVPN. In fact, I just clicked the "VPN Apps" menu button at the top of the main web page of the VPN provider. I then selected and click the type of OS that my computer is using. It redirected me to another page wherein the download link is posted. It took me 13 seconds to fully download the desktop client installer for the Windows OS.
I also have a smooth transaction when I purchased a subscription plan. I just selected a subscription plan and created an account first by typing my name, e-mail address, and my chosen password. After that, I chose my billing country and selected a payment option. I then clicked on the "Continue to Payment" button. Moreover, I just followed the rest of the instructions.
I found out that aside from the Windows OS, VyprVPN is also compatible with Mac OS. It also came to my attention that the VPN platform has mobile device applications running on Android, iOS, BlackBerry, and Blackphone. Aside from that, it is also compatible with Smart TVs, Network-Attached Storage (NAS) such as Synology and routers such as DD-WRT, AsusWRT, OpenWRT. The VyprVPN system is also compatible with Boxee and Anonabox.

Once I'm logged in to my VyprVPN account through the desktop client version of the VPN platform, I can edit the following settings:
Launch App on Login (enable / disable)
Connect on App Launch (enable / disable)
Connect on System Boot (enable / disable)
Automatic Reconnect (enable / disable)
Public Wi-Fi Protection (enable / disable)
Kill Switch (enable / disable)
Protocol (select WireGuard, IKEV2, OpenVPN, or Chameleon)
DNS (select VyprDNS or 3rd party DNS)
Notifications (enable / disable)
TAP Adapter (select OpenVPN TAP adapter or VyprVPN TAP adapter)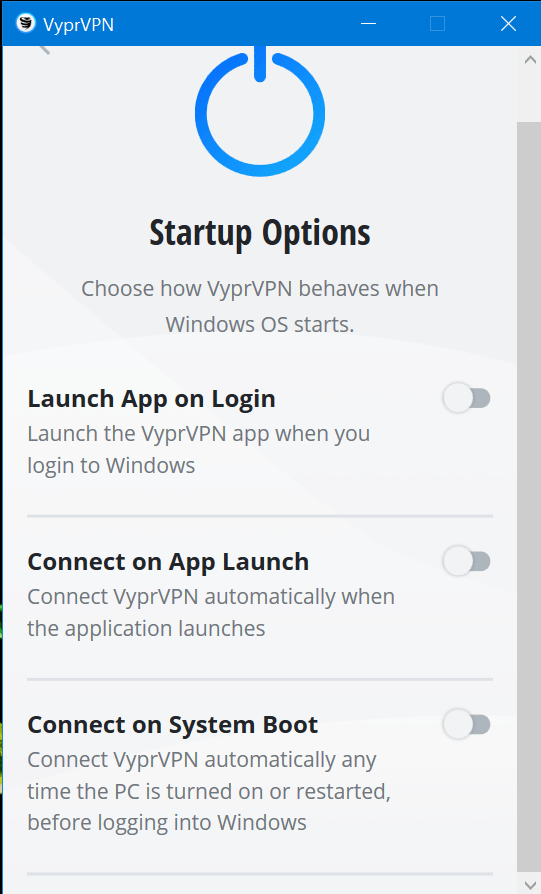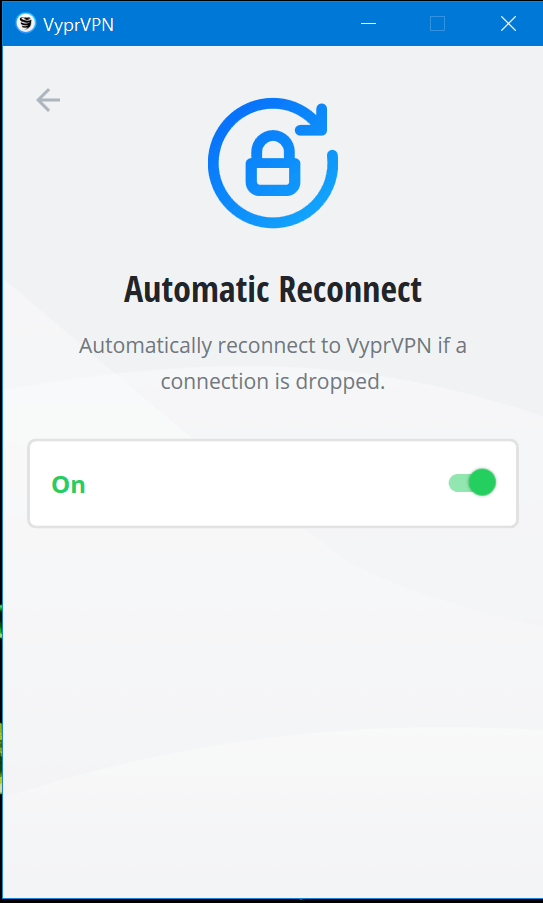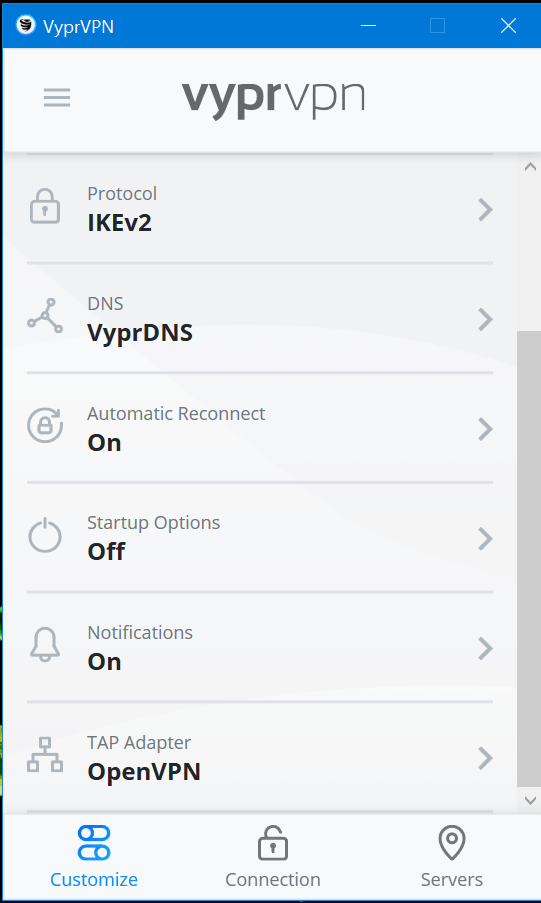 All other features and settings not discussed above are further explained under the security and privacy section as well as in the additional features section of the VyprVPN Review.
---
Speed & Server Locations
I was able to explore more than 700 servers of VyprVPN scattered across 70 different countries and locations worldwide. I was able to find out that there are approximately 200,000 shared I.P. addresses that can be used rotationally by all of the VyprVPN service subscribers. The system is equipped with dynamic server switching in order to minimize and further prevent possible network overload or unavailability of the servers. All of the servers are owned by VyprVPN which means that there is really privacy from end-to-end.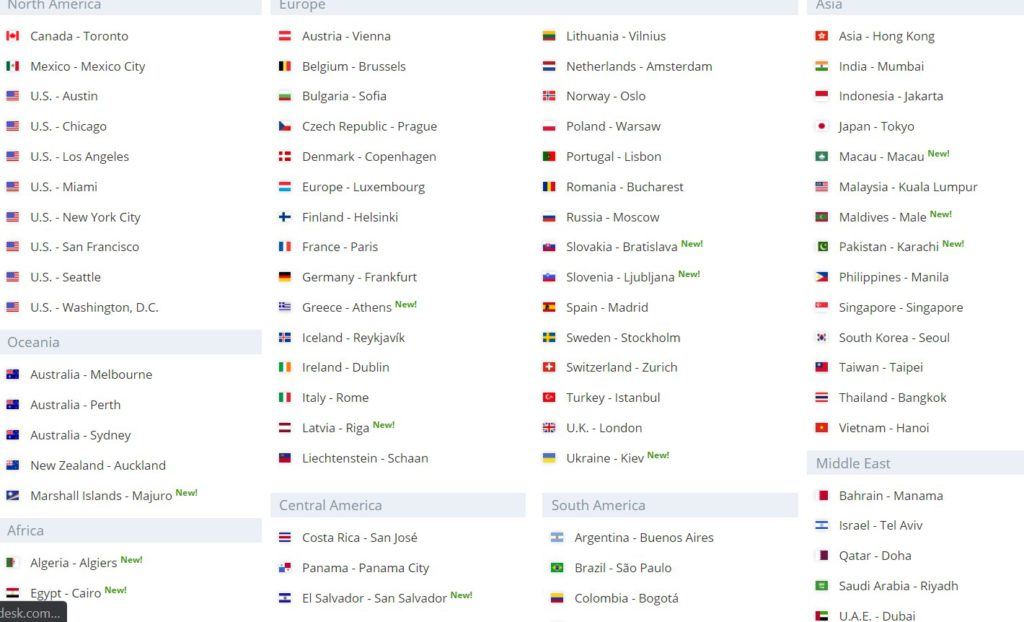 The locations of the VyprVPN servers include the United States of America, Canada, and Mexico in the North America Region. In Central America, servers can be found in Costa Rica, Panama, and El Salvador. In South America, servers are found in Argentina, Brazil, Colombia, and Uruguay. In Oceania, servers are found in Australia, New Zealand, and the Marshall Islands. In Africa, servers are placed on Algeria and Egypt. In the Middle East, servers are found Bahrain, Israel, Qatar, Saudi Arabia, and U.A.E. Moreover, if you look at Asia, you will see that there are servers placed in Hong Kong, India, Indonesia, Japan, Macau, Malaysia, Maldives, Pakistan, Philippines, Singapore, South Korea, Taiwan, Thailand, and Vietnam.
It is in Europe where most of the servers are placed. As a matter of fact, there are VyprVPN servers placed in 30 countries found in Europe. This includes but is not limited to the United Kingdom, France, Germany, Italy, Slovenia, Russia, and Switzerland. Based on my experience and speed tests conducted, VyprVPN offers unlimited bandwidth. Check the table below to know more about the results of my independent and unbiased assessment of the VyprVPN speed tests.
We first conducted the speed test from Slovenia, Europe using the WireGuard protocol.
| Server location | Ping [ms] | Download [Mbps] | Upload [Mbps] |
| --- | --- | --- | --- |
| No VPN (Slovenia) | 7 | 194.76 | 5.81 |
| With VPN (Slovenia) | 56 | 103.60 | 5.62 |
| Australia (Perth) | 303 | 41.39 | 5.61 |
| USA (Washington) | 104 | 105.23 | 5.63 |
| United Kingdom (London) | 38 | 90.23 | 5.60 |
| Canada (Toronto) | 142 | 103.70 | 5.51 |
| Netherlands (Amsterdam) | 31 | 87.27 | 5.62 |
| Russia (Moscow) | 79 | 111.92 | 5.57 |
| Average | 107.57 | 91.91 | 5.60 |
The second speed test was conducted from the Philippines, Southeast Asia.
| Server location | Ping [ms] | Download [Mbps] | Upload [Mbps] |
| --- | --- | --- | --- |
| No VPN (Philippines) | 7 | 11.04 | 10.96 |
| With VPN (Philippines) | 100 | 10.55 | 10.63 |
| Australia (Perth) | 118 | 10.40 | 10.02 |
| USA (Los Angeles) | 190 | 9.79 | 4.67 |
| United Kingdom (London) | 311 | 5.75 | 5.25 |
| Canada (Ontario) | 253 | 9.90 | 6.51 |
| Japan (Tokyo) | 101 | 8.20 | 9.87 |
| UAE (Dubai) | 277 | 7.70 | 7.38 |
| Average | 169.63 | 9.08 | 8.16 |
Pings were semi-decent when conducting the speed from Slovenia but we were only able to reach 58% of the speed provided by the ISP which is far from being the best result. Other VPN providers have managed to hit 70% and more which puts VyprVPN on a bad spot in regards to speeds. The speed test from the Philippines was decent in terms of both upload and download speeds but could see improvement on the ping front.
---
Security & Privacy
Based on my research analysis, I found out that VyprVPN uses a 256-bit AES encryption. I was also able to prove that my original I.P. address is masked and replaced with another I.P. address whenever I connect to one of the servers of VyprVPN. In order to do that, I just need to click the "Connect" button found in the main page of the desktop client version of VyprVPN.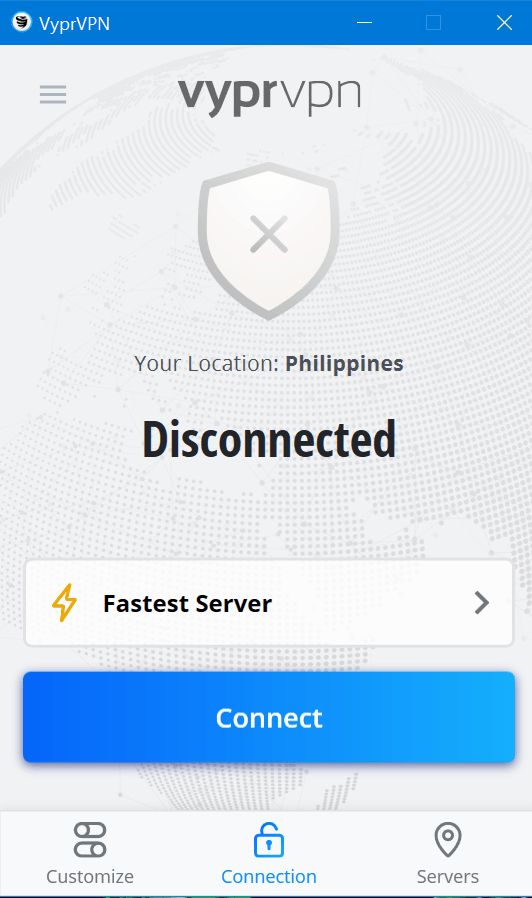 In order to change the server location, I need to click the "Server selection" button found right on top of the "Connect" button. Once I do that, all of the available server locations will immediately appear. After that, I just need to click one of the server locations in order to re-establish a secure VPN connection.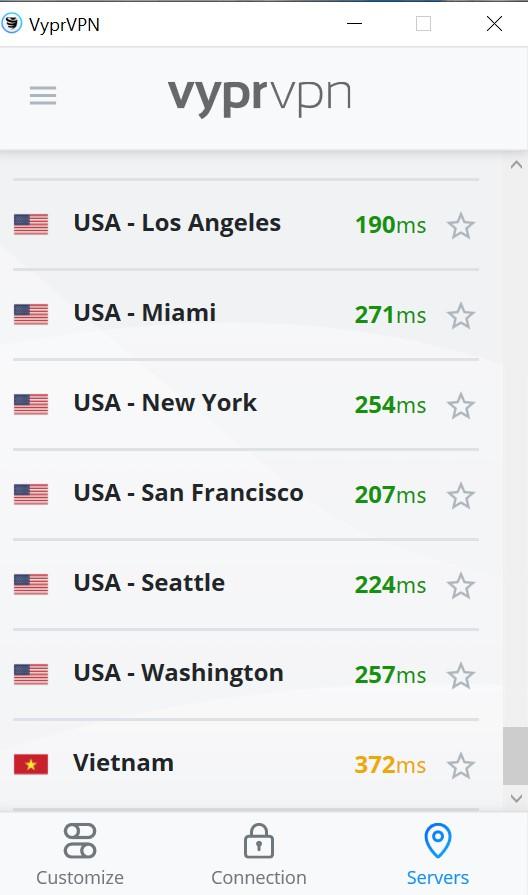 Through the desktop client, I can also easily modify the type of VPN tunneling protocol to use. Options include OpenVPN, IKEV2, WireGuard, and Chameleon VPN tunneling protocols. In some cases and devices, PPTP & L2TP/IPsec protocols are also supported.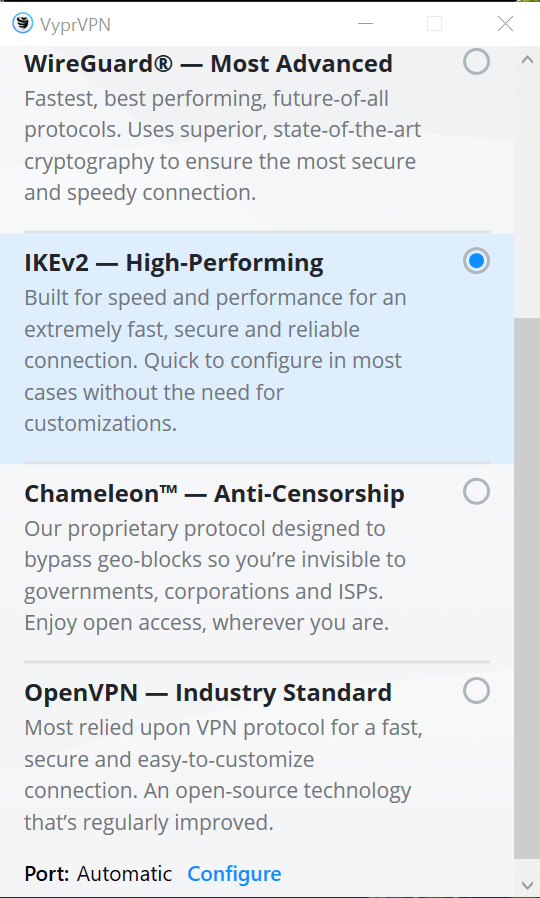 With a click of a button, I could also activate the Public W-Fi Protection feature.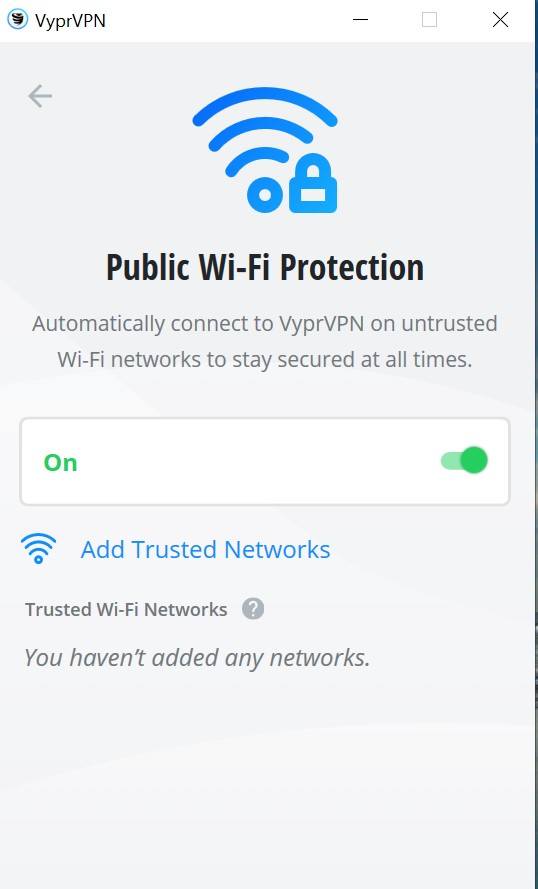 VyprVPN also implements a zero-logging policy. It does not use any 3rd party services to run the virtual private network so that privacy is assured. P2P connection for torrent downloading and uploading is also supported. VyprVPN also has a NAT Firewall protection feature.
---
Streaming
Video streaming experience with Netflix US is outstanding. It only took 7 seconds before the video of the selected movie or TV series episode loaded initially. Speed is really great as evidenced by the smooth and efficient video streaming experience. I have not experienced any issue at all. There was no video buffering in between. Geo-restrictions placed on Netflix US have been lifted with the use of this best VPN for streaming videos online. I can also view Hulu, Amazon Prime Video, and BBC iPlayer with VyprVPN.
---
Online Support
VyprVPN has a relatively strong online customer support system. I was able to browse the user guides, forum, and frequently asked questions (FAQs) pages of the VPN provider. I was able to find out that there is also a chat support system on top of the e-mail support system. Please take note that the chat support system is not 24/7 and sometimes relies on chatbots. But the good news is that e-mail support is responsive and works 24/7. I can contact support@goldenfrog.com easily. I can also call +1 (888) 532-5525 as part of the phone support system.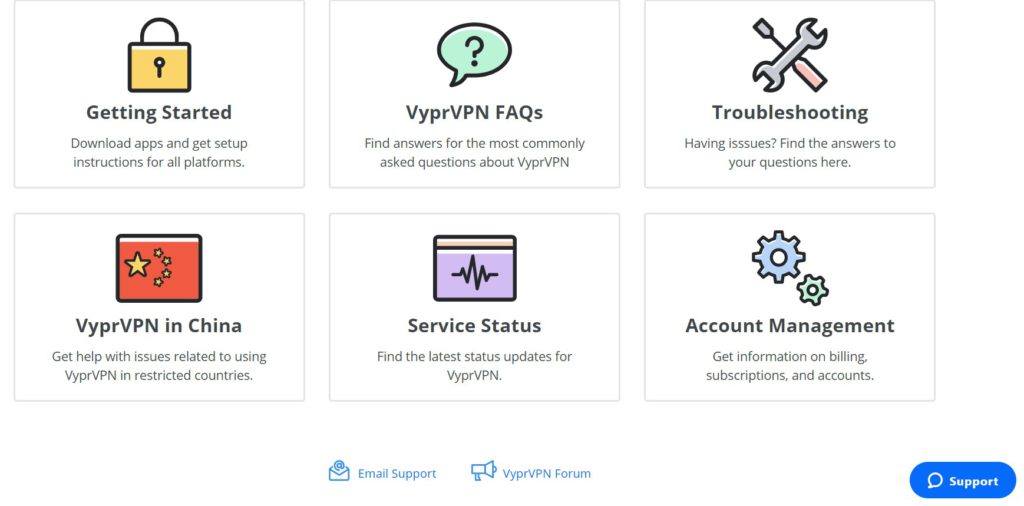 ---
Additional Features
VyprVPN has an Internet Kill Switch, Connection Per App (Split Tunneling), VyprDNS Feature, Chameleon VPN protocol, and mobile applications.
---
Internet Kill Switch
I was able to activate and deactivate the Internet Kill Switch easily with just a simple click. I can also configure the settings of the Internet Kill Switch efficiently. This feature prohibits me from accessing the internet without the protection of an established VPN connection. This means that there is no way of accessing the internet if I have not connected to one of the VyprVPN servers. It also blocks my internet access if my VPN connection is dropped unexpectedly. The feature works efficiently based on my experience.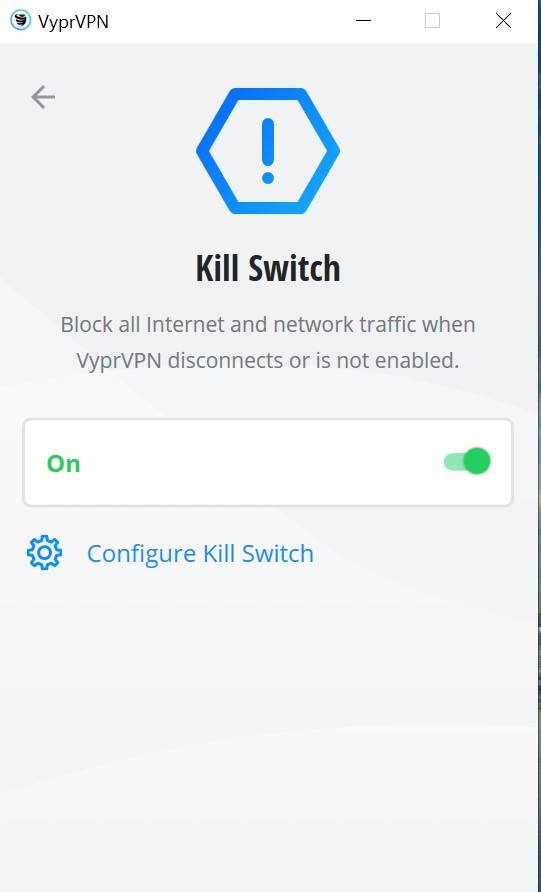 ---
Connection Per App (Split Tunneling)
Split tunneling protocol through the "Connection per App" feature is supported only in MacOS devices and Android mobile devices as of this moment. I can easily switch the feature on or off. This allows me to select which websites and applications that use internet connection goes through the VPN connection and which ones should be allowed to pass through even without going through the VPN connection. In this manner, my access to the internet becomes hybrid as the feature allows bypassing the VPN connection.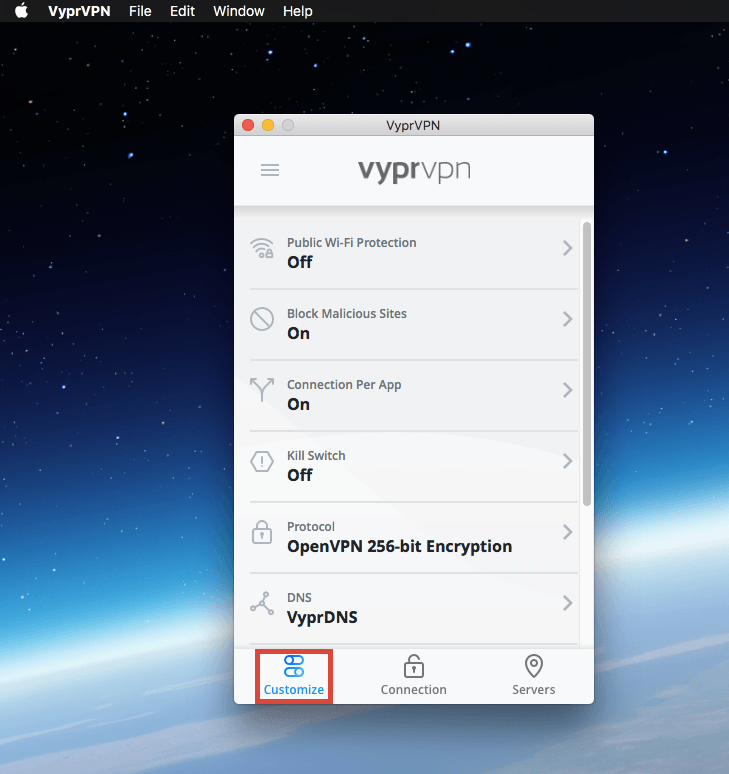 ---
Malicious Sites Blocker (MacOS)
I can also activate the malicious sites blocker in desktop computers and laptops running on MacOS. This feature automatically blocks unsecured websites that are possibly carrying malware.
---
VyprDNS Feature
I was also able to take advantage of the VyprDNS feature by activating it in the desktop client. It allows zero DNS logging policy with the said feature. There is also no DNS query forwarding if I use this feature. VyprVPN automatically uses its own DNS system and does not forward it to 3rd parties. It is a sort of DNS leak protection. The said feature can defeat MITM attacks as well as bypass DNS filtering.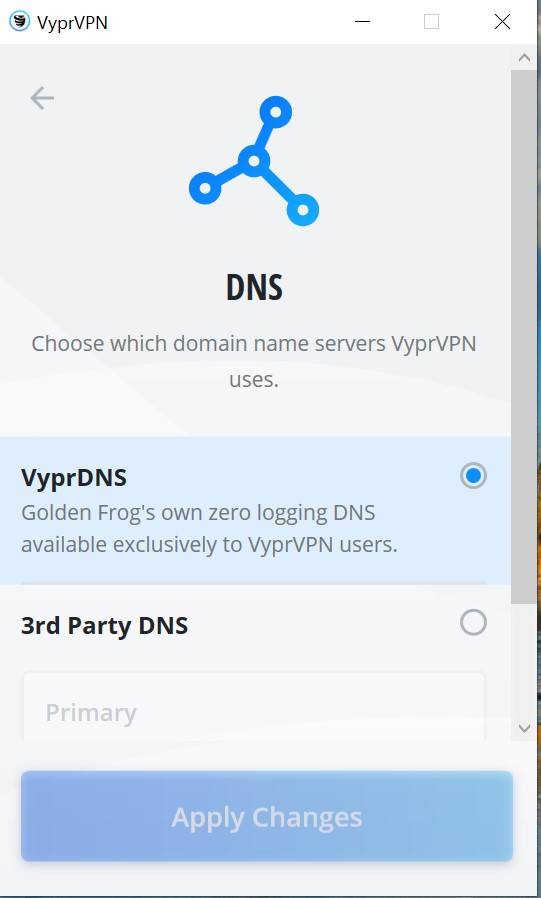 ---
Chameleon VPN Protocol
The Chameleon VPN protocol defeats VPN blocking by scrambling the packet metadata in order to remain undetected and unrecognizable. Through this feature, I can also bypass deep packet inspections and defeat bandwidth throttling.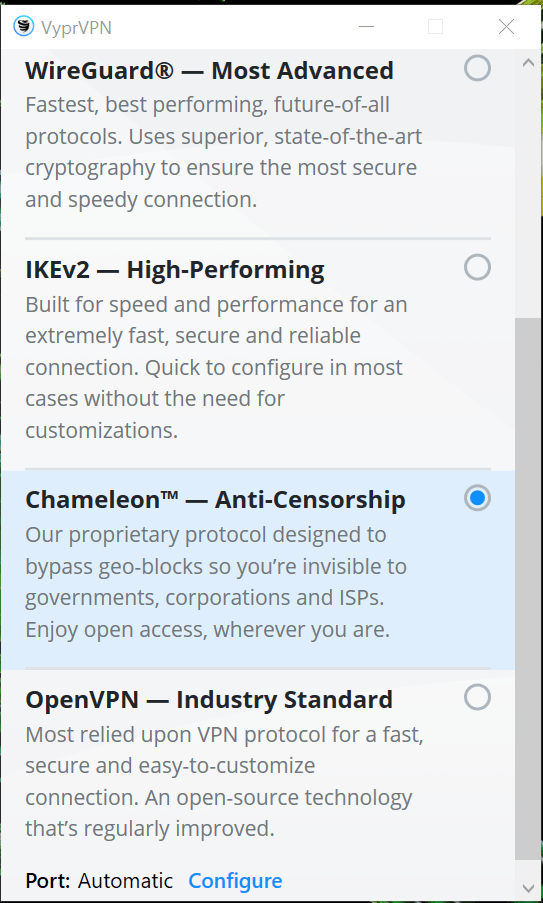 ---
Mobile Applications
I can easily install the mobile applications of VyprVPN to my mobile phone in order to establish encrypted anonymous web browsing while connected to a public Wi-Fi Hotspot. I can download the mobile apps from Google Play Store for Android and Apple Store for iOS mobile devices. I can also install mobile apps for BlackBerry and Blackphone.
---
Conclusion
The results of the speed tests I conducted showed that VyprVPN is indeed fast and efficient. My real I.P. address is also masked whenever connected to the VPN system. Through the various VPN tunneling protocols, I can also encrypt my internet connection using 256-bit AES encryption. I don't have to worry about internet privacy and data security as I'm confident I'm protected while using the VyprVPN system.
I was also able to bypass geo-restrictions and use Netflix US without any problem. Video streaming experience was outstanding. There was no technical issue nor video buffering in between. I was also view Hulu, Amazon Prime Video, and BBC iPlayer with VyprVPN.
The Internet Kill Switch along with all the advanced features also worked efficiently based on my experience. VyprVPN has a relatively strong online customer support system too. If you are inclined to try out the VPN service, I would recommend the annual subscription plan of VyprVPN as it is more cost-efficient in the long run.
---
I hope I answered all your questions within this VyprVPN Review. If you have any more questions, feel free to ask them in the comments section down below!