How To Use Sync.com – The Ultimate Guide 2020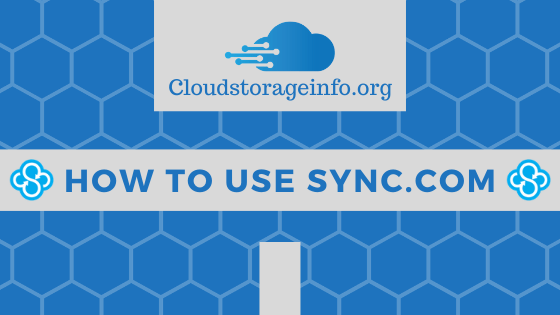 How To Use Sync.com
Sync.com is a cloud storage based in Canada. They're unique due to the privacy and security they offer to their users. A combination of the Canada's privacy laws and the zero-knowledge structure they provide makes them an unique option on the market. They also offer decent plans when compared to other cloud storages which is why they're growing their userbase by the day. We'll explore every inch of Sync.com in this tutorial and explain how to use Sync.com efficiently and offer you some tips along the way.
---
How To Register

With Sync.com you're able to utilize their offer to register for free and grab 5GB of storage or go for one of their annual plans that enables more features and more importantly – More storage.
To register for free follow the procedure:
First, open www.Sync.com.
On the right, enter your valid email address and your password twice (make sure to use a secure password).
Enable the option to reset your password via email in case you forget it if you wish to do so. Remember that if this is disabled you will have a harder time retrieving your account (it can be done via the installed Sync.com program).
Accept the terms, privacy policy and click on the button to sign up.
Confirm your email address by clicking on the link sent to your email from Sync.com.
Or if you would prefer to go with a bigger storage capacity and advanced features consider their personal plans or go for business plans if you're in those waters. The registration procedure is very similar with the exception of the payment of course. They accept Visa, MasterCard, American Express, PayPal and Bitcoin.
---
Pricing Options
As mentioned previously, Sync.com offers both personal and business plans. Depending on your needs you will choose one or the other.
It's important to notice that they don't offer monthly payments but instead go for yearly cycles which is not a bad thing. After all, they offer a 30-day money back guarantee so you're free to refund in that time period if something is not to your liking.
---
Personal plans
---
The main differences between personal plans can be found here:
| | | | | |
| --- | --- | --- | --- | --- |
| Plan | Personal Free | Personal Mini | Pro Solo Basic | Pro Solo Standard & Plus |
| Storage | 5GB | 200GB | 2 TB | 3-4TB |
| Share transfer limits | 5GB | 200GB | Unlimited | Unlimited |
| File versions & recovery | 30 days | 60 days | 180 days | 365 days |
| Account rewind | No | Yes | Yes | Yes |
| Advanced share controls | No | Yes | Yes | Yes |
| Restrict downloads | No | Yes | Yes | Yes |
| Sharing links | 3 | 50 | Unlimited | Unlimited |
| Team shared folders | 3 | 50 | Unlimited | Unlimited |
| File requests | No | Yes | Yes | Yes |
| Document previews | No | Yes | Yes | Yes |
| Offline access | Yes | Yes | Yes | Yes |
---
Business plans
---
You can safely assume the business plans have all the paid features of the best personal plan but here are the differences between the business plans:
| | | | |
| --- | --- | --- | --- |
| Plan | Pro Teams Standard | Pro Teams Plus | Pro Teams Advanced |
| Storage | 1 TB / user | 4 TB / user | 10 TB / user |
| Users | 2 – 100 | 2 – 100 | 2 – 1000 |
| Share transfer limits | Unlimited | Unlimited | Unlimited |
| HIPAA compliance | Yes | Yes | Yes |
| File versions & recovery | 365 days | 365 days | 365 days |
| Administrator tools for teams | Yes | Yes | Yes |
| Priority email support | Yes | Yes | Yes |
---
How To Sync Files
The primary advantage beside the storage itself is that you're able to access the files stored online on multiple devices and edit them as you work. The changes are then recognized on all devices.
Once you have completed the registration on the website you'll be greeted with a useful interface that helps you achieve whatever you want.

In order to sync files across multiple devices you will want to install the Sync.com applications.
To install the Sync.com application on windows follow this procedure:
Go to the Sync.com download page.
Download the client that you need (Windows, Mac, iOS and Android).
Lunch the client and follow the steps.
Make sure to pick the location of your sync folder. If you own an SSD and a HDD with the operating system placed on the SSD you will probably want to place your sync folder on the HDD.
Complete all the steps in the installation procedure.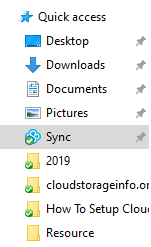 When done with the installation you will have a new imaginary drive on your computer and a Sync.com icon in the bottom right.
To sync files across all your devices simply place them in the folder created by the application. Once there it will be uploaded to the servers and then made available on all your other devices.
---
The Vault
The Vault is a place within your Sync.com cloud storage that allows you to save files online but not have them synchronized across all your devices. That makes it great for files and media that you hardly ever need.
To upload files to the vault:
Right click on the folder or file you wish to upload to the Vault.
Click on "Copy to Sync Vault".
The application will then make sure the files get uploaded to the Vault.
---
How To Upload Files
As mentioned above it's very simple to upload the files to Sync.com servers with the Sync.com applications. But you can also use the browser to achieve the same goal.
How To Upload Files Through The Website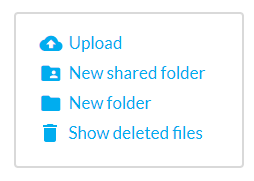 Click the "Upload" icon on the right.
Choose the files you wish to upload via the button or simply drag them inside the box.
If you wish to upload entire folders simply drag them inside the box ("Choose files" is for single files only).
---
How To Share Files
When it comes to sharing files you can share a link to a specific file or invite others to collaborate on specific folders within your cloud storage.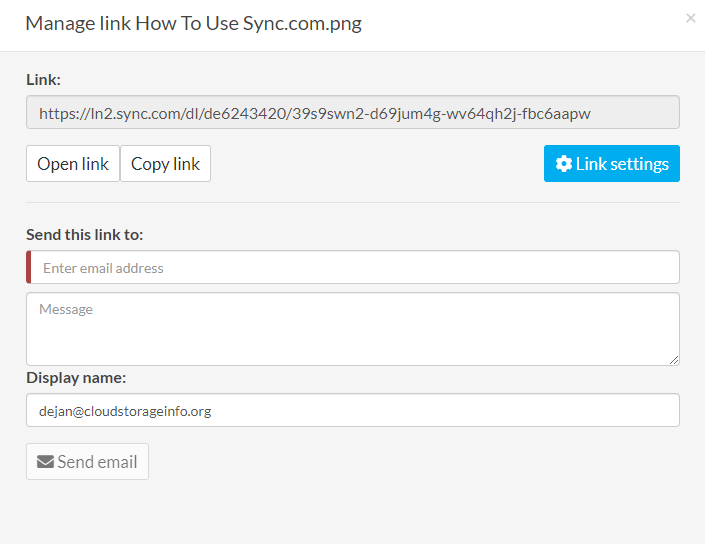 To Share Download Links:
Click on the "Share" button on the right of the file.
A link to that specific file will be created.
You can now go to "Link settings" and depending on your plan change various parameters such as password, expiry date, permissions, download limits, enhanced privacy.
Save the settings and then share the link with your friends or co-workers via email or by sending them the link.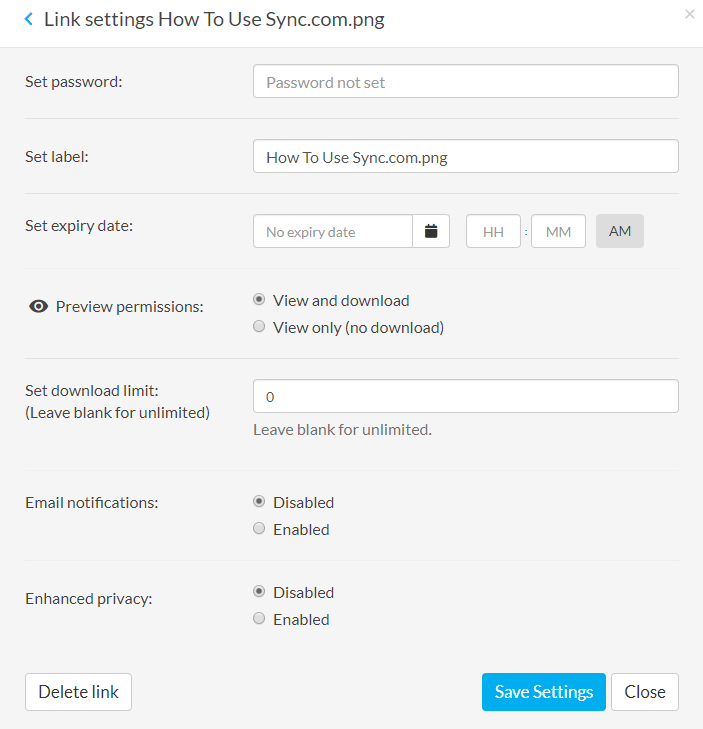 ---
How To Retrieve Files
Sync.com saves your deleted files and file versions for a set time period that depends on your plan. Unlike with other cloud storages where you can see all the deleted files in some "Trash bin" you simply click on the "Show deleted files" on the right. That will reveal all the files you deleted that are still accessible to be restored.
To access a version of a specific file:
Click on the three dots on the right of the file.
Choose "Version history".
Have a look at which file versions are accessible to you and retrieve the one you want by clicking on the "Restore" button.

---
How To Search Through Your Files
Sync.com applications allow you to search through the files you have on your servers. Simply click on the Sync.com icon and a window will emerge that allows you to cycle through all the files and then open them on the web or on your desktop.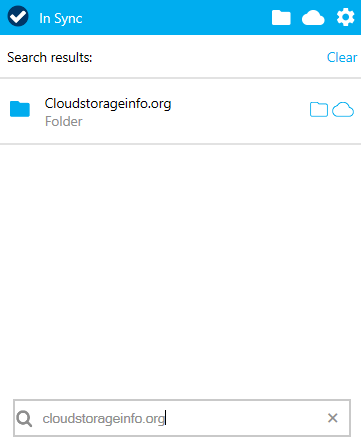 ---
How To Use Sync.com App
Find the application "Sync" on your iOS or Android and install it.
Launch the application.
Use your credentials to log into the app or sign up.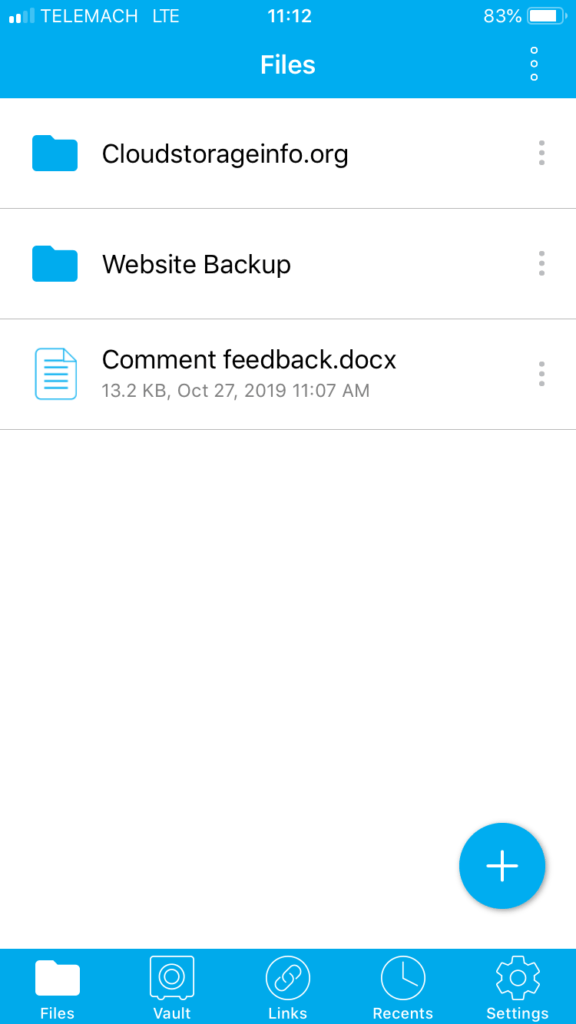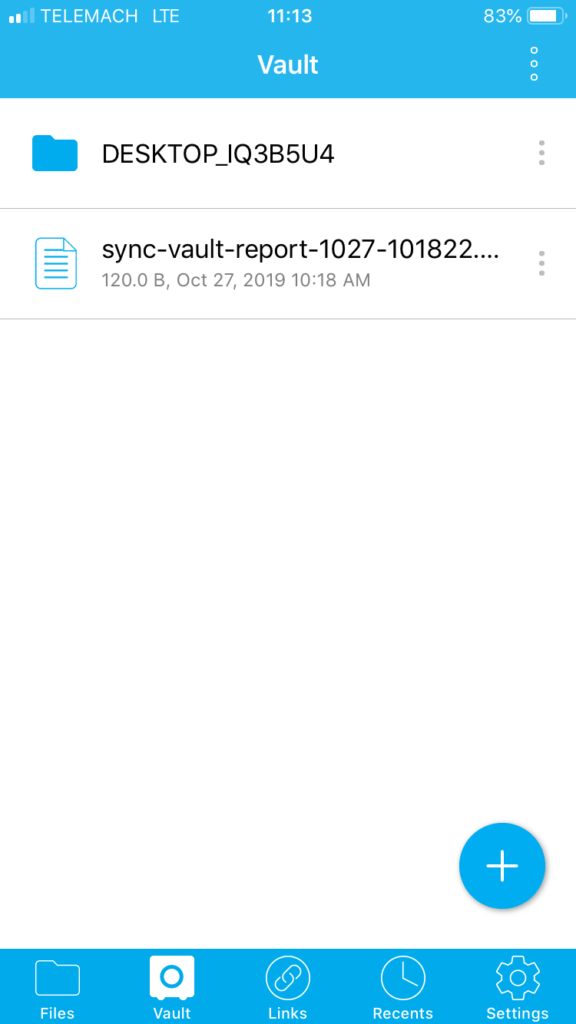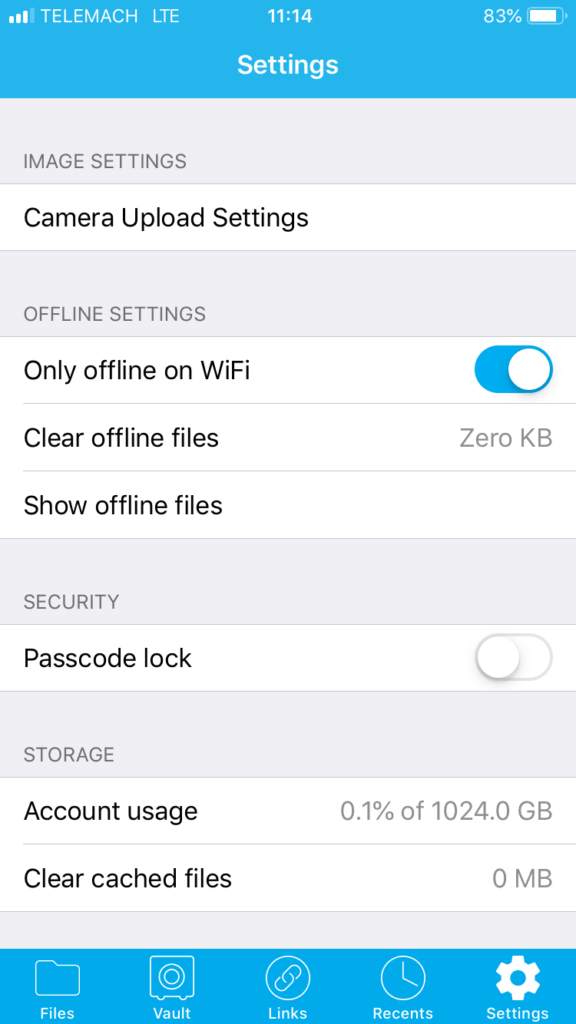 The application allows you to do pretty much everything you can do in the browser on your desktop. The principle is the same. Use the three dots on the right of folders and files to interact with them. On the bottom you have the following options:
Files – Allows you to look at your files that are synced across all devices.
Vault – Gives you access to the files stored in the vault.
Links – Displays all the sharing links you have created and allows you to manage them in one place.
Recents – Lists file changes by time. The latest go to the top.
Settings – Allows you to edit various aspects of the application.
It's important to note that the application requires internet connection to access the files in the cloud. But you can also make specific files and folders accessibly offline which saves them to your device.
---
How To Use Sync.com With Your Business
Cloud storage can be extremely useful with your business as well. Not only does it allow your team to collaborate better, it also gives you as a business owner an oversight on your employees. We have done an extensive article covering the usage of Sync.com within your business and how to set it up safely. That's why we won't go deep into it here but it's definitely something worth checking out if you're interested in lifting your business to a higher level.
---
Conclusion
Sync.com represents a great cloud storage solution due to their unique Zero-knowledge system and the steps they have taken to make sure your files and information is stored securely. Canada's privacy laws and their compliance with GDPR, PIPEDA and HIPAA makes them one of the best cloud storages out there.
It's also very easy to use and can represent a reliable component of your business. We have fully reviewed both sides of Sync.com (Personal and business) so feel free to check that out if you're interested.
---
---
Do you have any questions on how to use Sync.com? Let me know in the comments section down below and I'll answer them shortly!