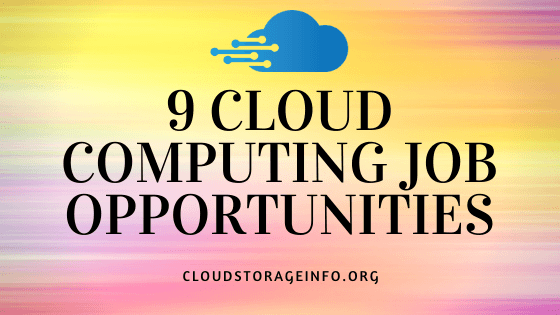 Cloud Computing Job Opportunities
Cloud computing services have developed and flourished more in the past five years than ever before. And that trend doesn't seem to be stopping now. The growth is still exponential, and the forecast is nothing else but pretty flowers and roses. If you're in university not knowing what to go with for your masters, this is one of the prominent choices. More and more companies and enterprises are moving their private storages to a public cloud because of its simplicity and cost-efficiency. Here are some of the cloud computing job opportunities that are available to you in the cloud industry.
---

Cloud Architect
Description: This is probably one of the most demanding jobs that you can take in the cloud industry. Architects are in very high demand, especially if they're good at what they do. Cloud architect knows his way around cloud environments; he knows how to build and design them. He also takes control of the major transition projects when companies are moving into the cloud. Like in any other job opening that includes development, cloud architect must stay up to date on the latest news and features of cloud architecture.
Qualifications: Bachelor of computer science(BS CS), extensive experience in big data networks, designing, developing, administrating virtual environments. Expert knowledge of Shell, VBScript, Perl or Python.
---

Cloud IT Systems Administrator
Description: Maintenance and configuration of existing cloud systems. Making arrangements, troubleshooting problems and taking care that everything runs smoothly.
Qualifications: BS CS, experience in system administration, knowledge of the administration of Windows desktop, server OS and MS Office. Good knowledge of operating with the Linux command line.
---

Cloud Systems Engineer
Description: Building and supporting both cloud and on-premise solutions, monitoring and optimising performance, and resolving infrastructure break/fix incidents.
Qualifications: BS CS or related technical degree, multiple years of experience in system engineering. Experience deploying and managing virtualization and cloud technologies, virtual desktop environments, and underlying technologies.
---

Cloud Software Engineer
Description: Success in this position will require outstanding architecture, coding and DevOps skills, but also the passion for your work and the ability to thrive in a demanding environment. Building all distributed software related to the usage of cloud computing such as desktop and mobile applications.
Qualifications: BS CS or engineering, experience in software development, proficient in Python or Ruby, familiar with Linux, expertise in AWS, Docker, and microservice architecture… Qualifications vary depending on what kind of project you're working on.
---

Cloud Security Engineer
Description: Work with Federal clients to mitigate information technology risk, participating in team problem-solving efforts and offer ideas to solve client issues, conducting relevant research, data analysis, and creating reports, helping establish best practices, migration strategies, and working with engineers to build environments that adhere to industry best practices.
Qualifications: Bachelor's Degree in Information Technology, Information Systems Security, Cybersecurity, or related field. 2+ years of relevant consulting or industry experience, experience with information assurance concepts and processes within the federal government, knowledge of and experience with federal security regulations, standards, and processes.
---

Cloud Consultant
Description: Researching of new ideas, evaluating business area requirements and advising IT management various options.
Qualifications: Extensive experience over the years of working in IT consulting, understanding of cloud technologies and cloud services that are available on the market.
---

Cloud DevOps Network Engineer
Description: Mentainance and optimisation of network software and hardware. Network operations, fault investigation, and problem-solving will be part of your daily routine. Assisting customers with the integration of cloud-based services and their networks.
Qualifications: Degree in computer science or related, experience in network engineering, comprehensive understanding of BGP, EIGRP, OSPF, TCP/IP, Subnetting, DNS, DHCP, NAT and routing. Knowledge of network protocols, ability to quickly comprehend and troubleshoot a variety of complex Layer 3 networks.
---

Cloud Product Manager
Description: Product managers serve as a product champion by deeply understanding customer requirements and market landscape, then evangelises these requirements and objectives with multiple product teams.
Qualifications: Degree in business, computer science, 5+ years of product management or 7+ combined with software development experience, good communication skills, deep understanding of cloud storage, collaboration and sharing features.
---

Sales Specialist
Description: Mastering the sales process is essential, and includes, but is not limited to strategic and tactical planning, understanding client buying behaviours joined with accurate forecasting.
Qualifications: At least five years of sales experience across IAAS or PAAS with any cloud provider, competitive knowledge of AWS, Azure, Google or Pivotal cloud solutions.
---
Websites That Offer Cloud Computing Job Openings
Many of the cloud services provide jobs that you can do from a distance as well. Something to keep in mind while searching for one!
---
---
What do you think about "Cloud Computing Job Opportunities"? Share your opinion in the comment section down below!