Synology NAS DiskStation DS216j – Review
---
Synology NAS DiskStation DS216j – Introduction
The DS216j DiskStation is a dual-drive mid-range network-attached storage, suitable for pretty much everyone. It's simple to use and easy to install. It offers high writing and reading speeds with great remote access. You can pick between many add-ons and make your NAS the way you want to when it comes to software. All in all a great product which many of you will appreciate having.
---
Jump to:
Design&Hardware
Software
Performance
User Reviews
Conclusion
---
Design&Hardware
DiskStation DS216j is made out of sturdy white plastic. It's as big as any other external hard drive, measuring 165 x 100 x 225.5 mm (6.5 x 3.9 x 8.9 inches), meaning it won't take much space if you decide to leave it on your desk or beneath it.
The rubber holders inside the casing make sure that the movement from the hard drives doesn't translate to the whole unit, making it very quiet. This is very important, I mean, who wants another dishwasher in your house to buzz through your head all the time. Am I right or what?!
On the front, it has an ON/OFF button and signal lights that show the state of the unit, each of the hard drives and connection to LAN. On the back, you have a gigabit ethernet port, 2x USB 3.0 ports that allow you to connect with external hard drives or USBs and a Kensington security slot that allows you to chain your NAS to an object in your house.
The maximum hard drive that you can put into this NAS is 2×16 TB.
DiskStation DS216j comes with a 2-year warranty.
If you would like to see the full list of hardware specifications click on this link – DiskStation DS216j Specifications.
---
Installation of hard drives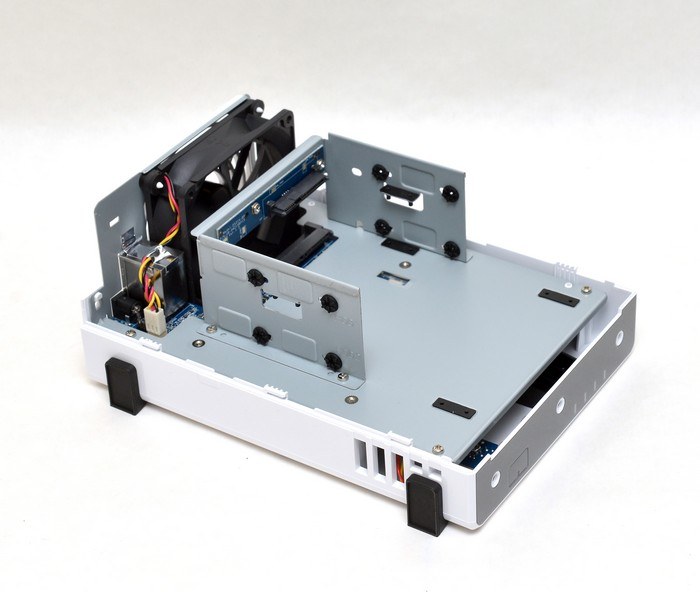 For any of you that are still confused about this, DiskStation DS216j comes without hard drives, meaning you'll have to insert your own.
In case you're going for the HDD, I recommend you buy 2 identical ones. That way you'll avoid any trouble that you might have with different ones.
To install the hard drives you'll need a small Phillips screwdriver to open the case and later on to screw in the hard drives. The whole process is very simple. You just unscrew the casing, insert the hard drives in the slots and screw them in. Keep in mind that if you're using an SSD, you'll need an additional socket for it. After you've done that just screw the casing back and voilà!
---
Software
When you set up and connect your DiskStation DS216j you'll be able to share files between your devices. That includes Windows, Linux, Mac OS X and all the iOS and Android smartphones. All you need to do is install the Synology's DS application.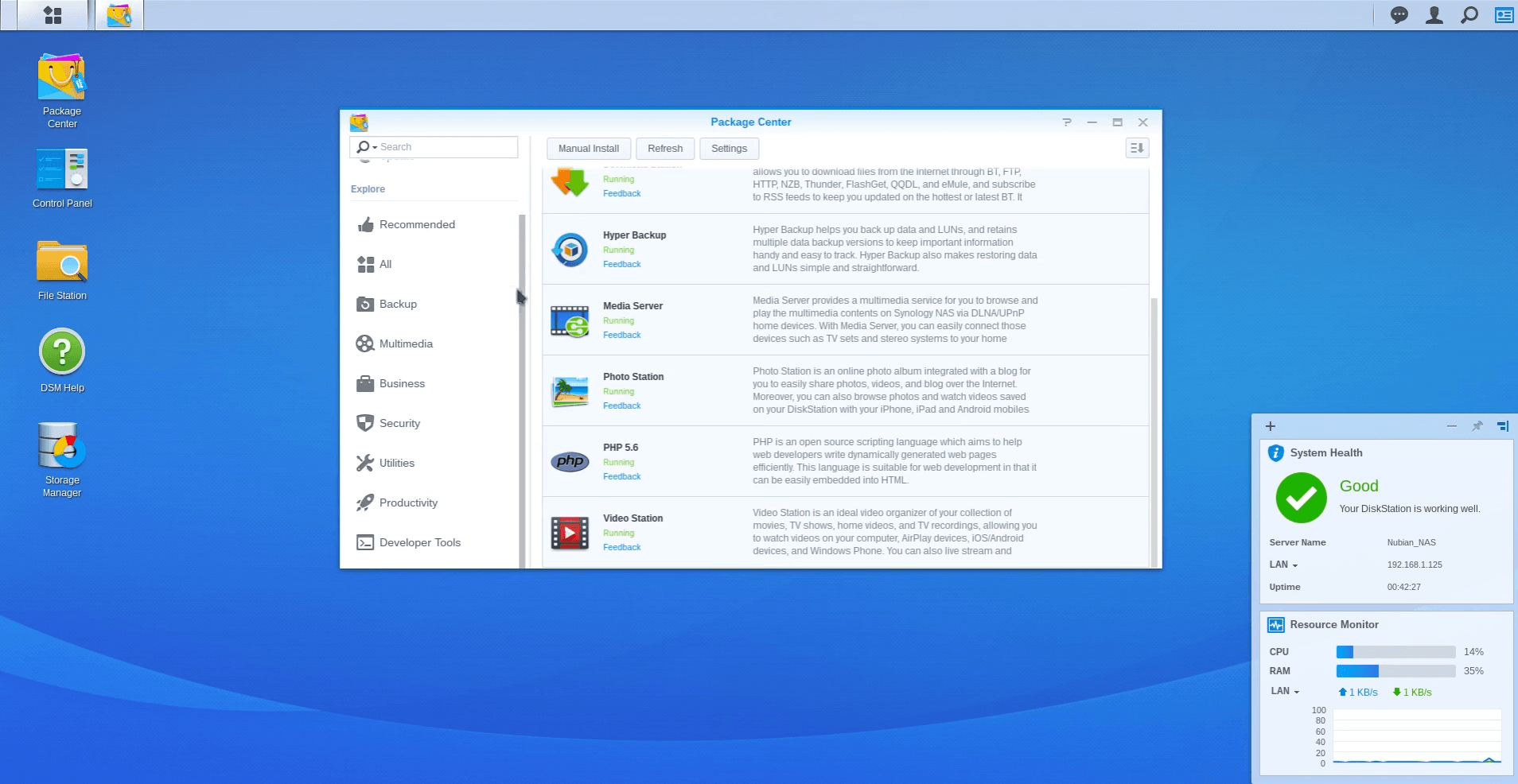 Also, notice how you have the stats of your NAS listed on the right bottom corner.
One of the many features that are requested with NAS is the ability to use RAID (the first hard drive is duplicated on the second one as a backup solution). This NAS has the option to do so.
The beauty of the Synology software is that you don't get all those programs off the bat. You don't need half of them either way. Instead, they're available to you as add-ons which you download for free from their "Package centre". You can download numerous tools such as Cloud Station, Sync, Share, Backup, DLNA-compatible multimedia apps (audio, photo, video, iTunes, Plex media server, etc.), business apps, utilities (VPN server, etc.), security (surveillance station with cameras), developer tools (Java, Python, etc.).
Transcoding is something you don't want to do with this NAS since it doesn't have sufficient CPU power.
Connecting remotely
Connecting remotely is incredibly easy and fast with it's implemented function QuickConnect.to. When you first start your NAS, you'll be able to register it with Synology which will provide you with a unique ID. This system replaces the need to involve your router into the whole process, making it much easier for you.
There are plenty of mobile apps available to you, all starting with DS (File, Cloud, audio, video, mail, etc.). They all have their own function, but if you're in it only for the cloud storage you'll be satisfied with DS File and Cloud. Check this link for the full list of mobile apps.
---
Performance
DiskStation DS216j is powered by a Marvell Armada 385 88F6820 with a Dual Core 1.0 GHz and 32-bit CPU architecture. It also has 512 MB DDR3 of system memory.
Writing and reading speeds through Wi-Fi vary depending on the location of your router and the router itself. They varied from 6 MB/s to 14 MB/s in my case.  When connected with the cable the speeds increased by a margin – Upload speeds reached a maximum of 95 MB/s, while the download speeds went all the way up to 106 MB/s.
---
User Reviews
All these reviews originate from Amazon and have been marked as most helpful.
By dj (5/5):
"Once you go Synology, you'll wonder how you ever managed without it. The power of a Synology NAS over other NAS manufacturers for me is the software. The software engineers at Synology are genius – they've elegantly balanced off-the-shelf needs of both casual user and hard-core tweaker. But the 416j's hardware is also a step in the right direction – in big ways and in the little things."
By DT Coughlin(5/5):
"I purchased the Synology DiskStation DS216j for use at a small office. There are 5 computers regularly used, all Macs. I purchased 2x3GB Western Digital Red Hard Drives.
Within 10 minutes I had everything out of the box, the drives installed, and the NAS booted. It was simple to find the device using Synology's Find my NAS website. I set up several accounts, a few shared folders, and turned on the Time Machine server portion. Within 20 minutes I was backing up all of our computers onto a single NAS with RAID redundancy.
I'm quite pleased."
Read more customer reviews on Synology DiskStation DS216j at Amazon.
---
Conclusion
Synology DiskStation DS216j is a mid-range NAS that doesn't fail to deliver. It has a very slick and nice design with decent hardware, especially because it stays quiet. You also have a lot of options when it comes to software, not that it makes it complicated. It's very easy to set up and you can choose exactly how you want to use it with the help of their add-ons. It doesn't fail to deliver at performance either. Writing and reading speeds are very fast, which makes it one of the best mid-range NAS on the market.
Find the best price on Synology DiskStation DS216j by clicking here.
---
---
What do you think about "Synology DiskStation DS216j"? Share your opinion in the comment section down below!