Pricing & Subscription Plans
9.0/10
Speed & Server Locations
9.0/10
Security & Privacy
9.0/10
Additional Features
8.0/10
Pros
Has internet kill switch protection & Application guard
P2P connection & Torrent are supported
Has DNS leak & IPv6 leak protections
Has stealth VPN bypassing VPN blockers and DPI firewall
Access Netflix US, Amazon Prime, BBC iPlayer, Disney Plus, and Hulu
Zero-logging policy & public Wi-Fi protection
OpenVPN, PPTP, L2TP, IKEV2, IPSec, SOCKS5 and HTTP Proxy
AES-256-GCM or AES-256-CBC data encryption with 2048-bit DH key
Unlimited bandwidth and unlimited server switches
---
PrivateVPN Review
PrivateVPN is one of the strongest players in the virtual private network industry as observed in recent years. The VPN platform started its journey when it was created in 2009 in Stockholm, Sweden by a company called Privat Kommunikation Sverige AB. Based on my own research, the company behind the PrivateVPN system lived up to its name by protecting the privacy not only of its customers but also of its own company information. There is not much revealed aside from the company name and the business address at Bygdevägen 5, 19148 Sollentuna which is part of Stockholm, Sweden. This is the logical explanation behind why I have to dig deeper into the Private VPN platform by creating a comprehensive PrivateVPN Review below.
---
Jump to:
Pricing & Subscription Plans
Who is it for?
Ease of Use
Speed & Server Locations
Security & Privacy
Streaming
Online Support
Additional Features
Conclusion
---
Pricing & Subscription Plans
Based on my research on the PrivateVPN platform's website, there are 3 main subscription plans that I can avail of. To start with, I'm pretty surprised that it has a relatively affordable monthly subscription price when compared to its competitors. It will actually only cost me $7.67 per month. I can also select the quarterly subscription plan if I want to have a discount. It will only cost me $14.63 for every 3 months that I will use the PrivateVPN platform. The Virtual private network provider is also generous enough to come up with an annual subscription plan that has been accompanied by a 1-month bonus. For only $49.68, I can use the PrivateVPN system for 13 months. I can easily use the VPN system up to a maximum of 6 simultaneous connections for all of the subscription plans.
---
---
Another good thing that I learned is that all of the subscription plans have a money-back guarantee for the first 30 days. However, the VPN provider disclosed that my data traffic should be less than 100 GB during the said period in order to qualify for a refund.
There is also a free trial option for 7 days by clicking the "Free Trial" menu option on the website. The trial code is auto-generated. I can also contact the online customer support team of PrivateVPN by sending an e-mail at support@privatevpn.com to receive a gift code. I can easily pay any of the subscription plans via PayPal, Bitcoin, debit cards, and credit cards such as Visa, Mastercard, American Express, JCB, Discover, and Diners Club International.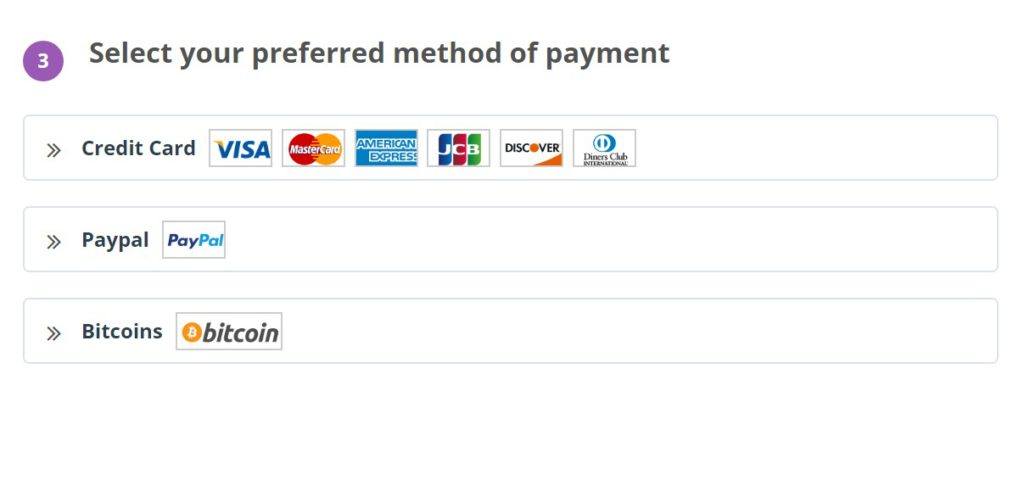 ---
Who is it for?
The PrivateVPN platform is best for people wanting to have a virtual private network subscription at a very affordable price. The VPN system is also recommended for people who want to try anonymous web browsing in order to protect their online privacy. If you belong to the group of people who are sending and receiving confidential files, then virtual private networks such as PrivateVPN are highly recommended. If you are fond of watching movies and TV series via Netflix US and other video streaming services, then you should use the PrivateVPN platform.
---
Ease of Use
It is easy to download the desktop client of PrivateVPN. I just scrolled down the main webpage of the VPN provider and have found the "Download" menu option just above the website footer. It redirected me to a page where I can select the type of operating system that I can download. In this case, I selected the Windows OS for my laptop computer. It took me 17 seconds to download the Windows app installer. Currently, the PrivateVPN system supports mobile devices running on Android & iOS on top of the Windows and Mac computer operating systems.
I experienced no trouble signing up for an account and purchasing a subscription plan. I just selected a subscription plan and created an account by giving an e-mail address and a password. I then picked a payment option and clicked the purchase button on the screen. I just followed the instructions for the rest of the process.
My in-depth research also revealed that the Linux OS, as well as routers and other devices such as Blackberry and openELEC Kodi, are supported. Routers supported include ASUS RT, Synology, DD-WRT, Tomato, Linksys, QNAP, and pfSense. However, there is no one-step download button for these devices and requires technical expertise in order to set-up. User guides are available for setting up these devices.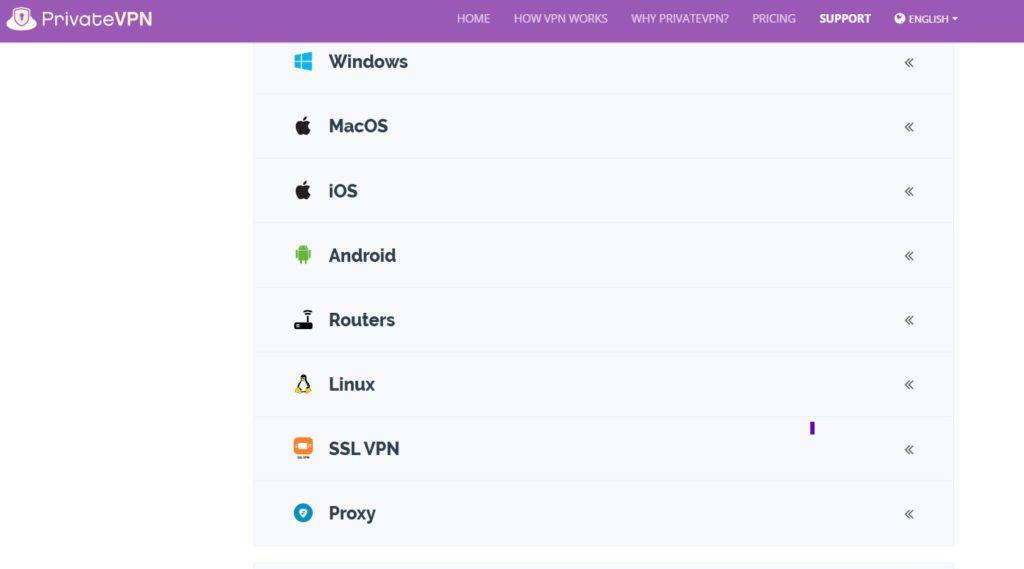 Once I'm inside my account in the desktop client version of PrivateVPN, I can edit and modify the following settings:
Start client on system startup (on / off)
Connect automatically on startup (on / off)
Reconnect automatically on connection failure (on / off)
Windows notification (on / off)
Minimize on start (on / off)
Language (select language)
Windows TAP adapter (install / repair)
Log Files (open logs folder)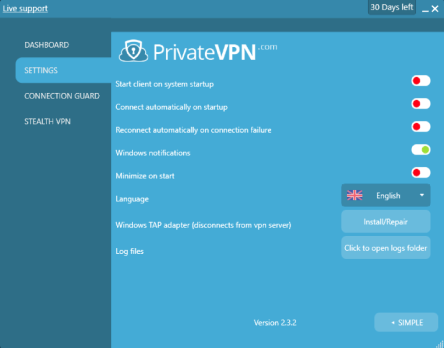 All other settings and additional features not mentioned above are fully explained under security and privacy section as well as in the additional features section of PrivateVPN Review.
---
Speed & Server Locations
After logging in to my account in the desktop client of PrivateVPN, it showed me options to connect to more than 150 servers in approximately 60 countries worldwide. I was able to observe that the United States of America has the largest share of PrivateVPN servers. The United States of America has 14 servers. It was then followed by the UK with 6 servers. Canada has 3 servers while Sweden has 3 servers too. The rest of the servers were scattered across different countries such as the Philippines, Australia, Switzerland, UAE, South Africa, Japan, Brazil, France, Germany, etc.

Private VPN offers unlimited bandwidth and unlimited server switches. Based on the records, PrivateVPN has a server uptime percentage of 99.98%. The company also claims to have High-Quality Network (HQN) which led us to the initiative of actually testing the server speeds. The results of the independent tests conducted are shown in the table below.
| | | | |
| --- | --- | --- | --- |
| Server location | Ping [ms] | Download [Mbps] | Upload [Mbps] |
| No VPN (Philippines) | 13 | 11.23 | 10.94 |
| With VPN (Philippines) | 30 | 9.95 | 10.57 |
| USA (Los Angeles, CA) | 185 | 9.87 | 10.33 |
| UK (London) | 274 | 10.27 | 10.00 |
| Canada (Vancouver) | 256 | 7.92 | 8.76 |
| Sweden (Stockholm) | 280 | 9.87 | 9.83 |
| Australia (Melbourne) | 144 | 9.46 | 8.35 |
| Singapore | 203 | 10.25 | 10.41 |
| Average | 173.13 | 9.85 | 9.90 |
---
Security & Privacy
I'm assured that I'm protected when connected to PrivateVPN since it masks my original I.P. address issued by my local internet service provider. After approximately 5 seconds of selecting a server, it automatically creates a new I.P. address based on the location of the server. Internet anonymity and data privacy are both ensured in the process based on my experience.
Before connecting to any server, I can manually change the VPN tunneling protocol that is being used by PrivateVPN. I can select OpenVPN, PPTP, and L2TP. The default option in the desktop client for Windows is OpenVPN. In other devices, IKEV2 and IPSec are also supported. On top of that, SOCKS5 and HTTP Proxy are also supported by the VPN system.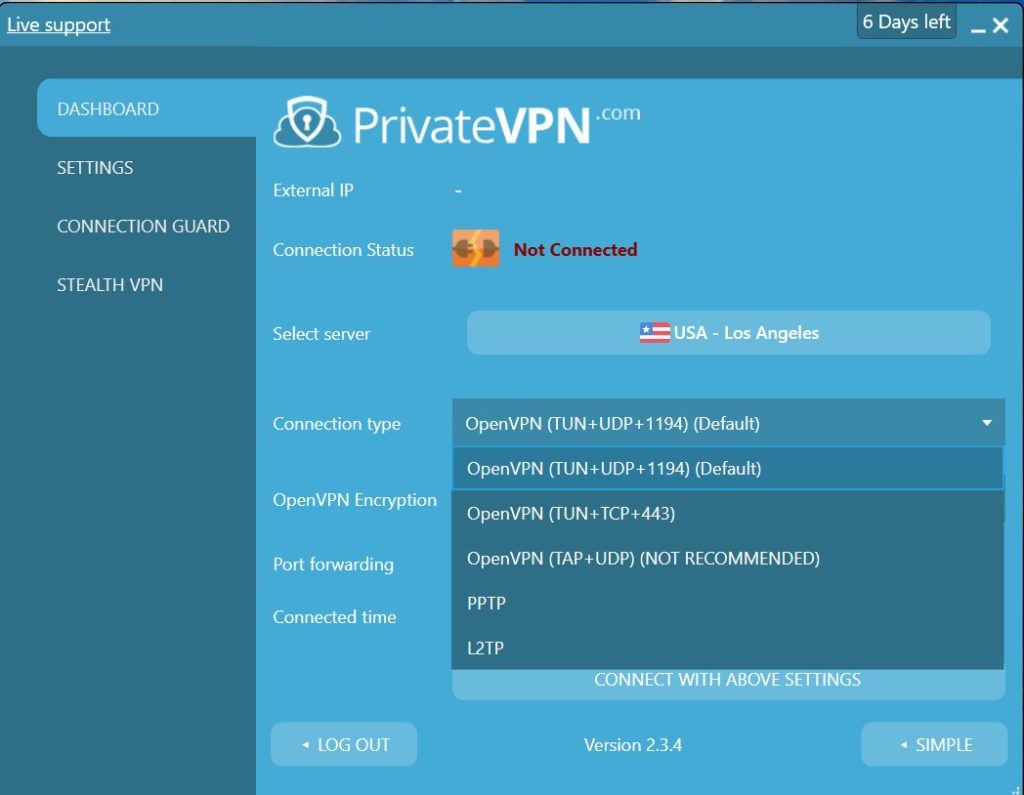 I can also manually select the type of data encryption that will be implemented in the PrivateVPN platform. I can select AES-128-GCM, AES-256-GCM, and AES-256-CBC. The 3 options are all based on AES encryption which means they are all unbreakable especially the 256-bit key. A 2048-bit Diffie-Hellman key is also being used simultaneously by the PrivateVPN platform.
I'm also protected when using public Wi-Fi as long as I'm connected to the PrivateVPN platform. I also observed that the virtual private network provider implements a zero-logging policy. On top of that, the port forwarding feature is also enabled.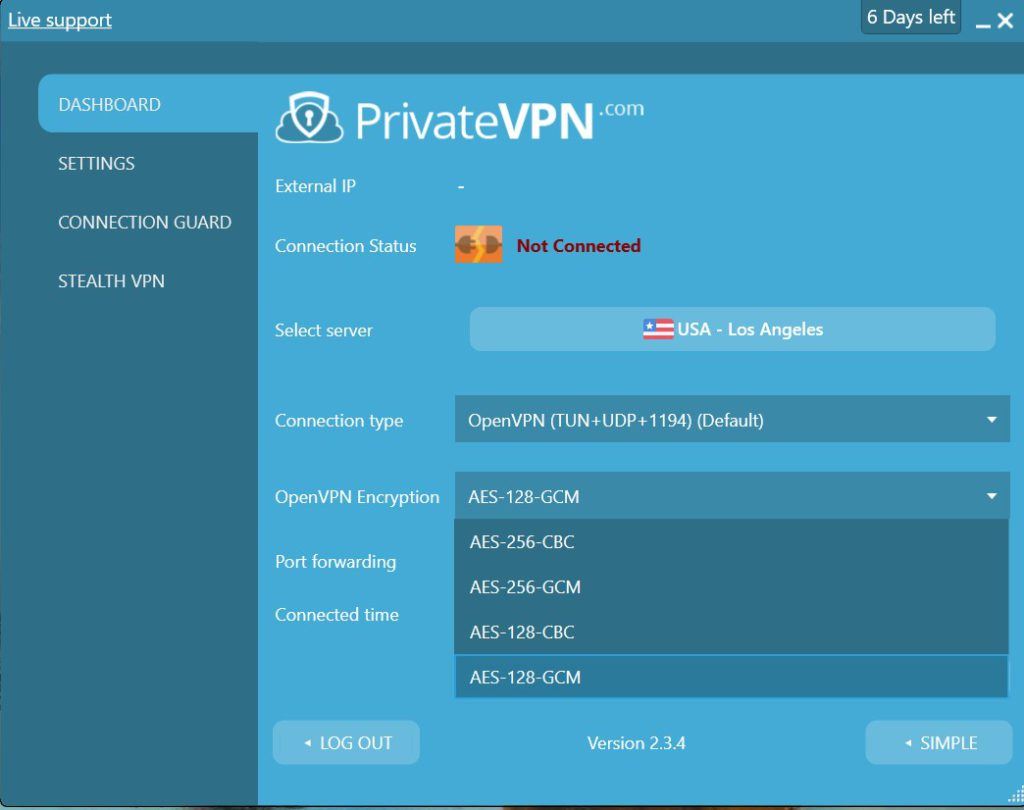 In order to connect to a server location, I need to click the "Connect / Disconnect From VPN" button found on the page of the graphic user interface. In order to change server location, I need to click the "Select Server" button. Once I do that, all of the server locations will be available for viewing.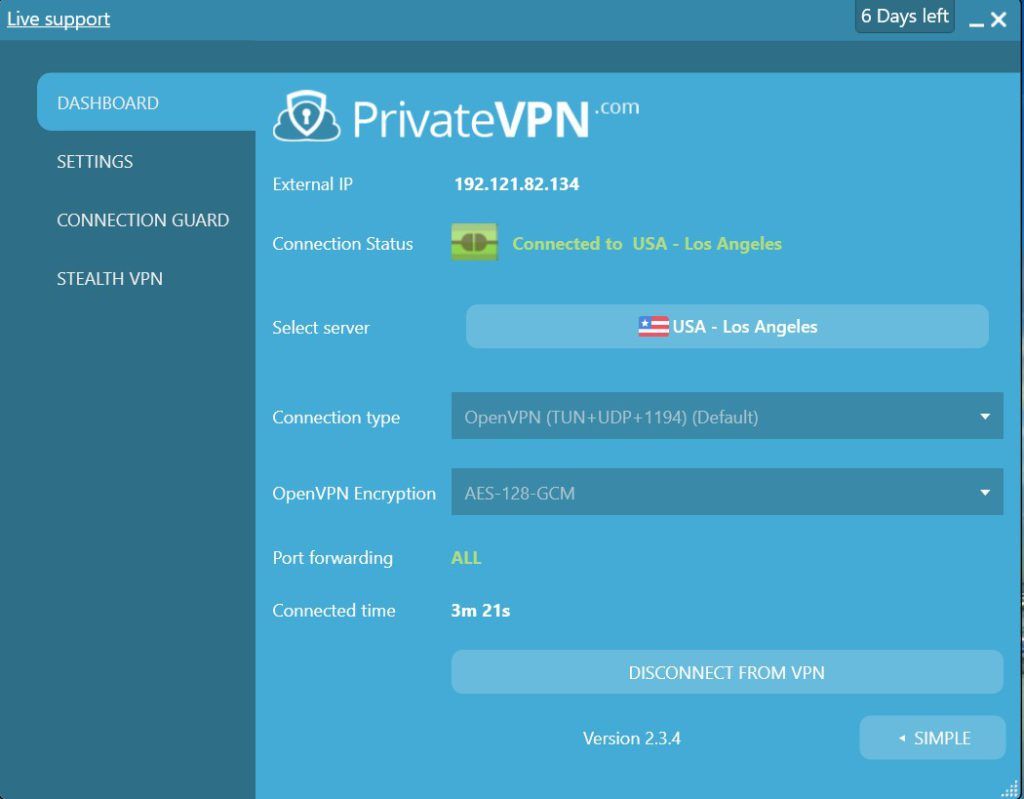 ---
Streaming
I really had a great experience watching TV shows and movies via Netflix US. PrivateVPN was able to unlock geo-restrictions without any complication. In fact, it only took 4 seconds for the selected video to load initially. Since the servers are performing very well with regards to their speed, there was no additional video buffering in between. Video streaming was fast and efficient. There were no experienced technical difficulties and major issues while video streaming Netflix US.
Aside from Netflix US, I can select servers to unblock geo-restrictions from other video streaming services such as Amazon Prime Video, BBC iPlayer, Disney Plus, ESPN, Hulu, and HBO.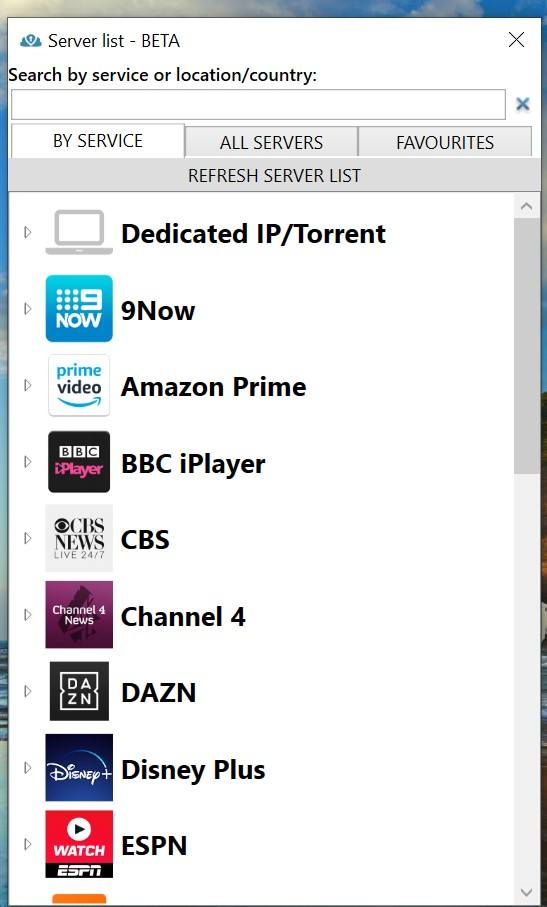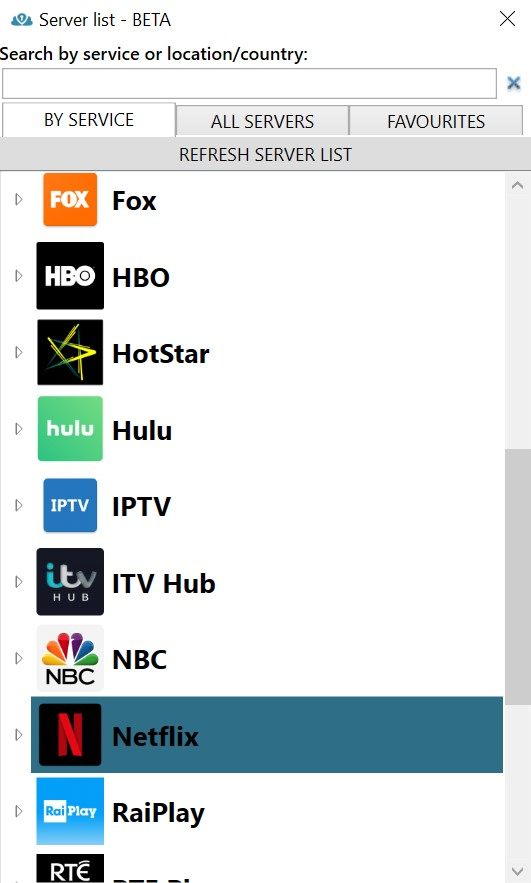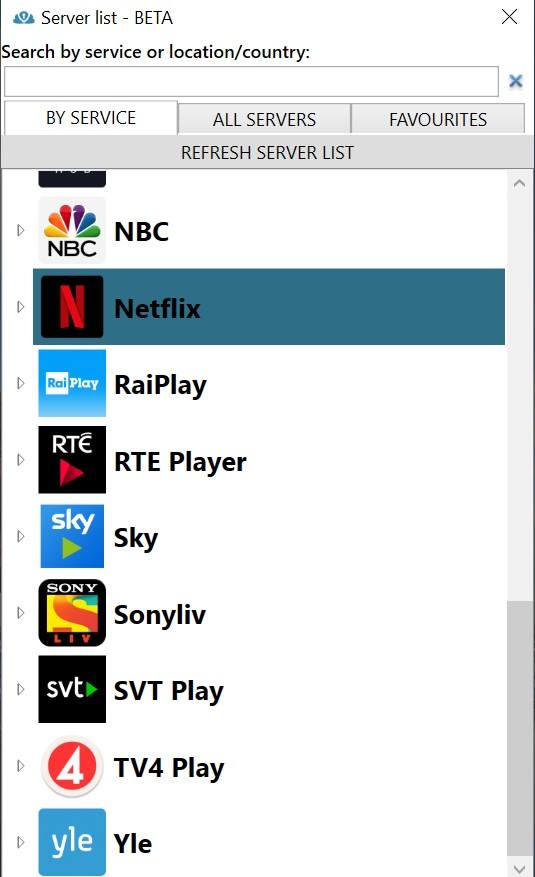 ---
Online Support
PrivateVPN has a very good online customer support system. Setup guides, user manuals as well as frequently asked questions (FAQs) are readily available. I have read most of them and I can say that they are comprehensive. I can easily contact e-mail support at support@privatevpn.com. I can also contact the technical team through a live chat system. I can also send a message through the webpage of PrivateVPN under the "Contact Us" option. There is also a free remote help program to install the VPN system to your computer through TeamViewer which will give the technical team of PrivateVPN access to your local computer remotely. I don't recommend that option.

---
Additional Features
Listed below are the various additional features being offered by PrivateVPN.
---
Internet Kill Switch & App Guard
The PrivateVPN platform has an Internet Kill Switch which can be easily activated with a touch of a button. This blocks my internet access to websites when the VPN connection is disrupted. While this feature is active, it would be impossible to access the internet without encrypting it first through a secure PrivateVPN connection.
There is also an Application Guard that shutdowns selected apps when disconnected to the PrivateVPN platform. I can manually add and remove applications that will be terminated when the VPN connection suddenly drops or is unexpectedly disconnected.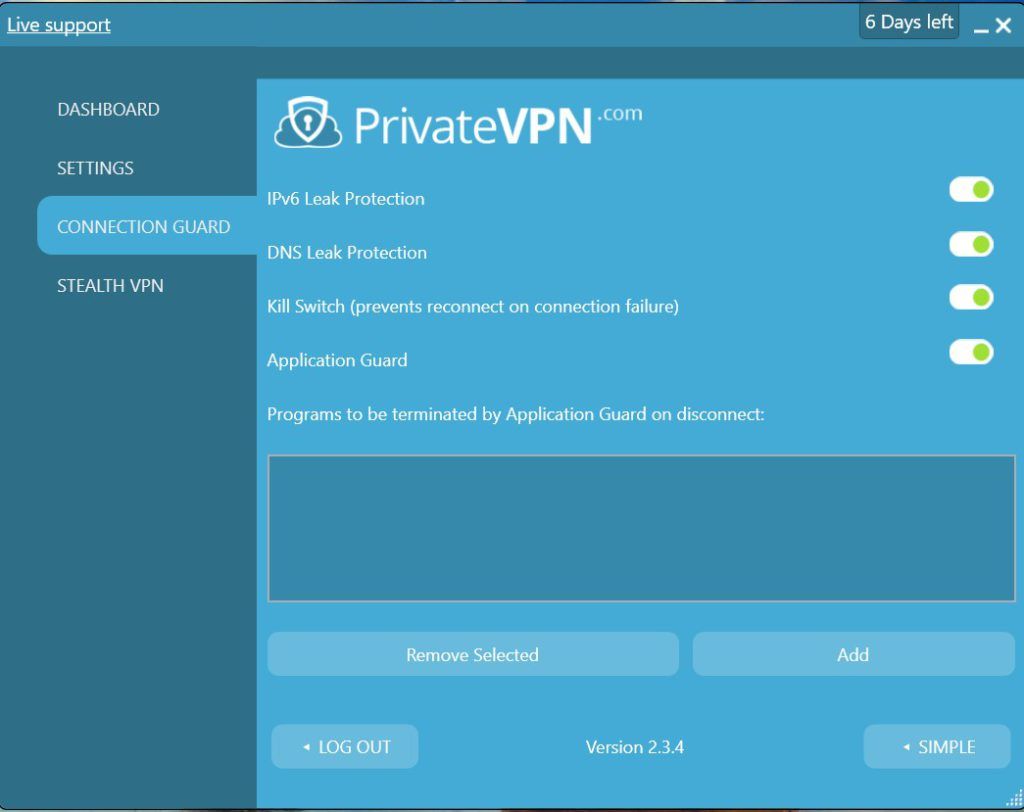 ---
Stealth VPN
I can also activate Stealth VPN which can bypass the VPN blockers and Deep Packet Inspection (DPI) firewall. It disguises all the activities I do online while connected to the VPN as a normal internet traffic. It uses the server obfuscation technology.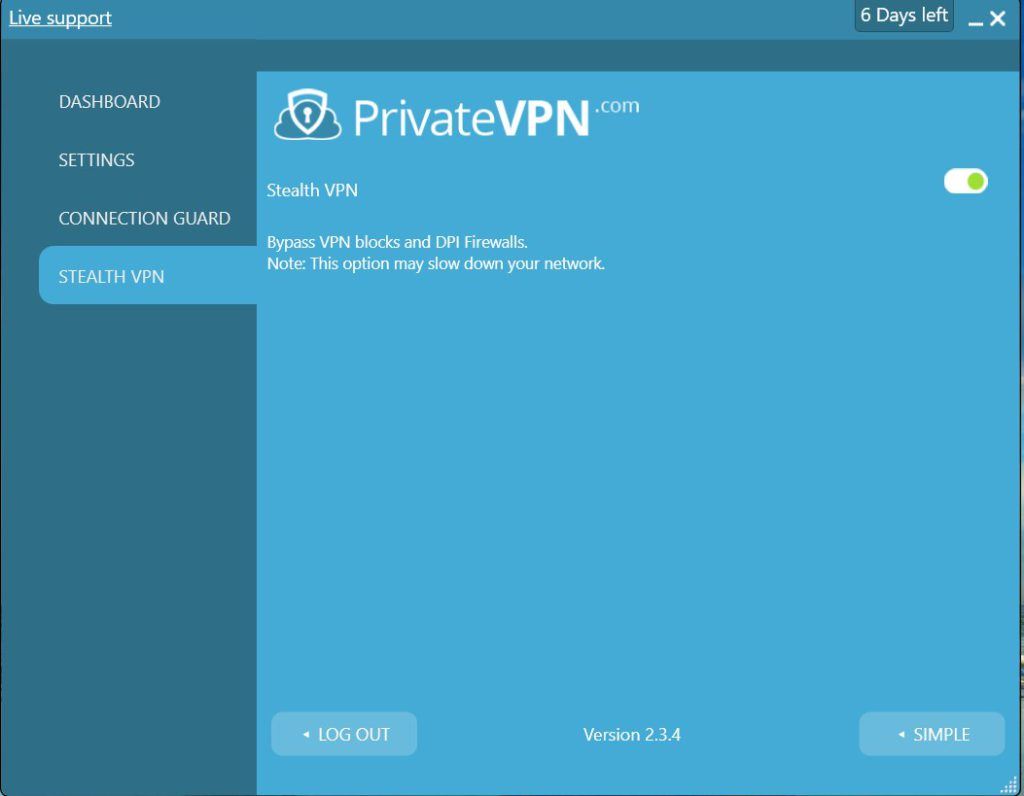 ---
P2P & Torrent
P2P connection is also allowed which means that torrent activities are allowed as well. Because of this feature, I can securely download and upload files to the internet in a very fast and efficient manner. I can also upload and download torrent files as well.
---
Mobile Applications
The PrivateVPN system supports mobile devices running on Android & iOS. I can download the mobile apps through Google Play Store and Apple Store. I always use the mobile app of PrivateVPN in order to protect my internet privacy and data security while browsing the internet on my mobile device through a public Wi-Fi connection.
---
Other Features
There are also IPV6 leak protection and DNS leak protection systems that were placed on the VPN platform. All of the additional features can be easily activated and deactivated with the touch of a button based on my experience.
---
Conclusion
Internet privacy and data security are ensured based on my experience. In fact, I'm assured that I'm protected when connected to PrivateVPN since it masks my original I.P. address issued by my local internet service provider. My internet connection becomes encrypted too with 256-bit AES encryption. On top of that, I also had a great video streaming experience through Netflix US. I have not experienced any video streaming issue and any video buffering at all.
The results of the speed tests I conducted also show that PrivateVPN servers are working relatively fast and are working very efficiently. The Internet Kill Switch along with other advanced features are also functioning properly. The online customer support team is also responsive. The subscription plans of PrivateVPN are also very affordable. I would recommend you to try out their VPN service with their 7-day free trial option.
---
I hope I answered all your questions within this PrivateVPN Review. If you have any more questions, feel free to ask them in the comments section down below!