Pricing & Subscription Plans
8.5/10
Speed & Server Locations
9.2/10
Security & Privacy
8.5/10
Additional Features
9.8/10
Pros
Easy to use and available on array of platforms
5845 servers across 59 countries
Decent download & upload speeds
Uses OpenVPN, IKEv2/IPSec, and NordLynx protocols
Implements a no-logs policy
Able to stream Netflix and other services with no issues
Offers great tutorials and live chat support
Offers kill switch, double VPN, P2P, Obfuscated and Onion Over VPN servers
CyberSec - Blocks malicious websites and ads
Cons
Doesn't accept PayPal
No split-tunneling feature (Only for Android)
---
NordVPN Review
NordVPN is a virtual private network service that came about in 2012. It currently has more than 12 million users worldwide and is one of the most renown VPN services on the market. Is that just good marketing or do they actually provide a quality service? We've decided to give it a go and provide all of our findings in this NordVPN review. Check it out below!
---
Jump to:
Pricing & Subscription Plans
Who is it for?
Ease of Use
Speed & Server Locations
Security & Privacy
Streaming
Online Support
Additional Features
Conclusion
---
Pricing & Subscription Plans
NordVPN offers a variety of plans that aren't that different from each other apart from the time commitment and the way you pay for them. There are of course the team plans but that's another story. When it comes to their personal plans it's clear you can save a ton of money by going for the 1, 2 or 3 years of commitment and paying upfront. But like I mentioned, it's a commitment and one must know if they like the service before going for it. That's why I think it's great that they implemented the 30-day refund policy, no matter what the reason is. Well, that's not an option for some either which is why we decided to have a look at NordVPN, test it thoroughly and let you know what we think about it. There's no free trial with NordVPN. A total of 6 devices can be connected to NordVPN with the same account which is more than enough for the regular user. There's one limitation here though, if you connect the devices to the same server you must choose different protocols for the VPN connections. In translation, this means that you can connect up to 4 devices to the same server, using IKEv2, OpenVPN TCP, OpenVPN UDP, and NordLynx protocols.
They accept various payment options such as credit cards (Visa, MasterCard, AmericanExpress and Discover), crypto-currencies, AliPay, WeChat and more. PayPal is not supported though. NordVPN can also be bought in stores such as Amazon, Best Buy, Target, and others where you can pay in cash.
It's also possible to get a dedicated IP address for $5.83 per month.
---
---
If the device count limits you though then feel free to go for one of their team plans which have a slightly different set of rules. The below prices are meant for monthly prices, if you go for yearly payments instead you get an 22% or 18% discount, depending on which plan you choose. Going for the Enterprise plan will mean discounts per volume, use your negotiating skills to get a decent price there :).
---
---
Who is it for?
NordVPN is a great tool for increasing your privacy and security online by hiding your real IP address, protecting you from ads and malicious websites and allowing you access to websites that have been restricted due to your position on the world map. It provides their clients across multiple platforms which makes it a versatile and useful tool. I've been using it for the past few months and have no complaints so far.
---
Ease of Use
The registration procedure with NordVPN is quite simple. I just needed to pick which plan I want and that brought me to the payment screen where I entered my e-mail address and the payment method. The rest of the procedure depends on the payment method, I went with a credit card and that seemed to work just fine. Before I knew it, I was inside my account dashboard.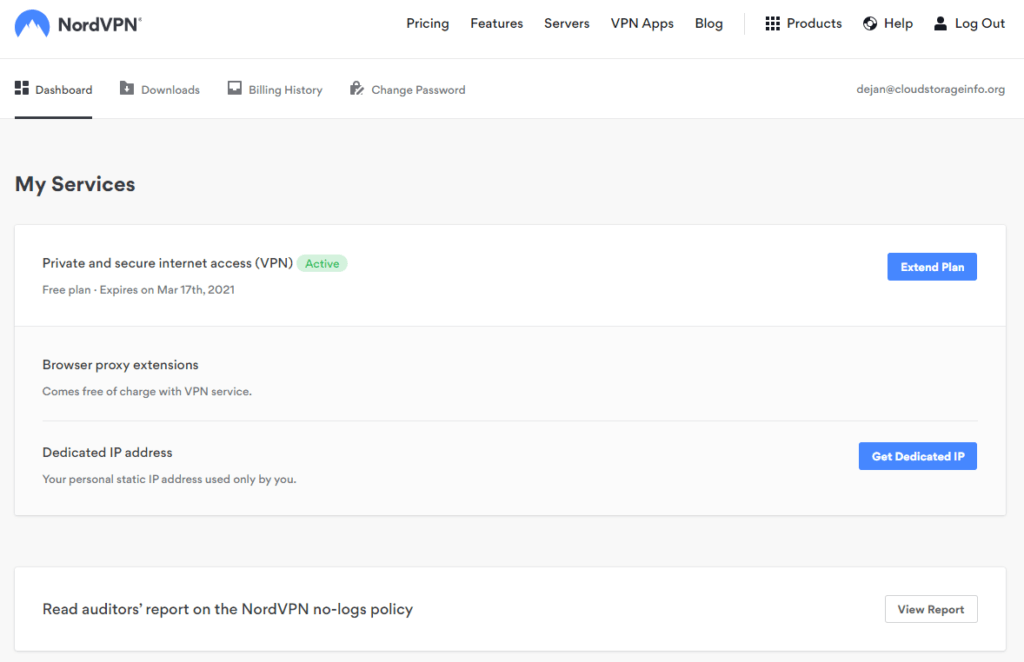 NordVPN is available on a whole array of devices which includes Windows, Android, macOS, iOS, Android TV and Linux. They also offer 2 browser extensions for both Chrome and Firefox.
Installing the NordVPN client on Windows went on without problems. Once I logged in I was greeted with a world map explaining all the available server locations. By going to the General settings I was able to set the way the application behaves on Windows startup and whether it should block ads and malicious websites.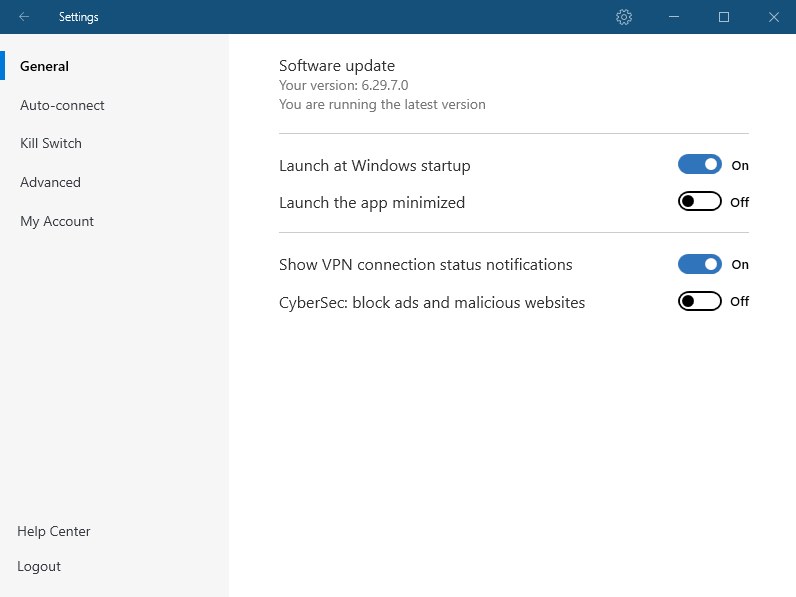 There's also the Auto-connect menu option which allows you to tweak the below options. If you decide to enable these options, the VPN will automatically connect to the optimal server when the app is launched. It's also possible to add a list of trusted Wi-Fi networks which is useful if you want it to turn on public networks only.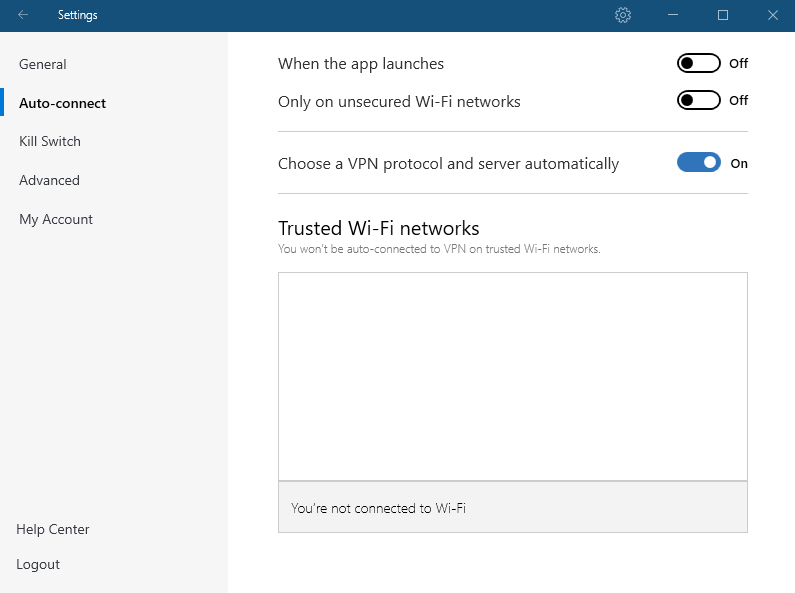 ---
Speed & Server Locations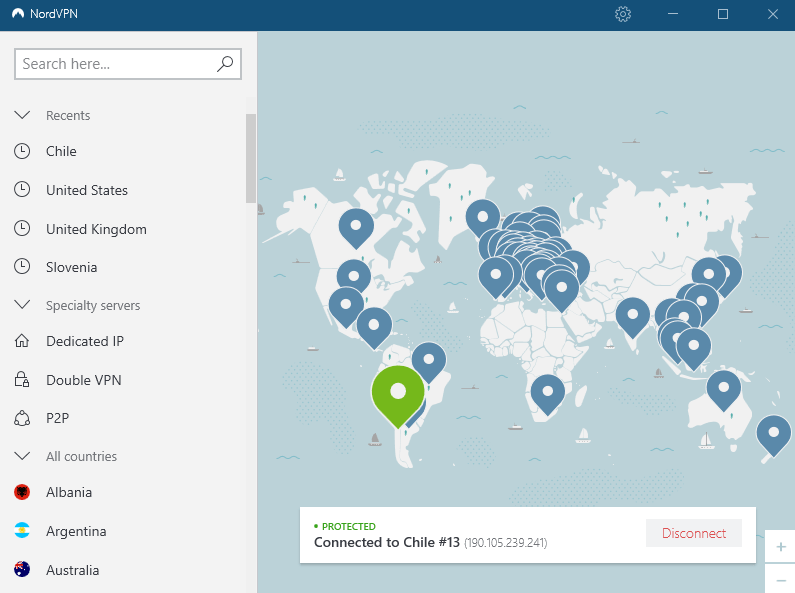 NordVPN had 5845 servers across 59 countries at the time of this review. There were 2386 servers in America, 2675 servers in Europe, 658 servers in Asia Pacific and 125 servers in Africa, the Middle East and India.
We decided to give NordVPN a test and see how it will respond when it comes to internet speeds all across the world. We've first conducted a speed test without NordVPN in Slovenia and then proceeded to use their client to connect to servers all across the world and tested for speeds.
Speed Test (VPN Protocol and Server assigned automatically)
| Server location | Ping [ms] | Download [Mbps] | Upload [Mbps] |
| --- | --- | --- | --- |
| No VPN (Slovenia) | 6 | 192.13 | 5.87 |
| Slovenia | 89 | 122.05 | 5.64 |
| United Kingdom | 36 | 140.40 | 5.62 |
| United States | 100 | 107.92 | 5.40 |
| Australia | 281 | 119.53 | 4.68 |
| India | 164 | 69.00 | 1.78 |
| South Africa | 193 | 158.20 | 5.67 |
| Brazil | 225 | 141.80 | 5.69 |
| Average | 136.75 | 131.38 | 5.04 |
Speed Test (OpenVPN UDP Protocol & Automatic Server)
| Server location | Ping [ms] | Download [Mbps] | Upload [Mbps] |
| --- | --- | --- | --- |
| No VPN (Slovenia) | 8 | 188.59 | 5.88 |
| Slovenia | 9 | 130.89 | 5.64 |
| United Kingdom | 38 | 139.90 | 5.54 |
| United States | 104 | 131.72 | 4.03 |
| Australia | 273 | 44.33 | 2.46 |
| India | 154 | 71.62 | 1.05 |
| South Africa | 193 | 142.30 | 5.05 |
| Brazil | 236 | 125.42 | 2.73 |
| Average | 126.9 | 121.85 | 4.05 |
Speed Test (NordLynx Protocol & Automatic Server)
| Server location | Ping [ms] | Download [Mbps] | Upload [Mbps] |
| --- | --- | --- | --- |
| No VPN (Slovenia) | 8 | 188.59 | 5.88 |
| Slovenia | 8 | 134.72 | 5.62 |
| United Kingdom | 36 | 117.76 | 5.69 |
| United States | 101 | 111.07 | 5.58 |
| Australia | 301 | 122.21 | 1.98 |
| India | 152 | 59.97 | 1.46 |
| South Africa | 193 | 143.41 | 5.62 |
| Brazil | 209 | 134.77 | 3.40 |
| Average | 126 | 126.56 | 4.40 |
After trying various locations all around the world I have to say I am pretty satisfied. Some locations clearly have a somewhat poor result when it comes to both ping and speeds but others work great. The average upload speed is damn close to the one my provider offers and that's great. The average download speed, on the other hand, had a noticeable decrease but it's still very good. Connecting to the UK or South Africa, for example, would result in a seamless experience for me and wouldn't hinder any of the work I do.
Using different protocols (Automatic, OpenVPN UDP, NordLynx) has also brought in interesting results. If we just look at the average numbers, it seems that "Automatic" way of handling has the best download/upload speeds but the worst ping. "NordLynx" protocol has been better than OpenVPN UDP on every step – ping, download & upload speeds. It's my recommendation to either use the "Automatic" system or go with "NordLynx" for the best results.
NordVPN has no bandwidth limits. You can also switch between servers without any limits.
---
Security & Privacy
As soon as you connect to one of the servers provided by NordVPN, your true IP address gets hidden and replaced by a new IP address and new DNS resolvers. It's also possible to request for a dedicated IP address, a price for which is shown "Pricing & Subscription Plans" above.
NordVPN uses OpenVPN, IKEv2/IPSec, and NordLynx protocols for desktop & mobile clients and TLS v1.2 for the browser extensions.
OpenVPN connection uses AES-256-GCM encryption algorithm with a 2048-bit DH key. IKEv2/IPSec cyphers used to generate Phase1 keys are AES-256-GCM for encryption, coupled with SHA2-384 to ensure integrity, combined with PFS (Perfect Forward Secrecy) using 3072-bit Diffie Hellmann keys.
NordVPN also implements a no-logs policy which means that they don't record or log any of the activities we perform online which is a must with any VPN provider. That is reflected in their privacy policy as well. They do not store connection time stamps, session information, used bandwidth, traffic logs, IP addresses or other data. Everything that is provided to them is your e-mail address and the payment details. They can use your e-mail address for marketing purposes if you've given the consent to do so.
NordVPN has been hacked back in 2018 or rather one of the data centers. The hacker used an insecure remote management system left by the data center provider. NordVPN claims that no user data was ever stored on that server. Bottom line, it seems that no users privacy was affected but the question remains if NordVPN handled this issue correctly by being quiet about it for so long. They claim they have done that to ensure all security measures are in place to prevent this from happening in the future but it's clear that TechCrunch forced their hand into admitting there was a breach.
---
Streaming
Being able to stream various services while using VPN is very important. Imagine opening up YouTube, playing a video and ending up with an endless buffering screen – it's a deal breaker.
I used NordVPN to automatically connect to the nearest server which just happened to be in Croatia. Doing the speed test I ended up with very low ping and semi-decent download speed. I then tried watching something on YouTube and that worked seamlessly. Then I also tried connecting to my Netflix account. I got in without any issues and played a movie. After the initial buffering which lasted a bit longer than I would have liked (20seconds), the movie started playing in top quality and there was no more buffering for the duration of the movie.
If you run into any issues here then I suggest manually picking a different server that's close to you or that has a decent ping and speeds when you test it out. That way you'll watch Netflix and other streaming services with no issues. NordVPN also supports other services such as Hulu, Amazon Prime, BBC, Sky Go, Disney Plus, DAZN,…
---
Online Support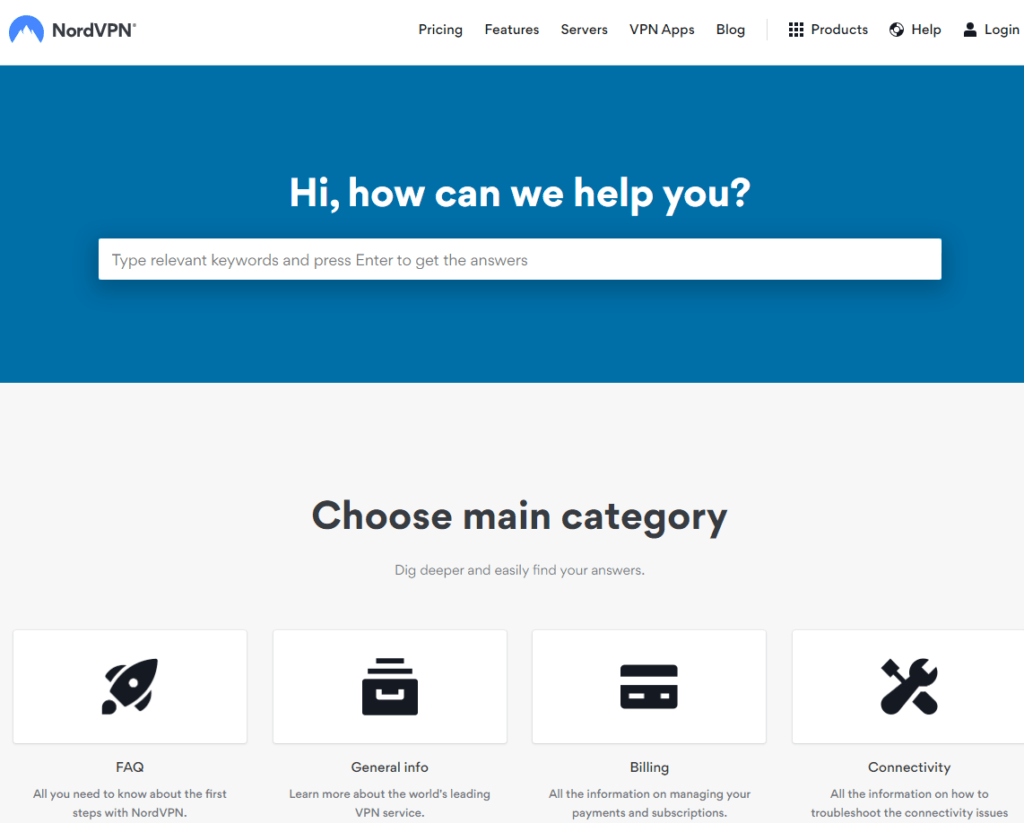 NordVPN provides an array of helping options if that's what you need. There's the FAQ base that contains answers to frequent questions. The important bit is that it also contains various tutorials and guides on how to set up their VPN with certain services such as Netflix,… The base also contains explanations on topics such as Onion over VPN, Peer-to-Peer (P2P) traffic… and as such doesn't only provide information on how to use NordVPN but also explains the terminology in detail. Quite a useful thing to read, even if you're not using NordVPN.
NordVPN also provides a 24/7 live chat support. If the bot doesn't answer your questions simply ask for a live person. I got into contact with a live agent pretty much instantly and asked him a couple of questions connected with their service to which I received a satisfactory response. There's also the option to contact them via e-mail but they don't offer phone call support.
---
Additional Features
---
Kill Switch
NordVPN has an integrated kill switch. What is that? It automatically shuts down your internet access if you're not connected to one of the NordVPN servers. It's a great feature for staying on the safe side and never revealing your true IP address.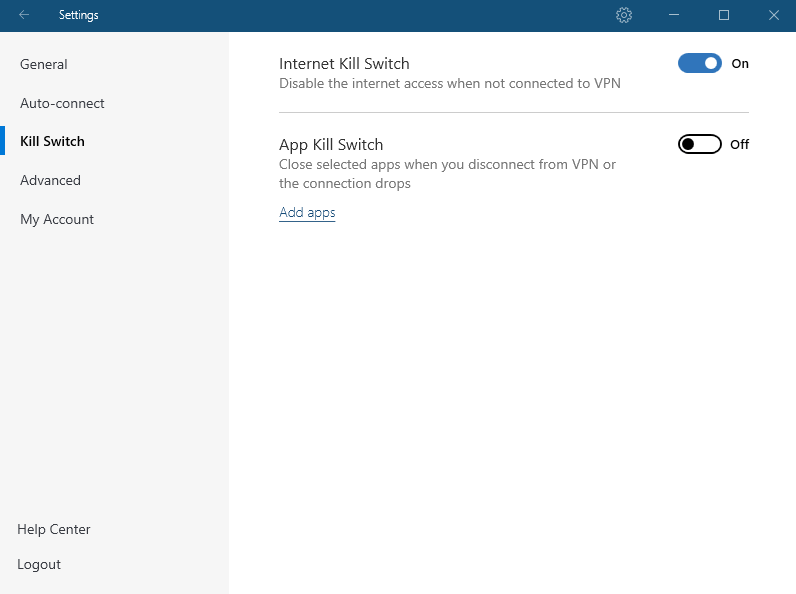 After I turned it on and not being connected to the NordVPN servers, I immedietely lost access to internet. Connecting to one of their servers then allowed me to browse the web again, knowing that my IP address was never disclosed. A very neat and important feature.
---
Double VPN
Double VPN is also available but not for all the countries. It's there for all the larger countries such as US, Canada, UK, Germany, France, Netherlands, Sweden, Switzerland and Taiwan. What does it do and how does it work? It's pretty straightforward – the internet connection first goes to the NordVPN servers in one country, then moves to another country and only after that to the web. It means double encryption and an extra layer of security.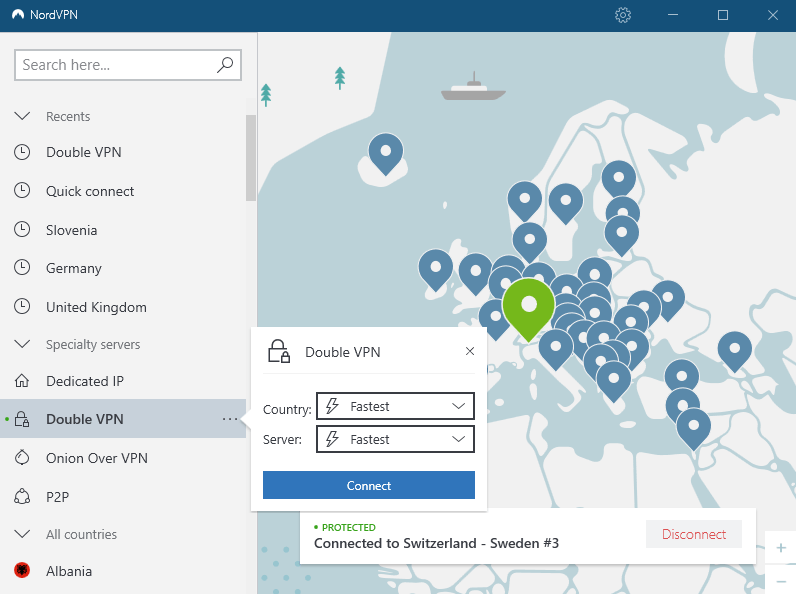 It's simple to use with NordVPN. You can either let it choose the best server for you automatically based on speed or you can set it manually, either works. I did get a slower download speed using this method though but that's to be expected.
---
P2P Servers
P2P or Peer-to-Peer servers enable direct connections between peers and as such provide support for P2P software. In translation, you can use Torrent,… and other software with it.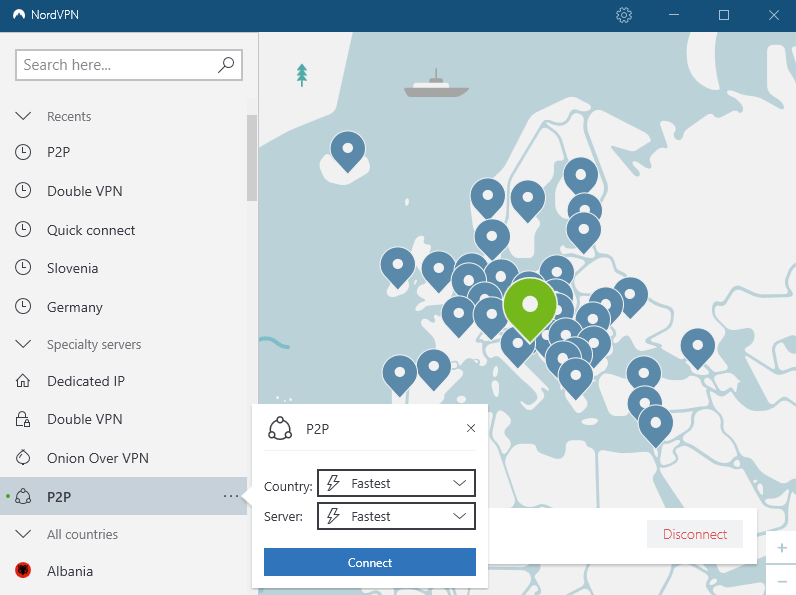 NordVPN provides an array of P2P servers all across the globe, from UK, Germany, US, Ireland, Israel,… practically in all the available countries. Connecting to them works in the same way as for the double VPN servers.
---
Obfuscated Servers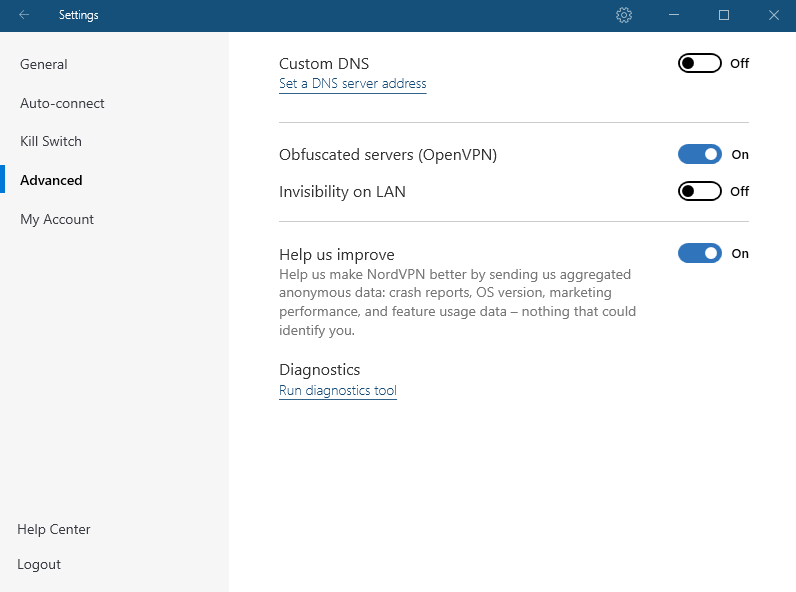 Obfuscated servers support connection to NordVPN servers from countries that have restricted internet access. First, enable them under the Advanced options as shown above and then connect to them in a similar fashion as you would for the Double VPN. They're available in the US, UK, Germany, France, Netherlands, Sweden, Switzerland, Italy, Singapore, Hong Kong, Japan, Turkey and the United Arab Emirates.
---
Onion Over VPN
Onion over VPN is what you should be using if privacy is your main concern. It acts as a replacement for the Tor browser which is a free and open-source software for enabling anonymous communication. In addition to what the Tor browser does, it also encrypts your connection and hides your real IP address.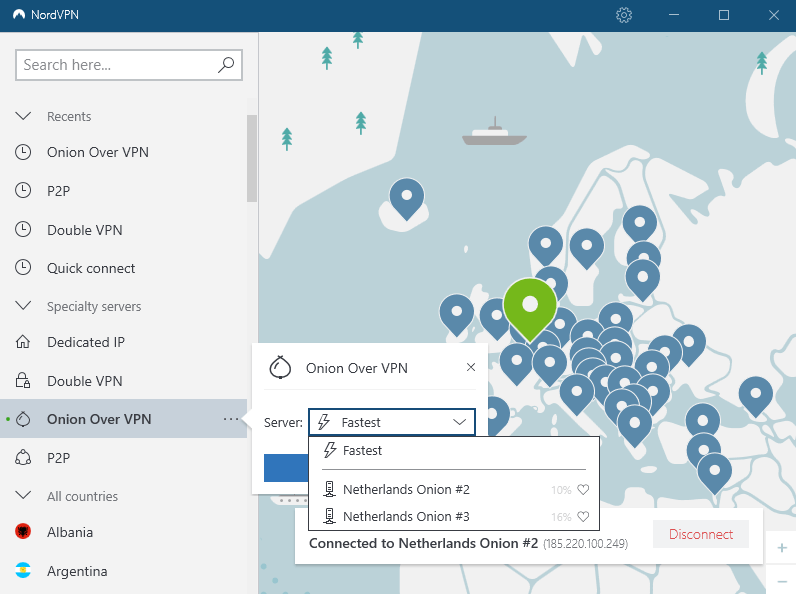 Connecting to the Onion servers shields you from all third-parties and doesn't track any of your online activities. NordVPN provides 2 Onion Over VPN servers based in the Netherlands.
---
CyberSec
CyberSec comes with the NordVPN. By enabling it in the general settings it will block ads and malicious websites and can act as a great tool for increased security and privacy on the web.
---
Mobile application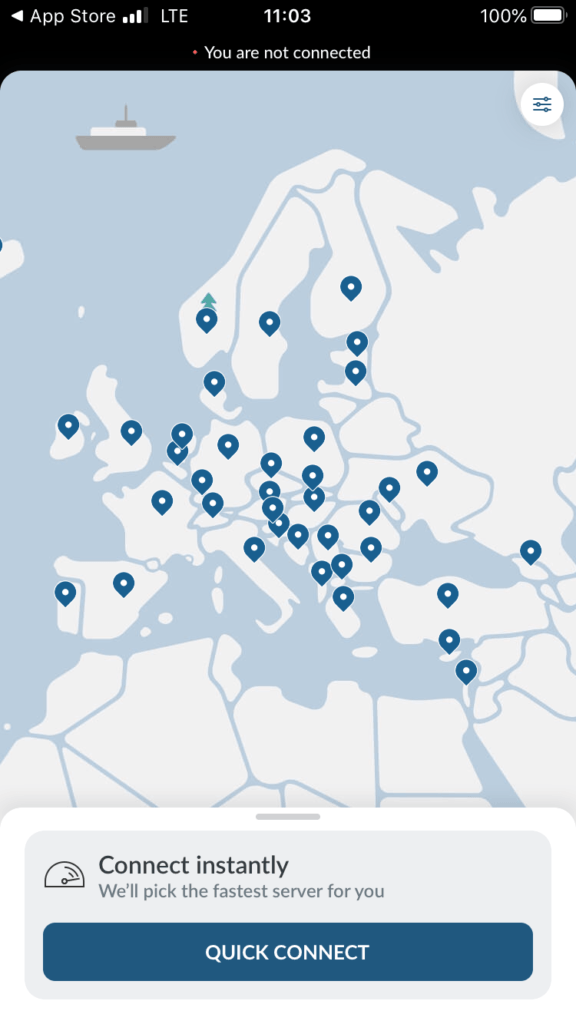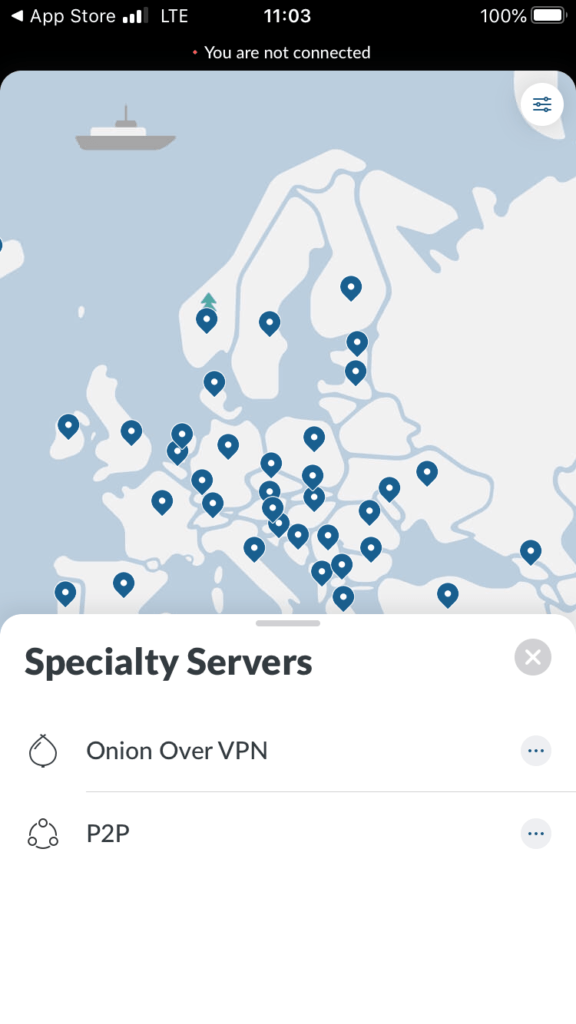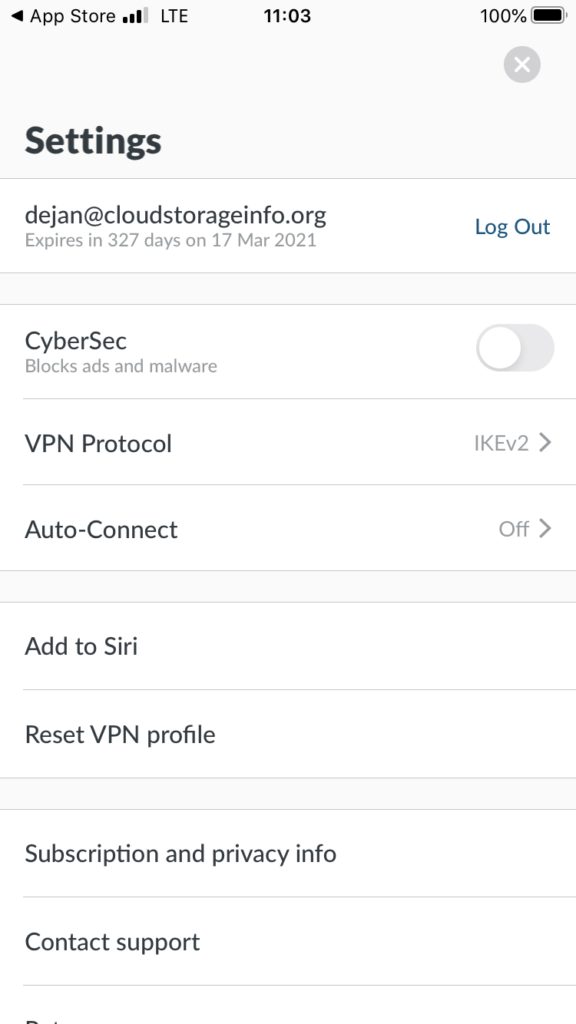 NordVPN provides the mobile application both on Android and iOS phones. It enables you to connect to their servers and browse the web safely even when on public Wi-Fi networks. It has the advanced features that the desktop app has, CyberSec, ability to choose different VPN protocols, auto-connection and more. It worked like a charm in my case when I tried to connect to a German server using the NordVPN app. No complaints.
---
Other Features
By enabling the "Invisibility on LAN" feature I was able to hide from other users in the local network.
Unfortunately, they don't provide the split tunnelling feature on desktops that would enable me to exclude certain apps from using their NordVPN servers. The feature is currently available on Android devices only.
NordVPN also has DNS leak protection and IPv6 leak protection but advises to use browser plugins for WebRTC leaks.
---
Conclusion
NordVPN came through in my opinion. It's easy to use, available on multiple platforms and does the job well. It covers the whole world with 59 available countries, it responded well to our speed test, it offers complete privacy and security and we were able to stream Netflix with it. The live chat support is a great feature for quick questions and we liked the kill switch and all the variants of available servers. The CyberSec is also a nice extra touch. All-in-all a great service though I would recommend going for one of the yearly plans since it can get quite expensive with the monthly price.
---
---
I hope I answered all your questions within this NordVPN Review. If you have any more questions, feel free to ask them in the comments section down below!