mySteganos Online Shield VPN Review
mySteganos Online Shield VPN
$7.99/month
Pricing & Subscription Plans
9.0/10
Speed & Server Locations
8.0/10
Security & Privacy
9.0/10
Additional Features
9.3/10
Pros
Supports OpenVPN and IKEV2 VPN tunneling protocols
256-bit AES data encryption
Zero-logging policy & German Federal Data Protection Act compliant
Access Netflix US, Hulu, Amazon Prime Video & BBC iPlayer
Has internet kill switch
Has Block Ads Feature & Prevent Tracking Feature
Has Automatically Erase Cookies Feature
Has Anonymize Browser Type Feature
Has free trial, money-back guarantee and affordable subscription plans
Cons
Limited server locations
Online support is quite limited
No split tunneling option
---
mySteganos Online Shield VPN Review
The mySteganos Online Shield VPN is one of the core products offered by a business organization called Steganos Software GmbH. The company behind the virtual private network solution has been in the cybersecurity industry since 1996. Since then, Steganos Software GmbH has come up with 5 different products including mySteganos Online Shield VPN. The business organization has been founded by Fabian Hansmann and Gabriel Yoran. Currently speaking, Joachim Heng serves as the managing director for the company. Steganos Software GmbH has an office located in Storkower Str. 158, 10407 Berlin, Germany. Read the full mySteganos Online Shield VPN Review to learn more.
---
Jump to:
Pricing & Subscription Plans
Who is it for?
Ease of Use
Speed & Server Locations
Security & Privacy
Streaming
Online Support
Additional Features
Conclusion
---
Pricing & Subscription Plans
I found out that the virtual private network provider has 3 types of subscription plans. These include monthly, semi-annually, and yearly paid subscription plans. All of the subscription plans are equipped with a money-back guarantee for 30 days. On top of that, this best VPN service provider allows 5 simultaneous connections. I also learned that there is a free trial option for 7 days. There is no need to enter credit card details when availing of the free trial option.
---
---
I can pay for my subscription plans through Paypal, Wire Transfer, and credit cards (Visa, MasterCard, American Express, and JCB. Check the price table I created below to know more.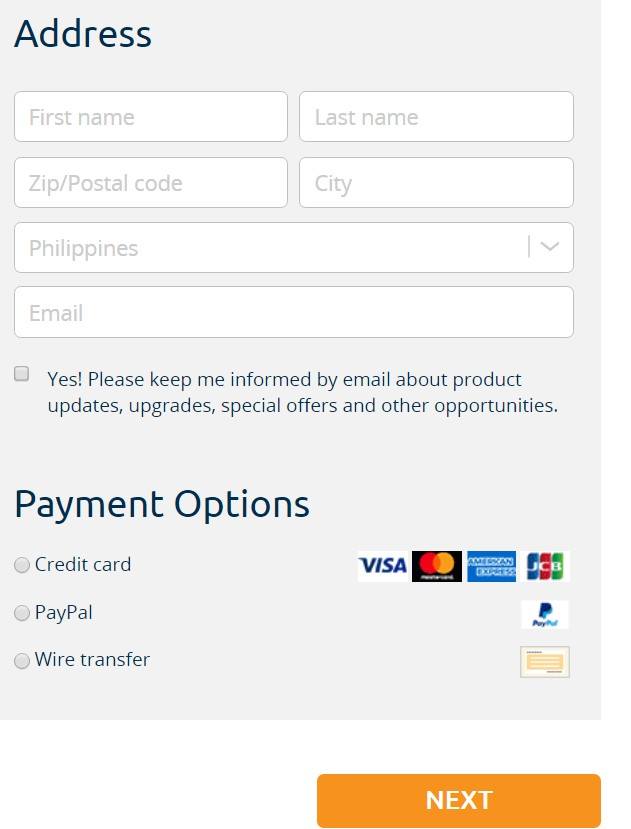 ---
Who is it for?
The mySteganos Online Shield VPN is a virtual private network platform for people who trust expertise and experience in delivering cybersecurity and internet privacy solutions. The VPN provider can easily prove its capabilities since it has been offering various services for 24 years already. The mySteganos Online Shield VPN is also designed for people who want to prevent eavesdropping and man-in-the-middle attacks of hackers as well as devious data collection practices of various websites, web search engines, and by the various government agencies. It is also designed to bypass geo-restrictions, internet censorship, VPN blockers, and DPI firewalls. Virtual private networks such as mySteganos Online Shield VPN is also designed to encrypt your internet connection and allow anonymous web browsing.
---
Ease of Use
The desktop client version of mySteganos Online Shield VPN is really easy to use. All of the basic and advanced features are all in the same place. This means that the graphic user interface is easy to maneuver and operate. Switching on and switching off the VPN connection can be done by clicking the "Protect connection" option. I can also easily change the server location by clicking the flag symbol at the center-right corner of the desktop client version.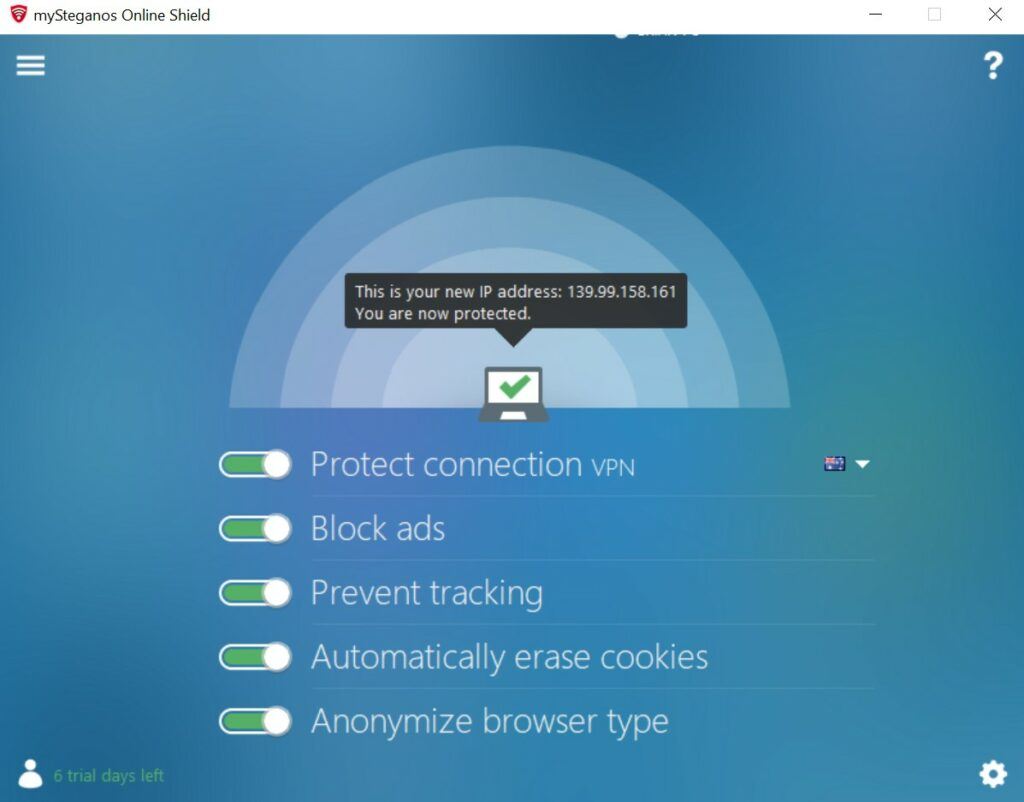 There is also a switch on and switch off button for each of the advanced features such as:
Block Ads
Prevent Tracking
Automatically Erase Cookies
Anonymize Browser Type
There are also other settings such as the following:
Language Setting (English French, German, Spanish, Portuguese)
Automatically protect internet connection
Start automatically on computer startup
AlwaysProtected Feature (Internet Kill Switch)
Exception rules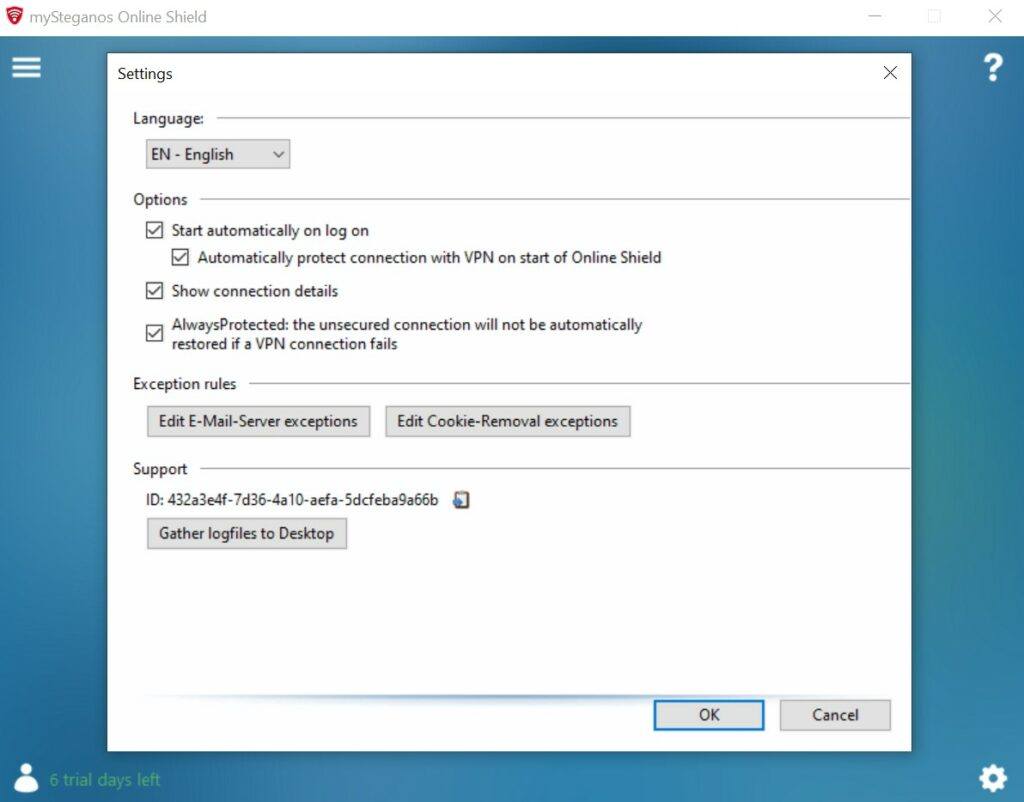 I don't need to create an account in order to access and download various desktop client version installer files. I also don't need to have an account in order to use mySteganos Online Shield VPN for the free trial version. On top of that, I discovered that I can download the desktop client version installer files intended for Windows OS and MacOS. I can also download mobile application files for Android and iOS mobile devices.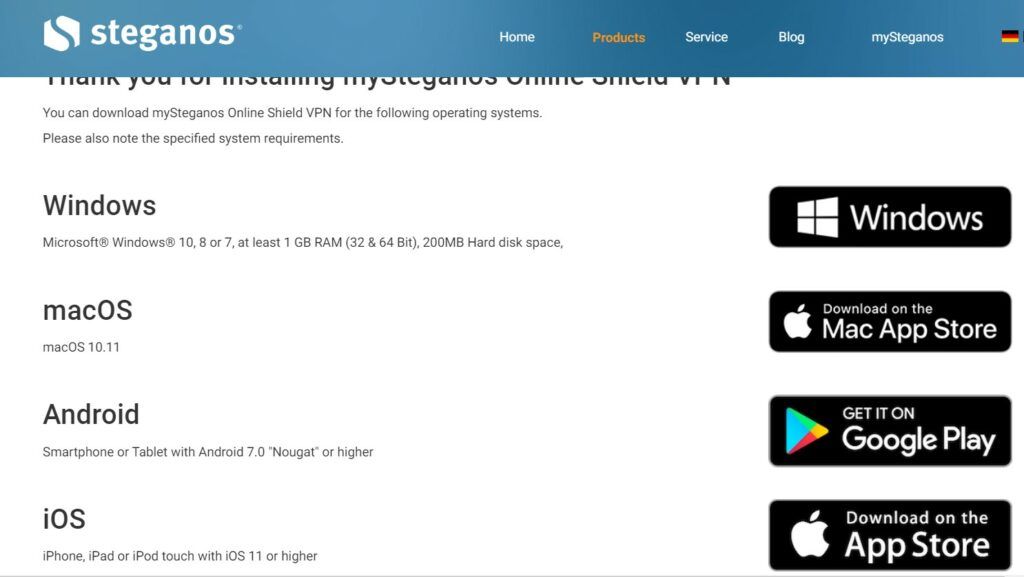 ---
Speed & Server Locations
The mySteganos Online Shield VPN is very secretive with regards to the actual number of VPN servers they've installed. However, based on what I have seen inside the desktop client version for Windows, there are 23 server locations strategically placed in various geographical regions and continents worldwide.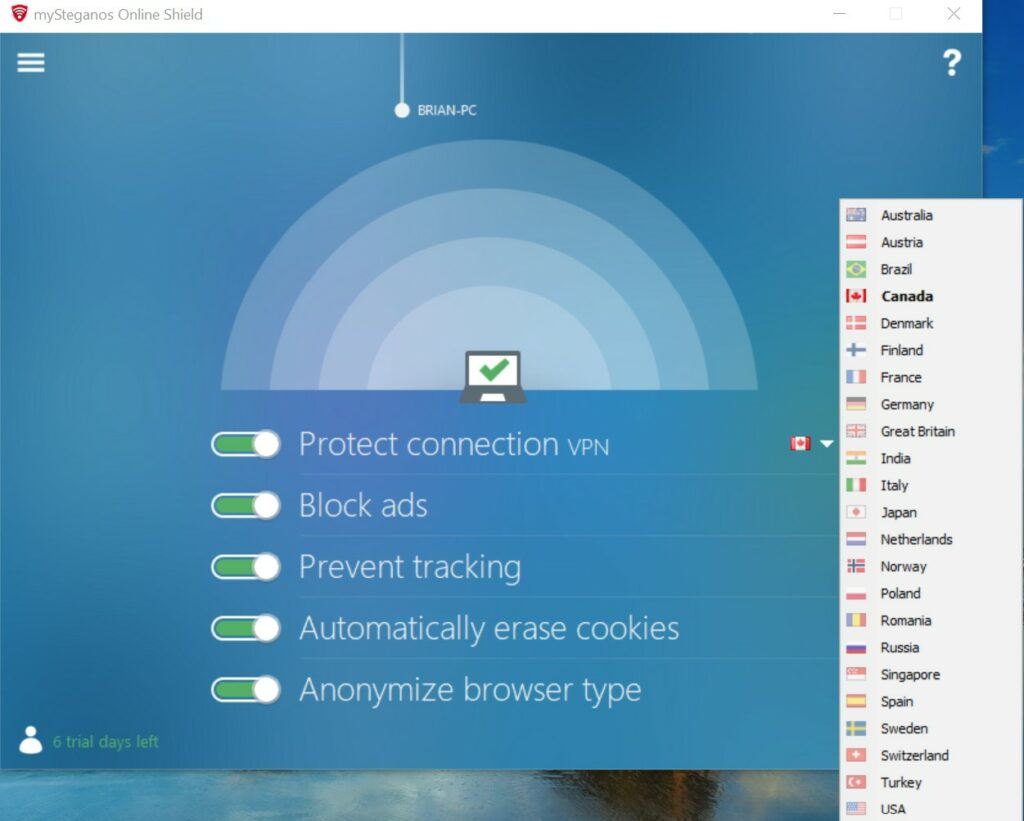 The countries where mySteganos Online Shield VPN is present include the United States of America, the United Kingdom, Australia, Canada, Russia, Switzerland, Austria, Brazil, Denmark, Finland, France, Germany, India, Italy, Japan, Netherlands, Norway, Poland, Romania, Singapore, Spain, Sweden, and Turkey. The VPN platform allows unlimited bandwidth to pass through. Check the results of the actual server speed tests I conducted below.
| | | | |
| --- | --- | --- | --- |
| Server location | Ping [ms] | Download [Mbps] | Upload [Mbps] |
| No VPN (Philippines) | 9 | 21.64 | 27.74 |
| Singapore | 297 | 21.73 | 8.43 |
| Canada | 229 | 12.79 | 25.31 |
| Australia | 191 | 18.70 | 24.41 |
| UK | 272 | 11.53 | 25.11 |
| USA | 239 | 20.72 | 24.43 |
| Russia | 302 | 6.55 | 20.03 |
| Switzerland | 301 | 10.62 | 21.44 |
| Average | 230.00 | 15.54 | 22.11 |
---
Security & Privacy
Once I switched on the VPN connection, the process of masking the original I.P. address is established. Upon checking, the VPN system changed the original I.P. address by one of the I.P addresses used by its available VPN servers. Once connected, I feel very safe because of the 256-bit AES data encryption on its OpenVPN tunneling protocol. On top of that, the IKEV2 VPN tunneling protocol is also supported. The virtual private network provider also implements a zero-logging policy which means that my original I.P. address, internet browsing activities, internet browsing histories, and I.P. addresses assigned to me when connected to the VPN are not stored and recorded. Moreover, mySteganos Online Shield VPN is fully compliant with the German Federal Data Protection Act.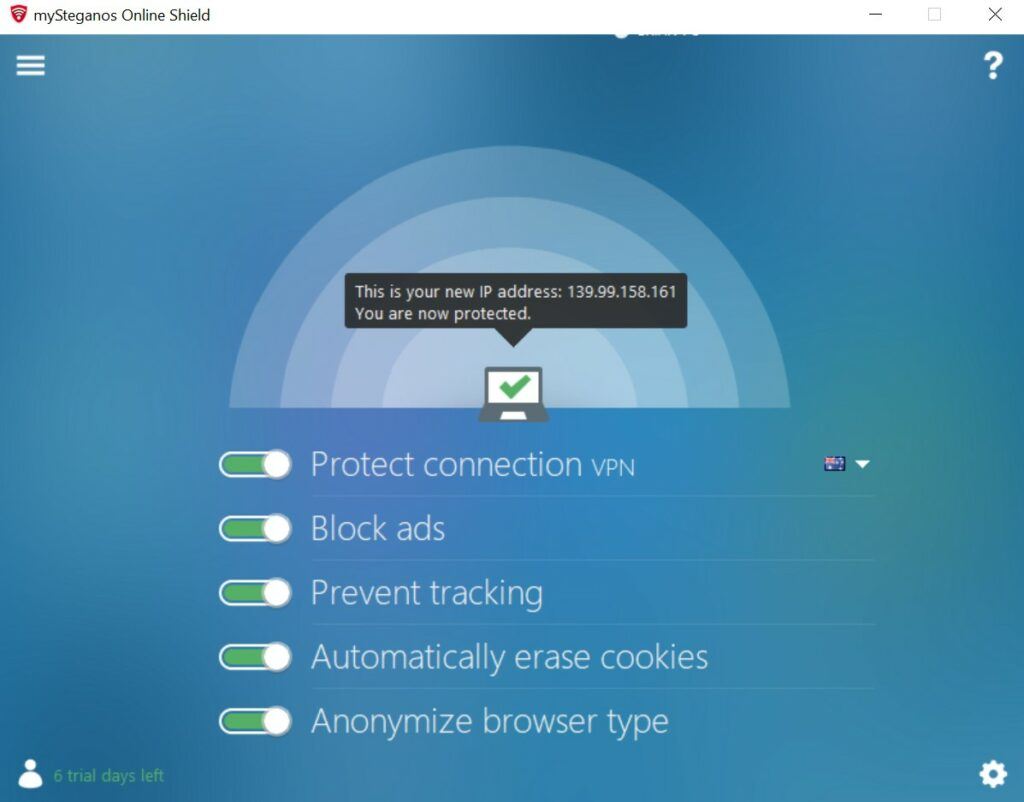 ---
Streaming
I was able to bypass geo-restrictions as well as VPN blockers and DPI firewalls placed by video streaming services such as Netflix US when I tried connecting to the USA server. In fact, I had a very wonderful and awesome video streaming experience with Netflix US. In just 4 seconds, The Netflix series episode started streaming and playing. Upon loading, the video played was already in the High Definition (HD) version. In fact, I have not experienced any video buffering. I also never encountered any sort of technical difficulty at all. Everything went seamless and very effortless. I do believe that the US VPN server for video streaming of the VPN provider is quite fast and efficient. I can also play any video I want from various video streaming services such as Netflix US, Hulu, Amazon Prime Video, and BBC iPlayer while connected to mySteganos Online Shield VPN. This proves that mySteganos Shield VPN is indeed the best VPN for streaming videos online.
---
Online Support
Online customer support for mySteganos Online Shield VPN is quite limited. It has user manuals and answers to frequently asked questions (FAQs) but the information provided is somehow limited. I can't also find a ticket support system and a live chat support system. Luckily, I can contact a customer service representative via e-mail by sending a message to support@steganos.com or to privacy@steganos.com.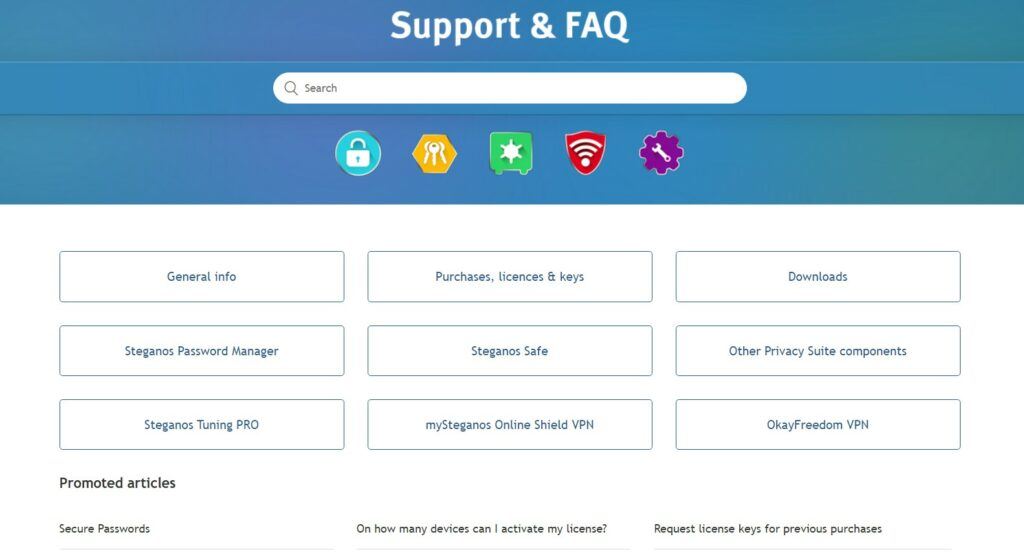 ---
Additional Features
I found out that the system of mySteganos Online Shield VPN has advanced features such as the block ads feature, prevent tracking feature, automatically erase cookies feature, anonymize browser type feature, AlwaysProtected feature, and mobile applications for Android & iOS.
---
AlwaysProtected Feature
This particular feature is the counterpart of an internet kill switch program. If my VPN connection fails, suddenly drops, or unexpectedly drops, the internet kill switch program overrides my internet connection. This means that my Wi-Fi or Ethernet connection disconnects as well so that I can't access the internet in an unsecured manner. The internet kill switch feature (AlwaysProtected Feature) works well based on my experience.
---
Block Ads Feature
Once I switch on the Block Ads Feature, all the malicious ads that pop up while browsing the internet will be automatically blocked by the VPN system. In this manner, you will not be enticed to click on ads that might compromise your data privacy and internet security. Based on my experience, activating this feature also allows visited websites to load faster and become more readable.
---
Prevent Tracking Feature
Once I switch on the Prevent Tracking Feature, all of the data trackers and data collection tools, and all forms of data analytics codes of websites and other search engines are automatically blocked as well. In this way, they will be a hard time tracking down my internet browsing habits, location, as well as shopping preferences and other user preferences.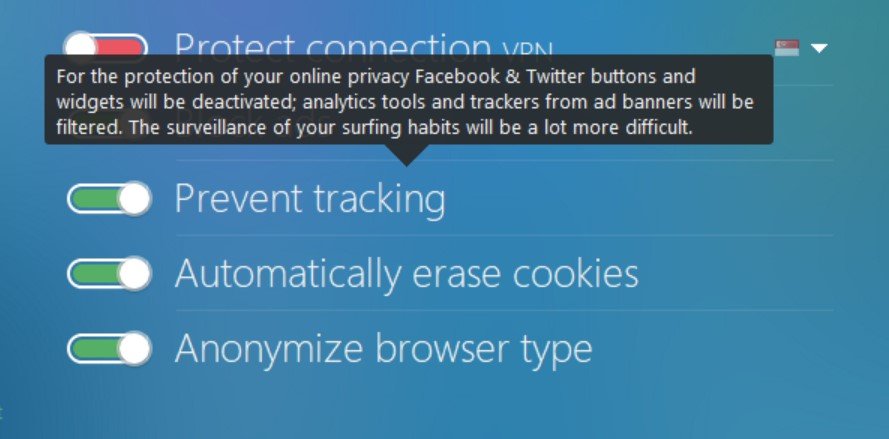 ---
Automatically Erase Cookies Feature
Once I switch on this feature, all of the internet cookies stored on the computer by the web browser used will automatically be deleted after quitting the web browser itself. This means that no internet cookie will be stored for a long time on my computer. This prevents other people and other websites and search engines to document my internet surfing habits and consumer behavior. On top of that, this feature automatically logs me out in any account that I've signed in while browsing the internet. Once the web browser is shut off, the logging out of accounts will be automatically triggered.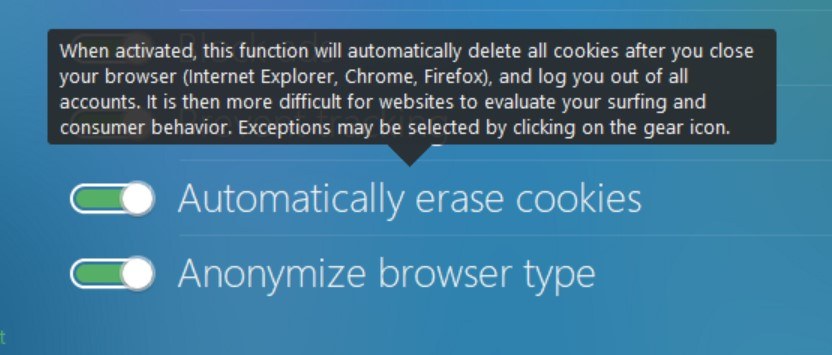 ---
Anonymize Browser Type Feature
Once I switch on this feature, the VPN system automatically replaces the records of my web browser type and web browser version, as well as records of my local computer's operating system, and language used. It feeds false information to websites that might be tracking my online activities.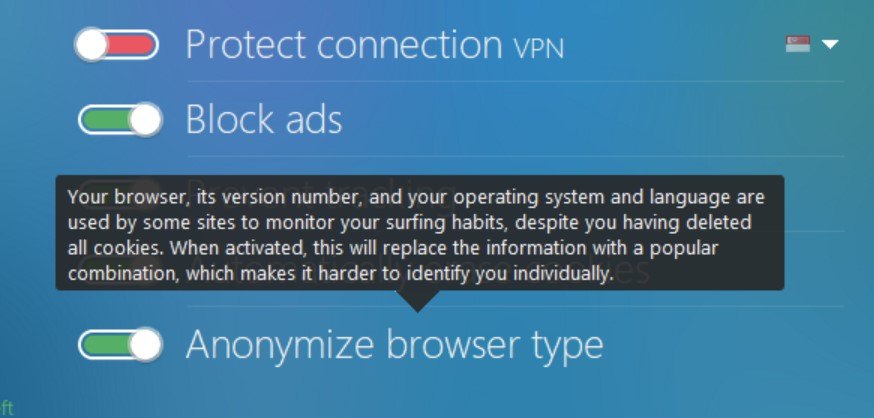 ---
Mobile Applications
I can download mobile applications for my mobile devices running on Android and iOS. I'm assured that I'm secured even when connecting my phone to public W-Fi to have access to the internet.
---
Conclusion
I can encrypt my internet connection and protect my internet privacy though anonymous web browsing by using mySteganos Online Shield VPN. I can spoof my location as well by using fake I.P. addresses used by the VPN. It hides my real location by doing so. On top of that, the VPN platform is easy to use, operate, and maneuver. The graphic user interface of the desktop client version is also very good. Server speed tests also revealed that servers are quite fast and efficient. The number of VPN servers, however, might be limited. But in any case, I'm satisfied with regards to the server speeds. I can also bypass geo-restrictions and VPN blockers placed by video streaming services such as Netflix US, Hulu, Amazon Prime Video, and BBC iPlayer. There are also lots of advanced features the VPN platform has to offer. It is also secured with the 256-bit AES encryption. However, the online support system is quite limited. But the good news is that the subscription plans of mySteganos Online Shield VPN are affordable and comparable to other VPN subscriptions. In fact, the annual subscription plan is a very enticing offer. I advise that you try the VPN service yourself as it is a really good one.
---
I hope I answered all your questions within this mySteganos Online Shield VPN Review. If you have any more questions, feel free to ask them in the comments section down below!