How Sync.com Can Help You Send Files To Your Clients Securely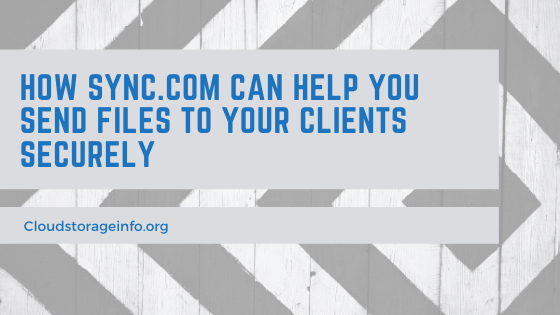 Sending Files to Your Clients
Working in any industry nowadays comes in with quite a few challenges, some of them are industry-specific but we can pretty much say that almost every job involves handling with certain documents and files, some more than others. More often than not we need to send files to our clients across the web. USBs and external hard drives are a thing of the past – they're cumbersome and require an actual physical transfer. Sending the files over the web instead is much faster and quicker.
But the web can be a tricky place. Even companies that deal with data transfer experienced various security breaches over the years. How should one then transfer files securely and with ease? Certainly not via e-mail.
---
E-mail Issues

Security & Privacy
While the popular e-mail providers usually take care of the security of your e-mails and attachments it's a whole different story with privacy. Gmail, for example, encrypts files in transfers using TLS and protects them at-rest with 128-bit encryption.
While this provides sufficient protection against hackers there's nothing stopping Google from reading your e-mails. And they have been caught doing just that. Since then they have stopped manually reading them and employed AI bots to scan over our e-mails and attachments. Shortly after they also gave their partners full access to users' emails. This resulted in real humans (and not bots) reading peoples' emails without their knowledge.
It's needless to say that we get no real privacy with such e-mail services unless we take extra measures such as encrypting our e-mail client-side.
---
File Size
Depending on which e-mail service you're using (Gmail, Microsoft,…) you'll be faced with a file size limit. And it doesn't seem like these services are able to keep up with the increasing file sizes. Gmail for example automatically puts a limit of 25 MB. Microsoft and their Hotmail accounts have a limit of 10 MB. It makes e-mail pretty much useless since with a single image being able to easily surpass that, not to mention other documents and file types.
You might have an in-house e-mail system at your work which allows for certain adjustments when it comes to file sizes but that requires technical knowledge of the server administrator and their willingness to increase the file size limit.
---
File Type Limits
Widely popular e-mail services also put a limit on various file types which further limits their usefulness. Hotmail for example limits all files that end with the file extension – .ade, .adp, .app, .asp, .bas, .bat, .cer, .chm, .cmd, .cnt, .cpl, .exe, .crt and more. Gmail likewise blocks all executable files or certain links for security reasons.
---
Project Management Software?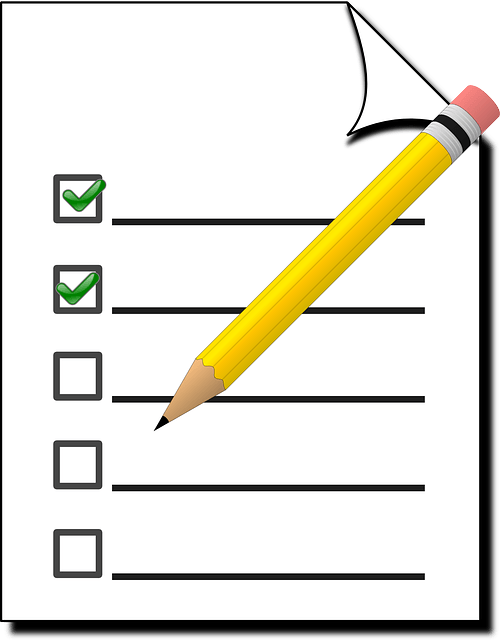 Usage of project management software is no rare occurrence within the business world. It provides the much-needed organisation both for smaller and larger companies all around the world. Certain PMS providers also allow for files to be attached alongside the tasks listed in their project and that's a neat little feature but similarly to e-mail: They often introduce a file size limit (that can be increased via their paid plans) nor do they take care of the security and privacy of these files.
---
Cloud Storage As a Solution?
Cloud storage, in general, has become more widely accessible and popular over the past 2 decades. Many cloud storage providers came by, flourished for a couple of years and then went out of business. But some formidable providers stick around and provide a quality service for an affordable investment.
Cloud storage offers a variety of advantages such as saving up local storage space, synchronising files across different computers and devices, providing security and redundancy to your files, providing a versioning and trash system and more. That "more" part includes one very big advantage – Sharing of files via many different ways.
But even cloud storage providers can be tricky – like the rest of the web. Some just don't care about your privacy or give very little into making sure that your files are stored securely – both from the physical security standpoint and the software measures taken to prevent any abuse.
Some, on the other hand, take great pride in making sure that your files are stored securely and tucked away from any eyes that would want to have a peak. End-to-end encryption is something that you should look for in a secure cloud storage. It means that nobody but you can access your files, even the cloud storage administrators don't have access to them. Sync.com is one of such providers.
---
How To Send Files With Sync.com
---
1. Create an account.
Go to Sync.com.
Choose a plan most suited for you (they have a free plan as well).
Enter your e-mail and password.
Make sure to "Enable email-based forgotten password reset" if you tend to forget your password ;).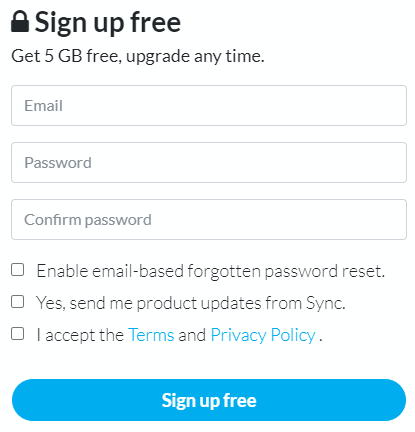 ---
2. Upload the file(s).
Find and click on the "Upload" button positioned on the right side of the user interface.
Drag or choose the files/folders you wish to share with others.
Wait for the transfer to finish and close the transfer screen.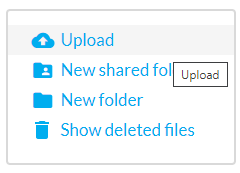 ---
3. Choose on the method of sharing files.
Sync.com has different methods of sharing files, each of them being valuable in different situations.
Share a folder via a link – Great for sharing multiple files at the same time.
Share a single file via a link – Great for sharing a single file.
Create a shared folder – Great for longer collaboration with others.
---
a) Share a folder via a link.
Sharing a folder via a link gives different levels of access to people that get the link, depending on what you want.
Click on the "Share" button next to the folder.
Click on "Share as link".
Copy the link and share it with others or click on "Link settings" for further options.
Under "Link settings" you're able to set a password, label, expiry date, upload permissions, preview permissions, email notifications and enhanced privacy (note that some of these settings aren't available in the free plan).
Enhanced privacy enables end-to-end encryption on shared links that we mentioned before. Having this option disabled is not terrible though, links are still encrypted with SSL in transit which provides the highest level of compatibility in terms of browser support. Having it enabled does present some limits though: Safari mobile, older web browsers and files larger than 500 MB are not fully supported.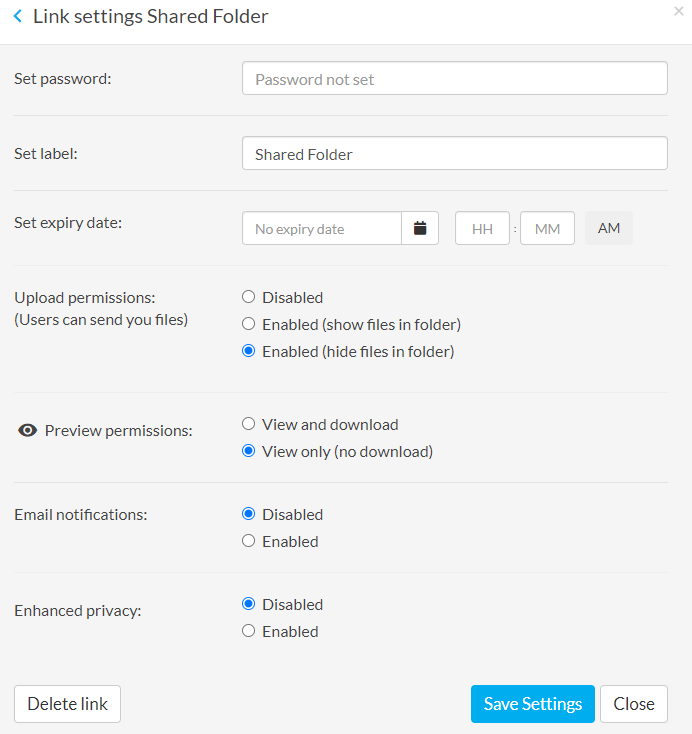 ---
b) Share a single file via a link.
In comparison with sharing a folder, sharing a single file works in pretty much the same way with some "Link settings" hidden that just wouldn't make sense here – Like the upload permissions. You can set a download limit though.
Just follow the same procedure as explained above but for a file.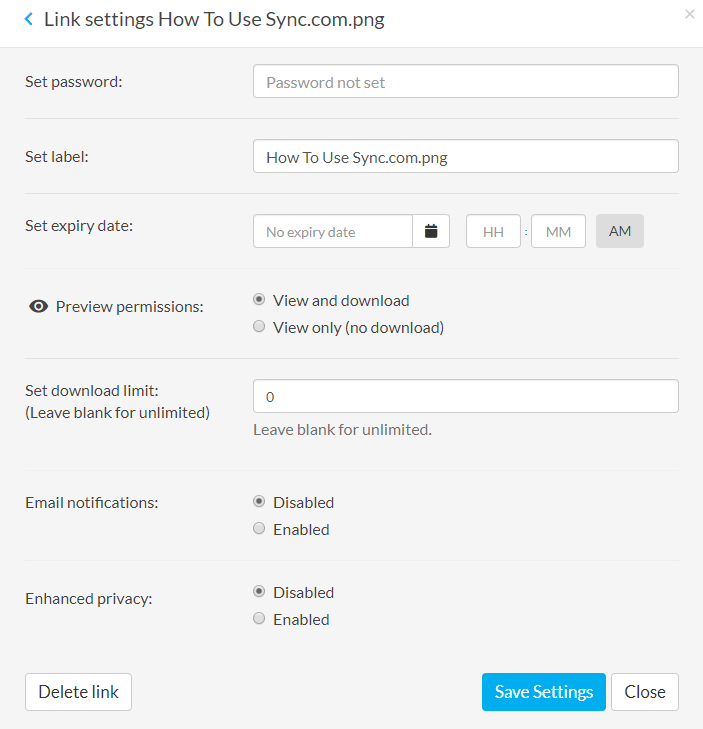 ---
c) Create a shared folder.
Creating a shared folder is great for longer collaboration with your clients and not just one-off events. Both you and the client will require a Sync.com account. Once that is established you can invite them to your shared folder and give them different levels of permissions:
Can view and edit
View only
This is especially useful for collaborating on various documents and projects where a back and forward exchange is common.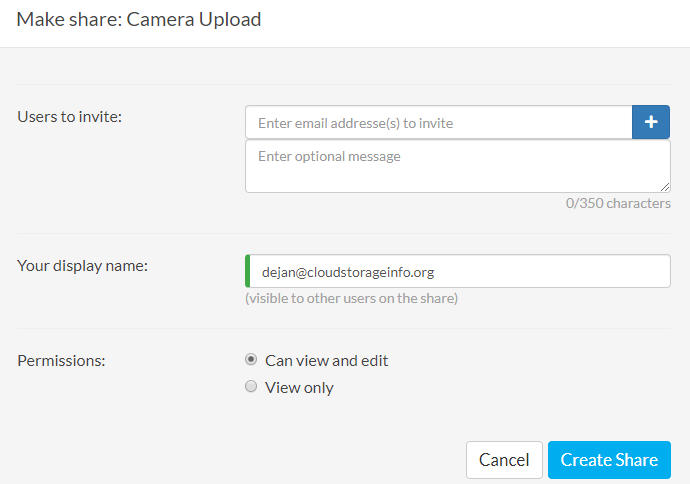 ---
Conclusion
We're a fan of cloud storage here at Cloudstorageinfo.org (if you hadn't noticed) but not all cloud storage providers are secure or private enough. Sync.com is one of those that goes above and beyond when it comes to encrypting your files while still keeping their service easy to use and functional. Save yourself the hassle of sending files via e-mail and do what we do – use cloud storage for pretty much everything!
---
What are your thoughts on our article? Which method do you use for sharing files with your clients? Let us know down below!