Pricing & Subscription Plans
7.0/10
Speed & Server Locations
6.8/10
Security & Privacy
9.2/10
Additional Features
9.0/10
Pros
Has internet kill switch & Stealth Guard
Stealth mode functionality & zero-logging policy
1,700 VPN servers in 70 server locations worldwide
Supports IKEV2, OpenVPN, SoftEtherVPN, Wireguard, and SSTP
Supports 256-bit AES, Noise protocol framework, BLAKE2, SipHash24, Curve25519, ChaCha20, HKDF, and Poly1305
Access Netflix US, BBC iPlayer, Amazon Prime Video, and HBO GO
Supports P2P, Torrent & split tunneling
Has DNS leak protection, IPV6 leak protection, and WebRTC leak protection
Has free lifetime subscription plan
Cons
Subscription prices are less affordable than competitors
---
Hide.me VPN Review
Hide.me VPN is one of the virtual private network providers created to ensure the net neutrality and internet privacy of people all over the world. As a matter of fact, this best VPN service provider is a strong supporter of internet freedom, internet privacy protection as well as digital rights and freedom. Hide.me VPN is under the corporate structure of eVenture Ltd. As of today, there are more than 20 million users of the Hide.me VPN service across the globe. The company has a business address located at Level 2, Lot 19, Lazenda Commercial Centre Phase 3, 87007 Labuan, Federal Territory of Labuan, Malaysia. Read the full Hide.me VPN review below to know more.
---
Jump to:
Pricing & Subscription Plans
Who is it for?
Ease of Use
Speed & Server Locations
Security & Privacy
Streaming
Online Support
Additional Features
Conclusion
---
Pricing & Subscription Plans
I found out that Hide.me VPN has a very surprising offer for all of us. In fact, the VPN service provider is generous enough to offer a free lifetime subscription plan which allows 10 GB of internet traffic per month to pass through. It also gives me access to 5 different VPN server locations as well. However, the free subscription plan can only accommodate 1 connection at once.
It may sound very limited that's why Hide.me VPN has paid premium subscription plans too that are being offered monthly, semi-annually, yearly, and every 2 years. The good thing here is that the premium subscription plans allow 10 simultaneous connections and full access to 1,700 VPN servers in 70 server locations worldwide. It also does not limit the amount of internet traffic that passes through. Check the price table I created below for more details.
---
---
I can ask for a refund if there is a problem since all of the premium subscription plans has a money-back guarantee for 30 days. I can also pay for my subscription plans through credit cards, cryptocurrencies PayPal, SEPA, SOFORT, and Wire Transfer.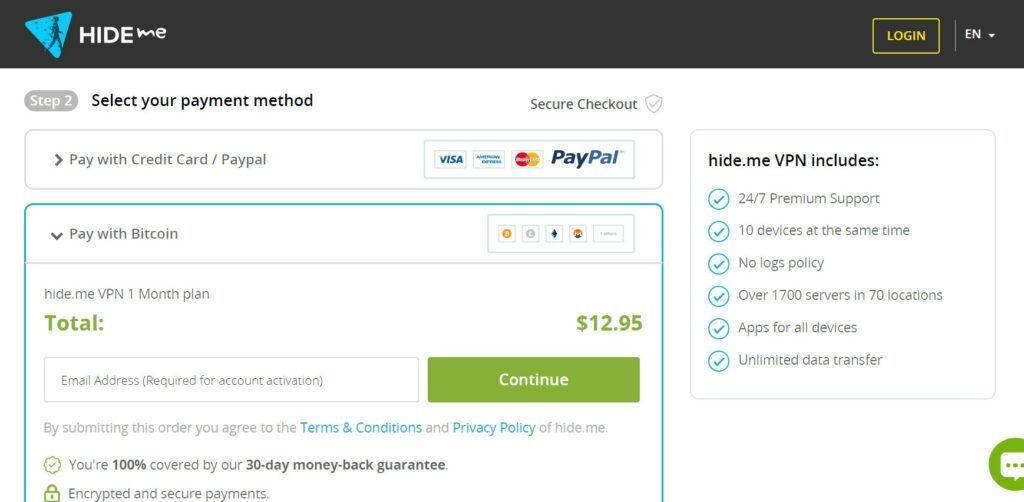 ---
Who is it for?
Hide.me is a great free VPN solution. Requiring more bandwidth & locations will cost you extra but at least you'll know that you're hidden on the web via a different IP and other security measures.
---
Ease of Use
It is really easy to use the desktop client version of the VPN platform. I downloaded and tested the Windows OS desktop client version myself. I found out that I just need to click the "Enable VPN / Disable VPN" button in order to switch on and switch off the VPN system. If I want to change my virtual location, I just need to click the "Change Button" found in the bottom right corner of the graphic user interface (GUI) of Hide.me VPN. It will redirect me to a page wherein I can select one of the Hide.me VPN server locations.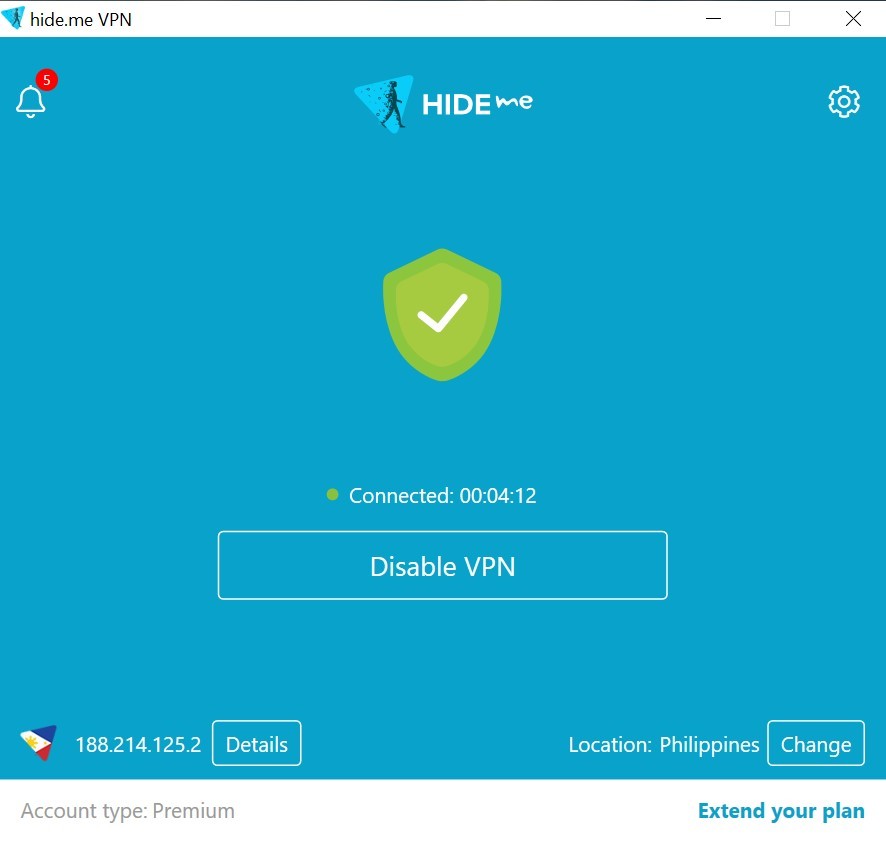 By clicking the circular gear icon at the upper right corner of the GUI, I can manually edit the various default settings of the VPN platform. I can also check the settings of the advanced features of Hide.me VPN which I will discuss under the additional features. Some of the settings include:
Launch on system startup
Connect on application start
Start application minimized
Remember selected location
Fallback protocol
Use colored icons
Show notifications
Language (18 selections)
Use Custom DNS
Custom MTU size
Allow sleep when the VPN is active
Auto connection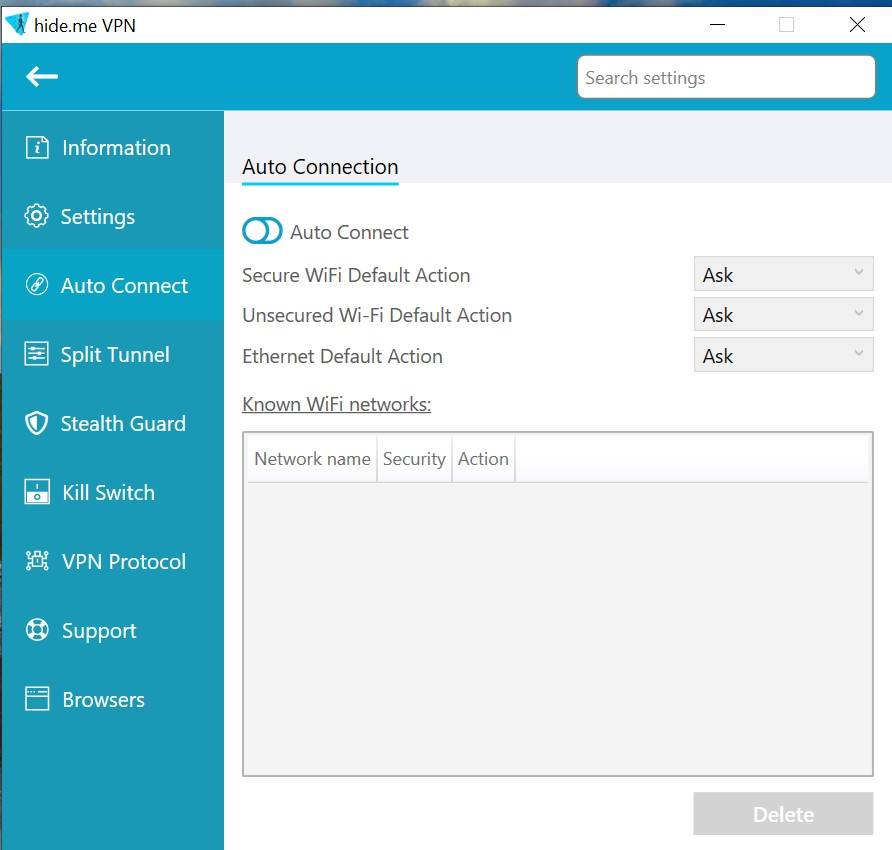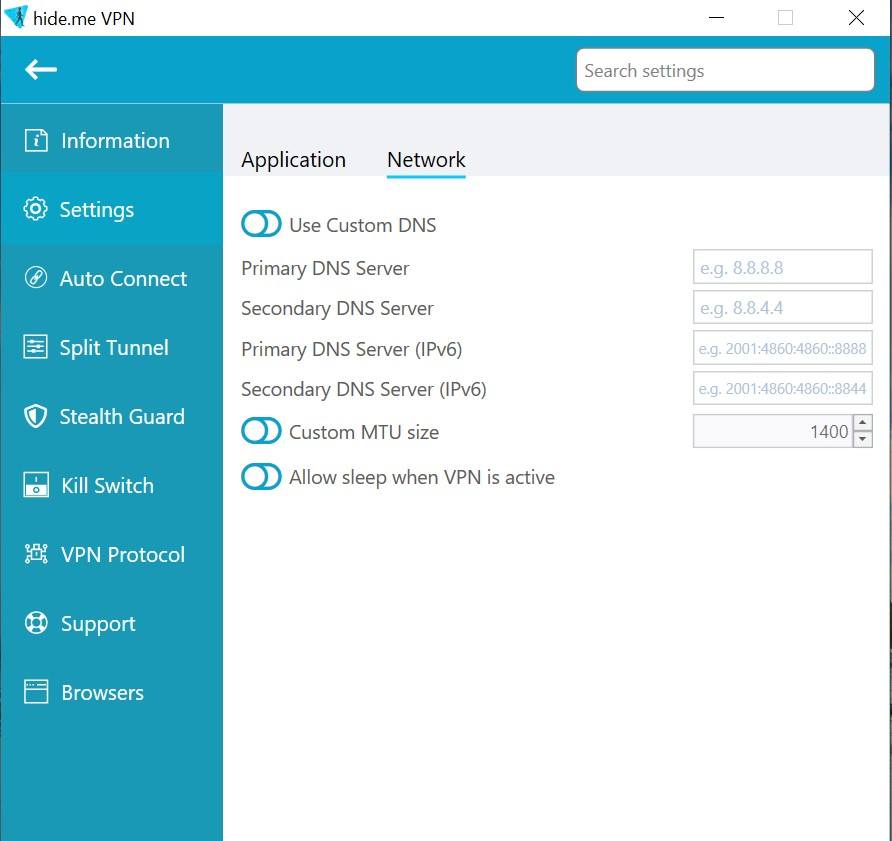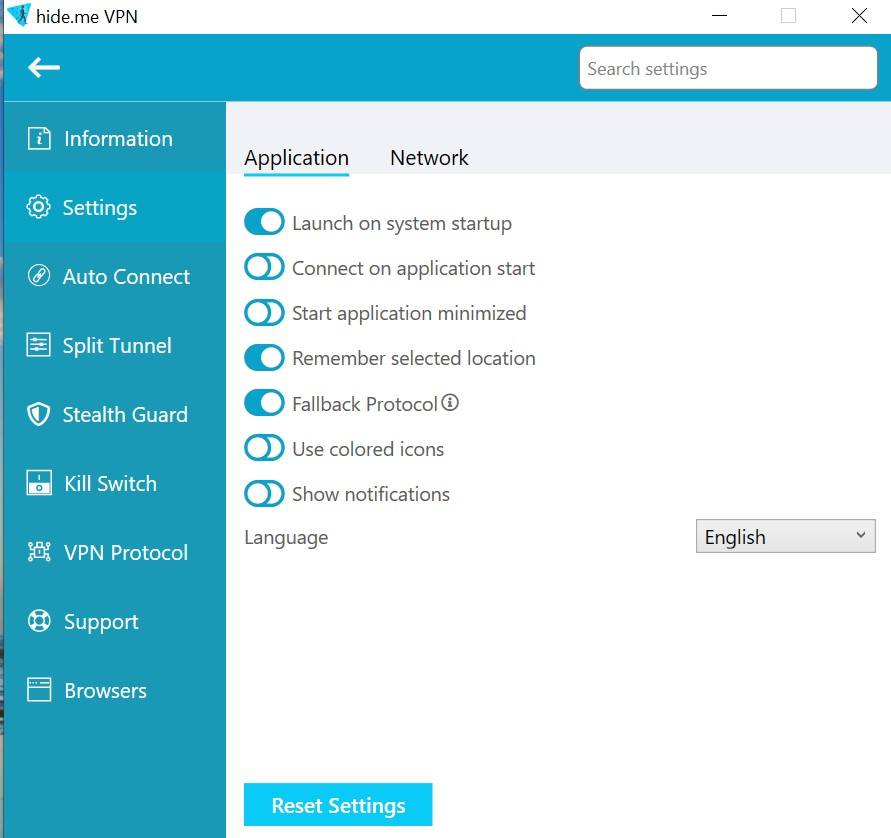 I just need to remind everyone that if you are not familiar with other settings such as the Custom DNS and Custom MTU size, it is better to leave it the way you saw it to avoid possible technical problems.
Hide.me VPN is one of the most versatile VPN service providers I have ever seen since I can use the VPN platform in Windows, Mac, and Linux computer operating systems, as well as in Android, iOS, and BlackBerry mobile devices. On top of that, I can use Hide.me VPN on routers as well in NAS devices such as Synology and QNAP. In can also use the VPN service in Amazon Fire OS. This means that it is compatible with Amazon Fire Stick TV. I can also install web browser extensions for Google Chrome and Firefox.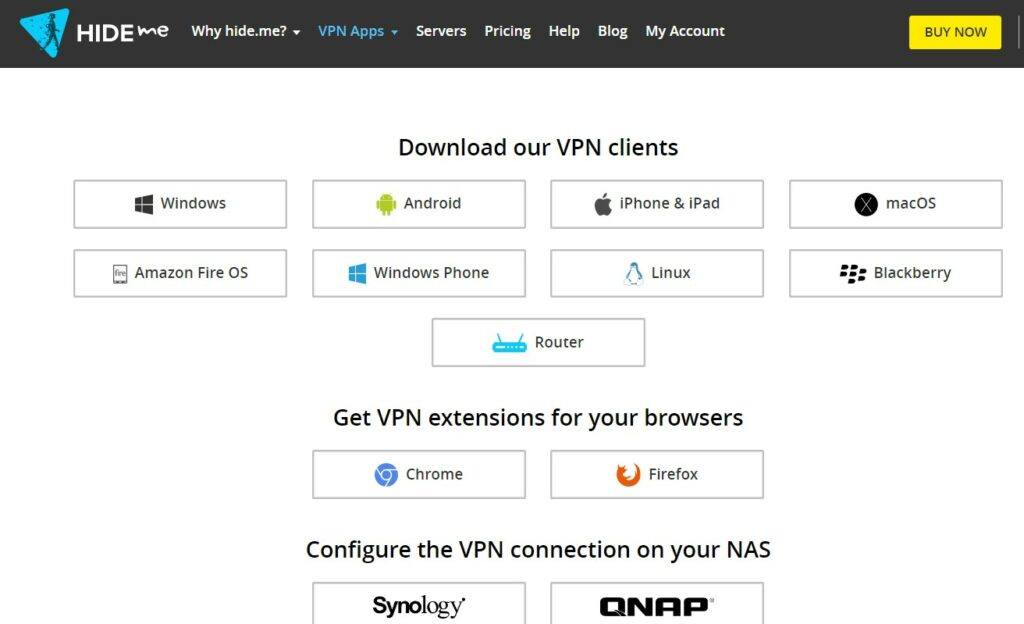 ---
Speed & Server Locations
By subscribing to any of the premium subscription plans of Hide.me VPN, it gives me access to 1,700 VPN servers in 70 server locations in various geographical regions and continents worldwide. Hide.me VPN has an unlimited server switching policy on top of the unlimited bandwidth capability.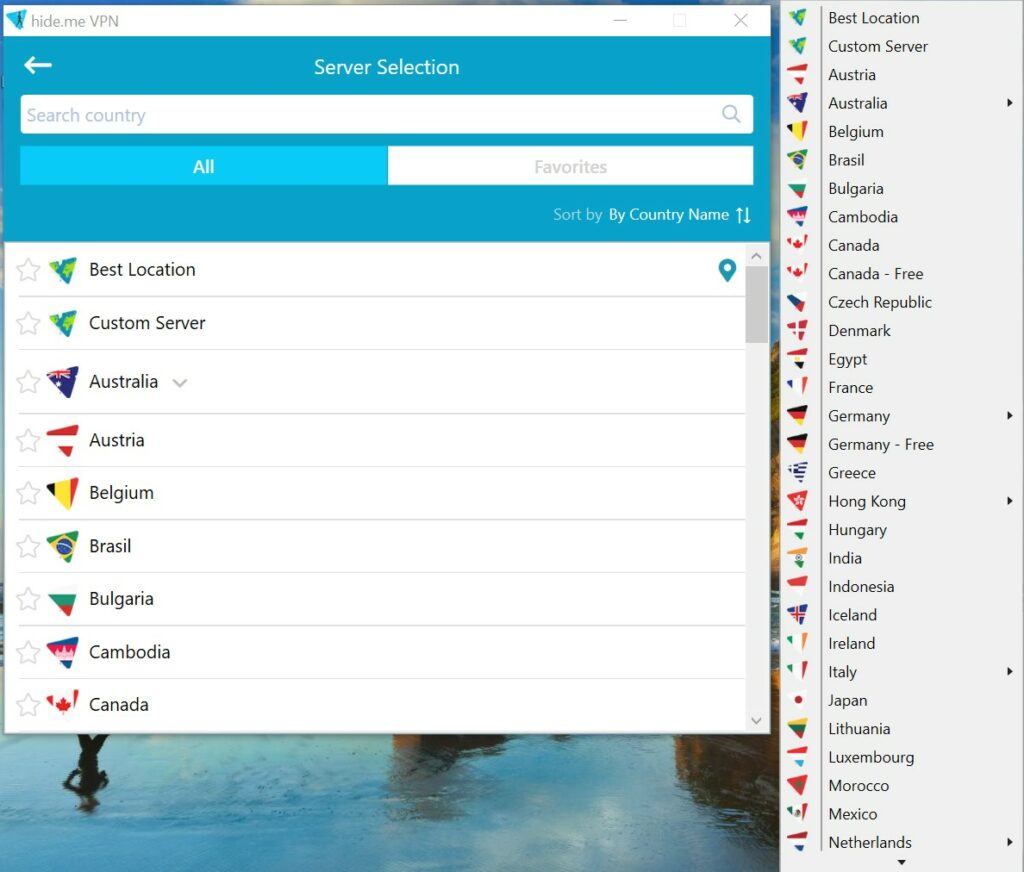 There are at least 9 server locations that can be found in the United States of America alone. This means that the USA is the country which holds the most number of total Hide.me VPN server locations. On the other hand, there are approximately 30 server locations found in entire Europe. This means that Europe as a continent comprises 42.86% of the total VPN server locations being deployed by Hide.me VPN. There are also 16 server locations found in the Asia-Pacific region. Moreover, there are 12 server locations in the entire American continent. Other server locations were not disclosed for security purposes. Check the actual server speed test results we conducted and recorded below.
We normally conclude two speed tests, one from Slovenia and one from the Philippines. Unfortunately, our test from Slovenia just couldn't be conducted due to the fact that the desktop app just kept connecting without ever completing the process. We tried various servers but they all had the same issue. After checking for IP we saw that we're actually connected to their servers but the app didn't recognize that. Additionally, when we then tried to disconnect from the "on-going" connection process that just wouldn't work which lead to us having to restart the computer in order to drop from their VPN.
The second test was conducted from Philippines, Southeast Asia.
| | | | |
| --- | --- | --- | --- |
| Server location | Ping [ms] | Download [Mbps] | Upload [Mbps] |
| No VPN (Philippines) | 7 | 27.04 | 27.80 |
| Philippines (With VPN) | 103 | 24.21 | 26.31 |
| USA | 230 | 18.46 | 21.47 |
| UK | 261 | 24.56 | 24.07 |
| Canada | 294 | 22.96 | 9.78 |
| Australia | 223 | 20.35 | 20.80 |
| Netherlands | 285 | 21.66 | 16.28 |
| South Africa | 513 | 7.35 | 9.65 |
| Average | 239.50 | 20.82 | 19.52 |
---
Security & Privacy
Once I'm connected to one of the Hide.me VPN server locations, my original I.P. address is masked, my internet connection becomes encrypted, and an I.P. address connected to the specific server location is issued to spoof my location. I can also manually choose the type of VPN tunneling protocol that I want to use. Options include IKEV2, OpenVPN, SoftEtherVPN, Wireguard, and SSTP.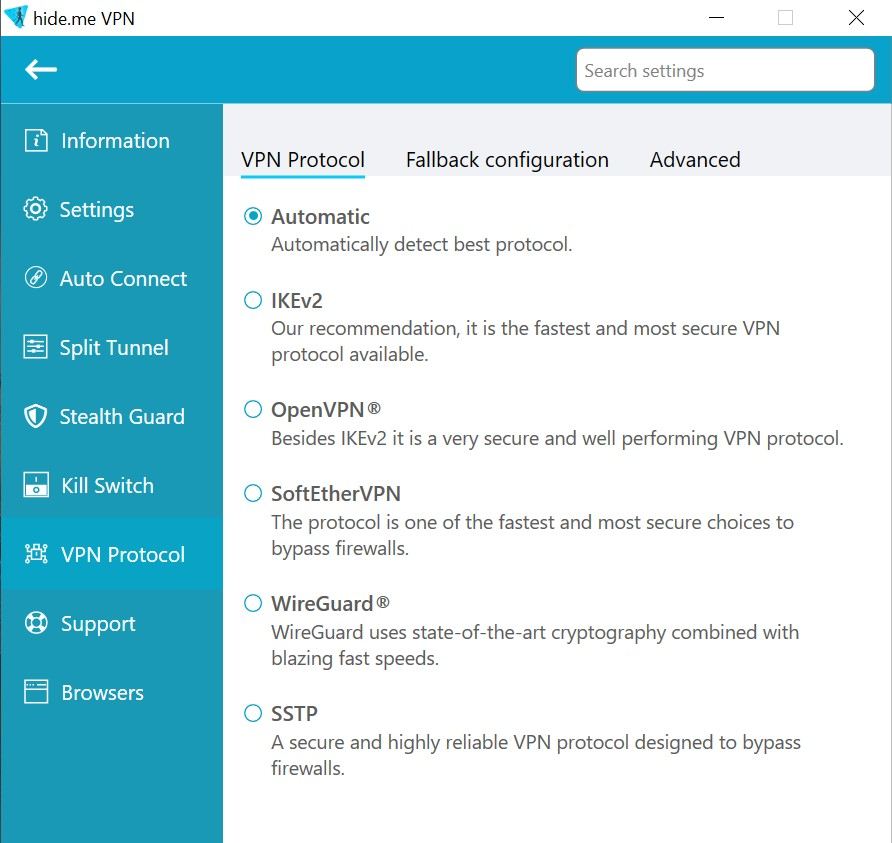 There are also advanced settings for each of the VPN tunneling protocols but I strongly advise against altering anything if you are just an average VPN user. OpenVPN and IKEV2 VPN protocols use the 256-bit AES encryption. On the other hand, WireGuard supports the Noise protocol framework, BLAKE2, SipHash24, Curve25519, ChaCha20, HKDF, and Poly1305. Hide.me VPN also has stealth mode functionality in connection with IKEV2 protocol.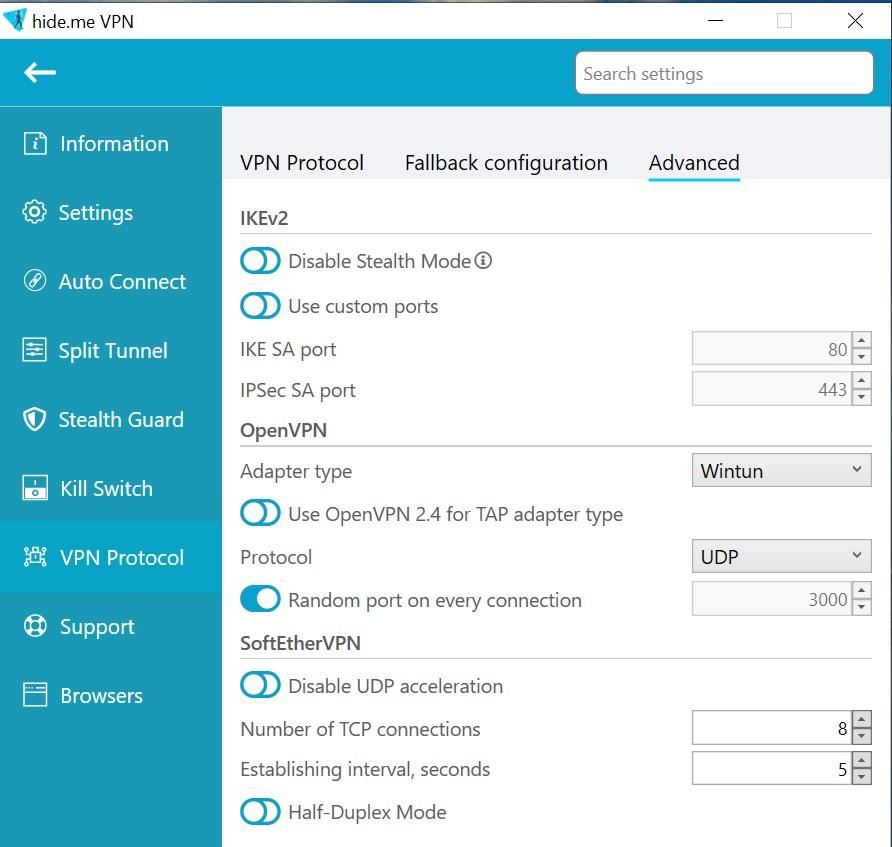 Hide.me VPN also strictly implements the zero-logging policy. In fact, an independent assessment by Leon Juranic from DefenseCode Ltd. was conducted. It was revealed that Hide.me VPN is indeed fully compliant with the zero-logging policy.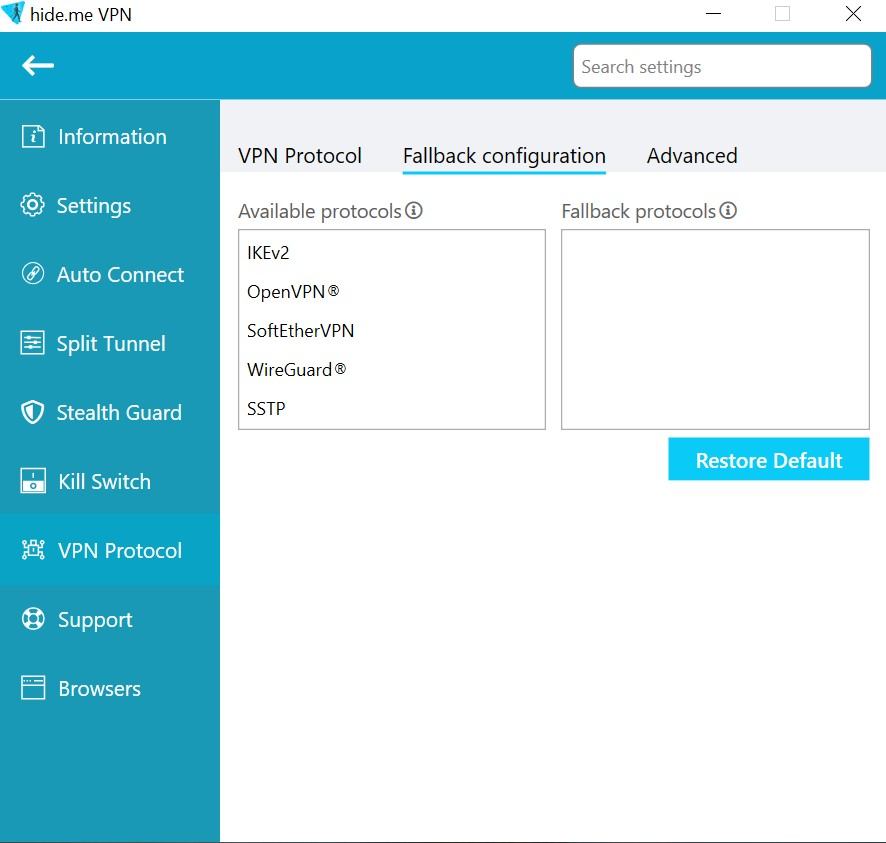 ---
Streaming
I'm amazed at how the video streaming test for Hide.me VPN played out. I tested it on Netflix US and the VPN service has proven its worth when it was able to bypass geo-restrictions, VPN blockers, and DPI firewalls placed by the aforementioned video streaming service. It only took 7 seconds before the selected Netflix US movie or TV series episode to initially play. In fact, the video is using HD video quality by default since the server speed in the US is quite fast and very reliable. I have not experienced video buffering while playing the video. There were also no reported technical issues when I tested Hide.me VPN on Netflix US. It can even bypass ISP throttling. Hide.me VPN also claims that I can bypass VPN blockers and geo-restrictions set by other video streaming services such as BBC iPlayer, Amazon Prime Video, and HBO GO.
---
Online Support
I am really satisfied and impressed by how Hide.me VPN handles its online customer support system. Based on my research, there are informative user manuals that come in handy. The existence of knowledgebase and answers to frequently asked questions (FAQs) is also a welcome development. On top of that, there is a community page wherein various users and company representatives can openly discuss topics regarding the VPN service. Aside from that, the company has also a 24/7 live chat system that I can avail of. There is also a ticket support system where I can voice out my concerns and ask some questions on the company's website. I can also access the ticket support system from the desktop client version of Hide.me VPN. Moreover, I can also send an e-mail directly to support@hide.me.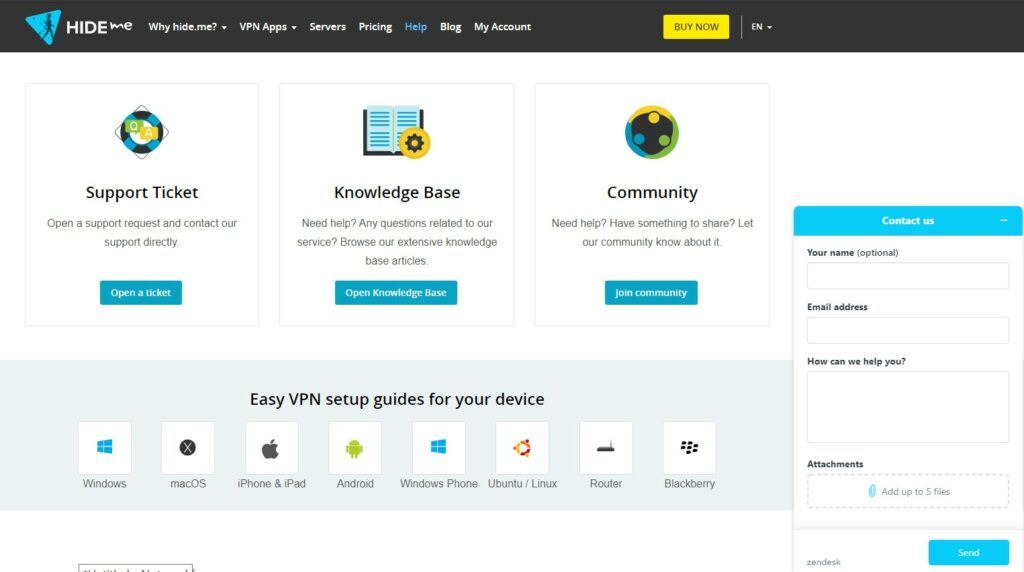 ---
Additional Features
Listed below are the advanced features of Hide.me VPN.
---
Internet Kill Switch
Hide.me VPN has an internet kill switch that blocks my access to the internet when my VPN connection suddenly disconnects unintentionally. In this way, there is no possibility of unencrypted internet access if I activate this feature. The feature works well based on my experience.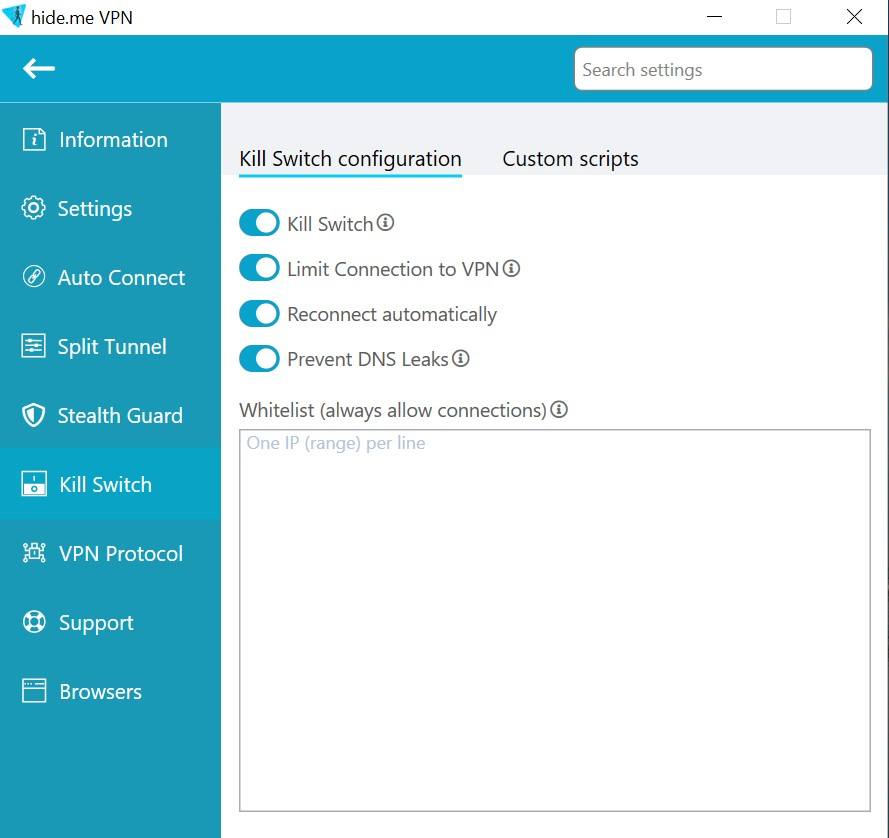 ---
Split Tunneling
Hide.me VPN has a split tunneling feature which allows me to choose what apps or websites go through the VPN connection and what apps or websites bypass the VPN. In this way, I can modify my VPN connection.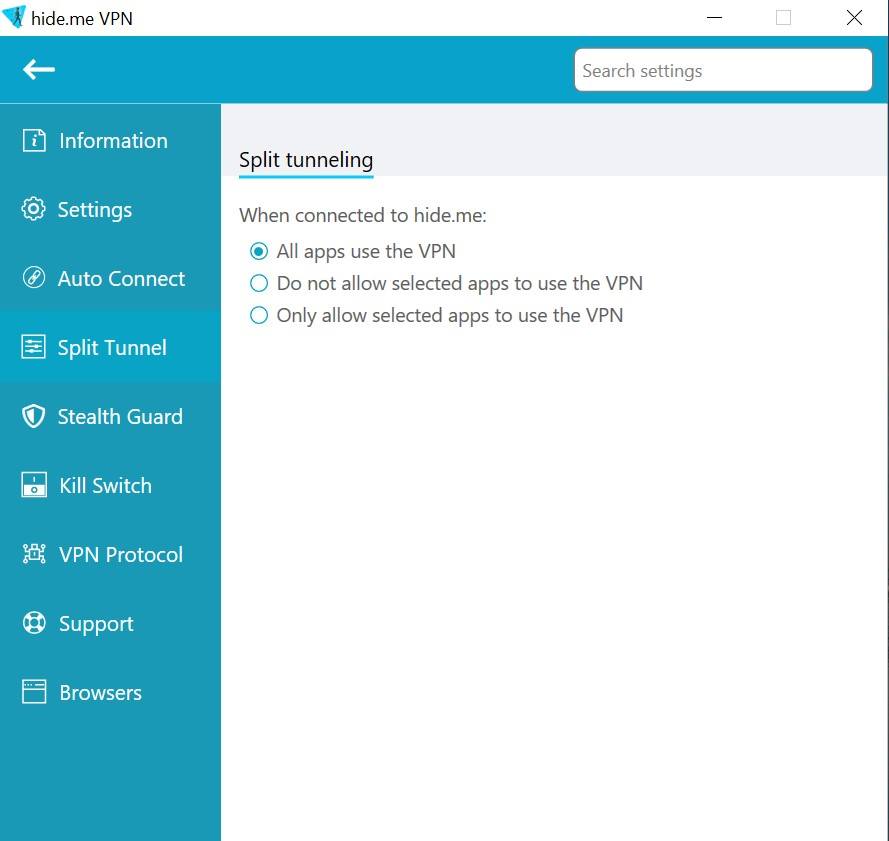 ---
Stealth Guard
Hide.me VPN has a Stealth Guard feature that works like an internet kill switch. It is marketed as a separate feature since it is intended for various applications running on my computer or mobile device that uses internet connection in the process. The internet kill switch feature on the other hand is intended for access to websites.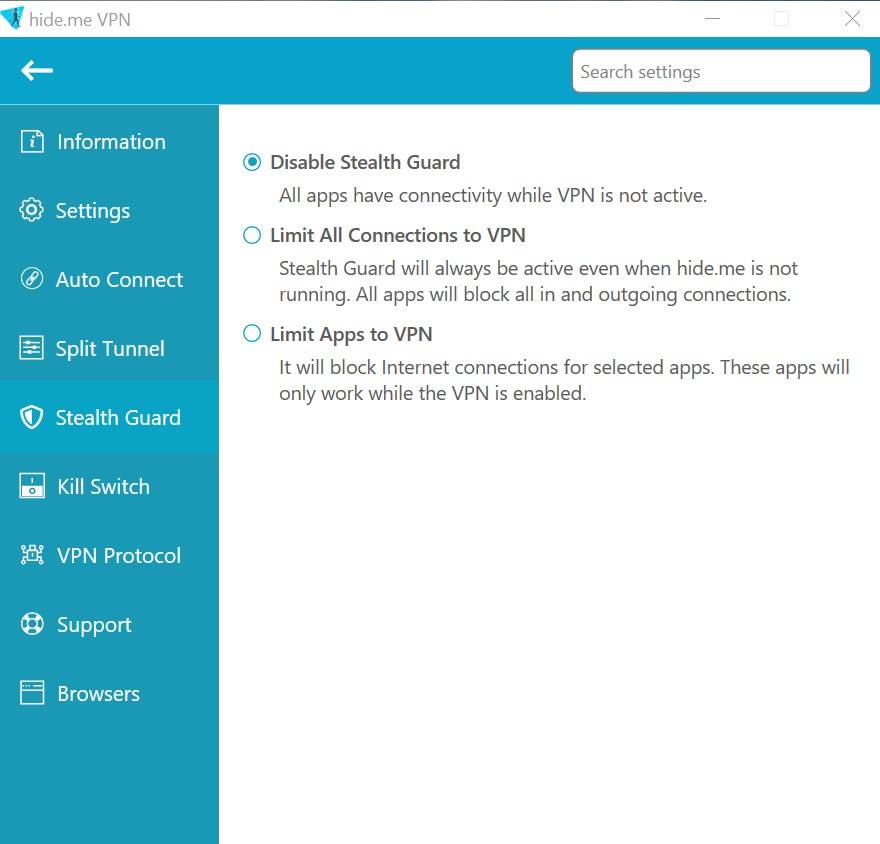 ---
P2P & Torrent
Hide.me VPN supports P2P connections as well as the uploading and downloading of torrent files. In this way, faster download and upload speeds are established while maintaining the level of security and encryption of everything that passes through the P2P connection.
---
Mobile Applications
I can download Hide.me VPN on my mobile devices that use Android, iOS, or BlackBerry OS. I can protect the internet connection on my mobile device even when connecting to public Wi-Fi.
---
Other Features
Hide.me VPN has DNS leak protection, IPV6 leak protection, and WebRTC leak protection. On top of that, I found out that it also has Dynamic Port Forwarding and ad blocker.
---
Conclusion
I can spoof my location by masking my original I.P. address and issue a false one by connecting to one of the servers of Hide.me VPN. I can browse the internet anonymously through the VPN connection. On top of that, the VPN system is easy to use. In fact, the graphical user interface (GUI) is user-friendly. It is also very secure with various VPN tunneling options available and data encryption systems such as the 256-bit AES. It also has a zero-logging policy. I can also bypass VPN blockers and geo-restrictions placed by video streaming services such as Netflix US. The online customer support system is also very reliable. There are also lots of additional features I can enjoy. I recommend using Hide.me VPN provided that you subscribe to either the yearly premium subscription plan or the 2-year premium subscription plan.
---
I hope I answered all your questions within this Hide.me VPN Review. If you have any more questions, feel free to ask them in the comments section down below!