Encrypt.me VPN
$9.99/month
Pricing & Subscription Plans
8.0/10
Speed & Server Locations
7.0/10
Security & Privacy
2.0/10
Additional Features
3.0/10
Pros
Unlimited Simultaneous Connections
Can access Netflix US & BBC iPlayer
Supports OpenVPN & IKEV2
2048-bit DH encryption
Good online support system
Has DNS leak protection
Cons
Limited number of servers
Has no internet kill switch
Has no split tunneling
Does not support P2P & Torrent
Collect all forms of users' data and information
Records and logs all forms of data for 16 days
26.58% of VPN servers are all in the USA
Jursidiction within the Five Eyes Alliance
Jurisdiction under the USA which is notorious for illegal surveillance and intelligence gathering
---
Encrypt.me VPN Review
Encrypt.me is one of the emerging virtual private network providers offering anonymous web browsing and internet privacy services to the general public. The VPN provider has been continuously operating for the last 9 years. In fact, the company was founded as early as 2011 under the corporate name Cloak Holdings, LLC. It was only in June 2017 that the owners and founders of the company agreed to rename the business entity and have come up with Encrypt.me corporate brand name. This happened partly because the VPN provider was acquired by StackPath which was also later acquired by J2 Global. The VPN provider was founded by Dave Peck and Peter Sagerson. There are currently 7 senior officers listed on the company page of Encrypt.me. The employees of the VPN have been working tirelessly in 4 different offices in the American Region. The company has offices in Orlando, Dallas, Seattle, and Guadalajara. Encrypt.me has its main headquarters at 1524 5th Ave #300, Seattle, WA 98101 in the United States of America. Read the full Encrypt.me VPN Review below to learn more.
---
Jump to:
Pricing & Subscription Plans
Who is it for?
Ease of Use
Speed & Server Locations
Security & Privacy
Streaming
Online Support
Additional Features
Conclusion
---
Pricing & Subscription Plans
There are 5 types of subscription plans I can avail of when getting the services of Encrypt.me VPN. There is an individual subscription plan, a family subscription plan, a team subscription plan, a mini subscription plan, and the week pass. All of the 3 types of subscription plans allow unlimited simultaneous connections. On top of that, the family subscription plan allows having 5 different accounts. Each of the accounts can have unlimited simultaneous connections.
---
---
The pricing structure of the team subscription plans is dependent on the number of team users. It can be as low as $15.98 per month for 2 team members and as high as $1.491.51 per month for 249 team members.
I can also take advantage of the free trial option for 14 days for both the individual subscription plan and the family subscription plan. In the case of a Team subscription plan, there is a 3-month free trial option. Aside from that, there is a money-back guarantee for the first 30 days of my subscription.
---
---
I can also pay for my chosen subscription through major credit cards such as Visa, Mastercard, and American Express.
---
Who is it for?
Encrypt.me is for people who want to have a virtual private network that can have unlimited simultaneous connections at a very reasonable price. The VPN system is also for people who want to test the VPN platform thoroughly before purchasing any subscription plan.
---
Ease of Use
It is very easy to download the desktop client version of Encrypt.me. I just have to go to their download page and choose the type of operating system my computer uses. In my case, I selected the Windows desktop client installer and clicked the button carrying the symbol of Windows OS. Once I clicked it, the installer file automatically downloaded. The process only took 16 seconds. Encrypt.me VPN works with both Windows OS and Mac OS. It also works well in mobile devices running on Android and iOS operating systems. I can also install Encrypt.me VPN on my Amazon Fire TV.

It is also easy to sign up for an account. I just need to go to their sign up page and fill up a sign-up form and click the "start free trial" button. Only an e-mail address and a password will be required to create an account. I need to be logged-in in my account in order to pay for the subscription plan chosen.
Once I'm inside my Encrypt.me VPN account using the desktop client version of the virtual private network, I can click a circular icon that is somewhat similar to a gear. Once I click that, I can navigate the various settings that are available in the desktop client version. This is further discussed under security and privacy section as well as in the advanced features section of the Encrypt.me VPN review.
Available settings include the following:
Account Preferences (log-in or log-out)
Network Preferences
Transporter (virtual location selection)
Update Settings (Daily, Weekly, Monthly, or Never)
Support
Advanced settings
Under the transporter section, I can also change my server location of my VPN connection. I can select a specific place from a drop-down menu and click the said location. After that, I need to click the "Save changes and secure my connection" button in order to change my virtual location. I need to refer you to the security and privacy section of this review in connection with changing VPN server locations.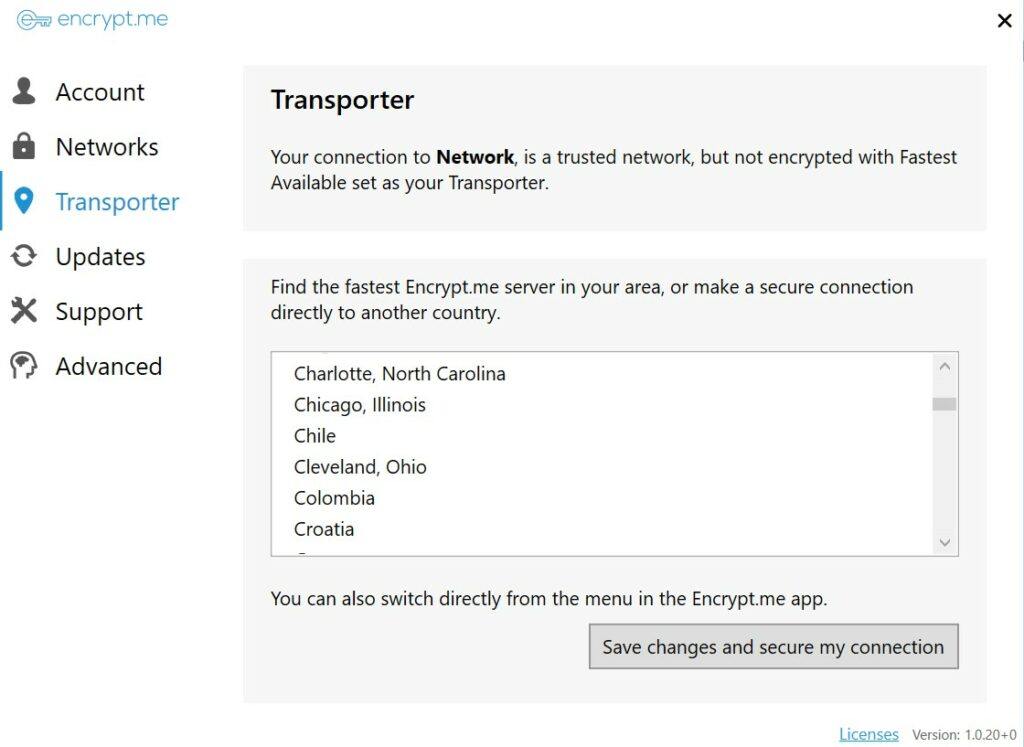 ---
Speed & Server Locations
As of this moment, Encrypt.me VPN has 79 server locations strategically placed in more than 40 countries throughout the entire world. According to my research, Encrypt.me VPN uses unlimited server switching as well as unlimited bandwidth. The United States of America has the highest number of VPN servers at 26.58% of the entire VPN network. The USA alone has 21 Encrypt.me VPN servers. On the other hand, Australia has 4 servers while Canada has 3 servers.
The results of the speed tests I conducted suggest that the average VPN server speed is quite satisfactory but is not as fast as it should be. Check the table below for the results of the server speed tests I conducted.
| | | | |
| --- | --- | --- | --- |
| Server location | Ping [ms] | Download [Mbps] | Upload [Mbps] |
| No VPN (Philippines) | 8 | 25.95 | 27.71 |
| Philippines (With VPN) | 27 | 23.91 | 26.09 |
| Singapore | 66 | 22.21 | 25.68 |
| Australia | 261 | 16.68 | 14.17 |
| Canada | 249 | 16.30 | 16.36 |
| UK | 291 | 18.11 | 16.50 |
| USA (California) | 202 | 18.24 | 18.08 |
| South Africa | 397 | 10.46 | 12.96 |
| Average | 187.63 | 18.98 | 19.69 |
---
Security & Privacy
I can easily hide my identity and location through anonymous web browsing by using Encrypt.me VPN system. I just need to click the "Encrypt Me" button that found in the desktop client version of the VPN platform. Once connected to one of the VPN servers, my original I.P. address is then automatically masked and hidden. The VPN platform itself issued another I.P. address that is connected to the VPN server location which I'm connected to.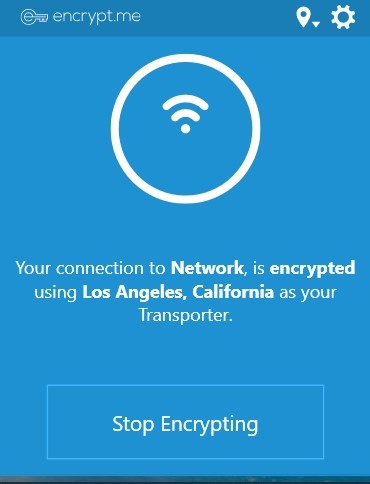 In order to change my virtual location using Encrypt.me, I need to click the small oblong icon found at the upper right corner of the desktop client version of the VPN platform. The icon mentioned is usually used to represent a specific location in a map. Once I clicked the icon, all of the available server locations will appear in a drop-down menu format. Once I selected one of the server locations and clicked on it, my VPN connection changes from 1 server location to another.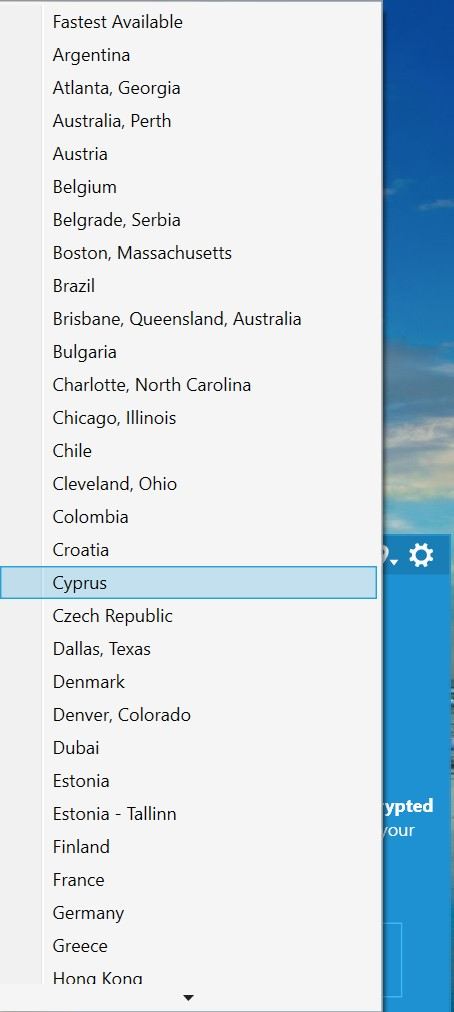 My internet traffic is also encrypted via the IKEV2 VPN tunneling protocol. This is the VPN tunneling protocol used in Windows computer operating system and iOS mobile devices. IKEV2 is very versatile since it can actually support different data encryption systems such as AES, Camellia, and ChaCha20 data encryption. However, the VPN provider is silent about the data encryption used in the IKEV2 tunneling protocol. If I use Mac OS and Android mobile devices, I'll be secured through the OpenVPN tunneling protocol. Based on my research, Encrypt.meVPN uses the 2048-bit DH encryption for OpenVPN.
While I feel protected with this VPN provider, I can't deny the fact that it is unsafe because of how Encrypt.me collects information from its users. In fact, Encrypt.me VPN collects all forms of data as much as it can. It logs, records, and stores information. The VPN provider keeps the records and logs for a minimum of 16 days. The risk is magnified since the VPN provider is under the jurisdiction of the United States of America which is notorious for illegal surveillance and intelligence gathering.
---
Streaming
I was able to bypass geo-restrictions and fend off DPI firewalls and VPN blockers placed by Netflix US. As a matter of fact, it took only 4 seconds before the episode of the Netflix show initially loaded. I had a smooth video streaming experience because I haven't experienced delays and video buffering while watching. Because of such observation, I was able to conclude that the VPN server while connected to Encrypt.me VPN platform works fast and efficiently. The videos also use their HD versions as a default setting. The VPN provider can also access other video streaming services such as BBC iPlayer.
---
Online Support
Encrypt.me VPN has a good online customer support system. There are adequate quick start guides, frequently asked questions (FAQs) page, and a knowledgebase. There is also a search box option within the Help Page of Encrypt.me VPN. I can contact e-mail support at hello@encrypt.me. On top of that, I can use the live chat support system of Encrypt.me VPN. There are times when the chatbot takes over if it is still not business hours.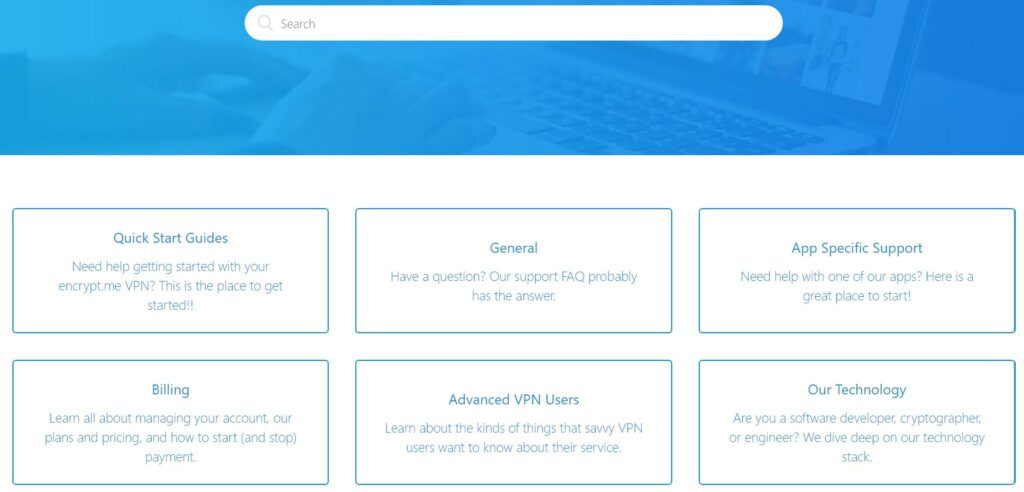 I can also contact the online customer support directly from the desktop client version of Encrypt.me VPN.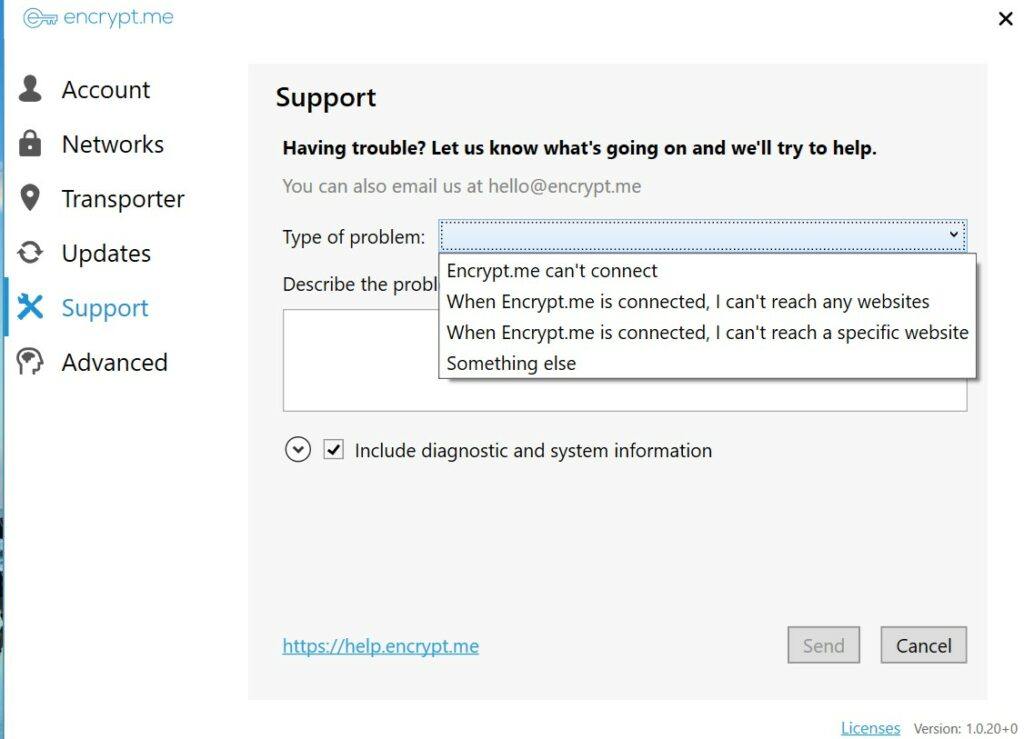 ---
Additional Features
Encrypt.me VPN has mobile applications for Android and iOS mobile devices. It also has Network Preference Settings as well as a DNS leak protection system.
---
Mobile Applications
I can easily download Encrypt.me VPN on my Android mobile device as well as on my iOS mobile device. Since mobile applications are available, I can protect myself against hackers and data hijackers while connected to public Wi-Fi. My internet traffic is encrypted whenever I use Encrypt.me VPN while browsing the internet using my mobile phone.
---
Network Preference Settings
I can manually set the network preferences of Encrypt.me VPN. This means that I can choose what internet connections can bypass the VPN connection. I can also set it so that the VPN system automatically becomes active whenever connected to public Wi-Fi or other unsecured internet connections. Encryption through the VPN connection becomes automatic.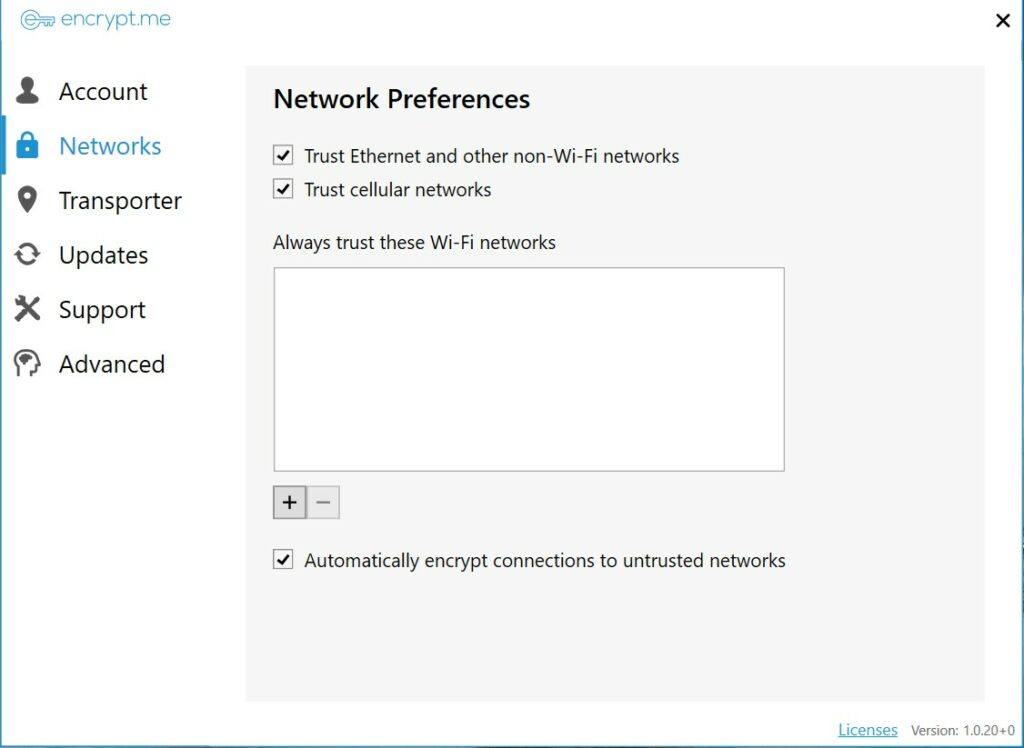 ---
DNS Leak Protection
If I activate the DNS leak protection, a firewall becomes automatically active. This means that there will be no DNS request forwarding that could expose my real location, identity, and browsing activities.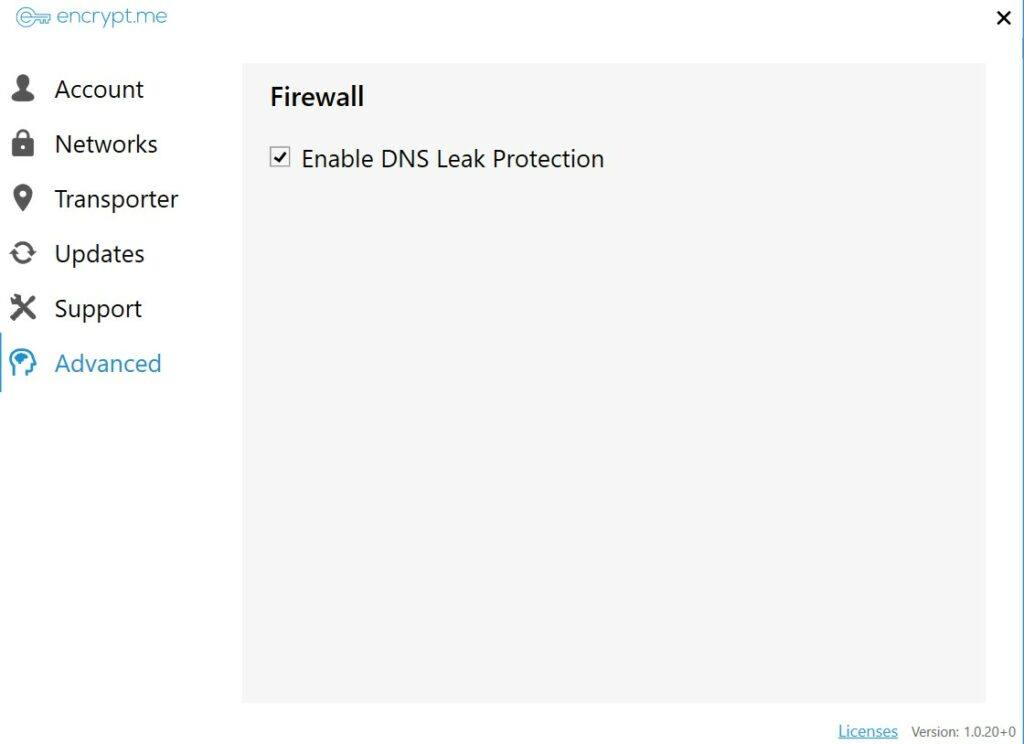 ---
Conclusion
I can enjoy anonymous web browsing by connecting to one of the servers of Encrypt.me VPN. I can also hide my real location by masking my original I.P address and issue a false one with the help of the VPN connection. At the same time, I can encrypt my internet connection while using Encrypt.me VPN. On top of that, I want you to know that Encrypt.me VPN is easy to use. It also has relatively affordable subscription plans. It also has a longer free trial option than most competitors. I can also connect unlimited devices at once. I also can bypass geo-restrictions and fend off DPI firewalls and VPN blockers placed by Netflix US and BBC iPlayer. In fact, I had a smooth and unhampered video streaming experience. The server speed test results show that Encrypt.me VPN is relatively fast and efficient. However, the speed is quite slower in some servers. While my internet traffic is encrypted and my I.P. address is masked and hidden, I advise you to not use the VPN system because of its data collection policies and connection logging policies. Additional features are also very limited as well. It has no internet kill switch, It has no split tunneling and it does not support P2P & Torrent.
---
I hope I answered all your questions within thisEncrypt.me VPN Review. If you have any more questions, feel free to ask them in the comments section down below!