Pricing & Subscription Plans
9.3/10
Speed & Server Locations
7.0/10
Security & Privacy
7.0/10
Additional Features
5.0/10
Pros
Has a free lifetime account
Affordable paid subscription plans
Has mobile phone applications for Android & iOS
Has WebRTC Leak Protection
Has Time Zone Changer
Can access Netflix US, Hulu, Spotify, Pandora, and SoundCloud
Servers are relatively fast
Very easy to use
Supports HTTP over TLS, IKEV2, and 256-bit AES encryption
Cons
No desktop client version
Collects & stores users' information
Limited online support system
---
Browsec VPN Review
Browsec VPN is one of the very few virtual private network providers that give free access to internet privacy software solutions in the data security industry. Not much is known about this VPN provider except that it gives a free but limited VPN system. It also has a customer base of approximately 8,000,000 users worldwide which can be attributed to the free VPN option. Based on the privacy policy of Browsec LLC, the company has been in existence since 2015. However, it is not clear when and where was the company founded. This lack of information led me to dig deeper and actually test the VPN system deliberately. Read the full Browsec VPN Review below.
---
Jump to:
Pricing & Subscription Plans
Who is it for?
Ease of Use
Speed & Server Locations
Security & Privacy
Streaming
Online Support
Additional Features
Conclusion
---
Pricing & Subscription Plans
Browsec VPN has actually two very interesting offers based on my observation. First and foremost, this virtual private network provider has a free subscription time that works for a lifetime. There is no limit in the bandwidth and there is no limit in terms of duration of the free subscription plan. However, with the free lifetime account, I can only access 4 server locations of Browsec VPN. These 4 locations are the United States of America, United Kingdom, Netherlands, and Singapore. This means to say that even if I'm tempted to use the free lifetime account, it is not enough to satisfy my internet privacy and data security needs.
---
---
This is the reason why I'm more inclined to subscribe to the Premium VPN service of Browsec VPN which allows me to use 43 VPN server locations worldwide. The prices of the premium subscription plans are actually very good since it is very affordable. For the monthly premium subscription plan, it just costs $4.99 per month. The annual premium subscription plan, on the other hand, costs $39.99. The 2-year premium subscription plan costs $71.99. The VPN service of Browsec is one of the most affordable VPN systems that are currently available in the market today. All of the premium subscription plans accommodate a maximum of 5 simultaneous connections at once.
In the case of the free lifetime subscription plan, the sky is the limit as you can install Browsec VPN on as many devices as you want since there's no need to sign up for an account. Just install the VPN system and you can use it whenever and wherever you want.
Browsec VPN also has a money-back guarantee for the first 7 days upon buying a premium subscription plan that I can take advantage of. The refund process can be initiated by sending an e-mail to the customer support of Browsec VPN stating the date, time, and payment method you used in purchasing the subscription plan. I can also pay for the premium subscription plans with PayPal or a credit card carrying the logo of Visa, Mastercard, and American Express.

---
Who is it for?
Browsec VPN is for people who are willing to pay a premium subscription plan to strengthen internet privacy but have a very limited budget. It is ideal for this group of people since the premium subscription prices are very affordable. Browsec VPN is also for people who want to eradicate or minimize the effects of geo-restrictions and internet censorship protocols by some websites and video streaming services.
---
Ease of Use
It is very easy to install Browsec VPN on my computer. Al I have to do is click the "Install Browsec for free" button found on the website of the VPN provider. Once I clicked the button it redirected me to the Chrome Web Store wherein I can add the web browser extension. Aside from Google Chrome, I can also install Browsec VPN to other web browsers such as Firefox, Edge, and Opera. This means that Browsec VPN works as a web browser extension. There is no desktop client version. However, I can still download the mobile application of Browsec VPN on my Android and iOS mobile devices.

Because it works as a web browser extension, the installation process of the VPN provider is very easy and convenient. For the free lifetime plan, I don't need to create an account and sign in. All I have to do is click the switch button located at the lower right corner of the web browser extension.
It is also easy to pay for a subscription plan and to create a premium subscription account. All I have to do is go to their pricing plans page and then select a subscription plan from the available options. Then I need to type the e-mail address I'm going to use. And then I need to click the buy button so that I can further select the payment method that I'm willing to use. After that, I need to click the "Subscribe Now" button at the screen.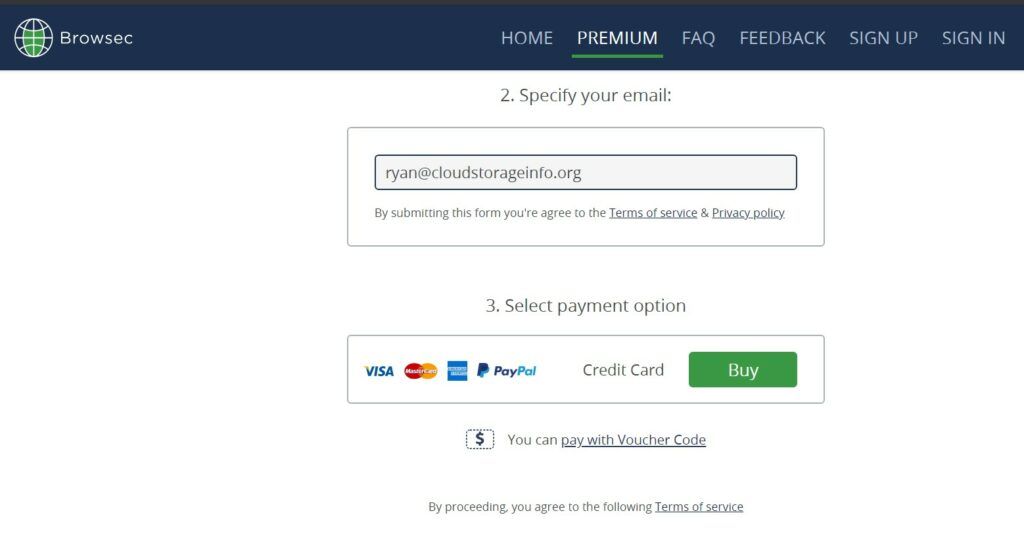 I can also easily sign up for an account by going to their sign up page and then type an e-mail address and a password. I then need to click the boxes agreeing to the terms and conditions of the VPN provider. After that, I just need to click the "Sign up" button.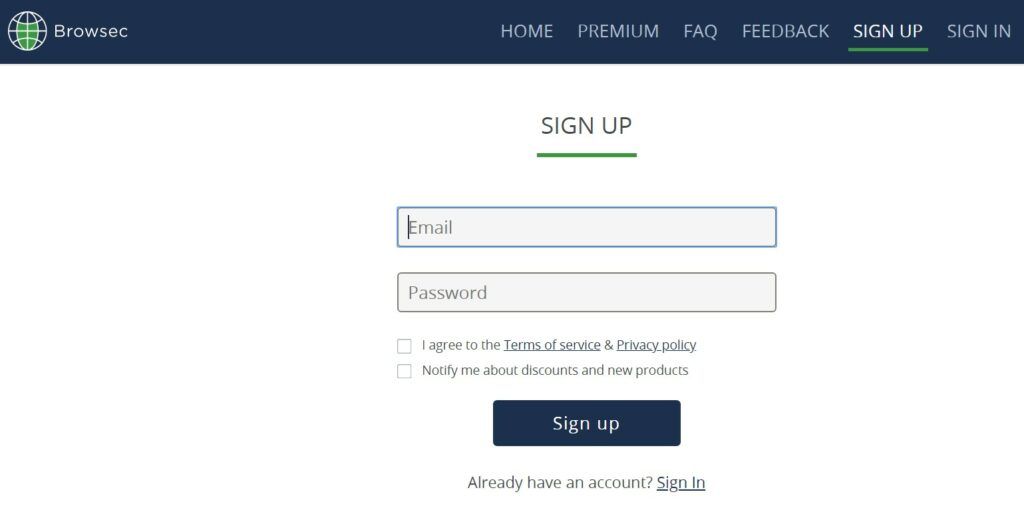 Aside from the basic internet privacy feature as well as the advanced features of this best VPN service provider, I can also operate the smart settings feature of Browsec VPN. This particular feature allows me to modify my internet connection for a particular website. I can easily turn on and turn off my VPN connection automatically based on the settings I placed for a particular internet domain. On top of that, I can select in advance and pre-program the preferred server location for accessing a particular website while automatically connecting to Browsec VPN. All I have to do is click the "Smart Settings" menu option found in the web browser extension and click the "Edit smart settings" option. After that, I need to type the domain name of a particular website in the text box provided and select a pre-programmed server location from the drop-down menu. I then have to click the small green button with a plus sign in order to add the specific setting for browsing the web page.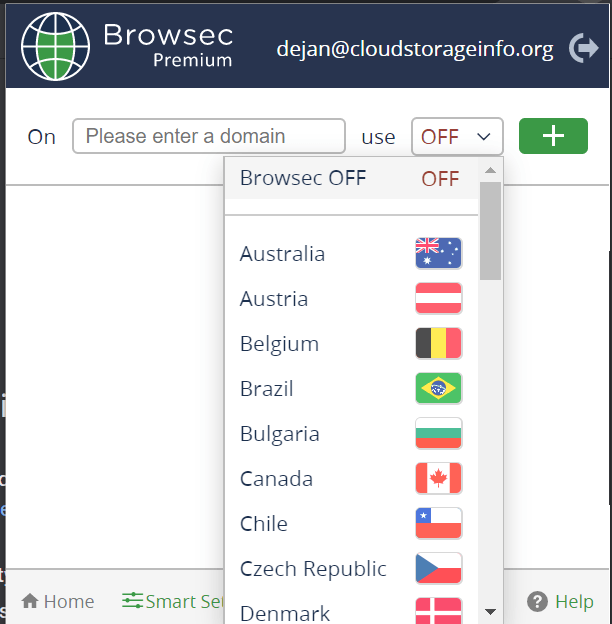 The rest of the features are discussed under security and privacy section as well as in the additional features section of the Browsec VPN Review.
---
Speed & Server Locations
When I'm subscribed to the premium plan of Browsec VPN, I can easily access 43 server locations scattered strategically through various countries, geographical regions, and continents worldwide. The countries include Australia, Austria, Belgium, Brazil, Bulgaria, Canada, Chile, Czech Republic, Denmark, Finland, France, Germany, Hong Kong, Hungary, Iceland, India, Ireland, Israel, Italy, Japan, Latvia, Lithuania, Luxembourg, Mexico, Netherlands, New Zealand, Norway, Poland, Romania, Russia, Serbia, Singapore, Slovenia, South Africa, South Korea, Spain, Sweden, Switzerland, Turkey, Ukraine, United Kingdom, and the United States of America. The USA has 2 server locations and the rest of the countries have 1 server each. Browsec VPN uses unlimited bandwidth and unlimited server switching.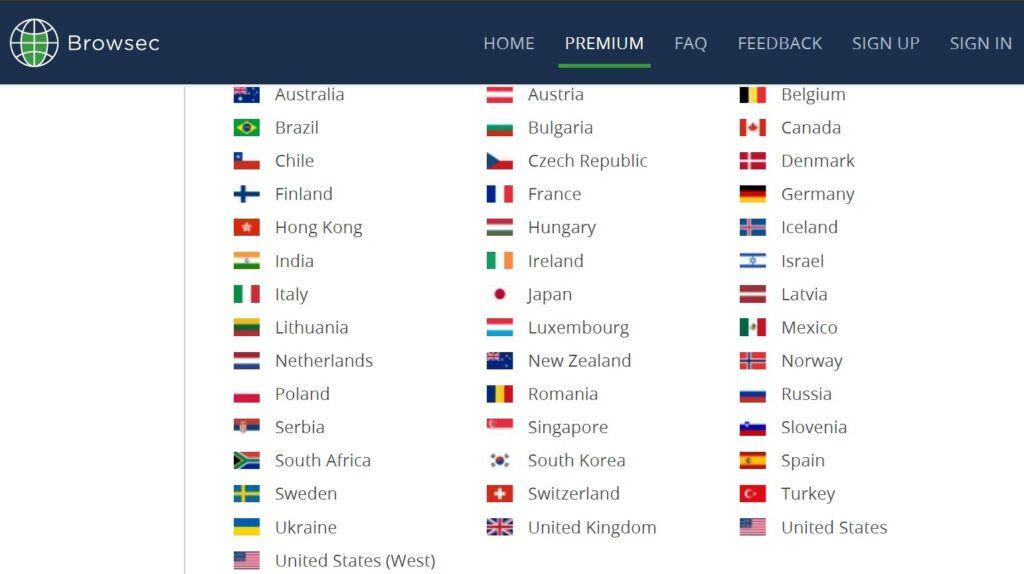 Check the actual results of the server speed tests I conducted while I was connected to Browsec VPN below.
| | | | |
| --- | --- | --- | --- |
| Server location | Ping [ms] | Download [Mbps] | Upload [Mbps] |
| No VPN (Philippines) | 10 | 9.46 | 9.38 |
| Singapore | 64 | 8.78 | 7.58 |
| UK | 273 | 8.93 | 4.15 |
| USA | 243 | 5.73 | 9.42 |
| Canada | 234 | 7.71 | 2.26 |
| Australia | 341 | 8.54 | 9.42 |
| Switzerland | 338 | 3.63 | 9.41 |
| Russia | 313 | 8.78 | 9.44 |
| Average | 227.00 | 7.70 | 7.63 |
---
Security & Privacy
I can easily hide my true location by masking my I.P. address by switching on the Browsec VPN connection. All I have to do is select one of the VPN server locations and click it from a drop-down menu in the web browser extension. Once connected to one of the 43 servers, my original I.P. address is hidden and then the VPN provider issues a false I.P. address based on the server location. For the web browser extension, I found out that Browsec VPN uses the HTTP Proxy over TLS VPN tunneling protocol in combination with AES-256 encryption. In the case of mobile applications of the VPN provider, I found out that it uses the IPSec IKEV2 VPN tunneling protocol with an AES-256 encryption.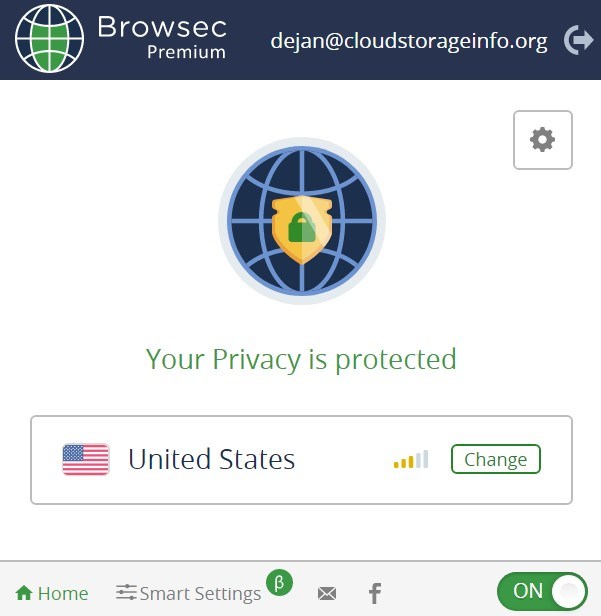 Browsec VPN collects and stores the user's information. It stores my original I.P.address along with the sites I visited. The good news is that the records and logs are automatically wiped after 9 days. However, internet privacy can be compromised because they record the information enumerated above.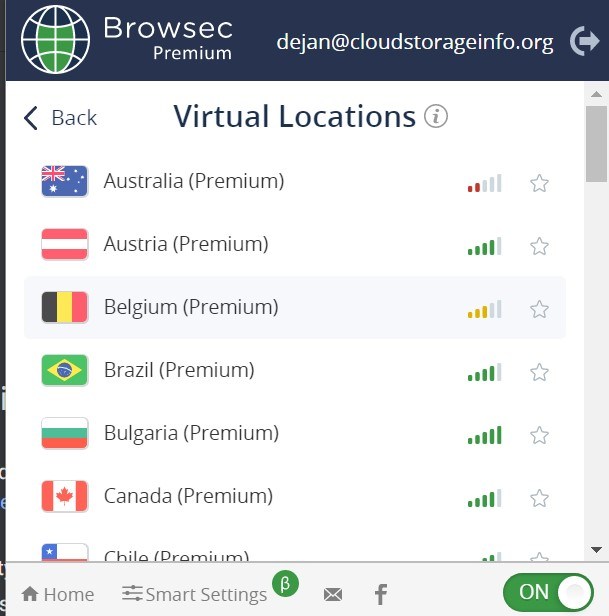 ---
Streaming
I was really surprised to learn that I can actually bypass the geo-restrictions placed by Netflix US when connected to Browsec VPN. I was able to watch Netflix US shows without being detected. I can bypass DPI firewalls and VPN blockers. In just 28 seconds, the video of a Netflix movie or a Netflix series episode can be streamed online efficiently. The server speed is also good enough as evidenced by my smooth and seamless video streaming experience. I also have not experienced video buffering in between and have not encountered a video streaming technical issue while connected to Browsec VPN. It is also safe to say that aside from Netflix US, I can also bypass geo-restrictions of other video streaming services such as Hulu, Spotify, Pandora, and SoundCloud.
---
Online Support
Browsec VPN should definitely improve its online customer service support system. It has no user manuals, tutorial videos, and a knowledge base as of the moment. The frequently asked questions (FAQs) page is very limited and lacks valuable information. The good news is that I can contact the customer service staff of Browsec VPN through e-mail at support@browsec.com. Alternatively, there is also a feedback / contact form located on the website of Browsec VPN. On top of that, I can also use the Chat/Support widget on every page of the Browsec VPN website. The widget has limited chat time, but I can leave us a message when the agent is offline. I can also reach out by sending a message through the official Facebook account of Browsec VPN.

---
Additional Features
Browsec VPN has a WebRTC leak protection system, Mobile applications for both Android and iOS devices, and Time Zone Changer.
---
WebRTC Leak Protection
Once enabled, I can be protected from the possible leakage of my original I.P. address and locations whenever using audio call apps and video call apps online. When I clicked the WebRTC leak protection, I have not experienced any original I.P. address leak at all.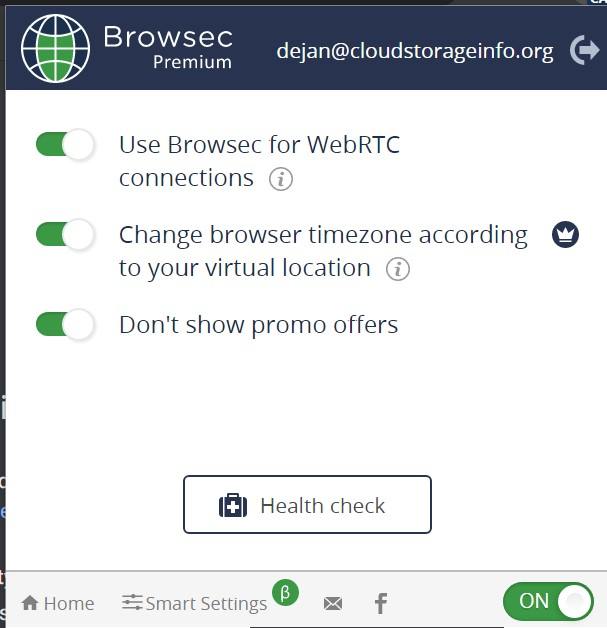 ---
Mobile Applications
Browsec VPN has mobile applications for both Android & iOS. I can hide my true I.P. address and location while connected to the VPN service. However, there is no complete anonymous web browsing experience since the original I.P. address and the sites I visit are being recorded and stored in the database of Browsec VPN for 9 days.
---
Time Zone Changer
Every time I activate the Time Zone Changer, I can make sure that my Time Zone is changed whenever I switch server locations. Websites and the search engines can't detect that I'm actually in a different location because of the inconsistencies produced by the time of access and the location of the websites I'm accessing. It also ensures that the I.P. address time zone similar to my browser's time zone as indicated in the javascript functions.
---
Conclusion
I can easily hide my true location through masking my I.P. address by switching on the Browsec VPN connection. Once I do that, My I.P address is automatically changed to one of the I.P. addresses being used by Browsec VPN. My internet traffic is also encrypted with 256-bit AES. Aside from that, I found out that the VPN server speeds are relatively fast and efficient based on the tests I conducted. I was also able to access Netflix US and bypass geo-restrictions, DPI firewalls, and VPN blockers. On top of that, I can bypass VPN blockers placed by Hulu, Spotify, Pandora, and SoundCloud.
While there is a free lifetime account for this VPN service and while the paid premium subscription plans are very affordable, I still would prefer other VPN providers available in the market. This is because of the type of information the VPN provider collects on its users. It does not implement a zero-logging policy. It also does not have a desktop client version as of the moment but they will be releasing one in the near future. The online customer service must also be improved. I suggest that you use another VPN provider for your internet privacy and data security needs.
---
I hope I answered all your questions within this BrowsecVPN Review. If you have any more questions, feel free to ask them in the comments section down below!