Pricing & Subscription Plans
8.0/10
Speed & Server Locations
8.5/10
Security & Privacy
9.0/10
Additional Features
5.0/10
Pros
Has Network Lock (Internet Kill Switch)
Supports OpenVPN, OpenVPN over SSH, OpenVPN over SSL, and OpenVPN over Tor
256-bit AES-GCM data encryption with 4096 bit RSA keys
HMAC SHA-384 for data authentication
Has zero-logging policy & fully compliant with GDPR-EU
Access Netflix US, Hulu and HBO GO
Perfect forward secrecy mechanism through Diffie-Hellman key exchange
Supports P2P & Torrent
Port forwarding mechanism, Dynamic DNS system, DNS leak protection, IPV6 leak protection, and WebRTC leak protection
Cons
Graphic User Interface is hard to use and operate
Split tunneling feature is very hard to use
Additional features are somewhat limited
---
AirVPN Review
AirVPN is a virtual private network provider that started in April 2010 in Italy when a group of hackers, hactivists, and rights activists have agreed to develop a free VPN system to support their advocacies and missions. In order to create a free VPN service, the group asked for the help of 2 lawyers and asked for financing from a private company in order to succeed in developing the project. The VPN provider has started with 2 VPN servers in 1 country only when it started in 2010. The good news is as of this moment in time, there are now approximately more than 200 servers that can be offered by AirVPN. Read the full AirVPN Review below to know more.
---
Jump to:
Pricing & Subscription Plans
Who is it for?
Ease of Use
Speed & Server Locations
Security & Privacy
Streaming
Online Support
Additional Features
Conclusion
---
Pricing & Subscription Plans
I have found out that there are 7 paid subscription plans that I can avail of if I use AirVPN. The list includes monthly, quarterly, semi-annually, and yearly subscription plans.
---
---
On top of that, there are also 3-day subscription plans, 2-year subscription plans, and 3-year subscription plans. All of the subscription plans can accommodate 5 simultaneous connections at once. Check the price table I created to learn more about the subscription plans.
---
---
I can also request for a free trial option by contacting AirVPN administrators. I can also avail of the 3-day money-back guarantee for any of the paid subscription plans provided I did not violate any of the terms and conditions agreed upon. The cost of the purchase of a subscription plan will then be refunded within 30 days upon requesting a refund. I can also pay for my subscription plan through debit cards, credit cards, PayPal, and cryptocurrencies such as Bitcoin, Ethereum, Litecoin, Bitcoin Cash, Dash, Doge, and Monero.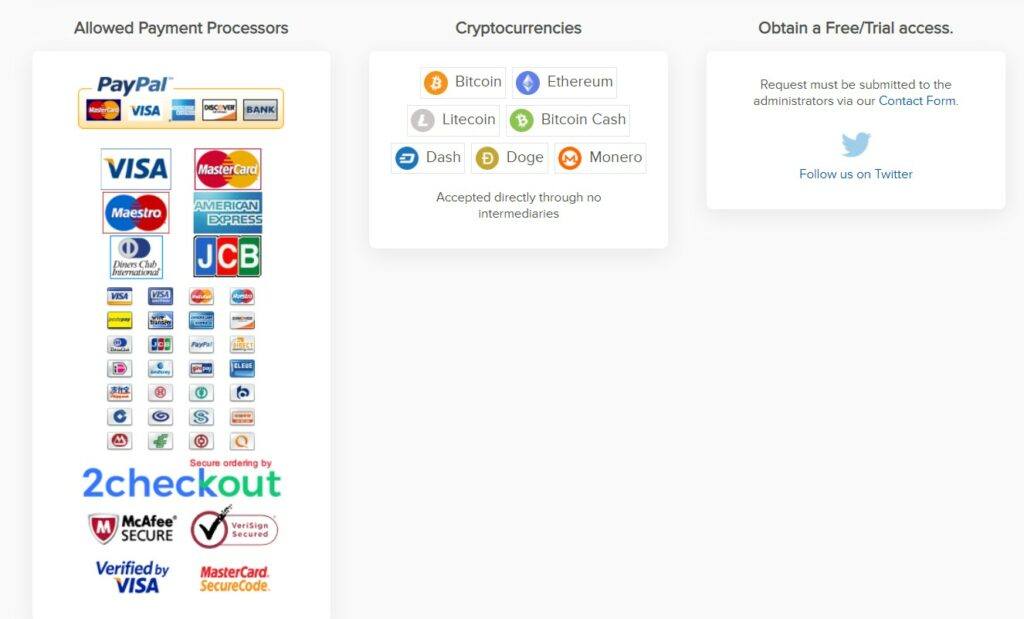 ---
Who is it for?
The use of VPN platforms such as AirVPN is suitable for people wanting to primarily assert their internet privacy rights. It is also recommended for people who want to experience net neutrality and ward off any sign of internet censorship which limits access to relevant news and information along with the rights to freedom of expression. AirVPN can also be used by people to bypass geo-restrictions and VPN blockers.
---
Ease of Use
It is very hard to use the desktop client version of AirVPN. The Graphic user interface (GUI) has too many settings that confuse the average user with no technical knowledge in the intricacies that a VPN connection might bring. Even the process of connecting to a particular server or country where a VPN connection can be established is not clear at all. Changing the server location is also confusing. Everything is confusing. Luckily, I have some technical background and found a way to make things work.
In order to connect to a specific VPN server, I need to click the "Countries" menu tab and then select a specific country that I want to connect to. I can do it by clicking the said country and then clicking the green check icon at the upper right corner of the desktop client version. Once I do that, the servers in the selected country are added to the whitelist.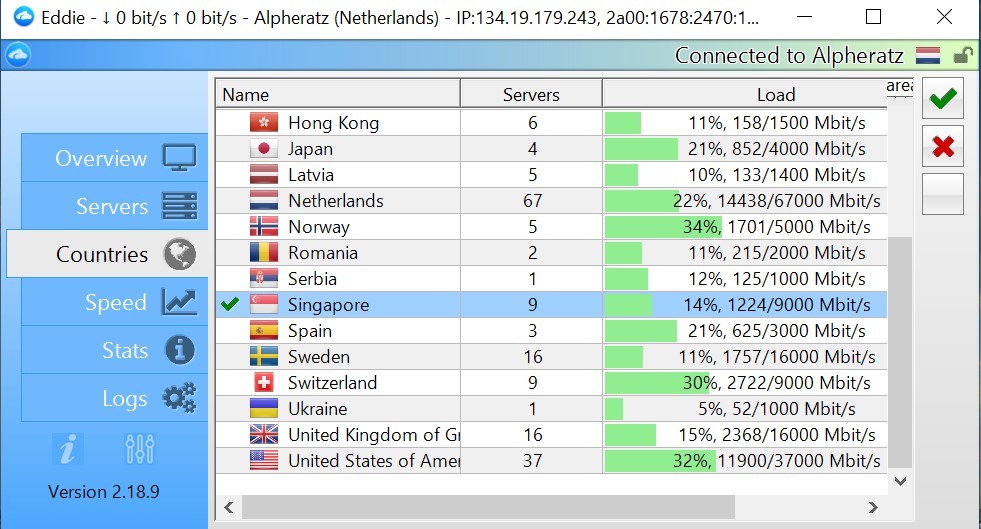 Servers located in that country would then appear in the "Servers" menu tab. I need to click that menu tab so that I can view the available servers in that country. After that, I just need to double-click on one of the servers available for that specific country so that the VPN connection will start to establish.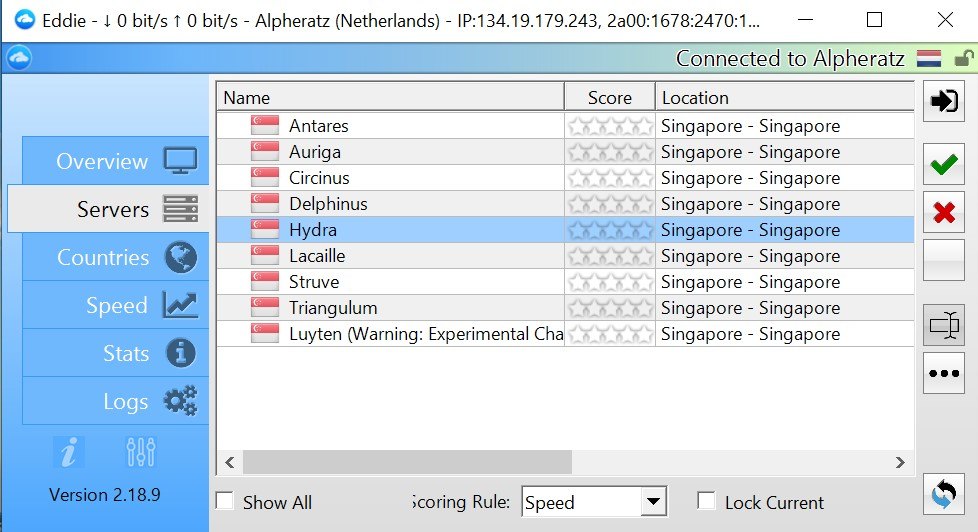 There are also other settings such as the following:
Connect at startup
Reconnect to the last server at the start
Activate Network Lock at startup
Single instance
Start with system
Don't ask elevation every run
Profile data protection
System notifications
Data units
Exit confirmation prompt
UI main font
Show tray icon
Start minimized
Hide bootstrap failure window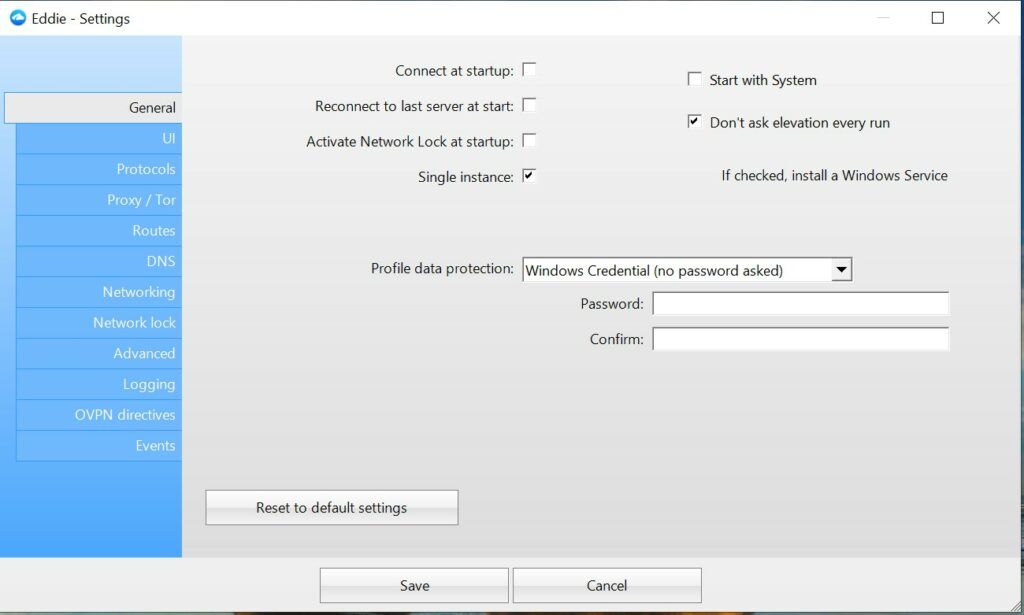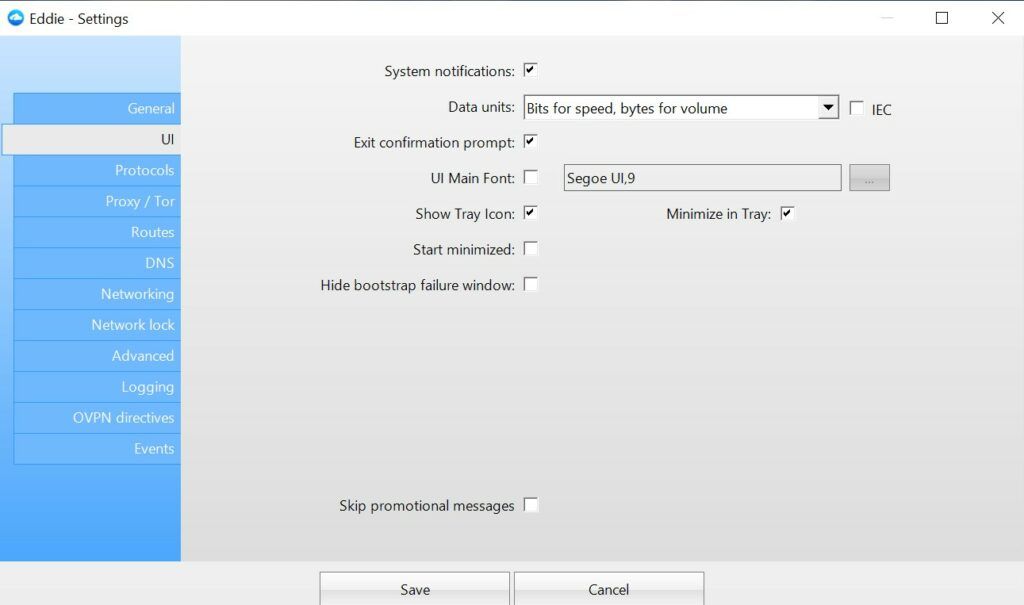 I can download different versions of the AirVPN platform. These versions include the Windows, Mac, ChromeOS, and Linux computer operating systems. I can also download AirVPN on my mobile devices through Google Play Store for Android and Apple Store for iOS. I can also install AirVPN on routers such as DD-WRT, Tomato, AsusWRT, and pfSense.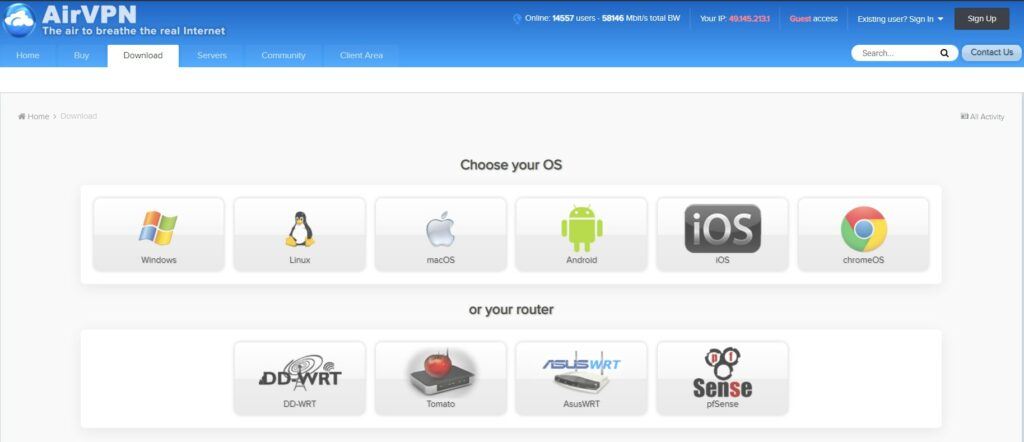 ---
Speed & Server Locations
AirVPN has 243 servers in 22 countries in various geographical regions and continents worldwide. Netherlands has 67 VPN servers which makes it the country to have the highest number of AirVPN servers. The Netherlands possesses 27.57% of the total number of AirVPN servers. It is then followed by the United States of America with 37 VPN servers. The USA VPN servers comprise 15.23% of the total number of servers of the VPN provider. Next on the list is Canada with 33 VPN servers. Canada has 13.58% of the total number of servers.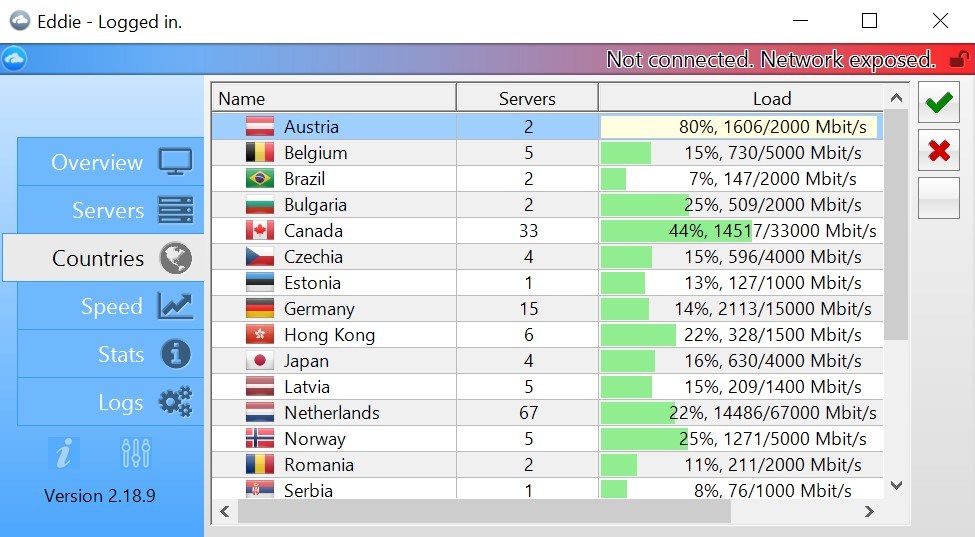 On the other hand, both the United Kingdom and Sweden have 16 VPN servers each. Moreover, Germany has 15 VPN servers. Singapore and Switzerland have 9 VPN servers each. Hong Kong has 6 VPN servers. Furthermore, I discovered that Belgium, Latvia, and Norway have 5 VPN servers each.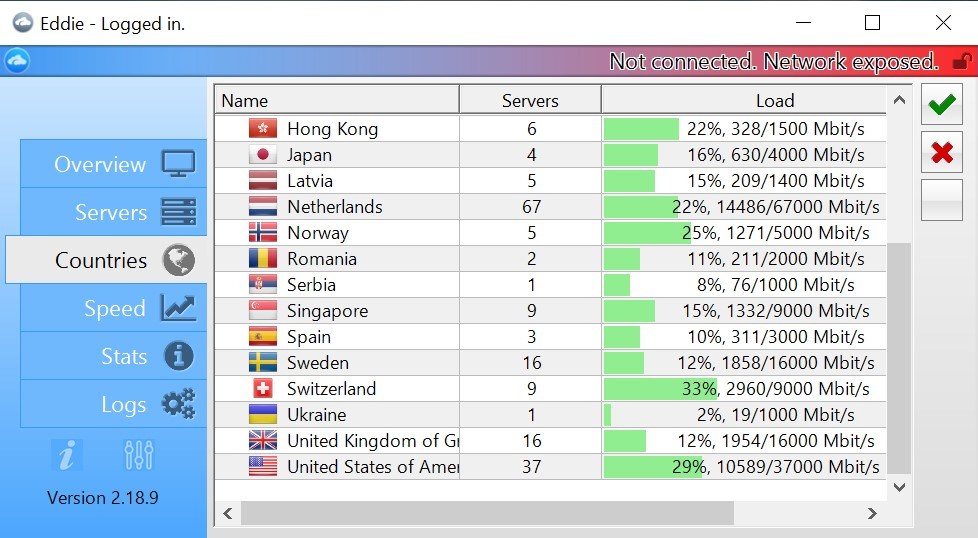 Other countries where AirVPN has facilities include Austria, Brazil, Bulgaria, Czech Republic, Estonia, Japan, Romania, Serbia, Spain, and Ukraine. AirVPN currently implements unlimited bandwidth in combination with unlimited server switching. Check the actual results of the VPN server speed tests we performed below.
The first test was conducted from Slovenia, Europe.
| | | | |
| --- | --- | --- | --- |
| Server location | Ping [ms] | Download [Mbps] | Upload [Mbps] |
| No VPN (Slovenia) | 6 | 195.51 | 5.85 |
| Serbia | 31 | 137.07 | 5.64 |
| Netherlands | 31 | 134.70 | 5.67 |
| USA | 100 | 138.32 | 5.64 |
| Canada | 109 | 128.40 | 5.68 |
| UK | 38 | 137.51 | 5.64 |
| Sweden | 46 | 118.98 | 5.64 |
| Germany | 37 | 95.07 | 5.67 |
| Average | 56 | 127.15 | 5.65 |
The second test was conducted from the Philippines, Southeast Asia.
| | | | |
| --- | --- | --- | --- |
| Server location | Ping [ms] | Download [Mbps] | Upload [Mbps] |
| No VPN (Philippines) | 7 | 26.46 | 27.77 |
| Singapore | 209 | 19.60 | 2.08 |
| Netherlands | 282 | 10.81 | 24.18 |
| USA | 224 | 22.82 | 4.88 |
| Canada | 179 | 26.46 | 23.05 |
| UK | 259 | 17.17 | 16.97 |
| Sweden | 288 | 16.59 | 2.11 |
| Germany | 271 | 17.96 | 3.49 |
| Average | 214.88 | 19.73 | 13.07 |
The speed results were quite good with AirVPN. Connecting from Slovenia we were able to get good ping on various servers, reaching 71% of the maximum speed provided by the ISP by connecting to UK, upload speeds were good on all servers. Connecting from the Philippines the results varied from server to server though it's clear that pings were quite high all across the board. We were able to reach almost maximum download and upload speeds.
---
Security & Privacy
Once I'm connected to one of the VPN servers of AirVPN, the system automatically issues a false I.P. address for both IPV4 and IPV6 internet connectivity to spoof my location. The I.P. addresses issued are consistent with what country I'm connected to. My internet connection is encrypted using the 256-bit AES-GCM data encryption that is partnered with 4096 bit RSA keys. The security is enhanced with the existence of HMAC SHA-384 for data authentication. This best VPN service provider also implements a perfect forward secrecy mechanism through the Diffie-Hellman key exchange.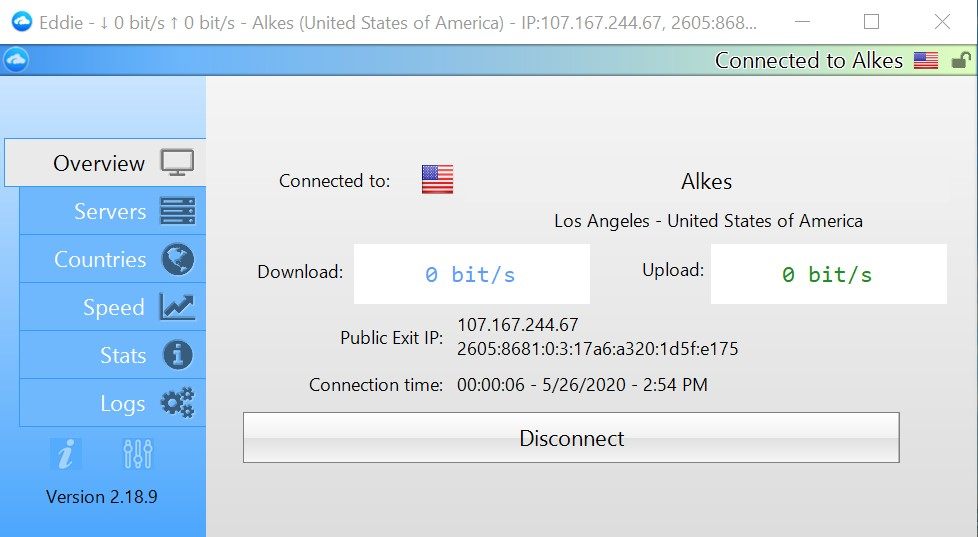 As of this moment, AirVPN supports OpenVPN, OpenVPN over SSH, OpenVPN over SSL, and OpenVPN over Tor. The VPN provider also implements a zero-logging policy which means that my identity and my real location is safe from possible detection. AirVPN also uses its own DNS servers. AirVPN is also fully compliant with GDPR-EU as part of its privacy policies.
---
Streaming
Based on my experience, AirVPN is powerful enough to bypass the VPN blockers and DPI firewalls placed by Netflix US. As a result, I was also able to bypass the geo-restrictions imposed on Netflix US too. As a matter of fact, it only took approximately 4 seconds for the chosen video to initially play and stream online. The video played on High Definition (HD) video quality as the VPN server is fast and efficient enough to do so. There was no sign of video buffering. There was also no trace of a potential technical problem encountered. Aside from Netflix US, I can also defeat VPN blockers placed by other video streaming services such as Hulu and HBO GO.
---
Online Support
The online customer support of AirVPN is actually limited. There are answers to frequently asked questions (FAQs) but the content is very limited. There are also no knowledge base and user manuals that can be found on the AirVPN website. There is also no live chat support system. However, there is a community forum page. There is also a contact form through the "contact us" page. I can also send an e-mail directly to support@airvpn.org.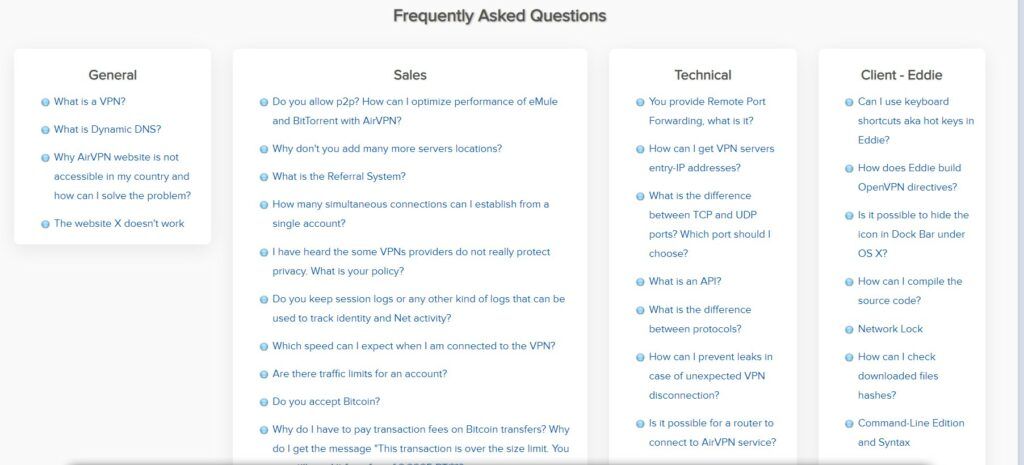 ---
Additional Features
AirVPN has advanced features such as Network Lock, "Routes," DNS leak protection, IPV6 leak protection, and WebRTC leak protection. It also has mobile applications. It also has a port forwarding mechanism and Dynamic DNS system. It also has P2P & Torrent.
---
Network Lock
The network lock acts as an internet kill switch that blocks my access to the internet if the VPN connection suddenly interrupted and lost for whatever reason. In this way, my original location, I.P. address, and internet activities will not be exposed if that situation arises. The network lock also prevents me to access the internet without a VPN connection.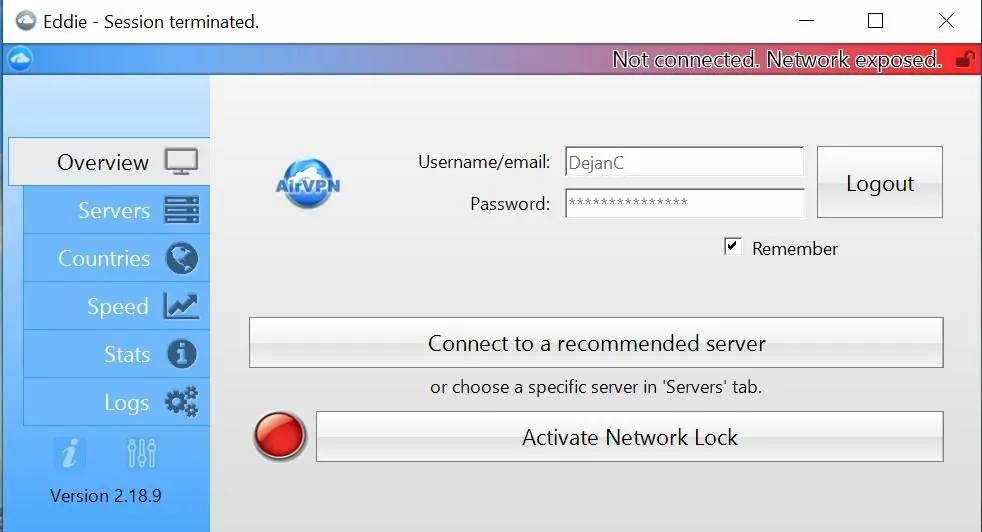 ---
Routes
The "Routes" feature acts as a split tunneling capability in the AirVPN platform. However, it is very complicated to use as I need to input a valid I.P. address or type a Classless inter-domain routing (CIDR) to classify which internet connections pass through the VPN and which internet access do not. Unlike the regular split tunneling feature, the "Routes" feature does not select which websites and apps that use internet connection go through the VPN connection and which are not.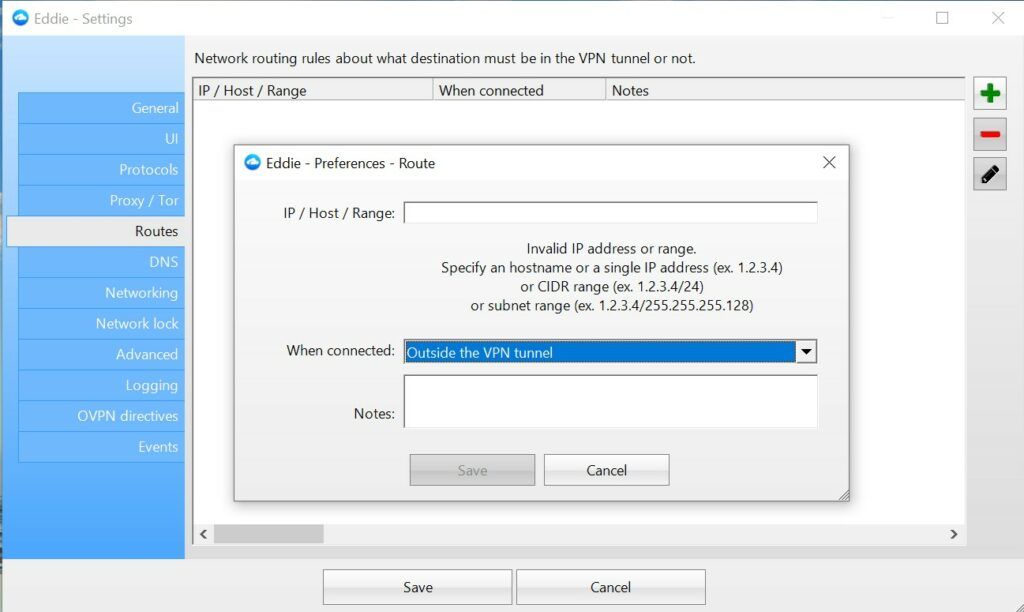 ---
P2P and Torrent
Peer-to-Peer file sharing is also allowed in AirVPN. This means that I can download and upload torrent files easily through the VPN connection. I can also upload and download files quickly and securely to and from the internet.
---
Mobile Applications
I can also download mobile applications for my mobile devices running on Android and iOS. I'm still protected even if my mobile phone is connected to a public Wi-Fi as long as I'm connected to one of the servers of AirVPN.
---
Other Features
AirVPN has DNS leak protection, IPV6 leak protection, and WebRTC leak protection. It also has a port forwarding mechanism and Dynamic DNS system.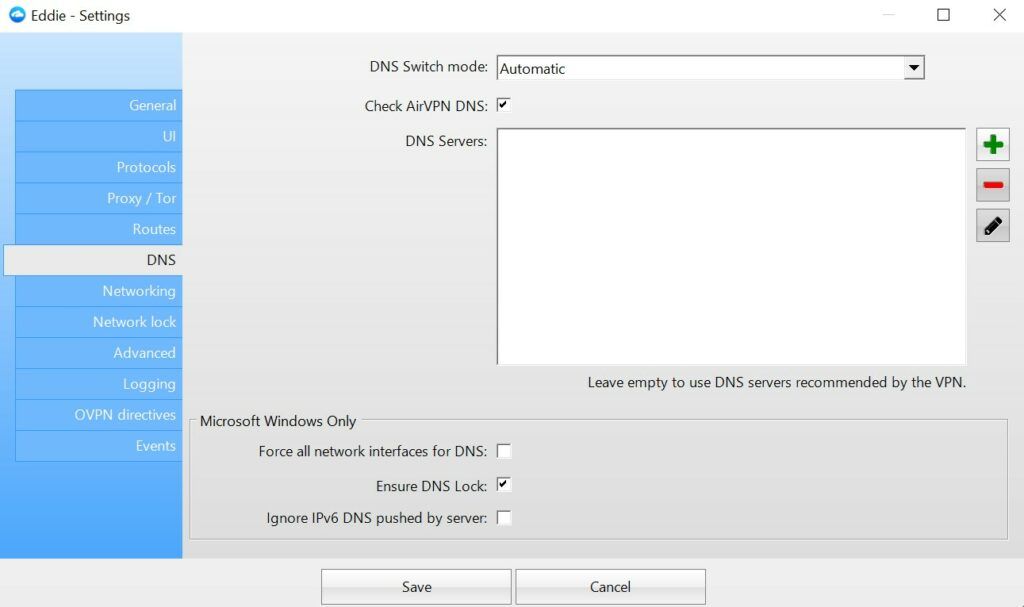 ---
Conclusion
I can protect myself against hacking and illegal surveillance by using AirVPN to connect to the internet. I can implement anonymous browsing and hide my real location by spoofing my I.P. address. On top of that, the server speed test results from the assessment I conducted show that AirVPN is reliable in terms of both download and upload speed but it's important to pick the right servers. The good news is that it is powerful enough to bypass the VPN blockers and DPI firewalls placed by Netflix US, Hulu, and HBO GO. There was no sign of video buffering too. The VPN platform is also very secure because of 256-bit AES date encryption on OpenVPN protocol. Subscription prices are within the normal range of competitors.
However, AirVPN lacks features that are easy to use and understand. The Graphic User Interface (GUI) of the desktop client version of AirVPN is also hard to use and operate. In fact, I really had a hard time dealing with the intricacies of the VPN system. There are lots of confusing settings. This means that AirVPN is not the best option for people who have little technical knowledge of VPN systems. Online support is also limited. I advise that you find a better VPN solution.
---
I hope I answered all your questions within this AirVPN Review. If you have any more questions, feel free to ask them in the comments section down below!