Tresorit Cloud Storage – Premium&Solo Plans – Review October 2019
Tresorit
8.33€/month 200 GB
Additional Features
7.5/10
Pros
14-day trial
Swiss privacy laws & Great security
Amazing down/upload speeds
Good sharing options
Well made applications
Great organisation of your files
Cons
No real free storage
Uncompetitive prices
---
Tresorit Cloud Storage – Premium&Solo Review
Tresorit Review: Tresorit is a Swiss company that offers cloud service to personal and business users. The two personal plans that they offer are the Premium and Solo plan. Their cloud service is very easy to use and keeps your files organised. Syncing speeds are incredible, and so are the sharing features. They have also recently updated its service to include a file recovery system.
I believe it's also safe to say that Tresorit offers one of the best security and privacy solutions. Your files and your privacy is protected by the Swiss privacy laws, which are known for its resistance against the foreign surveillance and data warrants.
The two plans they offer for personal users are quite expensive when compared to other cloud storages which is unfortunate since they have the potential to become one of the best cloud storages for personal users.
Read the full Tresorit review down below.
---
Jump to:
Pricing & Plans
Who is it for ?
Ease of use
File syncing
File sharing
Retrieving files
Security
Online support
Additional features
Conclusion
---
Pricing & Plans
Tresorit has a very simple, yet interesting array of plans for you to choose from. They offer you a free trial of their "Premium" plans after which you can decide to either become a full member by paying the fee or automatically switch to the free plan. The trial lasts for 14 days, which gives you enough time to fully test the service. In case you decide not to upgrade after 14 days, you'll receive a very limited free plan called the "Basic plan".
---
With the Basic plan you can:
Access your files via the web access, from a single browser
Manage your files in your single Tresorit folder, and from the app on one device.
Download and upload files via the Cloud Browser and Web Access.
Accept File links
You are given 1 GB of cloud storage
Functions like syncing, sharing, file versioning and so on will all be taken away from you. For me, that's like cutting the power to a bulb, taking away the sole purpose of the bulb which is to give out light.
---
The trial lasts for 14 days, which gives you enough time to thoroughly test the service. Their plans are quite expensive when compared to other cloud storages. We'll try to figure out if that's justified throughout this review.
| | | |
| --- | --- | --- |
| Plan | Premium | Solo |
| Price | 8.33€ / month, billed annually | 20€ / month, billed annually |
| Storage | 200 GB | 2000 GB |
| Zero-knowledge authentication | | |
| Number of devices | 5 | 10 |
| Syncing of existing folder structure | | |
| Version recovery | 10 versions | Unlimited |
| Activity history | 90 days | Unlimited |
| 2-factor authentication | | |
| Permission controls for file sharing | | |
| File sharing with password protected links | | |
| Outlook integration | | |
| File size limit | 5 GB | 10 GB |
VAT is still applied to the prices they listed, accordingly to where you live. (If you live outside EU you won't have to pay any VAT).
---
Who is it for ?
Tresorit is a viable pick for people that are willing to pay some extra money to receive quality cloud service. I would advise you to go for it if you're planning to use it for your business. That is what Tresorit focuses on as well. When comparing with other cloud services for personal users, it comes out more expensive. It does offer some unique features like excellent security and outlook integration. However, there are cheaper alternatives out there which offer similar features. Find the best personal cloud storage here.
---
Ease of use
Setting up your account is relatively easy, just like with other cloud storages. That comes with one exception. You will have to provide your bank details to open your account. When starting you're given a free trial to one of their two plans (Premium or Solo). After 14 days you'll be charged to continue your premium plan, or you can cancel it and receive the free limited plan.
Tresorit is a bit different from other cloud storages. They have implemented the so-called Tresors which act as separate folders to which you can upload files and share with other people. I like the system a lot because it's so simple and allows you to keep everything organised.
The interface looks very modern and straightforward, making it easy to work with – Even for a newbie.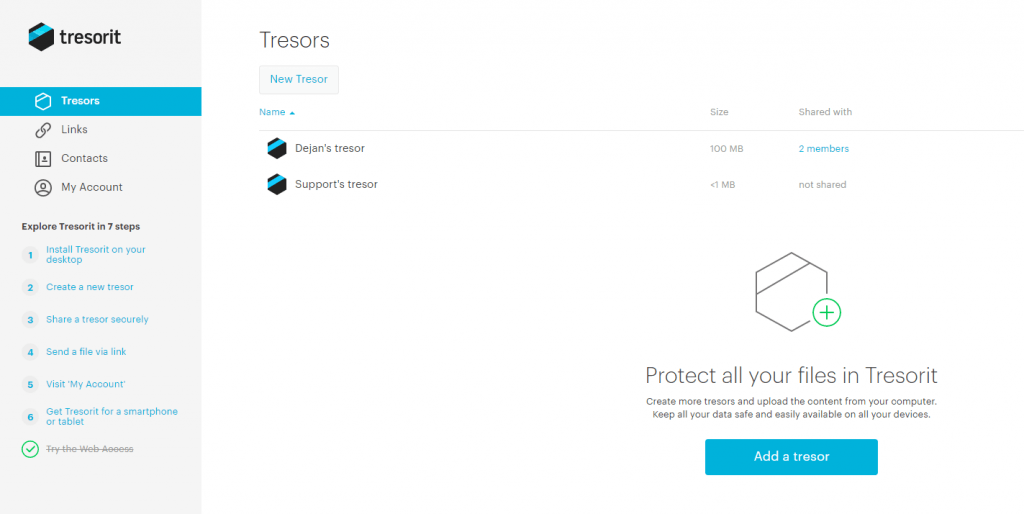 ---
File syncing
The Tresorit application is available to you on Windows, Mac and Linux systems.
The application allows you to easily access the files on the cloud directly from your desktop without the need to open your browser.
Download and upload speeds are amazing. I've done some heavy testing and came up with great results. Upload speed varied between 7-8 MB/s while download speed ranged from 60-70 MB/s. A file sized 100 MB was downloaded in a second or two. Can't praise Tresorit enough on this as it is amazing. Syncing speeds are also great. Everything is done without problems and very fast. There is also no limit on their side regarding the down/upload speeds.
The application itself is also well made. You can do pretty much everything in it that you can do in the browser. You also select which Tresors you want to be synced on your device which makes organising your files a simple task.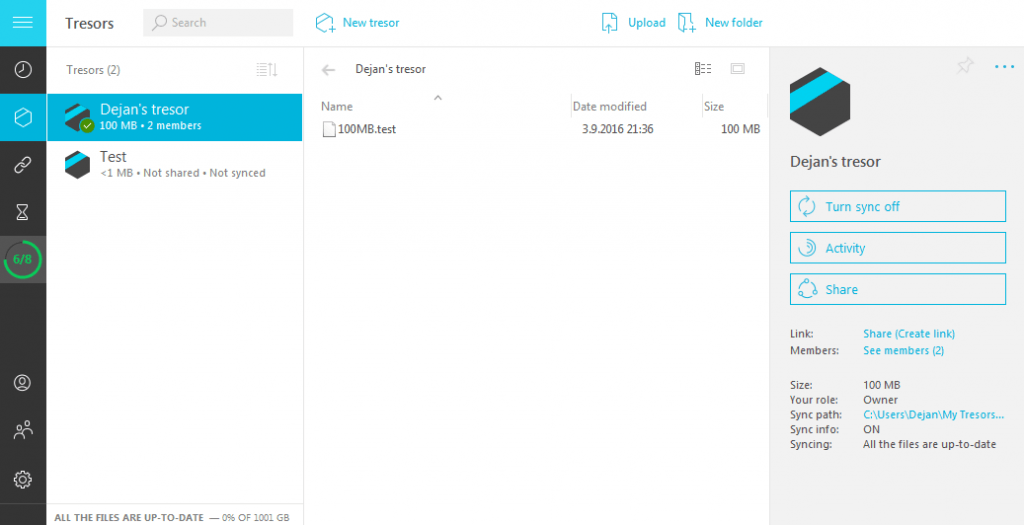 There are also plenty of settings through which you can personalise your Tresorit application. As you can see you can do various things like limiting bandwidth, enabling virtual drive, etc.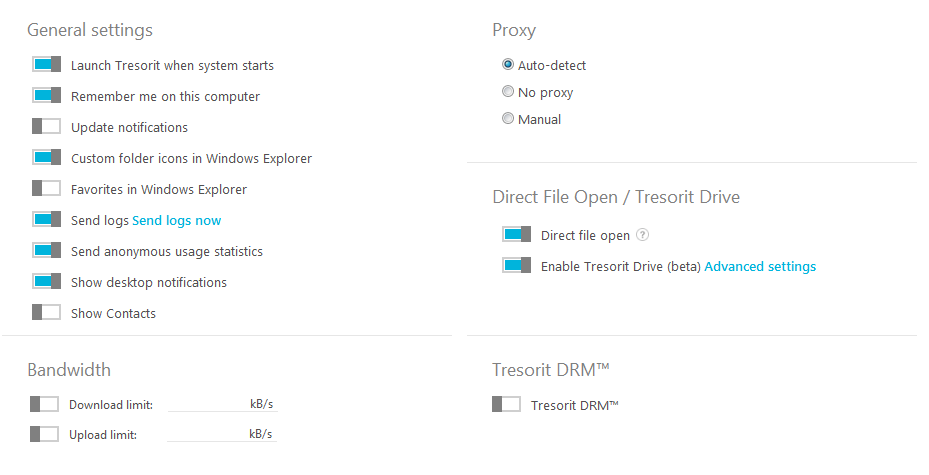 Like many other cloud storages, this one also offers the ability to automatically set up an imaginary drive which simplifies the whole thing.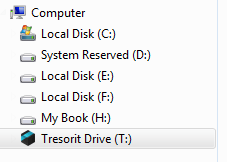 ---
File sharing
I must admit that Tresorit staff did their homework when they were developing their sharing features. There are two ways that you can use to share your files. If you wish to establish a long-lasting connection with one of your colleagues you can just share a Tresor with him. You can also give him different permissions (Editor, Viewer,..).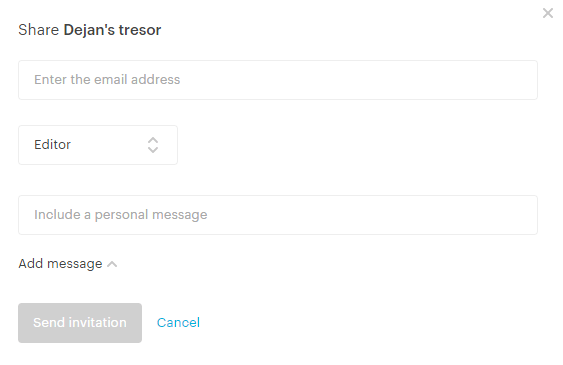 Or you can just share any file or Tresor directly through a link. The options that you get with that are quite surprising:
Download limit (1 to 1000 downloads)
Expiration – Set an expiration date to your sharing link.
Password protect your sharing link.
The person downloading your files doesn't need a Tresorit account which is also great.
And the most important thing: There's no monthly bandwidth limit which means people can download from your links without restrictions (Premium&Solo).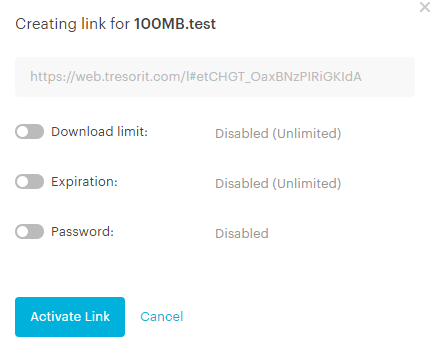 ---
Retrieving files
Versioning system is an essential functionality with every cloud storage. Tresorit does a good job when making sure that you can access previous versions of your files. You can recover up to 10 versions with the Premium plan and that increases to unlimited if you upgrade to the Solo plan.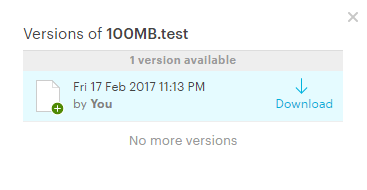 Tresorit recently updated their file recovery system. From now on you can delete files and recover them later at any point in time. Your files don't get deleted permanently unless you choose to do so.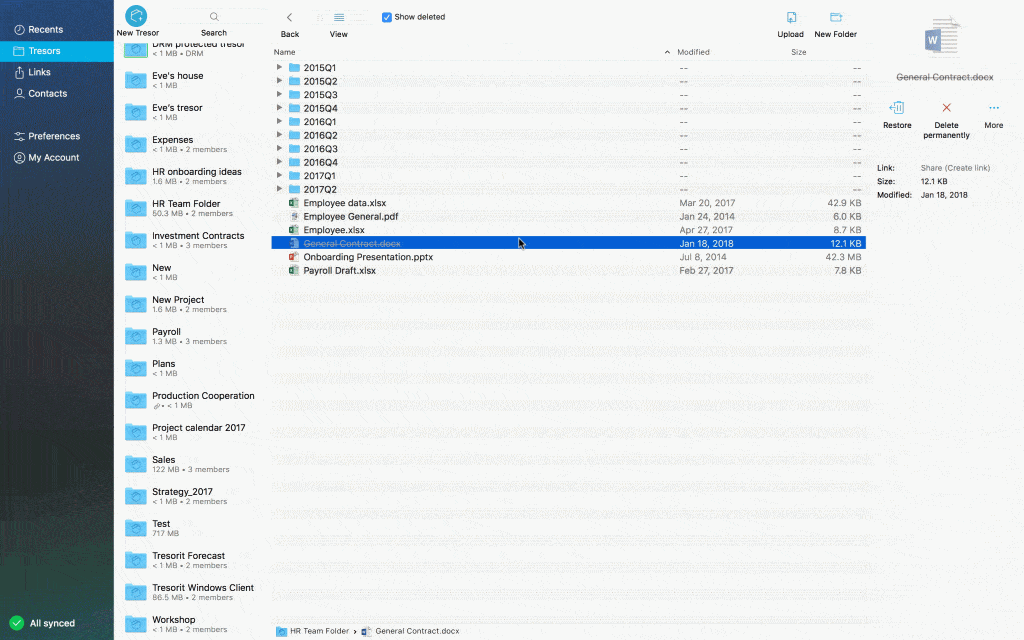 ---
Security
Security is the one part of Tresorit for which they claim to be top-notch. You are protected from foreign surveillance and data warrants by Swiss privacy law.
End-To-End Encryption: Encryption and decryption are done on the client-side. That means only you and people authorised by you have access to your files. All data is encrypted by keys that only you possess.
Zero-knowledge authentication: Tresorit doesn't store your password which furthermore increases the security of your files in case their database gets compromised. That also means it's a problem if you forget it. You can retrieve your password in case you're still logged in in one of your devices. If that is not the case, your files will be lost forever.
Encrypted link: When you share a file with somebody through a link, that link contains an authentication token inside, enabling the receiver to open your files. However, the decryption key is stored in the link and is never sent to Tresorit servers.
Redundant storage: All files that you upload to their cloud are then mirrored to multiple storage devices, which prevents data loss due to hardware failure.
Tresorit runs in Microsoft Azure data centres in Ireland and Netherlands which are under constant monitoring and physical protection.
2-Step Verification: Users can improve their security by enabling this feature. Additional confirmation is required when signing in via voice call, text message, dedicated app or an email.
I believe it's safe to say you don't need to worry about trusting these guys with your files. You can read more about their security here.
---
Online support
Tresorit offers an extensive FAQ base which contains detailed answers to various questions. These answers are well prepared and responded in a "Tutorial" fashion. If you're still left with additional questions, you can always submit a request, and they'll answer you shortly. Unfortunately, there's no live chat available or the option to call their support directly.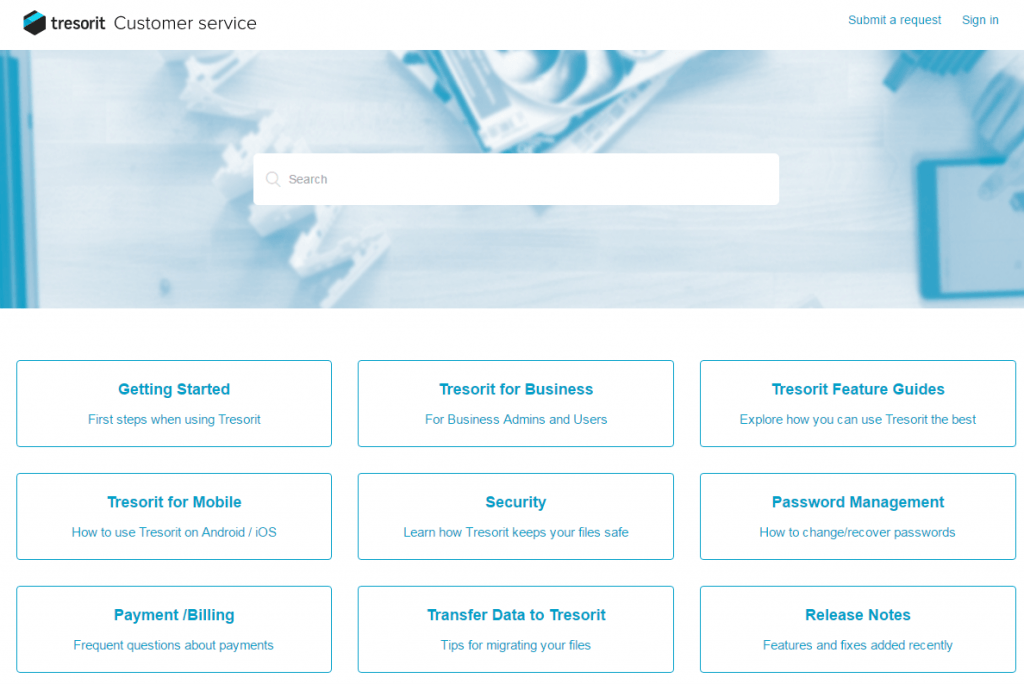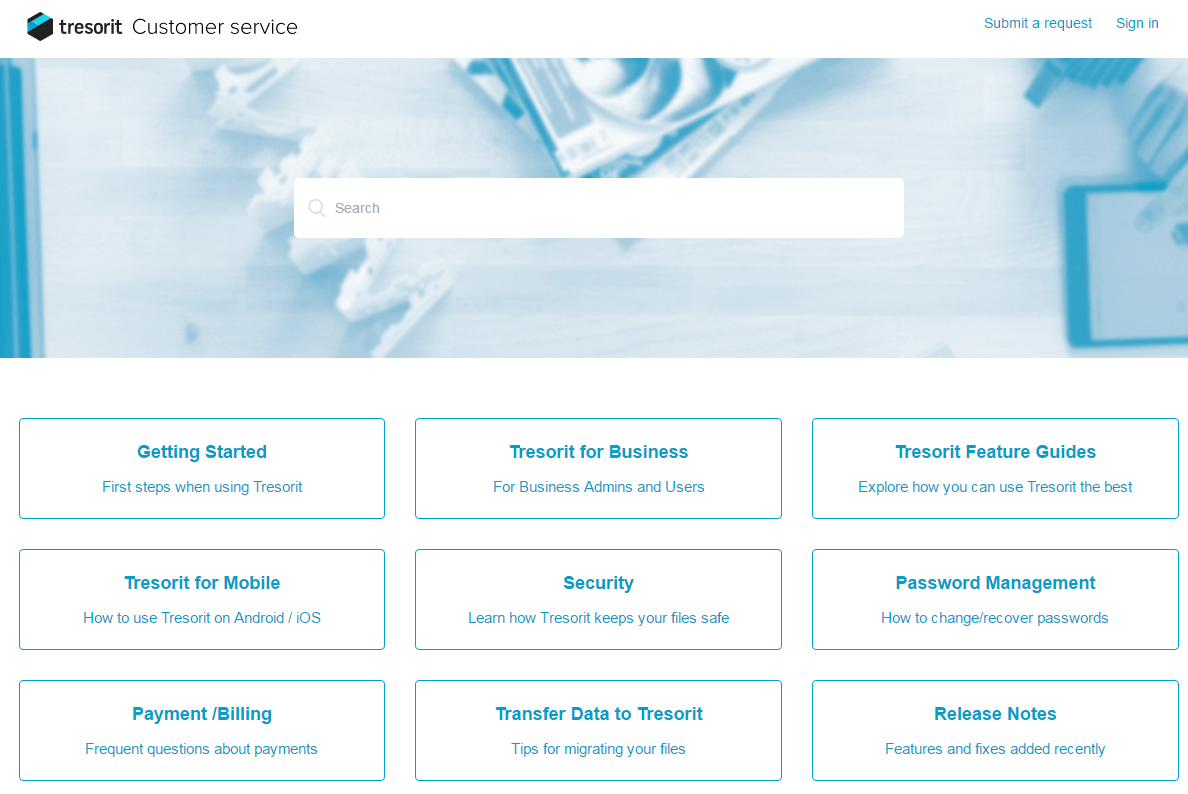 ---
Additional features
---
Outlook integration
You can integrate Tresorit with Outlook in case you have the Solo plan. That gives you a lot of shortcuts and makes it easy to share your files safely through your e-mail. This is a cool feature and one I would definitely use. This plugin is currently available only for Windows users.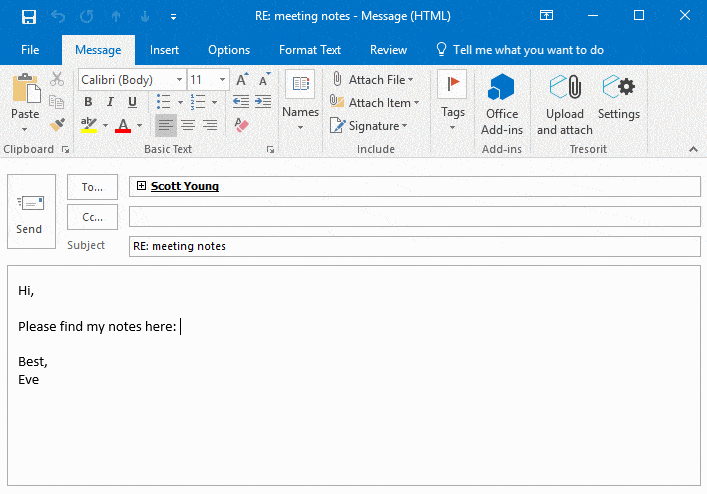 ---
Mobile Application
Tresorit application is available to you on Android, iOS, Windows Phone and Blackberry devices.
The application itself looks great and works like a charm. You can do everything within the application that you can do on your desktop. You can even enable automatic upload of your photos which is, let us be honest, a regular feature with cloud storages nowadays.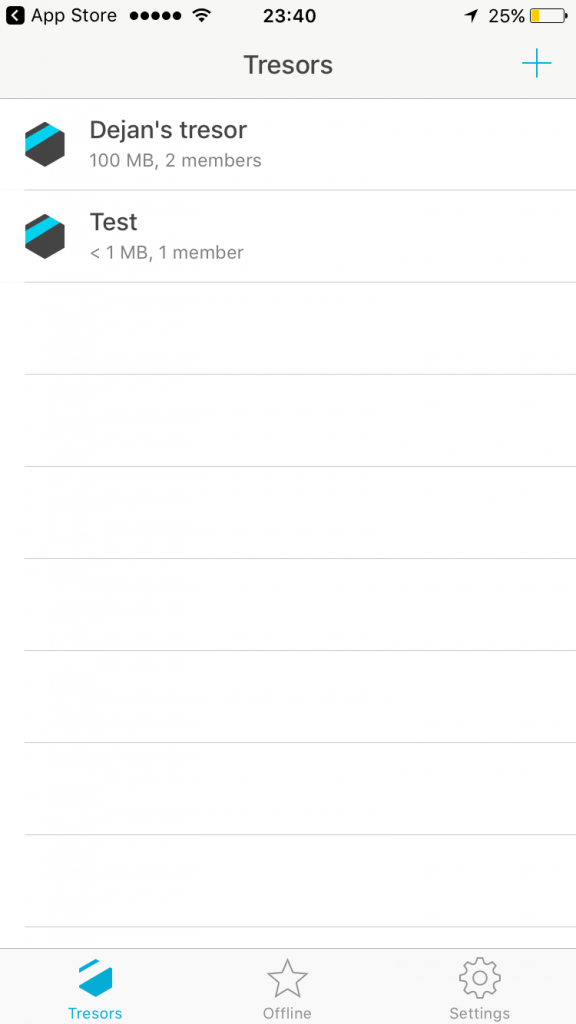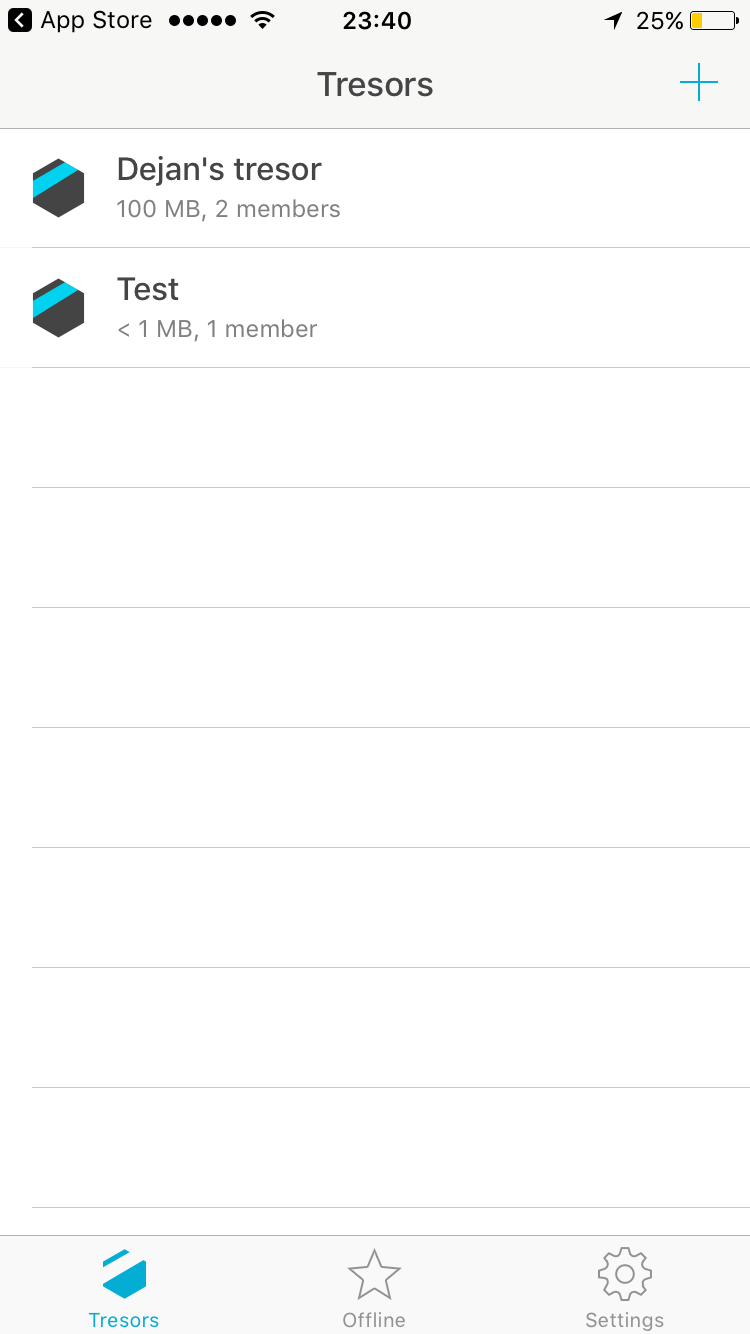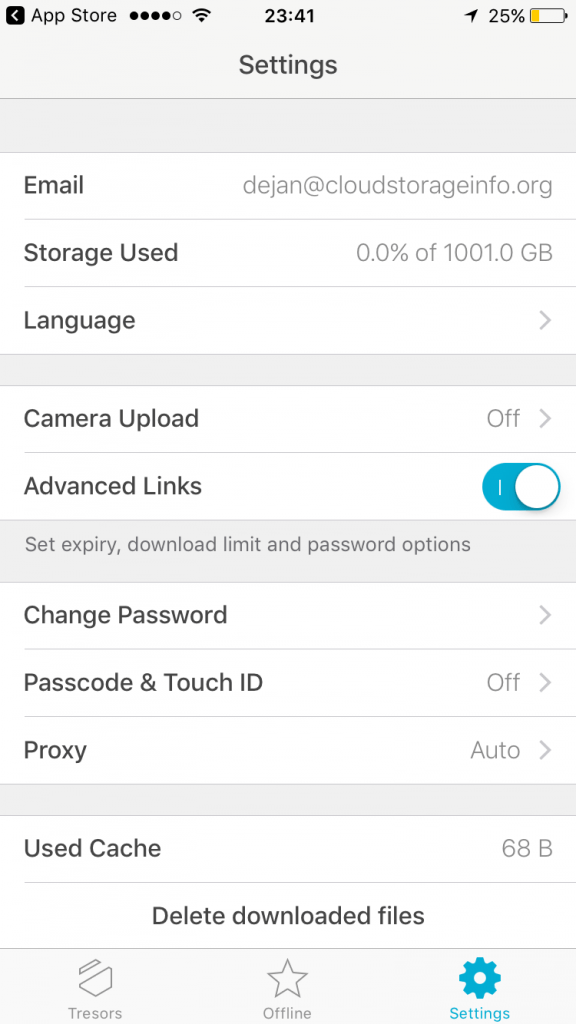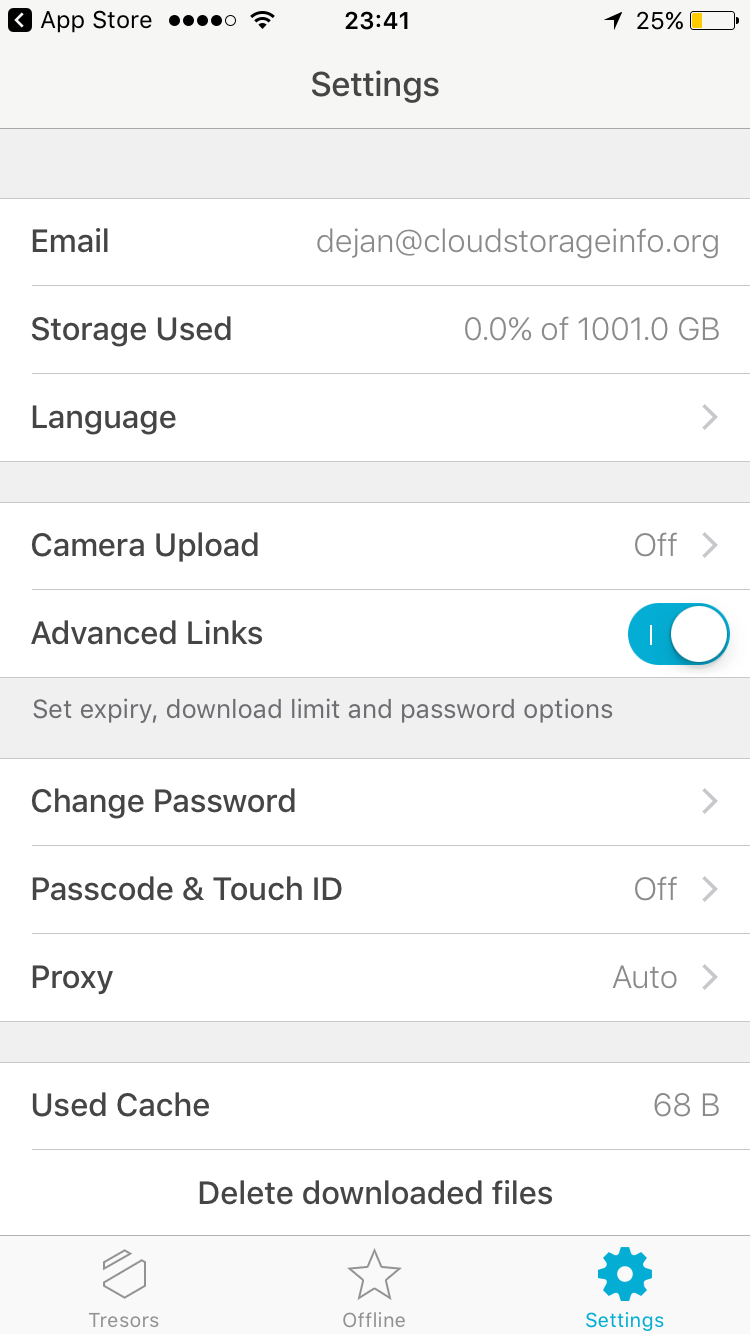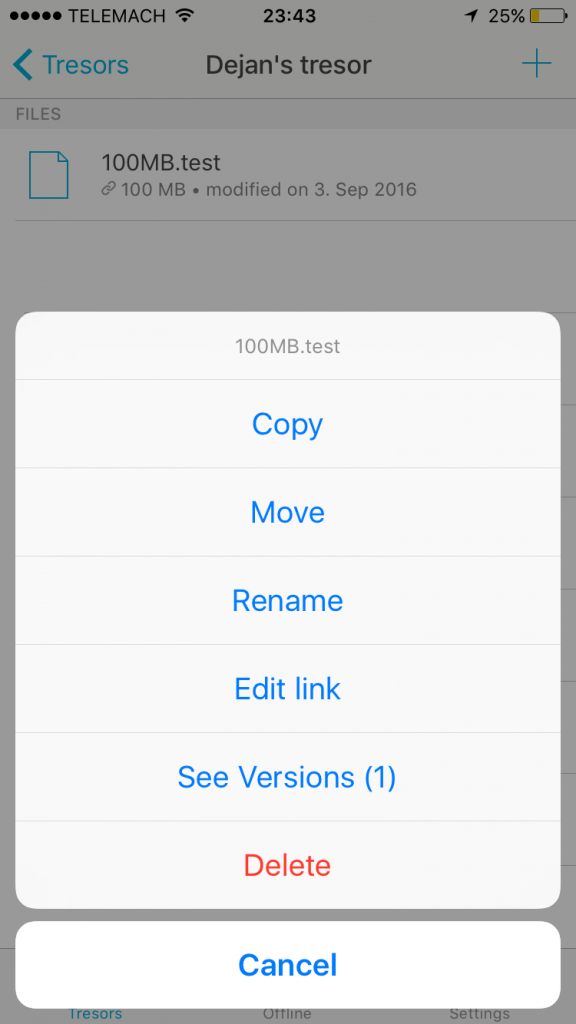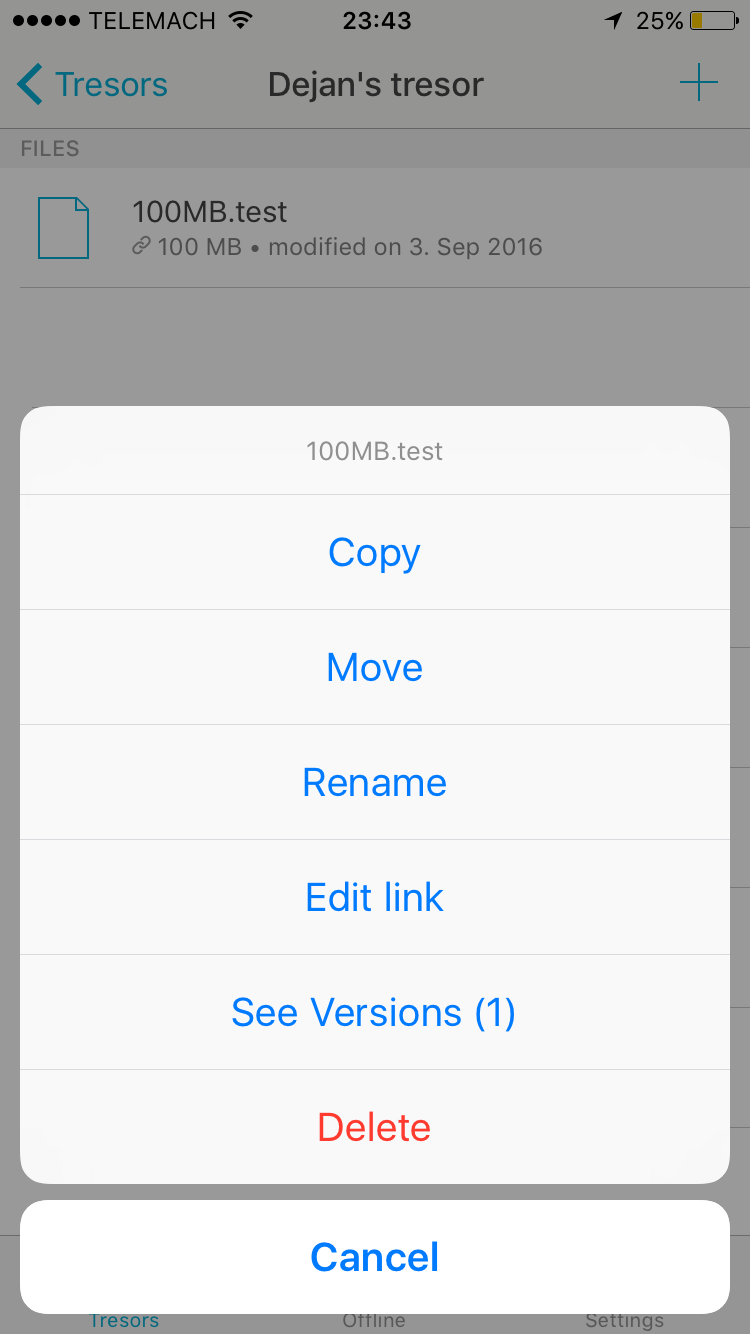 ---
Conclusion
All in all, Tresorit doesn't fail to deliver on its promises. They offer great security and privacy, combined with very decent syncing and sharing options which allow you to work with your files easily. Applications for desktop and mobile devices are well made, making it easy for you to access files anywhere. Apart from that Tresorit allows you to keep your files very well organised which is always important.
Their primary focus so far was to deliver a great cloud service for businesses. I truly do hope that they will set more competitive prices on their personal plans and that way become one of the best cloud storages for personal users. Until then, I believe you can get a cheaper alternative with similar features.
---
---
Hopefully, we've gone through everything that you wanted to know about Tresorit within this Tresorit review. If you have any unanswered questions feel free to ask them in the comments section down below and I'll answer them shortly!